TikTok is blowing up! And if you're already a TikToker or considering becoming one, you've probably wondered how to grow a large audience. You've also likely asked yourself "when is the best time to post on TikTok?"
And you aren't alone when it comes to finding answers to both conundrums. Truth is, finding the perfect time to post content on social media isn't easy. Sure, there are many stats and ideas out there for various platforms, but trends form and change almost daily. Also, just because you generate tons of likes and follows for a certain type of content at a certain time of the day, that doesn't guarantee that what you post next will trend.
So, how do you find the best times to post on TikTok? And how do you maximize on your content creation to draw a larger following? In this post, we'll give you two important questions you should ask to find the best times to post on TikTok for your audience. Once you've answered these questions, you'll need to find a way to grow your audience.
Determining an optimal time to post on TikTok can be challenging. However, after analyzing over 100,000 posts, we've identified times with the highest engagement rates in the United States. (All times are in EST):
Best Times to Post on TikTok in the USA:
Monday: 12 PM, 4 PM
Tuesday: 4 AM, 8 AM, 10 AM, 3 PM
Wednesday: 1 PM, 2 PM
Thursday: 5 AM, 3 PM, 6 PM
Friday: 1 AM, 11 AM, 7 PM, 9 PM
Saturday: 5 PM
Sunday: 1 AM, 2 AM, 1 PM, 2 PM, 10 PM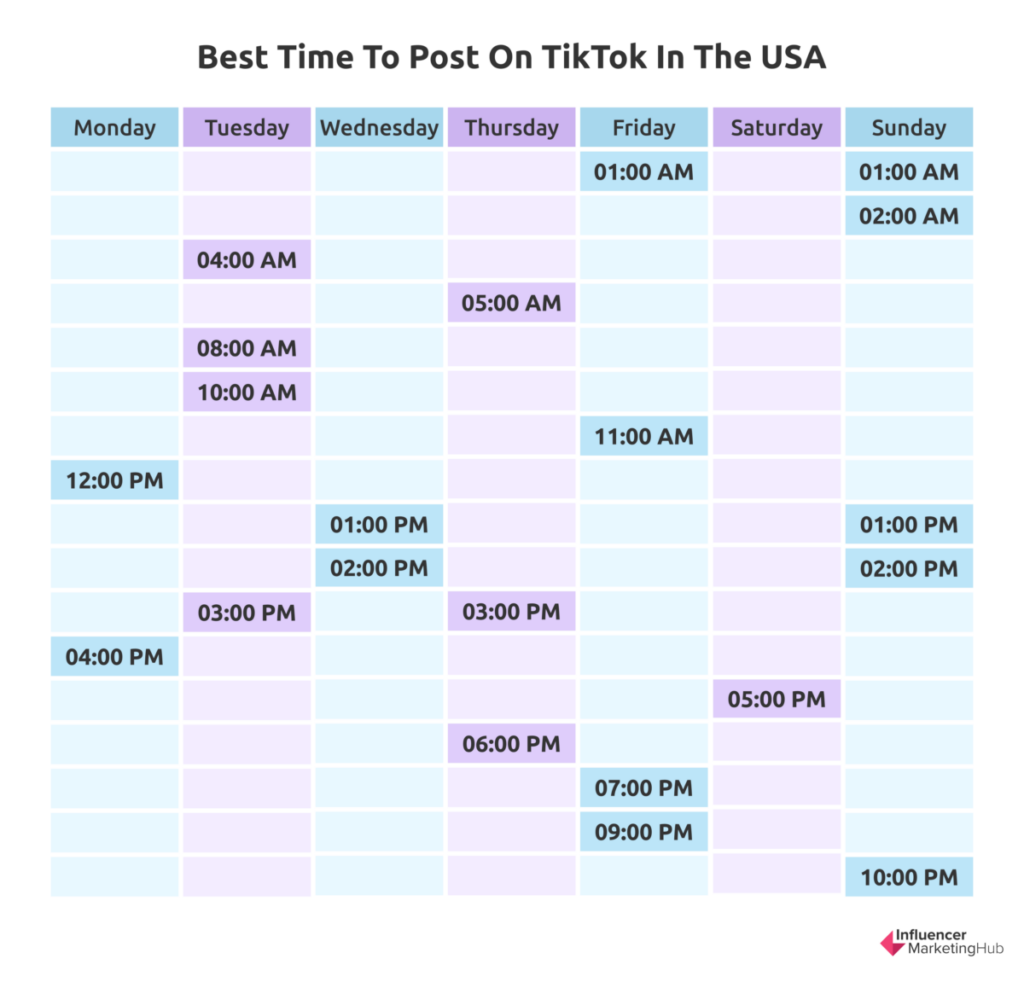 ---
Best Times to Post on TikTok:
---
Social media has created a constant need for the consumption of content. Whether video, GIFs or links to articles, people love scrolling through their feeds to find something to pass the time. And while producing content should always be your goal (something we'll also cover further below), you also need to know when to connect with your audience.
Try the Best Times to Post on TikTok Calculator:
Here are two questions to ask yourself to find the best time to post content on TikTok:
---
1. Where is Your Audience Located?
TikTok, like all social media platforms, has a global all base of users. In July 2023, the United States led with 122 million TikTok users, followed by Indonesia with 99.8 million, and Brazil in third place with 83.33 million users enjoying short videos.

Why do these numbers matter?
Well, if you have a global audience, that automatically influences how much content you produce. It also has bearing on when you should be posting content. Time zones automatically dictate that much of your content will be viewed during the busiest hours within a certain geography.
How do you use this information to find the best time to post on TikTok?
First, establish where your followers are. TikTok now offers the chance to turn your normal user account into a Pro account. Pro accounts come with a set of new features, one of which includes analytics.
Analytics will indicate how many followers you have, what their gender split is, and the top territories your followers come from. If you haven't switched to a Pro account yet, here's how:
Open the app and visit your profile. Next, access your privacy and settings area by tapping on the three dots in the top right-hand of your mobile phone screen. Then, go to Switch to Pro Account.
Follow the steps (this may include verifying your mobile number if you haven't yet). Once your account has been switched over to a Pro account, you'll be able to access your analytics.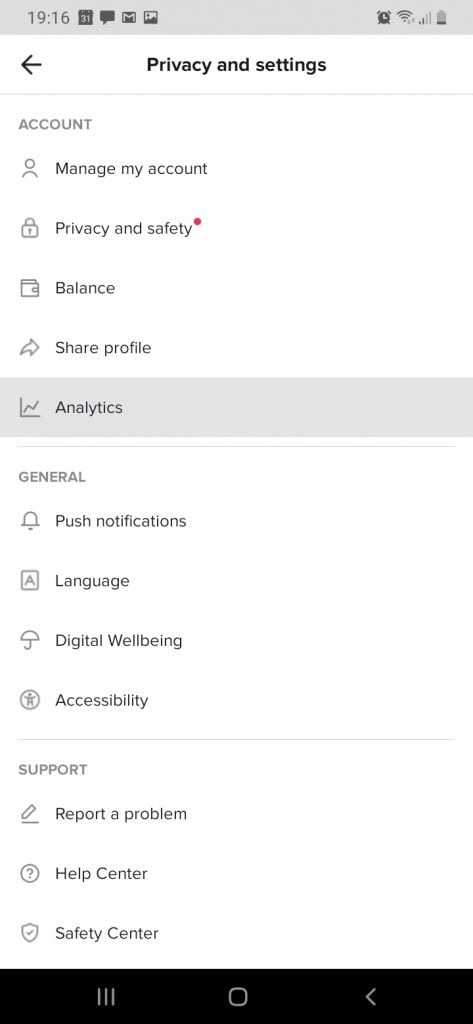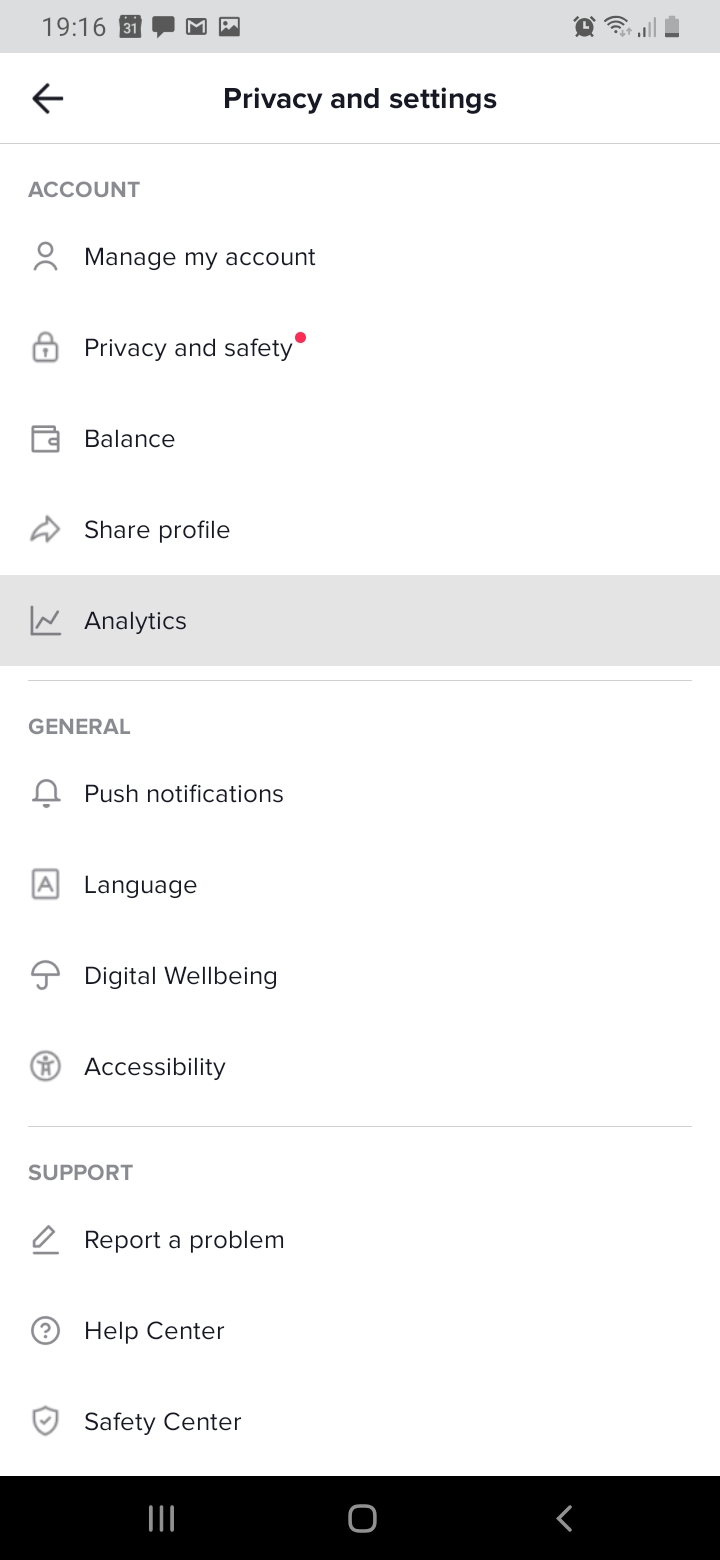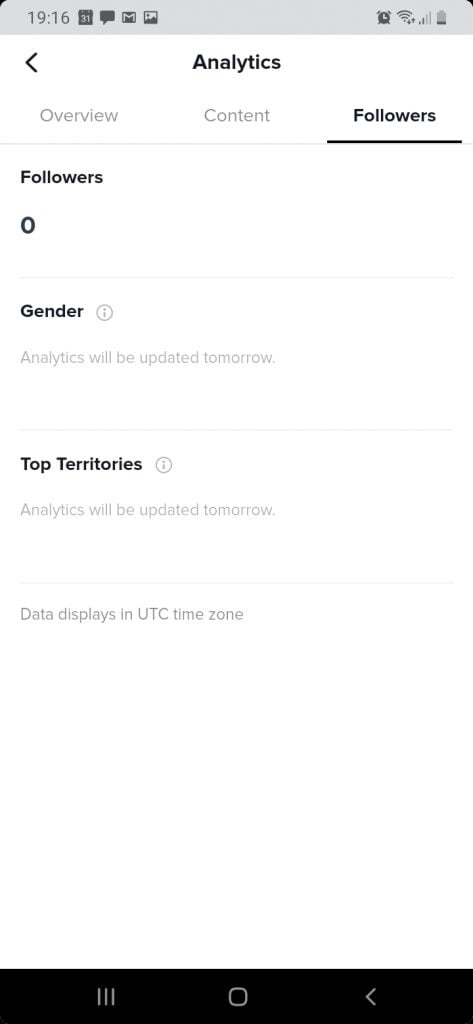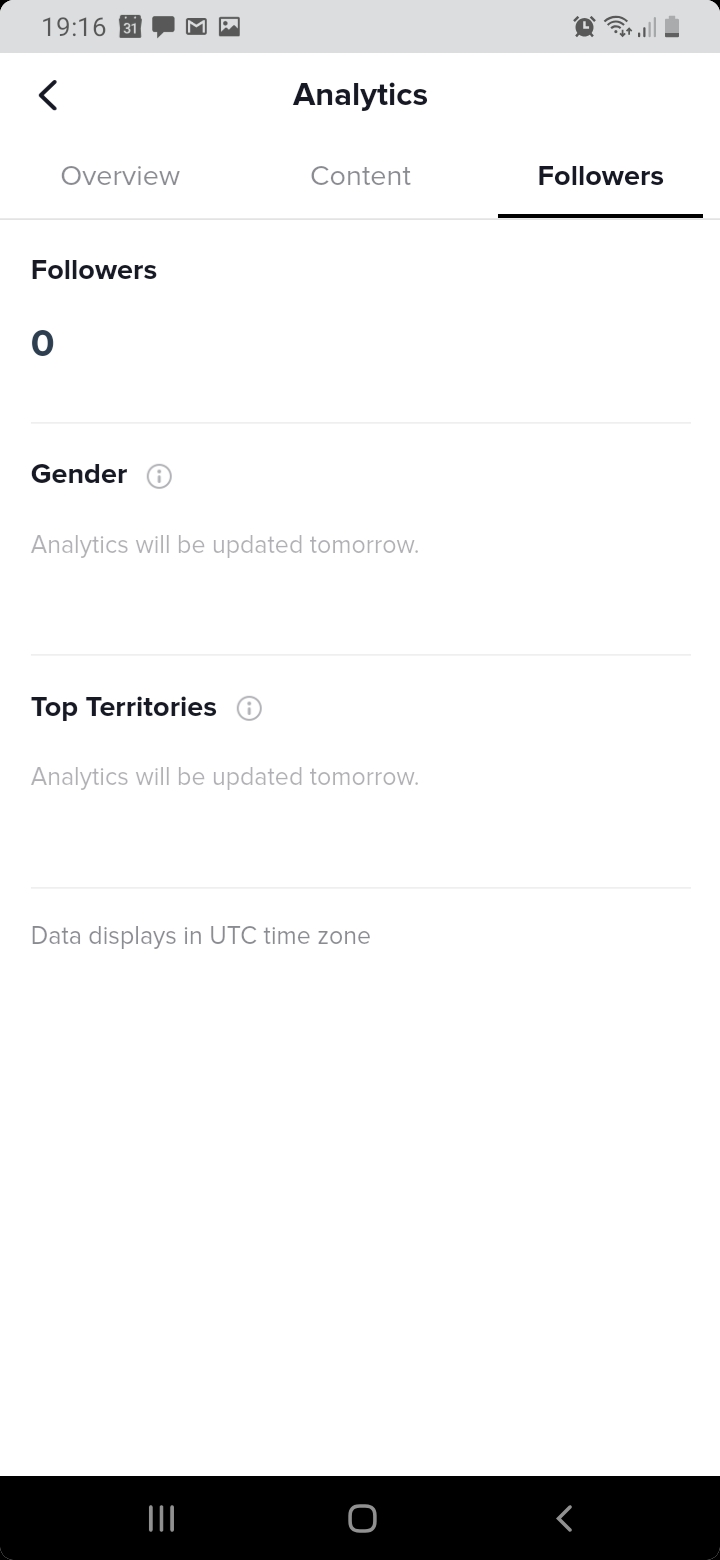 While still in your privacy and settings area, tap Analytics in the Accounts section. Tap on the Followers tab and you'll find details on your audience.
---
2. What Time is Your Audience Awake?
You've figured out where your audience is located. Now, it's time to figure out when they are awake.
This part may seem a little tricker, but it's really a simple matter of understanding time zones. For example, if you're in Thailand and have tons of followers in India and Thailand, there is only around an hour and 30 minutes in time difference to consider. In fact, with a time difference that small, your posting schedule won't be disrupted.
If, on the other hand, you have large audiences in North America and the UK, that's different, You'll have plan and schedule content around an eight hour time difference.
Fortunately, TikTok comes with a scheduling functionality. Also, there are some quality social media scheduling tools that allow you to link your TikTok account to post or schedule content. You may also want to check our guide about TikTok scheduling tools. You'll have to build a content schedule to cover the biggest territories your fans come from. It may not be pretty. It also will be hard to maintain if you have audiences in countries with large time differences, but it appears to be the only way to cover posting content for your audience (for now).
Having established when to post content for your audience, it's time to share our tips on how to grow your following.
---
Here are six ways you can do to grow your following:
1. Find Your X-Factor
If you want to attract a large audience, you've got to find what makes you special. Most people think that your X-factor is a skill or physical feature, but it's not. It's a trait or collection of traits that stand out beyond your looks. Your looks and skills complement your X-Factor.
For example, Logan Paul is famous for his funny and crazy videos. His sense of humor shines through. The same goes for Liza Koshy. They both have strong comedic personalities that they let shine through on social media.
Not sure what your X-Factor is? Ask friends and family what they like most about you. You'll have enough to go on instantly.
---
2. Increase Your Content Production
This one sounds obvious, but it's also a little tough to manage. Creating more TikTok content requires more creativity. But you don't need to constantly come up with new ideas. In fact, you can easily document what you're up to.
Documenting is easier than constantly producing funny sketches. It's also quicker to grab your phone and share an update with your audience than spending hours planning and recording to capture the perfect shot.
---
3. Collaborate With Other TikTokers
Ever heard of the term "cross-pollination" in social media? It's the process of using one social media account to share a message with a new or larger group of followers on another account. By sharing your content with a fellow TikToker's audience, you're gaining access to more followers.
The upside?
You'll be able to pick up more new followers along the way.
Brands do this all the time and it works.
In the example below, Logan Paul partnered with Mark Dohner. The video generated 124.4K likes and 623 shares.
---
4. Get in on Challenges
Challenges are still a favorite on TikTok and a great way to attract a following. They are an easy way to get in front of a large audience, especially if the challenge is trending. Trending challenges are proof that people are paying attention to a challenge. There's also a greater probability that your video will feature and generate views.
---
5. Use Hashtags
Hashtags are a quintessential element of social media. Without them, finding content can be challenging. And because people rely on and follow hashtags, getting found becomes much easier.
While TikTok hashtags will help your videos show up in search, don't pick any hashtag for your video. You've got to do a little research. Identify hashtags related to your video and also elements used in your video.
Finding hashtags on TikTok is easy. Start with your first keyword in the search menu. Next, select the Hashtags tab to see all hashtags that include your search term.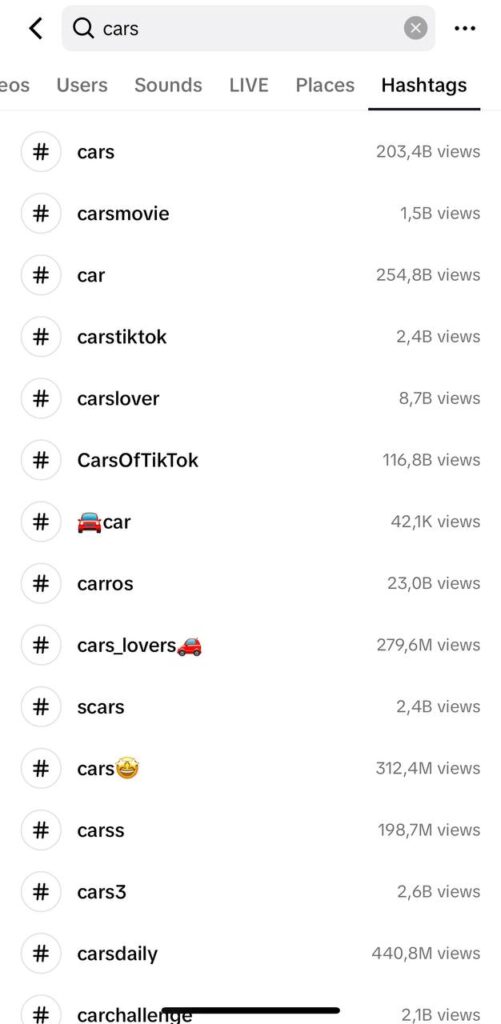 While you could select every hashtag, be a little specific. Choose hashtags that have many views but are most relevant to your search term. This approach will make your content more relevant to TikTokers who come across it. And if they like what you've created, there's a greater chance of them becoming followers.
---
6. Share Older Content
Sharing older content not recorded on TikTok is a good idea. As you'll recall, tip number one was all about increasing the amount of content you share. So, sharing older content is a great way to ensure that you've got something fresh to offer your audience, even if it is a #TBT moment.
---
| | |
| --- | --- |
| Day | Best Times to Post on TikTok in the USA |
| Monday | 12 PM, 4 PM |
| Tuesday | 4 AM, 8 AM, 10 AM, 3 PM |
| Wednesday | 1 PM, 2 PM |
| Thursday | 5 AM, 3 PM, 6 PM |
| Friday | 1 AM, 11 AM, 7 PM, 9 PM |
| Saturday | 5 PM |
| Sunday | 1 AM, 2 AM, 1 PM, 2 PM, 10 PM |
---
Conclusion
Growing your following on TikTok relies on a number of factors. First, you also need to know where your audience is located. Then, you need to establish the best time to post on TikTok based on time zone differences (yours and theirs). Together, these factors help you establish when your audience will most likely be online and searching for more of your content.
But to grow your following, you'll need more than the right time of day to post content. You need to find your special trait and share it, produce more content, and leverage collaborations and hashtags. If you apply these tips consistently, you'll be on your way to a growing follower count in no time. Check also Influencer Marketing Hub's analysis of the best time to post on Instagram in 2024.
Frequently Asked Questions
What is the best time to post on TikTok?
In this post, we have looked at a range of factors affecting your best time to post on TikTok. In the USA, the best times are:
Monday: 12 PM, 4 PM
Tuesday: 4 AM, 8 AM, 10 AM, 3 PM
Wednesday: 1 PM, 2 PM
Thursday: 5 AM, 3 PM, 6 PM
Friday: 1 AM, 11 AM, 7 PM, 9 PM
Saturday: 5 PM
Sunday: 1 AM, 2 AM, 1 PM, 2 PM, 10 PM
Does it matter what time you post on TikTok?
If you treat your time on TikTok seriously, you are going to want to ensure that you post your videos at the best times to ensure maximum engagement. We have covered the best times for this in this article. Two of the main factors that affect this are:
Where is Your Audience Located?
What Time is Your Audience Awake?
Likewise, if you use your TikTok account for marketing, you a going to want to post videos when your target audience is active.
How many times should I post on TikTok?
Many TikTok influencers post a couple of times each day. However, being video-based, it is harder to make an excellent TikTok post than a text post on something like Facebook, or even an image-based post on a platform like Instagram. Quality is far more critical than quantity on TikTok. The videos may be short, but they must be worth watching and able to interest their target audience. If you want to build an enthusiastic following, you should post at once most days, however.
How do I get more views on TikTok?
There are legitimate ways to improve the number of views your TikTok videos receive. These methods include:
Create high-quality content
Use relevant hashtags in your video descriptions
Make shorter video
Add music to your videos
Make engaging content
Keep up with the trends
Remember to engage
These basic practices will give you far better results than any attempt to game the system. The better quality you make your content, and the more you engage, the higher the likelihood that TikTok will consider your videos worthy.
Do hashtags work on TikTok?
Being a relatively recent social app, TikTok's developers saw the advantage of using hashtags to organize content. Hashtags play an essential part in TikTok. Indeed, hashtag challenges are one o the favorite forms of TikTok engagement. At a base level, hashtags act to help TikTok users find content on a particular topic. However, people also use them to collect other things together, for example, entries to a competition (or challenge). Businesses use custom hashtags to collate all posts about their brand.
How does TikTok make money?
One way that TikTok makes money is through the in-app purchase of coins in the app store. People can buy coin bundles ranging from 100 to 10,000 coins. Users can then gift these coins to their favorite creators, with TikTok keeping a portion of the money. TikTok now provides an official advertising market, giving an additional source of cash flow to TikTok. TikTok advertising works similarly to Facebook. You state your budget and preferred audience and bid behind the scenes for ad spots.