From a fairly inconspicuous app mainly used for lip-syncing during its days as Musical.ly, TikTok has grown exponentially in terms of popularity and user count. Now some of the most viral videos and trends that you find on other platforms can be traced back to TikTok. That's just how popular the app is today.
---
See the latest TikTok Stats here
---
But what is TikTok exactly? What is it used for and why is it so popular? Read on to find the answers to your pressing questions about TikTok.

---
What Is TikTok? – Everything You Need to Know in 2024?
---
What is TikTok?
TikTok is a video-sharing app that allows users to create and share short-form videos on any topic. It's mainly mobile-based, although you can still watch TikTok videos using the web app. The platform allows users to get creative with their content using filters, stickers, voiceovers, sound effects, and background music.
In the Chinese market, TikTok works as a separate app called Douyin, which is one of the most popular apps in the country. There are currently more than 1.5 billion people who use the app on a daily basis. TikTok maintains a separate user count from the Chinese version of the app.
---
The History and Evolution of TikTok
Before TikTok became TikTok, it was called Musical.ly. It was a short-form video app that mainly focused on lip-syncing content and gained significant popularity at the time. When it was acquired by ByteDance in 2018, the name was changed to TikTok and has since grown exponentially in terms of popularity and user count.
According to the latest TikTok stats, the app has been installed 3.5 billion times. It also boasts 1 billion active users on a monthly basis. This is impressive considering that the platform only had about 150 million monthly active users. The significant user growth speaks volumes about the platform's popularity and engaging nature.
Moreover, the platform is no longer just for lip-syncing. Creators on the platform are getting extremely creative with their content, putting together funny sketches and informative videos. Entertainment and dance continue to be the most popular types of videos on TikTok. But you can also find plenty of educational content covering topics ranging from health to investing.
The platform also continues to grow in terms of features and capabilities. For instance, TikTok videos could originally be only up to 15 seconds. The platform has since extended this limit to allow up to 10 minutes of videos–up from the original extension of up to 3 minutes.
Considering how it's evolved over time and especially with the video length extension, TikTok will soon be set to compete with long-form video platforms such as YouTube. Here's a quick overview of how the platform has evolved over time since the days of Musical.ly.
2014 – Musical.ly was introduced mainly as a platform to share lip-syncing.

2018 – ByteDance acquired Musical.ly in August and renamed it TikTok. It became more than just a platform for lip-syncing, with dance challenges becoming the latest trend.

2018 – By October, it became the most downloaded app in the App Store in the photo and video category.

2021 – TikTok extended the video length to 3 minutes.

2022 – TikTok rolled out the ability to upload up to 10 minutes of videos.

2022 – TikTok surpassed 1 billion monthly active users, making it one of the biggest social media platforms.

2023

–

TikTok reported 150 million monthly active users

in Europe.
---
Why Is TikTok So Popular?
Now that TikTok has surpassed 1 billion monthly active users, it's quickly catching up with Instagram as one of the leading social media platforms. Moreover, it became the most downloaded photo and video app on the App Store at the year of its launch.
So what's the secret behind the platform's massive success? Why is it catching on so fast and reaching billions of users worldwide? Let's explore some of the key reasons why TikTok is so popular.
Celebrity Endorsements
The app is liked and used by several celebrities, such as Jimmy Fallon, who helped drive the app's popularity. The app has paid partnerships with several celebrities, in various regions, who promote the app to local audiences.
Jimmy Fallon's interest in the app started naturally but was later capitalized on by the app, through a paid partnership. In November 2018, Jimmy Fallon started a "challenges" section on his show and used TikTok as a platform for the challenge.
He urged his viewers to take on the #TumbleweedChallenge and post videos on TikTok of themselves rolling like a tumbleweed. The TV host himself took the challenge, to kickstart this trend. The challenge went viral and gathered thousands of entries and millions of engagements. As of today, the hashtag has amassed 39.2 million views in total.
Even to this day, top celebrities like Ariana Grande, Troye Sivan, The Rock, Taylor Swift, and Lizzo are helping to push engagement on the platform. Additionally, TikTok also has several influential creators who gained popularity primarily through the platform. These creators have managed to attract millions of followers, helping to further drive the platform's popularity.
---
Viral Trends and Challenges
As is apparent from the challenge started by Jimmy Fallon, TikTok is a hub for viral trends and challenges. Songs, dances, and trends quickly become viral owing to the platform. Often kickstarted by an influential creator or celebrity, these trends catch on easily, especially as users share the content to other social media platforms. This then brings in new users who are enticed to either participate or follow the creators they like.
Dance challenges are particularly popular on the platform. These often involve a creator coming up with a choreography based on a certain song and then challenging their followers to participate. As more and more people jump in on the trend, the challenge eventually takes over the entire platform, resulting in the popularity of not just the choreography but also the song.
In fact, songs such as Laxed (Siren Beat), Say So, Tap In, and Supalonely owe their popularity to TikTok. With the Laxed track alone, TikTok users have created more than 33.9 million videos on the platform.
---
Easy Content Creation, Sharing, and Viewing
The TikTok app has simplified video creation and sharing and taken it to the next level. All users have to do is record anything and everything from their daily routines and post it instantly. Due to the short format, neither the video-creation nor the watching process takes much time or effort.
Additionally, this short-form video content is played as soon as a user opens the app. The videos start playing one-by-one and a viewer gets lost in a sea of fun, entertaining, addictive video content. Due to this addictive nature of the type of content, it is very easy for people to keep watching random videos for hours.
Moreover, TikTok offers plenty of features that make video creation super easy. It comes with a bunch of filters, stickers, effects, sound effects, and songs that users can easily incorporate into their videos. Duet and Stitch features also enable users to easily collaborate with each other or create content based off of other users' videos.
Even with the viral trends and challenges, users can easily tap on the audio used in the video and create their own content with it. This makes it extremely easy for users to participate in challenges or follow a new trend. The easier it is to jump in on a trend, the more popular that trend will become. As those trends transcend to other social media platforms, they can draw in new users to the platform.
---
Key Features of TikTok
Now another pressing question you may have is–what can you do with TikTok? What features does the platform boast that make it such a popular choice among social media users? Let's take a look at some of the key features and capabilities of TikTok.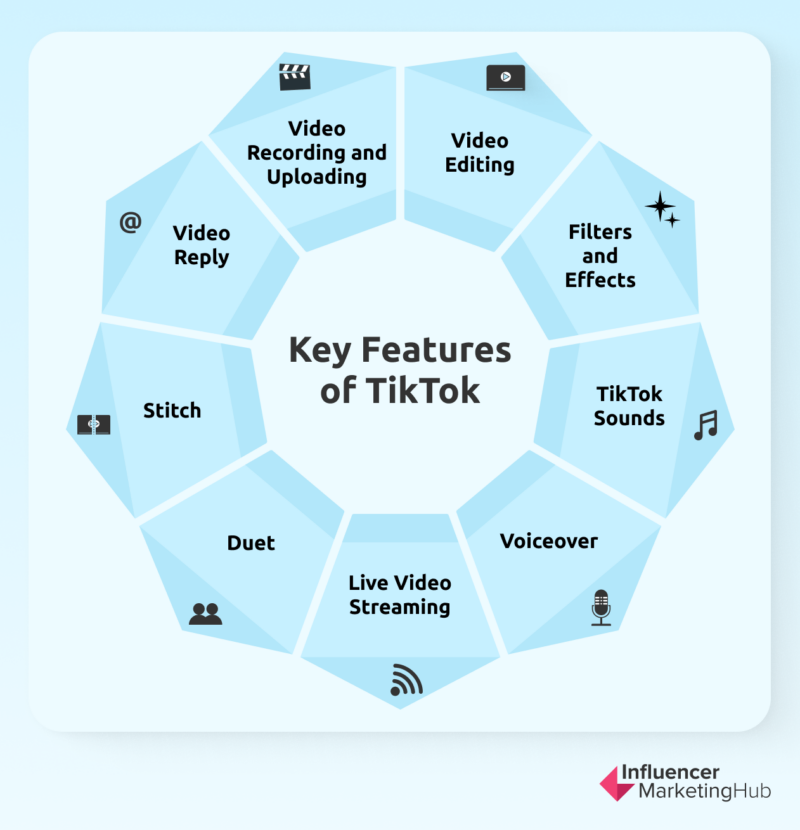 Video Recording and Uploading
The most basic and obvious feature is the ability to record videos right on the app. You can also upload existing videos from your camera roll. Having the flexibility to either record or upload your video gives users more creative freedom.
Video Editing
TikTok comes with robust editing tools that allow users to get as creative as they want with their videos. This includes the basics such as cropping and flipping videos as well as rotating the videos or changing their playback speed.
Filters and Effects
One of the best parts about the platform is the abundance of filters and effects that you can play with. Beyond beauty filters that allow for airbrushed perfection, it also offers fun stickers and animations that can make your video pop. This includes AR filters that let you change your facial features or add different elements to your video. You can even find a green screen effect that lets you add any background you want to your videos.
TikTok Sounds
Another popular aspect of the app is the vast collection of sounds. It offers plenty of popular and classic songs that you can add as background music to your videos. You can also add sound effects that give more substance to your content.
Voiceover
One cool feature about TikTok is that it lets you record voiceovers for your videos. That way, you can add a narration to your pre-recorded video and get your message across more effectively.
Live Video Streaming
TikTok also allows users to stream live videos where creators and their followers can interact in real-time. Users can even send Gifts to creators while they stream live videos.
Duet
This feature lets users create a Duet video with another user's content. The two videos will play at the same time, which means users can actually sing together or perform dances and other stunts together.
Stitch
With this feature, users can Stitch their video with another user's video. Unlike with Duet, a Stitched video will play after the original video that they Stitched it with. This is a great way for users to add commentary, follow instructions, react to another creator's video, or answer questions.
Video Reply
Another useful feature is the ability to create a video responding to a specific comment. With this feature, the comment will be highlighted as an overlay in your video. This is a great way to answer questions, clear up any doubts, follow your audience's requests, or share your opinions.
---
How Brands Can Leverage TikTok
From B2B companies to small businesses–many brands are already making use of TikTok to stand out. It offers a new and creative way to engage your audience on a platform that they love to use. Some of the best ways for brands to use TikTok are: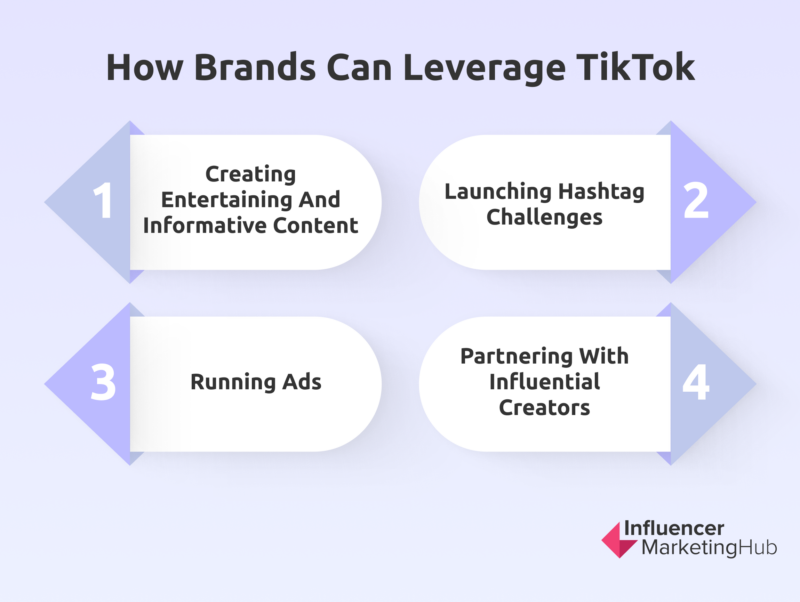 Creating Entertaining and Informative Content
With entertainment being the number one reason people use TikTok, your brand can stand out if it pushes out highly entertaining content that resonates with their audience. They can also share informative content to help educate their audience in a way that aligns with the platform's content format.
---
Launching Hashtag Challenges
TikTok users love a challenge. That's why so many dance challenges became viral on the platform. Tap into this interest by launching a branded hashtag challenge that will help you generate tons of user-generated content and gain visibility on the platform.
---
Running Ads
TikTok now offers brands the option to run paid ads on the platform. Consider running strategic TikTok ads to get your brand in front of the right audience and attract potential customers.
---
Partnering with Influential Creators
A common way for brands to market on TikTok is to partner with influential creators on the platform. You could get them to promote your hashtag challenge, review your products, Duet or Stitch with you, or feature your brand in their content.
---
What's in the Future for TikTok?
With the platform quickly evolving with new features and growing its user base, TikTok is set to become one the top social media platforms in the market. If it continues at this pace, it might even get ahead of platforms like Instagram, which have been dominating the scene for a while.
---
What is TikTok? - Video