TikTok has exploded in popularity over the last few years, and while COVID-19 probably helped this, TikTok is still likely to increase its user base over the next couple of years, at least. If you just look at its ad revenue growth predicted for the next three years alone, it's clear that you should watch this channel. According to TikTok stats, it's expected that by 2026 it will generate a whopping $14 billion in ad revenue.
Just like its growth, we believe the TikTok trends for 2023 will be predominantly positive. And it is crucial for brands, particularly those targeting the younger demographic, to recognize TikTok's possibilities for marketing moving forward.
To help your TikTok marketing strategies hit the right mark in 2023, here are 12 of the major trends expected to dominate the platform.
---
TikTok Trends to Guide You in 2023:
---
TikTok Trends to Guide You in 2023:
1. More Brands Will Partner With TikTok Influencers
TikTok has grown in popularity so rapidly that many brands have yet to understand or even recognize the platform. However, this is changing, particularly now that TikTok has a formal advertising network. As a result, expect to see a sizable increase in the number of brands marketing on TikTok this year, particularly those targeting Generation Z or millennials.
Likewise, as TikTok numbers have risen, so have the number of influencers on the platform. In the early days, TikTok was mainly known for people making their versions of music videos. Now, however, people upload a much more comprehensive range of videos to TikTok, allowing more people to become recognized as experts in different fields. Also, quite a few influencers on other platforms have created a TikTok presence to widen their exposure.
The increase in influencers will also help increase the number of firms marketing on the platform. Many firms work with influencers to help sell their products to their numerous followers. TikTok has an intelligent algorithm that accurately presents suggested content to viewers. This makes it easier for brands to reach their target customers through paid ads or influencer marketing.
One of the reasons why influencer marketing on TikTok will grow further in 2023 is that it allows brands to create and share authentic messages that their target audiences can relate to better. As you explore the other trends in this article, you'll quickly realize that authenticity is one of the golden threads.
When partnering with influencers, Grin, one of the top UGC platforms for brands, suggests that more brands will collaborate with micro influencers. They predict that 2023 will be micro influencers' year and that the platform will continue to help smaller creators by, for example, featuring them more often in For You Pages.
---
2. Certain Songs Will Become Exceptionally Popular and Used to Back Multiple TikTok Videos
This trend is probably relevant every year on TikTok. Although music isn't essential for a successful TikTok video, many videos feature a soundtrack. TikTok has arrangements with most major music studios, permitting short clips from songs, and, as a result, music has become an integral part of many TikTok videos.
The challenge, though, is predicting which songs will go viral on the platform. Adding to this challenge, is that often years after the track initially gained popularity, it will almost out of nowhere go viral on TikTok. This will continue in 2023, and many people will make videos backed by these popular tracks.
Often, these tracks become popular because people use them for dance challenges. To give you an idea of what you can expect in 2023, here are some of 2022's most popular songs on TikTok according to Mashable:
"Sunroof" by Nicky Youre & Dazy

"So Hot You're Hurting My Feelings" by Caroline Polachek

"We Don't Talk About Bruno" from

Encanto

"Just a Cloud Away" by Pharrell Williams

"As It Was" by Harry Styles

"Running Up That Hill" by Kate Bush
---
3. Hashtags Will Remain Popular
From hashtag memes to branded hashtags, hashtags will remain a critical element used to round off TikTok videos (especially considering that TikTok will probably focus more on its search capabilities — more about that later). Popular hashtags to try in 2023 include:
#Storytime

#POV

#ExpectationVsReality

#FactOrCap

#MustHaves

#TikTokMadeMeBuyIt

#InnerChild

#HotGirlWalk

#TreatYourself

#UnwindWithMe

#EduTok

#TikTokMadeMeTryIt

#GrowthMindset

#Advice

#ShopWithMe

#ComeWithMe
---
4. User-Generated Content Will Become Increasingly Important to Marketers
User-generated content (UGC) is becoming valuable for many brands across most social network sites. However, it can be challenging for brands to make fresh content continually. If they can benefit from content created by others, that makes their posting easier.
User-generated content is any type of content that fans or customers create for a brand – videos, in the case of TikTok. Brands can use UGC to turn customers and supporters into brand advocates. One of the most significant advantages of user-generated content for a business is that TikTok viewers find it more favorably than official content. Generation Z, in particular, trusts content from real people far more than they trust branded content.
Brands sometimes try to imitate UGC. You have to ensure that your content looks as natural as UGC does if you do this. Don't work with offline celebrities; focus on TikTok influencers and ordinary people instead. You can, for example, check out yours truly's Free Influencer Search Tool to help you find influencers in your niche on TikTok.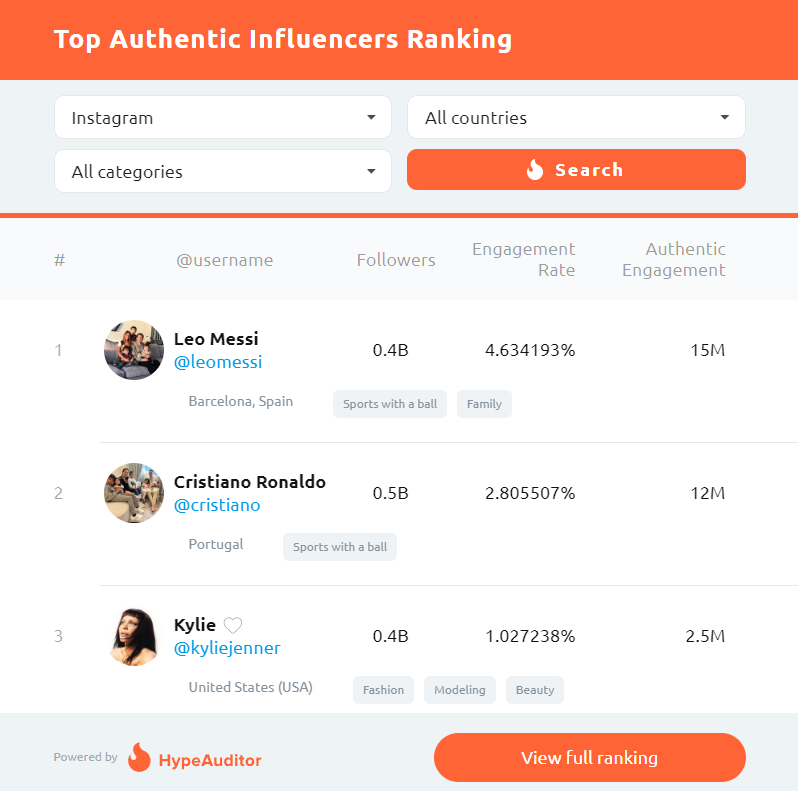 ---
5. Honesty Will be the Best Policy
Adding to the previous point, increasingly more users will crave content that's honest. This will mean that creators will need to become comfortable to be vulnerable in front of the camera, if they haven't done so yet. While content on TikTok is generally lighthearted and entertaining, it's still a place where creators can show their real selves and share more trying moments.
---
6. Brands Will Use Duets and Stitch More to Interact With Their Fans
One of the more popular features of TikTok is Duets. Duets allow somebody to make a video and then encourage others to create a video to play alongside their original. It provides a way for TikTok followers to interact with other people's or brands' videos. You can make a duet with any TikTok video from a brand, influencer, friend, or even yourself, as long as the original video's creator allows it.
Brands can also use Duets as a challenge. They are a clear example of user-generated content, potentially leading to massive engagement by your potential customers. If you're working with influencers, you have the potential for considerable viewership of your video, as your video will be visible to the followers of anybody who makes a Duet containing it.
A similar feature that will also become more popular in the new year is TikTok Stitch. With this feature, you can take a short snippet of another TikTok user's video and include it into your own by expanding on their story or adding your take on it. Plus, it's a great way to help others get more exposure as original creators will get the attribution that they deserve in the caption of the new video.
---
7. Focus on More Behind the Scenes Videos
Most people take a genuine interest in what happens behind the scenes in the businesses they use and admire. TikTok gives an excellent opportunity for you to showcase your personal side. This can be particularly effective if you do something unusual, exciting, or even messy.
As we move forwards into 2023, expect to see many firms using their employees as the brand's public face. Not only can this type of content help to boost brand awareness, but it's just one more example of how you can create content that's more authentic.
For example, if you have a product that's interesting to make, why not record the process? Users come to TikTok to be entertained and an interesting backstory can be very entertaining.
---
8. Paid Advertising Will Be Used More
A number of online sources predict that paid advertising will be used more often moving forward. Considering that the platform has grown significantly in popularity, this move makes sense for marketing departments. In fact, eMarketer estimates that ad spending on TikTok will reach $8.75 billion in 2023. To put this growth into better perspective, in 2022 it was estimated at just shy of $6 billion.
Not only will big brands turn more to paid advertising, but also individual creators. Grin explains that it will become more challenging for creators to enjoy the same reach as before. As such, they will turn to other strategies — like paid advertising — to attract more followers.
That said, Grin also predicts that TikTok ad prices will increase in the coming year(s). They base this assumption on the basic principle of supply and demand. Their suggestion — leverage TikTok ads before the price probably increases.
An essential rule for any TikTok advertiser is to make sure your ads don't look like ads. Generation Z notoriously hates anything that resembles an advertisement.
For this reason, marketing teams should turn to native advertising on TikTok. In short, it's paid content that aligns with the typical style and tone of the content of everyday TikTok videos. In the case of influencer marketing, native advertising videos are just like the other videos an influencer uploads – they just happen to incorporate a sponsor's product as naturally as possible.
While official TikTok ads are clearly signposted as such, to be successful, they still have to entertain viewers. So, they certainly can't be the same ads a company plays on TV or even a 15-second cut-down version of one.
Some brands may resist this trend, as they can't keep a consistent look across all their advertising channels. But they will quickly learn that TikTok users don't subscribe to the one-size-fits-all mentality.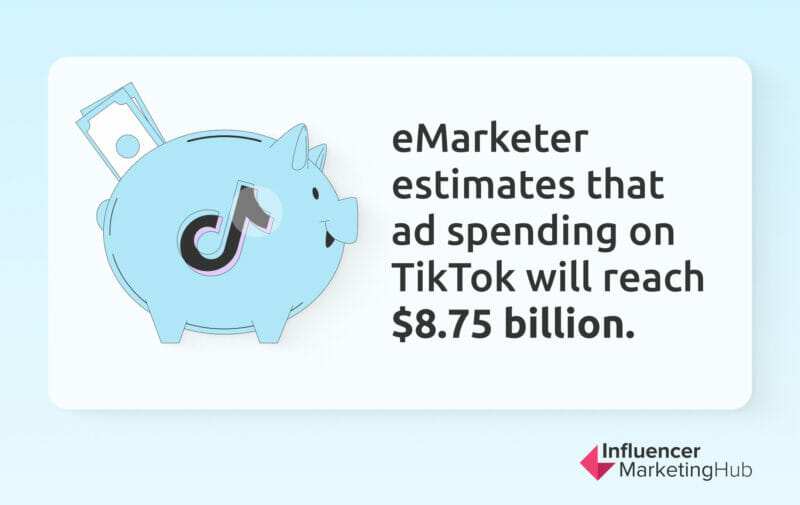 ---
9. Entertaining Content That Sparks Joy Will Deliver Results
According to TikTok's What's Next 2023 Trend Report released at the end of 2022, "actionable entertainment" will be one of the major trends in 2023 as content shared on the platform is curated by using what users find entertaining as a guideline. What this means for marketers is that whatever messaging they share should be entertaining. In short, it should be engaging and fun.
At the same time, TikTok also shares in this trend report that users should "make space for joy". Self-care ideas, like well-being life hacks, that are meaningful and uplifting will also deliver results moving forward. They key takeaway — whatever you share, keep it lighthearted to fit the overall tone of the platform.
---
10. Community Building Will Grow
According to TikTok's What's Next 2023 Trend Report, TikTok communities are more specific compared to groups formed on other channels. To use their own words, "it's a collection of tiny clubs where people can find new ideas on how to explore their passions".
Users turn to TikTok not purely for mindless entertainment. Instead, they also want to spark conversations and get answers.
Moving forward, TikTok suggests that brands explore specific niches and get to know these groups. While sharing creative content is key, brands should also focus on building communities and highlight key voices and authentic conversations.
---
11. Certain Industries Will Have More Success Than Others
Staying on the topic of communities, the reality is that TikTok isn't for everyone. Not only is it more popular among younger audiences, but certain industries also generate much better results than others at the end of the day.
Perhaps surprisingly is the "book revival" that TikTok inspired over the past two years, specifically books in the young adult (YA) category. The hashtag #BookTok is expected to remain popular 2023 and as reading is an activity that young and old can enjoy, basically any brand or creator can join this trend and share their favorite titles.
Other industries that will enjoy more success with TikTok in 2023 are foodies and beauty brands. Similarly to the BookTok community, the RecipeTok and BeautyTok communities are also very active and will remain strong in 2023.
---
12. Search Features Will Improve
Lastly, to help users discover all the entertaining content, it's anticipated that the platform will introduce more changes to its search features. This prediction is in light of the fact that more and more younger TikTokkers are using TikTok (and Instagram) as an alternative to Google.
Research shared by a senior VP at Google revealed that in 2022, nearly half of Gen Z users used TikTok instead of Google Search to find info for tasks like planning a trip and product recommendations. When interviewed by NBC News, Gen Zers explained that they simply preferred a visual platform.
In addition to improvements like predictive text that suggests common searches, it's anticipated that in the new year we'll see a number of other related improvements too. One such prediction is that moving forward the platform will start to prioritize local content and Grin goes as far as to say that we might just see a "Near You" tab soon.
---
Wrapping Things Up
By the look of these predictions for 2023, TikTok isn't going anywhere soon. From songs to hashtags to Duets, there are many features that brands can use to expand their online presence. After all, if TikTok can get young people to pick up a book, there's basically nothing that it can't achieve, right?
Moving forward, focus on how you can tap into TikTok communities. Whether that's by means of using a paid ad or creating a behind-the-scenes video, there are various strategies that you can use. That said, whatever you create, make sure that it's authentic and entertaining.
Then, remember to keep an eye out on changes made to its search capabilities. While TikTok is a visual platform, SEO practices will likely start to come into play more.