With TikTok now being the fastest growing social media network, there can be considerable competition for your videos. That means that you will need to work hard and be strategic if you want to create TikTok trending videos.
As we have previously discovered in 50 TikTok Stats That Will Blow Your Mind, TikTok was the 4th most popular free iPhone app download in 2019 and overall the 2nd most popular free app downloaded in 2019. It had the highest follower engagement rates across 100,000 user profiles sampled in an online research project conducted by the Influencer Marketing Hub. It now has a staggering 800 million active users worldwide. And some of its best-known accounts, like American singer and social personality, Loren Gray, can claim upwards of 40 million followers.
Don't underestimate the importance of TikTok. Its audience may be predominantly young, but they are aging with the platform, and there are a considerable number of them. If you can create TikTok trending videos, then you can consider it a notable success.
---
14 Tips to Create TikTok Trending Videos:
---
So, what can you do to enhance the chances of your videos appearing in the list of TikTok Trending Videos for your country? We have come up with 14 tips that will improve your odds of success.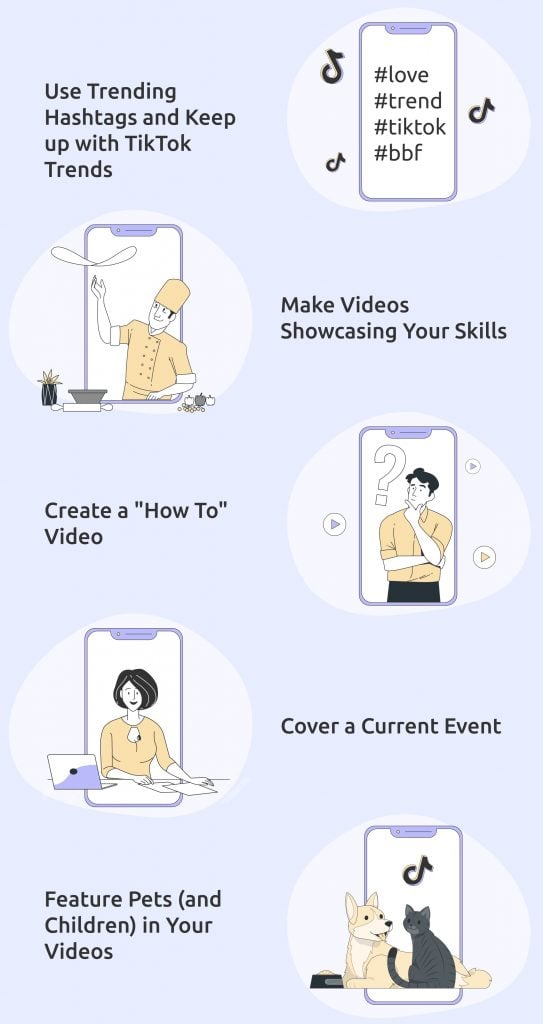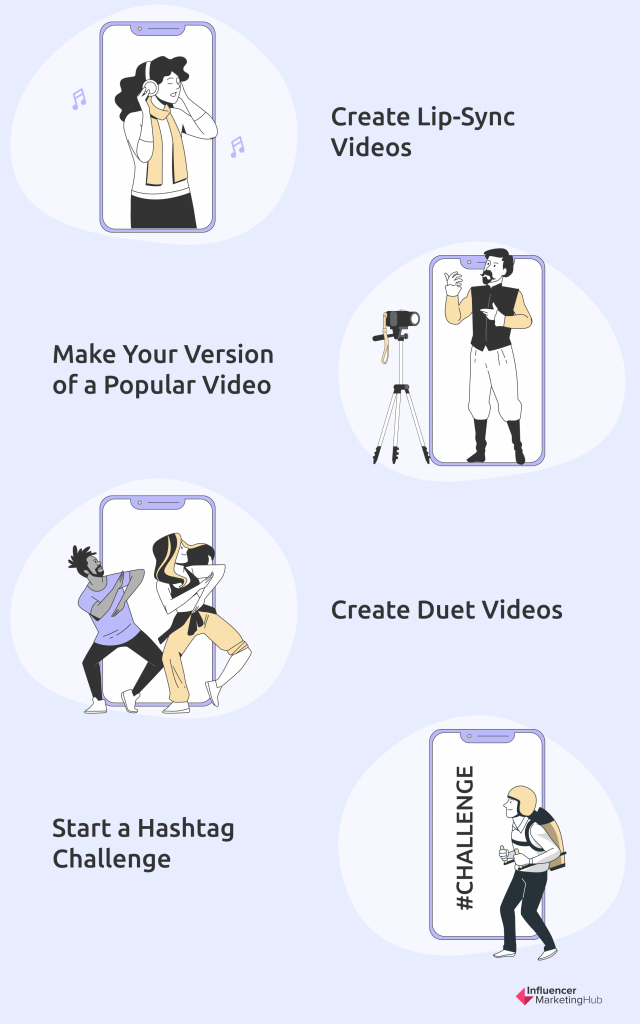 ---
1. Decide on a Niche for Your Videos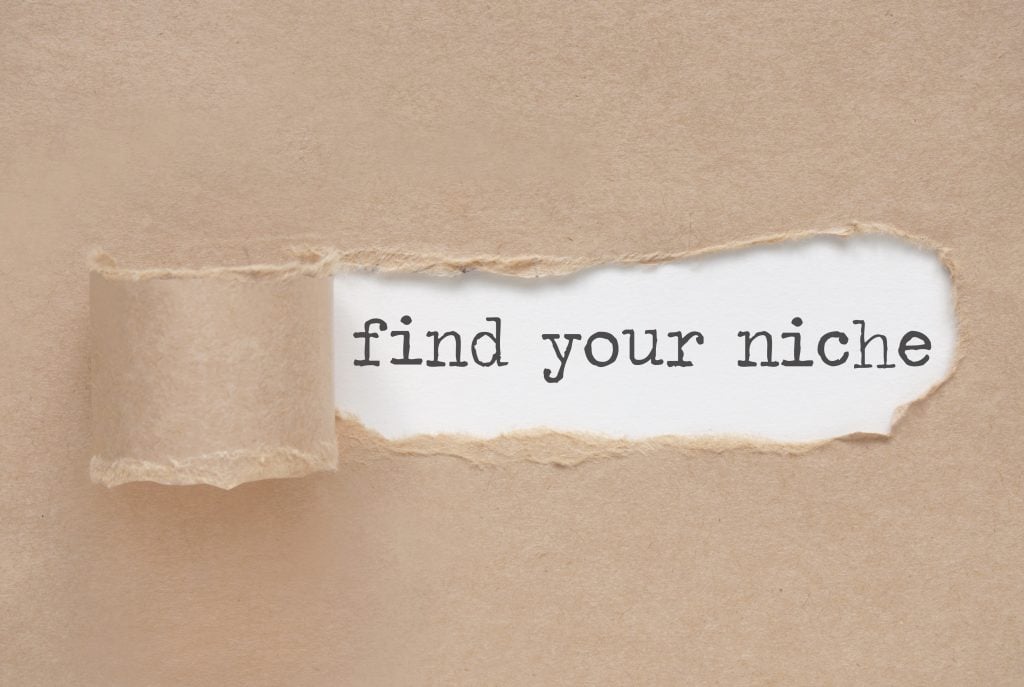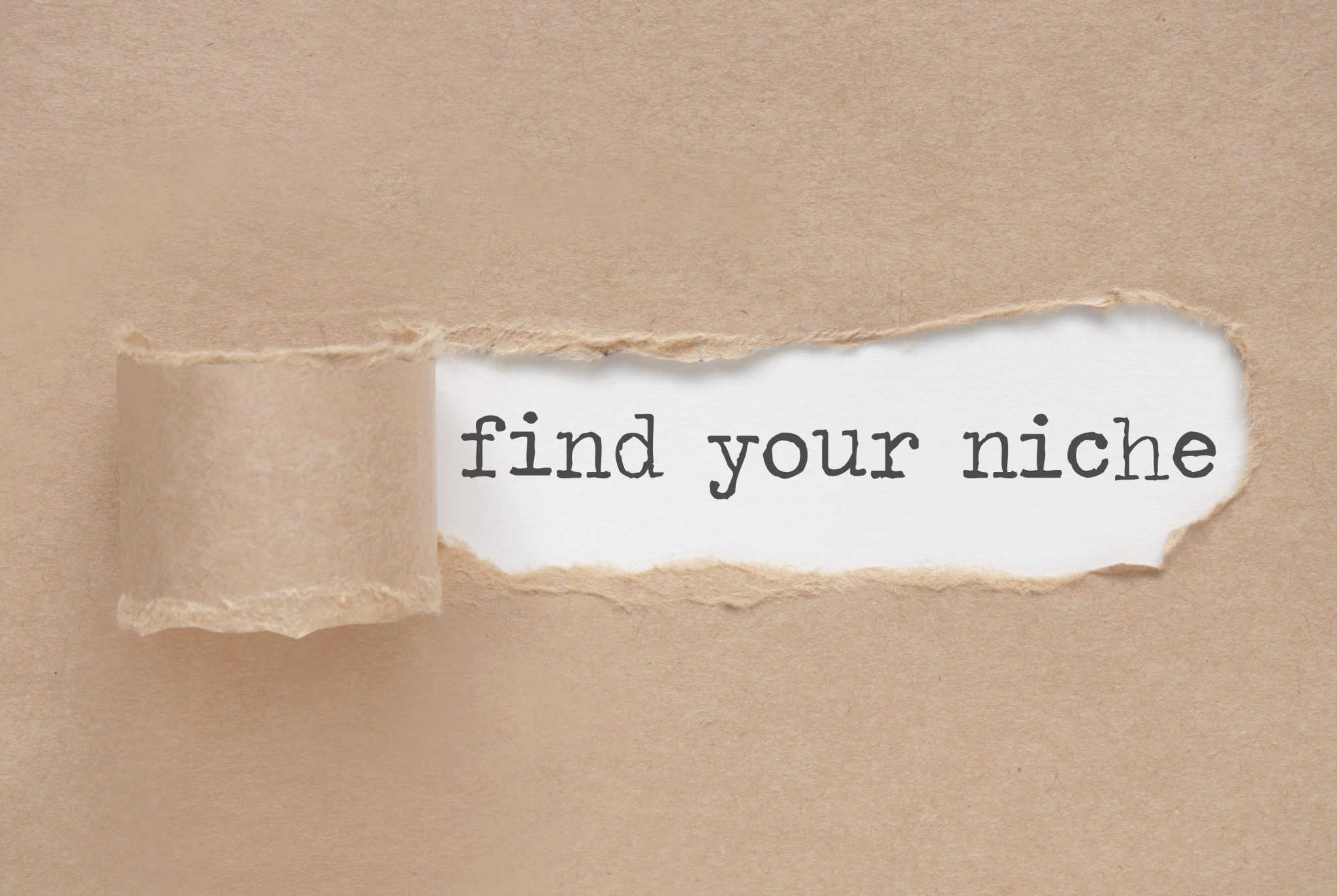 This first tip applies to every social network where you want people to consider you successful. You can't just make videos randomly, uploading them in the hope that people will like them. You need to define an objective for your social network activity. Why are you uploading videos to TikTok? What do you want to achieve? In particular, who are the ideal people you want to view your videos?
Once you have decided upon the audience you should target, you can start to think about the types of videos that will interest them. Remember, if you want to produce trending videos that go viral, you need to understand the types of videos that relevant people like to watch.
While you clearly won't make all of your videos about the same subject, you want an overarching theme or main niche for your videos, one that makes people decide to want to see more of what you create.
---
2. Post at Least Once Every Day
TikTok expects its successful creators to post often. If you hope to go viral, you have to make sufficient content for people to notice you. If you keep a low-profile, your videos are unlikely to appear often in people's For You feeds.
The best TikTok accounts release videos multiple times each day. All right, that level of production may be difficult for a single person without compromising on quantity. But ideally, you should upload a new video each day, each weekday in the case of a brand.
The more content you make, the more likely you are to find something that matches today's viral craze. Just make sure that all your videos are relevant to your followers and target audience.
---
3. Ensure Your Videos are of High Quality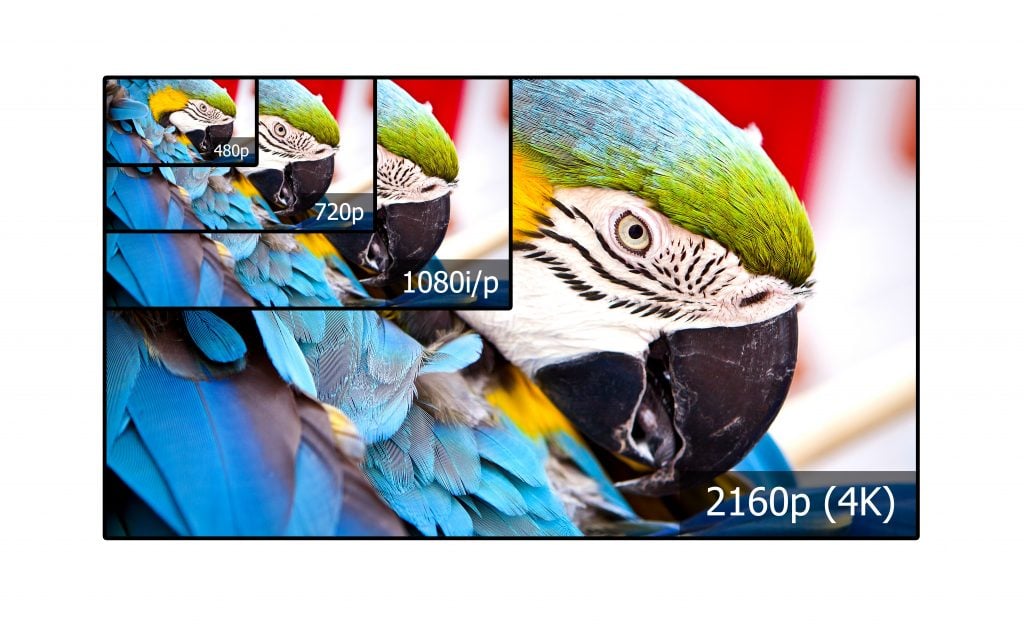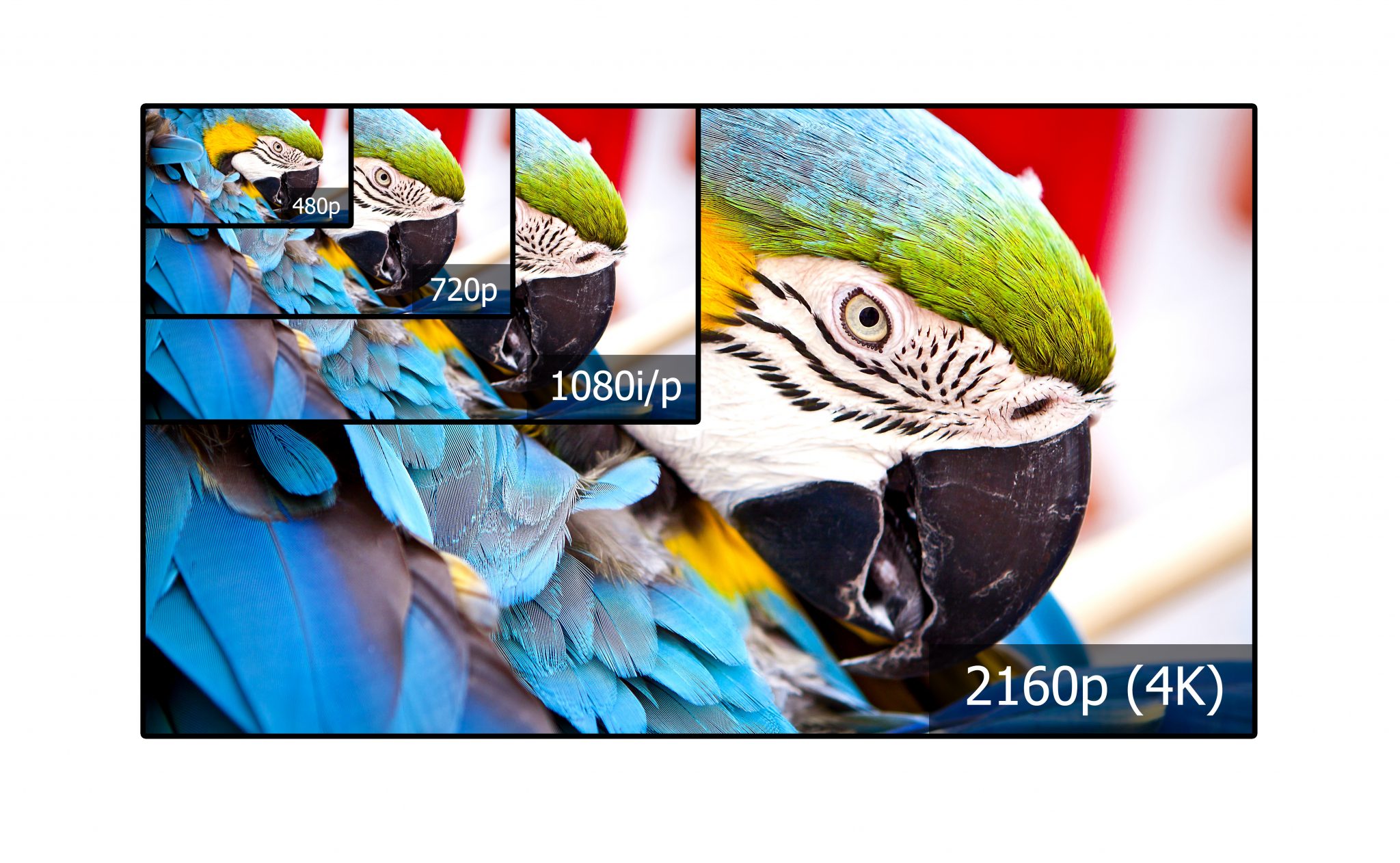 We can't emphasize this enough. If you want to have trending videos, you need to ensure that you are sharing high-quality footage. Despite the need to upload videos regularly, you shouldn't sacrifice quality for quantity. This doesn't mean that you need to employ a professional camera operator to make your videos or use high-end equipment; you can still make videos that go viral on your smartphone. But it does mean that you should film in high definition and that you make an effort to get the production basics right. Keep your camera steady, using a tripod if necessary. Consider using an external microphone if the recorded sound is essential (and you aren't just overlaying music or dubbing audio later). Make an effort to edit your video. TikTok has acceptable quality editing functions, or you could use an external app if you need something better.
You also need to think about the subject of your videos. It needs to interest and engage people. Having decided on a niche for your videos, and an objective for your TikTok posts, you need to ensure that the videos you make will genuinely interest your intended audience.
---
4. Don't Ignore Your Sounds
One of TikTok's key differences has been its liberal use of music in the videos that people share. In the West, at least, TikTok grew out of Musical.ly and shares that platform's fixation on music overlaying users' videos.
TikTok makes it incredibly easy to add music to 15-second video clips, having made legal arrangements with most of the major music companies to permit the use of copyright music extracts. You can easily add well-known music tracks to your videos from within the app, either during the filming stage or later when editing your videos. There are fewer musical options for the longer 60-second videos, but there are still track excerpts you can use.
---
5. Interact with Other TikTok Users
Don't forget that TikTok is a social media network, and a crucial part of that is the word "social." You aren't a television network, and your viewers are not merely content consumers.
It is crucial that you view, like, and comment on other people's videos. Engagement is part of TikTok's algorithm, and the more you interact with people, the more your videos will end up on their For You pages.
Also, another way to widen the reach of your videos, increasing the odds of them becoming TikTok trending videos, is to collaborate with other TikTok creators. Even influencers agree to work with lesser-known people in their videos at times – they need ideas and inspiration for new content.
---
6. Use Trending Hashtags and Keep up with TikTok Trends
If you open your TikTok app and tap the Discover button at the bottom, TikTok will show you your Trending Hashtags. It makes sense for you to emulate some of the posts that you see on your Discover page if you want your videos to trend too.
These trending hashtags change regularly and are region-specific, At the time of writing, the Trending Hashtag at the top of my feed was #BearWeek, followed by #Phrog (and yes, the videos all feature frogs).
Now making videos about bears or frogs may not be something you can do, particularly if you don't have easy access to film either animal, and they don't relate to your niche. However, you should find some trending hashtags more relevant to your audience.
Some of the featured hashtags are likely to trend longer. #TikTokTaughtMe, with 1.7 billion views, is probably usable for any "How To" or tutorial-type video, for instance.
Also, if people are actively searching for a particular hashtag that you have used in your video description, then they are more likely to come across and view your video.
---
7. Make Videos Showcasing Your Skills
If you're looking for content ideas for your videos, it's probably worth asking yourself what skills you possess. Many TikTok creators make videos of themselves doing something well. It could be playing an instrument, playing a sport, skateboarding, or even something less common, such as juggling or fire-eating. Many capable dancers demonstrate their skills in lip-synch videos.
---
8. Create a "How To" Video
Although TikTok videos are short (15 to 60 seconds), you still have the opportunity to create "How To" videos and tutorials. Obviously, you need to focus on demonstrating one specific task.
You will find many TikTok tutorials, particularly in the beauty and cookery niches. If you can break a task down into steps that last no more than 60 seconds, then it may make for an ideal TikTok video tutorial.
If possible, try to keep your "How To" video entertaining and less educational looking. However, you still need to make your tutorial clear.
In some niches, you might use your TikTok tutorials more as a teaser for your YouTube channel. For example, it may be difficult to condense an entire recipe into a TikTok video, but you can give a sped-up version, and then point to a longer video on your YouTube channel.
---
9. Cover a Current Event
Even the most diehard TikTok fan recognizes that there is a world beyond TikTok. Many TikTok followers have a keen interest in what happens in the world around them. They like to keep up to date with current events. You will find many videos highlighting both current events and milestones in pop culture.
Again, you only have 15 to 60 seconds for a TikTok video. So, it gives an excellent opportunity for people to encapsulate some aspects or views of an event in a video for everybody to see.
We're not just talking news here. You could make a video giving your opinions on a favorite movie or popular television show.
---
10. Feature Pets (and Children) in Your Videos
W.C Fields once said, "Never work with children or pets because they steal the limelight." That may be the case in an egocentric industry like acting, but it isn't a worry if you want to make trending or viral TikTok videos.
Children perhaps make a less popular topic for your videos, because the typical TikTok audience is so young, anyway, but pets always make a popular subject for your videos. If you have cute cats or dogs, or even more obscure domestic animals, doing funny things, then you have a sure-fire winner. Of course, if you have access to bears or frogs, your videos could be trending already.
---
11. Create Lip-Sync Videos
On the surface, a lip-synch video may seem dull. You're mouthing along to someone else's song. However, variations on the lip-synch video are at the heart of TikTok. Indeed, nearly all the early videos on TikTok (and Musical.ly before it) were lip sync videos.
However, you will still see many lip-synch videos in TikTok's Trending Video lists. The platform's users still love them. The best ones are a world away from merely miming to somebody singing a song, however. They are effectively short music videos, featuring exuberant, sometimes choreographed dancing, filmed in unexpected locations.
---
12. Make Your Version of a Popular Video
They say imitation is the sincerest form of flattery. Taking an existing successful video, and then making your version of it, could lead to a similarly popular video. You don't want an exact copy, of course. You have to add something yourself, that makes it stand out from thousands of other versions.
You will sometimes find lip-sync videos on TikTok, where people have done their best to remake the official music videos. Sometimes they even attempt frame-for-frame remakes … on a typical TikTok user's budget, of course. These low budget "remakes" can be exceptionally entertaining.
In other cases, people make new videos that are a pastiche or parody of an existing video. They use humor to "send up" the original video.
Often, though, you don't need to replicate existing videos so closely. You simply need to look at trending videos (perhaps using our new tool) and gain ideas and inspiration from the videos.
---
13. Create Duet Videos
One of the special types of videos that TikTok allows you to make is a Duet video. Here you can use a split-screen effect to comment on an existing video. The original video appears on the left half of the screen, and the one with you discussing appears on the right. You can make a Duet using any footage, although you do first need permission from the original creator. You can even make a Duet video with yourself.
Entertaining Duet videos can attract huge audiences, and if you make it a regular part of your video releases, it can help build you a massive fanbase.
---
14. Start a Hashtag Challenge
Hashtag challenges can be one of the most entertaining ways to build engagement on TikTok. Either individuals or brands can set these challenges, with brands having the opportunity to pay for Branded Hashtag Challenges as part of TikTok's advertising packages. The one limitation for new TikTok users (not paying for a Branded Hashtag Challenge), is that it can be hard to gain sufficient reach to promote your challenge until you have already built a sizable following.
With Challenges, you use specific custom hashtags to encourage users to create videos on a theme. You make an introductory video, where you demonstrate the challenge, and explain to others what you would like them to do to meet your challenge.
For a hashtag challenge to succeed, you need to keep it simple. Nobody is going to enter a challenge that is too difficult for them to complete. You also want to keep it fun, as that is the main reason why people like to be part of them.