Advertising Disclosure
Advertising disclosure:
Our partners compensate us. This may influence which products or services we review (also where and how those products appear on the site), this in no way affects our recommendations or the advice we offer. Our reviews are based on years of experience and countless hours of research. Our partners cannot pay us to guarantee favorable reviews of their products or services.
TikTok is the world's most downloaded social media app for short-form videos. TikTok attracts a huge target audience (Gen Z and young millennials) and offers engaging, snackable content. 1.534 billion people actively use the app globally. As of now, the app is available in 154 countries, which means a broad reach and penetration for brands.
Should you advertise on TikTok? If your target audience is aged 19-29 years (35% of TikTok audience base), TikTok is tailor-made for you. Teens and tweens who love to create and share videos and interact with a global community flock to the platform. These users spend 52 minutes daily on the app and generate more than $4 billion in revenue via the app. So, TikTok marketing can make big bucks for your business. In this post, we cover TikTok advertising best practices so that your ads qualify for benchmarks set by the platform. Then, we will discuss TikTok-prescribed specs for audio and video ads.
---
TikTok Video Ad Specs and Best Practices for 2023:
---
TikTok Video Advertising Best Practices
In 2019, TikTok introduced several advertising options for targeting specific user groups. Brands can leverage ads to get better returns from marketing on TikTok.
Here are some best practices marketers and content creators on TikTok need to follow: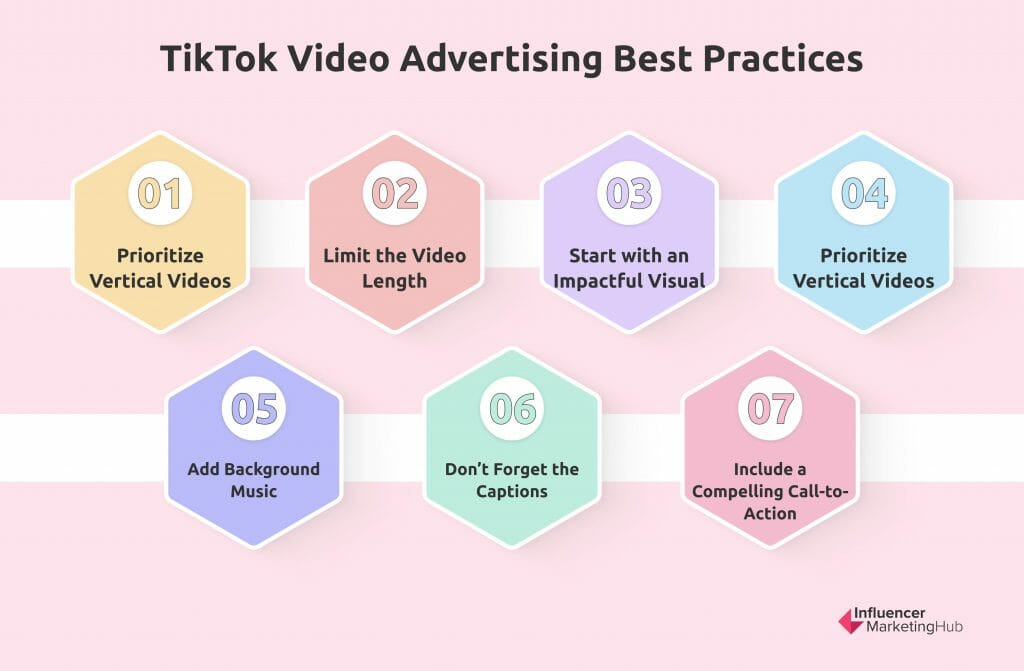 1. Prioritize Vertical Videos
To give your ads a native-video like look and feel, all video assets should fit the recommended ad specs (covered later in this post).
If they don't, TikTok is most likely not going to accept your ads. And, even if they do, the ads won't create as much impact. They can look skewed or might get cut off at margins.
2. Limit the Video Length
The best way to ensure that your video ad content is not trimmed, keep the video length between 9 and 15 seconds.
3. Start with an Impactful Visual
Understand that internet users are more than happy to swipe and scroll to the next post if they don't find the content in front of them interesting.
How can you get them to stay and watch your video?
To hook viewers to your advertisement, start with an attention-grabbing visual.
4. Center all Important Elements
TikTok typically obscures the outer margins of frames. So it's best to keep all the important elements of your advertisement centred. This should include your CTA (call-to-action) and brand name.
5. Add Background Music
TikTok requires audio settings to be turned on. It's advisable to add background music clips and tracks to your advertisements, instead of subtitles.
6. Don't Forget the Captions
Click-happy social media users may abandon an advertisement before it ends. You can write concise and informational captions so that viewers get the gist of your video, even if they don't watch all of it. TikTok advises using the local language to write captions.
7. Include a Compelling Call-to-Action
There is no point in investing in advertisements if they don't lead to any tangible returns. Include a strong CTA in the form of a native button to prompt viewers to perform an action.
TikTok ads can cost a lot. If you want your ads to work, you need to optimize them for the platform and audience. TikTok prescribes ad specs according to where the ad will be placed. Ad composition, aspect ratio, image resolution, file type, and ad duration are different for different ad placements.
The different ad placement options on TikTok are:
In-feed

News Feed series

Vigo and Helo apps' in-feed
---
Ad Specs for In-Feed Ads
In-feed ads, as the name suggests, appear in a user's in-app feed. These ads have the following components:
Video

Ad display image

Brand/app name

Ad description
This is what an in-feed ad looks like on an Android mobile: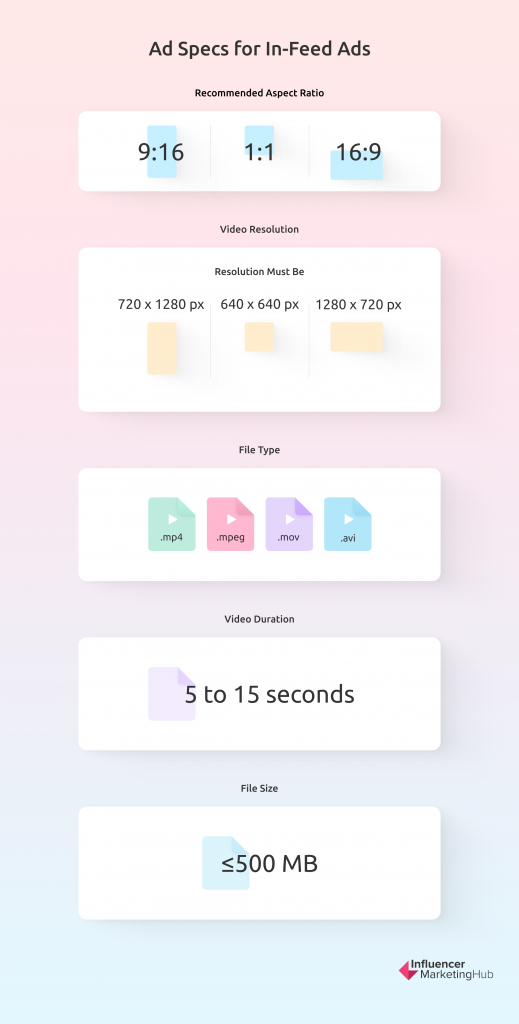 Specs for the ad video:
The recommended aspect ratio is 9:16, 1:1, or 16:9.

Resolution options include 720 x 1280 px, 640 x 640 px, and 1280 x 720 px.

You can use MP4, MPEG, MOV, or AVI files in your ads.

Video duration should be between 5 and 16 seconds.

The video file size should be less than 500 MB.
Specs for the ad display image:
The prescribed aspect ratio is 1:1.

File size is less than 50 KB.

File type should be PNG, JPEG, or JPG.
Specs for brand/app names:
TikTok allows 2-20 English characters for displaying the brand name on ads.

Emojis should not be included.

Punctuation marks and spaces are also counted as characters.

App names should have 4-40 English characters.

The name character limit varies with language, operating system, and device model.
Specs for ad description:
The character limit for ad description in English is 12-100.

While longer descriptions are allowed, they run the risk of getting cut off at the end.

Emojis, curly braces, and hash symbols are allowed.

Punctuation and spaces will be counted as characters too.
---
Ad Specs for News Feed Series
TikTok has certain news feed app series such as Buzz, BuzzVideo, and NewsRepublic. Ads that appear in these series have specs different from in-feed ads.
These video ads have the following constituents:
Video

Brand/app name

Ad description
This is what news feed video ad looks like: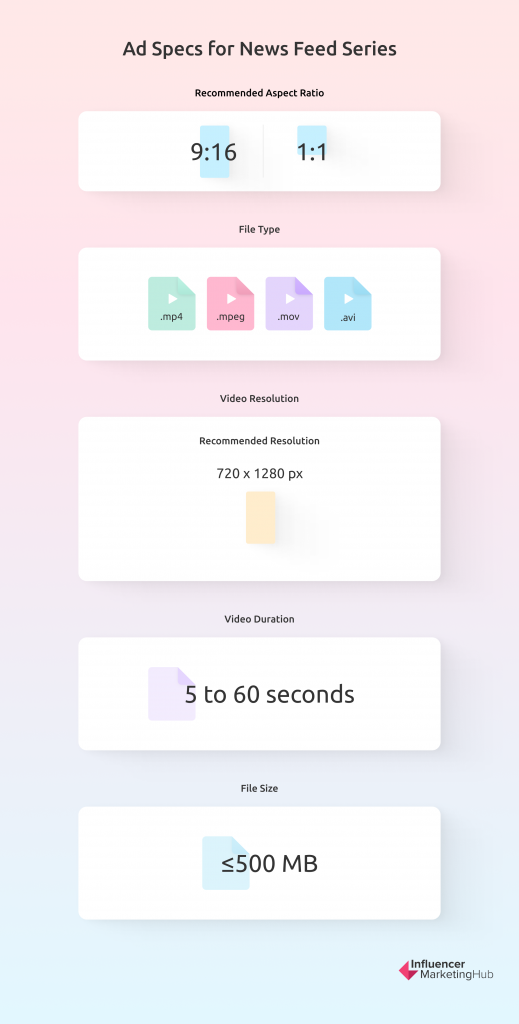 Specs for the ad video:
The recommended aspect ratio is 16:9 or 1:1.

File types are the same as in-feed ads.

No restriction on video resolution, though it's best to keep it above 720x1280 px.

You can use short-form videos of any duration, but keep it in the 5-60 seconds range.

The file size should be less than 500 MB.
The specs for the brand/app name and ad description are the same as for in-feed ads.
---
Ad Specs for Vigo and Helo In-Feed
TikTok has a unique offering for its advertisers. It allows brands to reach local audiences by placing their ads in indigenous apps and social platforms, such as Helo and Vigo. For instance, Helo is a social media platform owned by ByteDance, which also owns TikTok. Helo focuses on Indian consumers and is available in many vernacular languages.
Is this ad type right for you? It has gained quite a following not only in India, but also among Indian diaspora in USA, China, and Nepal. TikTok lets you create ads to reach the in-feed of Helo's subscribers. This is a superb way of reaching this particular demographic.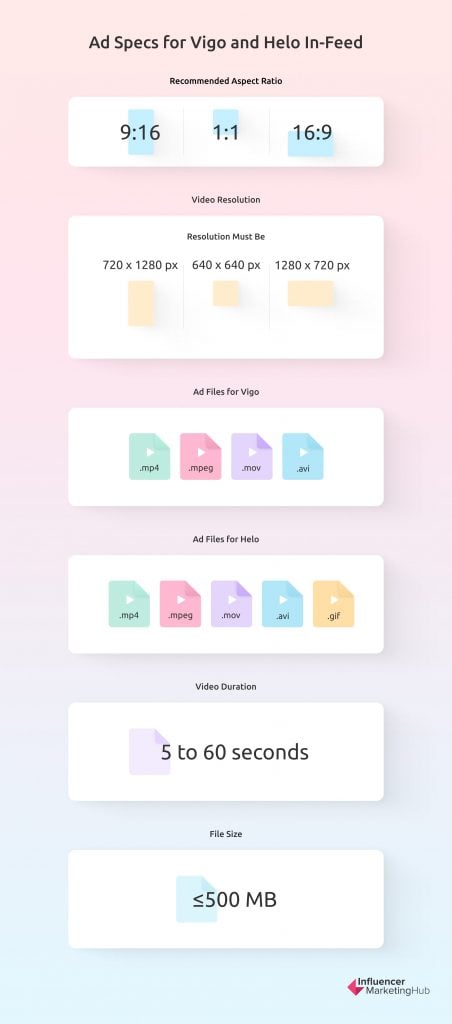 These video ads must have the following parts:
Video

Brand/app name

Ad description
Specs for the ad video:
The video aspect ratio should be 9:16, 1:1, or 16:9.

Ad files for Vigo ads can be MP4, MOV, MPEG, or AVI

Helo ads can be MP4, MOV, MPEG, AVI, or GIF.

A resolution of 720 x 1280px, 640 x 640px, or 1280 x 720px is suggested by the platform.

The recommended file duration and size are the same as for the news feed ads.
The specs for the brand/app name and ad description are the same as for in-feed ads.
---
Do You Have the Budget for TikTok Video Ads?
Since TikTok opened up a formal ads program in Feb 2019, big names like Disney and Nike didn't waste time in tapping on the new opportunity. They enjoyed a monopoly as the platform wasn't inundated with ads, unlike Facebook and Instagram.
But is advertising on TikTok a worthwhile investment for smaller brands? The answer to this question lies in your audience demographics. As stated before, TikTok is a channel most preferred by those below 18 years of age. Though there's a good chance that viewership might continue well into adulthood, it's not a guarantee.
What's that mean for you? If your brand targets older people, marketing on TikTok might not give immediate returns. Earlier, TikTok was a male-dominated platform. Content creators and consumers were mostly males. But starting in January 2022, there's been a shift in patterns. Females have become more active, especially those in the teen and tween categories. But, by and large, both genders are actively involved on TikTok.
How much does a TikTok ad cost? As compared to its counterparts, TikTok is charging a premium for ads. The ad cost starts at $10 per CPM (cost per mille or 1000 impressions). You'll have to pay $500 upfront before launching an ad campaign.
What's more?
A brand takeover,

which guarantees five million impressions, costs $50,000 per day.

An in-feed ad

costs $10 per impression and requires advertisers to pay for 600 impressions in advance.

A sponsored hashtag challenge

costs $150,000 per week.
---
Wrapping up
TikTok has become a veritable marketing platform for marketers and influencers. You need to optimize your video ads if you want to appeal to the platform's audience. If you follow the specifications above, your ad will qualify TikTok's stringent standards and get the desired engagement.
Frequently Asked Questions
What are TikTok video specs?
TikTok video specs: video dimensions and resolution are 1080x1920. TikTok Canvas size is 1080x1920. Max file size is 287.6 mb. For TikTok video ads, the maximum is 500 mb.
What are ad settings on TikTok?
TikTok lets you pick your own ad placements, campaign budgets, target specific audiences, set optimization goals, and bid for each ad group. Each ad group can contain one TikTok ad or multiple ads.
How do I scale a TikTok ad?
To scale a TikTok ad, follow this TikTok ads strategy:
Click the campaign tab and go to Ad Groups list. Pick the ad groups you want to adjust and edit them and the budget.

If the ad groups you pick use different budget types, you can follow up on a separate tab for daily budget and lifetime budget.
How do you make a TikTok video ad?
To make a TikTok video ad, follow these easy steps:
Create a TikTok ad account in TikTok Ads Manager

Install TikTok Pixel

Create a new campaign

Create a new ad group

Build your ad

Measure your ad performance
What frame size is TikTok?
TikTok video dimensions and resolution are 1080x1920. That's the classic frame size for TikTok and the standard portrait size for most smartphones. Videos filmed within the TikTok app use this frame size, but you can use TikTok's Intelligent Optimization Tool or online video editor to tinker with dimensions.