TikTok is the fastest growing social platform. It is rapidly becoming a social platform of choice for the young. Indeed, the word "TikTok" is now often used as a verb by its users, e.g., "Let's TikTok together today."
Many brands have decided that they want to have a TikTok presence. Yet they are uncertain what they should do. TikTok is so new that many brands and marketers are still unsure about its relevance to them, or the opportunities it offers.
We have taken a look at the potential of TikTok here. We offer a selection of TikTok marketing strategy tips you could follow to maximize your marketing success on the platform.
---
TikTok Marketing Strategy Tips:
---
Why Would Brands Want to be Seen on TikTok?
The younger generations are highly cynical about traditional advertising. To a large extent, they have ceased watching mainstream television, listen to the radio less than their elders, and receive more of their news via social media than via the newspaper. They use ad blockers online, and "suffer" banner blindness, making much of the more overt online marketing pointless.
However, many of them do spend time on TikTok, an average of 1 hour 52 minutes per day, and they do take notice of their favorite TikTok influencers. If any of these superstars of TikTok were to recommend a brand, their followers would most likely take note.
Many brands already have a content strategy, often including influencer marketing. Therefore, it is difficult for them to add TikTok influencers to their marketing mix.
---
TikTok Basics
Videos are, of course, the heart of TikTok. Even if you intend to use influencers for the bulk of your TikTok marketing, you should still open an account for your brand, and use it to make and share some videos. TikTok's videos can be any length up to one minute, so you can create short snappy videos. This doesn't mean that you should simply transfer your 30-second television ads to TikTok, however.
You can either record your videos in the app or externally, uploading them to TikTok. You can also upload music to add to your video. TikTok gives you direct access to many music tracks and has a fully searchable database.
You can engage with people in TikTok with views, likes, comments, and shares.
---
Specific TikTok Marketing Tips
1. Use Suitable Hashtags
Like many other social media networks, TikTok users rely on hashtags to catalog their videos and search for clips by subject. If users click on the "Discover" magnifying glass at the bottom of the screen, they see a list of videos sorted by trending TikTok hashtags.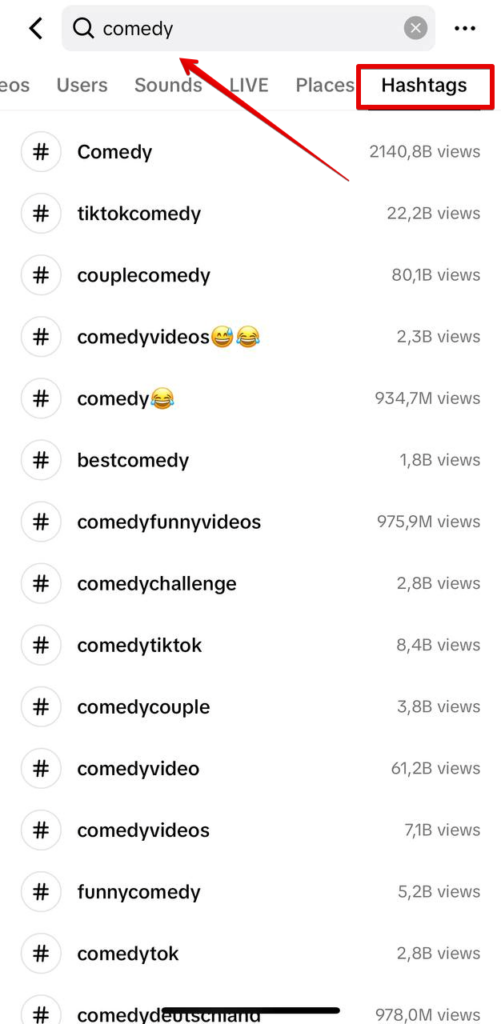 We have previously looked at how you can best use hashtags on TikTok in our Ultimate Guide to TikTok Hashtags. Some of the benefits to a brand using TikTok hashtags are:
To amplify the reach of your content

To identify competitors

To get more followers
Although you should include relevant hashtags on your videos, you should probably avoid the most popular generic hashtags. Your videos are more likely to become swamped in a sea of content. It is better to have your videos stand out in slightly less popular categories. As with all marketing, you want your videos to appear visible to those people most relevant to your campaign, so don't focus on hashtags just because they are popular.
Also, remember that this isn't Instagram. Don't be tempted to use 21 hashtags on TikTok. Doing so will take away the effect of your videos.
---
2. Follow Current TikTok Trends
Another way you can use hashtags as part of your marketing strategy is to keep an eye out for trending hashtags. You can then create and share videos that relate to these trending videos.
Remember that trends can be fast-moving. Keep a regular eye on TikTok trends and be prepared to change your content to keep up with the craze.
If you are sharing your version of a trending video type, don't just make it a copy of everybody else's videos. Find a way to make your video unique.
---
3. Incorporate TikTok Influencers in Your Campaign

It is no accident that certain people become influencers on social platforms. Usually, they build up a reputation for the quality of the content they share. Therefore, it pays for most businesses to build productive working relationships with the people who influence their potential customers. As we wrote in How to Find TikTok Influencers, "TikTok has spawned a new generation of influencers, too; a group of people who have far more clout with today's teens and tweens than more conventional movie or television stars." These are precisely the types of people you want on your side when you undertake your TikTok marketing campaigns.
---
4. Comment Regularly and Encourage Comments on Your Posts
Like most social networks, TikTok supports frequent user engagement. Comments are an excellent way to achieve this. Ideally, you will build up conversations with your potential customers.
TikTok ranks comments by the number of likes they receive, so make sure you think through your comments, making them meaningful. Avoid making bland "nice video" type comments.
Likewise, take the time to look at other people's videos and make thoughtful comments on them.
---
5. Post Often
TikTok is one of those social platforms that reward frequent posting. The more videos you post to your TikTok account, the higher your follower rate is likely to be.
The more times you post, the simpler it will be for people to find your account and decide to follow you.
---
6. Use TikTok Effects in Your Posts
As you can imagine, with millions of videos shared on TikTok, you need to do something different to stand out from the crowd. TikTok offers a wide range of effects to help with this. You will find them under the Effects tab, split into Trending, New, Interactive, Editing, Beauty, Funny, World, and Animal categories.
TikTok includes a green screen effect, which allows you to use the image of your choice to replace the video background, much as you often see on television and in the movies
---
7. Make Interesting Videos with Clear Descriptions
TikTok's videos can be up to a minute-long. You don't have long to get your message across. And whatever you do, don't merely upload blatant ads – even official TikTok ads should provide value to your audience.
You want your videos to be visually appealing, without looking like they've been made by a professional advertising agency (even if you have worked with an agency to help your creativity).
Although there may be times that you will use your descriptions as teasers, in most cases, you will want to include a clear description of what your video has to offer its audience. If possible, word it in such a way that people feel the urge to comment.
Writing a good description is also essential for SEO purposes. In essence, you want Tiktok to know what your video is about when it indexes your clip and hopefully suggests it to your preferred audience. Remember to include your most important keywords in your descriptions, but they have to make sense and not just be a random collection of words.
However, you have only so much screen space. For best practice, prepare short snappy descriptions.
You could consider repurposing videos you have made for YouTube, Snapchat, Instagram, or Facebook, but remember to make them fit within TikTok's one-minute time limitation. Ensure that your video is suitable for the demographic you're trying to target on TikTok.
---
8. Use TikTok Ads
TikTok now has a formal advertising system making it easy to advertise on the platform. They offer various types of ads:
In-feed native ads are the closest to a traditional ad on TikTok. You can add website links and Order Now buttons on the ad. They are skippable ads, and you can use them in multiple ways.
With hashtag challenge ads a user is served a banner ad that takes the user to a page of instructions and rules of the featured challenge. You can use it to target specific consumers.
Brand takeover ads use a mix of images, GIFs, and video clips that link to a landing page or hashtag challenge.
However, TikTok has expanded its advertising options, offering more diverse and interactive ad formats to cater to various marketing needs. The new types of ads include:
Spark Ads allow brands to amplify organic content from their TikTok account or other users' accounts. This format offers a more authentic feel, blending seamlessly with user-generated content and potentially leading to higher engagement rates.
These are static ads that appear in the user's For You feed. They consist of a brand logo, an image, and a customizable call-to-action, such as visiting a website or downloading an app.
Playable Ads provide an interactive 'try before you buy' experience. Users can engage with these mini-game-like ads before being prompted to take further action, like app downloads, making them highly engaging.
Designed to integrate online shopping experiences directly into TikTok, Shopping Ads showcase products and lead users to ecommerce platforms for purchase, enhancing in-app shopping experiences.
Available in TikTok's News Feed apps, Carousel Ads allow brands to display a series of images, each with its own caption and call-to-action. This format is ideal for telling a more comprehensive story and engaging the audience in-depth.
Pangle is TikTok's advertising platform for audiences outside of TikTok, mainly in other apps. These ads reach a broader audience with various formats, including video and interactive ads, extending the brand's reach beyond the TikTok app.
These new ad types on TikTok provide brands with innovative ways to engage with their audience, offering a range of options from interactive and playful experiences to direct shopping integrations.
---
9. Set a Hashtag Challenge
One of TikTok's ad types involves sponsoring hashtags. Hashtag challenges are highly popular on TikTok. They are an excellent way for businesses to increase engagement and brand awareness. You set up a challenge for users who share videos of themselves attempting your challenge.
A good hashtag challenge succeeds in encouraging talking about your product offline and on other social sites. Even big-name companies, like McDonald's, have become involved – in their #bigmactiktok challenge, fans had to select a preferred Big Mac chant genre and then dance and record a Big Mac chant video.
---
10. Blend in Branded Content
As with all social marketing programs, you need to balance the type of content you share on TikTok. Most of your videos need to entertain or inform your audience. If you build an audience this process, you should then be able to blend in a few more promotional videos.
The typical TikTok user ignores ads, so you need first to build your credibility before you release blatantly promotional material. Many firms find the best way around this disdain for advertising is to upload videos showing people using your product. For example, you could provide a series of tips on how to gain value from your product, or perhaps you could explain how to use some of its more obscure features (and demonstrate what benefits they would offer the viewer).