TikTok continues to add new features, some of which will greatly interest brands interested in marketing on the social platform. After nearly a year of trials, TikTok has rolled out TikTok Shopping, its hottest offering in the world of social commerce. This is a full-on entry into the world of eCommerce by TikTok. Social commerce sales are rapidly picking up, with eMarketer predicting that they will reach $68.92 billion in the U.S. alone in 2023, a 29.8% increase on 2022's $53.10 billion. eMarketer believes that U.S. retail social commerce sales will reach $107.17 billion by 2025, so it is no surprise that TikTok would want to be part of that mix. Chinese social sales dwarf those in the U.S., with social commerce sales predicted to reach $623.29 billion in TikTok's home nation in 2023.
TikTok is one of the fastest-growing social platforms, with over 1.67 billion users worldwide. It consistently adds new features to keep its users interested and engaged. Bytedance, TikTok's developer, has also begun to understand the app's benefit for commercial activity. TikTok Shopping adds additional opportunities for businesses to market and sell on TikTok.
---
Everything You Need to Know About TikTok Shopping:
---
TikTok is Different from Other Social Apps
Many marketers and business owners are outside the typical TikTok user demographics. They are often older, for a start. This can place them at a disadvantage when trying to market and sell on the platform because it operates differently compared to Facebook, YouTube, or Instagram. The original selling point of TikTok was that it provided an easy-to-use platform for predominantly younger people to create videos of themselves miming their favorite music tracks. Now people upload more original videos, covering a more extensive range of genres. It is this increase in video variety that gives brands a marketing opportunity.
To some extent, it is like YouTube on steroids. Although TikTok users can upload videos of up to 10-15 minutes, most still upload 15-second clips, and TikTok offers more musical backing options for videos of this length.
When you open your TikTok app you view videos on your For You page, a selection of videos that TikTok's algorithm believes will pique your attention. These include relevant ads. These videos are typically from complete strangers but are of a type that TikTok believes you will enjoy. This is very different from apps like Facebook or Instagram that focus on posts made by your followers.
TikTok requires people and brands to upload vertical videos, as this is the way that most people orientate their phones. This, along with the short video length, means that brands are generally unlikely to share the same videos on TikTok as they do on YouTube and Facebook.
TikTok's Gen Z and Millennial users are wary of marketing. The absolute worst mistake would be to post anything resembling a traditional advertisement, particularly one using scripted dialogue. However, that doesn't mean that you can't use TikTok to market and sell to its young audience. They are still shoppers, who still take a real interest in many products. Brands just need to be savvy with their marketing and ensure that their customers get value from their TikTok channels. User-generated content (UGC) performs well on TikTok. Virtually everybody has a smartphone with a camera nowadays, and people are willing to engage with a brand for a hashtag challenge or create some other form of UGC if the topic interests them.
---
What is TikTok Shopping?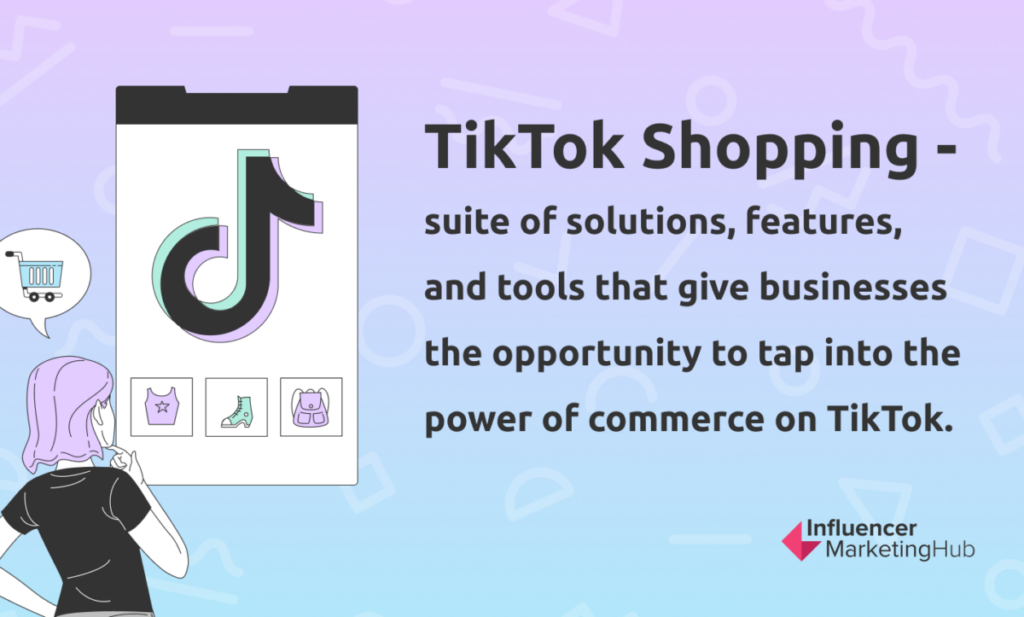 As the name indicates, TikTok Shopping provides a way for TikTok users to buy products in the app without opening a web browser to go to a separate eCommerce store. According to the company, "TikTok Shopping is the suite of solutions, features, and tools that give businesses the opportunity to tap into the power of commerce on TikTok."
When a business sets up TikTok Shopping, it will have a dedicated Shopping tab on its profile. This is represented by a shopping bag icon. Customers can then browse through and select products within TikTok and then buy the product, either within TikTok or transferred to the company's online store for checkout.
TikTok initially trialed Shopping with select Shopify merchants in the United States and the United Kingdom, later expanding to Canada, but have since rolled it out on a broader scale.
Kylie Jenner's store, Kylie Cosmetics, was one of the first to let their customers shop directly on TikTok. It made sense to them, as they have nearly 3.5 million TikTok followers. Jenner observed at the time, "I built my business on social media; it's where my fans go first to look for what's new from Kylie Cosmetics. I have so much fun creating TikTok videos, and I love sharing posts of my fans using the products. That's why I'm excited for Kylie Cosmetics to be one of the first to let customers shop directly on our TikTok!"
As you can see from the Kylie Cosmetics profile page, you can view a selection of products for sale if you tap on the middle tab with the icon of a shopping bag. Tapping on one of the product's images begins the checkout process.
---
Links to Products
One important part of TikTok Shopping is the ability to link to tag products in your TikTok videos. This way, you can refer to products in your videos, and your viewers can click through the tagged products to learn more about them. At this point, TikTok will either direct people through to your storefront to complete the process or finish it within TikTok if you prefer. You can tie in live shopping offers, real-time demos, and live-streamed product showcases with relevant links to buy products and services.
---
Trialing TikTok Shopping
At the beginning of the TikTok Shopping trial, Shopify observed that "social commerce represents one of the fastest-growing channels for Shopify merchants, especially as more creators rely on these platforms to build their businesses." They added, "Shopify merchants with a TikTok for Business account will soon be able to add a shopping tab to their TikTok profiles and sync their product catalogues to create a mini-storefront that links directly to their online store for checkout." TikTok users can shop directly from a merchant's storefront or click a tagged product in a merchant's TikTok video, which will take them to that merchant's online store for checkout. Shopify merchants can create, run and optimize their TikTok marketing campaigns directly from their Shopify dashboard.
---
Can Everybody Use TikTok Shopping?
TikTok initially limited TikTok Shopping to selected Shopify-based retailers in the U.S., U.K. and later Canada. They wanted to give this a good trial before they expanded the program to a broader audience.
TikTok announced an expansion to the program at the first TikTok World marketing event in September 2021. It is now available in most countries, and as well as catering for Shopify retailers, TikTok has now developed apps for retailers on other platforms. The company revealed current, and future integration partners included Prestashop, Base, Square, BigCommerce, OpenCart, Ecwid, and Shopline. Any brand can host live shopping or link its videos to product pages.
---
Moving on from the TikTok Shopping Trial
TikTok clearly learned much from both its U.S./U.K./Canadian trial and the experience of its Chinese social platform Douyin. Douyin has worked with brands like Louis Vuitton, Estée Lauder, Make Up For Ever, and MAC Cosmetics to introduce social commerce in China, hosting live shopping and setting up Douyin Stores. Douyin's eCommerce business generated an annual gross merchandise value of some 2 trillion yuan ($274.2 billion) in 2022.
TikTok was also able to learn from social commerce experiments in Southeast Asia.
---
How to Set up TikTok Shopping
You need to have a TikTok for Business account to set up TikTok Shopping. If you have a Shopify business, you should download the TikTok Shopify app. You can use the app to create video ads, track results, and manage your orders all from within Shopify. As well as making it possible for you to manage your TikTok Shopping tab, the Shopify app also integrates with TikTok For Business Ads Manager.
There are now apps for other store types. For example, if you operate a BigCommerce store, you can now download their TikTok for Business app. This app automatically installs the TikTok Pixel on your storefront so that you can track the results of your advertising campaigns. By syncing your BigCommerce catalog to TikTok, you can create rich, dynamic ads that showcase relevant ads to interested users. You can then add a Shopping tab to your profile page with product links that redirect to your BigCommerce store for a seamless checkout experience.
During the trial, the purchasing process only partially occurred within TikTok. First, consumers viewed videos with TikTok Shopping links, which showed them clickable Shopping tags, which took them to the relevant TikTok Shopping tab. However, at this point, TikTok moved them to the retailer's Shopify store to finish the process at checkout. This process is still possible if a retailer prefers. However, you can now keep the conversion stage within TikTok if you like. According to Ray Cao, managing director and global head of product strategy and operations at TikTok, "We do offer two integration points: one is directly on TikTok, and the other — we're still going to be providing the flexibility for users to convert on the merchants' own websites, as well."
---
Your Shopping Tab is Your TikTok Shopping Storefront
If you're running a TikTok Shop, you need to treat your Shopping tab as an extension of your eCommerce storefront. Therefore, you want it to look as appealing as possible to potential customers. So, ensure your product pictures are as attractive and clear as possible. Ideally, they should be recognizably yours, not just some generic pictures you've sourced from a supplier's site.
Keep your product titles under 34 characters to ensure they remain fully visible; however, you can write fuller descriptions and include all necessary details about your products likely to answer your customers' questions.
---
What Can You Do to Create a Successful TikTok Shop?
It may take some time before most people begin to purchase items directly from TikTok. Therefore, you can't expect your fans and followers to discover your new TikTok Shopping tab by themselves. The shopping bag icon is relatively inconspicuous and low profile.
You need to ensure that you have done all the basics correctly for your business TikTok account. Begin by reviewing your TikTok bio. You don't have many characters compared to some other social platforms but use the little space you have to provide accurate information about your brand. Make sure you include a few keywords to improve your SEO, but make sure it reads naturally.
As you are probably targeting Generation Z (or even Generation Alpha), make sure to speak their language. Don't sound like some old fuddy-duddy trying to sell something to them, even if that is your aim. Include plenty of interesting emoji, but make certain you don't accidentally use anything inappropriately. It's vital that you know what an emoji means before you use it. Emojipedia can help with this.
Make sure to mention that people can buy directly without leaving the app in your TikTok videos, include clear links, and explain how people can shop from your store.
Be prepared to promote your catalog in your videos, but not in every video. TikTok users are marketing-savvy and cynical about full-on ads. Mix up your videos promoting items in your catalog with other entertaining videos clips. Try to make your more promotional videos interesting, perhaps adding some humor to them. Remember, people don't come to TikTok to shop; they come to view entertaining videos. However, they may decide to purchase if your video catches their eye, and they don't have to go through too many steps to buy their preferred item.
Don't forget to embed your TikTok feed on your website, to expose it to an even wider audience. You can use an app like Vop to embed it into your sales website.
---
Use Branded Hashtags
People aren't going to use your TikTok Shopping if they don't know about it. You need to promote your TikTok activities and opportunities to as many people as possible. One way to do this is with a Hashtag Challenge Plus, which allows users to shop for products related to a sponsored hashtag. You tie together a paid-for hashtag with a particular challenge you set for TikTok users.
---
Use Some of the Other Tools in the Shopify and Other eCommerce Platform Apps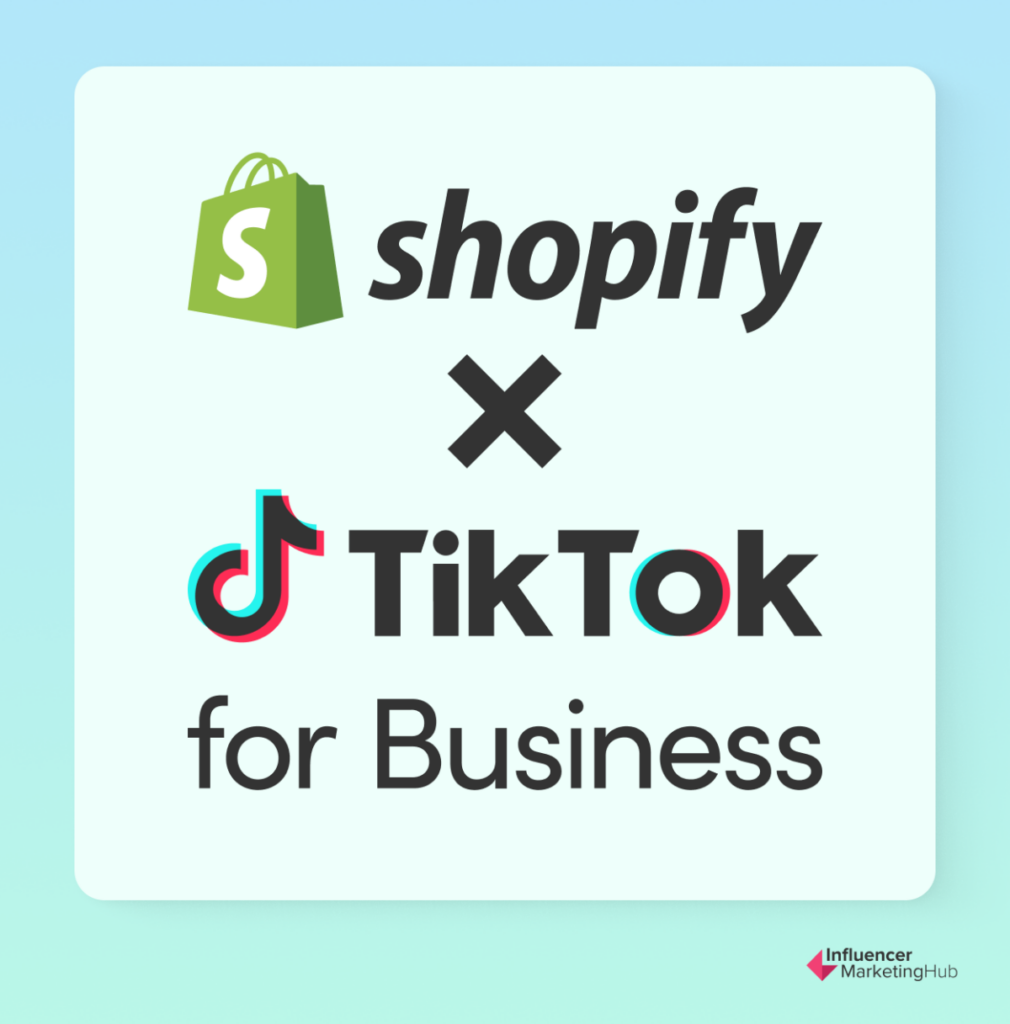 These apps offer more than just the ability to sell your products from within TikTok. They are effectively all-in-one marketing tools for firms wanting to use TikTok as a channel. Some of the more important features of TikTok for Shopify include:
Easily creating a new account, setting up a payment method, and running ads

A Video Generator tool, helping you to create high-quality TikTok-style videos in minutes. No video production expertise is required, you simply upload product images or videos, and the tool does the rest

Tracking performance with the TikTok Pixel. You can install your pixel with just one click, with no coding or developers required. You can use the TikTok Pixel to track user event types, track TikTok users who have made purchases, and to retarget existing customers.

Easily setting up and tracking conversion campaigns within Shopify using the guided campaign creation tool

Targeting your audience with a mix of demographic, location, and behavioral options

Viewing a snapshot of your important campaign performance data on the reporting dashboard and gaining an understanding of your conversion funnel
---
Future Expansion
TikTok envisions a prosperous future for social commerce on its platform. The company continues to broaden its collaborations with various eCommerce platforms and introduce new ad products. One significant development is the launch of TikTok's Shopping Ads, a three-in-one solution that includes Video Shopping Ads, Catalog Listing Ads, and LIVE Shopping Ads. This advanced ad solution is designed to help brands engage with shoppers at different stages of their purchase journey, ultimately driving demand and boosting sales. Shopping Ads is currently undergoing gradual testing.
Moreover, TikTok has introduced the API For Business, which allows businesses to connect with TikTok for Business platforms and develop innovative solutions for advertisers. Through the Marketing API, businesses can set up their TikTok Storefronts, enabling them to showcase and sell their products directly on the platform. The TikTok Commerce program is still in its pilot phase and is only available to select markets and merchants, subject to eligibility requirements.
TikTok has also launched a "TikTok Shop Academy" website aimed at its Indonesian audience. Here it shows brands how to advertise their products on video, either by making their own videos or by working with affiliates.
---
Don't Forget the Power of Influencers on TikTok
As powerful as the new TikTok Shopping feature is, influencer marketing remains one of the most successful ways to market on TikTok. We highlighted 13 successful case studies of influencer marketing on TikTok. One of these is America's largest bricks-and-mortar retailer, Walmart, you might think would follow more traditional paths with its marketing.
Even the ACCA (Association of Chartered Certified Accountants), a leading international accounting body, chose to become involved with TikTok influencer marketing. They worked with TikTok influencers who visited accountancy firms to create killer 'day in the life of an accountant' content to share with their huge followings. These received 1 million+ views and over 100,000 hearts.