Advertising Disclosure
Advertising disclosure:
Our partners compensate us. This may influence which products or services we review (also where and how those products appear on the site), this in no way affects our recommendations or the advice we offer. Our reviews are based on years of experience and countless hours of research. Our partners cannot pay us to guarantee favorable reviews of their products or services.
While most TikTok videos might be less than a minute long, there are many elements that demand your attention for the best results. From TikTok sounds to visual effects to animated stickers to text, there's no doubt you'll have your hands full trying to put everything together. So, if you're thinking that a 60-second video takes a lot longer than a minute to create, you're right.
Influencers and creators will tell you that just like any other social media platform it takes time to craft amazing videos. Luckily, there are a number of templates that you can use to streamline your social media marketing efforts on TikTok too and just make your life a lot easier.
We've scoured the web to find resources where you can find free templates. Most of these resources also offer editing tools to help you tweak the template. You're probably already using templates for other marketing efforts and digital assets like your website, Instagram Stories, etc. So, why not try one more type of template?
---
10 of the Best Free TikTok Video Templates to Customize in 2024:
---
10 Places to Find TikTok Video Templates
Top
free tiktok video templates
2024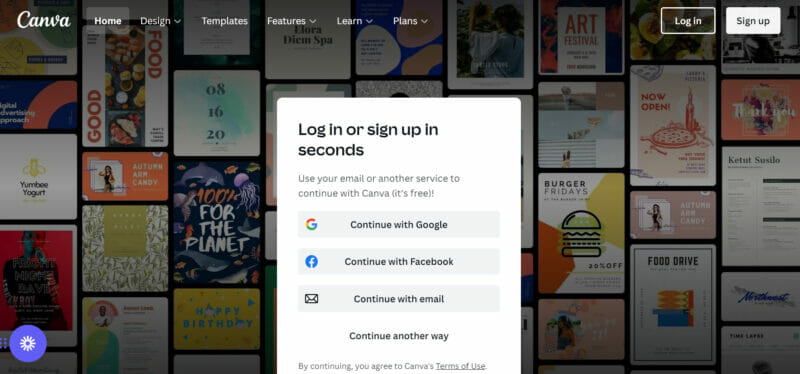 After all the years, Canva still remains one of our firm favorites for light graphic design work. With regards to TikTok videos specifically, they offer more than 3,000 templates. Of this, over 500 are free.
That said, if you want to use one of its templates that is part of the Pro plan, it's still pretty affordable and will set you back only $9.99 per month. Not only does Canva Pro unlock all the other templates, but it also makes it easier for teams to work together with premium features like a brand kit.
In addition to the actual templates, there are a number of useful features. For example, if you click on a template it will also give you a number of other TikTok video templates that are similar. Also, you have the ability to filter your search using various criteria like style, color, or theme.
All in all, Canva is definitely one of the first places that you should try. From modern to a minimalist look, they truly offer a great selection of templates.
---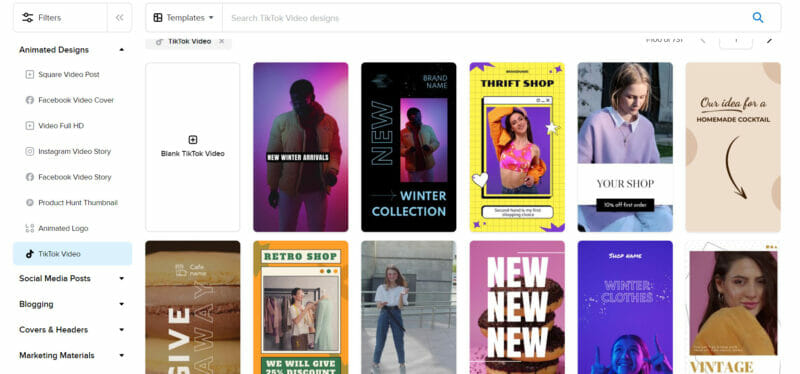 With VistaCreate, it's a whole lot easier to design viral videos that will engage. It offers a huge variety of professionally-designed templates which you can edit directly via its interface. Similarly to Canva, it also shares similar templates whenever you click on a specific template. This makes it easier to explore its vast library, especially when you already have a style or feel in mind.
After you've selected a template, you'll be able to edit it by adding a photo or video (there are millions to choose from). Alternatively, you can upload your own content or drag it from your desktop to its editor. You can also animate your TikTok video by adding animated objects or make it more engaging by adding audio from their huge collection or uploading your own track.
If you like Canva, this tool is very similar. In fact, you'll be forgiven for thinking that you're working in Canva.
Here are some of our favorite template picks on VistaCreate:
Travel Inspiration with Young Woman on Mountains Landscape Template – TikTok Video

Inspirational Quote with Young Girl Traveling in Car Template – TikTok Video

Summer Inspiration with Skateboarder Riding on Sunset Template – TikTok Video

Girl Riding in Jungle Template – TikTok Video

Woman Practicing Yoga at the Beach Template – TikTok Video
---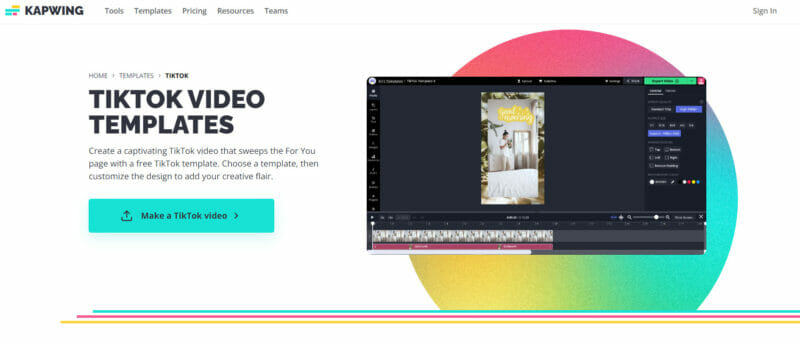 Kapwing is an online content creation platform that offers a huge selection of ready-made templates that you can use to create a reaction video, vlog, or skit. It allows you to move beyond TikTok's editing restrictions so that you can create what you had envisioned. Not only can you create engaging designs, but you can also edit video clips, tweak the appearance with filters, or include subtitles. All you need to do is select a design, apply a few edits to it, and publish it to the platform.
While it does offer a Free plan, included in its Pro plan (which costs $24 per month when billed monthly) you'll also get the ability to upload custom TikTok fonts. This can be particularly useful if you already have a strong brand identity.
Here are a few of the templates on Kapwing that we like:
Film Frame TikTok Video Template

Polaroid Frame TikTok Video Template

Plane Window TikTok Video Template

Neon Hearts Tunnel TikTok Trend Background and Music Template

Silhouette Challenge TikTok Video Template
---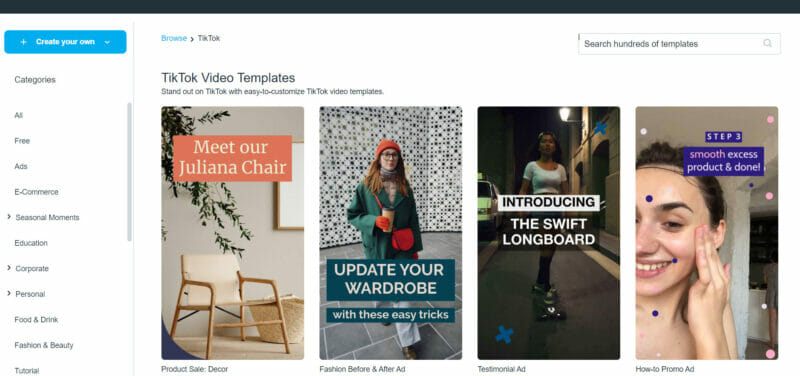 You're probably already familiar with Vimeo. With more than 230 million users from over 190 countries, it's one of the leading all-in-one video marketing solutions used to create, manage, and share videos.
One of its many features is that it also offers ready-made TikTok video templates that you can edit in an instant. Compared to some of the other platforms mentioned, Vimeo's search capabilities are very refined. You can, for example, type in a word like birthday and it will suggest the most suitable templates.
It also includes a Guided Templates features. If you prefer to go this route, you'll need to answer a couple of straightforward questions and it will create a video for you that you can then tailor to fit your preferences.
Here's a pick of our favorite TikTok video templates on Vimeo:
TikTok Ad – Testimonial

TikTok Ad – Fashion Outfit Tips

TikTok Ad – Product Teaser
---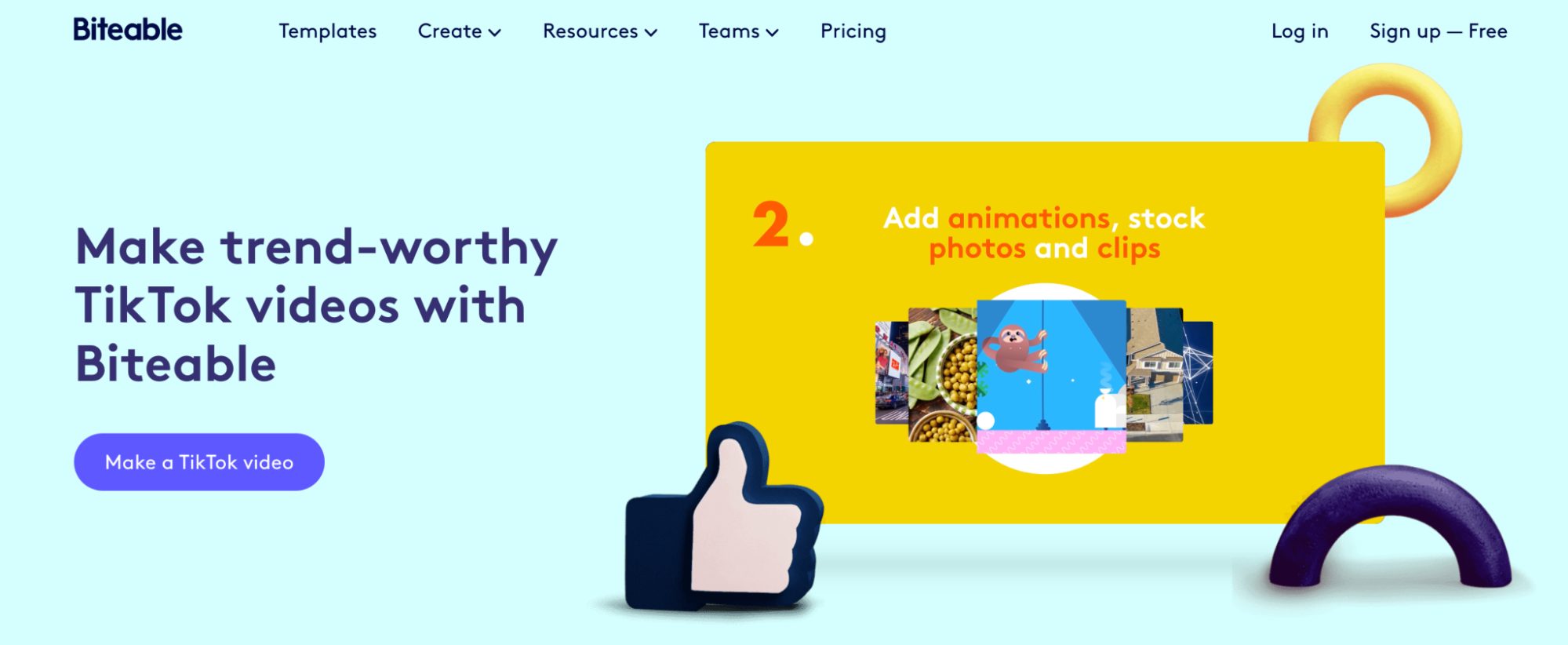 Trusted by big brands like Google, Amazon, and Shopify, Biteable can help you to grow your video presence on TikTok. As a video maker, it also offers a video template library where you'll find more than 1,000 templates that are just waiting for your edits. The editing tools are easy to use and understand which means that you'll have no issues customizing your videos. Plus, no in-app edits will be needed as you can upload your videos directly to TikTok.
One of the features that deserve a special mention is its ability to resize any video that you've already created that doesn't fit TikTok's 9:16 ratio. This makes it easy to repurpose videos that you might have initially created for other social media platforms like Instagram.
It also offers a Biteable text tool that you can use to add captions to your videos. And, to make your videos more engaging, you can include animated transitions to your captions.
While it offers a Free plan, you'll need to sign up for one of its subscription plans if you want to remove the Biteable branding from your TikTok videos. Pricing starts at $99 per month.
Some of the TikTok templates included in its library that you can check out are:
TikTok Food Ad

TikTok Fashion Ad

TikTok Course Ad

TikTok Gaming Ad
---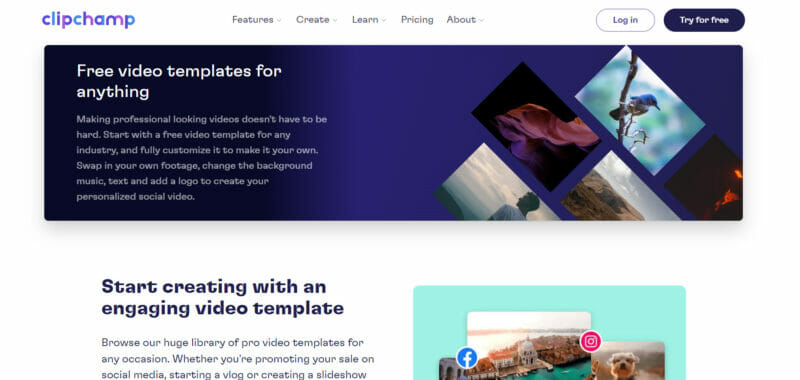 Clipchamp offers only a few free TikTok video templates, but they're still worth checking out. Most of these free templates are for promoting sales. So, next time that you want to announce and promote a sale, be sure to check out Clipchamp's library.
Other than its limited selection, it's pretty straightforward to use and you can customize the templates using your own original branding. That said, if you want to unlock its premium TikTok video templates, it will set you back only $39 per month. Plus, then you'll also be able to add a brand kit and get unlimited access to its audio, video, and image stock.
---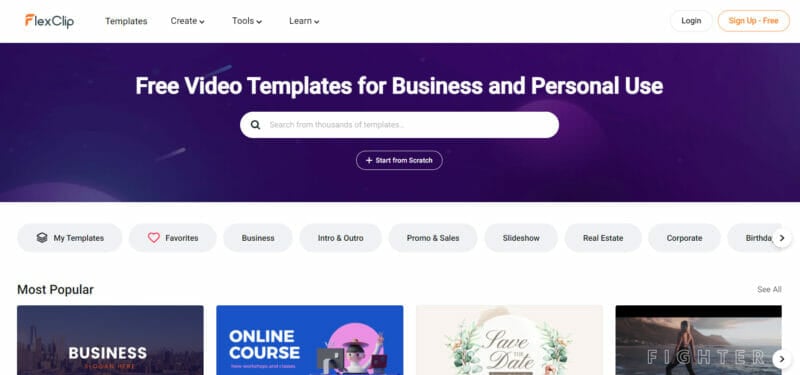 Used by global brands like Dropbox, YouTube, and Microsoft, FlexClip is one of the top video ad makers and editor tools. It offers rich video templates and an extensive media library as well as robust editing tools that you can use to complete various tasks like adding captions, filters, and special effects.
One of the attractive features of FlexClip is that unlike many of the other video editors included on our list, they also offer a wide range of templates for non-commercial purposes. So, if you simply want to share your daily life or send someone birthday wishes, you'll find a template. Plus, what would TikTok be without dance challenges? If you want to share your dance moves with your audience or want to start your own challenge, you'll also find templates for this in its template library.
Here are a few of our favorite FlexClip templates:
Before and After

Never Have I Ever

Podcast Promo

Photography Challenge

Inspiring Quote
---
With Simplified's selection of free TikTok video templates (and one-click editing tools), you can create viral videos to help you get more views, likes, and followers. All you need to do is pick a free template, add your video by dragging it, and then you're all set to start customizing it with the help of fonts, text, stickers, illustrations, and other cool effects.
One of its features that deserve special mention is its AI copywriter. With this helpful tool, you can create on-brand copy to engage your audience and strengthen your brand identity. It also offers an unlimited resource built-in library and video effects.
---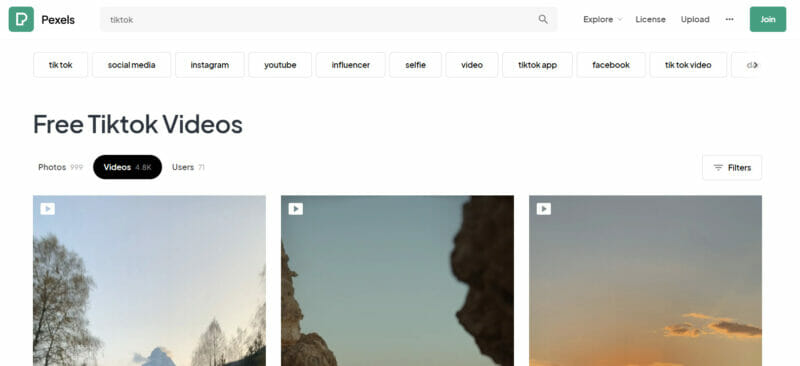 If you're already using a TikTok video editing app like ViaMaker, InShot, Lomotif, or Timbre, you can check out Pexels where you'll also find free TikTok video backgrounds that you can download. While the selection is pretty decent, it doesn't include any editing tools. This means that you'll still need to upload the video that you've downloaded to your video editing app of choice so that you can customize it by adding text, stickers, and other magical effects. From fireworks exploding to cute cats, there are a number of generic backgrounds that you can jazz up.
Did we mention cats? There are many cat videos if your target audience is more of a cat lover crowd.
---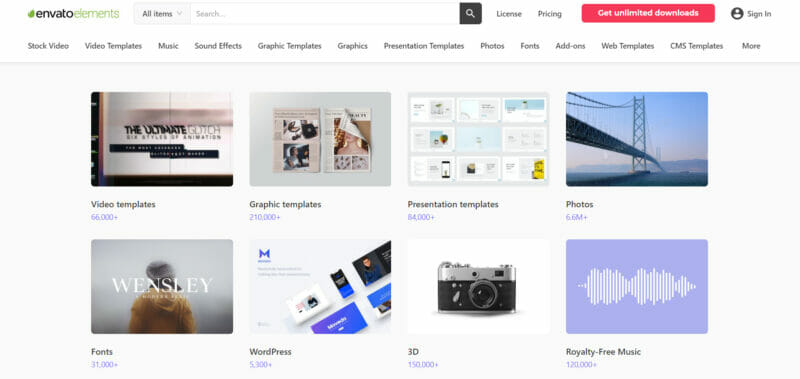 While we love and use Canva often, of all the options mentioned, you'll probably have the most success with Envato Elements. From just $16.50 per month, you'll get access to unlimited downloads of more than 58 million creative assets. Plus, all Envato Elements assets are covered by their lifetime commercial license.
Alternatively, if you're really serious about not wanting to spend anything on TikTok video templates, you can create a free account. This way, you'll get access to 12 free hand-selected files per month. These freebies can include things like fonts, videos, and presentations.
Back to their TikTok video templates, they offer over 1,050 video templates just for TikTok. From glitch transitions to subscribe notifications to quick intros to animated notifications, here you'll find virtually all the elements that you'll need for any type of TikTok campaign.
Here are some of the top TikTok video templates found on Envato Elements:
TikTok Templates Pack for After Effects

TikTok Intro Video Template

Colorful TikTok Stories Template

TikTok Fashion Promo Video Template

TikTok Slideshow Template
---
What's the Dimensions for TikTok Videos?
If you haven't found a template that you like (which we highly doubt), there's nothing stopping you from starting from scratch. Though, one of the main issues with this approach is that you'll need to double-check that you use the right TikTok video sizes as you won't have a video maker to check it for you.
While TikTok videos can be uploaded in landscape or portrait, it's better to create videos that show in portrait. If you're using an Apple iPhone, you'll be able to upload as much as 287.6 MB, but if you use an Android mobile phone it will be capped at only 72 MB. Lastly, you'll also need to remember to check your aspect ratio. For TikTok, this is 9:16.
Frequently Asked Questions
How do I get TikTok video templates?
To get TikTok templates, open TikTok on your phone. Tap the post button at the bottom of your screen. Then tap templates in the bottom right corner. Swipe left to browse TikTok's available templates.
Can you get more TikTok templates?
There are a number of templates you can use to streamline efforts on TikTok – and make life easier. You can find TikTok templates here:
Canva

VistaCreate

Kapwing

Vimeo

Biteable

Clipchamp

FlexClip

Simplified

Pexels

Envato Elements
How do I get all TikTok templates?
To get TikTok templates, open TikTok on your phone. Tap the post button at the bottom of your screen. Then tap templates in the bottom right corner. Swipe left to browse TikTok's available templates.
Where can I get video templates for free?
Find amazing free video templates on:
Premiere Pro

After Effects

Final Cut Pro

iMovie

DaVinci Resolve