Advertising Disclosure
Advertising disclosure:
Our partners compensate us. This may influence which products or services we review (also where and how those products appear on the site), this in no way affects our recommendations or the advice we offer. Our reviews are based on years of experience and countless hours of research. Our partners cannot pay us to guarantee favorable reviews of their products or services.
Graphic design is an essential part of marketing, but it can also be resource-intensive. A Piktochart survey of over 1,000 business professionals found that 55% of respondents use graphic design to communicate better with audiences. On the other hand, 67% of companies that don't use graphic design said they would do so if it were easier and more cost-effective.
Fortunately, artificial intelligence (AI) is rapidly changing the digital marketing industry. In fact, businesses have been utilizing AI tools to optimize their processes and hit their goals faster. Similarly, AI is learning how to design and perform creative tasks in a quick span of time, making the life of designers easier.
Here are some AI graphic design software to help you create professional-looking assets within minutes.
---
Top AI Graphic Design Tools to Boost Your Efficiency:
---
What is an AI Graphic Design Tool?
AI simulates human intelligence processes in machines and computer-controlled robots. This allows computer systems to perform laborious tasks, helping humans focus on more important things. As a result, the demand for AI integrations in the workplace has increased over the years. In fact, experts predict that the overall AI software market will reach $791.5 billion in revenue in 2025.
Likewise, AI is rapidly becoming part of the design industry. In graphic design, AI helps optimize work processes, enhance creative assets, and analyze customer preferences. AI graphic design tools are trained to determine the visual asset that you need and provide it in a single click. This is a win for marketers, who don't need a design background to create visuals that boost brand engagement.
---
Why You Need an AI Graphic Design Tool
Last year, almost 18% of surveyed marketers revealed that they spend an average of over 20 hours per week creating visual content. AI graphic design tools can ease up the workload by automatically refining your work and generating design ideas. Many can also suggest design alternatives, which eliminate repetitive tasks like removing backgrounds and creating mockups.
Automatically generate multiple designs
In a survey, marketers revealed that autogenerating multiple design types is the biggest design workflow that they want to automate. AI tools generate multiple versions of graphics based on your preferences, needs, and previous designs. They can also create unique and alternate versions of visual assets without compromising your brand's integrity.
Approach design from a data perspective
AI can help you analyze your audience's profile and suggest designs based on that data. Some AI tools can also identify best-converting designs, user preferences, and usability metrics that can work well for your brand. This not only personalizes your design but also improves user engagement. You can then choose an effective design from the suggestion and run it with your audience through an A/B test.
---
What Makes a Great AI Graphic Design Tool?
Most designers and content creators start with no background in design. In fact, more marketers use an online tool or graphic maker than hire a designer or use advanced design software. For this reason, it's best to choose an AI graphic design tool with little learning curve. Many AI applications are easily navigable, even for beginners.
User-friendly design assets
A Venngage survey reveals that producing consistent content is the biggest struggle in creating highly engaging visuals. Other challenges included finding the right layout and creating great designs. A robust graphic design tool will not only help you generate a variety of outstanding visual assets but also wow your audiences while professionally representing your brand.
Over 36% of marketers agree that original graphics is the most popular visual content. Moreover, it was the best-performing type of visual in 2021. This means that many marketers are designing from scratch to boost engagement with customers. Some AI tools are capable of handling creative ideations, while others perform various tasks to let you focus on conceptualization.
Desktop and mobile optimization
41% of content creators are churning out visual content between two to five times a week. A good AI graphic design tool helps you efficiently create and edit artwork from any platform and device. Some tools allow you to edit or update your designs with just a tap so that you can repurpose your content across multiple channels and share it on the go.
---
Top AI Graphic Design Tool
Top
ai graphic design tools
2024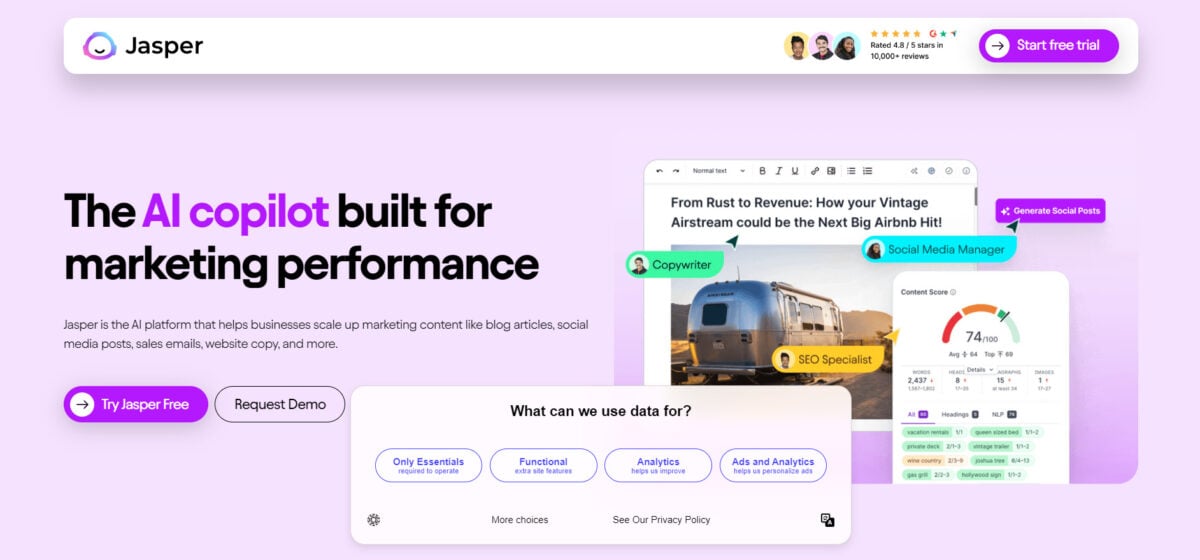 Jasper.ai is an AI art generator that can create unique images and photos in seconds, based on user prompts. It offers high-resolution 2k images with royalty-free commercial use, no watermark, and unlimited generations. Jasper.ai has been highly praised by users who find it faster and easier to use than searching for stock images or creating images themselves. Jasper.ai also offers an AI writing tool that can generate content and improve writing.
Jasper.ai's pricing starts at $24/month per user with a 5-day free trial, and custom plans are available for enterprises. Users can generate up to 200 images for free during the trial period. The generated images can be used commercially without any limitations, and users own the commercial copyrights.
Jasper.ai has received positive testimonials from its users, who find it helpful in creating content and improving their design process. The generated images have been highly rated and praised for their quality. Jasper.ai's FAQs cover topics such as pricing, image ownership, commercial copyrights, biases in image generation, and refund and cancellation policies. Users are allowed to publish the AI-generated images on their sites/blogs and have the rights to use the images for commercial purposes. However, the images are not exclusive to the users and can be used by others as well.
Features
Boss Mode
Chrome Extensions
Business Features
Jasper Chat
Surfer SEO Integraton
Pricing per month
Starter: $24
Boss Mode: $49
Business: Custom
| | |
| --- | --- |
| | |
| Assist in rapid content creation | Conducting research is essential |
| The interface is simple and easy to use | Additional fees may be required for plagiarism detection |
| Offers significant flexibility in usage | Low-quality content can result in financial losses |
| Boss Mode is particularly impressive | Overly technical subjects can be challenging to comprehend |
| Natively supports Grammarly | |
---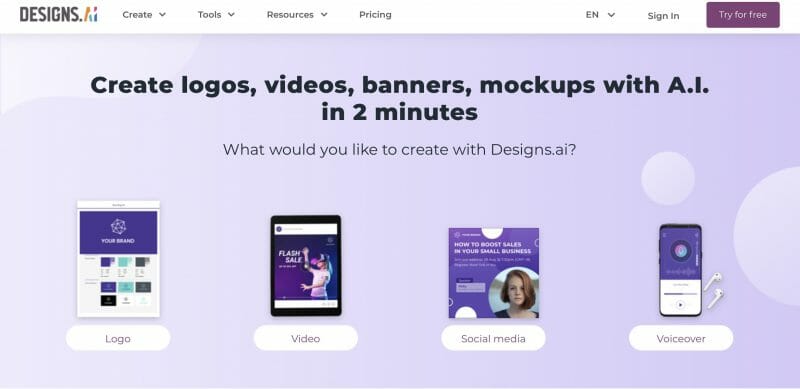 Designs.ai is an online-based design software that is making design accessible to all. It promises to help you create your marketing portfolio in less than two minutes, even if you don't have a design background. Moreover, its smart editor and wizard tool save you time brainstorming design ideas for your marketing content.
With Designs.ai, you can create logos, graphics, videos, mockups, and speeches. You can choose from a library of over 20,000 templates and 10,000 icons. The platform also uses AI to generate thousands of design variations and millions of design assets. You can create a logo and design template just by putting your brand information and preferences.
Features
Assistive tools
Brand identity package
Color matcher
Font pairer
Scalable Vector Graphics
Team collaboration
Unlimited downloads
Pricing per month
Basic: $29
Pro: $69
Enterprise: Customized
| | |
| --- | --- |
| | |
| Clean and intuitive interface | |
| Works on multiple browsers and devices | |
| No software installation required | |
---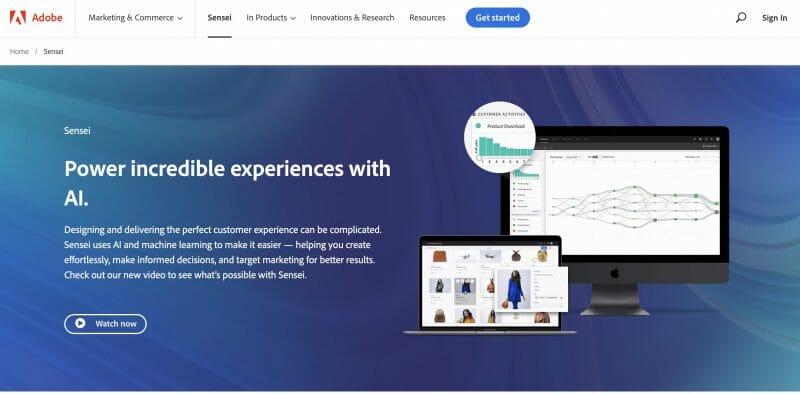 Adobe Sensei uses AI and machine learning to enhance creative assets, speed up business operations, and deepen marketing insights. Adobe introduced the application in 2016 to make businesses work faster and smarter. This helps designers focus on the more important things, like ideating, creating, and engaging with clients.
Adobe Sensei makes images discoverable and lets you create high-quality graphics that automatically adjust to screen size and resolution. Aside from streamlining work processes, Adobe Sensei also helps you make better design decisions for marketing. Its performance forecasting feature predicts your future performance and helps you optimize your campaign strategies.
Features
Automated Forms Conversion
Business and real-time intelligence
Content creation and intelligence
Image discovery and manipulation
One-to-one marketing personalization
Workflow automation
Pricing per month
Prices are available upon request from the vendor.
| | |
| --- | --- |
| | |
| Reliable integration with various software | Geared more toward design professionals |
| Comprehensive and high-quality design features | Not included in the Adobe Creative Cloud |
| Features are accessible to most Adobe programs | |
---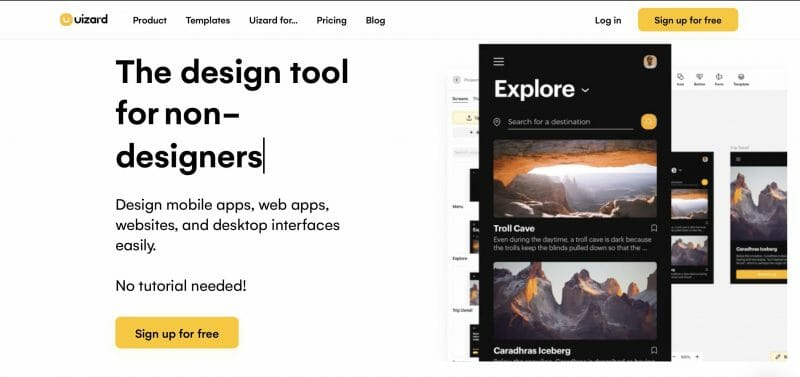 Uizard began as a machine learning research project in 2017. Today, the AI-powered prototyping tool has over 400,000 users and more than 8,000 user-created projects each week. Its goal is to democratize design by helping both designers and non-designers create digital products that audiences can interact with.
With Uizard, you can professionally design websites, desktop interfaces, and web and mobile apps within seconds. It automatically converts your scanned hand-drawn sketches into a prototype and applies them to your project. Moreover, Uizard's pre-made design templates and drag-and-drop components allow you to edit your designs quickly.
Features
Rapid product prototyping and ideation
Digital product wireframing
Pre-made and personalized templates
Real-time design collaboration
AI-powered design assistant
Pricing per creator per month
Free: $0
Pro2: $15 ($12 per month if billed yearly)
Enterprise: $39 (billed yearly)
| | |
| --- | --- |
| | |
| | One misclick can mess up the entire design |
| | |
| No software installation required | |
| Reliable customer service | |
---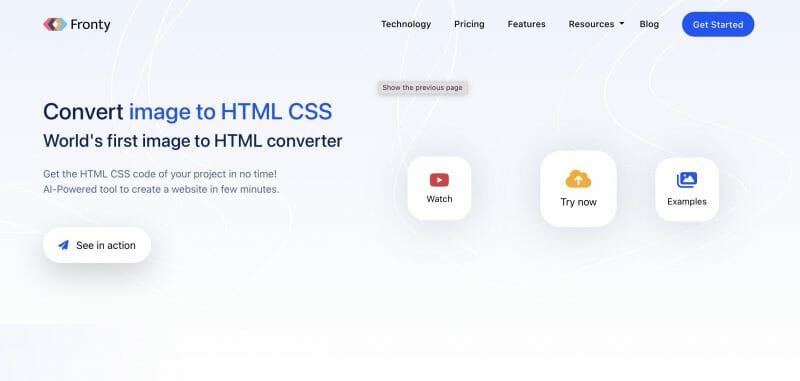 Fronty is an AI-powered tool that creates source codes based on a user-uploaded image. It offers a new way of creating websites. The AI graphic design tool has over two decades of front-end experience and currently uses 11 technology products and services, including HTML5 and Google Analytics.
Fronty generates an HTML CSS code based on your draft. Simply upload an image of your webpage design. The AI identifies the different elements of the image and then automatically generates your HTML/CSS code. You can also use its online user interface (UI) editor to modify your webpages. Fronty takes pride in its clean, speed-optimized, and accessible codes.
Features
AI-powered image-to-code converter
Online layout editor
Website hosting
Custom domain
Customized Bootstrap Theme
Sassy Cascading Style Sheets
Search Engine Optimization
Pricing per month
Freemium: $0
Pro: $4.52
Advanced: $9
| | |
| --- | --- |
| | |
| Provided codes are 100% W3C valid and ISO/EIC compliant | Still in its developmental stage |
| 95% customer service uptime | HTML processing can be long |
| Variety of templates to choose from | |
---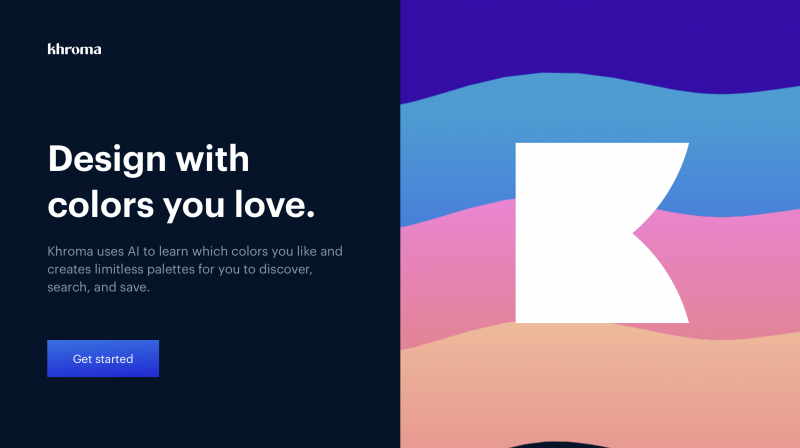 Multi-disciplinary designer George Hastings set out to create Khroma when he realized there weren't any tools that allowed him to browse and compare color combinations easily. Khroma is an AI-based color combination generator that draws from your selection of colors and thousands of human-made color palettes across the internet.
To generate a personalized list of color combinations, you must first choose 50 colors on the Khroma website. You can view them as gradient, palette, typography, and image. You can also discover and search for new combinations, as well as build your collection. In addition, you can upload your own custom image and test the colors on it.
Features
Color search option
Infinite combinations and viewing options
Personalized algorithm
Search and filter
Unlimited favorites library
Pricing per month
Khroma is free to use.
| | |
| --- | --- |
| | |
| You can use different parameters to search for colors | Choosing from a huge selection of colors can be tedious |
| The color combinations are limitless | Infinite scroll UI can be overwhelming |
| | |
---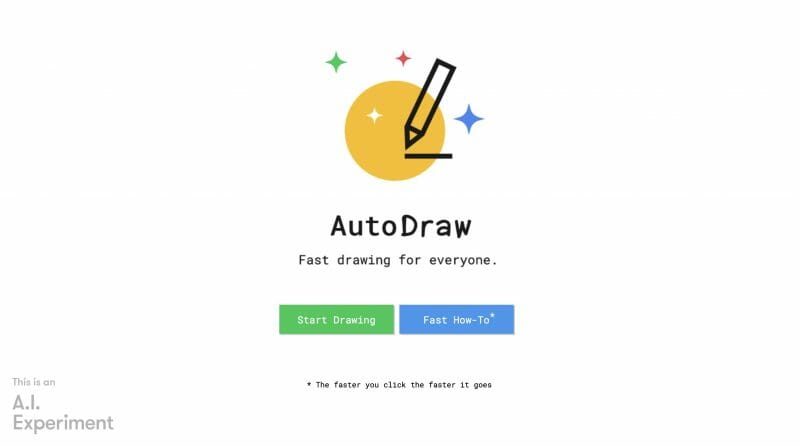 AutoDraw is a web-based AI-powered drawing tool. It was created by Google Creative Lab's Dan Motzenbecker and Kyle Phillips to make drawing accessible and enjoyable for everyone. It helps you draw fast and refine your artwork by pairing machine learning with drawings from various artists.
Simply make a doodle on AutoDraw. Its suggestion tool will then attempt to guess what you're drawing. Then it will offer drawing suggestions created by different artists and designers to make your artwork look better. You can download your work as a PNG file and share it on social media from any device. Some of the designs are also available for you to download.
Features
AI-based suggestion tool
Basic drawing tools, including freehand drawing, color picker, shapes, fill, text, resize, zoom, and rotate tools
Keyboard shortcuts
Download and share options
Pricing per month
AutoDraw is free to use.
| | |
| --- | --- |
| | |
| | |
| Straightforward interface | Lacks more advanced drawing features |
| Availability on any device | |
---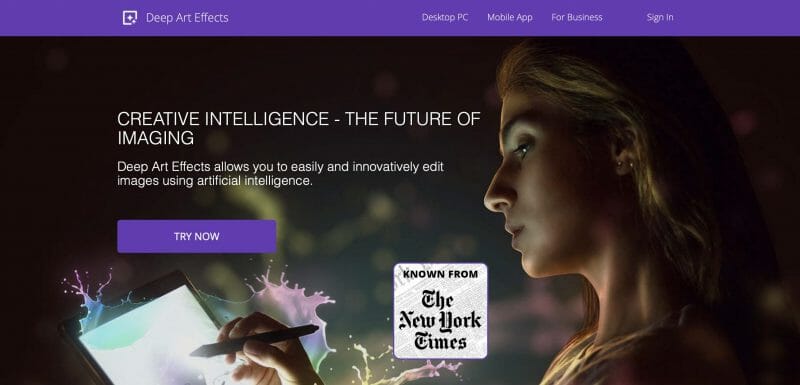 Deep Art Effects is an AI-based image processing tool that turns your design into works of art with a single click. With over 120 art styles, this graphic design software has more than 2 million global users and 200 million created artworks under its belt. Some of its partners include Samsung, Huawei, and Globus.
Deep Art Effects not only learns different art styles but also refines your images. You can edit just the background or foreground of an image, create your own art styles, render images at any resolution, and design using your favorite artists' styles. You can even integrate filters and image technology into your apps using the software's Application Programming Interface (API).
Features
Automatic cropping and bokeh
Automatic grayscale
Desktop software and mobile app availability
Generative Adversarial Networks
Intelligent scaling
Offline and German data protection
Selective render for background and foreground
Pricing
1 Month Subscription: $9.90
3 Month Subscription: $25 ($8.33 per month)
1 Year Subscription: $80 ($6.66 per month)
One-Time Purchase: $129
| | |
| --- | --- |
| | |
| Intuitive and easy to use | Image processing takes time |
| Responsive customer support | |
| Plenty of design varieties | |
---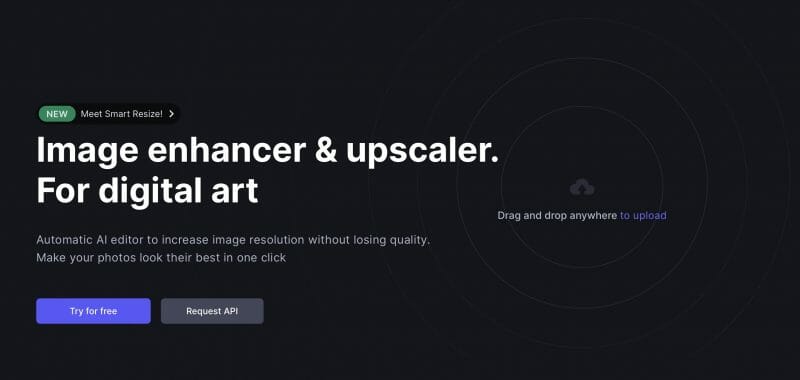 Let's Enhance is an image enhancer and upscaler. It was founded in 2017 to meet the challenges of user-created images. While many brands want to maximize user-generated content (UGC), most of these are shot on mobile phones by ordinary people. When uploaded online, these pictures compress and pixelate because of their size.
Thanks to Let's Enhance's cutting-edge image processing algorithm, you can upscale images up to 16 times without compromising their quality. You can cleanse your images, resize your logo, and adjust tones and colors with one click. You can do all that from any online platform. This AI tool for graphic designers also lets you process up to 20 visual assets at a time, speeding up your workflow.
Features
Accurate face detection
Automated presets
Batch processing
Color and tone enhancement
Cloud storage
Custom algorithm
Image upscale
Smart Enhance algorithm
Pricing per month
10 free credits: $0
100 credits: $12 ($9 billed annually)
300 credits: $32 ($24 billed annually)
500 credits: $45 ($34 billed annually)
| | |
| --- | --- |
| | |
| Availability on any device | Lacks advanced functions for complex images |
| | Pricier than other software |
| | Image processing takes time |
---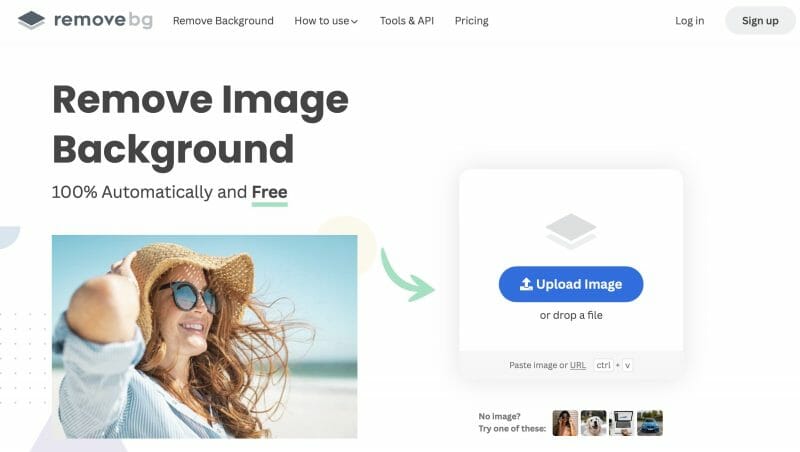 Whether you're processing 50 or 1,000 images at a time, remove.bg can automatically remove each photo's background with just a drag and drop. It even handles challenging edges, giving your photos a professional look. Over 28,000 customers from more than 200 countries are using the application. Some of its clients include AT&T Sportsnet, Canva, and Samsung.
Aside from removing backgrounds in photos, remove.bg also lets you edit your work within seconds so that you can create highly effective visuals on the go. You can even replace background images and create professional-looking product photos using its design templates. Furthermore, the software fully integrates with Photoshop, which can hasten your work process.
Features
Adobe Photoshop extension
API documentation
Design templates
Downloadable app for Windows, Mac, Linux, and Android
Integrations, tools, and apps
Pricing per month
Free Account: $0
Subscription Plan: Starts at 40 credits for $0.23 per image
Pay as You Go: Starts at one credit for $1.99 per image
| | |
| --- | --- |
| | |
| Free unlimited previews for all plans | May remove other photo elements that you can't tweak |
| | |
| | |
---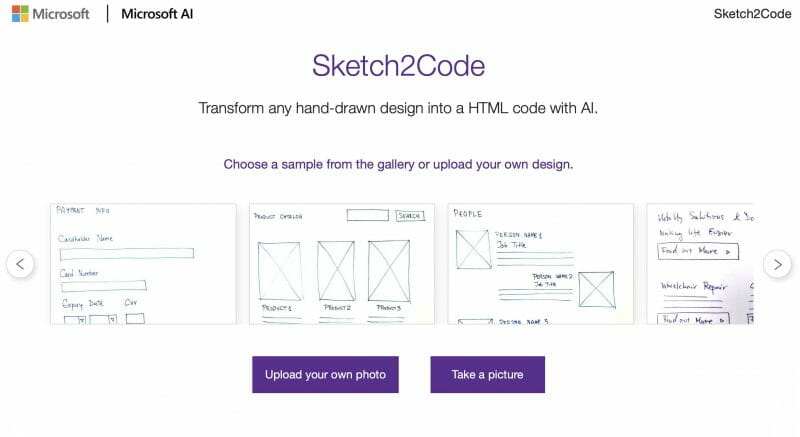 Microsoft's Sketch2Code converts your hand-drawn design into an HTML prototype. The tech behemoth created the application to empower brands and developers to maximize AI. It was a solution to the time-consuming process of manually drawing a wireframe or app design and sending it to a professional who can create an HTML code based on that.
Sketch2Code uses AI to detect your design patterns, decipher written text, and understand structures. You can use your own design to upload or choose an image from the gallery. The AI will identify the elements in the image and transform your work into a codebase, and you can even customize their presets to fit your needs.
Features
Computer Vision APIs
Custom Vision Model
Dynamic design
Text Recognition Service
Pricing per month
Sketch2Code is free to use.
| | |
| --- | --- |
| | |
| | |
| Easy for front-end developers | Output is sometimes slightly wrong |
| | |
---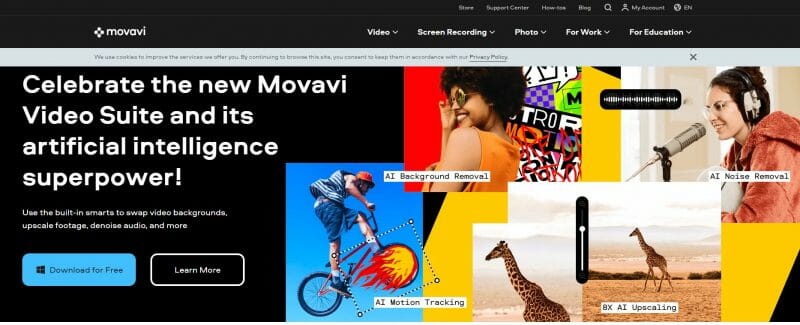 Movavi is a software powerhouse that excels in crafting multimedia tools and applications for a variety of platforms such as Windows, Mac, and mobile devices. Among their innovative creations is Movavi Photo Editor, a state-of-the-art, AI-infused photo-editing software designed for every stage of expertise. Its user-friendly interface and intelligent features empower you to produce breathtaking visuals effortlessly.
The AI Auto Enhance feature fine-tunes colors and contrast in a flash, while the Precise Object Removal tool effortlessly banishes unwanted elements from your photos, leaving them looking pristine and untouched. The AI Enlargement tick box revolutionizes image resizing, ensuring that your photos retain their original quality, even as their dimensions increase. Other AI-driven tool is the Auto Correction Slider, which intuitively adjusts exposure, highlights, shadows, brightness, and contrast. The Denoise Slider eliminates digital noise, leaving your photos looking polished and professional.
Features:
AI Auto Enhance
AI Enlargement
Auto Correction Slider
Denoise Slider
Pricing per month:
Video Suite License: $89.95/year
Movavi Unlimited License: $69.95/lifetime
Video Suit + Photo Editor License: $144.95/lifetime
| | |
| --- | --- |
| | |
| | |
| AI-driven tools for efficient editing | |
| Regular updates and improvements | |
---
Frequently Asked Questions
Is AI used in graphic design?
AI is used in graphic design to simplify your creative workflow. Machine learning helps make less manual work and allows people to focus on the bigger picture. You can create full marketing campaigns in 2 minutes with AI graphic design tools.
What is AI design tool?
An AI design software tool are computer programs that help power artificial intelligence, or AI. These AI design tools use machine learning to save you time, provide inspiration, or simply do the work for you.
What is the best AI tools?
The top artificial intelligence tools and frameworkers you need to know:
Adobe Sensei

Uizard

Designs.ai

Fronty

Khroma

AutoDraw

Deep Art Effects

Let's Enhance

remove.bg

Sketch2Code
What is AI in graphics?
AI files are native vector file type for Adobe Illustrator. An AI file can help designers scale their graphics, drawings, and images infinitely with no impact on resolution.