Advertising Disclosure
Advertising disclosure:
Our partners compensate us. This may influence which products or services we review (also where and how those products appear on the site), this in no way affects our recommendations or the advice we offer. Our reviews are based on years of experience and countless hours of research. Our partners cannot pay us to guarantee favorable reviews of their products or services.
Businesses traditionally relied on data analysts and data scientists to study past events and incidents in their operations so they could chart their growth or recovery. Amid technological developments, analytics has become more accessible, enabling non-analytics experts to identify trends that will affect the direction of their companies' campaigns and other endeavors.
---
Top 8 AI Trends Analysis Tools to Keep You Ahead of Your Game:
---
How AI Gives Data Analytics a Cutting Edge
As much as 95% of companies are turning to artificial intelligence (AI)-powered predictive analytics to extract more value from collected data. AI boosts predictive analytics in three main ways: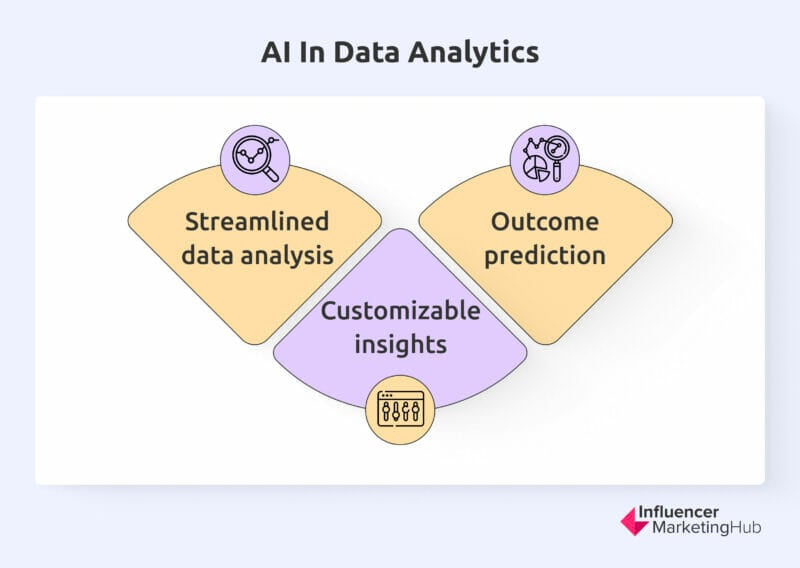 Streamlined data analysis
Data analysis tools allow businesses to gather and classify massive amounts of information that can be presented in one place and in various formats using visualization techniques.
AI can customize data analysis to glean the insights you need to extend product life cycles, improve sales, increase operational efficiency, streamline resource allocation, and more.
Analyzed data can provide companies with information they need to develop forecasts and make decisions. They can simulate scenarios to test options that can increase success or mitigate risk. For instance, AI can help predict a consumer's next purchase and customer-product matches, allowing you to produce more personalized marketing.
---
8 Best AI Trend Analysis Platforms for 2023
We've listed 8 AI trend analysis tools to help you kickstart your search for a platform suitable for your needs: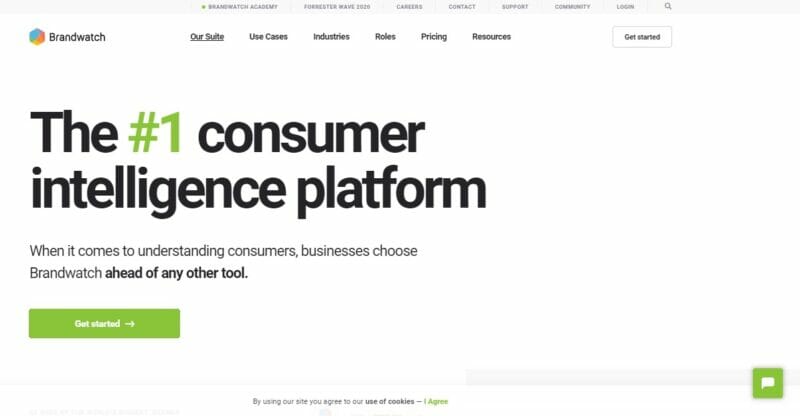 Brandwatch's suite features a consumer research solution with an AI tool that can generate insights from 15 years' worth of data. Its dataset comprises more than 100 million online sources and over 1.4 trillion social media posts dating back to 2008. Subscribers can also access up to nearly 500 new posts in real-time daily.
You can search a keyword to determine what consumers discuss about your brand, competitor, or a topic relevant to your business. Next, segment your data according to pre-set categories, such as sentiment, demographics, or your own. To generate insights, Brandwatch uses its AI's text and image analysis to present the most talked about topics and the people behind them within your specified timeframe. This process helps you discover what's driving positive or negative conversations about your brand. Finally, you can use the platform's reporting feature as a reference to strategize your next campaign. You can choose from over 50 data visualizations, which you can share as files or live data throughout your organization or with your clients using Brandwatch's Vizia add-on product.
Brandwatch can also help you with product development, pricing, and marketing with its Review feature. The tool consolidates reviews from various websites, allowing you to research customer pain points and opportunities.
---
Blue Silk AI, the heart of the Talkwalker platform, consists of two applications—Insight and 1-Click AI classifier—that track trending content. The Insight feature finds and collects customer service issues, delivery problems, product defects, and other consumer sentiments from thousands of customer reviews, surveys, and emails. The AI program processes and summarizes all this feedback in a few sentences. Meanwhile, the 1-Click Classifier allows you to categorize social conversations, articles, and blogs and filter for relevant customer data using short descriptions of topics you want to classify.
Talkwalker offers three products: market intelligence, customer intelligence, and social intelligence. Its Market Intelligence solution offers five years' worth of historical data, real-time consumer conversations, and Talkwalker's proprietary Social Content Ratings for benchmarking and comparing metrics (views, engagement, and content) across platforms. Meanwhile, its Customer Intelligence solution can help you track the content of product reviews and spot questions from customers using Reviewbox to improve your on-site search ranking, response times, and sentiment analysis.
Lastly, the platform's Social Intelligence solution can track over 40,000 brand logos, scenes, and objects in social images and videos and more than 60 million new videos daily for critical brand mentions. This feature is compatible with other social media management (like Khoros and Hootsuite) and business intelligence (Tableau) tools.

Key Features: Influencer Search & Discovery, Relationship Management, Third Party Analytics,
Channels: Twitter, Blogs
---
This platform offers analytics and business intelligence through its Qlik Sense solution. This tool's AI-driven Insight Advisor allows you to analyze data through:
Search-based analysis – generates visualizations through keywords you type in the search bar or fields that you select from the dashboard
Chat – produces relevant insights based on your prompts or conversational instructions
Associative insights – help you uncover hidden insights from "excluded values" or the data that you may have previously dismissed, such as customers that didn't buy or channels you didn't sell through using the Qlik Associative Engine's capabilities
Chart suggestions – lets you select data fields and customize visualization.
Recommended associations – shows the AI's suggested data associations you can study further.
Qlik Sense offers integrations to connect you to web-based and social media sources. You can later pick from over 30 visualizations to present your data. Moreover, Qlik GeoAnalytics offers advanced visualization to help with your location-related decisions.
---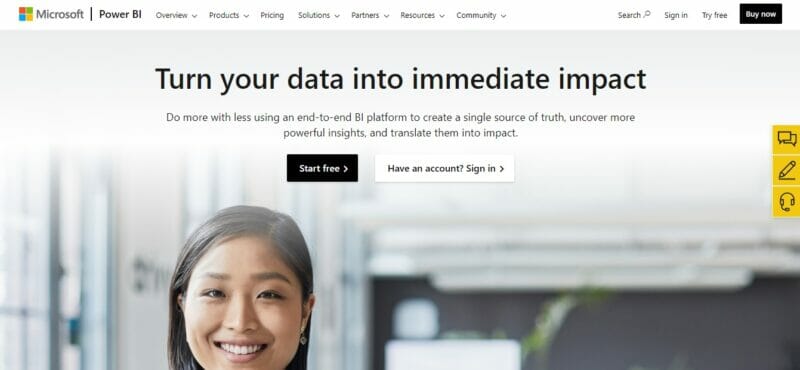 Are you adept at Excel? Power BI works well with the Microsoft spreadsheet software in connecting disparate data sets and applying analytics to information. Connectors integrate data from sources besides Excel files, including your CRM system and third-party services such as Google Analytics, SAP, Salesforce, Twilio, and Marketo.
By getting a Pro or Premium license, you can identify trends that Power BI displays on its Quick Insights canvas. Over 32 "insight cards" appear here with a graph or chart with a short description. These insights include:
Major factor/s – or the single factor behind a majority of a total value

Category outliers – or categories with higher values than the others

Time series outliers – the specific dates or times when values were significantly different from the other date or time values

Overall trends in time series – spot downward or upward trends in time series data

Seasonality in time series – detects periodic patterns per week, month, or year

Steady share – highlights the "parent-child" correlation between two values throughout a continuous variable

Correlation – points to cases with similar patterns when plotted against a value or category in a dataset

The Power BI REST API enables real-time streaming, resulting in accurately updated dashboards.
---
Meltwater gives a well-rounded view of your customer and your business sector through its "Explore & Monitor" products.
Its Media Monitoring software captures content from over 270,000 news sources worldwide, blogs, print publications, forums, podcasts, broadcasts, and social media platforms. The tool offers trends analysis or the most common topics associated with your brand besides tracking the volume of your brand mentions, sentiment analysis (perception of your brand based on online discussions), and top publications, influencers, and geographical origins of your brand mentions.
Meanwhile, its Consumer Insights solution provides access to real-time data from social media, reviews, videos, comments, forums, first-party data, and more via Meltwater's group member Linkfluence. But more than supplying market research and social listening, this feature gives high-value insights by identifying and interpreting signals of change in consumer behavior. You can also perform competitive benchmarking to discover how you fare against other players in your sector and their clientele.
Meltwater performs Sales Intelligence through Owler Max. The tool automates data gathering and real-time notification about acquisitions, funding rounds, and other events involving competitors and other companies relevant to your sales process, from prospecting to closing deals.
Finally, the Social Listening feature uses AI algorithms for more focused monitoring and analysis of how social media users talk about you on their platforms. The trends can spark ideas for a new product range, remove friction from your customer journey, or alert you to a potential crisis.
---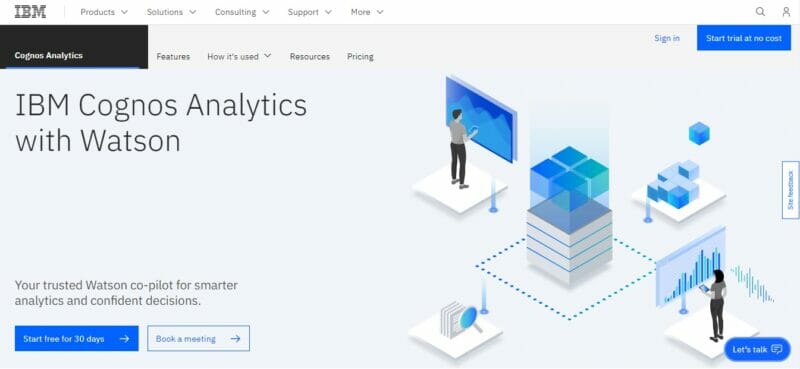 This IBM business intelligence solution shows your current business status and forecasts your future with its built-in Watson AI. You can import spreadsheets and CSV files or connect to cloud-based or on-premise data sources, such as Google BigQuery, SQL databases, Amazon, Redshift, and more. Ask Watson a question about your data, and the AI will generate visualizations and predictive analytics using time-series modeling. The platform can also produce a forecast or insights when you click the Forecast dialogue box to the right of your bar, line, or column visualization.
IBM Cognos Analytics also has a mobile app from which you can refer to your data and spot emerging trends in real time while you're on the go.
---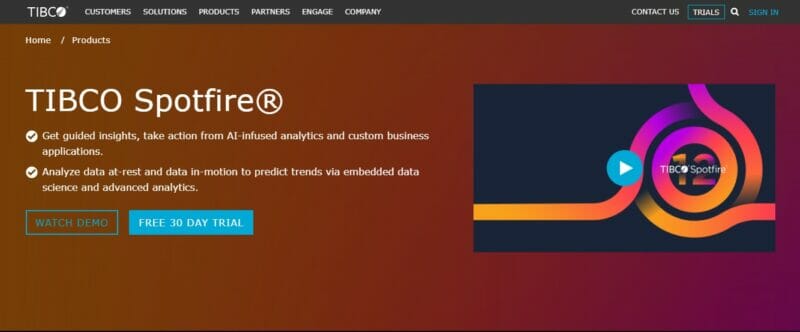 TIBCO Spotfire helps users identify the root cause of problems and make the most efficient decisions through its mix of historical, real-time, and predictive analytics. Want to widen your live dataset even further? Get 80 streaming sources with the Data Streams add-on, which includes Bloomberg, Reuters, and WITSML for petroleum industry-related data.
The platform's JavaScript framework allows you to embed its analytics capabilities into the web-based applications that your team already uses. Spotfire has over 70 native connectors and countless APIs for custom integrations, making it an ideal choice for big data users. Meanwhile, its data wrangling feature cleans and organizes your data from various sources fast—within the same platform—so you can analyze them sooner and more accurately.
This tool's location analytics offers predictions based on geographical contexts. Spotfire can also generate an interactive map if your data includes geographical components such as GPS coordinates, cities, states, or nations. Its mapping capability applies to non-geographical maps such as seating chart, store layout, and human anatomy.
---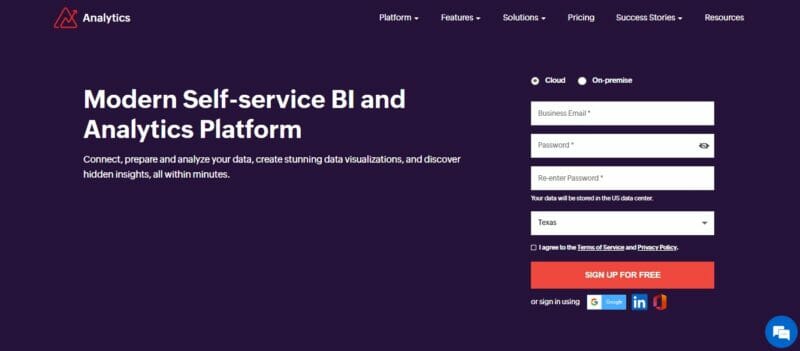 Zoho Analytics has ready-made connectors that will allow you to analyze data from over 250 sources—from on-premise to cloud-based databases to web-based feeds. Predict upcoming trends by setting up forecast models using your business metrics, or hold conversations with Zoho's AI assistant, Zia, to determine insights. It generates easy-to-understand summaries in English and Spanish.
The platform's white label feature lets you set up an analytics portal showing your brand name. Businesses of all sizes can also use the platform to encourage collaboration across departments. Team members can review and comment on generated visualizations to get each other's' input on the company's performance and possible steps to act on findings.
---
---
6 Factors to Consider For Your Tool Selection
Consider the following factors when selecting your trends analysis tool: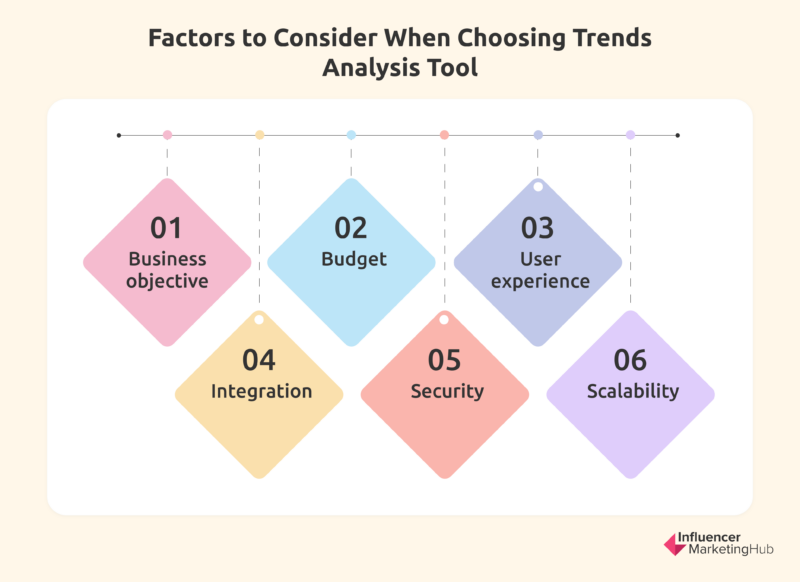 What business goals are you pursuing? Determine your objectives and then pick a platform that will give you access to the data you need. Some use case examples include measuring marketing campaign results, forecasting revenues and new opportunities, tracking material trends and supplier performance, and gaining visibility into operating expenses and cash flow.
Analytics tools have different cost structures. Study the coverage of subscriptions—and check for hidden fees—before signing up for a plan.
Pick a platform with a user-friendly dashboard that even non-technical users can use to build, interpret, and generate reports. Take advantage of solutions with trial versions to assess their compatibility with your existing business apps and requirements.
The best tools must allow you to connect to your data sources in a few clicks. Find a system that can import data in different storage formats and from various locations.
Choose tools with features for setting access permission and safeguards against data breaches. Although these tools should foster teamwork, you must ensure the safety of sensitive company information and client data.
Cloud solutions offer the highest potential for availability and flexibility. You can modify these solutions to fit your business when you expand.
---
Boost Your Strategic Planning with AI
Businesses used to think that automation would be the ultimate game changer before AI entered the picture. With this hi-tech tool, marketers and company decision-makers can foresee and plan the future based on current patterns.
Data and trends analyses have a broad scope, and you may prefer solutions with a narrower focus. For tools to help you optimize your customer data, you can check our top 30 customer data platforms to drive data-centric marketing campaigns in 2023.
Do you need a deeper analysis of your competitors? You can find the best solution for your needs in list of top ten competitor analysis software tools every marketer should know.
Meanwhile, if you'd like your next social media campaign to be more responsive to your followers, check out our top 12 social listening tools to boost your brand reputation.