While one of the newer players in the influencer marketing space, Talkwalker has been around since 2009. As one of the earliest companies to recognize the marketing gold mine that is social media, they were one of the first to develop listening and analytics tools for companies to make the best of their social presences. Today, over 1,200 brands rely on Talkwalker to monitor their accounts, find out who's talking about them, learn about the impact their social accounts are actually having. And those brands that use Talkwalker have been very happy customers, indeed.
How do we know this? Because Talkwalker's expanded their offerings with a new product—Influencer One—at the request of their customers. It's a move that makes sense, because influencer marketing doesn't really exist outside of social media. For brands that were actively managing their social presence Talkwalker and looking to move into influencer marketing, keeping the software in the same family is a no-brainer. It says something good about a company that their clients asked them to do this, and it's equally good to to know that the company listened. Of course, listening is what Talkwalker is known for—it's the foundation of their early success, and it figures heavily into Influencer One, as well.
To be clear, it isn't as though Talkwalker added features to their original software. They built a new product, from the ground up, which means they just added a whole new group of competitors to their list. Or, they would have, had they decided to go to market as an Instagram or YouTube offering. Influencer One doesn't play here—not yet, anyway. At the time of this writing the platform works with Twitter data only, Talkwalker's sweet spot for the last decade. Instagram support will added in the coming weeks, I'm told. This was a smart way to go about it, giving Talkwalker the time to mature their product in a familiar environment before heading into the open waters with everyone else.
But the focus on Twitter also works as a key differentiator for Influencer One. The last couple of years have seen Instagram steal the influencer marketing show, and that only intensified in 2018. As a result of this, the majority of the influencer marketing platforms developed in that time have either led with their Instagram integrations, or chosen to be solely focused on it. A lot of those companies saw their business models suddenly become irrelevant when Instagram changed its API access rules last April. Some were forced to shut their companies down entirely. When Influencer One launched in November, they had no such issues with data. They'd already been linked to Twitter—a platform marketers forgot had been an essential tool for brands for several years. Talkwalker's timing couldn't be more perfect.
---
TalkWalker Influencer One:
---
Pricing
There isn't any published pricing for Influencer One. It's a subscription service, and the monthly fee is entirely dependent on how many influencers you want to manage. There are no levels of service, meaning you get the same features whether you're managing 10 influencer or 10,000.
---
The Details
Influencer One isn't an end-to-end solution, but it nearly is. This turns out to be the one major frustration you'll have using the product. It's not that all platforms need to do everything—we love the niche players—but Influencer One's focus isn't specific enough. Here's what I mean:
The platform has an impressive discovery feature, excellent relationship management tools, and useful analytics. What's missing is campaign management, a phase that happens in between all those other other ones Influencer One does do. When influencers are assigned to campaigns, that's a matter for both relationship and campaign management. When hashtags and mentions are created and defined for each campaign, they're part of a campaign brief in the management tool, and the source for the data that analytics relies on. So there's a bit of duplication of efforts here, having to manage these aspects across multiple platforms.
On the plus side of this, it does make Influencer One a good fit with brands using influencer marketplaces or purpose built campaign management tools. Marketplaces are opt-in networks, and many don't have strong support for Twitter influencers. They also, along with focused campaign management platforms, generally have limited campaign reporting. So the fit is there, and there's a market to be served: perhaps the puzzle pieces could fit together a little easier.
Perhaps, also, this gap is made more frustrating by the fact that Influencer One is actually very good at the things it sets out to do. Their database of over 6 million influencers is backed by the reams of data Talkwalker's analytics has collected and indexed over the years. The search tool is focused on relevance, not mere matching of criteria. When you search for hashtags or user accounts or even just keywords, the influencers you're shown in the results will show you how many times they've mentioned them, and the average engagement rate per mention.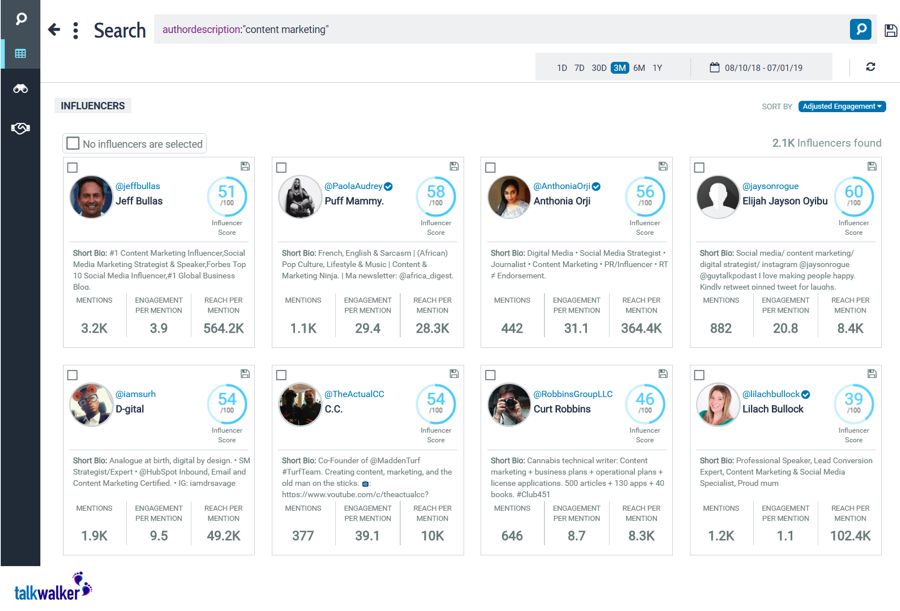 We often talk about audience data, psychographics vs. demographics, but engagement per mention is something that's just as important. Data that tells you an audience's general characteristics—like gender and age breakdowns, or whether they're into the Backstreet Boys—are used as predictors of what kind of content the audience might be into, and whether or not they're a good fit for a brand. Engagement per mention tells you how much of the audience is already engaged with your topics, no guesswork necessary. Each influencer is also given an influencer score, on a scale of 1 to 100, that rates them relative to other influencers on the platform. These two metrics alone give you an at-a-glance understanding of who you're dealing with, making it quick work to create lists of influencers, categorized anyway you like. These lists form the foundation of your relationship management.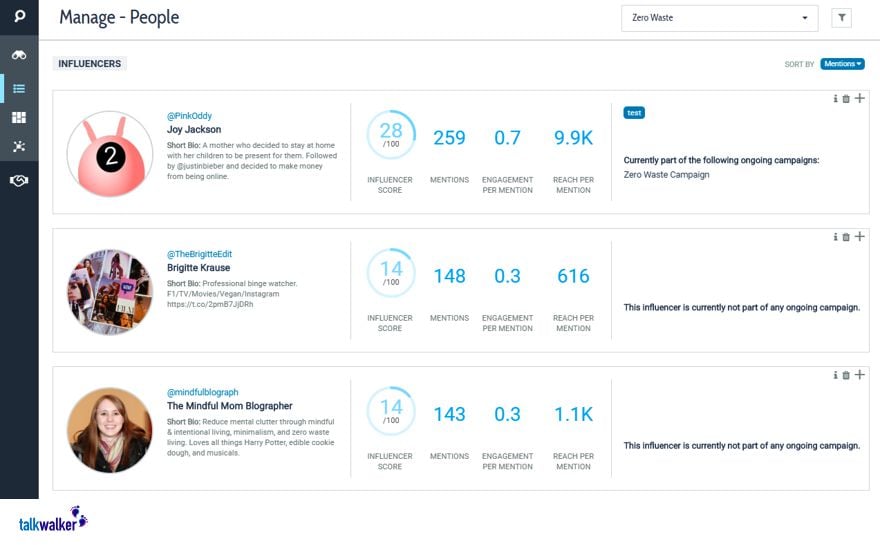 From here you you can dig deeper into each influencer you've flagged, checking out their past content (ranked by engagement), word clouds that give you an idea of what they talk about most, and—yes—all that audience data like age and gender and interests, etc.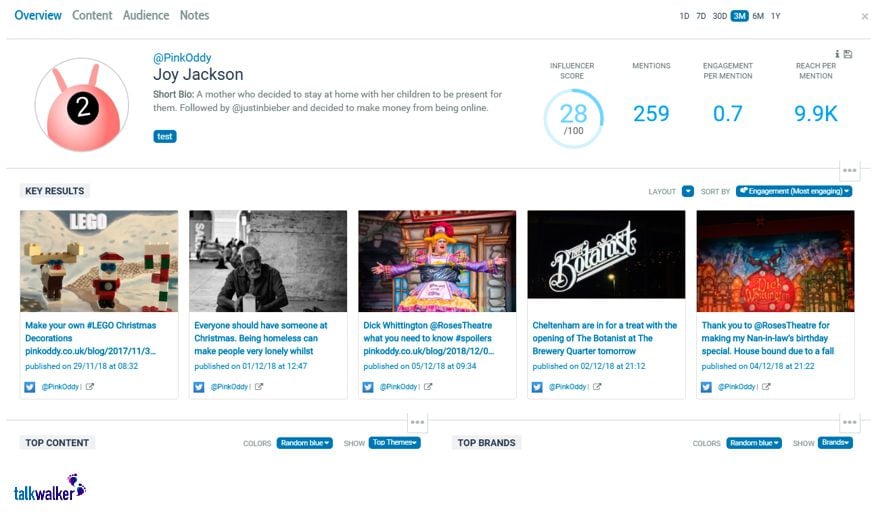 The relationship management function is also very collaborative. In the notes section of an influencer's profile, team members can add more personal information—addresses, agents, other contact info—that becomes important when you start working with them. You can fill in their other social accounts (and, one suspects, see content and other data from those once they're integrated). The comments section to allow users to share info and thoughts with other team members, and there's function to upload relevant documents, like contracts, NDAs, or anything else.
Relationship management might the strongest of Influencer One's strong points, and makes a great tool for agencies and large teams. There's a reason the platform is priced by the number of influencers managed: the more of them you're dealing with, the more you'll see how easy it is to manage them all. And that's something worth paying for.
The analytics on campaign performance are also top notch. Though the gap in the workflow means you'll be setting up campaigns on two different systems (one here and one some other software used to manage campaigns), the consolation is that it isn't very difficult or time consuming. You'll end up creating influencer lists for each campaign you're running, and from there it's a simple process to have Influencer One listening for those mentions you defined, and only from the influencers in a specific list. The reports you get back tell you engagement, reach, engagement per mention, which are all good to know. Even better is the sentiment analysis, which analyzes the comments to determine how well (or not) people received the message. You also get a breakdown of Earned Media Value—the total for the campaign, as well as for each influencer.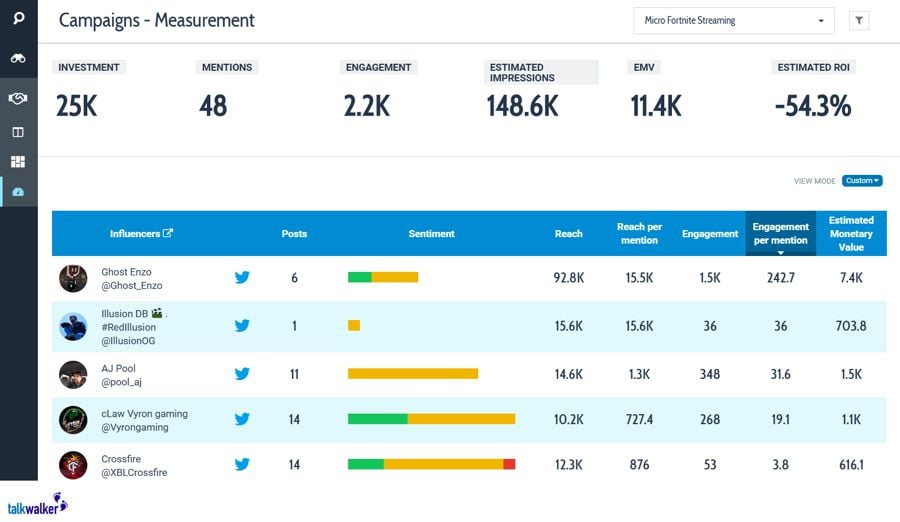 While I'm not exactly clear on how these values are determined, I'm reasonably certain they're legitimate. Look at the screenshot above, that shows a 53% loss on the investment. If they were going to fudge the numbers or play any games, they certainly would have done it in the other direction.
---
Conclusion
Talkwalker, the company behind Influencer One, already has a solid reputation as a leading social analytics platform. Their focus on Twitter has helped their customers stay organized in what is otherwise a chaotic landscape. There are 6,000 tweets sent every second, and conversations can blow up and go off into all different directions. While marketers don't have to read all those tweets, anyone who's spent time on the channel knows how quickly the dialogue moves there. Talkwalker's been helping their customers make sense of it all for a decade.
Given that, and the relatively little regard Twitter gets from the platforms aimed at simplifying influencer marketing, Talkwalker was poised to make a big splash in this space; they were uniquely equipped to do it, and they've gotten off to a great start.