Advertising Disclosure
Advertising disclosure:
Our partners compensate us. This may influence which products or services we review (also where and how those products appear on the site), this in no way affects our recommendations or the advice we offer. Our reviews are based on years of experience and countless hours of research. Our partners cannot pay us to guarantee favorable reviews of their products or services.
Consumers today have increased demands for exceptional user experiences throughout their buyer journeys. This puts businesses under intense pressure to stay ahead of fast-changing consumer behaviors and deliver hyper-personalized experiences that meet customer expectations. One way to do so is to leverage AI and big data to gain deep insights into market intelligence.
To become insights-driven, you need to develop capabilities that harness the power of advanced artificial intelligence (AI) market intelligence platforms. These platforms provide valuable insights into market trends, customer behavior, and competitors, allowing you to make data-driven decisions faster and more accurately. You can also check out marketing agencies.
In this article, we explore some of the top AI market intelligence software that helps accelerate business growth. These pieces of software include tools powered by natural language processing, predictive analytics, and other advanced technologies. They can help you extract insights from data, make informed decisions, and stay ahead of the competition in today's rapidly evolving market.
---
Top AI Market Intelligence Software That Helps Accelerate Business Growth:
---
What Is Market Intelligence
Basically, market intelligence is the practice of collecting and analyzing data about a particular market. It involves gathering information on market size, growth, opportunities, and trends to gain marketing insights and the factors that are influencing critical events. It also includes gathering data on consumer behavior, competitors, and products.
Traditionally, market intelligence is collected through surveys, focus groups, interviews, data analysis, and sales data. With consumers engaging more with businesses through digital platforms, online data sources are thrown into the mix. Now, massive amounts of data are also collected from social media networks, eCommerce sites, and other digital sources.
By understanding the market and its dynamics, you can make informed decisions, tailor your products and services to meet customer needs, and ultimately achieve long-term success.
---
How Does Market Intelligence Impact Businesses
Market intelligence plays a crucial role in driving business growth by providing organizations with valuable insights into the market, competition, and customer needs. It is an essential tool for businesses to stay competitive and thrive in today's fast-paced market. Here are some of the many ways market intelligence impacts businesses.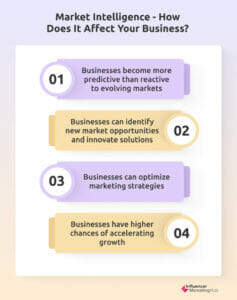 Businesses become more predictive than reactive to evolving markets.
By using market intelligence to monitor market trends and anticipate changes, businesses can quickly adapt to shifts in demand and consumer behavior. This can help you to stay ahead of the competition and develop products and services that meet the needs of your customers. For example, you can use market intelligence to monitor customer feedback then use this information to improve your products and services.
---
Businesses can identify new market opportunities and innovate solutions.
Market intelligence can also help businesses to identify new market opportunities, expand into new markets, and develop new products or services. By analyzing data on customer preferences and behavior, you can identify unmet needs and develop innovative solutions to meet those needs. Aside from helping you to differentiate your brand from competitors, this also allows you to successfully scale your business and accelerate growth.
---
Businesses can optimize marketing strategies.
Market intelligence can also help businesses to optimize their marketing strategies. It ensures that you reach your target audience and maximize the effectiveness of your campaigns. By understanding customer preferences and behavior, you can tailor your marketing messages and channels to reach the right customers at the right time, increasing the likelihood of a positive response.
---
Businesses have higher chances of accelerating growth.
According to a report by Forrester, advanced insights-driven companies are over eight times more likely to report at least 20 percent YoY revenue growth. Market intelligence empowers you to become more insights-driven and increase your chances for accelerated business growth.
---
The Role of AI in Market Intelligence
With the abundance of consumer-generated data across various online and offline sources, businesses are faced with the challenge of processing massive volumes of information and turning them into valuable insights. This is where AI-powered market intelligence solutions come in.
AI-enabled consumer intelligence solutions can sift through large volumes of data and reduce noise in datasets, helping businesses to better understand consumer behavior and market trends. These solutions leverage machine learning and natural language processing (NLP) techniques to extract valuable insights from various sources. By applying advanced AI and data-mining algorithms, AI-powered market intelligence tools can uncover predictive and prescriptive insights.
AI-powered market intelligence tools also complement traditional research techniques like surveys and customer interviews, providing access to real-time data, online signals, and predictive capabilities. By reducing the time it takes to get insights, improving data quality, and identifying market changes sooner, businesses can pivot their offerings faster, meet fast-evolving consumer demands, adapt to ever-changing markets, and ultimately boost revenue.
---
Top AI Market Intelligence Software
To make the most out of market intelligence, augment your tech stack with AI market intelligence software capable of gathering and analyzing large volumes of data and extracting valuable and actionable insights. Take note that different pieces of software may have different capabilities, so it's always best to evaluate them based on your specific business needs and goals.
---
---
---
---
---
---
---
---
---
How to Choose AI Market Intelligence Software
Because of its impact on your company's growth and success, choosing AI market intelligence software can be a daunting task. You must consider all your options carefully before investing in a piece of software. Here are some factors to consider when evaluating different kinds of AI market intelligence software.
Business Needs and Goals: Identify the specific needs, goals, or problems you want the AI market intelligence software to address. Consider what data sources you want to analyze and what insights will help you make better business decisions.

Features and Capabilities: Look at the features and capabilities of the software, such as natural language processing, sentiment analysis, data visualization, and data integration. Choose the software with the functionalities you need.

Customization and Integrability: Consider whether the software can be customized to meet your unique business needs, including the ability to integrate with your data sources, workflows, and systems.

Pricing and Scalability: Evaluate the pricing models and costs associated with the software, as well as the ability to scale the software to meet your growing business needs.

Support and Training: Look for a vendor that offers strong technical support and training resources to help you maximize the software's capabilities and value.
---
AI Will Continue to Play a Key Role in Market Intelligence
The world of business is rapidly evolving, and with the rise of AI technology, there has never been a better time to implement market intelligence software. The benefits of using AI-powered market intelligence solutions are clear: businesses can gain valuable insights, make more informed decisions, and ultimately, achieve faster growth.
By leveraging AI market intelligence software, you can stay ahead of the curve, identify opportunities, spot threats, and outpace your competitors. With the ability to gather and analyze vast amounts of data in real time, AI-powered market intelligence tools enable you to unlock hidden insights that would otherwise be impossible to identify.
In today's fast-paced, data-driven business environment, AI-powered market intelligence is essential in your arsenal of tools for business growth. By embracing the power of AI technology, you can stay agile, make smarter decisions, and ultimately drive better business outcomes.
Frequently Asked Questions
Is market intelligence the same as marketing intelligence?
Some use market intelligence and marketing intelligence interchangeably, but they are not exactly the same. Market intelligence is a broader concept that includes the overall market from customer needs and market size to business landscapes and market trends. On the other hand, marketing intelligence is a more focused concept that refers specifically to marketing activities such as segmentation, targeting, positioning, and strategizing.
What are the benefits of using market intelligence software?
The benefits of using market intelligence software include gaining a competitive advantage, identifying new market opportunities, reducing risks, improving decision-making, and increasing revenue. It can also help businesses stay ahead of market trends, understand consumer behavior, and develop more effective marketing and sales strategies.
What are the key features of market intelligence software?
The key features of market intelligence software include data collection and analysis, trend analysis, competitor analysis, market segmentation, customer behavior analysis, and custom reporting. Some pieces of software may also offer predictive analytics, data visualization, and collaboration tools.
What type of data does market intelligence software collect and analyze?
Market intelligence software can collect and analyze various types of data, including customer feedback, social media activity, industry reports, competitor data, sales data, and web analytics. The data collected and analyzed will depend on your business needs and the software features and functionality.
Is market intelligence software easy to use, or does it require a steep learning curve?
Market intelligence software's ease of use will depend on the specific software and your level of experience with data analysis and software tools. Some pieces of software may have a steeper learning curve than others, but many vendors offer training and support resources to help users get started.