With nearly 2 million sellers actively selling on Amazon alone, eCommerce businesses are in for some competition. Aside from building a website and sourcing quality products to sell online, eCommerce businesses will want to scale their marketing strategy to reach a bigger audience and drive sales.
Market intelligence software solutions and tools give eCommerce businesses insight into the latest trends in the industry and their competitors' activity. Leveraging data can help you increase sales, offer a satisfactory customer experience, and troubleshoot performance issues.
---
Best eCommerce Market Intelligence Software Tools for 2023:
---
What Is Market Intelligence?
Market intelligence is the collection and analysis of information on the market a business operates in. Essentially, it is a set of data assessing your competitors' offers, your performance, and market reach to come up with more profitable decisions. You will want to determine metrics relevant to growing your business such as organic ranking, impressions, and customer demographic.
Gathering market intelligence can be done manually or with the assistance of software solutions and tools. Market intelligence tools use multiple sources to gather data and consider different parameters to measure your performance relative to your competitors.
---
Market Intelligence, Business Intelligence, and Market Research: How Are They Different?
Marketing intelligence is often confused or interchanged with business intelligence and market research. While the three processes are crucial to making informed business decisions, their differences lie in their goals.
Market intelligence focuses more on analyzing the trends, buying behavior, and other information on the market you're operating in. Meanwhile, market research focuses on your business' branding, target market, products and services you offer, and insights from previous marketing strategies you employed.
Business intelligence is also concerned with data collection and analysis, but the focus is on your business' performance. It assesses your strengths and weaknesses in human resources management, product marketing, campaign management, and sales cycles. This gives you an idea of how to promote efficiency across business functions.
Incorporating the three processes in your eCommerce business can give you a competitive edge against established brands in the industry.
---
Best eCommerce Market Intelligence Software Tools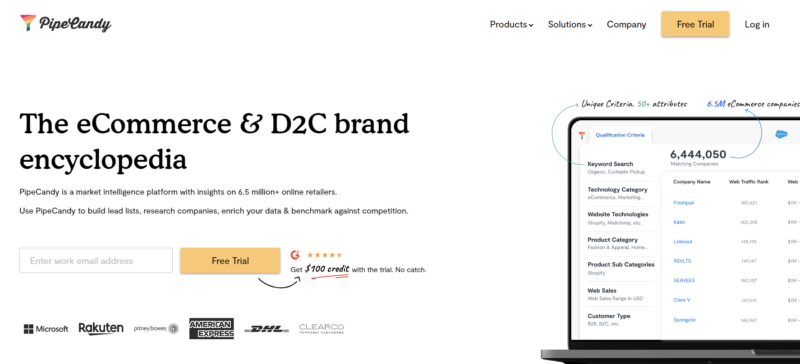 Discover how your business is performing against competitors by geolocation, employee size, and more with PipeCandy. PipeCandy is an eCommerce market intelligence solution gathering data across more than 5.4 million retailers online. PipeCandy's vast collection of sources makes it one of the most accurate market intelligence tools.
PipeCandy uses 50 parameters to deliver specific and relevant data to scale your business. With PipeCandy's easy-to-digest reports, you can address areas of improvement within your business and witness measurable results.
This market intelligence tool provides you with extensive insights to launch your eCommerce business to the right audience, on the right platform, with realistic conversion rates. You can expand your market share and improve your business's overall performance with PipeCandy's market share reports and case studies for just about every industry out there.
Features:
Broad datasets

Competitor analysis

Lead generation and customer retention lists

Trends analysis by 50+ attributes
Pricing:
PipeCandy allows you to explore its features for free at zero risk for 7 days. Each subscription caters to the needs of various eCommerce businesses and organizations.
Free:

The free plan is perfect for startups working toward breaking through in the market. It offers limited market intelligence features, with a focus on lead list building.

Online:

61% of businesses choose the Online Plan. It supports basic keyword search, website traffic tracking, and sales estimates. It is priced at $9,000 per year, with the option of paying it upfront or per quarter.

Commerce:

The Commerce Plan supports all the Online Plan has to offer, with the addition of analyzing marketing and payment models relevant to your business. It is priced at $13,500 per year. The Commerce plan is best for mid to large companies dealing with tech and logistics.

Enterprise:

The Enterprise Plan is designed for enterprises that require flexible data for their marketing strategies. It gives businesses free access to expert consultation from the PipeCandy team. The Enterprise Plan starts at $25,000, billed annually.
---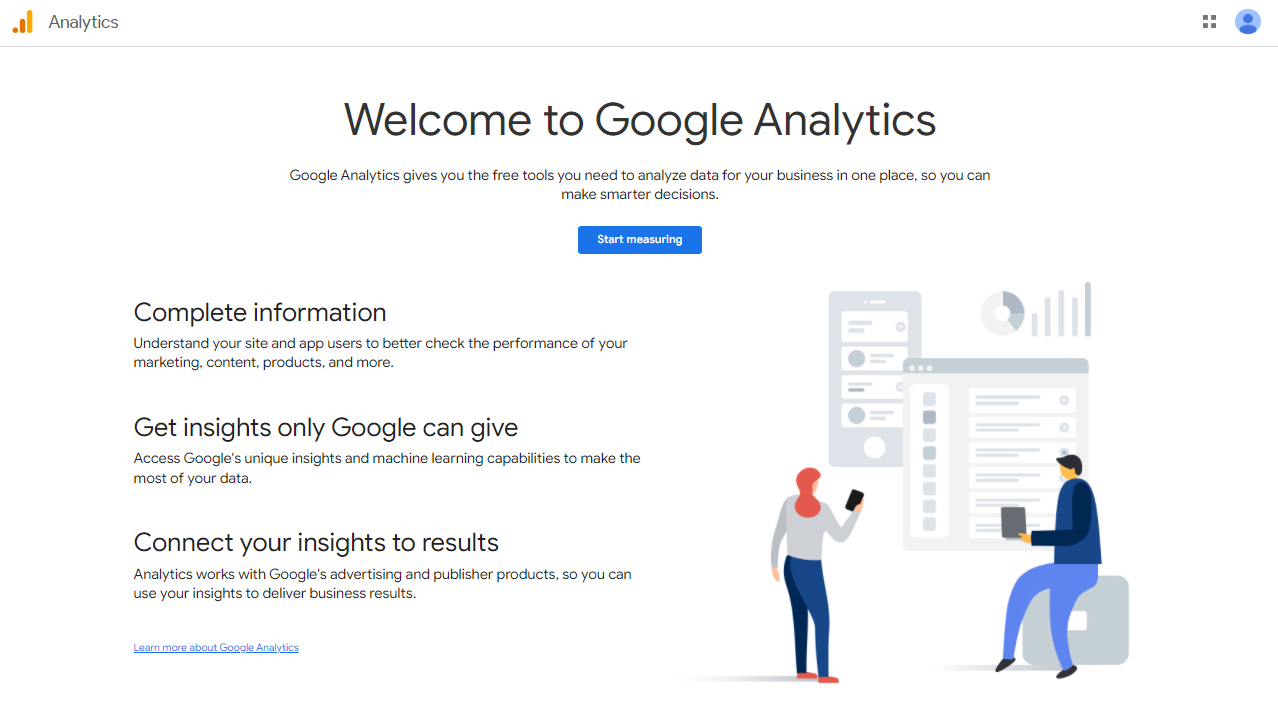 If you're just starting to set up your eCommerce business, Google Analytics is the best market intelligence tool for you. It features a clean interface that is easy for beginners to navigate and keep track of valuable data on customer habits and competitors. Charts and graphs help you better understand the fluctuations of trends over time. You can also personalize your dashboard for convenient access to reports and other functions.
Are you curious about how your competitors are performing? The benchmarking feature in Google Analytics gives you a quick glimpse into how your business is faring relative to key competitors. Google Analytics makes competitor analysis simple through isolated keyword search and ad impression rates.
This market intelligence tool is free to use and supported by many eCommerce platforms like Shopify and WooCommerce. If you want to further master Google Analytics, you can take a free course to guide you in using Google Analytics to harness actionable data for your eCommerce business.
Features:
Beginner-friendly analytics tool

Straightforward interface

Customizable dashboards

Integrates with eCommerce platforms and websites

Delivers personalized reports
Pricing:
Google Analytics is free for business owners to incorporate on their eCommerce websites. If you run a big business or simply want access to more advanced functions, Google Analytics 360 is available at $150,000 a year.
---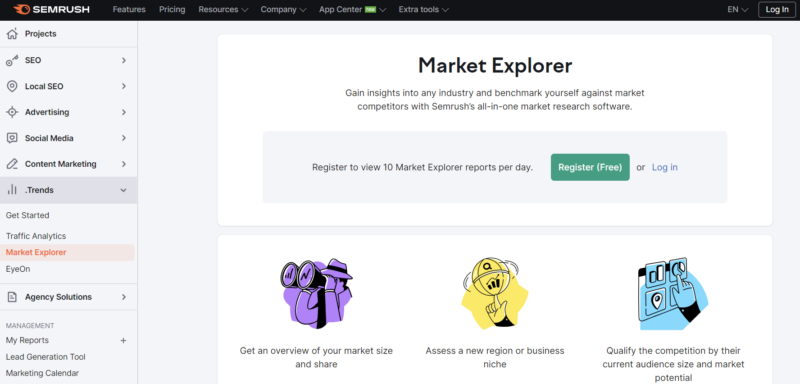 Want a quick overview of your market and analyze competitors' traffic? Market Explorer lets you benchmark yourself against competitors and receive quality insights on your competitors' marketing strategies. Market Explorer is a market intelligence tool from SEMrush, a popular SEO software solution.
Market Explorer focuses on delivering data on your competitors and their market. Learn how you can expand your audience and streamline your services based on what your competitors can and can't offer. Drive your sales and secure partnerships with interested brands or retailers.
Features:
Quick competitor analysis

Market trends and activity overview

Market growth rates

Custom market benchmarks
Pricing:
Market Explorer offers 10 reports per day. To get your 10 market reports, simply register or log in with your SEMrush account.
---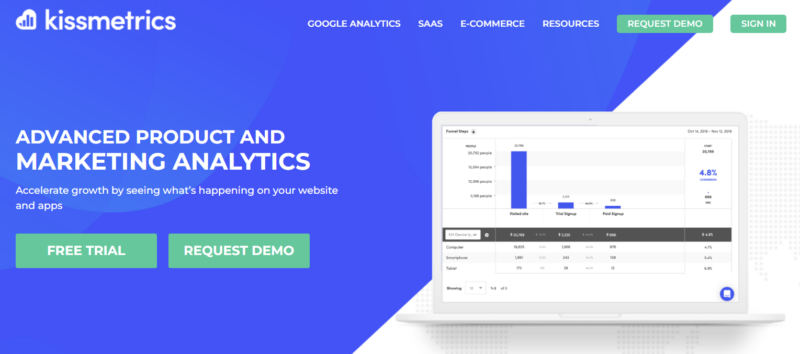 If you're looking to polish your marketing strategy by retaining customers and inviting more visitors to browse through your online store, Kissmetrics can offer you the right data and insights. Kissmetrics is a market intelligence software specially designed for eCommerce businesses generating at least $500,000 in sales per month. This tool provides what seasoned eCommerce businesses require the most: strategic customer retention.
Understanding customer behavior at every step of the customer journey is essential in securing sales and generating revenue. As an established eCommerce business owner, you'll want to see repeat customers and visitors placing their first purchase. Kissmetrics allows you to monitor your customers' shopping carts and the purchases they made. You can also track your sales funnel and segment them by marketing channel or ad campaign.
Features:
Detailed reports on customer activity

In-depth customer demographic analysis

Activity, funnel, and path reports

Revenue analysis

Comprehensive sales reports
Pricing:
Kissmetrics offers three pricing plans: Silver, Gold, and Platinum. To test whether this market intelligence tool suits your eCommerce needs, you can request Kissmetrics for a demo.
Silver:

The Silver Plan supports 25,000 monthly tracked users with a convenient dashboard and flexible reporting parameters. It is priced at $299 per month. However, Kissmetrics bills you annually.

Gold:

The Gold Plan is the most popular, with 75,000 monthly tracked users and extensive reports on customer retention and A/B testing for marketing strategy. It is priced at $499 per month, billed annually.

Platinum:

The Platinum Plan allows you to customize Kissmetrics' advanced analytics tools according to your preference. The price for the Platinum Plan varies according to the customization you requested.
---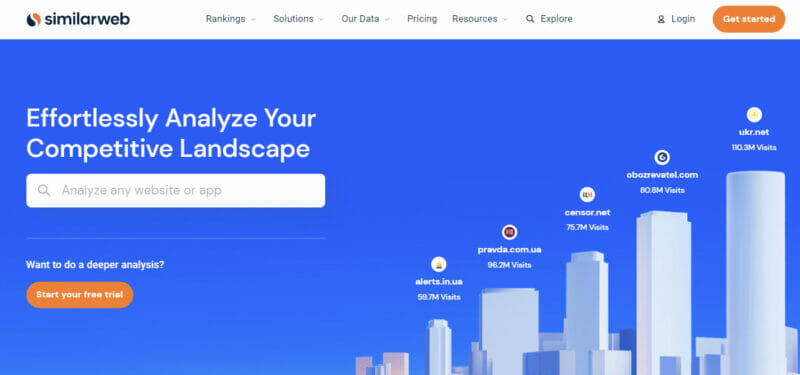 Measure your performance in the industry and gain information on your competitors with Similarweb. Similarweb is a market intelligence software solution with a broad repository of data gathered across more than 100 million websites and platforms and 235 million unique products on the web.
When launching a new product, you want to make sure you will attract customers, gain profit, and establish your presence in the industry. Similarweb delivers actionable data you can leverage in order to launch the next top product and expand your market.
Optimization is key for an efficient and effective marketing campaign. Similarweb helps you determine which marketing channel generates the most sales. You can either focus on this channel or reconsider your marketing approach to attract new prospective customers.
Features:
Rich databases

Behavioral data analysis

Real-time performance monitoring

Customer retention analysis

Customer journey monitoring

Industry analysis and competitor tracking
Pricing:
Similarweb offers a free trial for business owners to navigate its features and craft a marketing strategy based on customers' activity before and after the checkout process. The free trial lasts for 7 days.
After, you can proceed to subscribe to the Similarweb Research Intelligence Premium plan and unlock all of Similarweb's features, from customer demographic data to customer analysis and personalized dashboards. To determine the price for the Premium plan based on your business needs, you can set a meeting with a Similarweb product expert.
---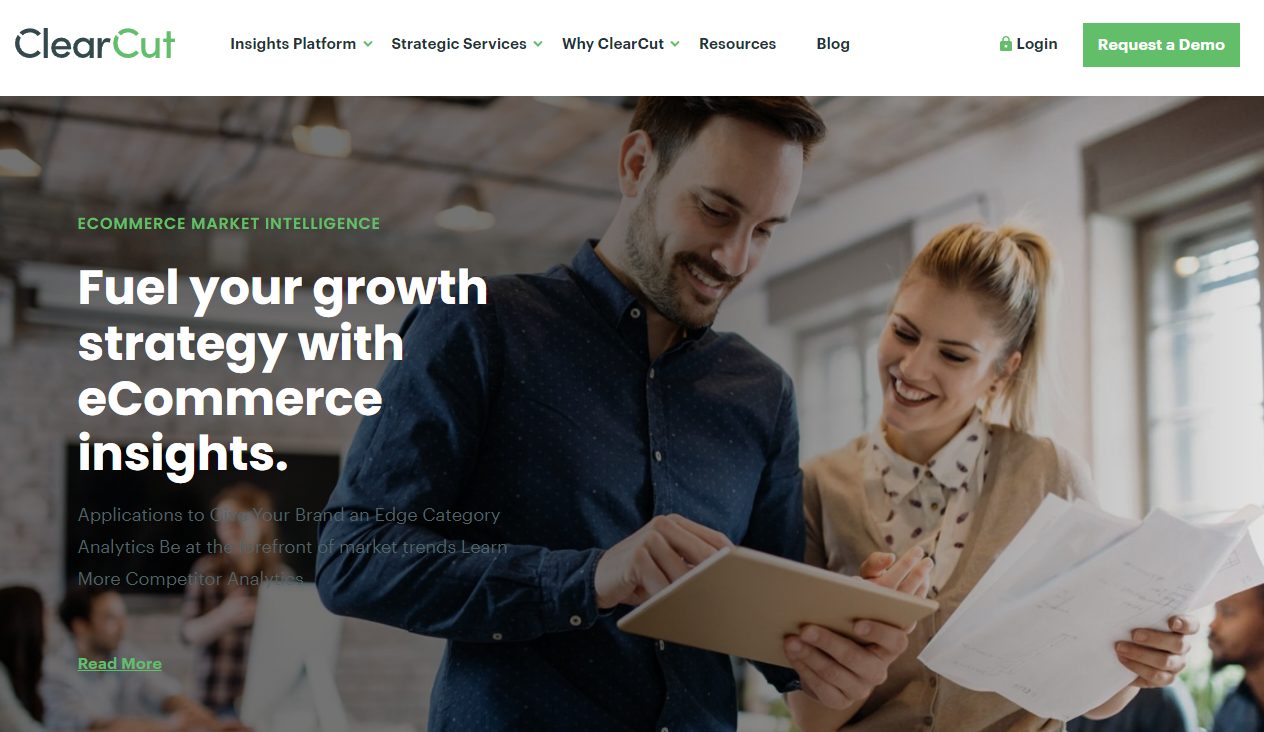 Want to get a head start against your competitors, even before you officially launch your eCommerce business? ClearCut Analytics gathers actionable data on your market, whether you've been operating and competing among the top brands for a while now or just beginning to set up shop. This eCommerce market intelligence tool thrusts your business to the forefront by giving you a clear overview and predictions for trends within the market. Leverage top-selling products and trending categories to your advantage, and craft a high-converting campaign for your next product launch.
If you think market intelligence can't help you with product development, ClearCut Analytics is here to support your research and development team. Get a grasp on what the customers want through case studies to jumpstart your product design process.
ClearCut Analytics innovates competitor analysis by studying high-converting packaging and pricing strategies of competitors. With the help of Clearcut Analytics, your packaging and pricing can drive sales like never before. You can even leverage analytic reports to pitch your products to retailers.
Features:
Advanced competitor analysis

Trending category analytics

Case studies and reports

Pricing and packaging strategies

Promotes scalability with retail pitching
Pricing:
To get an estimate on ClearCut Analytics' pricing, you can book an appointment with the team and request a demo on how the market intelligence tool can benefit your business.
---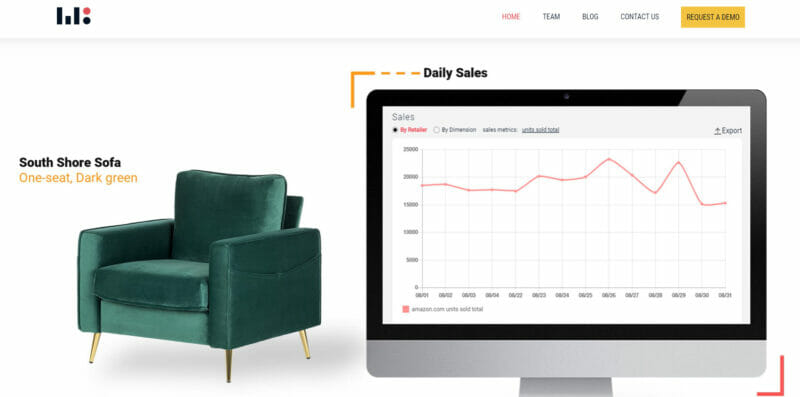 The Market Beyond's website gives little information on what it actually does, but the analytics speak for themselves: Market Beyond offers some of the most diverse product category trends analysis for eCommerce.
The Market Beyond analyzes 10 million products on the digital shelf, giving you valuable insights into trending industries and best-selling products. As an eCommerce business owner, you will want to target a market that is profitable and discoverable.
This market intelligence solution helps differentiate unique product units in stock with inventory tracking and product assortment. Online retail stores will benefit from Market Beyond's AI-powered digital shelf intelligence to optimize product listings and keep stock of profitable items.
Features:
Product marketing optimization

AI-powered category analysis

Root cause analysis for actionable insights
Pricing:
Request a demo for Market Beyond's features and pricing plans.
---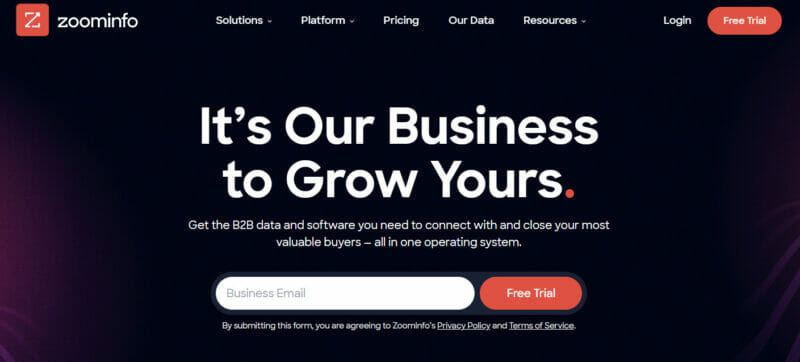 Over 25,000 businesses trust ZoomInfo in nurturing relationships with leads and repeat customers. ZoomInfo boasts a collection of advanced lead generation and market intelligence software to grow your business. It focuses on drawing business across channels where your customers are and marketing according to the customers' preferences and buying intent.
If you want to optimize your online store to better accommodate visitors and repeat customers, ZoomInfo offers several marketing strategies to turn leads into successful sales. This market intelligence software utilizes automation and chatbots to speed up the conversion. You can also leverage data on the business industry to streamline your services for a unique and exceptional customer journey, from discovery to customer retention.
Features:
Omni-channel sales and marketing intelligence solutions

Customer activity analysis

Visitor tracking

Automated lead generation

Integrations with CRM software

Automated workflows
Pricing:
To determine the price for the solution you wish to purchase, you may sign up for ZoomInfo's newsletter and receive exclusive details on pricing plans.
---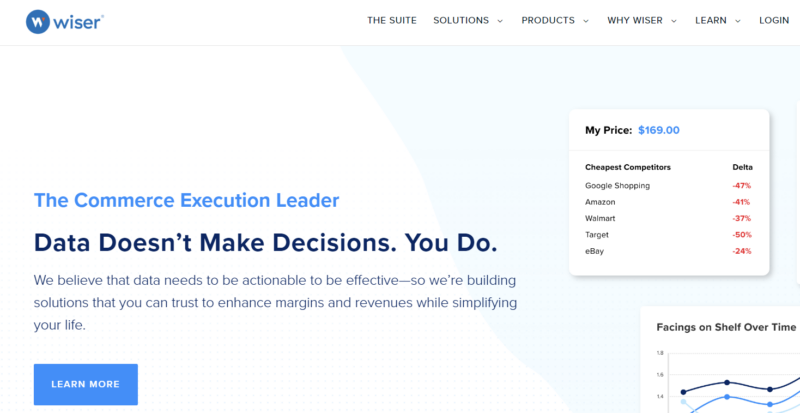 Competitive pricing dictates how you can drive sales for your ecommerce business. Since 2013, Wiser believes that high-quality data is essential in making good decisions. Today, Wiser allows you to analyze your direct competitors' pricing strategies and determine opportunities to increase product visibility. Wiser is a market intelligence software solution that helps you understand the competitive landscape and find your position in the marketplace.
Wiser features a clean and intuitive interface with an overview of the trending products across different categories and competitors. Digital shelf management is essential for eCommerce businesses to rank higher and generate revenue. With Wiser, you can keep track of your store's best-selling products and manage inventory.
Wiser uses customer preferences and spending habits to determine opportunities and marketing strategies to close sales. With daily reports on your competitors' offerings, you can optimize your product listings to increase your ranking in the marketplace and attract prospective customers. You can also get a glimpse of the next potential product to add to your store based on your competitors' product assortment.
Features:
Customer-centric market awareness

Buying behavior analysis

Daily reports and trends analysis

Pricing strategy

Customer feedback acquisition

Notification alerts for price changes and product listing updates
Pricing:
Schedule a consultation with Wiser to learn more about how you can integrate the market intelligence solution into your eCommerce business and the fees that follow.
---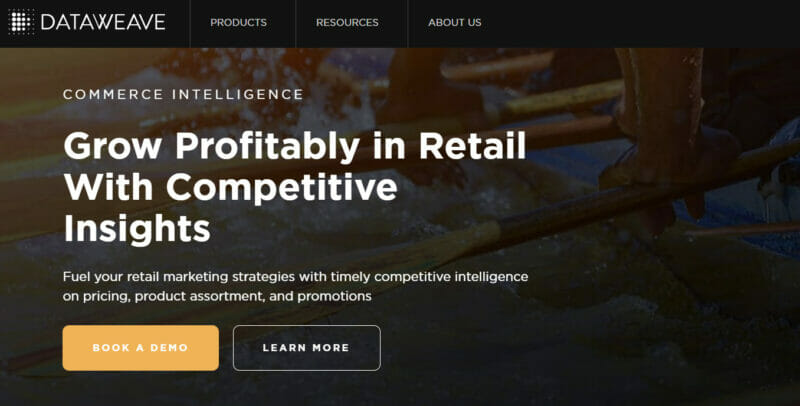 Improve your discoverability and brand awareness with DataWeave, a market intelligence solution with over 10 billion price changes tracked in eCommerce. eCommerce businesses struggle to stand out from the rest of the market, but DataWeave helps you leverage market intelligence to accelerate your business.
DataWeave offers data-driven marketing strategies to brands and retailers. Improve the inventory system of your online store with the help of DataWeave's digital shelf intelligence. By analyzing the marketplace, you identify which products bring the most profit. Predict the next best product to launch with promotional insights and opportunities for entering a new market of interest for your customers.
Features:
Pricing strategy

Consumer behavior analysis

Product listing optimization

Counterfeit protection

Up-to-date market reports
Pricing:
To get DataWeave's full pricing details for its market intelligence solution, you may reach out to its team and book a demo to discover how DataWeave Commerce Intelligence can cater to your specific business needs.
---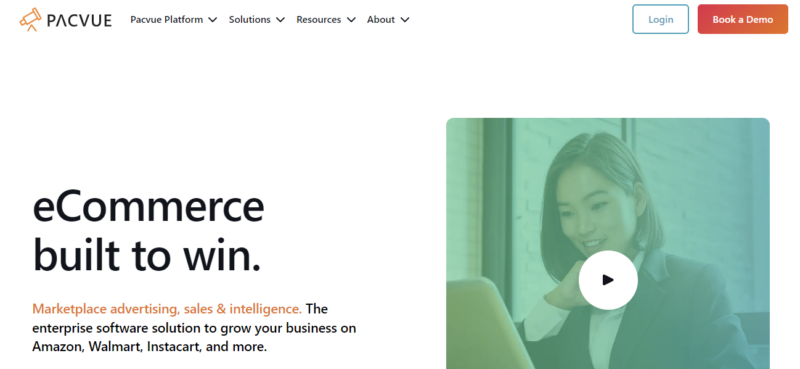 Trusted by big, global brands like Unilever, Bissell, and Henkel, Pacvue can help you to grow your business on channels like Amazon. It describes itself as an enterprise platform for eCommerce sales, marketing, and intelligence.
Included in its list of features are actionable retail data and end-to-end reporting. It offers competitive intelligence and benchmarking to help you outpace (and outsmart) your rivals.
You can, for example, use it to search for the keywords that your rivals are ranking for and identify gaps in their marketing strategies. To help you save further time and streamline your operations, you can also set it up so that you receive alerts about any noteworthy changes. All in all, it's a great tool if you need help with the bidding process and want to increase your market share.
Features:
Scheduled customized reports

Competitive intelligence and benchmarking

Price-change tracking across marketplaces
Pricing:
Request a demo for Pacvue's features and pricing plans.
---