Did you know that eCommerce has been around since the 1960s? No, not the eCommerce you think of now, but there were definitely electronic data transactions dating back that far. The first online retail transaction happened in 1994 and it's pretty wild to think that in fewer than 20 years, eCommerce has grown to become a natural way of life. As of Q3 2020, 14.3% of all retail sales in the United States are eCommerce sales, according to the US Department of Commerce.
But what is eCommerce, really? Who engages in eCommerce? What business can happen over the internet? In this article, we're going to cover everything you've ever wanted to know about eCommerce, platforms, business models, and give you a quick rundown about how you can start your own eCommerce business. Let's start with a quick definition of eCommerce.
---
What Is eCommerce? - The Definitive Guide:
---
What Is eCommerce: A Definition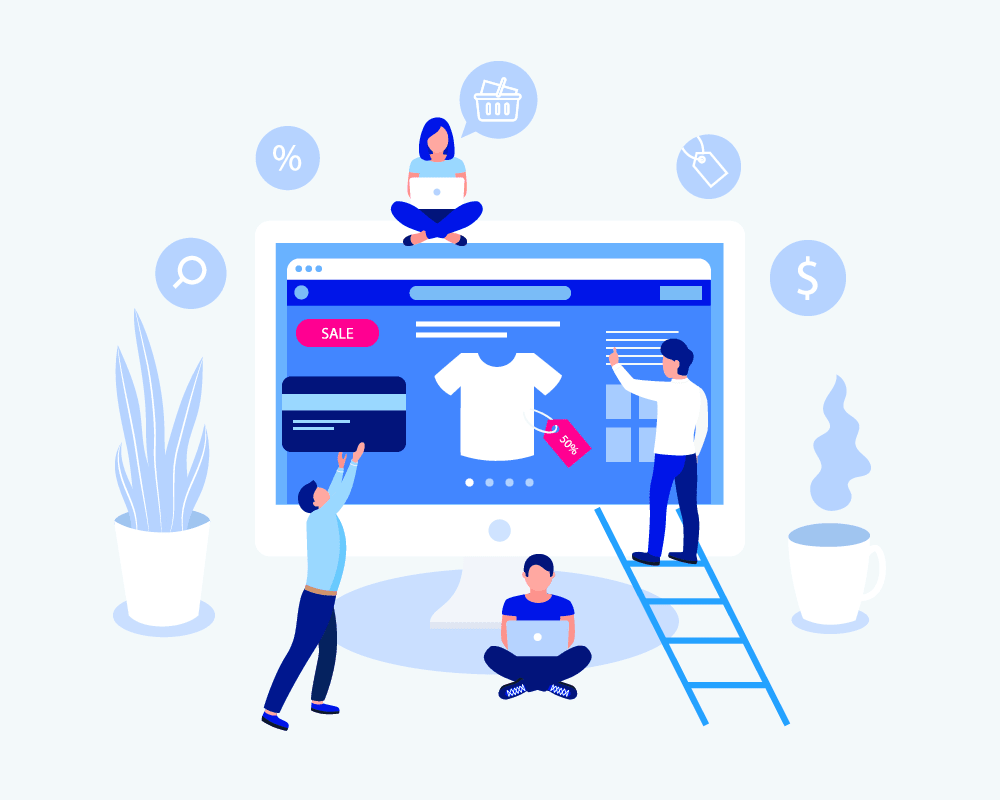 Electronic commerce, or eCommerce, includes any transaction that happens over the internet. So, any time consumers or businesses are buying and selling products or services online, they're engaged in eCommerce. This includes not only buying and selling products and services, though. It also includes things like internet banking, online tickets, online auctions, and payment gateways.
---
Types of eCommerce
There are quite a few different ways to classify eCommerce businesses based on what they sell. Let's take a look at some of the products and services typically sold online.
Physical Goods
This is usually what people think of when they think of eCommerce. Consumers can buy physical goods like clothing, accessories, furniture, tools, and more through online stores' websites—just add your desired product to your virtual shopping cart and complete your purchase. Then, the item gets delivered to your door or sometimes you can go pick up from the store.
Digital Products
Digital products like ebooks, movies, online games and other software, and online courses are another classification of eCommerce. These products are known as e-goods.
Services
Services can also be purchased online. Anything from freelancers and consultants to online tutors, to business or life coaches, are services that you can buy via eCommerce. Sometimes, the services can be purchased directly, such as through a marketplace. Other service providers, though, require that you book a consultation first, to figure out exactly what you need.
---
Different Types of eCommerce Businesses
While there are three basic classifications of eCommerce business, there are also different types of eCommerce within each of those classifications. Here are some examples.
Retail, Digital Products, and Services.

Products, digital or physical, or services are sold directly to the consumer who's ostensibly going to use them. This includes

subscription-based businesses

, too.

Dropshipping.

This is the sale of products manufactured and shipped to consumers using a third party.

Wholesale.

This is typically a B2B business where wholesale products are sold to a retailer who then sells the products to their consumers.

Crowdfunding.

Sellers use crowdfunding to raise startup capital to bring their products to the market. So, once enough people have purchased the product, it gets created and shipped.
---
Who's Involved in eCommerce?
Now that you know about the classifications and types of eCommerce businesses, it's time to find out who's involved in these eCommerce transactions.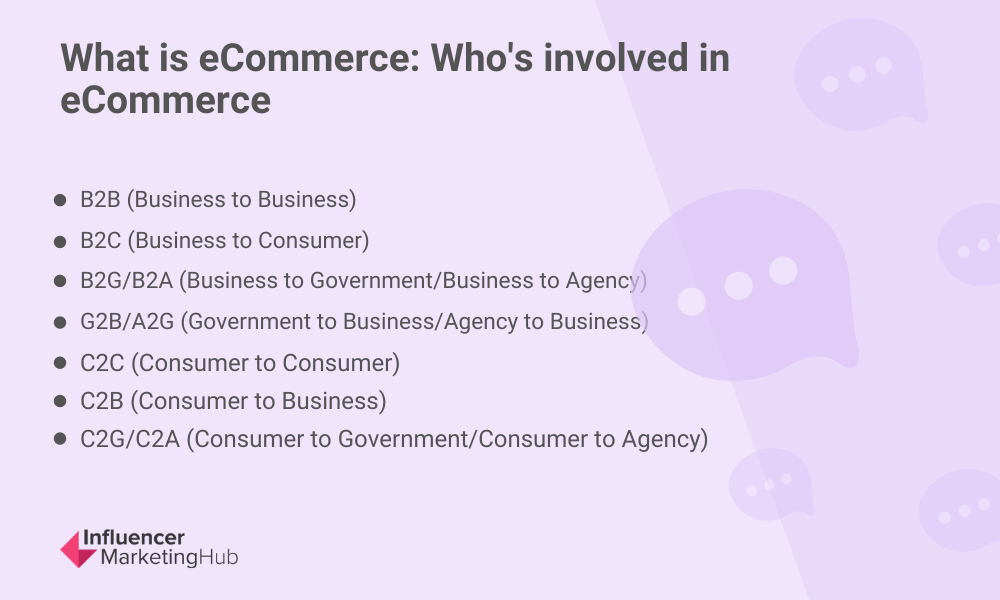 B2B (Business to Business).

In this model, businesses sell to other businesses.

B2C (Business to Consumer).

The B2C model includes transactions between businesses and individuals.

B2G/B2A (Business to Government/Business to Agency).

In this model, businesses are providing products and services to the government.

G2B/A2G (Government to Business/Agency to Business).

This is the opposite of the B2G model, in which the government provides businesses with products and services.

C2C (Consumer to Consumer).

Both sides of these transactions are consumers. Business that happens on Craigslist or online auction sites like eBay are examples of the C2C business model.

C2B (Consumer to Business).

In the C2B business model, individual consumers create value for businesses. This might mean consumers cooperating on projects with a business (user-generated content, for example) or a freelancer providing a service.

C2G/C2A (Consumer to Government/Consumer to Agency).

If you pay taxes, you're engaged in this business model where consumers pay things like taxes or any action that involves the public sector.
The majority of the time, when people talk about eCommerce, they're talking about the B2B or B2C business model. However, it's nice to know that other business models exist.
Advantages and Disadvantages of eCommerce
Like everything, eCommerce offers both advantages and disadvantages. In this section, we're going to share some of the biggest points for both sides.
Disadvantages of eCommerce
Data security breaches and credit card fraud is a regular occurrence.

Consumers don't always complete their online purchases (invest in an

eCommerce platform

or email marketing service that lets you send abandoned cart recovery emails).

While reach is huge with online businesses, you can't reach everyone (only about

25%

of the world shops online).

While your overhead will be less than physical vendors, you still have costs for website hosting, your eCommerce platform, credit card fees, marketing, storage, and shipping, not to mention taxes, licenses, and other fees.

Competition is high.

Shoppers want Amazon-level service and shipping which can be hard for small

eCommerce businesses

.

It can be difficult to build customer relationships due to limited interactions.
---
Advantages of eCommerce
Lower overhead costs than a physical store since you don't have a physical location with added utility costs, rent, and other services.

Businesses can scale quickly since you can add and remove products or services as you desire.

Make sales 24/7 since you don't have to staff a location.

Reach more customers while living where you want to live.

Tracking sales and shipments is easy to do.

When you use the right eCommerce platform, it's really easy to compile customer data to

improve your marketing

.
---
How to Get Started in eCommerce
As you can see, there's a lot to consider. But if you're ready to jump in and start your own eCommerce business, keep reading for a quick overview on how to get started. Check out our article How to Start an eCommerce Business for an in-depth overview. Let's dive in!
Step 1. Choose Your Business Idea
The first step to starting your eCommerce business is to figure out what products or services you're going to offer. You'll want to find an idea that's scalable and is also going to bring in the kind of money you need. Here are a few different ways you might find the right eCommerce business idea:
Solve a problem.

Think about a problem you want to help people solve.

Sell niche products.

Everyone has a hobby. Think about a particular hobby you can provide products or services for.

Your own experience.

What do you enjoy doing? Think about ways you can market and sell the skills you already have.
---
Step 2. Sourcing
If you're selling physical products, you're going to have to find a way to source or manufacture your products so you can sell them. One of the easiest ways to do this is dropshipping since you won't have to have storage for your inventory or even worry about shipping your orders. You're essentially the retailer connecting the product supplies to the customers. Many dropshipping companies even handle all of the customer service.
If you don't want to go the dropshipping route, you can resell from wholesalers. To do this, you'll be buying products from a wholesaler that you then resell to your customers at a higher price. This means that you'll be putting the money out upfront, keeping an inventory, and shipping on your own. Plus, you'll be handling customer service, too.
If you have a product of your own that you want to sell, you can connect with a manufacturer to produce your product on a larger scale. Once again, this means you'll be putting your money out on the product upfront, keeping an inventory, and handling shipping and customer service on your own. But, you'll be selling the product that you came up with.
---
Step 3. Creating a Brand
After you've figured out the problem you're going to solve and how you're going to get your products into the hands of the people who want them, it's time to create your brand. Branding involves more than just logos and colors. Before you do any of that, you'll want to find your unique selling proposition and decide on the business structure that's going to work for you.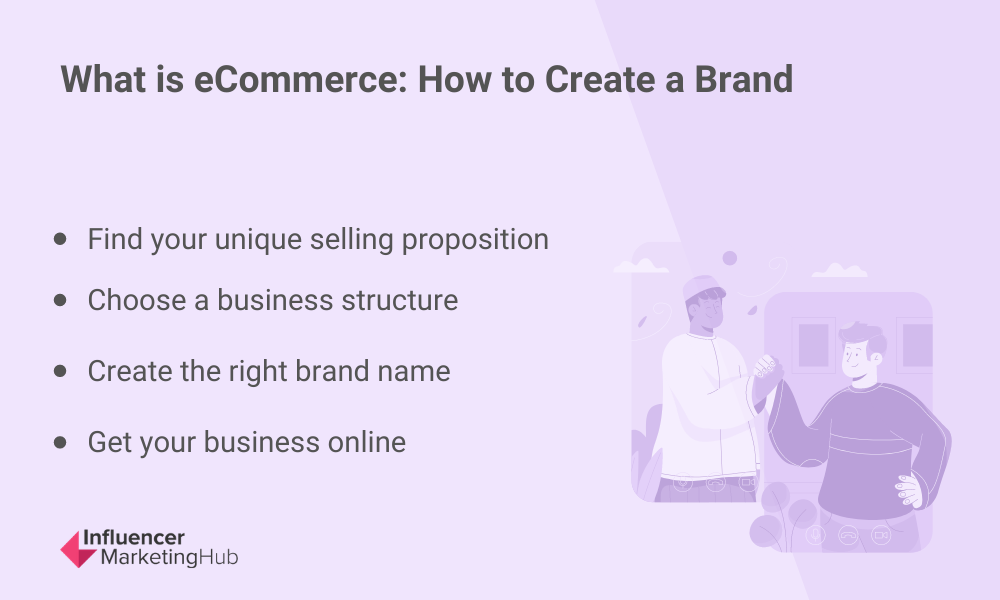 Unique Selling Proposition
Your unique selling proposition is what sets you apart from your competitors and shares with your customers how you can provide value and benefit them. Your unique selling proposition will be apparent through all of your branding and marketing campaigns. You can narrow down your USP by making a list of your business' strengths and how you help your customers. From there, get rid of anything that's generic and hone in on the ones that are specific and niche.
Business Structure
Your business structure addresses legal and tax issues for your business. Limited liability companies (LLC) and sole proprietorships are the most common for eCommerce businesses. Forming an LLC offers some protections because the company is separate from the owner legally and for tax purposes. Sole proprietorships are a more informal structure in which business taxes are filed under the business owner's personal tax filing. If you're planning on having a large customer base, you'll probably want to opt for an LLC.
Brand Name
Your brand name should be simple, just a word or two, and should let customers know a bit about your brand's personality and what they can expect from doing business with you. Naming a brand is hard work. There are many great branding agencies that can help you find the perfect name for your business. And make sure that it's not already taken.
Domain
Once you have your brand name, you're ready to register a domain. Your domain name should be memorable and easy to pronounce. It doesn't have to be the same as your brand name, but it really makes sense to do that. Also, it's easy to get carried away with all of the extensions available these days. Your best bet is to stick with a .com domain.
---
eCommerce Marketing Trends
eCommerce is a bit of a disruptor. This means that it's transformed the way people buy as well as how businesses interact with their customers. And it's only going to grow from here. Let's take a look at some of the eCommerce trends we can expect to see more of.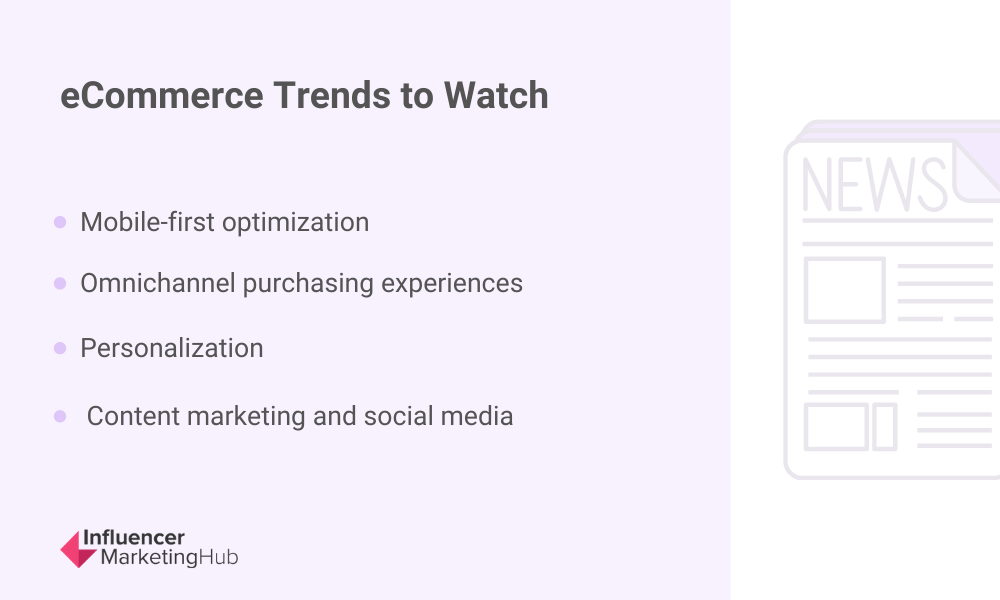 Mobile-First Optimization
Online ordering has increased on mobile devices over the past few years and it's estimated that mobile commerce will account for 44% of eCommerce sales by 2025. That means that optimizing your eCommerce platform for mobile-first users will be important to keep those customers engaged and happy. Focus on creating a mobile-first website design, account for mobile shoppers in your marketing funnels and consider different payment gateways that allow shoppers to use things like Google Wallet and Apple Pay.
---
Omnichannel Purchasing Experiences
Omnichannel eCommerce means that customers will have a seamless shopping experience no matter where they're shopping—phone, mobile device, computer, in-person. This might mean using cookies to track what your website visitors are looking at and then using retargeting campaigns to bring them back into your online store or using past purchase behavior to inform the ads and promotions your customers see. Providing these customized, seamless experiences goes a long way towards increasing customer loyalty.
---
Personalization
As you can probably tell from the first two trends, personalization is the watchword. Your customers are individuals and want to be treated as such. Businesses will need to find new ways to track customer behavior to better understand them and offer them better, personalized experiences. This might mean using dynamic content to customize website and email content so you can show shoppers information customized to their behaviors and interests.
---
Content Marketing and Social Media
Content marketing and social media marketing aren't going anywhere. eCommerce businesses will continue to use content to drive traffic as well as engaging, educating, and entertaining their customers while delivering powerful calls to action that will push them to make a purchase. Social media will continue to grow as a way for brands to connect with their customers and develop relationships. More and more brands will turn towards social media influencers to capitalize on consumer relationships and drive more sales.