If you haven't already entered the world of eCommerce or are unhappy with your existing solution, you might be considering which eCommerce platform will work best for your business. There are many different eCommerce platforms from which you could choose. We have already looked at a selection in Top 14 eCommerce Platforms to Power Your Business, but how do you know which is best for you?
As with any business decisions, you need first to do your research. You will need to look at potential eCommerce platforms and ask yourself a few questions. As we talk about in our Ultimate Guide on How to Start an eCommerce Business, you need to ask questions like:
Will you hire a designer or use prefab templates to determine the look and feel?

How big is your customer base?

What shopping cart software suits the way you want to run your site?

Do you want a full suite of tools in a bundled package?

Are you likely to use a commercial or open-source option?

How do you intend to take payments?
Assuming they you want a separate eCommerce site, and not just rely on social media selling or working from an existing online marketplace, you have three main steps to go through to set up your eCommerce business:
Find an eCommerce platform

Find a hosting provider

Register your domain
Some eCommerce platforms help you with steps 2 and/or 3, as well as step 1. However, if you take the self-hosted route (see below for more on this), you will probably have to do steps 2 and 3 yourself.
Gross Monthly Revenue
1290$
Total % of Revenue Paid in Monthly Fees
Square Online (Performance Plan)
---
The Ultimate eCommerce Platform Comparison
---
What is an eCommerce Platform?
Anybody with a bit of technical skill can create a website nowadays. The days of needing extensive knowledge of HTML, CSS, and all those other acronyms are over. Sure, you might prefer to develop a team of web developers and designers if you want a large or complex site or if you're particularly busy and have better uses for your time. But even small businesses or individuals with a limited budget can put together a website using a WordPress site. And the drag-and-drop editors in some of the eCommerce platforms we have looked at here are even easier to use.
However, even a professional-looking WordPress site doesn't come equipped to make it an eCommerce site out of the box. eCommerce sites have special needs, like accepting payment and including a purchasing process, that doesn't come included with a standard WordPress installation.
If you want to use a website to sell goods or services and don't intend to pay developers for a fully customized solution, you need to implement an eCommerce platform.
An eCommerce platform is a specific type of software that enables you to make online sales. Most eCommerce platforms help you build a shopping website from scratch. Others act as an add-on to an existing website builder/content management system, like WordPress. And some recognize that you might prefer not to create a website at all and would instead operate a store within an existing marketplace or perhaps just sell via social media.
---
Two Main Types of eCommerce Platform
There are a surprisingly sizable number of eCommerce platforms in the marketplace. These work under a variety of models, and many specialize in some way. However, if they include a website, they fit into one of two categories: hosted or self-hosted.
1. Hosted
With hosted solutions, you leave more of the decision-making to the eCommerce platform companies. They typically offer you some form of website builder that includes all the essential capabilities needed for eCommerce. Most importantly, however, they "host" your store for you – you don't need to worry about finding a website host and maintaining your site.
Because hosted eCommerce platforms do much of the "heavy lifting" for you, you should be able to create your online store more quickly on these platforms, compared to those that require self-hosting. They are generally easier to develop and more straightforward to operate. You will need less technical knowledge, as well.
The main downside to this simplicity is that you will usually have less flexibility when using a hosted platform than with a self-hosted one. You can't change and modify things as quickly, and they may impose more rules and requirements on you.
---
2. Self-Hosted
If you opt for a self-hosted eCommerce solution, you create your website and pay a web hosting provider, like Bluehost, Dreamhost, HostGator, or one of hundreds of others, to host your site for you. You will need better technical skills (or be willing to pay somebody else who does) to set up and run your eCommerce platform.
Your eCommerce provider will require you to be more autonomous, and you will have to do more of the site maintenance yourself. On the other hand, you will have more flexibility with a self-hosted site and feel that you have more control over your eCommerce site.
Some eCommerce platforms give you both hosted and self-hosted options. For example, you could create a Shopify store on their hosted platform. Alternatively, you could download a Shopify plug-in that works in conjunction with your self-hosted site.
---
What to Look for in an eCommerce Platform
There are a surprisingly large number of eCommerce platforms on the market, so you need to research which will be best for your needs. To an extent, this depends on what you are looking for in an eCommerce platform. Somebody who is new to eCommerce and wants something quick and easy to set up has very different requirements from an experienced online retailer that has already created several sites and wants to expand his or her site's capabilities.
You need a platform that matches your knowledge and technical skills. An advanced open-source platform, such as Magento, will overwhelm a beginner yet be ideal for a coder wanting to tinker with every option to improve a site's capabilities. Yet a plug-and-play site builder, like Wix, will frustrate an advanced user wishing to tinker with technical features.
It's essential to recognize that an eCommerce site differs from other types of websites. Your customers need to see what you have to sell, and they have to have some way of purchasing and paying for what they buy. Virtually every eCommerce solution includes taking and processing orders, allowing for tax on purchases, enabling customers to make payments, and offering shipping methods. Some platforms offer more advanced and robust solutions than others.
Although we generally refer to your eCommerce website here, some eCommerce platforms recognize that you can sell in multiple ways and integrate your other markets, such as social selling and the Amazon Marketplace. Quite a few of them make dropshipping easy (either out-of-the-box or via an app or plug-in.) Many of the larger eCommerce platforms, such as Shopify and BigCommerce, boast many integrations with other marketplaces. They also have sizable App Stores, offering many extensions to the core platforms.
---
Best eCommerce Solutions for Smaller Businesses
1. EcWid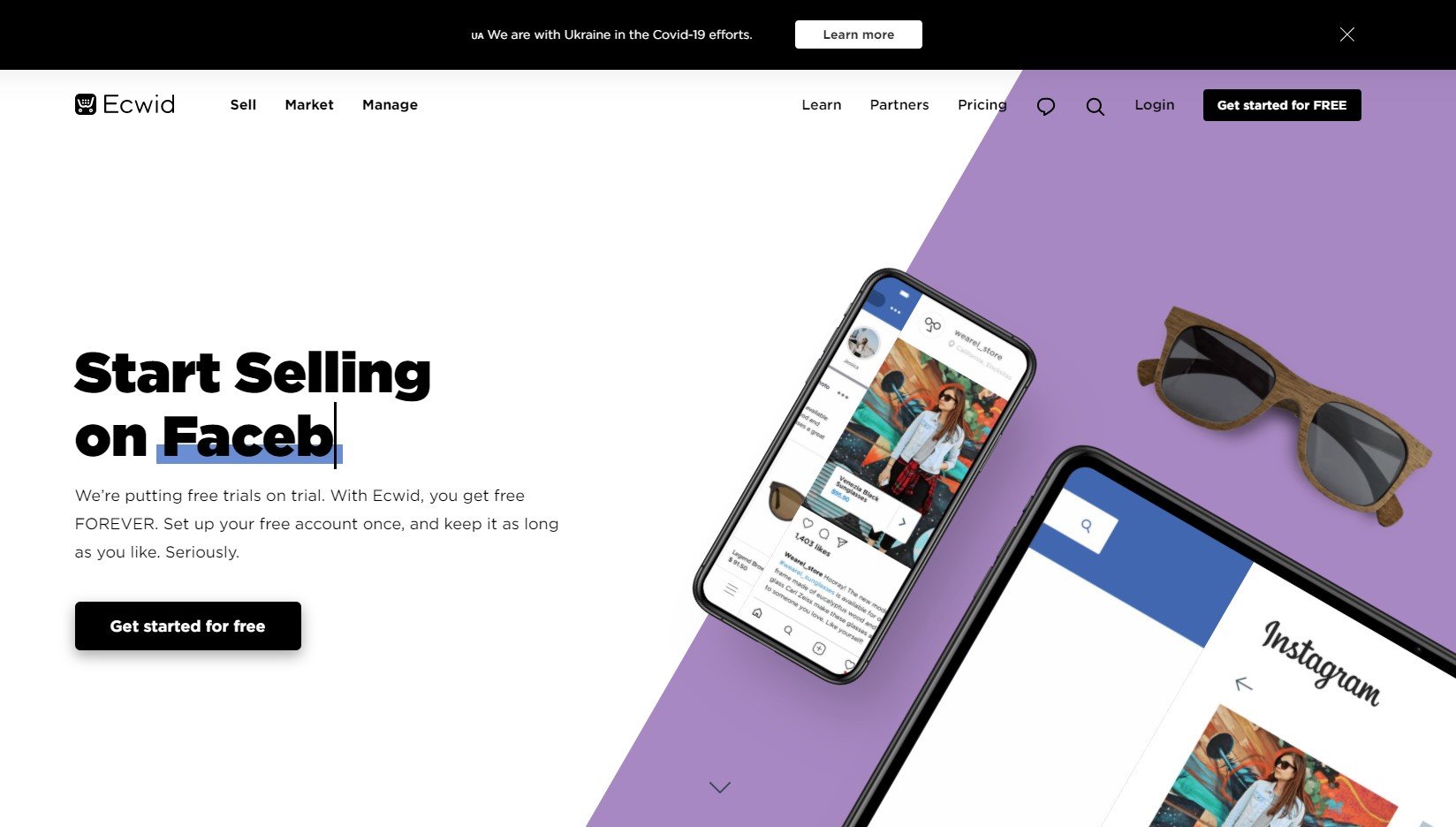 Prices: Free $0, Venture $15/mo, Business $35/mo, Unlimited $99/mo
EcWid is an effective eCommerce site builder, as well as a WordPress plug-in you can use with an existing website. As you will note from the pricing, you can even use a free plan if you only have limited eCommerce needs (and funds).
A recent EcWid innovation is its Instant Site. This gives you a small one-page store, excellent if you want to set up a small eCommerce site for a limited time, perhaps for an event or special activity.
The Venture plan lets you add 100 items, which should be enough for many small stores. A significant advantage here is that you can still access all the payment and shipping options. You can also sell via a Facebook or Instagram store, along with mobile point-of-sale. Therefore, it would be ideal for all those small eCommerce businesses that just sell a few products.
The Business plan is useful for those with more significant needs, up to 2,500 products. It also gives you access to marketplaces, such as eBay, Amazon, and Etsy. You can tie EcWid in with your Mailchimp account for automated email marketing. EcWid also adds quite a few additional features to this plan, including abandoned cart emails and product variations.
As its name indicates, there is no limit to the number of products you can add when using the Unlimited plan. You also qualify for priority support.
---
2. Jimdo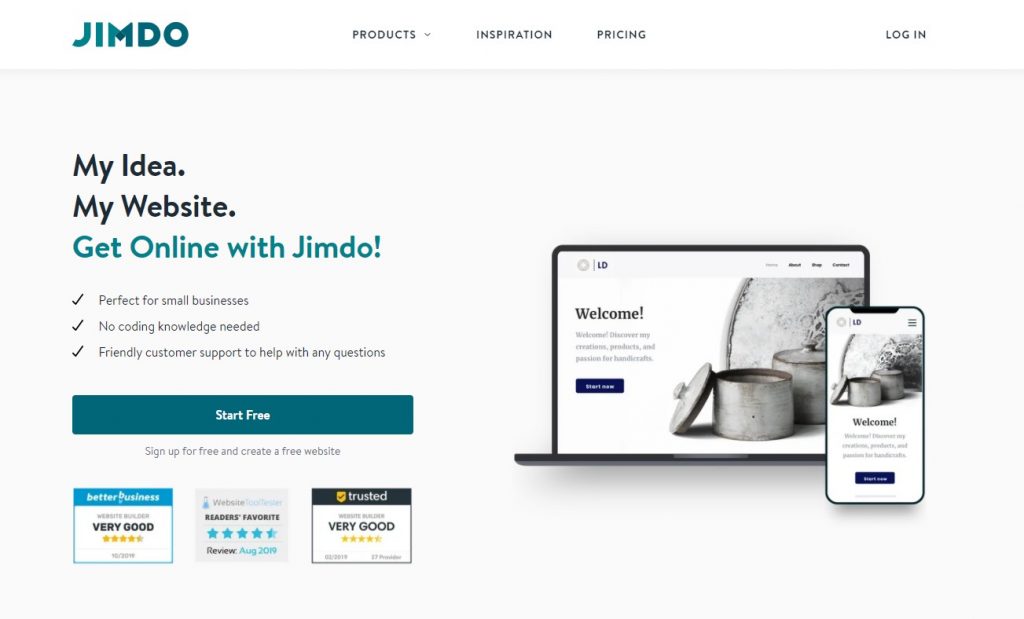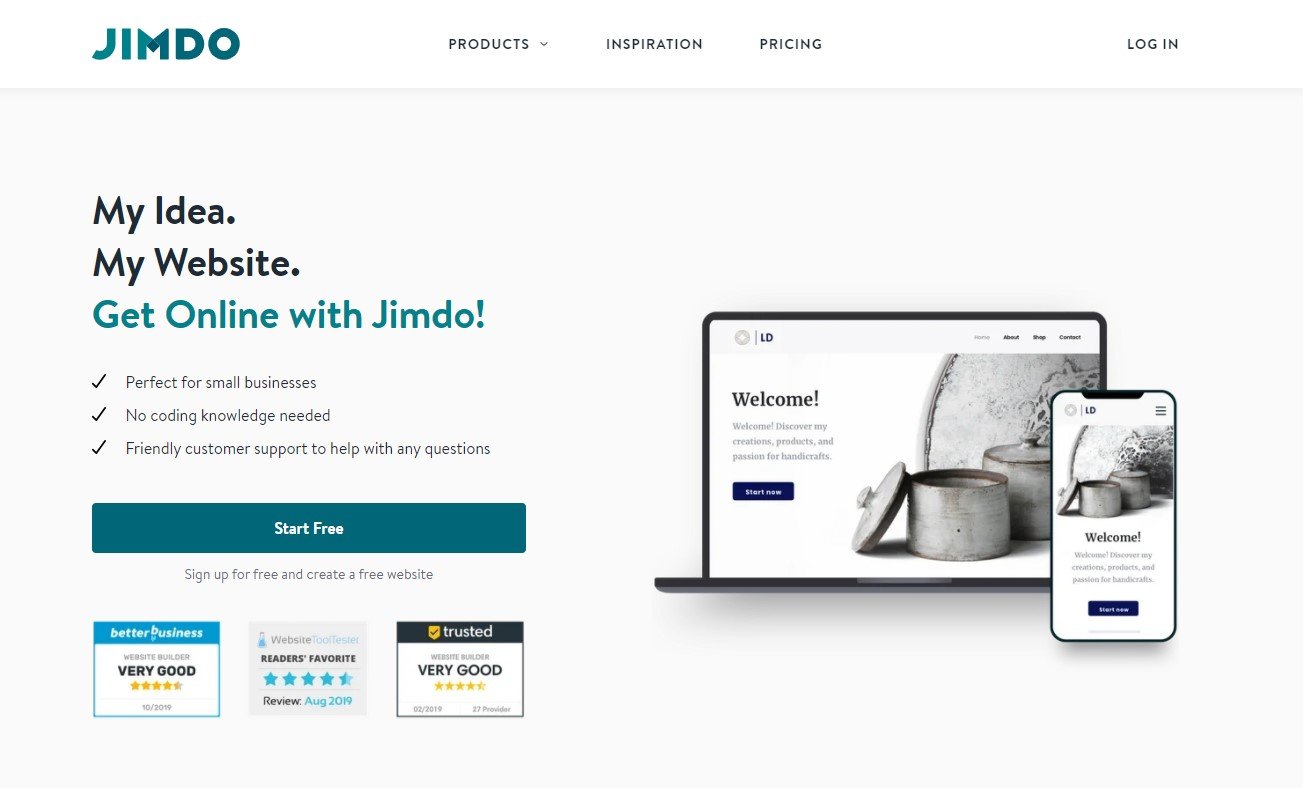 Prices: Basic $15/mo, Business $19/mo, VIP 39/mo
Jimdo is primarily based on a website builder, Jimdo Creator. However, the company offers a separate Jimdo Online Store product, and the above pricing plans target those who intend to create a store, compared to merely building a website.
Jimdo doesn't try to compete with the sizable elaborate eCommerce platforms you see further down this article. It markets itself as being "Perfect for small businesses, no coding knowledge required." It certainly doesn't expect that you will have a tech team devoted to your eCommerce store. It also stresses that "Jimdo is perfect for first-time sellers. We have all the features you need to get started. Just snap a product photo, fill in the details, add your payment info, and you're ready to start taking orders." However, if you're trying to compete with Amazon, this is probably not the product for you.
Even the basic plan includes a free domain and the ability to build an online store. Significantly for the budget conscious, Jimdo doesn't charge any transaction fees.
The plan you choose will affect the size of your website. The Basic plan limits you to 10 pages, and the Business plan has a 50-page limit. If you have more significant needs, you can have unlimited web pages on the VIP plan. The Basic plan also lacks a few of the eCommerce usability features found in the higher-level plans.
Jimdo doesn't offer all the payment options that some of the bigger competitors do. However, you can still give your customers a choice of PayPal, direct debit, or credit card.
Jimdo believes its online shops are ideal for up to 100 products. However, you can offer different variants of the same product—different colors, sizes, etc.
---
3. Squarespace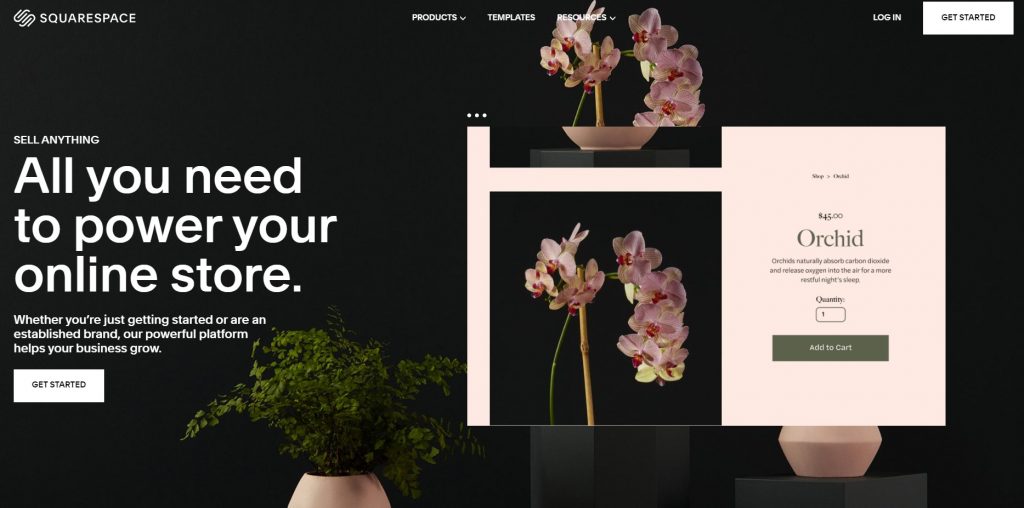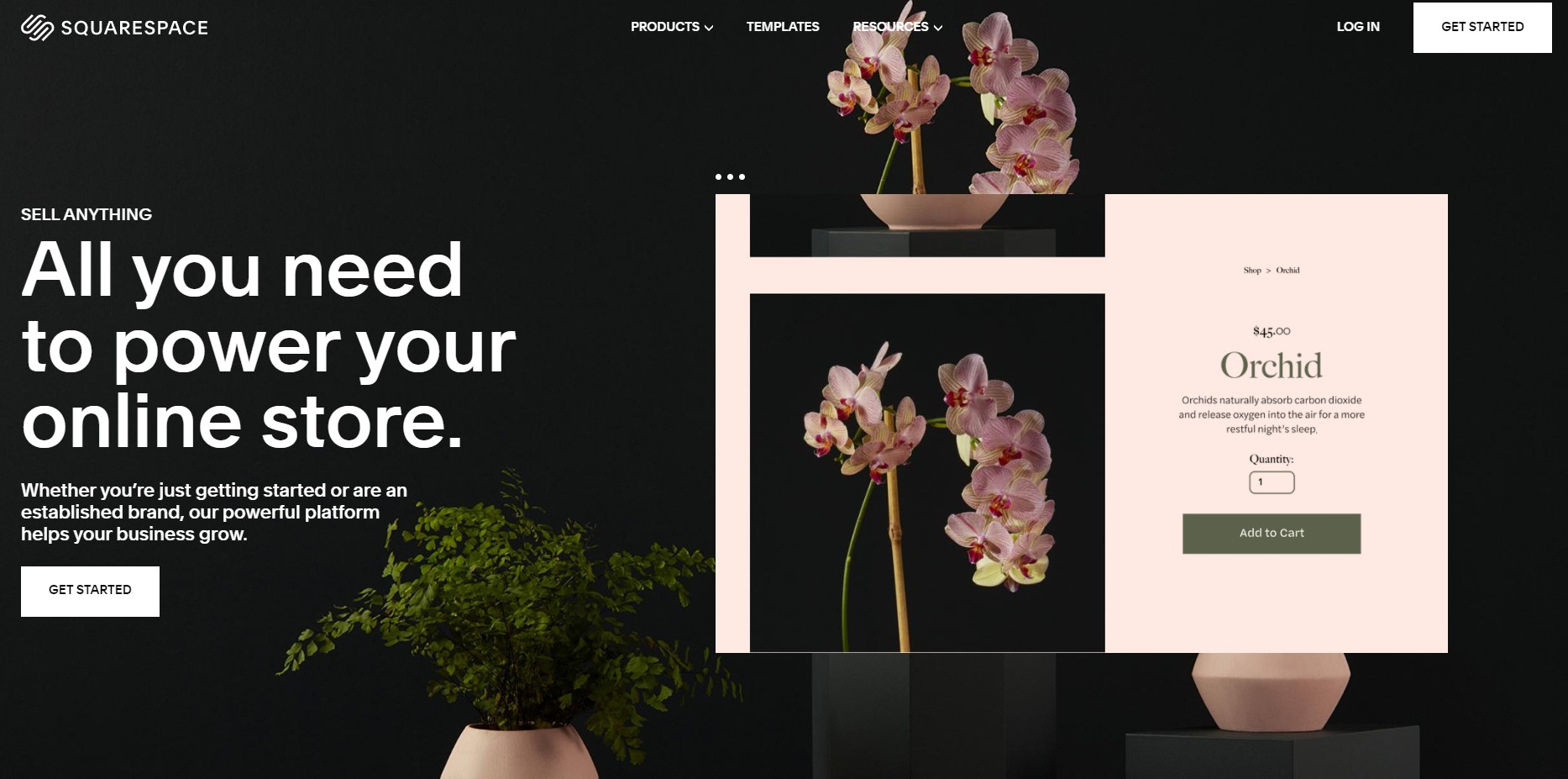 Prices: Business $18/mo, Basic Commerce $26/mo, Advanced Commerce $40/mo
Squarespace also separates creating a website from "Selling Anything." We have not included the Personal plan in our prices above, as that plan doesn't allow fully integrated eCommerce.
When you look at the images displayed on Squarespace's webpage, it is clear that they target small businesses and people wanting to sell a few items via a website. Although they say that "whether you're just getting started or are an established brand, our powerful platform helps your business grow," it is clear Squarespace is more interested in providing a solution for craftspeople and other small businesses rather than enterprises. They also stress, "an online store isn't just for physical goods. Create a website that helps your business attract new customers and allows them to book your services."
Squarespace integrates products well with both blogs and social media. They recognize that their customers are very likely to promote goods or services in this way. People can buy items from your store without leaving their social apps.
Squarespace includes all the main features you would expect of a platform aimed at this customer type. It isn't great for dropshipping, but It does cater well to digital goods and subscriptions. If you're selling your own goods or services, it might be ideal for your needs.
---
4. Weebly
Prices: Pro $12/m0, Business $25/mo, Business Plus $38/mo
Weebly has separate pricing for websites and online stores. The above prices are its online store plans. Weebly was acquired by mobile payments company Square in 2018, so obviously has strengths in that area.
All Weebly online store plans come with a free domain, a website, and $100 worth of Google Ads. Also, Business Pro includes email marketing capabilities.
The Pro plan only offers limited eCommerce capabilities, including a shopping cart and accepting payments through both Square and some third parties. Each of the other plans adds additional eCommerce capabilities, including item options, inventory management, and automatic tax calculator, shipping calculator, and more.
To get your eCommerce website up-and-running, choose a design theme, add your products, set up shipping and taxes, then select your preferred way to accept payments. Weebly automatically creates a storefront for you to customize as much or as little as you'd like, including an option for full CSS/HTML control and editing.
---
5. Wix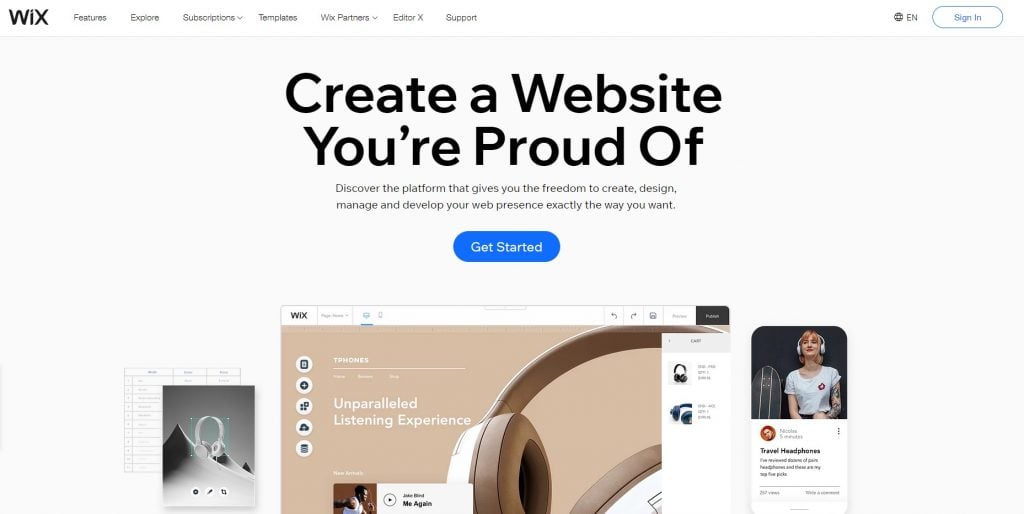 Prices: Business Basic $17/mo, Business Unlimited $25/mo, Business VIP $35/mo
Wix predominantly targets the smaller end of the market, although they market Wix eCommerce to "entrepreneurs starting an online business, retailers moving their store online or brands already selling over $1M." You use the Wix drag-and-drop website builder to put together your site. You can either pick a template and customize anything or answer a few questions and get a free website designed just for you.
Wix crystalizes the steps of creating an online store into seven steps:
Log in to your account or sign up.

Choose from 500+ professional online store templates.

Customize your online store's design.

Add products to your store.

Connect a payment provider and set up shipping.

Choose a custom domain.

Publish your eCommerce website and start selling.
All Business eCommerce plans allow you to accept online payments, choose from various payment methods, connect a custom domain, and remove the Wix ads (that appear on a standard free Wix website). The higher plans add a few additional features, more storage, and offer a professional logo. The Business VIP plan also ensures you receive priority response and VIP support.
---
Best eCommerce Solutions for Medium to Large Businesses
1. BigCommerce Essentials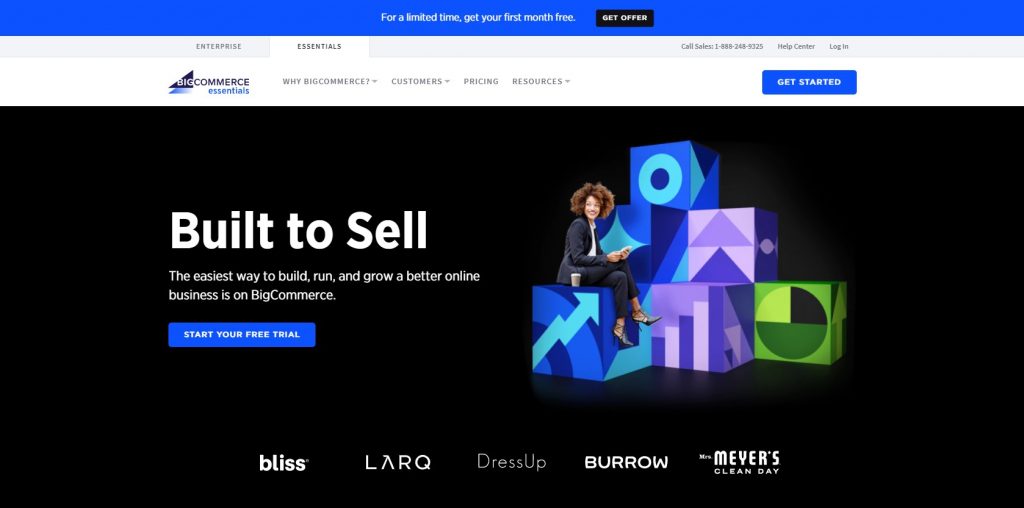 Prices: Standard $29.95/mo, Plus $79.95/mo, Pro $299.95/mo, Enterprise pricing on request
As BigCommerce's name indicates, it is particularly well suited to big eCommerce stores; however, BigCommerce Essentials targets those businesses that do not yet class themselves as operating at enterprise-level.
It sets its plans on a sales threshold – you can only use the lower pricing tiers when you make smaller sales. The Standard plan is for firms making less than $50K in online sales per year. Once you hit that level, you have to move to the Plus plan (which has a few additional features like Abandoned Cart Saver, so you may opt to move there at a lower sales level). Similarly, once you reach $180K annual sales, you need to change to the Pro plan. Once you're making $400K online sales per year, BigCommerce considers you an enterprise, and you need to shift to BigCommerce Enterprise.
Because the thresholds on these pricing plans are based on sales values, BigCommerce is not so suitable for firms that sell large quantities of low margin products.
BigCommerce guides you through creating your online store. It provides many attractive and usable templates for your site. You will find an extensive range of options and features.
As its name indicates, BigCommerce is geared towards building an online store. You can easily upload images and videos to create a catalog of products to sell. It allows for product variations. For example, you can upload the full range of colors and sizes you may sell of a particular shirt style, and the customer can select and purchase the specific color and size they desire.
You can also easily set up a BigCommerce site to work with most online payment methods. You can also use it to determine shipping costs.
---
2. Magento Open Source


Prices: Open source, so effectively free (although you have the usual web hosting and other related costs for a self-hosted site.) Magento Commerce for Small Business is also available at a price on request)
As its name indicates, Magento Open Source is the free open source version of Adobe's Magento eCommerce platform. This makes it an economical eCommerce platform for a business with a tech team or developers (or a business owner with above-average technical skills). It is definitely not designed for somebody looking for a simple drop-and-drop solution to their eCommerce needs.
It offers necessary eCommerce capabilities that allow you to build a unique online store from the ground up. You can expand on its basic capabilities by using an extension from Magento Marketplace.
Magento Open Source includes an integrated checkout, along with integrated payment solutions and shipping. You can transact in multiple currencies and use worldwide shipping providers. You can use Magento Open Source to manage a catalog of numerous types of products.
Obviously, you will have to take charge of a Magento Open Source site yourself, arranging self-hosting and buying a suitable domain name.
---
3. Shopify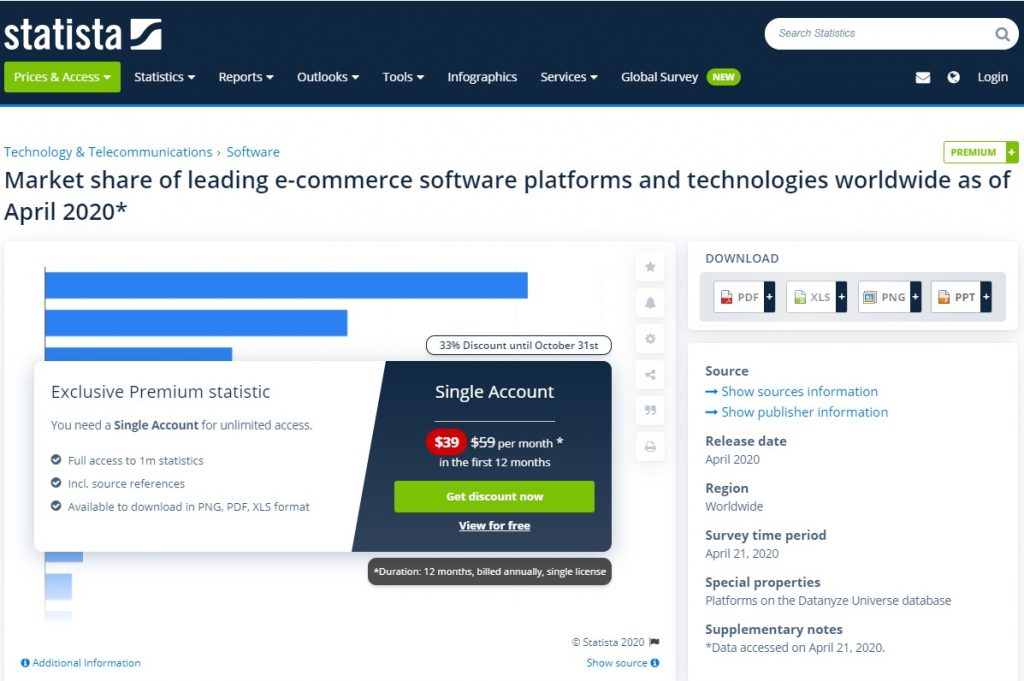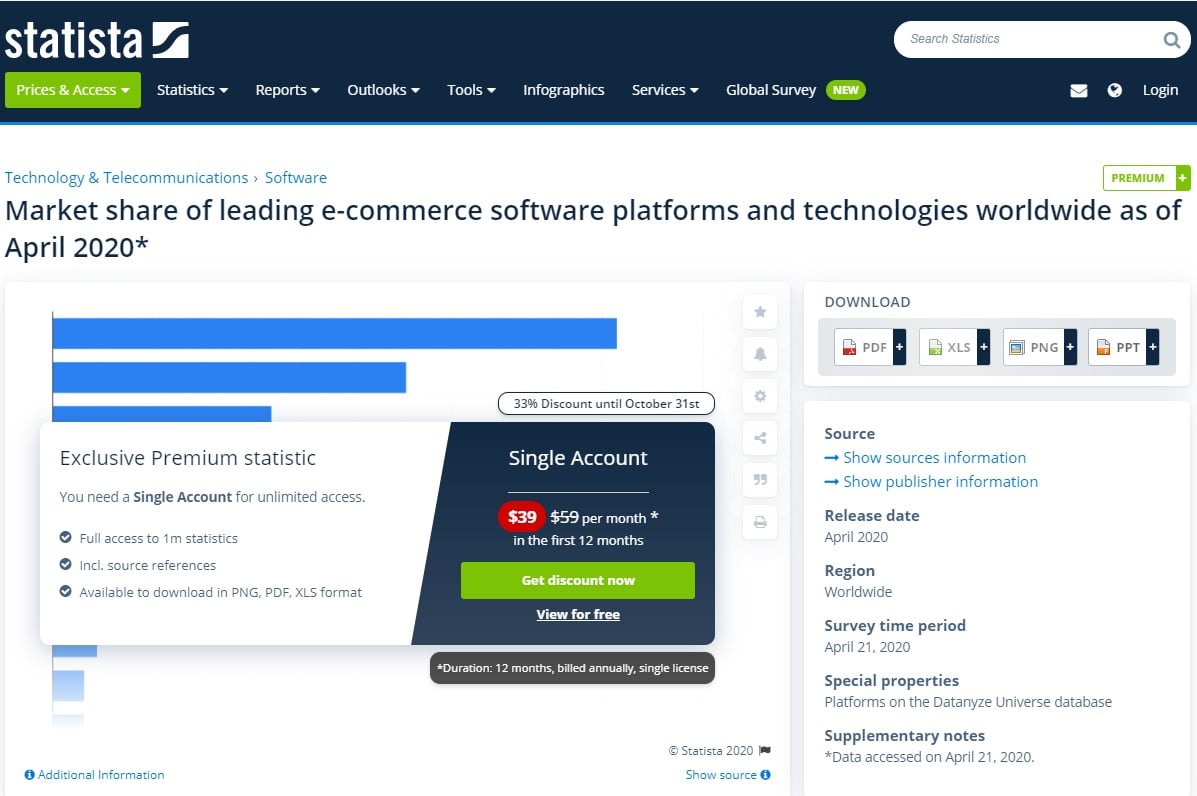 Prices: Shopify Lite $9/mo, Basic Shopify $29/mo, Shopify $79/mo, Advanced Shopify $299/mo
Although you can use Shopify to create eCommerce sites of virtually any size, it is particularly well suited to larger online stores. Shopify powers over 1.6 million websites. Some sources claim that it is the most popular eCommerce platform, although Statista places it in third place, holding 10.98% of all eCommerce software platforms and technologies worldwide as of April 2020.
As you can see from Shopify's process, the company pitches versions of its product to all businesses large and small.
The most basic plan, Shopify Lite, recognizes that many people selling online don't want to go through the effort of building a website. They are happy to sell a few products on social media. Shopify Lite effectively lets you add a Buy Now button to your social advertising posts, enabling you to engage in eCommerce directly from those social posts.
Basic Shopify will suit most new businesses creating an eCommerce platform. You can still sell unlimited products on this plan, although Shopify will charge a 2% transaction fee unless you use their payment gateway, Shopify Payments.
You will have to buy a domain with Shopify, but you should pick one up simply enough from any specialist domain-selling company (Shopify sells them too). Although this is an extra cost, it is a worthwhile expense. You have a much better chance of directing traffic to your own domain than one provided as part of a plan.
The standard Shopify plan charges a lower credit card rate and adds some additional features, such as handling gift cards. It also increases the quality of the reporting it makes available to you about your site's performance.
Advanced Shopify charges the lowest credit card rate. It also offers some better shipping options. It provides even more advanced report capabilities, including an advanced report builder.
In most cases, it probably makes sense to start with Basic Shopify (unless you simply need to make social sales), and then consider moving to a higher plan if you make sufficient credit card transactions to make a real difference with the fees. If you live in a country that offers Shopify Payments, it is likely to be worth it for most businesses because you avoid having to pay a transaction fee of between 0.5% and 2% per transaction.
As a whole, Shopify is easy to use, with no need for any coding experience. You can select from many designs and themes, ensuring you can put together an attractive website for your customers.
The Shopify App Store is one of the most comprehensive you will find, meaning that thousands of extensions are available for your site.
---
4. Volusion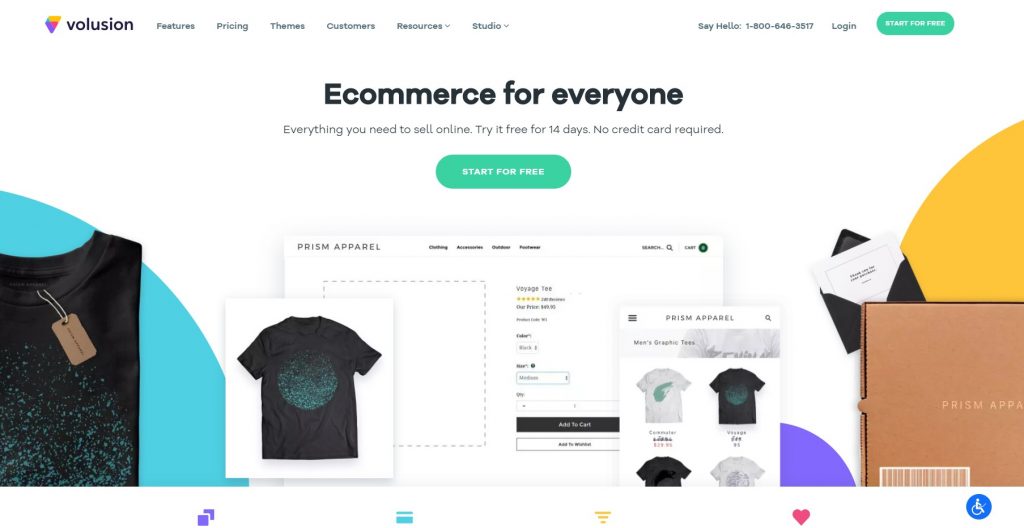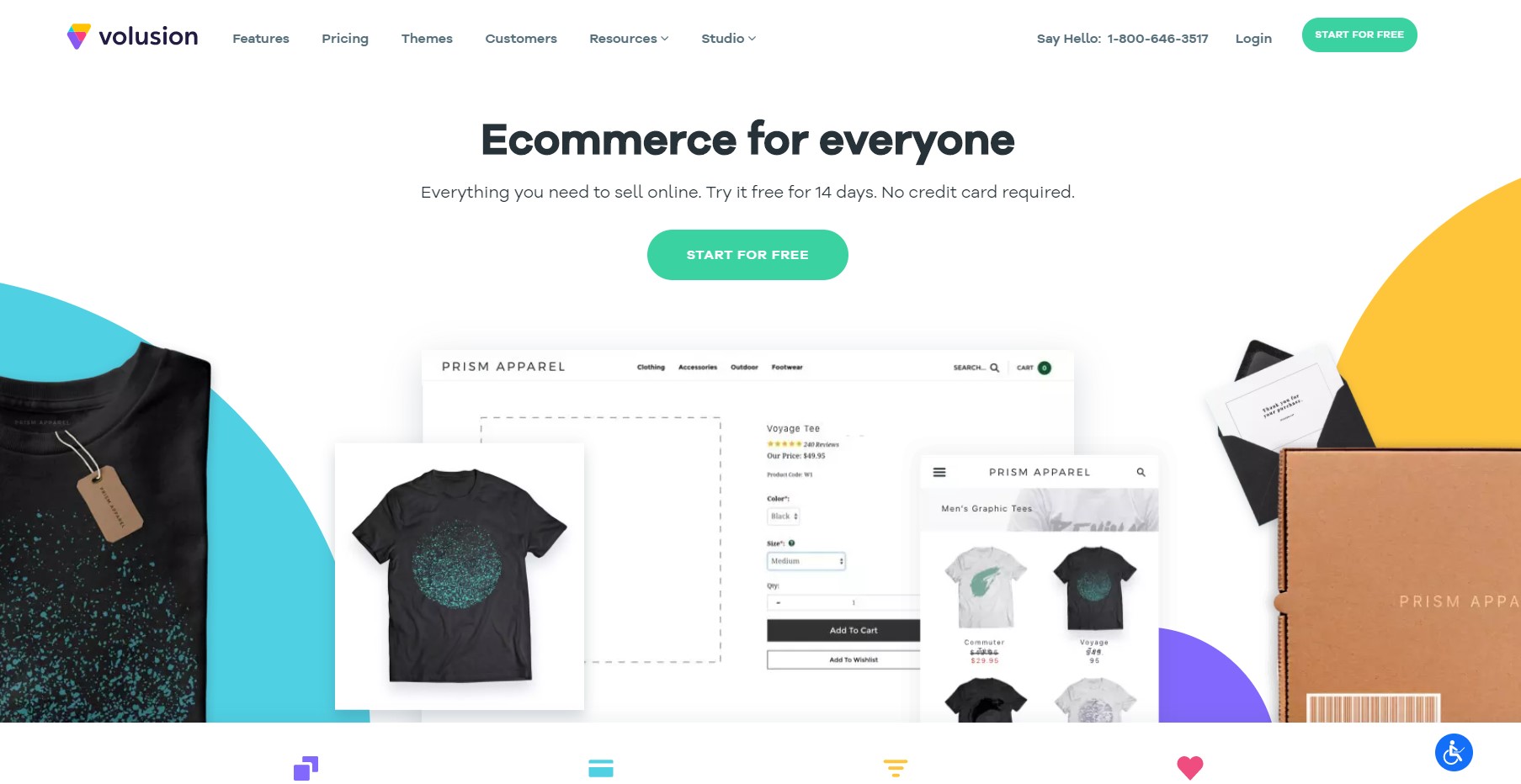 Prices: Personal $29/mo, Professional $79/mo, Business $299/mo, Prime based on GMV
Volusion was one of the first eCommerce website builders. It describes itself as providing eCommerce for everybody.
It bases its pricing tiers on GMV (Gross Merchandise Volume). You can use the Personal Plan if your GMV is less than $50K per annum. Once you reach that level, you need to move up to the Professional Plan until you earn $100K GMV/year. The next tier, Business, applies until you make $500K GMV/year. If you sell more than that, you automatically move to the Prime plan. Volusion Prime is designed to help large businesses take big strides in growth and provide their customers with a seamless experience unique to their brand.
As each plan offers more capabilities than its cheaper predecessor, you can opt to move to a higher plan than your GMV would suggest. For example, you can only list 100 products on the Personal Plan, so you would upgrade to a higher plan if you intend to sell more than that, even if you have a comparatively small GMV.
Even though many small businesses use Amazon or eBay, integration with these marketplaces only occurs in the Business and Prime plans.
---
5. WooCommerce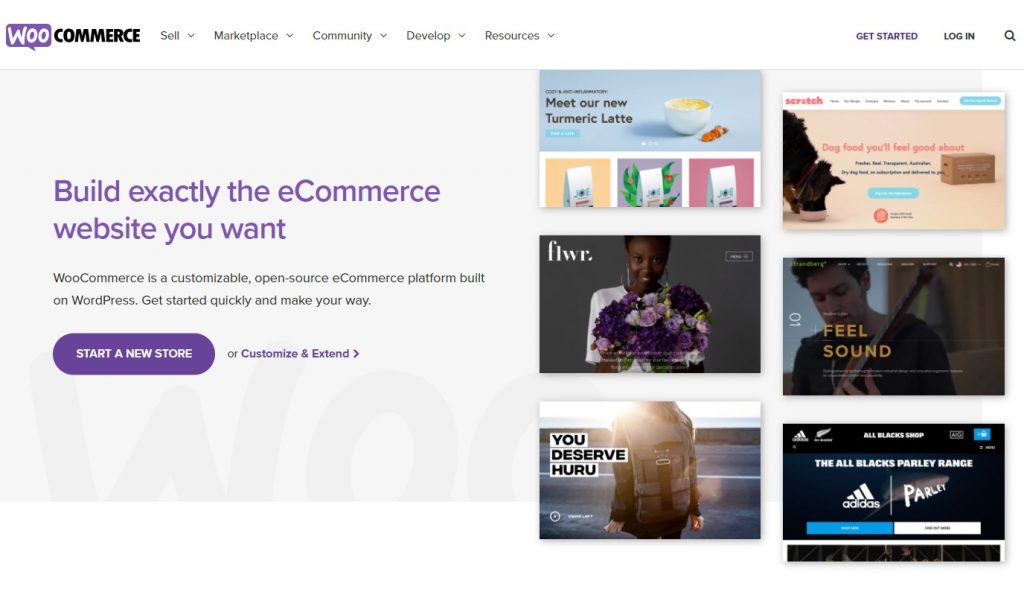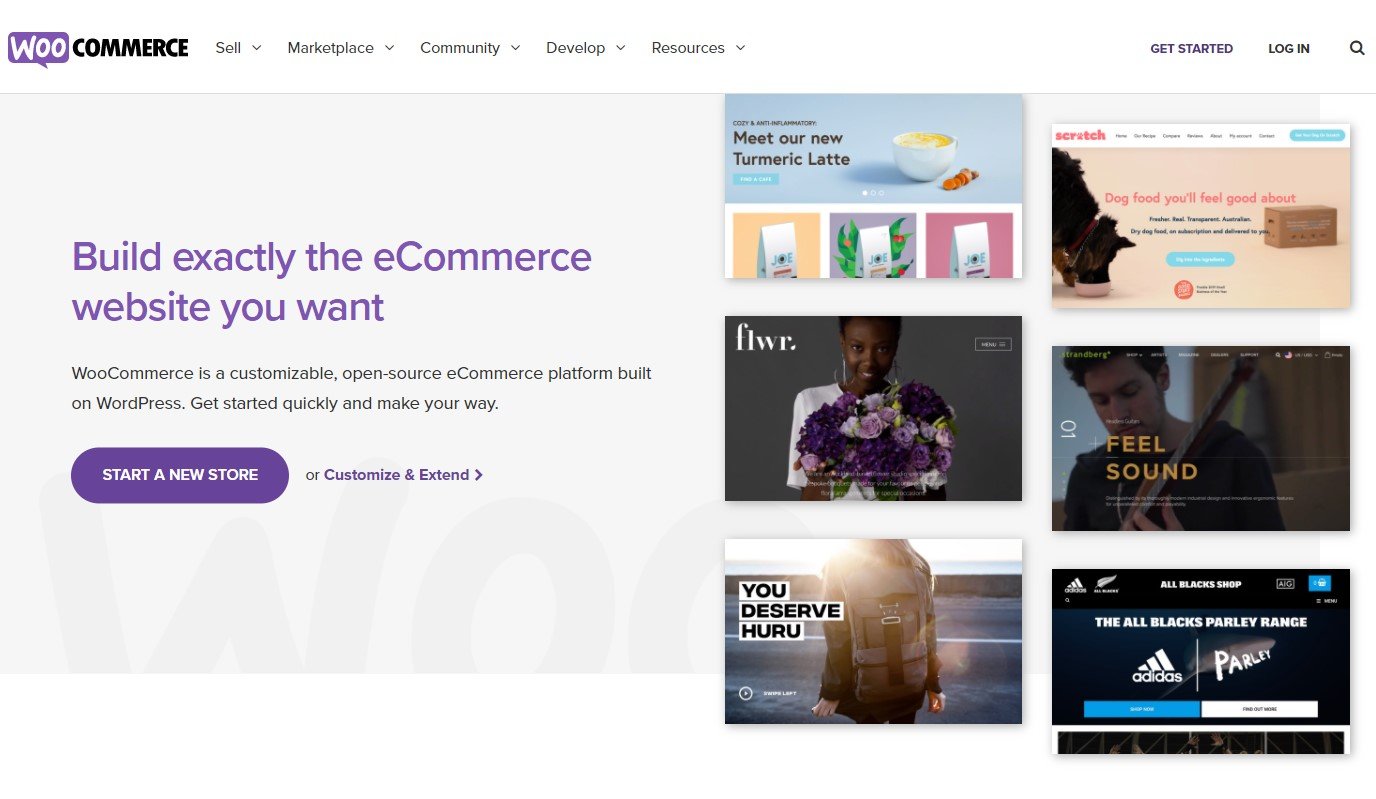 Prices: Open source, so effectively free (although you have the usual web hosting and other related costs for a self-hosted site)
WooCommerce can be an excellent eCommerce solution for medium to large businesses, particularly any using an existing site, but it requires some technical capability. Of course, if you're running a large eCommerce store, the odds are that you will have a development team (or at least one specialist technician) at your disposal to assist with your site maintenance.
WooCommerce is primarily a plug-in for your WordPress site. This means that you can turn an existing website into an eCommerce store or use one of the extensive range of WordPress themes to build a site from scratch. You will have to pay for a domain, hosting, emails, and a theme, however, like any other WordPress site.
Not all WordPress themes are compatible with WooCommerce, so make sure you pay for one that does.
WooCommerce includes many powerful features, including attractive product images and catering for multiple product variants. Standard WooCommerce comes with quite a few payments and shipping options, but you can add more by using relevant add-ons.
---
Best eCommerce Solutions for Enterprises
1. BigCommerce Enterprise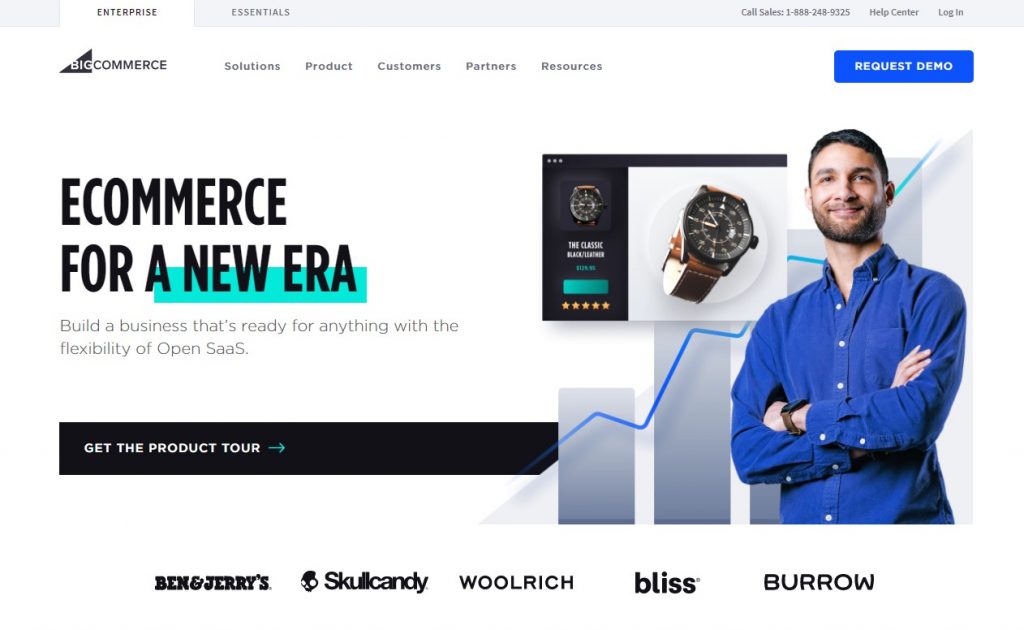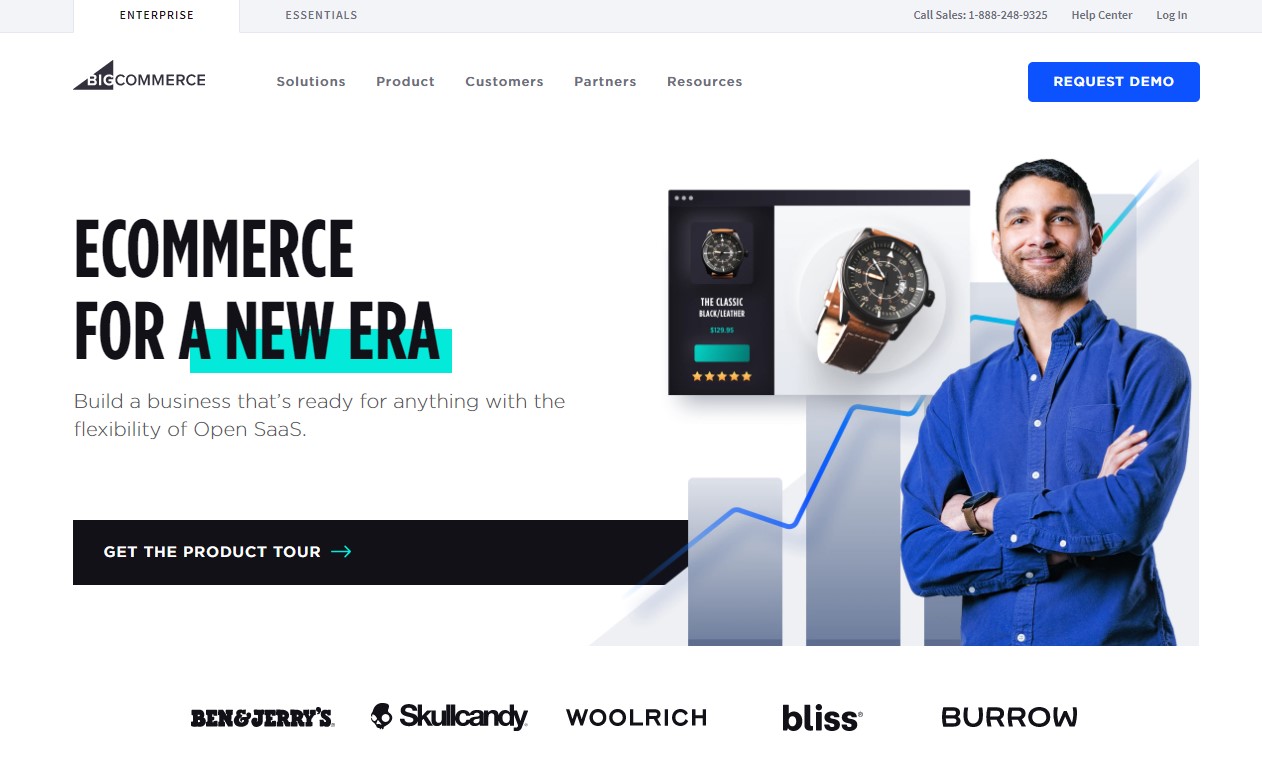 Prices: Contact for prices
BigCommerce Enterprise is the version of BigCommerce targeting enterprise-level firms. If you are a BigCommerce user that brings in more than $400K only, BigCommerce will automatically transition you to BigCommerce Enterprise. Anecdotally, expect to pay at least $400-$500 per month for the extra services and attention offered by BigCommerce Enterprise, although the exact price will depend on your specific situation.
BigCommerce stresses that its Enterprise version is a full-service open platform. Some features exclusive to this version of BigCommerce are custom facets (product filtering), price lists, and unlimited API calls.
---
2. Magento Commerce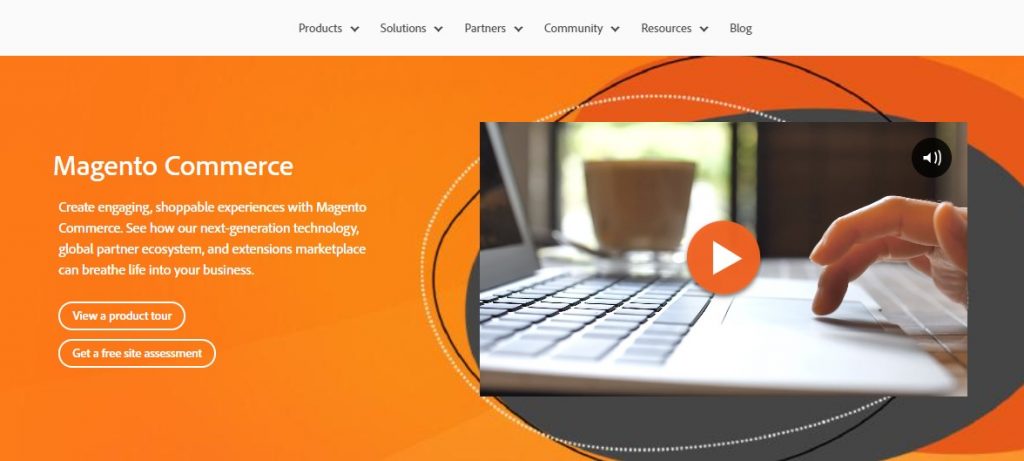 Prices: Contact for prices
The easiest way of describing Magento Commerce is as a more user-friendly version of its open-source brethren, with additional features added. Enjoy rich, out-of-the-box features, an unlimited ability to customize, a flexible headless architecture, and seamless third-party integrations.
It recognizes that many of its users have development experience and offers many opportunities to customize your site. However, it also included an easy-to-use drag-and-drop site builder for those who prefer to take the simpler route to site design.
It has a gigantic community of developers who offer their support and are happy to give advice and answer questions.
---
3. Salesforce Commerce Cloud
Prices: Contact for prices
Salesforce Commerce Cloud comes in two versions, one for those who sell B2C and another for those firms who primarily use a B2B model.
No matter which version you use, it is strongly enterprise-focused – small businesses need not apply. You can use it to create unified, intelligent digital commerce experiences — both online and in the store.
As you would expect, it includes virtually every imaginable feature you would expect of an eCommerce solution. You can use it to build and launch campaigns and promotions quickly, without IT support. This includes designing, scheduling, and publishing pages with Page Designer. A drag-and-drop interface and powerful, reusable components make it easy to build pages with clicks — not code. Likewise, you can develop and launch innovative campaigns, promotions, and A/B testing based on consumer behavior, channel, and location — all without technical support.
Salesforce Commerce Cloud allows you to build feature-rich storefronts faster with Storefront Reference Architecture, an out-of-the-box website framework that combines best practices in site design, merchandising, and technical architecture. Enhance the shopping experience with their extensive library of prebuilt, certified integrations, including payment accelerators, ratings and reviews, and loyalty programs.
The B2B module offers similar capabilities to the B2C one. Give your customers the same easy, consumer-like shopping experiences they enjoy in their personal life — anytime, anywhere, on any device. However, it does include features specifically designed for B2B, including fast reorders, account hierarchies, contract pricing, custom catalogs, and more. You can customize your B2B eCommerce site to fit the needs of specific industries.
---
4. Shopify Plus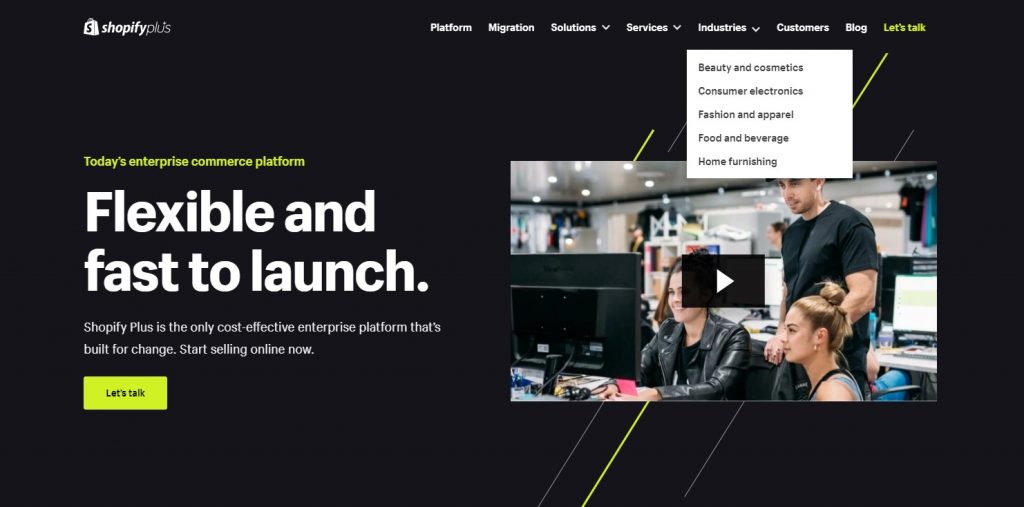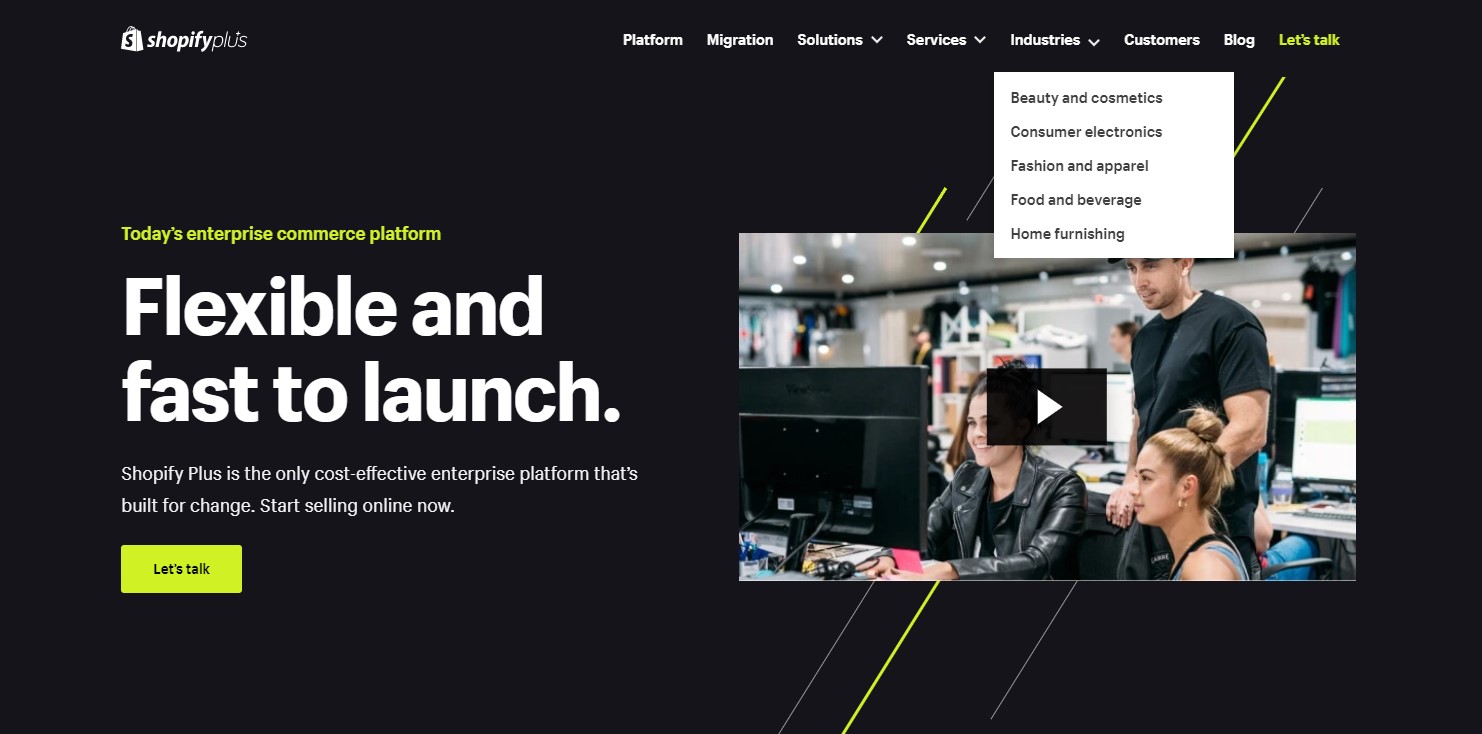 Prices: Contact for prices
Being designed for enterprises, Shopify Plus can handle much more than a standard Shopify store. It realizes that enterprise-level businesses can have many thousands, indeed millions, of inventory items. Multiple customers are likely to use the site at any moment. It can handle you selling across a full range of channels – even large businesses sell on Facebook and in the Amazon marketplace, alongside their own store.
Shopify recognizes that the users of Shopify Plus will have more significant support needs too. Shopify Plus offers personalized, dedicated help and support. It gives you a dedicated launch manager who ensures that your website fully integrates into Shopify.
Shopify Plus has the same look and feel as other versions of Shopify – it uses the same dashboard for a start. However, you have more options available on Shopify Plus. You have more control over your site's setup, customization, and everyday operation.
Shopify Plus makes a range of additional features available exclusively for its Shopify Plus clients. These include Shopify Flow (allowing you to tailor the storefront) and a script editor (so your developers can write scripts to customize sections of the site, such as shipping).
Shopify Plus also includes access to enhanced analytics, with Shopify partnering with industry-leading third-party analytics companies for their premier customers.