One of the most popular shopping platforms is Shopify. A reason for this is that you can build and operate a shopping site with ease, partly because Shopify includes over 4,200 apps in its App Store. This gives numerous opportunities for upgrading your site and making your store precisely how you want it.
With these apps, you can do virtually anything imaginable with your store. Shopify categorizes its apps into:
Finding products

Places to sell

Store design

Marketing

Sales and conversion

Orders and shipping

Inventory management

Customer support

Trust and security

Finances

Productivity

Reporting
Obviously, a single article can only touch the surface of this massive collection of apps. However, we have looked at a selection of apps across the categories that you may consider will help the operation of your online store.
---
17 Shopify Apps to Increase Your Sales:
---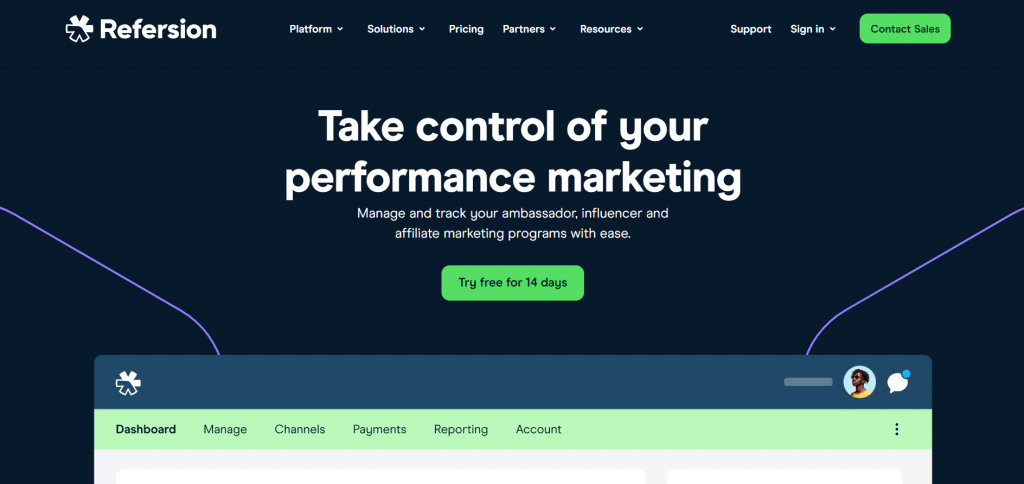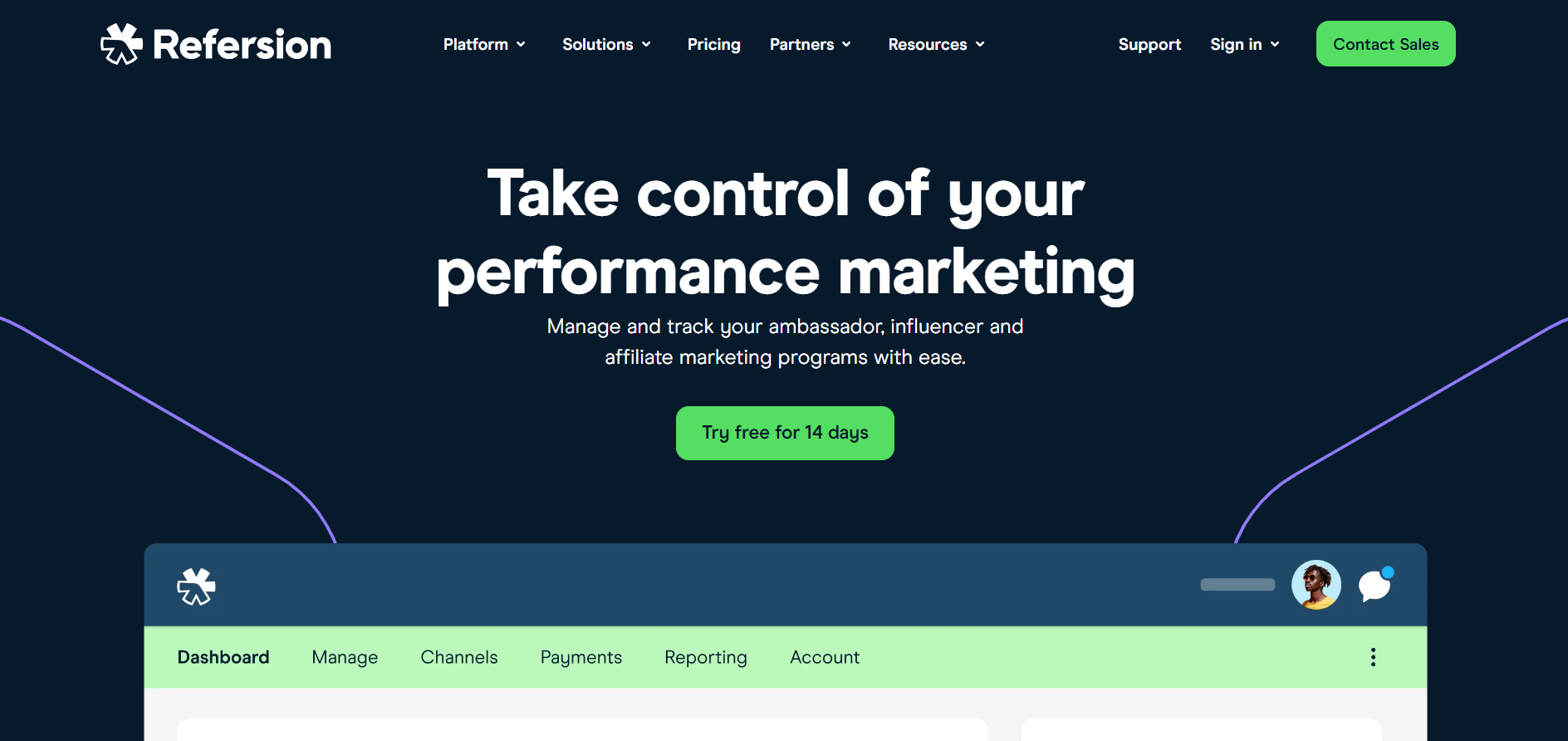 You can use Refersion to manage and track your ambassador, influencer, and affiliate marketing programs. It integrates with Shopify and most other eCommerce platforms.
Refersion comes with two plans. The Professional plan ($89/month) is best for growing businesses that require complex tracking options and royalty deals to expand their network. For this, you can track up to 130 affiliate orders/month. If you have more significant needs, you can opt for the Enterprise plan (custom pricing) that permits unlimited affiliate orders.
You can integrate Refersion into your Shopify store, customize its look, and then signup affiliates. You can then use it to manage conversations, send payments, promote your offers, and even turn your customers into affiliates. In addition, it includes a dashboard showing the results of all your affiliate activity in easy-to-read reports.
---
2. OptinMonster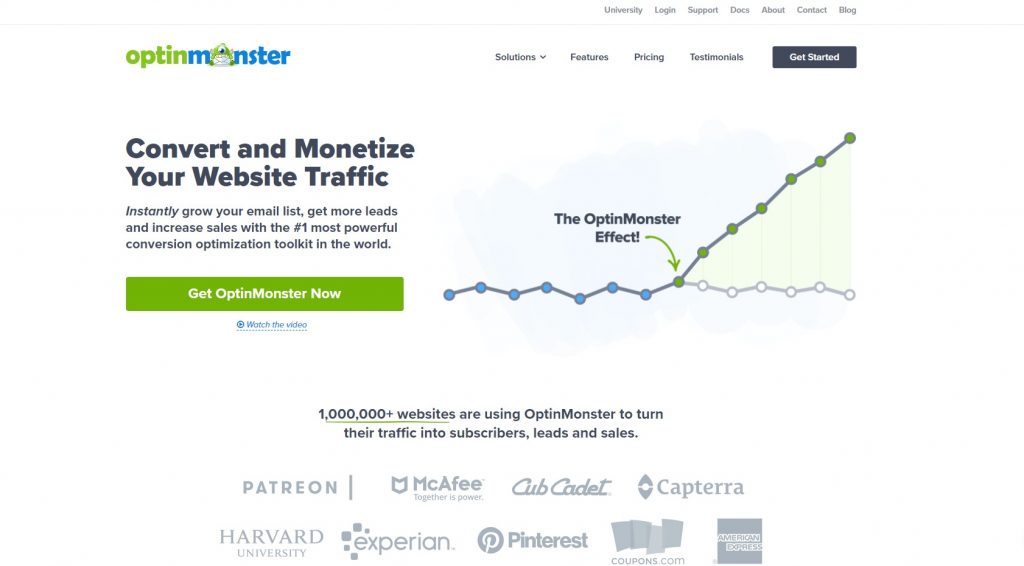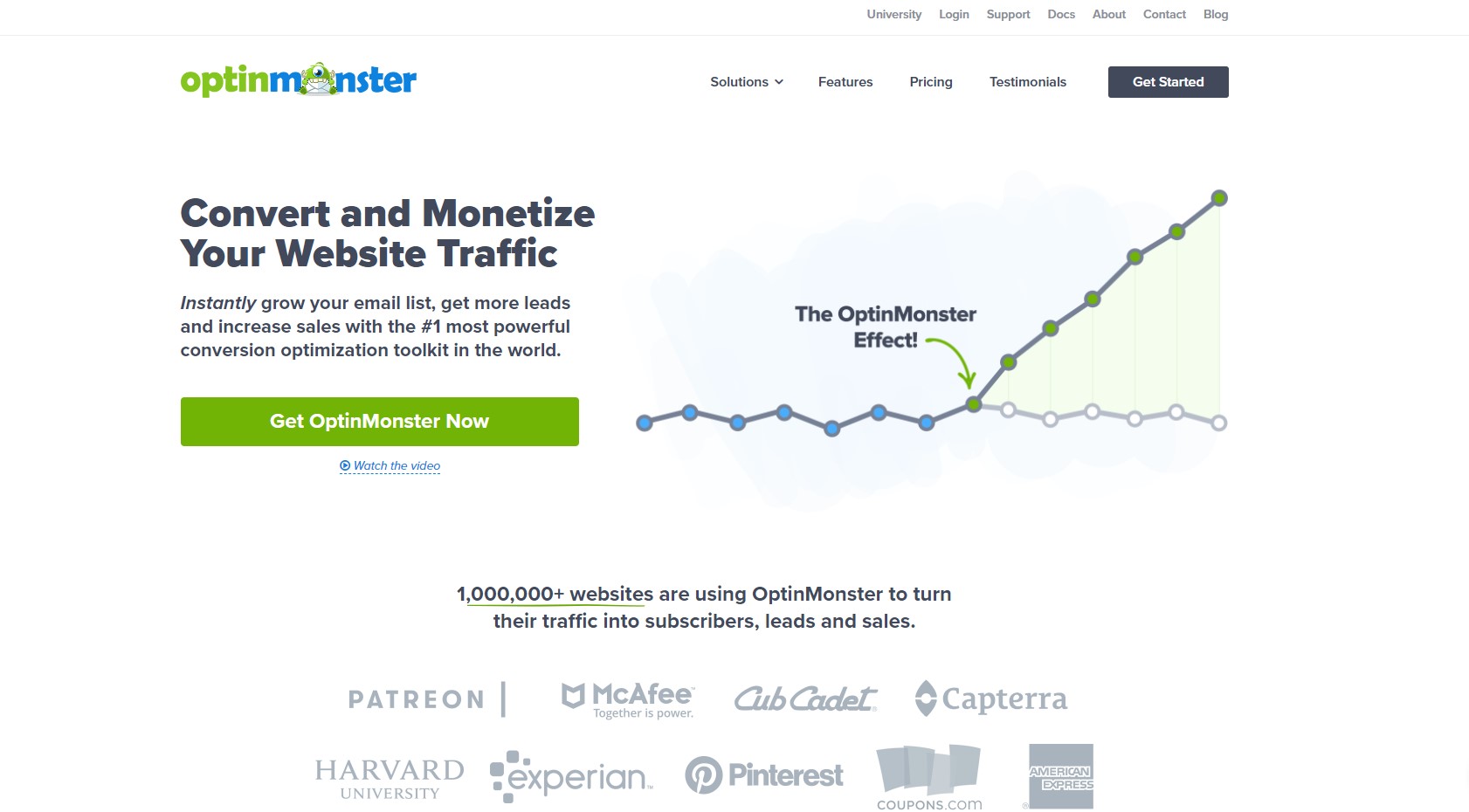 OptinMonster is lead generation software for marketing agencies, bloggers, eCommerce websites, and all small businesses. You can use it to grow your email list, improve your website conversions, and reduce cart abandonment.
OptinMonster comes with dozens of pre-made templates to boost conversions
It is different from many of the apps on this list in that you can buy it directly from its website. Indeed, you can use it in many types of eCommerce websites, including those you create on Shopify.
OptinMonster seamlessly works with Shopify, and it has 1-click integrations for leading email marketing services and CRM software.
---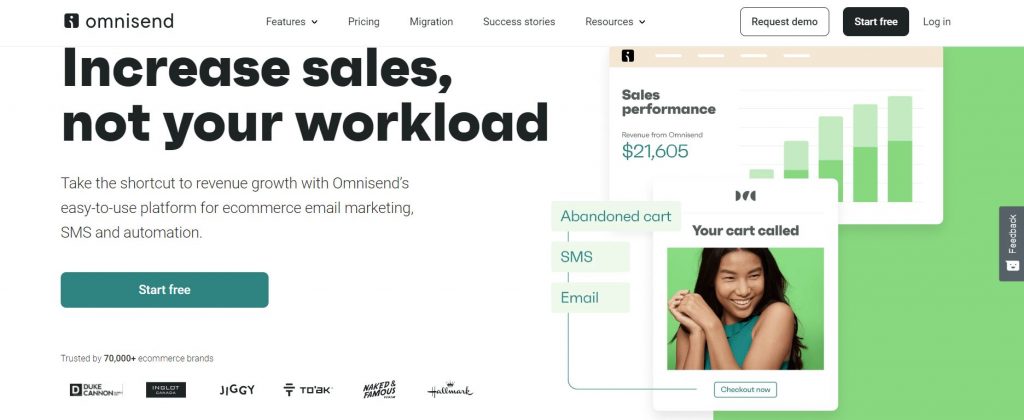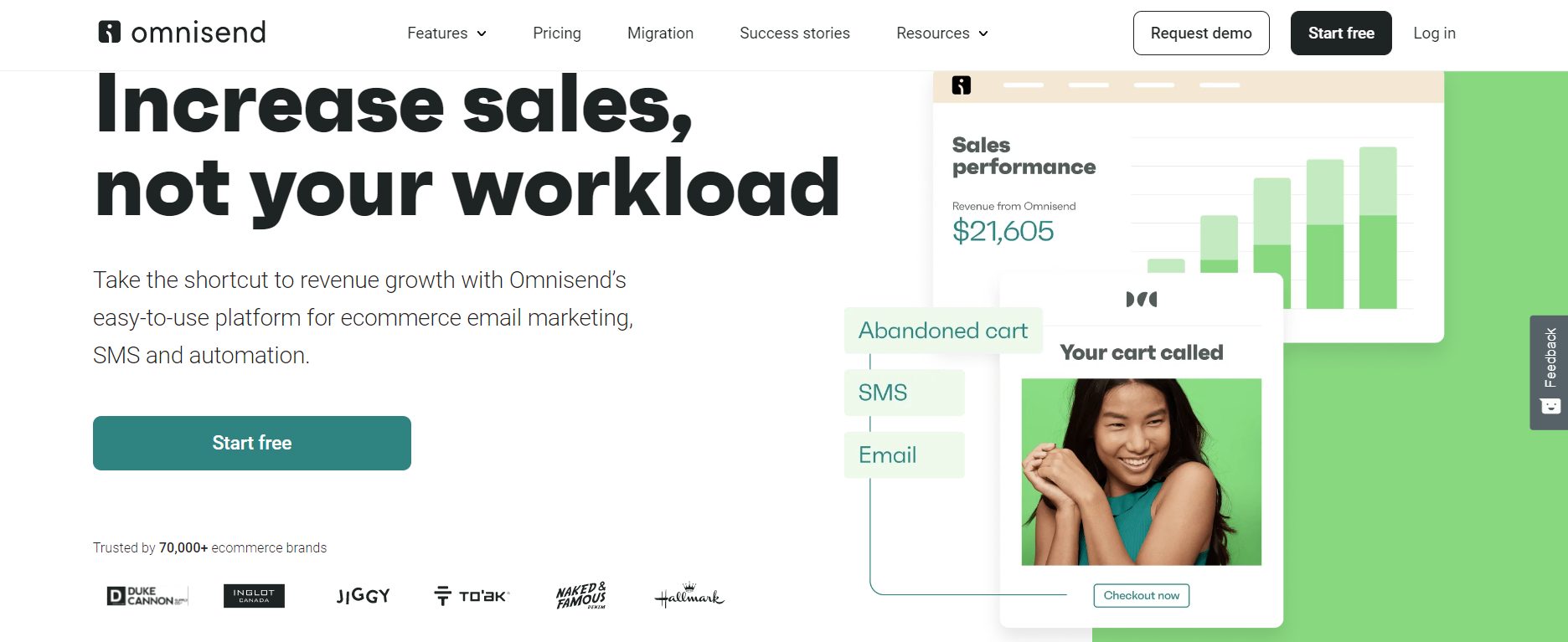 Omnisend calls itself the all-in-one marketing automation platform with SMS and more. This platform connects your eCommerce business with potential and existing customers across multiple channels: email, SMS, Facebook, Google, and others.
It helps you set up email and SMS automations for specific situations like:
Welcome - greet shoppers and introduce your brand after sign-up.

Abandoned Cart Recovery - win back lost orders by reaching shoppers that have abandoned their shopping cart

Confirmation - send branded and automatic order, shipment, and cancellation confirmations.

Post-Purchase - reactivate customers with a series of messages designed to drive repeat sales.
---
4. Plugin SEO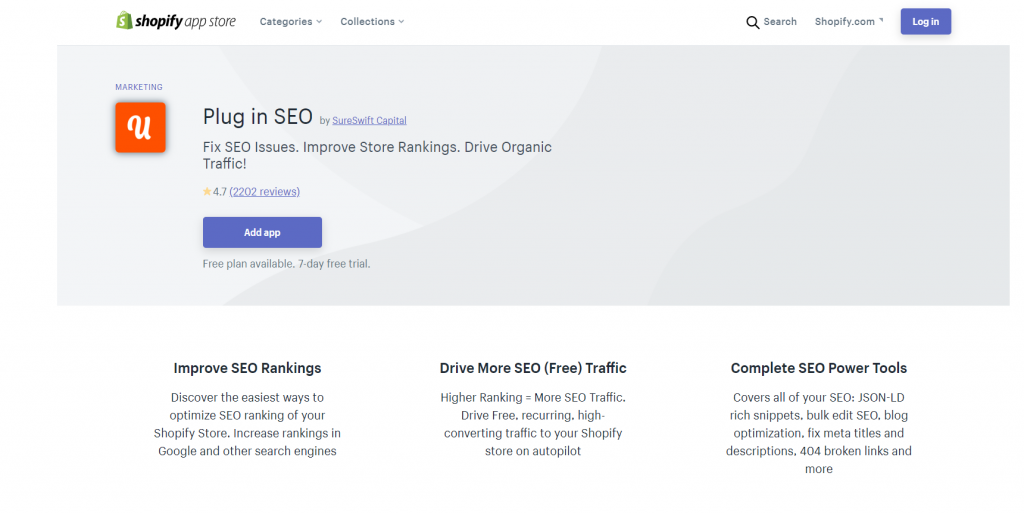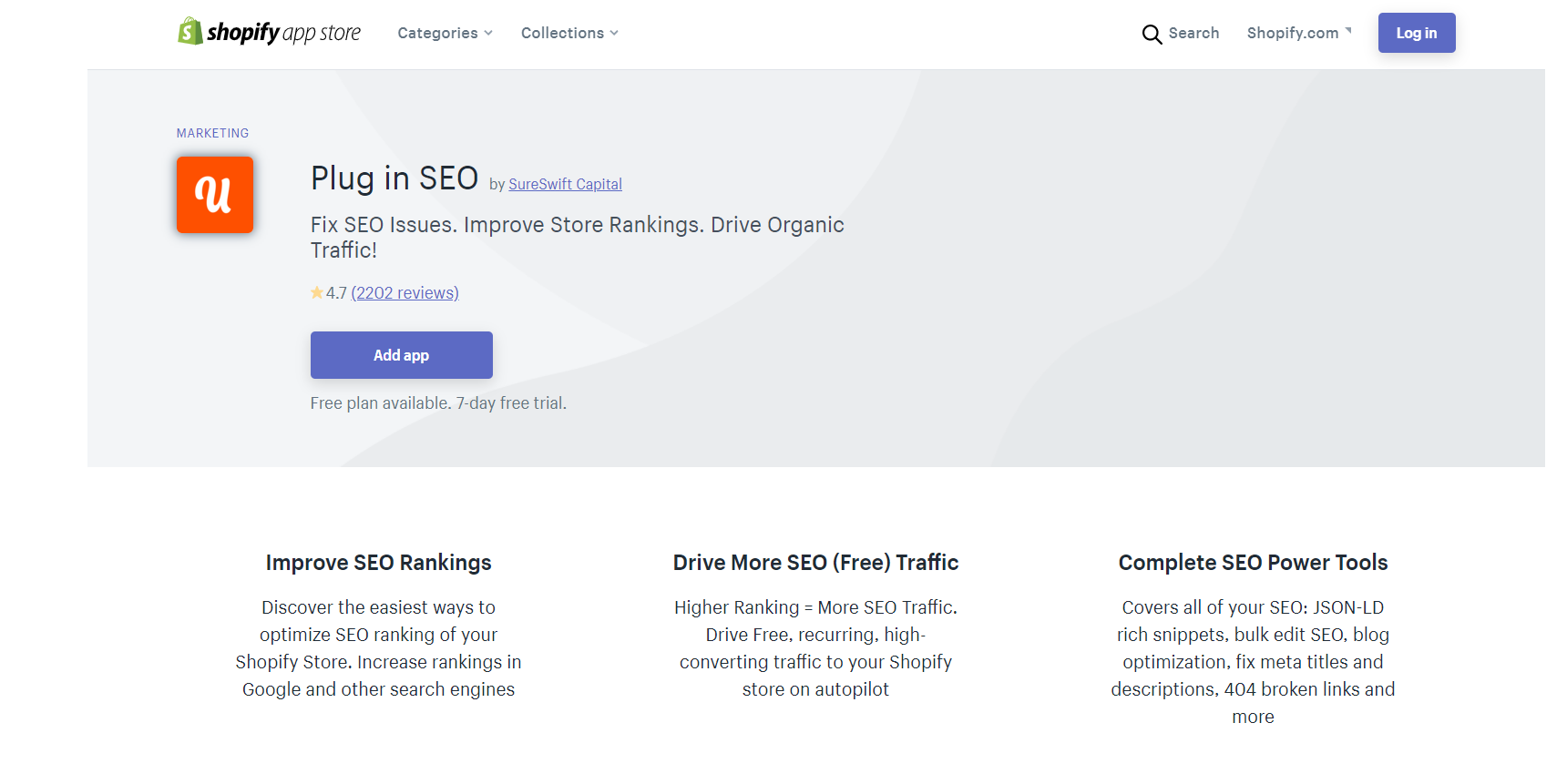 As its name suggests, you can use Plugin SEO to fix SEO issues, improve your store rankings, and drive organic traffic.
It helps you discover the easiest ways to optimize the SEO ranking of your Shopify Store, increasing your rankings in Google and other search engines. The higher rankings, in turn, drive free, recurring, high-converting traffic to your Shopify store on autopilot.
It covers all of your SEO needs, including JSON-LD rich snippets, bulk edit SEO, blog optimization, fixing meta titles and descriptions, 404 broken links, and more. It includes templates that allow you to bulk edit SEO data, including meta titles and meta descriptions of thousands of products/collections/pages/blogs/posts in minutes.
---
5. Loyalty Lion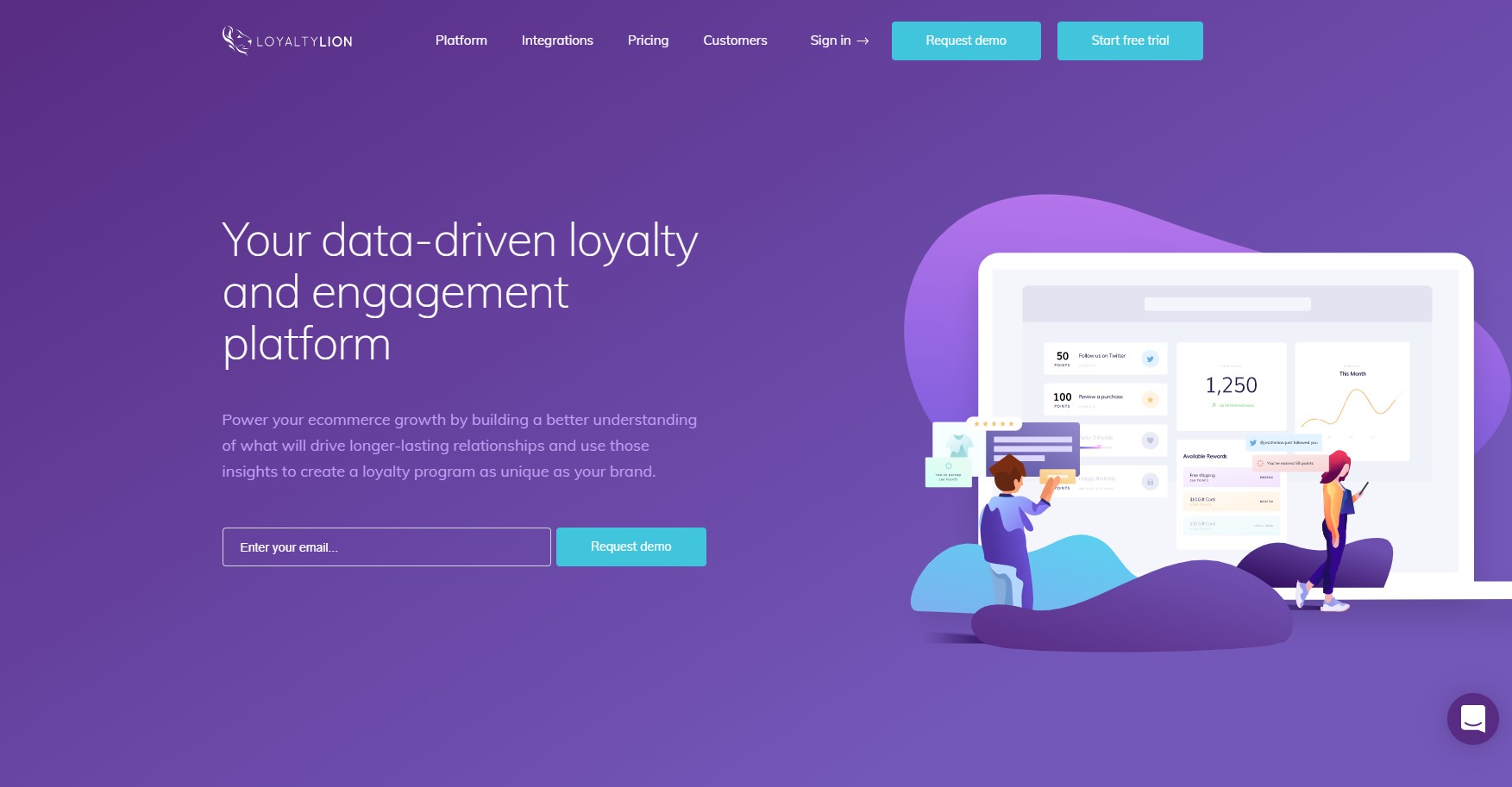 Loyalty, Rewards, and Referrals by Loyalty Lion facilitates you setting up a customer loyalty program and keep track of points, rewards, tiers, and referrals.
You can use Loyalty Lion to build a fully customized, customer loyalty program to power growth - start awarding points in minutes, with no technical expertise required
You can use the app to award loyalty program points for purchases, sign-ups, subscriptions, birthdays, reviews, referrals, social media likes, follows, and tags.
If you are still in the early stages of your eCommerce business, you can use Loyalty Lion to start building your loyalty and referrals program today with their free plan, including up to 800 orders per month and unlimited loyalty members. Then you can upgrade to the paid plan once your loyalty program is sufficiently established.
---
6. UGC Social Proof Gallery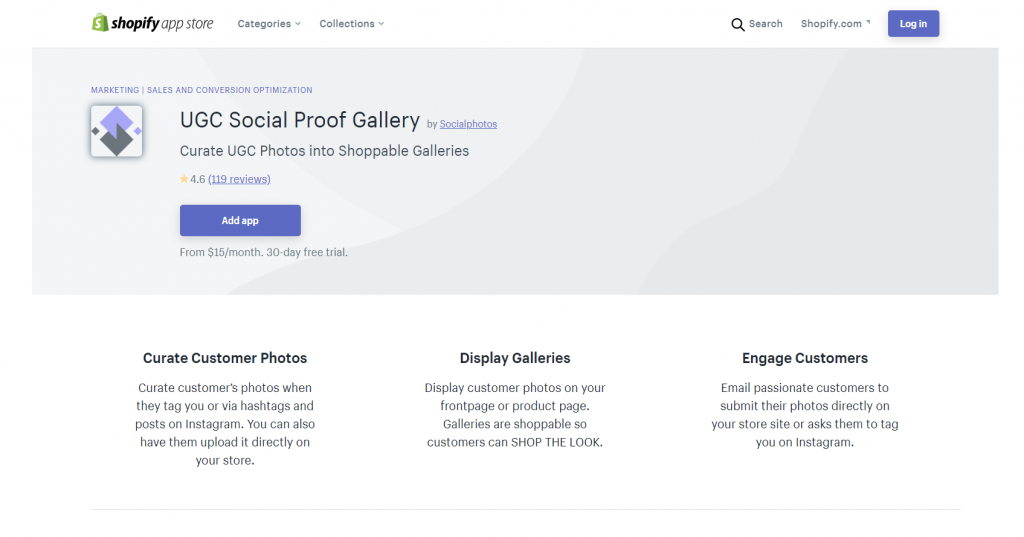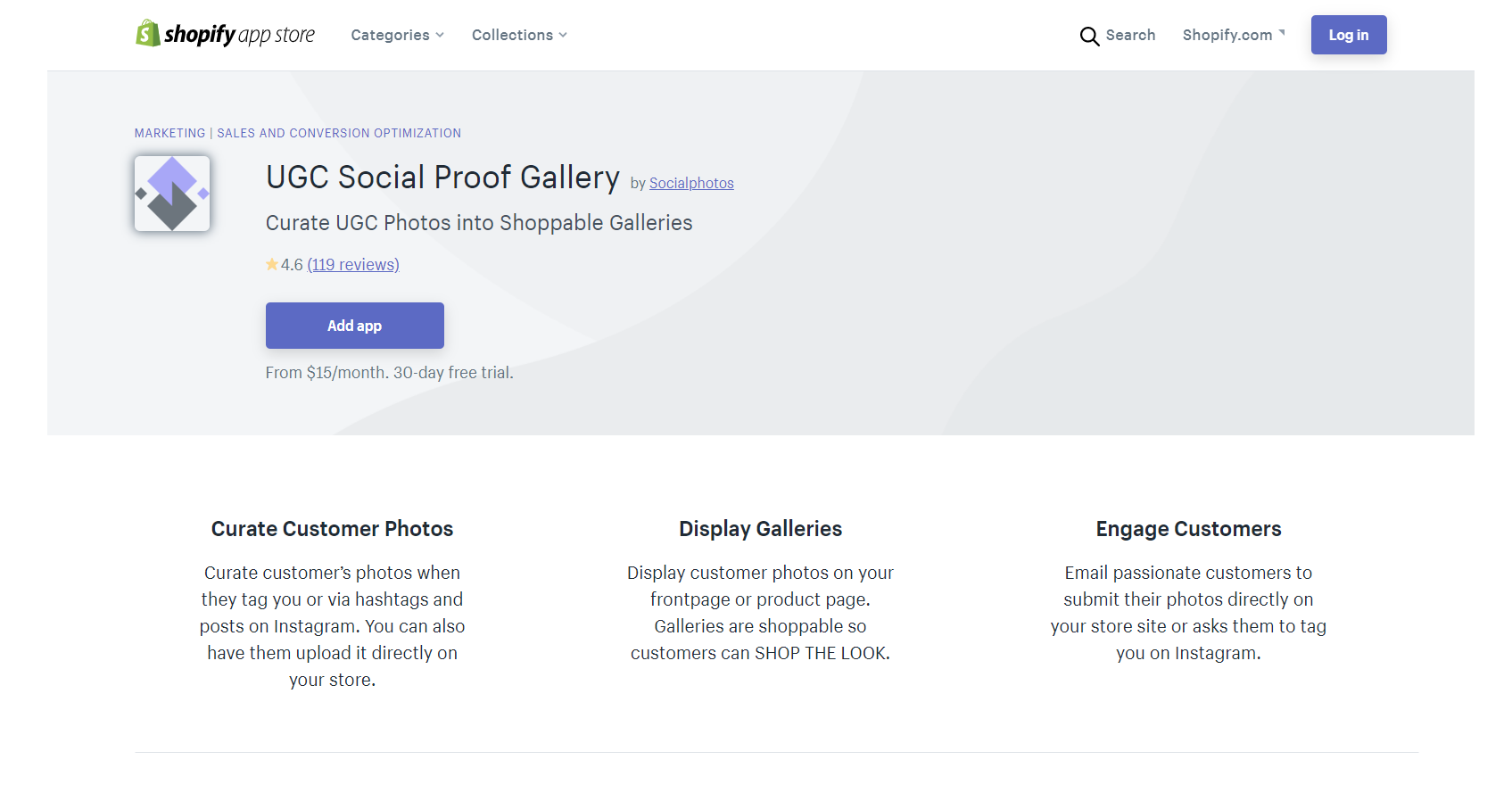 UGC Social Proof Gallery helps you curate photos into shoppable galleries.
You can use it to curate customers' photos when they tag you or via hashtags and posts on Instagram. You can also have them upload it directly to your store. You can turn photos into galleries of your customers' best images to display on your storefront, product page, and blogs. Galleries are shoppable.
Use UGC Social Proof Gallery to email passionate customers to submit their photos directly on your store site or ask them to tag you on Instagram.
---
7. Yotpo Product Reviews & Photos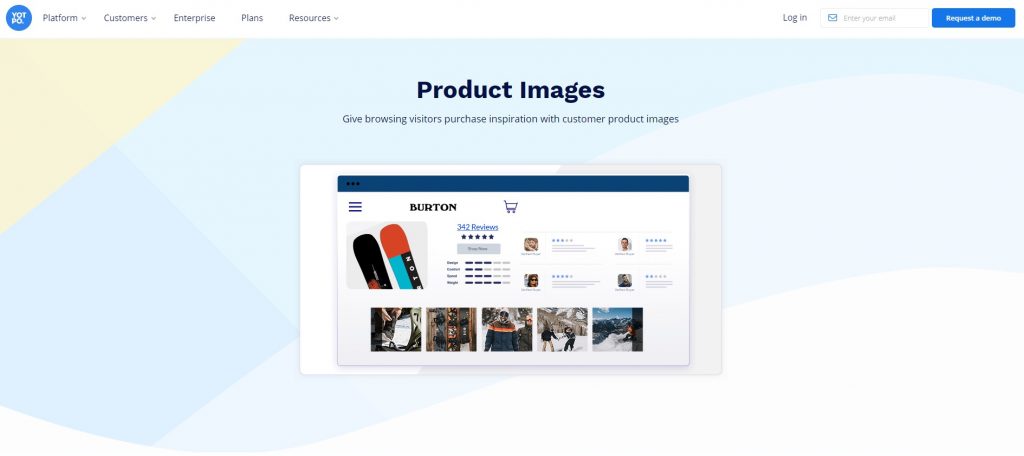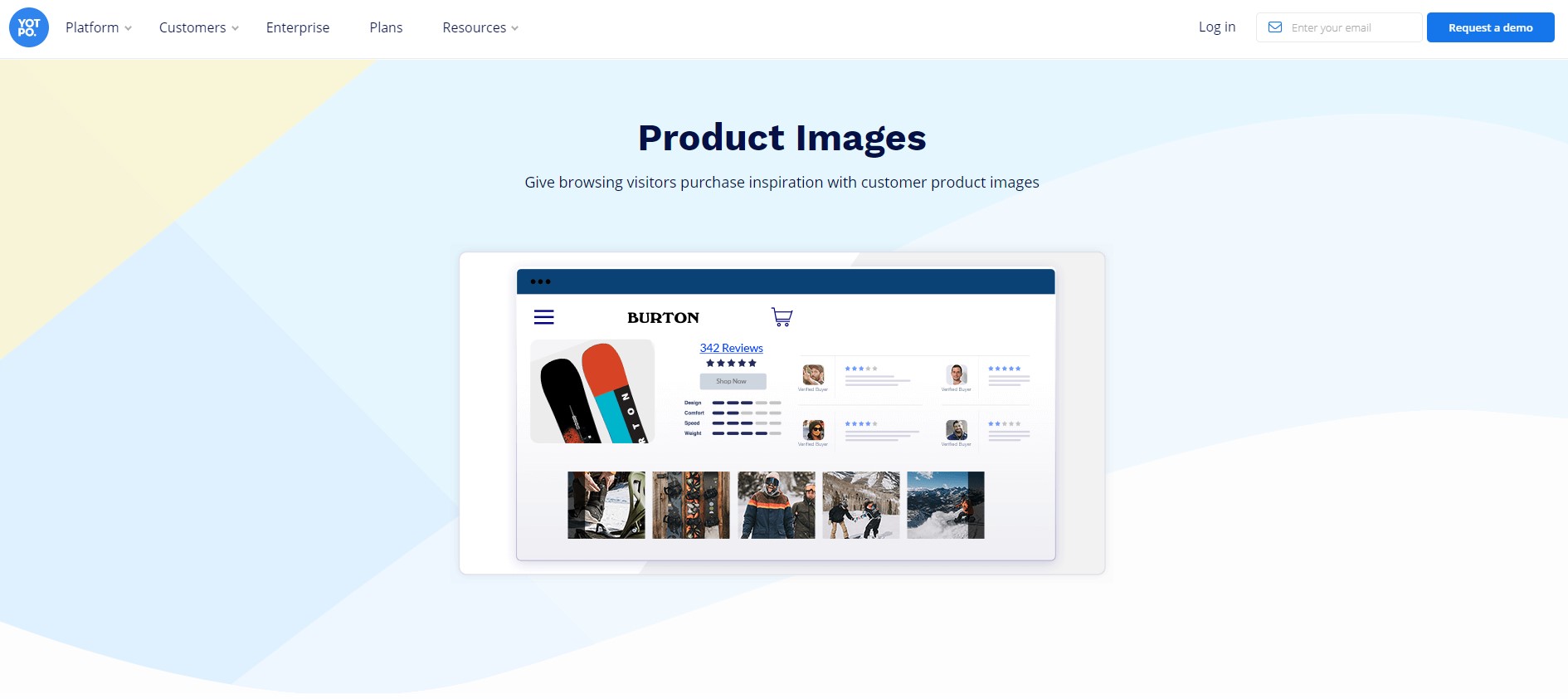 In this era, reviews are vital for the success of most firms. Yotpo Product Reviews & Photos helps you collect product reviews, photo reviews, site reviews & ratings.
Yotpo is an official Shopify Plus Technology Partner and has received more than 1,800 five-star reviews in the Shopify App Store.
They offer both a free plan and a monthly plan, starting at $19/month). With the Free Plan, you can:
display customer reviews and photos alongside star-ratings,

share your reviews to Facebook and Twitter,

automatic request emails that will help you collect more reviews,

publish reviews on your site, share them through social media channels, and comment on reviews. Yotpo flags negative reviews that require your attention.
The Growth Plan (starting at $19/mo) scales with your business. It includes everything in the Free Plan plus photos in reviews, rich snippets, coupons, the option to collect both site and product reviews in one flow, and more.
---
8. Facebook Live Chat (by Zotabox)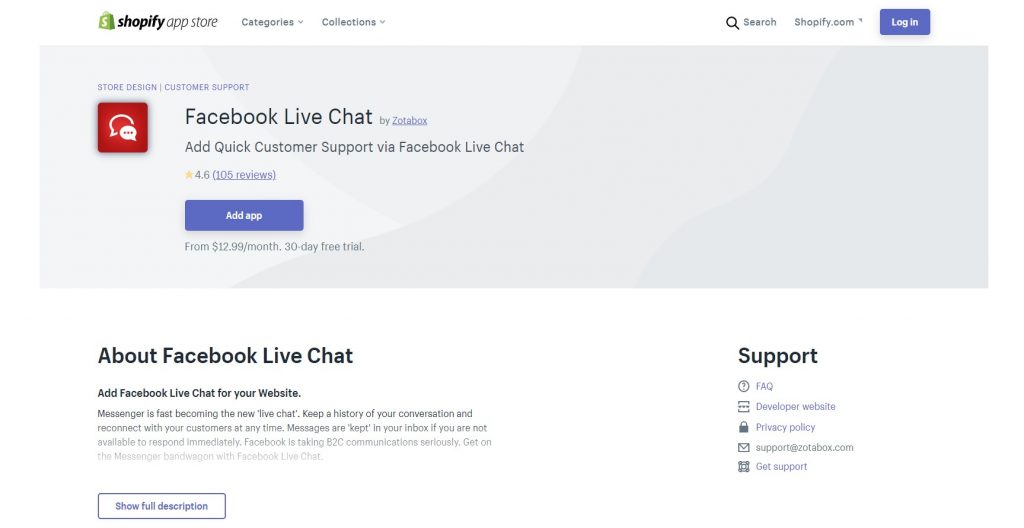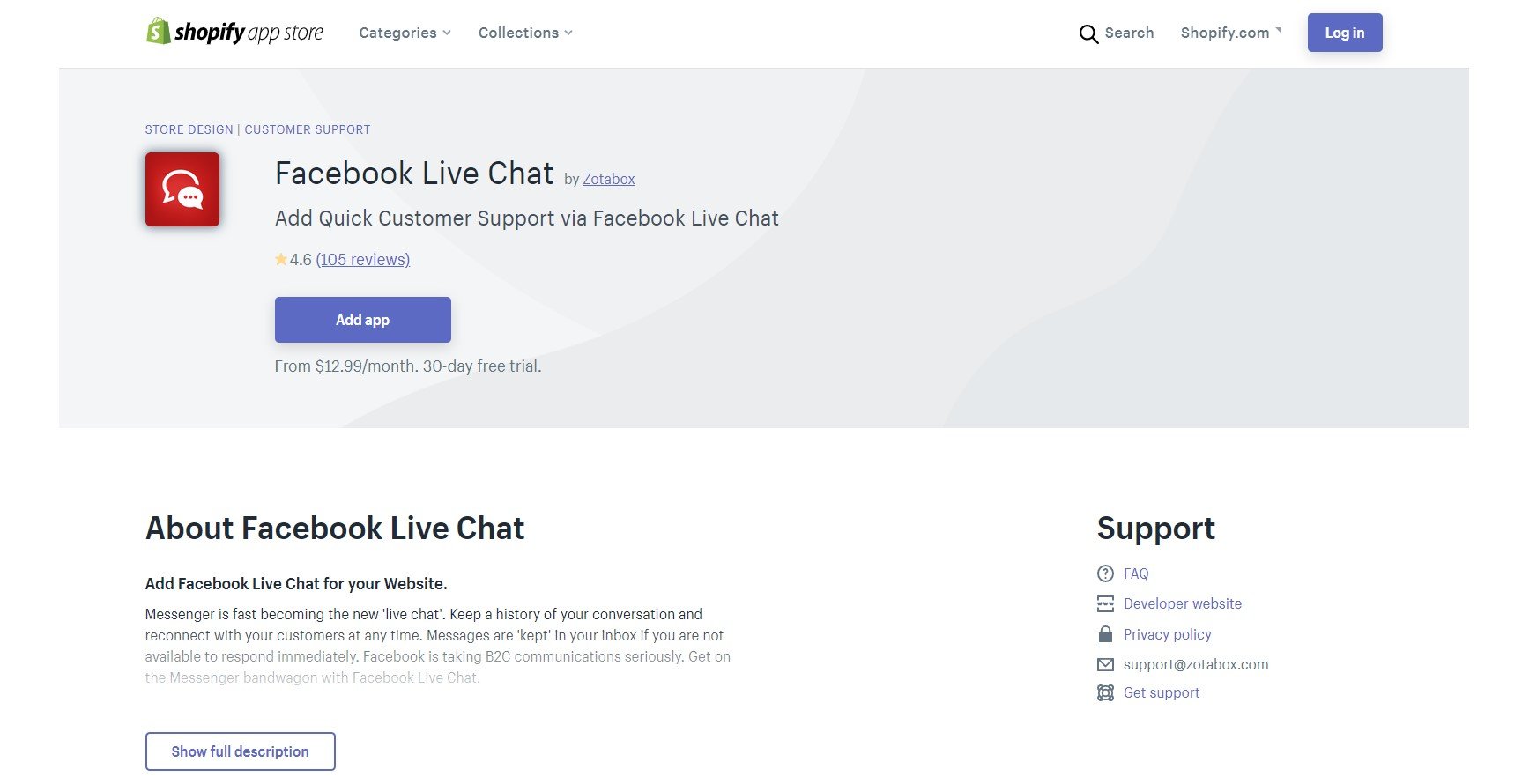 Facebook Live Chat adds a 'live chat" feature via Facebook Messenger to your eCommerce site. Keep a history of your conversation and reconnect with your customers at any time. The app keeps messages in your inbox if you are not available to respond immediately.
Zotabox is so confident in its app that they offer you your money back if you fail to increase your sales in 30 days once you are using the app.
They don't offer a free plan, but their Starter Plan starts at $12.99 per month (or $9.09/month billed at $109.12 once per year). For that, you can upload custom images, support customers via Messenger, have up to five chats on the same site, and have up to 5,000 visits per month. The more expensive Express and Platinum plans allow additional chats, website installations, and website visitors.
---
9. Exit Intent Popup by OptiMonk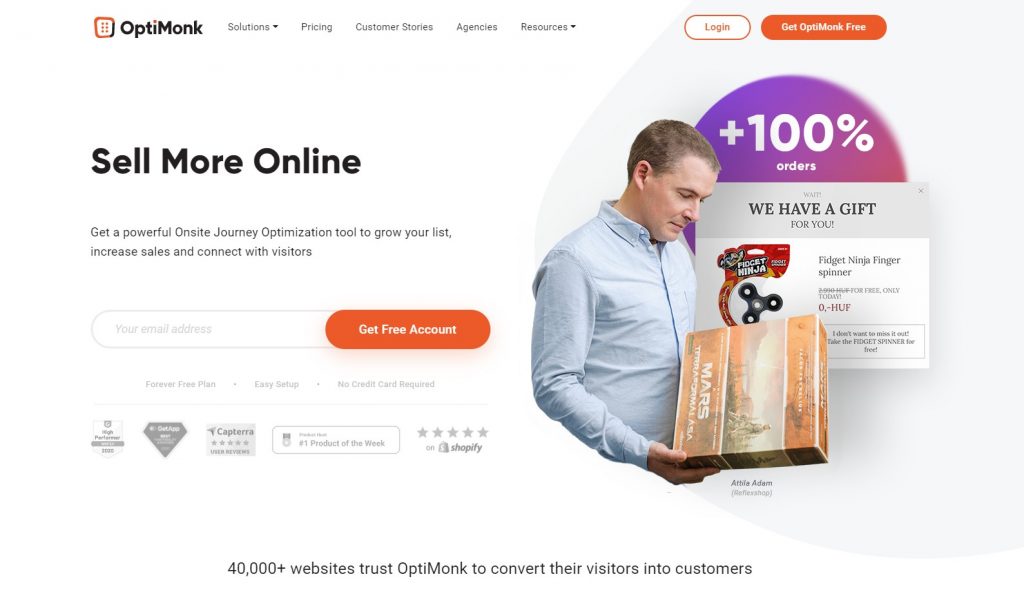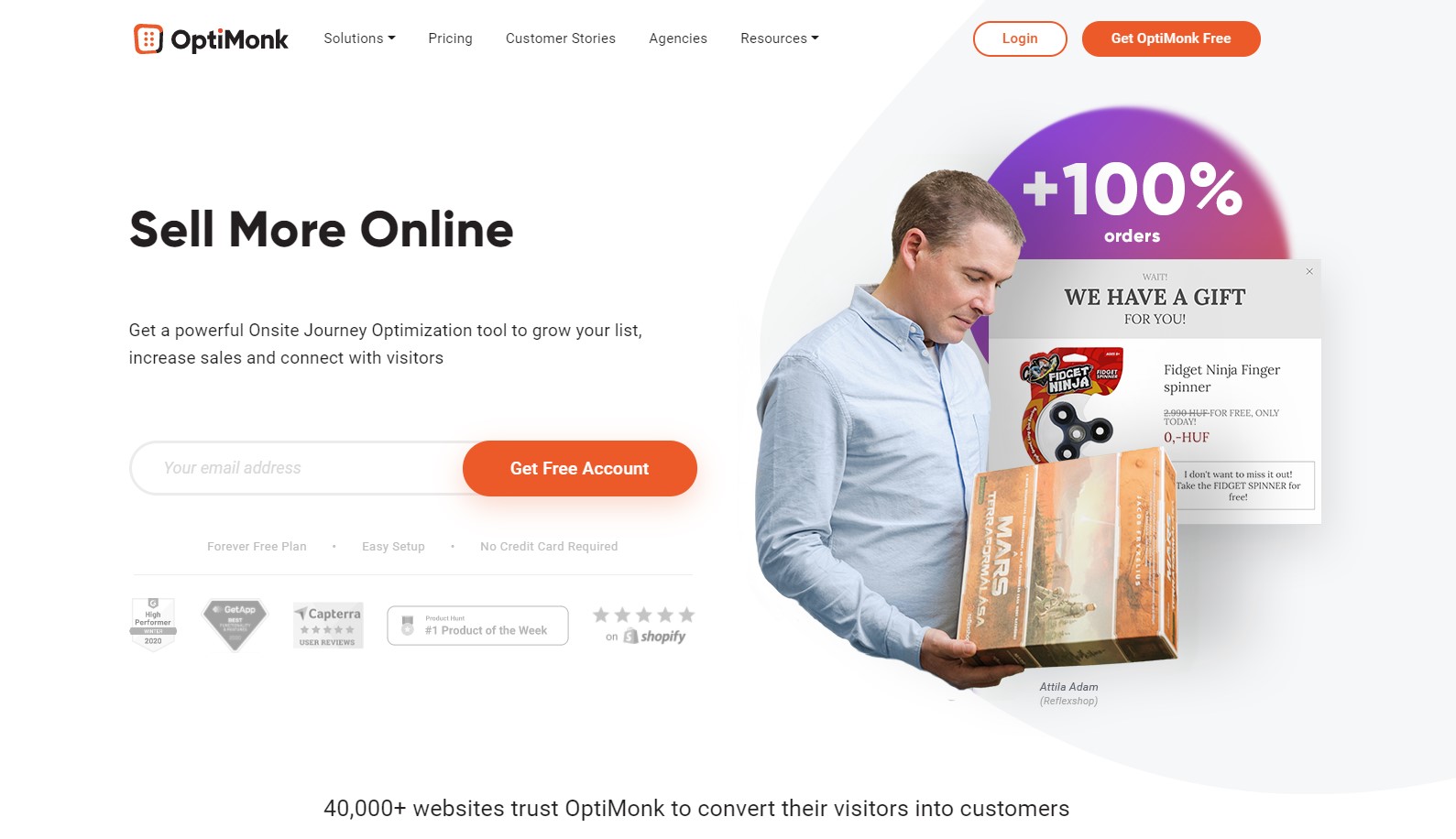 Exit Intent Popup by OptiMonk helps you build a range of popups for your site that appear once people take various actions to leave your site. OptiMonk claims that 40,000 websites use their app. Exit Intent Popup is available for sites using many eCommerce platforms; however, they have some features exclusive to their Shopify customers.
The key features of Exit-Intent Popup are:
Seven types of messages (popups, fullscreen, sidemessage, nanobar, lucky wheel, scratchcard, pick a gift popup)

Many triggering options (exit intent, timed-display, scroll-based, onclick triggering, monitoring inactivity, mobile triggers, JavaScript event trigger)

200+ beautiful templates, including exit popup, countdown popup, notification nanobars, etc.

Drag & Drop editor

Numerous targeting options

Feedback elements
The Shopify-exclusive features are:
Product Recommendations

Product Element

Assisted Revenue

Auto Coupon Redeem

Smart Display

Recart integration

Hide/unhide for logged in users
---
10. Spocket ‑ US & EU Dropshipping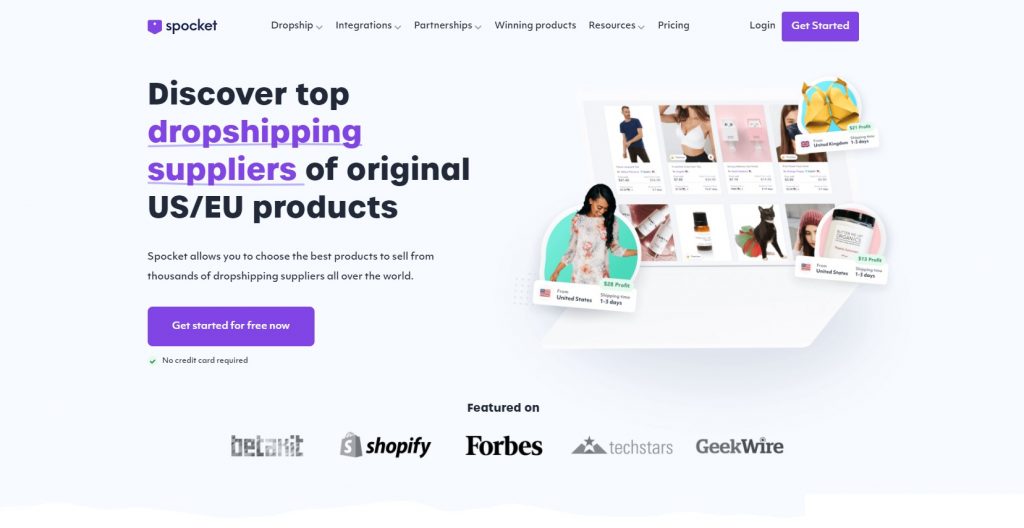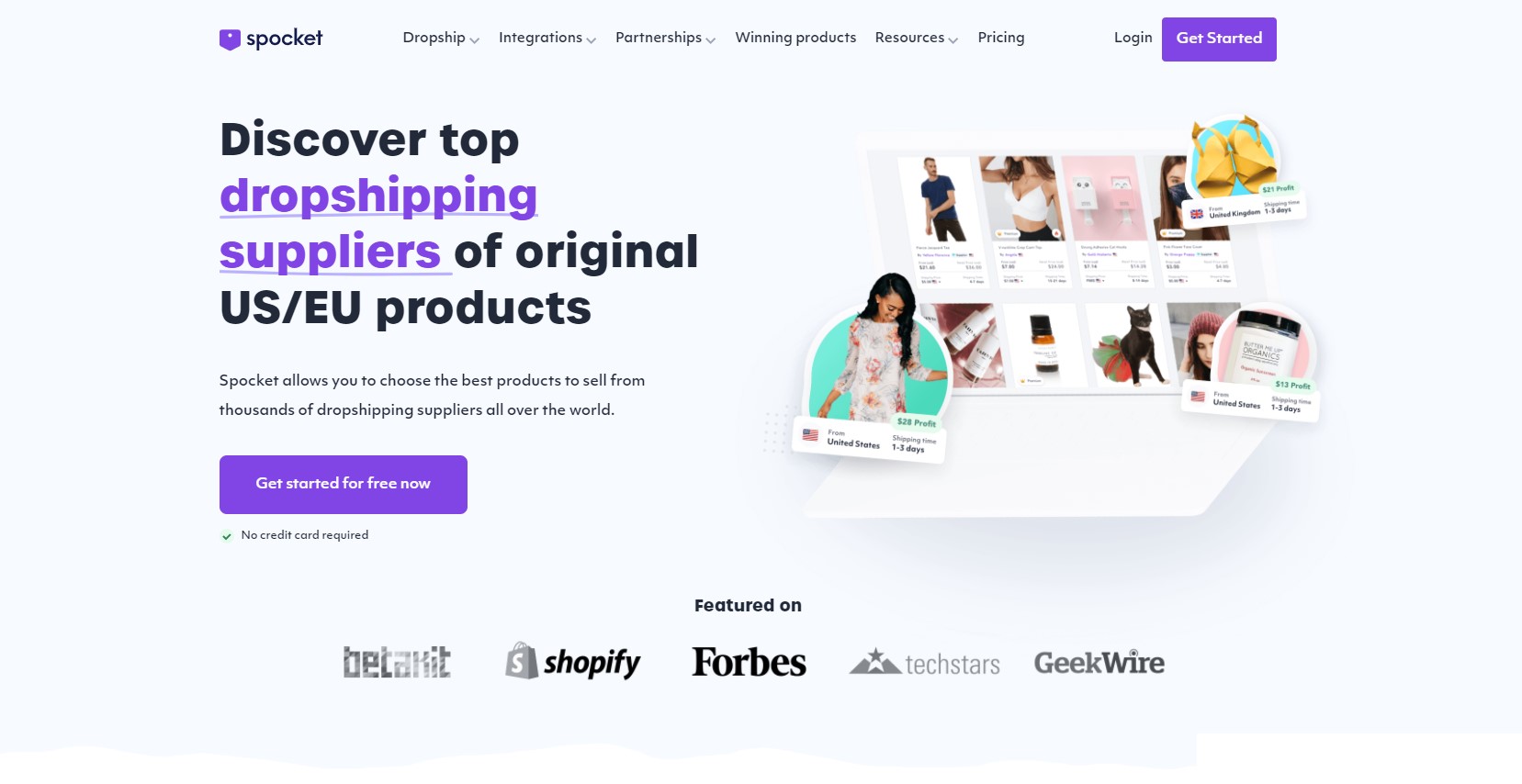 Despite the name of Spocket ‑ US & EU Dropshipping suggesting that it is limited to working with US and European dropshippers, Sprocket helps you find fast shipping and winning products from quality suppliers in the US, Europe, Canada, Asia, Australia, Brazil, and more. You can then add them to your Shopify store in a few clicks. It works with Oberlo, printful, Privy, loox, dropified, recart, Dsers, Eprolo, kit, and Shogun.
All products on Spocket have a 30-60% discount on retail price. Spocket will handle inventory for all products, making sure your products are always available and ready to ship. You can fulfill orders with one click.
---
11. SEO Manager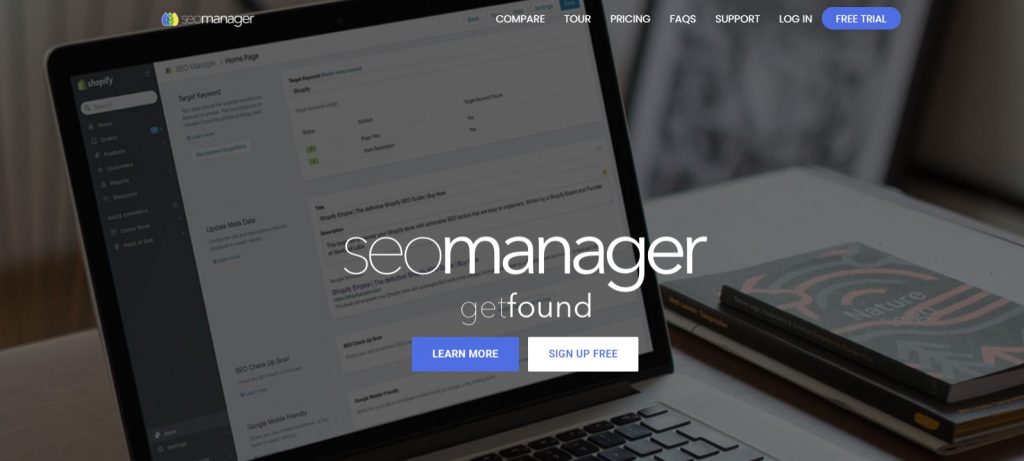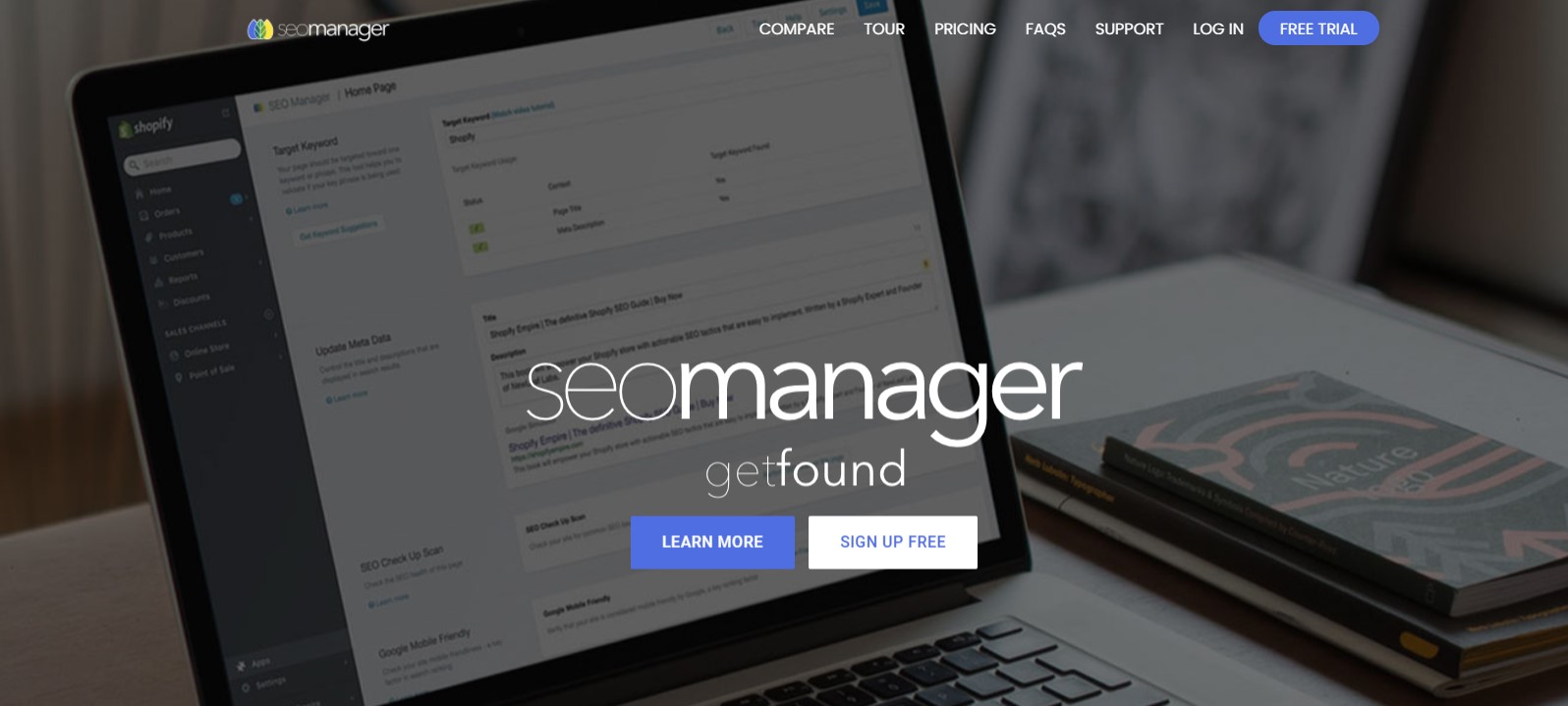 SEO Manager aims to make it easy for you to understand and implement SEO measures to help your store rank better in search engines. The app allows merchants to take control of how search engines see their store and gives them real-time feedback about the success (or failure) of their search engine optimization efforts.
This SEO app has over 20 features, 15 of which they claim are unique. These include SEO scan, meta content tools, keyword suggestions, Google search console connection, search analytics, and more. It has full broken link management so that you can keep your 404 errors under control.
---
12. Partial.ly Payment Plans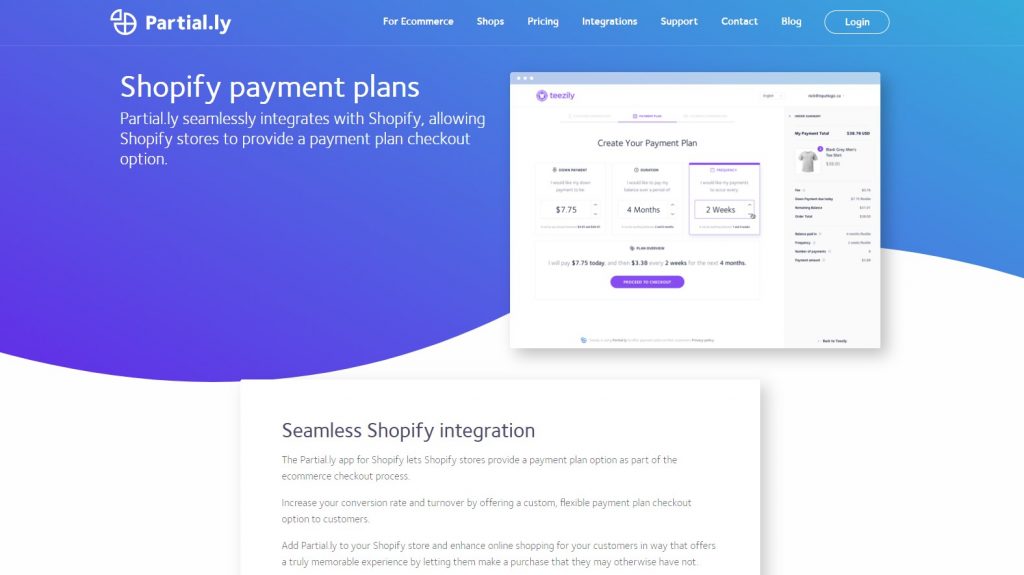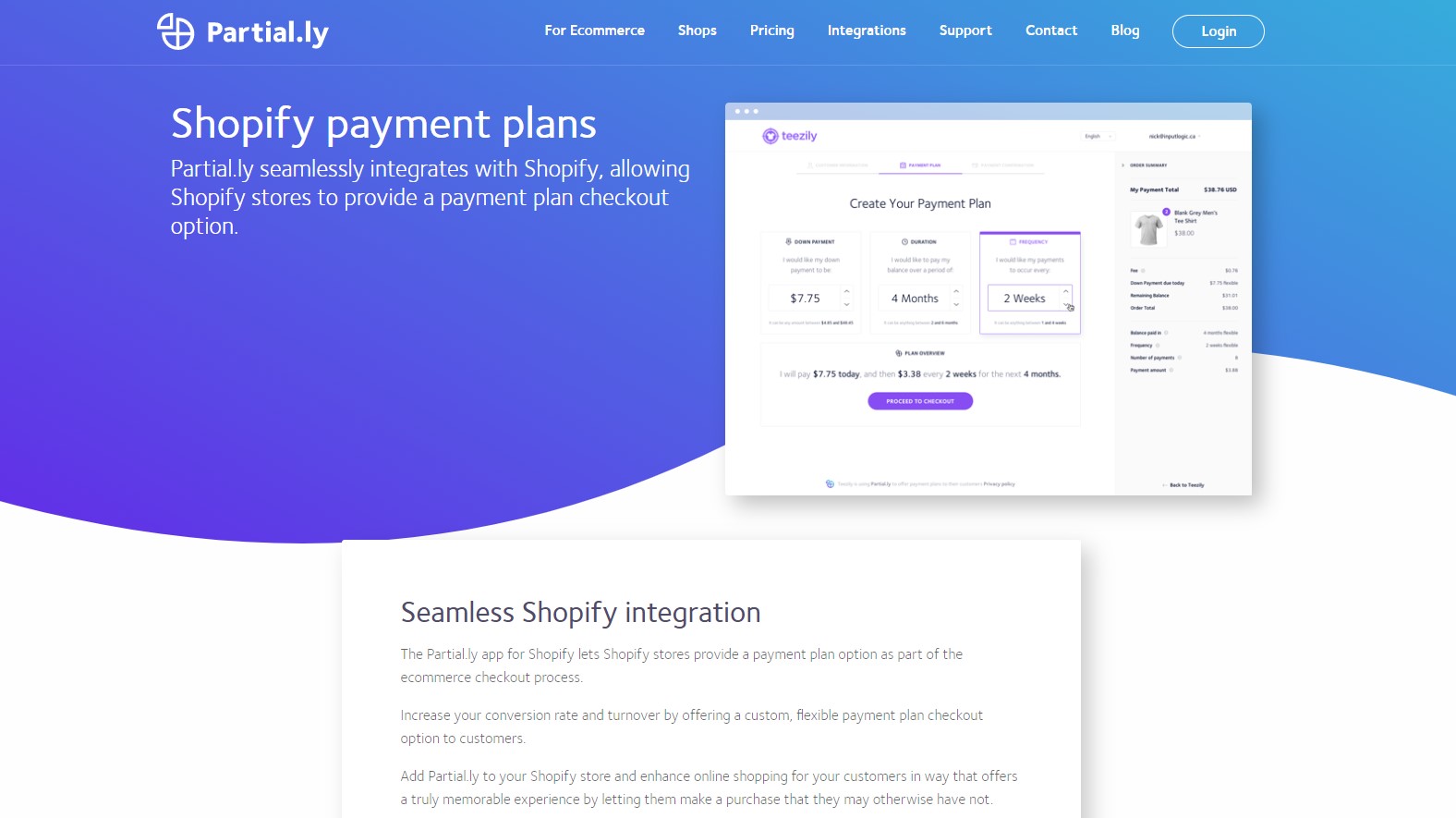 The Partial.ly Payment Plans app for Shopify lets Shopify stores offer a payment plan option as part of the eCommerce checkout process. You can increase your conversion rate and turnover by providing a custom, flexible payment plan checkout option to customers. Let them pay in installments and make it easier for visitors to purchase the products they need, love, or just have to have.
Simple instructions make it a breeze to connect your Shopify and Partial.ly accounts. When a customer purchases with a Partial.ly payment plan, a Shopify order is automatically created.
When a customer opens a payment plan, all payments are timed and automated. As the app makes these automated payments, the order balance updates automatically in Shopify. If customers want to pay early, they manually submit payments with one click.
Partial.ly uses simple and transparent pricing: 5% + $.30 for every transaction. This includes all merchant and credit card processing fees.
---
13. Shogun Landing Page Builder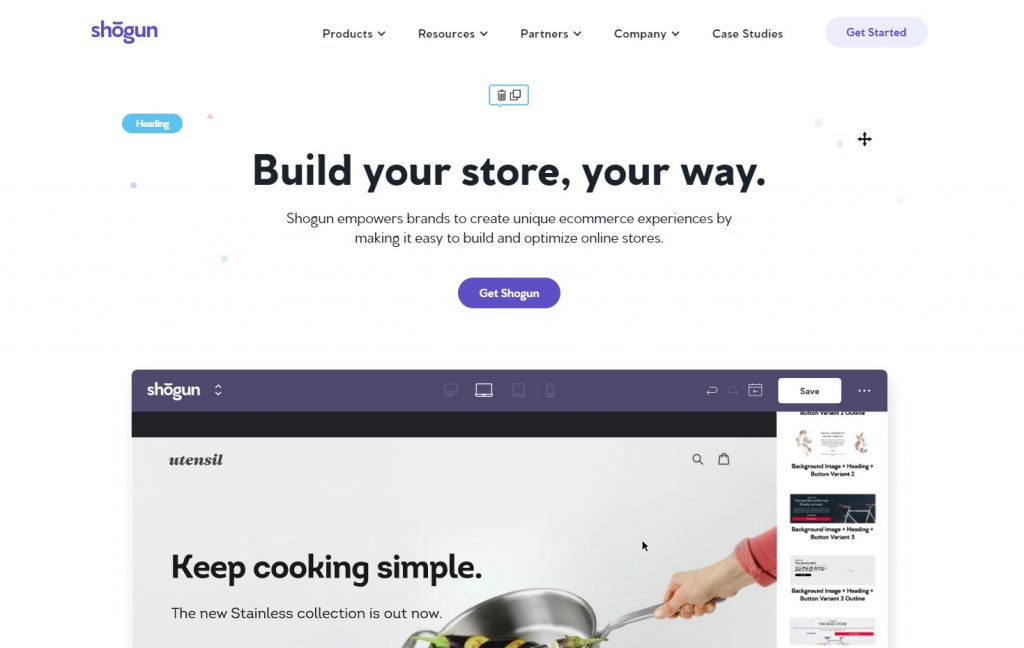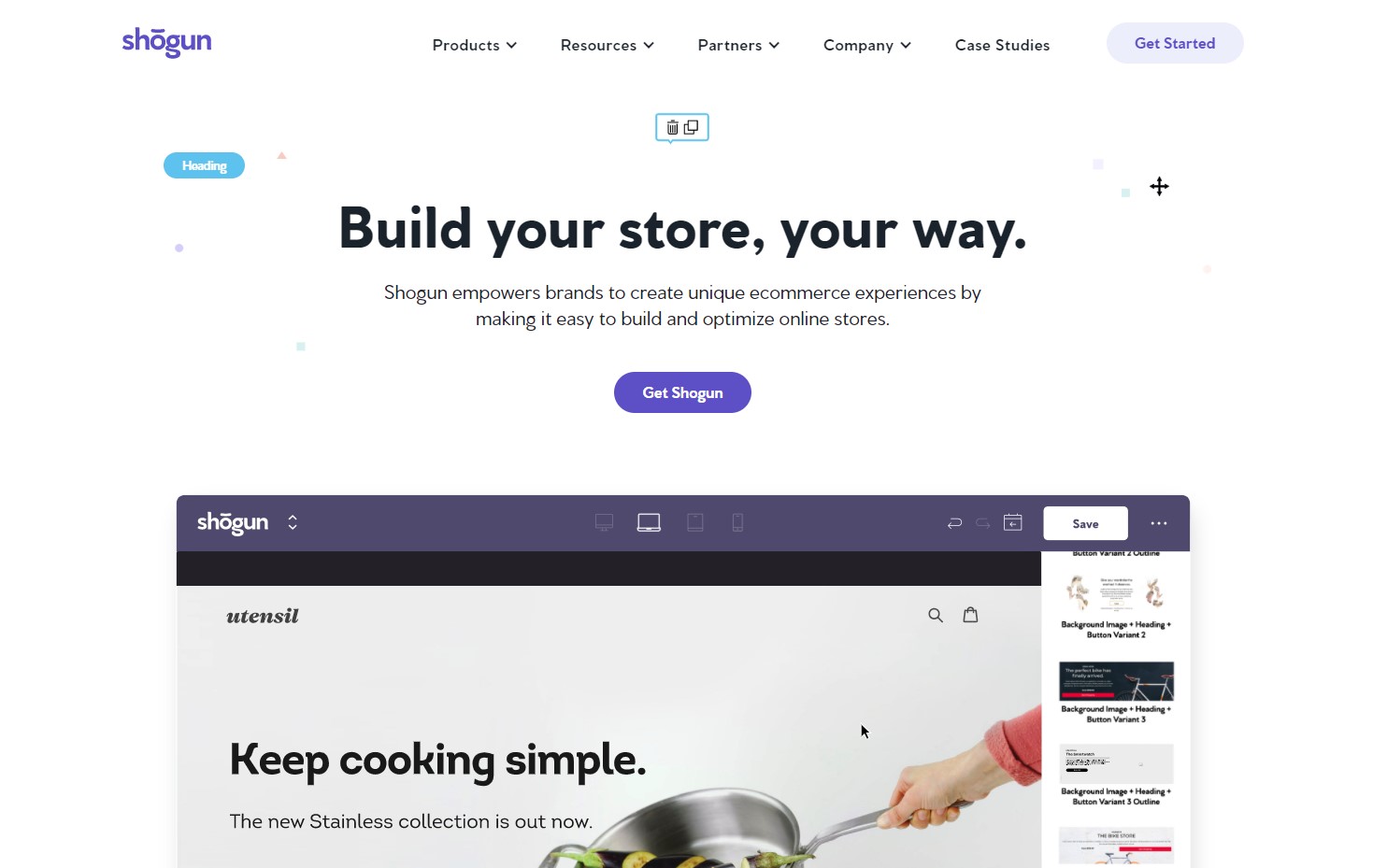 You can use Shogun Landing Page Builder to build a custom homepage, product pages, landing pages, and more. It is drag-and-drop and works with any theme allowing you to easily build new pages and funnels or edit those you've already created without worry.
It is easy to use for beginners and more than powerful enough for seasoned design and development teams. Create pages without writing a single line of code, unless you want to. You can quickly launch your store with 30+ mobile-optimized page templates that incorporate the latest design best practices. It includes built-in A/B testing, analytics tools, and customizable, on-page SEO elements.
Its powerful product editor features the ability to:
stylize product titles, descriptions, collections, price, quantity, discounts, variants, image and video galleries, and sizing guides

create image overlays and hover effects

optimize add-to-cart buttons and related product feeds
---
14. Oberlo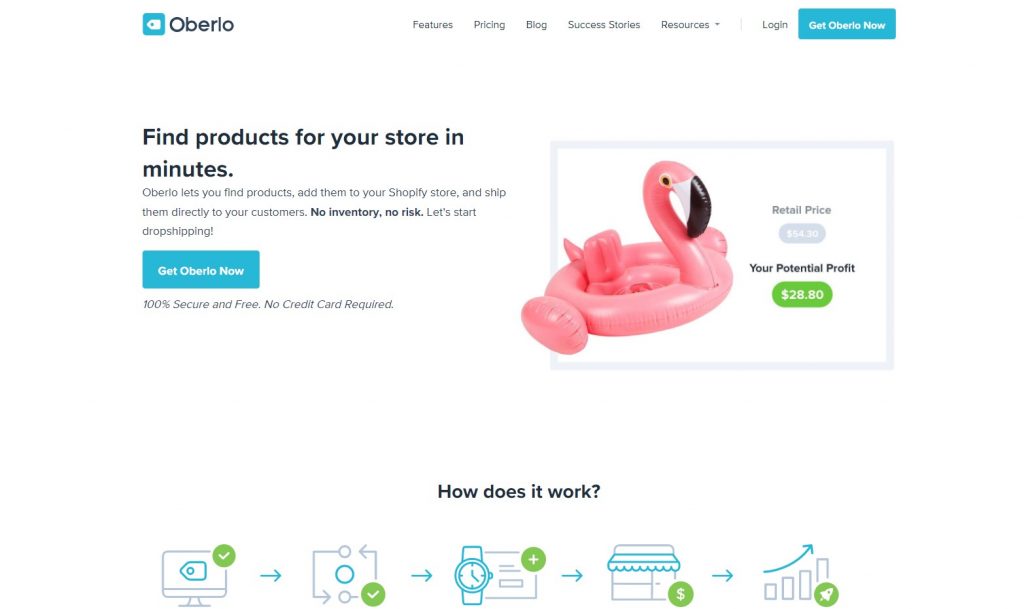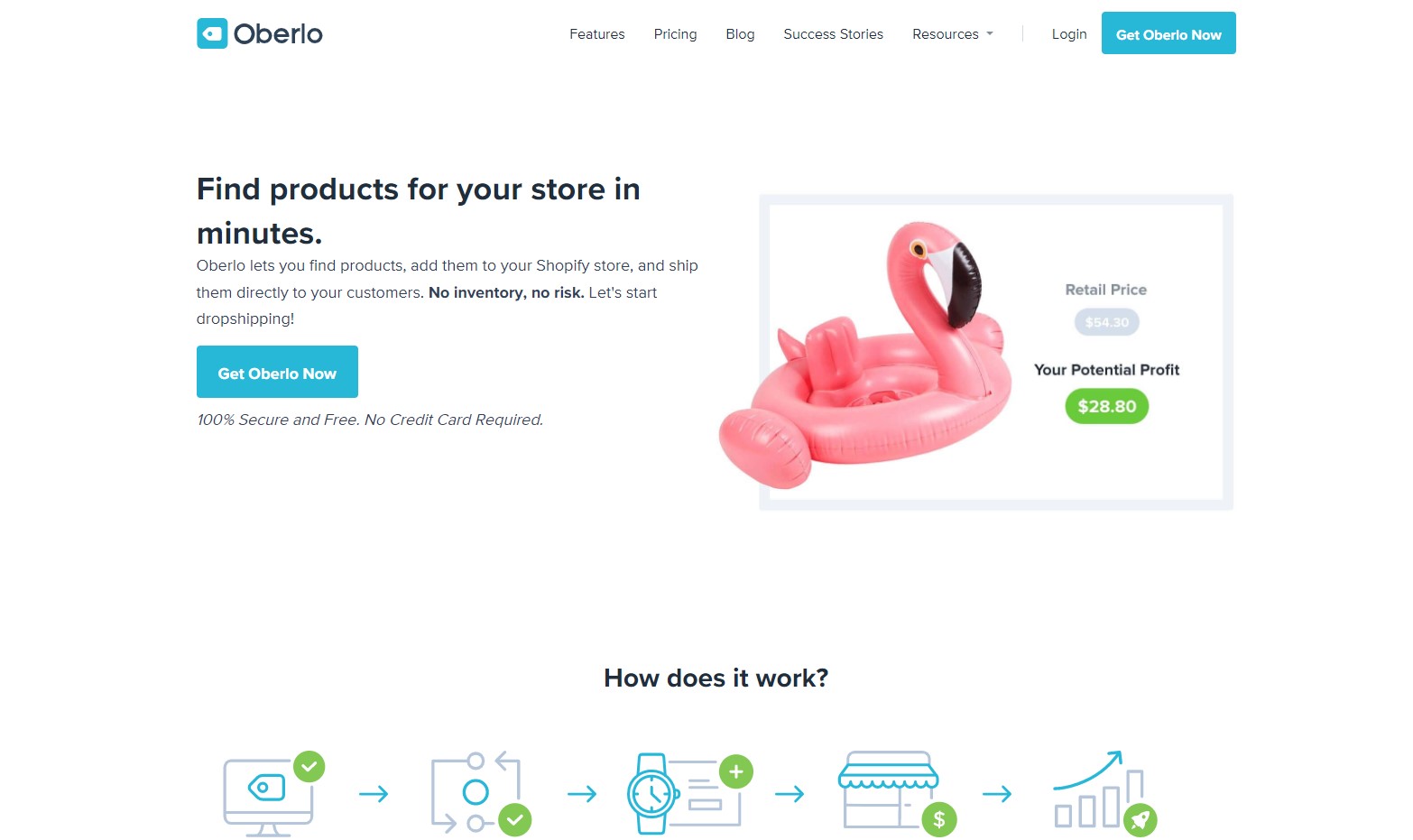 Oberlo is a dropshipping app that allows you to find trending products to sell online, adding them to your Shopify store. You can use Oberlo's in-depth product statistics and make the best choices when you're looking for products to sell online. You can check the potential of every product before you start selling and make data-driven decisions for your business.
The app's free Chrome Extension allows you to add products directly from AliExpress into your dropshipping store with just a few clicks.
You can track your orders and know where they are at all times with Oberlo's integrated order tracking feature. Even though you won't be shipping or handling your products, you'll still be in full control. Oberlo's Sales Dashboard helps you monitor how many sales you make of the trending products which you add to your store daily.
When you've added a product from Oberlo to your store, you can change the title, description, and images as much as you'd like. It continually monitors and updates the price and stock levels of your dropshipping products, so you'll never sell a product that's out of stock or above your retail price. You can even add global pricing rules for your Shopify store, to save valuable time whenever you add products to your store.
---
15. Easyship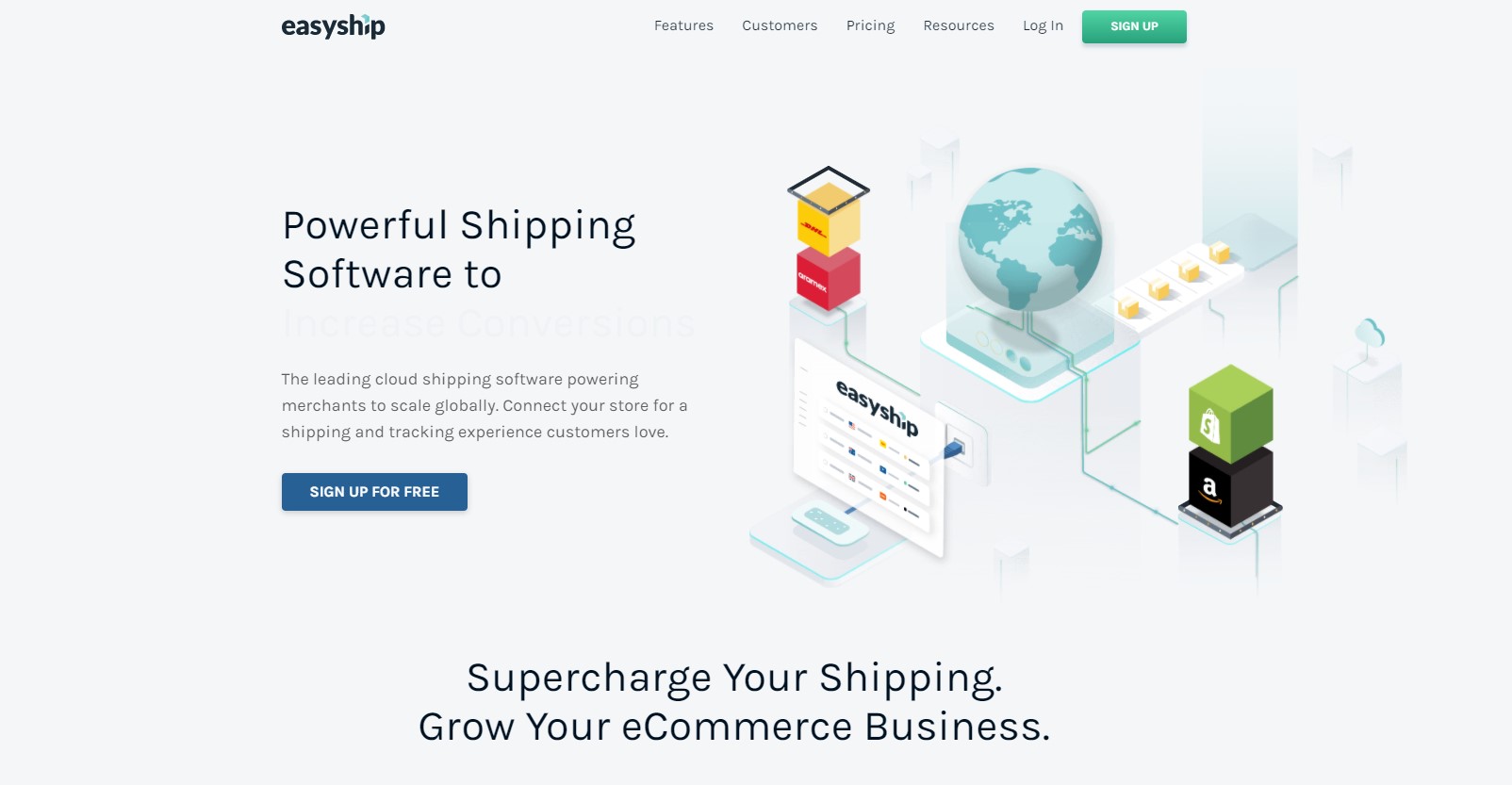 Easyship is a shipping platform that lets all merchants reach customers worldwide with low shipping costs and increased conversion rates. You can access pre-negotiated shipping solutions from couriers worldwide with just one account or link your own courier accounts (including FedEx, UPS, DHL, and more) and use your own rates.
It helps you manage your shipments in one place, synchronizing orders and printing labels with one click. You can store your product dimensions, category, and weight for faster processing and shipping costs, even with volumetric weights.
Easyship helps you to ship internationally with confidence. These include things like:
automatically generating and downloading ready-to-go shipping documents,

seeing exact import tax, VAT, GST, and other fees upfront so there are no surprises,

getting accurate, complete Customs documentation, avoiding issues and delays with your shipments
---
16. Outfy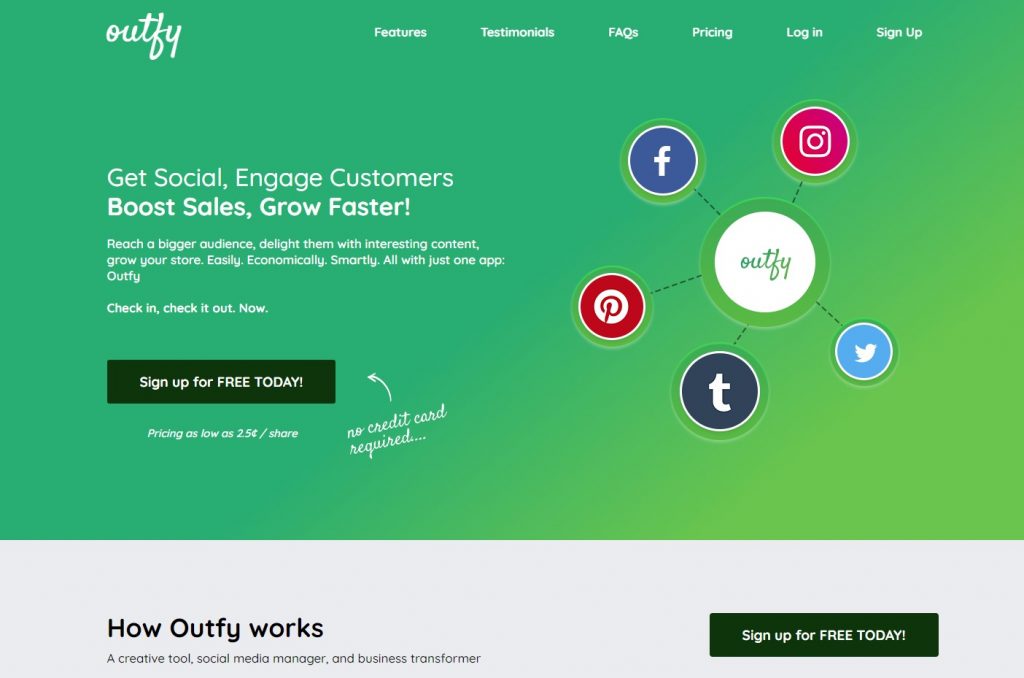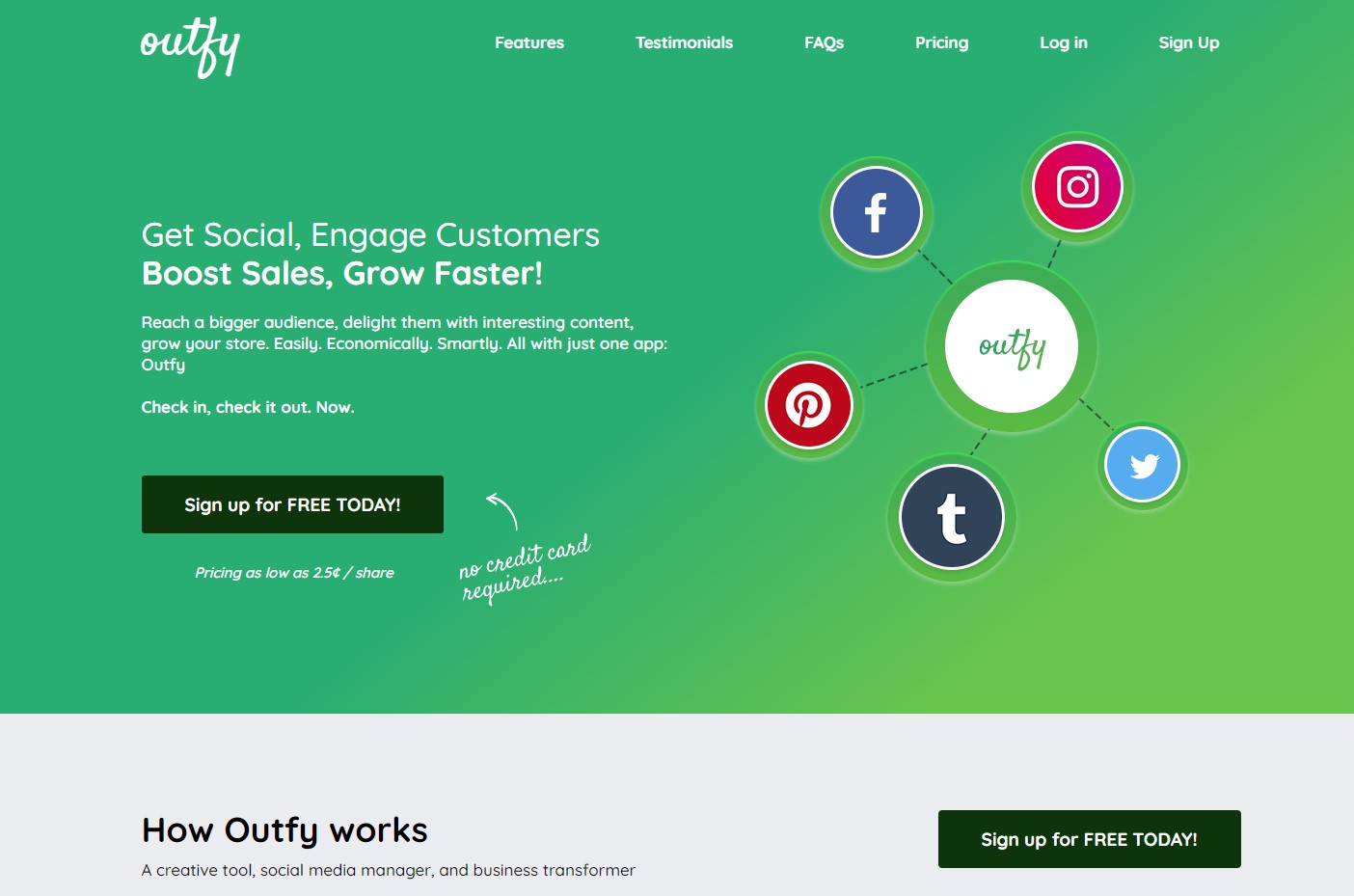 You can use Outfy to easily create ads, videos, collages, animated GIFs, and many kinds of engaging promotional content for your products, so you can effectively promote your store on social media and reach more customers. It works with multiple social networks, including Facebook, Instagram, Pinterest, Twitter, Tumblr, and more.
The Autopilot feature helps you curate and push your posts automatically. Customized and themed templates offer to help you create promotional content that is engaging, striking, and cost-effective in minutes.
It offers a pay-per-use model. There are no monthly fees, hidden costs, limited-time plans, expiry dates, or unnecessary commitments. It's free to install and then costs you 2.5¢ per post.
---
17. Rewind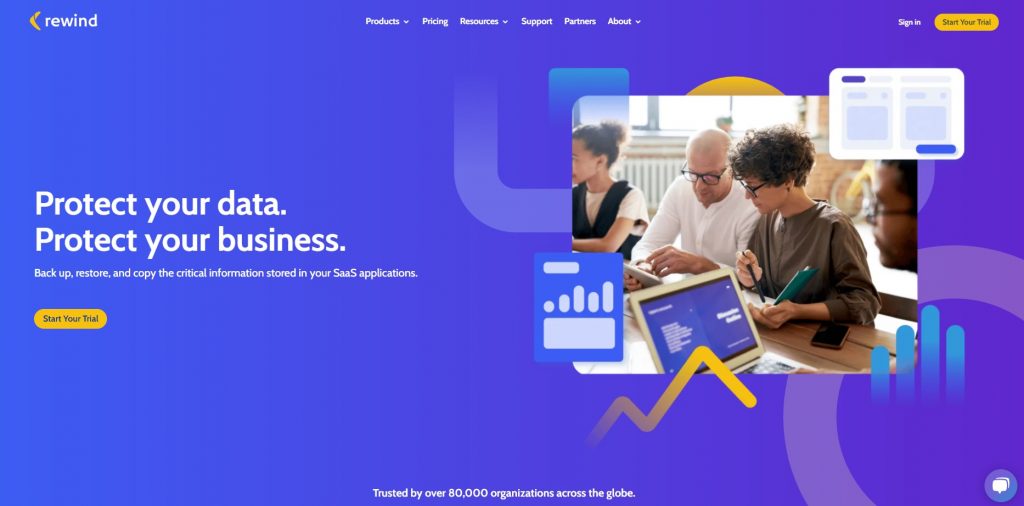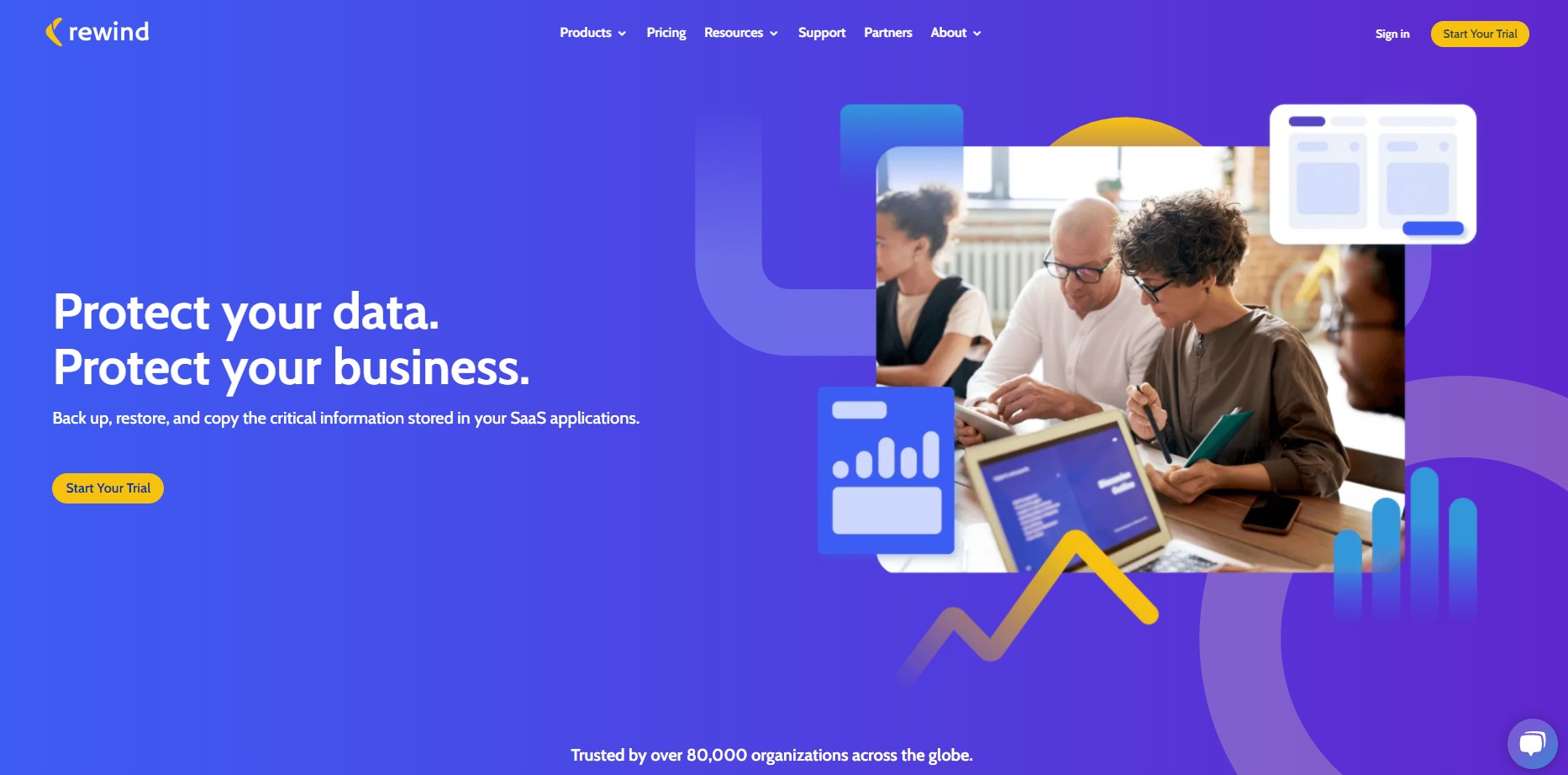 One of the many ways to increase sales to your online store is to expand to multiple locations, or offer your products in multiple currencies. You may also want to sell your product to wholesalers and distributors to expand reach.
In each of these cases, you will need to manage multiple Shopify stores and keep the store design, SKUs and content consistent across all these different accounts.
Rewind Copy is a Shopify app that lets you clone your Shopify store and copy products, product images, metadata, collections, themes, blog posts, and pages from one store to another.
If you are concerned about overwriting content in the destination store inadvertently, you may also consider installing the Rewind Backups app that creates a backup of your store data.