Advertising Disclosure
Advertising disclosure:
Our partners compensate us. This may influence which products or services we review (also where and how those products appear on the site), this in no way affects our recommendations or the advice we offer. Our reviews are based on years of experience and countless hours of research. Our partners cannot pay us to guarantee favorable reviews of their products or services.
Amazon started out in 1994 with selling books online from Jeff Bezos's garage. After years of rapid growth and expansion, it is now recognized as the world's biggest internet-based company and the largest online retailer. In the fourth quarter of 2020 alone, Amazon raked in $125.6 billion in sales revenue.
Entrepreneurs who are looking to diversify their income streams can look to Amazon, which provides an easy, accessible, and potentially profitable way to earn revenue. With 200 million paying Prime members worldwide, Amazon is a viable market for anyone who wants to earn money through e-commerce.
Amazon has around 6.3 million sellers worldwide, with 1.9 million of them classified as active. From these almost 2 million sellers, it's estimated that 10% of them can reach $100,000 in annual sales.
How do you begin to tap into this market? While there are a number of business models you can adopt, such as selling private-label products, going wholesale, or drop shipping, you can also look into arbitrage, of which there are two iterations: retail and online.
In this article, we'll be focusing on online arbitrage—what it is and what are the tools you can employ to make the most out of the business model. When executed correctly, and with the help of Amazon's Fulfillment by Amazon (FBA) program, online arbitrage can prove to be a lucrative business model for you.
---
The 11 Best Amazon Online Arbitrage Tools You Can Use to Scale Up Your Business:
---
What is Online Arbitrage?
To get a better understanding of what online arbitrage is, let's look at its predecessor, which is retail arbitrage.
Retail arbitrage is a relatively simple concept that involves purchasing a product from a retail outlet at a relatively low price then "flipping" it or selling it to a new marketplace for a profit. This can be a viable business model for entrepreneurs because:
✅ There's a lower cost of entry.
✅ It doesn't require suppliers or manufacturers.
✅ There are no production lead time concerns.
With the rise of e-commerce, the practice of arbitrage has transitioned online. Retail arbitrage now entails finding relatively low-priced items from brick-and-mortar establishments and reselling them for a profit online.
In many cases, retail and online arbitrage share some similarities, particularly when it comes to basic business rules and processes. Their greatest difference lies in their scale and execution. In online arbitrage, you'll:
🔊 Look for a product that you can purchase for a lower price than how much it's offered for on Amazon or on other online marketplaces
🔊 Purchase it from a supplier and have it delivered to an FBA warehouse—you can sign up for the Amazon FBA program, which doesn't require any special license
🔊 Add the product to your listing and mark up its price to get a healthy profit margin.
Amazon FBA and How It Can Help You Grow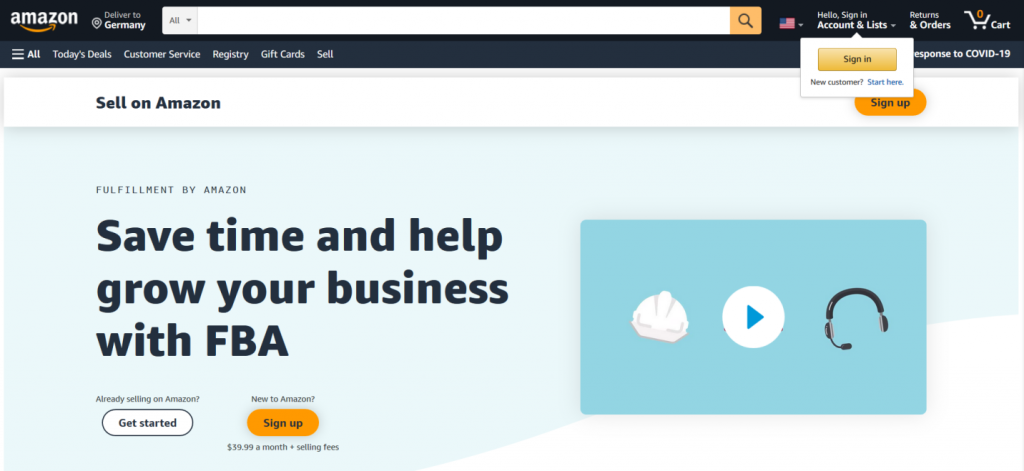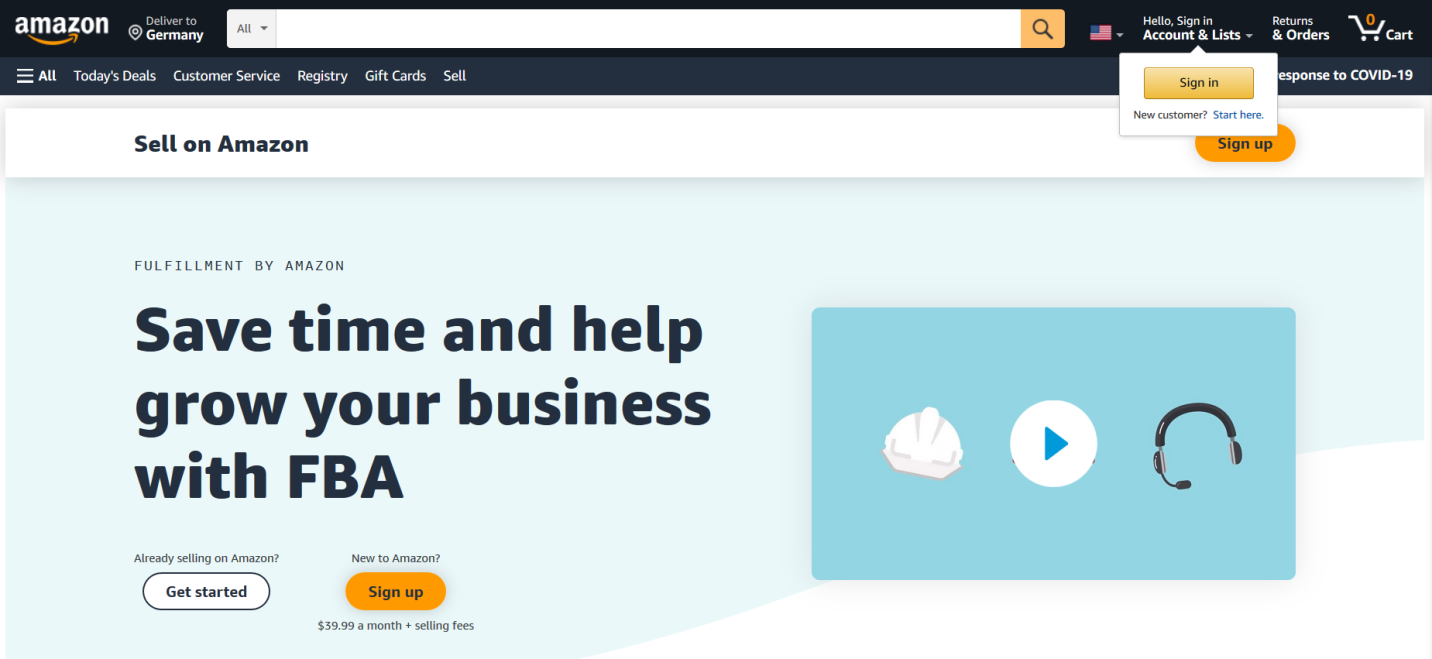 When it comes to online arbitrage, Amazon FBA is an invaluable asset. Fulfillment by Amazon (FBA) saves you time while helping you grow your business. With it, you'd be free to focus on other aspects of your business, as Amazon would take care of storing, packing, and shipping your orders. Additionally, Amazon FBA also handles customer service, as well as returns and exchanges of your products.
Amazon FBA also enables first-time users to scale their business through free sponsored ads (up to $200), promotional clicks, and discounts on their shipments to Amazon's fulfillment centers. New users are also eligible for free monthly storage (90 days) and removals (180 days).
---
The Benefits of Online Arbitrage
👉 Lower Entry Threshold
As previously mentioned, online arbitrage has a lower entry threshold. This means it's more accessible compared to other business models. You'd get to devote a bulk of your capital to your products and their procurement. You can start with a relatively small capital. Some entrepreneurs on Amazon started their business with only $500.
👉 Easier to Scale
With Amazon FBA and other tools, it's much easier to scale online arbitrage. There would be no need for you to manually scour marketplaces, sellers, or suppliers. You can order as much inventory as you want without having to worry about storage and logistics.
👉 Great for Diversification
Online arbitrage gives entrepreneurs enough room for diversification. For example, if you make a product selection error, it will only affect a small part of your business.
👉 Doesn't Require a Lot of Tools or Hardware
Online arbitrage makes it relatively easier for you to start selling. Plus, you won't need a lot of things to get started. 36% of sellers were able to launch their business in less than 6 weeks, while 68% were able to set up and run their business within 3 months.
There's also no need for you to purchase new hardware. If you have a computer or a laptop, an Amazon seller account, seed money, and an internet connection, you're pretty much good to go.
---
Online Arbitrage Tools You Can Use
There are several types of online arbitrage tools:
👍Product Sourcing Tool
You can go with a product sourcing tool if you're searching for products to sell. This type of online arbitrage tool scans suppliers and marketplaces to help you find the right products for your business. Product sourcing tools are also equipped with filters that enable you to optimize your search. You can search for products based on price, demand, profit margin, and more.
👍 Pricing Tool
Pricing tools can help you determine a product's profitability and whether or not your competitors are selling similar products. Pricing tools are also great to have if you're looking for a viable product niche.
👍 Repricing Tool
How do you determine a product's resale price? Repricing tools enable you to automatically reprice your items. They allow you to adjust their parameters so you can keep up with price fluctuations and your competitors' rates.
---
Benefits of Using Online Arbitrage Tools
While online arbitrage tools are not absolutely necessary and you can still run your Amazon business without using them, they do offer a number of benefits.
🙌 Strengthening Competitive Edge
Keeping up with the competition can get tricky, especially if they're already using online arbitrage tools. You can optimize your searches better and find out which product has the most potential. Online arbitrage software can also help you search for better or more profitable niches.
Moreover, given that online arbitrage has a relatively lower cost of entry, it's no surprise that you'll end up having a lot of competitors. With online arbitrage tools, you'd be able to find and list your products quickly, giving you an advantage over the competition.
By utilizing online arbitrage tools, you can automate some of your tasks, get accurate insights, make informed purchase decisions, and, as a result, scale up your business faster.
🙌 Saving Time and Money
Many online arbitrage tools can provide you with solutions or analytics quickly. They can also reduce the time you have to spend searching for the right product to sell. Moreover, you'll be spared the steep costs that come with trial and error when purchasing products. By having access to reliable real-time data, you'd be able to buy products that you can sell quickly at a profit with little to no risks.
---
Factors to Consider in Starting Online Arbitrage
There are a few things you need to know before adopting online arbitrage for your business. These include:
👀 Costs
You need to factor in all relevant costs before getting started on online arbitrage, such as your initial investment (capital for inventory), Amazon fees, shipping costs, and the item's selling price on your preferred marketplace.
👀 Buying criteria
While it may be tempting to source each affordable product you see, it helps if you set a buying criteria so you can narrow down your product options. Consider the categories you want to explore. Make sure that these are profitable categories. Check their sales ranking on Amazon and use online arbitrage tools to determine the profit margin and the minimum price point.
---
Beginning Online Arbitrage for Your Amazon Business
If you're ready to begin your Amazon online arbitrage journey, here's what you need to do in a nutshell:
👉 Create an Amazon Seller account by going to the Amazon Seller Central page and registering. From there, you can choose if you'd like to open an Individual seller account or a Professional account. Note that these come with a respective fee, which is $0.99 per unit sold (Individual) and $39.99 per month for the Professional plan.
👉 Download the Amazon Seller app. This is a helpful tool if you're looking for products to sell. It has a barcode scanning and an identification capability that lets you know how much a certain product costs on Amazon. The app also reflects the corresponding selling fees for your selected item.
👉 While you can always conduct your product research online, you also have the option to visit your local brick-and-mortar retail stores to source your items. You can shop around for deals from stores, such as:
Target

Walmart

Sam's Club

Home Depot

Costco

Bed Bath and Beyond

Lowe's
You can use the Amazon Seller app while you're visiting your local retailers to scan products that are on sale or clearance.
👉 Identify products that have a good potential for turning a profit. You can use online arbitrage tools to help you determine which products have a good profit potential. You must set a minimum profit threshold and proceed to calculate your potential ROI.
👉 Once you've laid the groundwork, you can begin listing your products and selling them on Amazon. Again, you can use online arbitrage tools, such as Helium 10, to help optimize your listings and to enable you to track your product's performance, as well as your competitors' prices.
---
The 11 Best Amazon Online Arbitrage Tools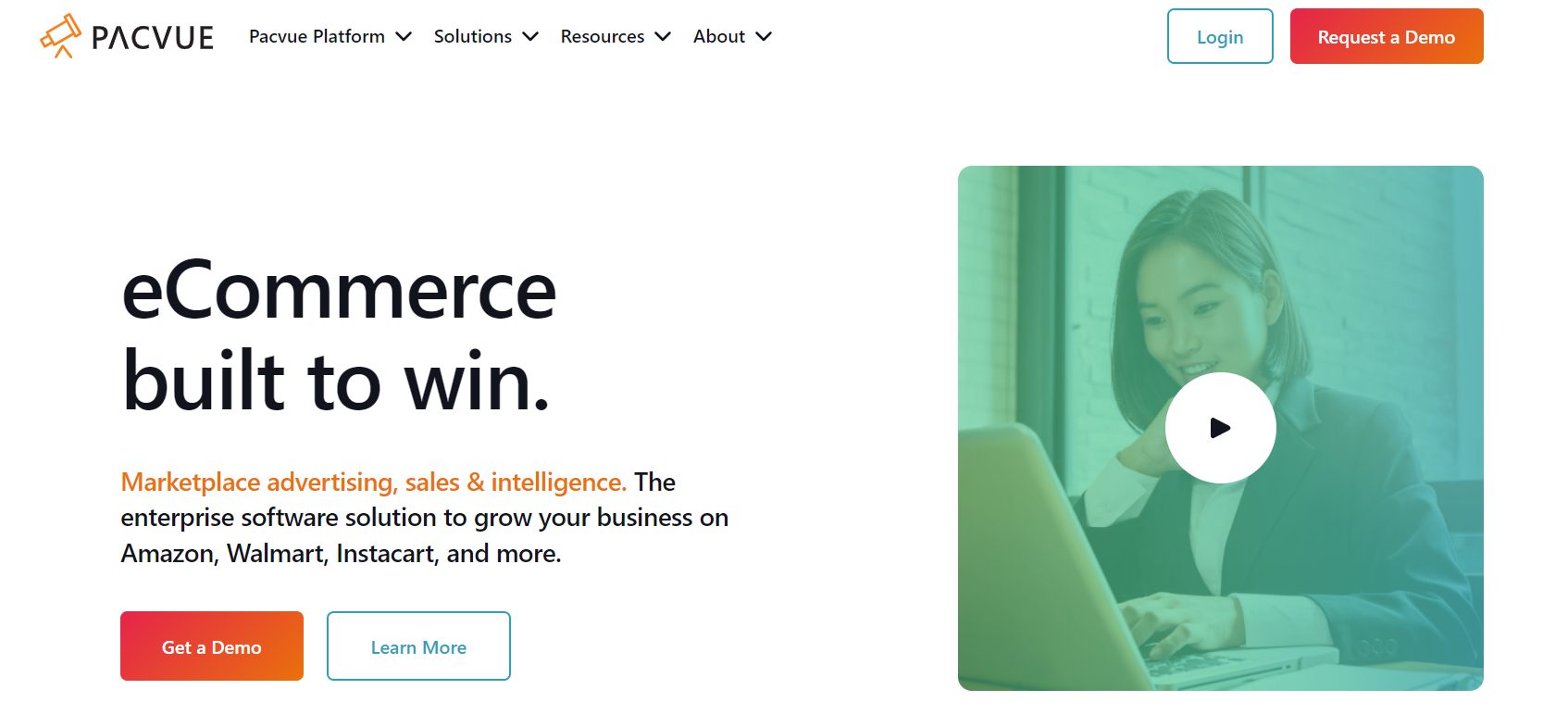 One of Pacvue's most powerful online arbitrage solutions for sellers is Pacvue Commerce, a total eCommerce management platform equipped with price tracking and profitability calculation capabilities that can help you find underpriced products and determine the right selling point for new products. The profitability dashboard gives insight into key factors such as margin percentages, estimated profit, cost of goods, marketing costs, fees, and more. This is a critical tool for arbitrage sellers because it empowers them with knowledge of their product's profitability, and ultimately how much they can spend on advertising without wasting money.
From inventory to sales, profitability, and ranking, Pacvue Commerce pulls your entire eCommerce business into one platform that helps to increase conversions with a retail-ready digital shelf and tap into your entire data set as retail media triggers to drive more sales. Combined with Pacvue Advertising, the Pacvue suite gives sellers visibility into the competitive landscape through Share of Voice reporting, category intelligence, and keyword research.
---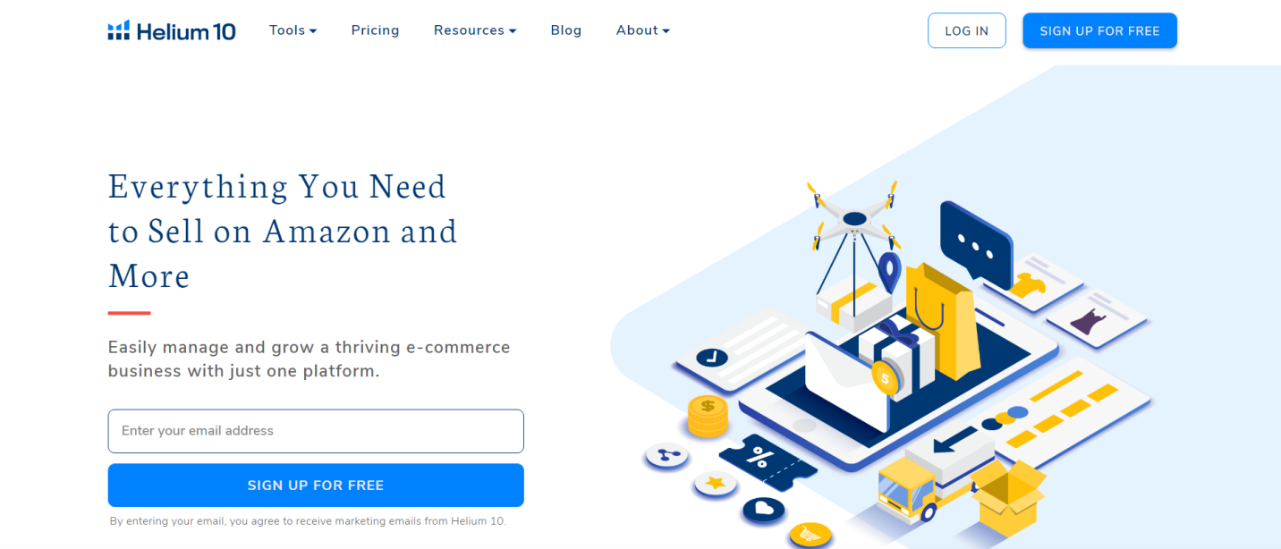 Helium 10 is an all-in-one Amazon software that lets you access a suite of powerful tools. It's a versatile platform that works not only for online arbitrage but also for private-label sellers, retail arbitrage, wholesalers, and drop shippers.
It features a wide range of tools for different aspects of your Amazon business, including:
🧐 Product Research
Helium 10's selection of faster and more powerful product research tools lets you find a product from their 450 million ASIN database, view sales trends and demands, estimate profits, and review customer insights.
Other tools include the X-Ray, which helps you select a product by giving you access to transparent information, and the ASIN Grabber, which gives you access to a variety of product ASINs for in-depth research.
🧐 Keyword Research
Helium 10's Keyword Research tools can help you rank higher in searches by giving you access to multiple keyword search options. You can conduct single-word and reverse ASIN searches, It has the capacity to help you find the keywords your competitors are using. Plus, with its Misspellinator, you can use misspelled searches to your advantage.
🧐 Listing Optimization
When it comes to selling, how you write your listings matter. Helium 10 has an array of tools that allow you to craft high-quality listings that drive conversions. Its Index Checker gives you better search visibility by utilizing automatic keyword search result verification.
Helium 10's tools also cover all the other aspects of your Amazon business, including operations, analytics, marketing, and finance.
Signing up is free and Helium 10 also offers a free plan. Paid plans start at $37 per month for the Starter Plan, followed by the Platinum Plan for $97 a month. For access to more robust features, you can opt for the Diamond Plan at $197 per month or the Elite Plan, which is designed for advanced sellers who want to scale their business rapidly, for $397 per month. Helium 10 also offers custom solutions for agencies and larger businesses.
---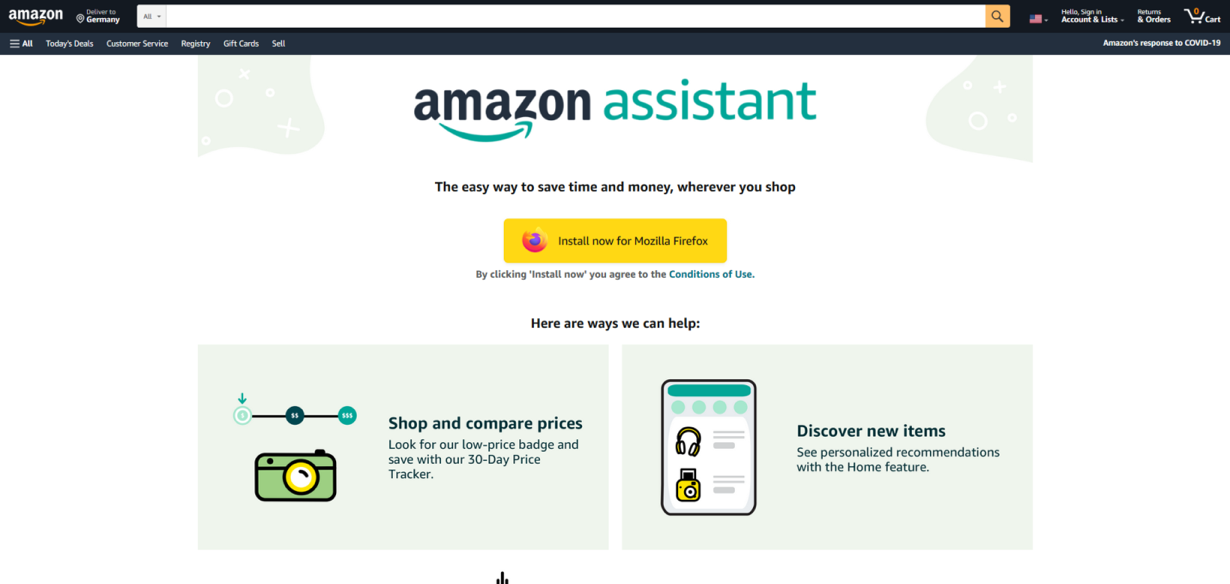 Amazon Assistant is Amazon's built-in online arbitrage tool. It helps you compare prices and minimize costs, with its low-price badge and 30-Day Price Tracker feature. It's downloadable as a browser extension, allowing you to compare prices, ratings, and reviews. It also lets you place your items on a Universal Wish List, as well as receive notifications for new deals and order updates. To access Amazon Assistant, you need to have an Amazon account.
---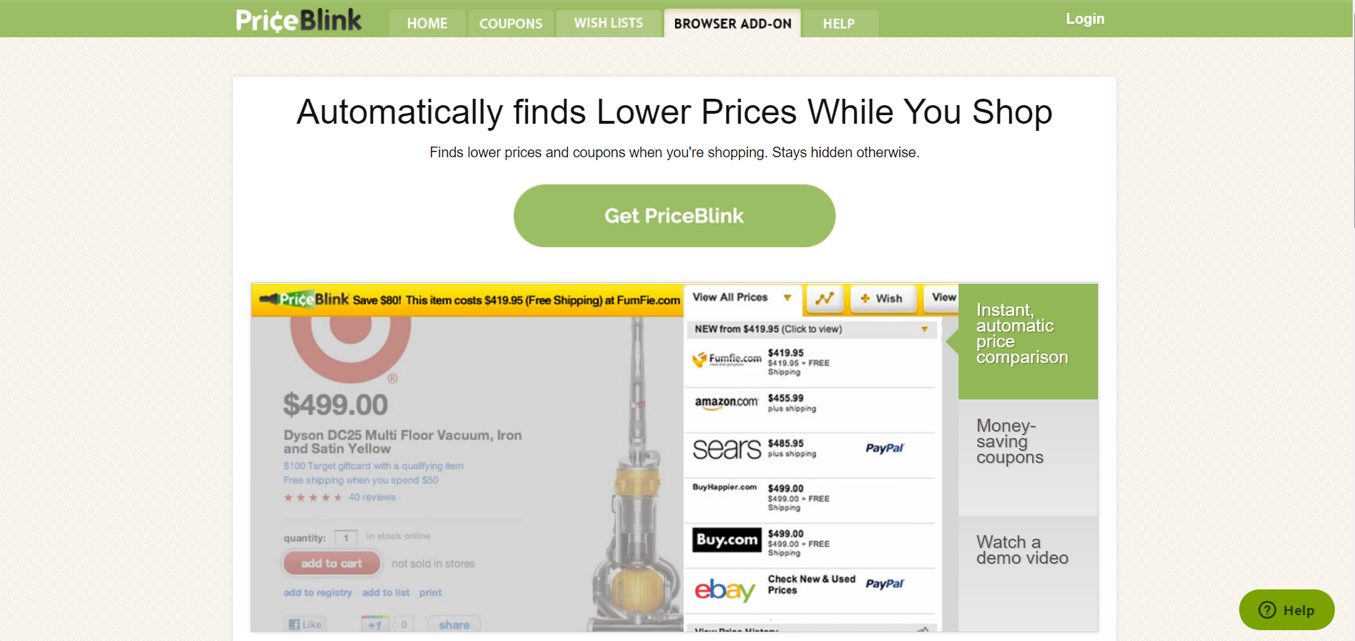 PriceBlink is a browser add-on that lets you find the lowest prices and coupons, allowing you to save. It works by scanning over 4 thousand merchants to find deals with the best prices. You'd also have access to alerts for free shipping and discount coupons.
---

Rakuten is a discount site that offers a downloadable browser extension and makes comparing prices more convenient. It works on a commission structure, where stores allow customers, through Rakuten, to obtain discounts in the form of cash back, whether through PayPal or check.
This is great if you're looking to browse for lower-priced items that you can add to your Amazon store and sell for a profit. With Rakuten, you'd be able to compare cash back rates on the search engine that you're using, whether it's Google, Yahoo, or Bing.
---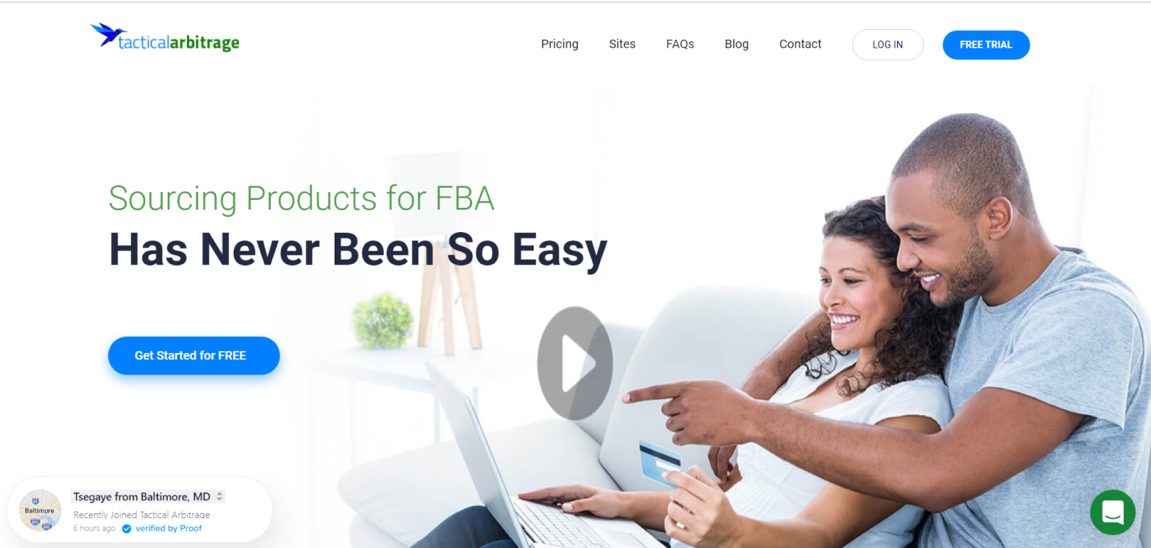 Tactical Arbitrage is an Amazon arbitrage software that's easy to use and offers plenty of robust features. It makes online arbitrage more accessible by enabling users to search up to 1 thousand stores and their respective categories to compare rates and find products to sell.
It also has added features that let you filter products, so you can optimize your search for items that perform well. Other features let you conduct a wholesale search, examine multiple data points, and do a reverse lookup. Tactical Arbitrage also offers dynamic data analysis and provides you with a product's historical Buy Box price and sales rank data.
Tactical Arbitrage currently doesn't offer a free plan. Its paid pricing plans start at $50 per month for the Flip Pack. The Full Suite costs $95 per month.
---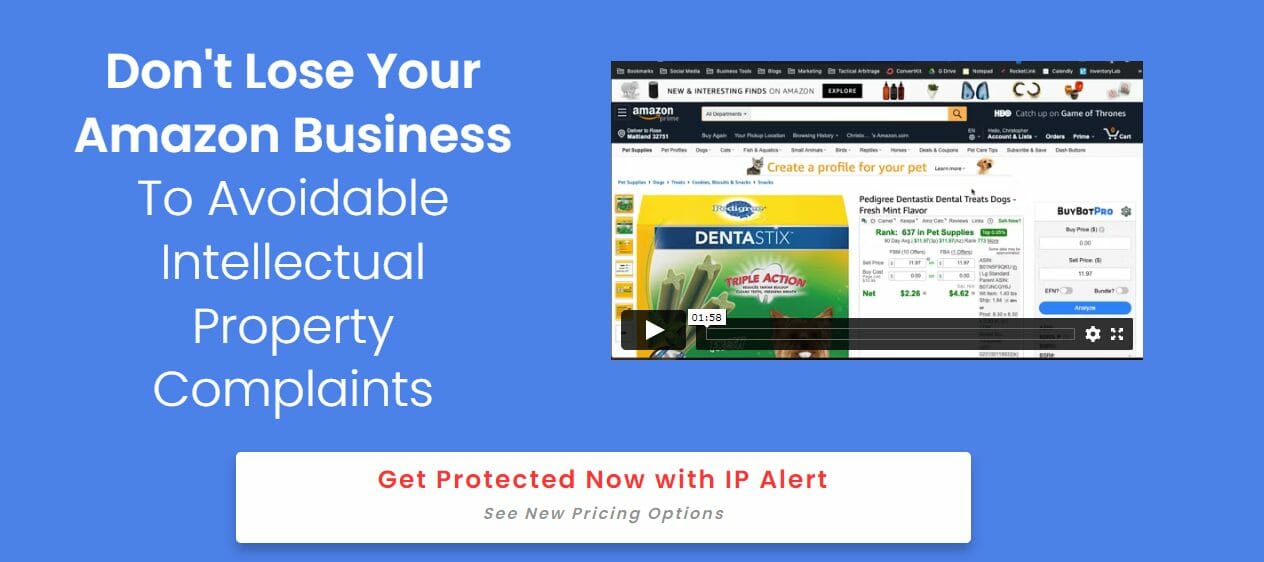 Intellectual property infringements is a serious issue faced by new and experienced sellers. IP complaints can lead to the suspension of a seller's account. IP Alert notifies you if you're browsing a page for a brand that has filed an intellectual property complaint.
It's currently offered as a browser extension and has two payment options available: $99 for annual protection and $199 for the lifetime version.
---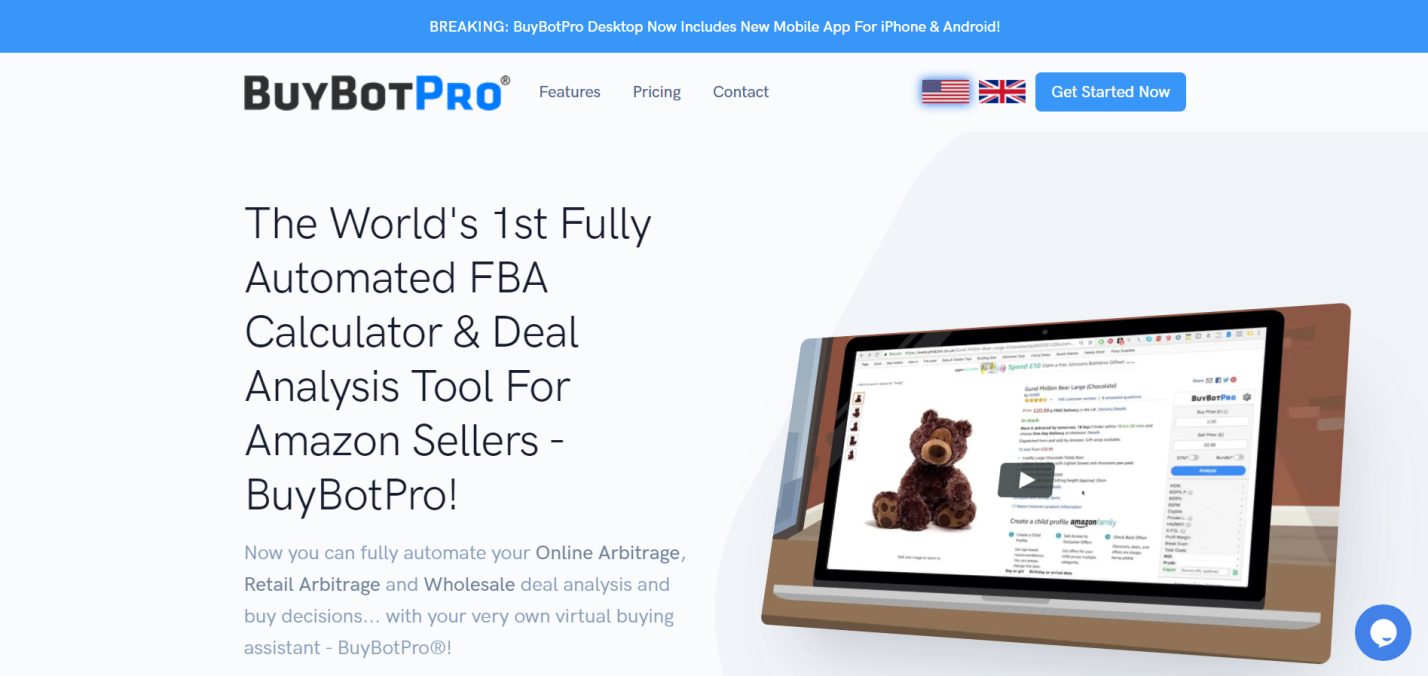 BuyBotPro is a software that acts as a virtual buying assistant. It's a versatile and feature-rich tool that fully automates online arbitrage, retail arbitrage, and wholesale deal analysis. Its other features include:
An ROI and profit checker

A BSR checker

Competition analyzer

IP radar

VAT calculator

Profit margin auto-calculator
It also has a mobile app version that lets you conduct online arbitrage even when you're on the go. The app is capable of conducting a fast barcode scan and search and can offer rapid full analysis to help you make more informed decisions.
BuyBotPro offers two paid plans: BuyBotPro without Suspension Safeguard for $29.95 per month and BuyBotPro with Suspension Safeguard for $39.95 per month.
---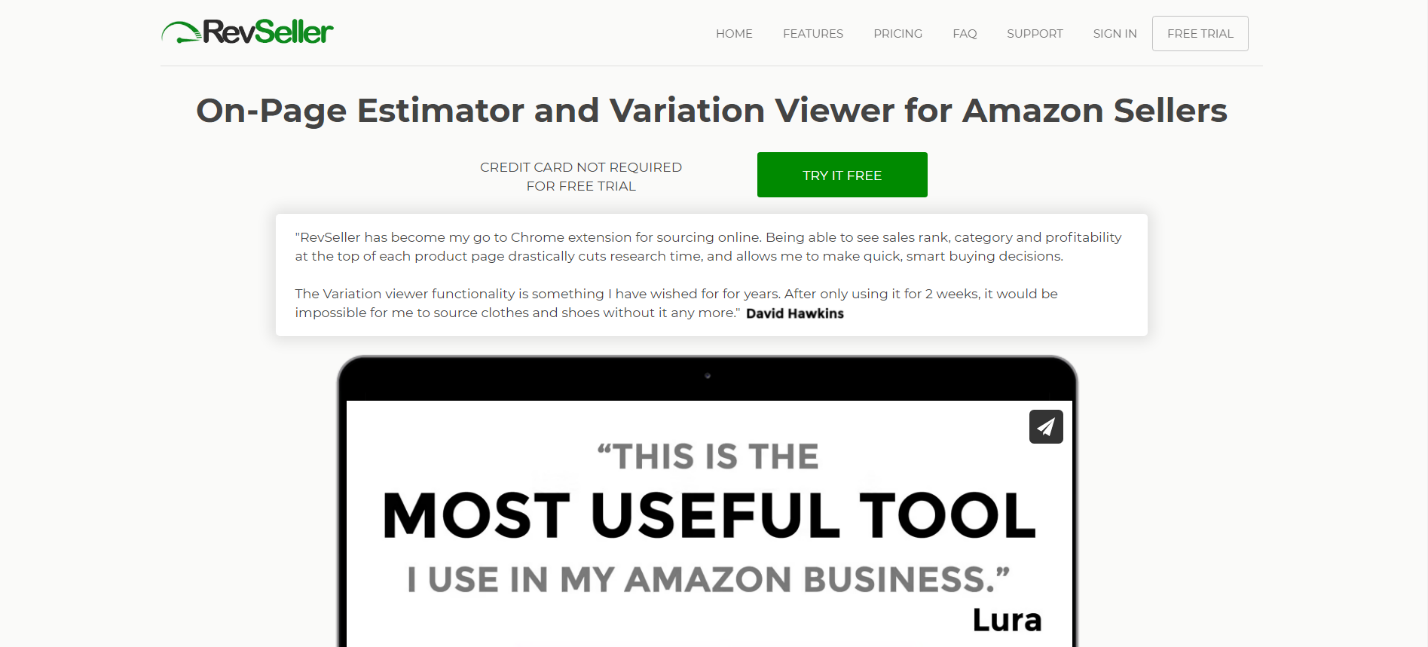 RevSeller is a Chrome extension that's designed to help you make faster and more informed decisions. It showcases an on-page, real-time calculator and lets you see ROI and profit margins. With it, you'd also be able to access the number of FBA and MFN sellers, allowing you to take stock of your competition and see if the market is promising or saturated.
You can try it for free for 30 days. After the trial, the tool requires an annual subscription fee of $99.99.
---

It lets you access Amazon's bestseller and top seller lists, as well as track any increase in price by setting up alerts. To fully enjoy Keepa's Data features, you need to subscribe monthly for 19€ (approx. $23).
---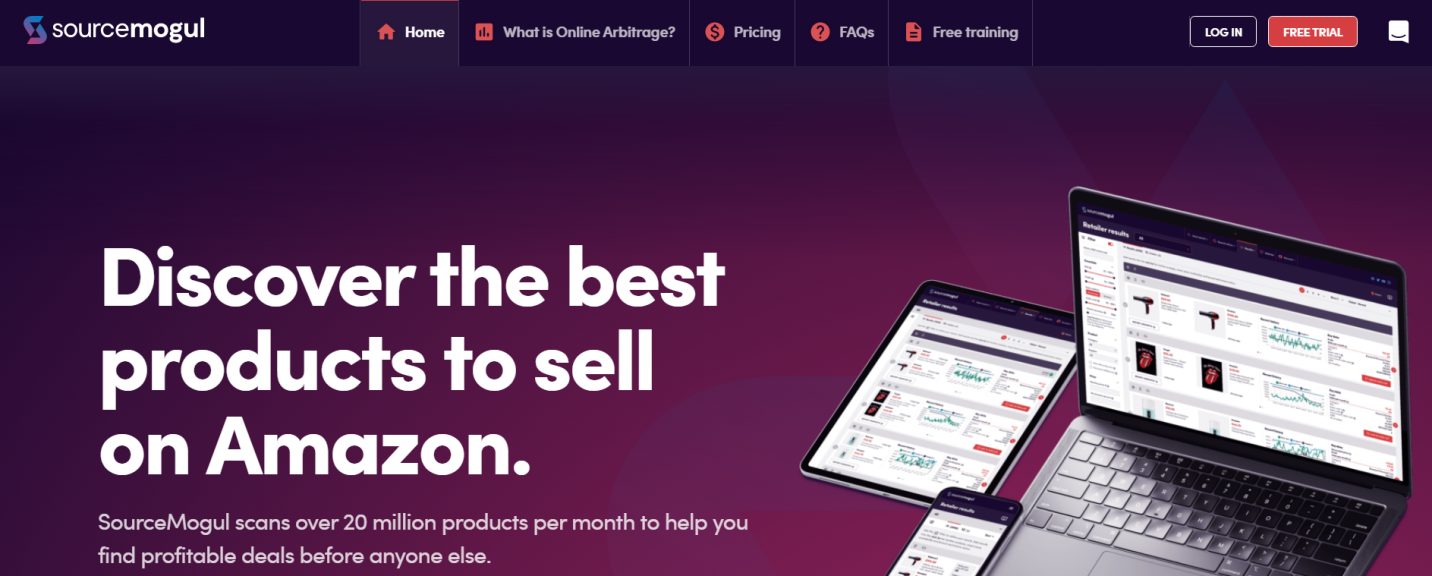 SourceMogul makes it easy for entrepreneurs to find the products that they want to sell. It's basically a specialized search engine for online arbitrage on Amazon that regularly scans over 20 million products so you can get the best and most profitable deals first. It also provides you with real-time analysis of a product's sales performance and rank on Amazon.
Moreover, you can add coupon codes and shipping fees to your searches so you can get accurate profit calculations. If you have a lot of products in mind, you'd find its wish list feature useful. This functionality lets you add the products that you want so you can check on their availability regularly.
It also features an intuitive and easy to use interface that makes product sourcing a breeze for new and experienced entrepreneurs.
While SourceMogul currently doesn't offer a free plan, it does include free training guides and unlimited support for their paid plans. It has a monthly plan at $67 per month and an annual plan, which goes for $880 per year. With either plan, you can search by supplier or retailer, conduct an Amazon category search and a stock availability search, and get access to powerful filtering and profit analysis.
---
Final Thoughts
The Amazon Marketplace is continuously expanding. This, in turn, leads to more earning opportunities for entrepreneurs. Whether you're a beginner or a seasoned e-commerce seller, online arbitrage is a great way for you to gain selling experience on Amazon. When partnered with Amazon FBA and online arbitrage tools, it becomes a more viable business model that can help you scale your business within a relatively shorter amount of time.