What's the difference between twistedhumor.com and Helium 10? About 16 years.
If you didn't get that joke, there are probably two reasons. The first is that it wasn't funny at all, so there's nothing to really "get." The second reason will at least enable it to make some sense to you. Manny Coats, one of Helium 10's founders, launched twistedhumor.com, his first online business, in 1999. Several startups and 16 years later, Manny launched Helium 10 with his co-founder, Guillermo Puyol.
Both of them had been interested in the potential of e-commerce, and Coats had launched his own Amazon Private Label business. It took him nine months to earn his first million as an Amazon seller—a grueling stretch of research, research, and a little more research. Two truths emerged from this time period.
It was possible to make a lot of money on Amazon just by researching what kind of products were selling well

Even more money could be made if you had the right software tools to facilitate that research
The problem was, these tools didn't exist. Coats began developing his own, and when he realized he had something maybe more valuable than unbranded wholesale goods, he and Puyol formed Helium 10, an Amazon listing optimization tool. Over time, they added new features, creating one of the most robust tools for Amazon sellers available. It's gone pretty well for them, to put it mildly.
These days, Helium 10 processes and analyzes over two billion data points daily, and serves them up to its one million users worldwide. Collectively, those one million users sell $4 billion worth of merchandise every month. That kind of money, just like the opening line of this review, is no joke.
---
Summary:
---
Pricing
Helium 10 consists of multiple tools—from product and keyword research to listing optimizations to strictly operational—to help merchants maximize their sales. Like most SaaS solutions, the higher the level of your subscription, the more access you get. There are a lot of tools included, many of them have been given their own brand names, and there's a lot of variation in how much you can use each for each level of subscription. For that reason, our normal format for breaking down the pricing would look like a confusing, muddled mess. Instead, we'll give you a high-level summary of the plans here, and you can look at Helium 10's pricing page to see the exact list of features for each. And, of course, we'll go into more detail on each of these tools in The Details.
Free, $0/mo —

A single user plan limited to 5 Amazon Product Research uses. You do get access to most of the other two dozen+ tools, albeit in limited amounts each month.



Starter, $39/mo ($29/mo if paid annually) —

Almost identical to the Free plan, so here are the differences:20 Amazon Product Research uses, Unlimited use of the Chrome Extension, Financial Analytics Dashboard for all time (not just last 30 days), Walmart Profits Analytics going back 90 days, Access to Freedom Ticket (H10's Amazon Sellers training).



Platinum, $99/mo ($84/mo if paid annually) —

Still single user, but with unlimited product and keyword research for Amazon (Wal-mart tools are still limited), unlimited or greatly increased limits on the Listing Optimization, Operations, Marketing and Analytics tools.



Diamond, $249/mo ($209/mo if paid annually) —

Up to 3 users with unlimited access to most tools, or really high limits if there are any. This also adds a slew of marketing tools and monthly "expert" training.

Elite, $599/mo (No breaks for annual purchase, weirdly) —

Up to 5 users with unlimited access to everything, or even higher limits than Diamond for those features which still have them. Also includes in-person workshops and access to a private facebook community/forum.



---
The Details
It's rare that we'd start any review by giving a shout-out to the online help that comes with any software we look at. But Helium 10's Freedom Ticket should be what we lead with here, because it's what you should lead with when you first start using the platform. Really, to call it "online help" isn't accurate and an understatement—we only did that for rhetorical effect, if we're being honest. Freedom Ticket is actually an online course, an eight week super in-depth course that goes beyond teaching you how to use the software. Actually, it doesn't show you how to use the software at all. Instead, it goes into the ins and outs of setting up and succeeding with an Amazon Business, from branding and marketing to choosing the right products and working with suppliers.
Having gone through this training, the tools that Helium 10 offers become less mysterious. But just in case, each tool has its own How-To video you can watch to get an understanding how best to wield it. So what are these tools?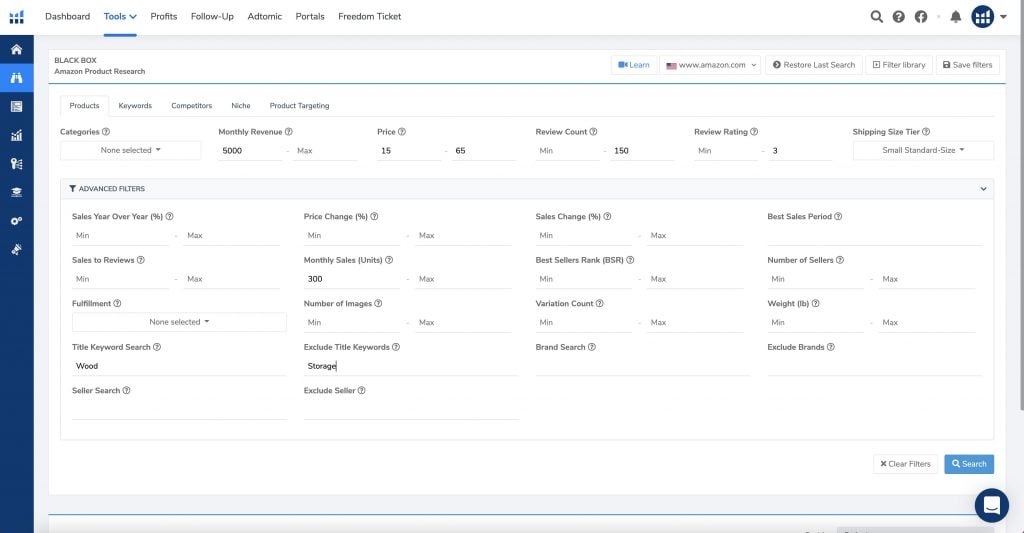 Let's start with Black Box, which is the product research tool. This sounds like something you'd use to research your competition and see how best to position your products against them. It isn't that. It's actually cooler: you'll use Black Box to find products to sell in the first place. You know how some people do well on tests, not entirely because they know things but also they're good at taking tests? People who make money selling on Amazon aren't just smart business people, they're also good at selling on Amazon. It's a specific skill, and Black Box is one way to put that skill to use. So, you begin researching products, by category and keyword, but then also with a bunch of filters. In this way you can find something that interests you, but then you can also narrow it down to something that suits your needs. Helium 10's hooks into Amazon mean you're getting data directly from the source, so you're not taking guesses at how something performs on Amazon. You're getting the exact information of how it performs.
If you know you can't devote full time hours to selling, or you only have enough money for a limited amount of stock, you can find something that doesn't sell quite so many units per month. If you know how much profit you want to make, you apply it to your starting expenses and that number becomes your target revenue—you can then search products whose sales match that. Let's say you know you're going to be targeting an audience of college and graduate students—it can't be too expensive, so you search for products that sell for about $20. These are just examples, but you can see how this tool works through them.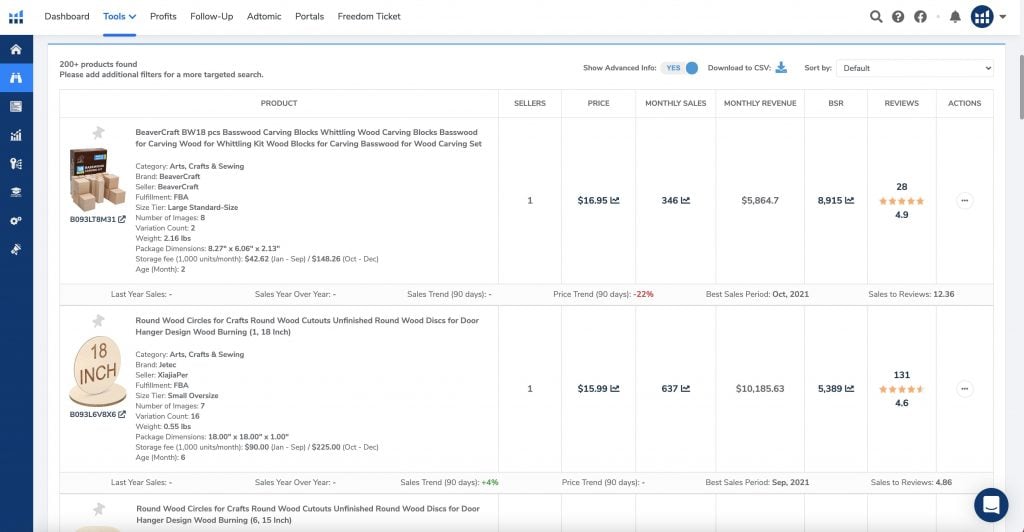 When the results come up and you see a product that might suit your business, you can dig deeper into it, learning about its performance over time. Maybe it shows that its monthly sales are right where you want them, but that's not enough info to go on. Click that statistic, and you'll see a graph that shows sales over time—if it sold a bunch more the month before, and even more before that, this could be a product that's past its prime (no pun intended, Amazon).
Once you find something that looks good, you'll want to see what the market for that product is as a whole on Amazon. Hop on over to amazon.com and type search for it—if there's a maroon hoodie you've got your eye on, then that's what you type in the search bar. With all the search results up, you can run an X-Ray on it. This is a Chrome extension from Helium 10 that gives you data on every product that shows up in the results: who's selling it, what the price is, how many sold, how much revenue, who's fulfilling the orders. But it also tells you about searches: how many searches with the keywords "maroon hoodie" were run, and what the trends are in that search (again, a downward trend lets you know this isn't the best time for such a product).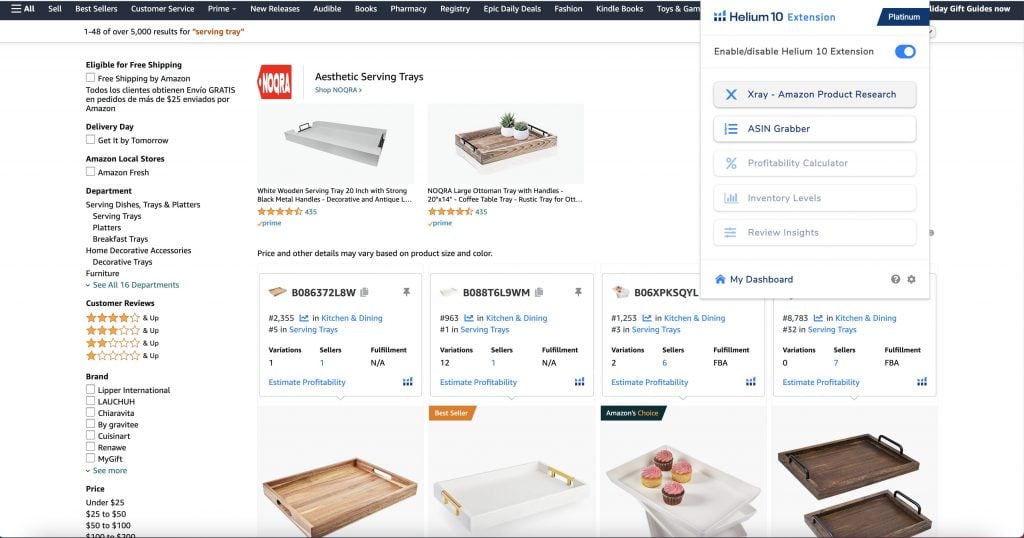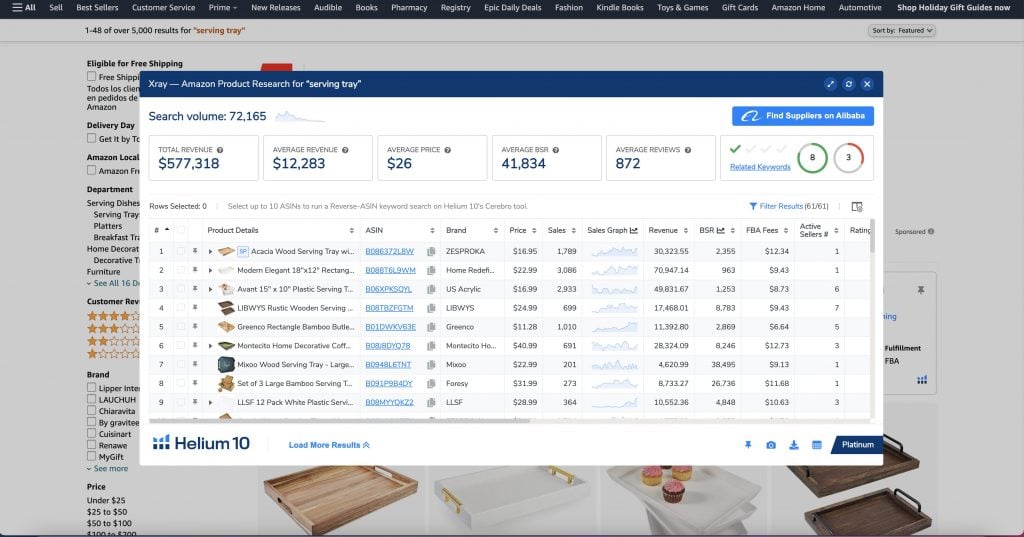 X-Ray does more than this, though. Click through the search results into a product listing you'll be competing with. Just having the extension installed adds information to the listing itself for you to see. First thing you'll notice is a listing score, on a scale of 1-10 of how well optimized this listing is. Click on the score and you get a breakdown of what the lister did right and wrong with the images and text (things like how many characters are in the description or how many images are included). It will also report on the inventory levels, in total and per seller, giving you an idea of whether there's room for you to get involved.
Maybe one of the coolest features of X-Ray is the profit calculator. Open it up and it's automatically populated with all the Amazon fees you're charged as a seller—you just enter the amount it costs you to buy, and how much you'd like to sell it for, and it spits back out your profit margin and ROI per unit.
Once you've determined the product you want to sell, then you need to research the keywords for the listing you're going to create. You see those first three or four listings that come up when you type "maroon hoodie?" They clearly are doing something right to get that high up in the results and, as Picasso said, "Good artists copy. Great artists steal." Running Helium 10's keyword research tool Cerebro, you'll get a detailed and maniacally precise amount of information on the keywords they used. There are likely thousands, so you can filter down to find the most effective—the ones with the highest search volume, and ones that all the Page 1 results have in common, and make sure they're organic/not paid.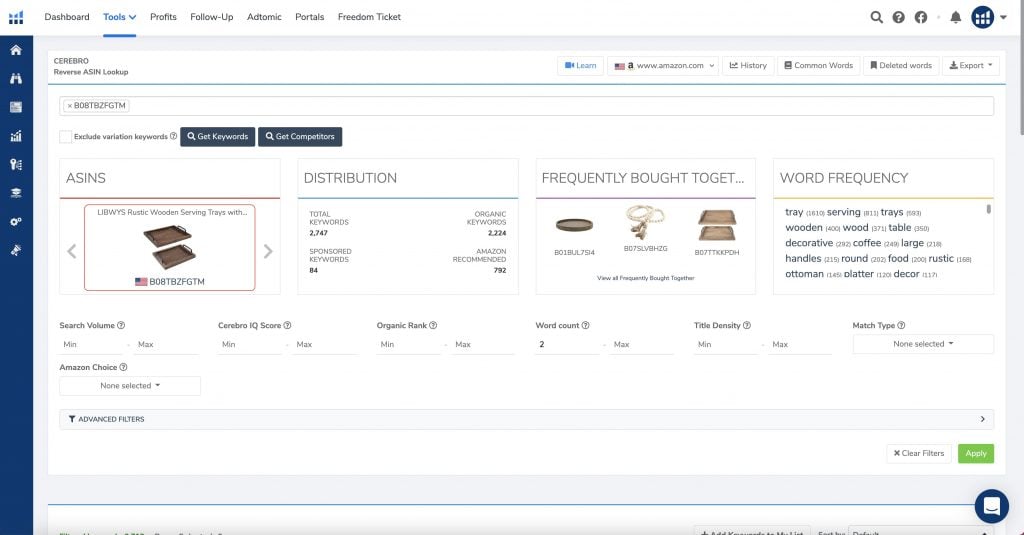 You now have a list of very effective keywords, but it turns out you can do better. Feed those keywords to the Magnet tool, and it will give you a bunch of related keywords to choose from. When you start looking at the search volume of each of these keywords, you start to see some of them having a high demand. By virtue of the fact they didn't show up in your Cerebro search, you know that your chief competitors aren't using them and putting you in a unique position. The one criticism we have with this tool is: If you named the first one Cerebro, why wouldn't you just name this one Magneto? Missed opportunity.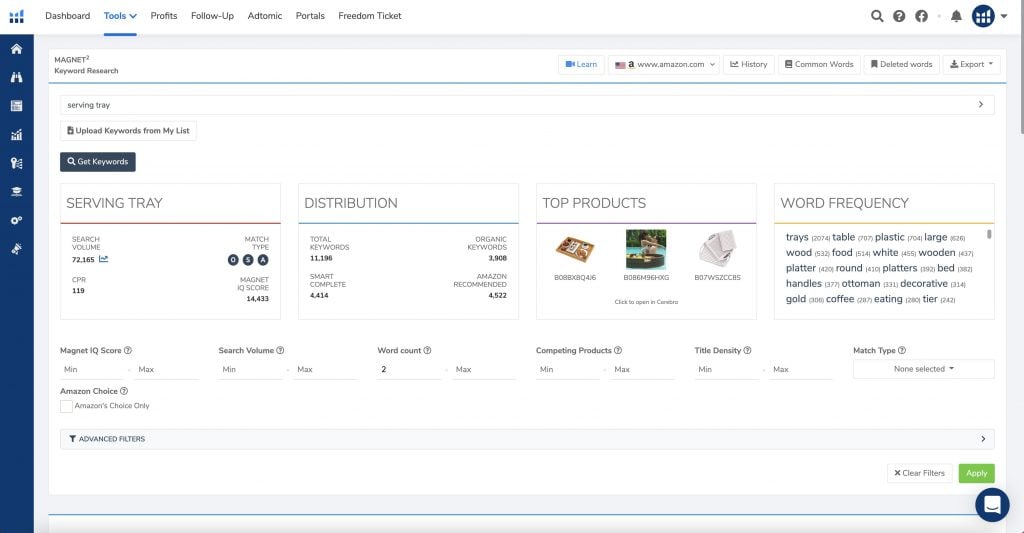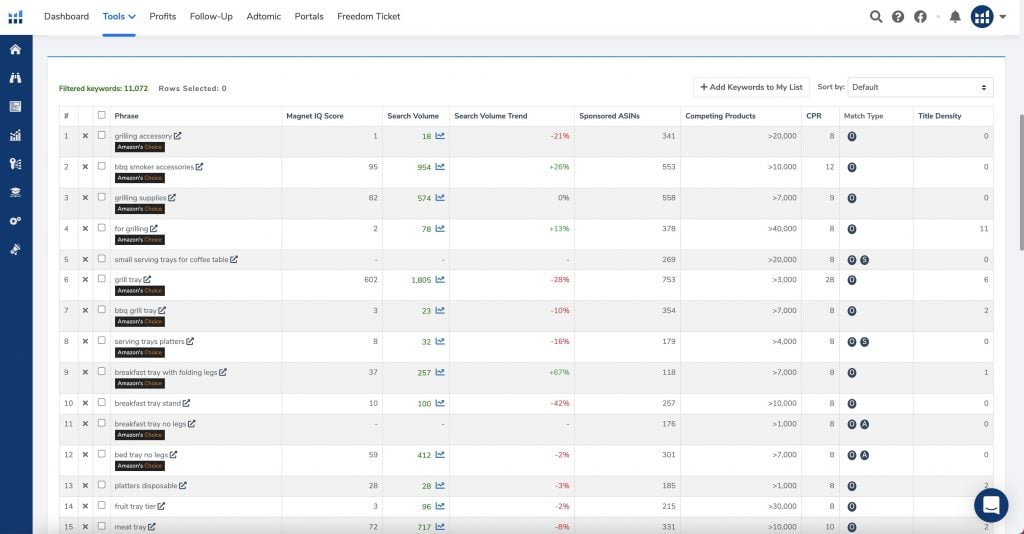 But all of this is just the research phase. Armed with your new product and a list of keywords, it's time to create the listing. Enter Scribbles. Essentially it's an editor to help you write the product description and optimize it for searches. The editor displays your list of all keywords and phrases, color coded according to search frequency, and crosses out each one as you use it. The goal here is that once something is crossed out you can move on to the next one, keeping the text natural/unstuffed with keywords.
For as much data as there is, it should come as no surprise that Helium 10 has impressive analytics tools to monitor your listings. Nutshell descriptions: The Keyword Tracker reports on how well the keywords you've chosen are working. The Market Tracker shows you what your share of the market is for your products, and then also suggests new and related products you might want to track. The Profits tool gives a birds eye view of your sales, revenue, profits, etc. There are reporting tools for Inventory, Expenses, Refunds, and Returns.
In addition, there are more than a handful of operational tools, each with some very specific use. The most notable of these is the Follow-Up tool, which allows you to automate sending post-sale email follow ups based on triggers and exclusions.
---
Conclusion
The depth and breadth of the tools available with Helium 10 is almost dizzying. Almost any good business tool worth its cost assumes you already know what your business is. Helium 10 has no such requirement, as it was built to figure that out for you, too. This isn't to say that it's some magic elixir that guarantees success—you still need to be smart about your research and be ready to execute. Helium 10 helps you stand out, so that you rise above the competition. I bet that's why they call it Helium.
Helium 10
Features

Ease of Use

Reporting