Best for:
Ecommerce businesses of all sizes, and large brands whose products are sold by other stores
Overview
If age begets wisdom, then the company known as Threecolts could be considered an ecommerce sage. You'd think that Amazon would get that title, given the way it absolutely dominates online shopping. And sure, they get some credit here: Bezos & co. practically changed retail for the entire world. Even better, rather than crushing their competition, they figured out how to make money off them instead, creating a kind of digital mall where sellers could set up shop and battle it out amongst themselves while Amazon just takes their cut for providing infrastructure. Was all of this clever and innovative? Yes. Is Amazon the result of sage wisdom? No.
Internally functioning like a government bureaucracy, the Amazon marketplace is a maze of weird rules, algorithmic trickery, and constant vigilance. It takes a lot of business intelligence to win the Amazon race, and—in the world of ones and zeroes—it takes good software to provide that intelligence. Over the years, there've been plenty of software tools to help Amazon sellers, but perhaps none quite so comprehensive as Threecolts with its roster of 16 different products aimed at helping the ecommerce mogul in your life.
Founded in 2021, ThreeColts has emerged as a leader in the space, serving a vast and diverse customer base of over 25,000 users worldwide. These users are, generally, in one of two groups: small business sellers, and medium to large brands whose products are carried by other sellers (think Samsung, Panasonic, Funko, and Waterpik). Regardless of a brand's current status, they are all no doubt attracted to how Threecolts' products can help them on Amazon. But they also love that the platform isn't Amazon-specific; Threecolts supports more marketplaces—including Walmart, Etsy, eBay, and Newegg. It also integrates with Shopify. No wonder they attracted so many customers so quickly: that quick success led to a massive influx of capital— a Series A funding round of nearly $90 million—back in March of 2023.
With such an expansive list of different niche products in the Threecolts ecosystem, it would be impossible for us to cover everything they can do for their customers. It's enough to say that, across the board, Threecolts' offerings are easily in league with the best of all ecommerce tools. But then there are a few that may have a rare competitor or none at all, doing things that are unique to this suite of tools. We'll focus on these, because it's worth singling them out and getting into the details.
Perhaps most exciting is SellerRunning, a tool that helps FBM (Fulfilled By Merchant) Amazon sellers deal with the complexities of serving a global customer base by facilitating drop shipments from amazon.com to any of their other marketplaces. Tactical Arbitrage unearths profitable opportunities by finding products selling on other websites for lower than you can sell them on Amazon. Channel Reply organizes all your communications channels into a single interface and exponentially increasing your responsiveness to customer service requests. Feedback Whiz automates the process of soliciting reviews from your customers. And, finally, Dimetyd was created to help vendors clawback excess fees charged by Amazon. The confusing structure of their marketplace often results in a lot of unclaimed revenue for brands and vendors that sell wholesale to Amazon. Dimetyd helps them dispute missing revenue by providing the literal receipts.
All of these tools sound good from the description but really, their effectiveness is dependent on the execution. Are they easy to use? Thorough? Do they deliver on their promise? We'll go over all that in The Details.
---
Pricing
Perhaps the most overwhelming thing about the Threecolts suite of tools is that they are offered a la carte. There are no bundles, or different tiers of plans where the number of features increase along with the price. There's good to this approach—nobody ends up with software or features they don't need—but there's also the bad. Namely, that shopping for, and then paying for, these products is a pretty big task in itself. Remember, there are 16 different products, many of which have multiple tiers of access offered at different price points. The monthly invoice must be a real headache. Watch how unwieldy this section becomes as we detail the pricing, and then you can extrapolate from there what billing would be like.
ChannelReply
The different subscription tiers for ChannelReply are based solely on the volume of messages you'll be receiving.
Standard, $39/mo ($31/mo, if billed annually) — Up to 200 messages a month, $.05 fee for each extra message.
Pro, $75/mo ($63/mo, if billed annually) — Up to 1,000 messages a month, $.04 fee for each extra message.
Enterprise, $199/mo ($159/mo, if billed annually) — Up to 4,000 messages a month, $.03 fee for each extra message.
Custom plans are available if you need more than that.
---
DimeTyd
There are no different tiers with DimeTyd. It doesn't cost you anything unless you recover money owed to you; Threecolts takes a 30% cut.
---
Feedback Whiz
There are five different tiers available here. Like ChannelReply, Feedback Whiz's pricing is primarily based on message volume (how many emails you'll send asking for feedback). But there are also some extra features that get added in as you make your way up from least to most expensive.
Free, $0/mo — 150 email/review requests per month, 1 email campaign, Order & Feedback Manager, Analytics and Stats, Downloadable reports, 1 marketplace connection
Starter, $19.99/mo ($15.99/mo, if billed annually) — All of the above features for up to 2,000 email/review requests and 10 email campaigns, the option to add additional marketplaces for $10 each, basic support
Basic, $39.99/mo ($31.99/mo, if billed annually) — All of the above features for up to 5,000 email/review requests and unlimited email campaigns
Professional, $79.99/mo ($63.99/mo, if billed annually) — All of the above features for unlimited email/review requests, with Expedited support
Professional, $139/mo ($111.99/mo, if billed annually) — All of the above features, unlimited everything (including marketplaces), and a dedicated account manager
---
SellerRunning
When you use the SellerRunning tool, you'll get access to 16 different country-based Amazon Marketplaces, establishing your brand as a global presence. As with other plans, this one is volume-based, priced according to how many ASINs (Amazon Standard Identification Number, Amazon's version of a SKU) are in your stores. All features are included across the board.
Lite, $59.90/mo — 5,000 ASINs
Standard, $84.90/mo — 10,000 ASINs
Business, $139.90/mo — 25,000 ASINs
Professional, $214.90/mo — 50,000 ASINs
Enterprise, $429.90/mo — 100,000 ASINs
High Level 1, $714.90/mo — 150,000 ASINs
High Level 2, $899.90/mo — 200,000 ASINs
High Level 3, $1,139.90/mo — 250,000 ASINs
High Level 4, $1,379.90/mo — 300,000 ASINs
High Level 5, $1,619.90/mo — 350,000 ASINs
High Level 6, $2,330.90/mo — 500,000 ASINs
---
Tactical Arbitrage
In a nutshell, Tactical Arbitrage helps you to source products at prices lower than you can sell them for on Amazon. It could be wholesale or retail (depending on your plan), from just about any store. It does this by scanning online stores for products and prices—the first two plans include 40k minutes of scanning, while the others just scan continuously. All plans include a 7 day free trial!.
Flip Pack, $59/mo ($50/mo, if billed annually) — Includes Amazon Flips (buying retail and then selling it on Amazon for more), Library Search, View Inventory
Wholesale, $69/mo ($55/mo, if billed annually) — Includes Wholesale Search, View Inventory
Online Arbitrage, $89/mo ($70/mo, if billed annually) — Includes Product Search, Reverse Search, Always scanning, View Inventory
Online Arbitrage + Wholesale, $109/mo ($85/mo, if billed annually) — All of the above, plus Wholesale search
Full Suite, $129/mo ($95/mo, if billed annually) — Includes all features across all plans
For plans with a limit on scanning minutes, you can purchase additional minutes in 10k increments. This costs:
$25 per each additional 10k minutes up until 100k minutes.
Anything beyond 100k minutes is reduced to $10 per each additional 10k minutes
---
The Details
If you've ever seen the movie Office Space, then you'll understand the concept of millions of fraction-of-a-penny transactions go unnoticed while amounting to a massive amount of money. Sometimes, it feels like Amazon's business model is built off this principle. They have some very proprietary accounting practices, which include a complicated array of over 100 different chargebacks and deductions, all affected by a confusing set of rules and stipulations. Brands and sellers can't be expected to learn this whole system, and they just accept fees as a matter of course. The only problem? These fees are often imposed erroneously; individual amounts are negligible enough that sellers often just figure it's more hassle than it's worth. And, without Threecolts' Dimetyd tool, it probably is.
Dimetyd can be seen as a kind of analogue to the entire Threecolts catalog as a whole. The developers know the ins and outs of Amazon's weird little word, and they made software that can do things a human could if that human knew what to look for. And it does it incalculably faster than a human could (even if they knew what to look for). The software finds the discrepancies and provides documentation to back it up. The Threecolts team files disputes on your behalf, and just shows up one day—usually within 4 weeks—with a 5- or sometimes 6-figure check of recouped revenue and overcharges.
The rest of Threecolts' products require a little more work out of you, but not that much when you consider the earnings potential they offer. Take SellerRunning, Threecolts' solution for FBM Amazon sellers. These merchants have chosen to handle all order fulfillment themselves, rather than having to hand over an even larger cut of their revenue to Amazon for doing it for them. SellerRunning gives merchants a way to supplement the sales of their own products by adding a way for them to easily dropship dozens (or hundreds, or thousands) of more products they don't even own, much less store in a warehouse. The best part? These are products that sellers buy right from Amazon.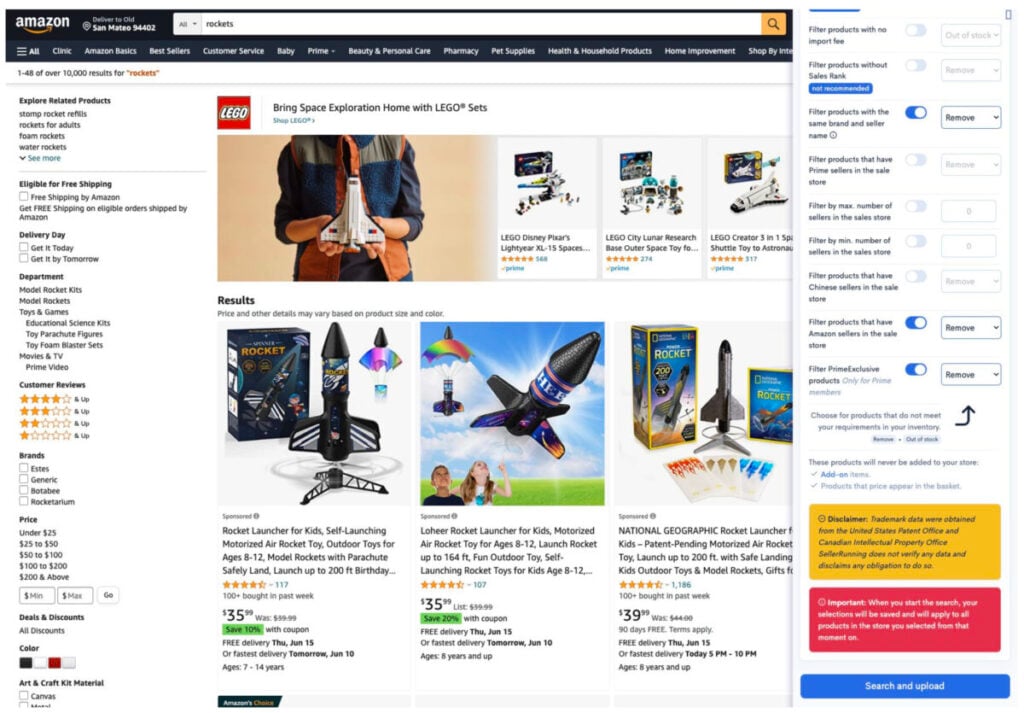 The software itself sits in the cloud—you log in and set it up with both your buyer and seller account credentials. Then, armed with SellerRunning's Chrome extension, you set off to find products on Amazon you want to sell. If you were a company that sold branded apparel geared towards people who fish, wouldn't it be great to also sell fishing gear? Simply search Amazon for products you'd want to carry— tackle boxes, for example. When the search results appear, you use the Chrome extension to filter that list down. Maybe you only want to find products only from FBA sellers, or aren't duplicates of something you already sell. You can specify that it only shows products that are currently discounted, or those that include shipping information so there are no surprises. This filtering step is crucial, ensuring that any items SellerRunning surfaces are things you can actually sell.
With the filters set, you click the "Search and Upload" button, and SellerRunning goes to work ingesting the listings into a "product pool." From the SellerRunnings interface, you can then see all the products that fit your criteria. Go through them one by one and add them to your store, or select many at once to bulk add. If you were to manually create a listing on Amazon, it can take 20-30 minutes depending on how experienced you are: there's a lot of info to include, a lot of rules to follow, and tons more ways to optimize the listing so shoppers find you. When you import listings this way, the hard work is already done—whether you're just adding a few items or hundreds, it's one click and a few minutes from being done. And you can do this in all 16 of Amazon's geographically-based marketplaces, giving you a worldwide presence.
You're probably wondering how you can expect to sell something that's already listed on Amazon for more money than you paid for it. This is the secret sauce to SellerRunning—you don't define a specific price for these listings. Instead, you tell SellerRunning your minimum and maximum profit margins. SellerRunning uses this info, compares it with prices from other merchants, and dynamically sets your pricing to give you the best chance of winning the Buy Box.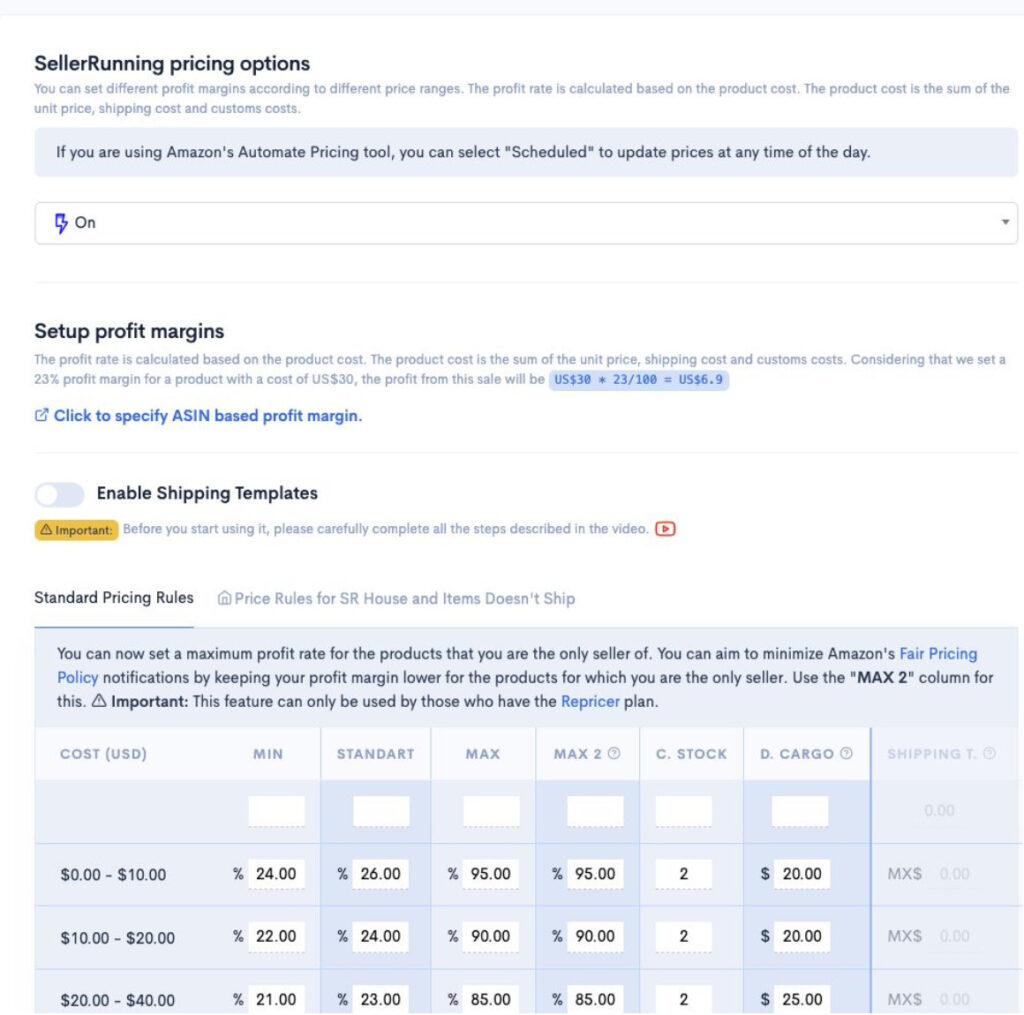 And if someone purchases from you? How do you fulfill an order for something you don't have? Using your Amazon buyer account, you just go and buy the product and ship it to Threecolts—their service takes it from there. When they receive it, they rebox it with your shipping info and send it to the customer, who gets tracking and shipping emails from you to provide a seamless experience. Every purchase is tracked every step of the way, and the Dashboard does a great job of selling itself, showing how much money the software made you.
For those merchants that rely on the Fulfilled by Amazon (FBA) service, Threecolts' Tactical Arbitrage solution takes the idea of SellerRunning but finds products from other stores. The idea is the same: use the software to search out products that you can sell for more. But, instead of sourcing from Amazon, TA scans more than 1,000 other online stores for the products you're interested in. Again, you're searching products and filtering them based on certain criteria, like reviews of items, or what you want your ROI on the sale to be. A clever filter offered here is to only look for items that are Out of Stock in Amazon, making you the seller of record for that item if you add it to your store. All of these searches can be saved and rerun at any point, too.
When TA finishes its scan, it doesn't just give you a list of results. It includes some historical sales data for each result, as well, giving you good insight as to what your prospects are with this particular item. If you're searching Walmart to find things to sell on Amazon, for example, you'll get a graph showing you the item's selling price in both stores over the last three months, including what the Buy Box price is at that moment. Beyond the graph, you'll also get insights into things like how many other Amazon sellers are offering the same item, average price and average in-stock rates over the last 30 and 90 days, the physical dimensions of the item (or the box it comes in), it's sales rank, the number of reviews, and more. Short of predicting future sales, there's noy much more you could ask Tactical Arbitrage to tell you. This whole process can be executed in reverse, as well. In this case, you use TA to search Amazon for products that match certain criteria you set, and then the software searches for those items on other stores. Unlike SellerRunning, which only requires you to buy the product once you've sold it, you'll actually need to buy these items and then send them off to Amazon's warehouse to list them on your FBA store. This is why that historical data is so important: it's going to take a little time to get this product listed and available, so you want to know that it's an item that holds its value over time.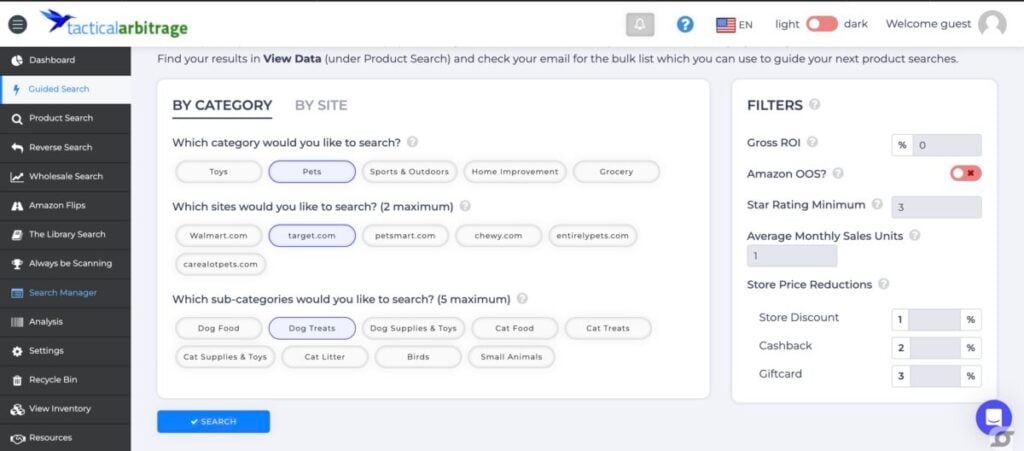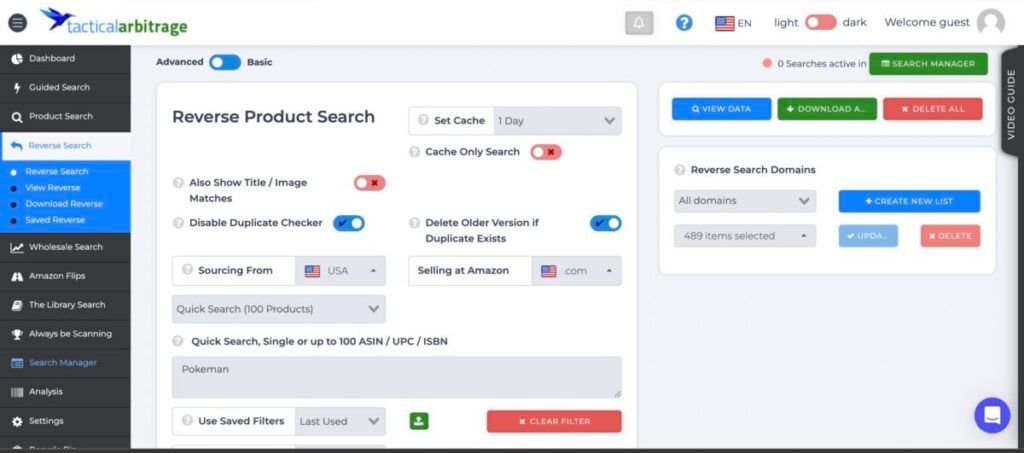 Threecolts' products don't just help ecommerce businesses make sales. They also offer several apps that offer post-sales services designed to keep your customers coming back while still attracting new ones. Reviews are often the lifeblood of marketplace sellers. Whether that's Amazon, Walmart, eBay, Newegg, or some other platform, people want to know that you, an unknown entity to them, can be trusted to provide good service and quality products. Using the FeedbackWhiz app is a way to do just that.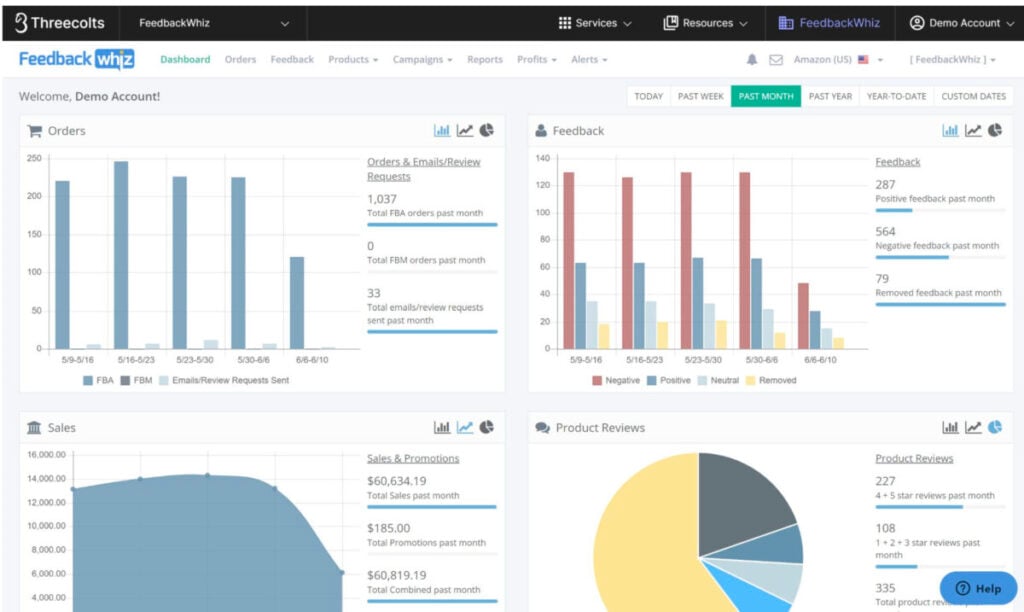 Offering email automation to solicit feedback from your customers, the software goes further than just sending an email out to everyone who buys from you. You can adjust the criteria that triggers an email being sent in such a way that makes it more likely you'll be attracting good reviews. There's nothing shady about this: you simply set FeedbackWhiz to reach out when someone matches certain behaviors: if they've reached the end of your returns period and still have the item, they probably like it. If they're a returning customer, they probably like you. These kinds of things are meant to make sure unhappy customers aren't given a helping hand to give you bad feedback. The software can also alert you when new reviews are posted, offers some basic order management tools, and some nice analytics to help you make informed decisions. These other features are nice but seem way off topic for what the product is. Not to mention that these kinds of features can be found, in one form or another, in other Threecolts products—it would be better for them to merge complementary solutions together into a single platform. Our one big complaint about Threecolts is the overwhelming number of choices, options, and features across 16 different apps. It's less an ecosystem, and more of a digital department store.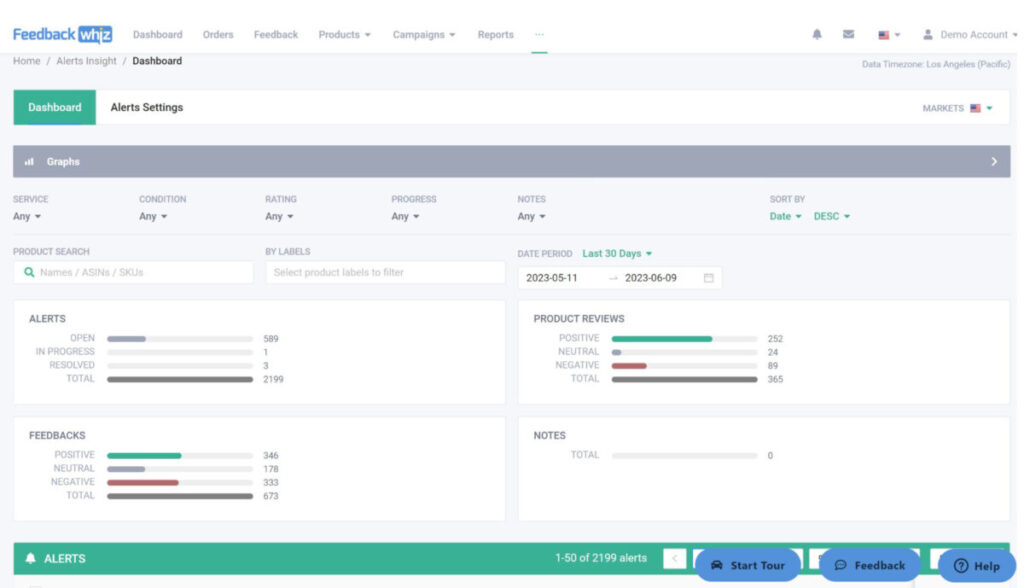 Finally, we get to ChannelReply, Threecolts' customer service offering. If you're an Amazon seller with a single store, then you've no need for this. But many sellers operate multiple stores across different marketplaces—meaning they're fielding customer service emails from all those different sources, too. Some ecommerce shops get bought up, and the acquiring company takes on their infrastructure. In either of these cases, what ends up happening is all these different platforms make for a disjointed experience supporting customers. ChannelReply integrates with helpdesk software to consolidate all these disparate sources of customer inquiries into a single platform. But beyond this consolidation, it can do a few other things to make your customers' service experiences go smoothly.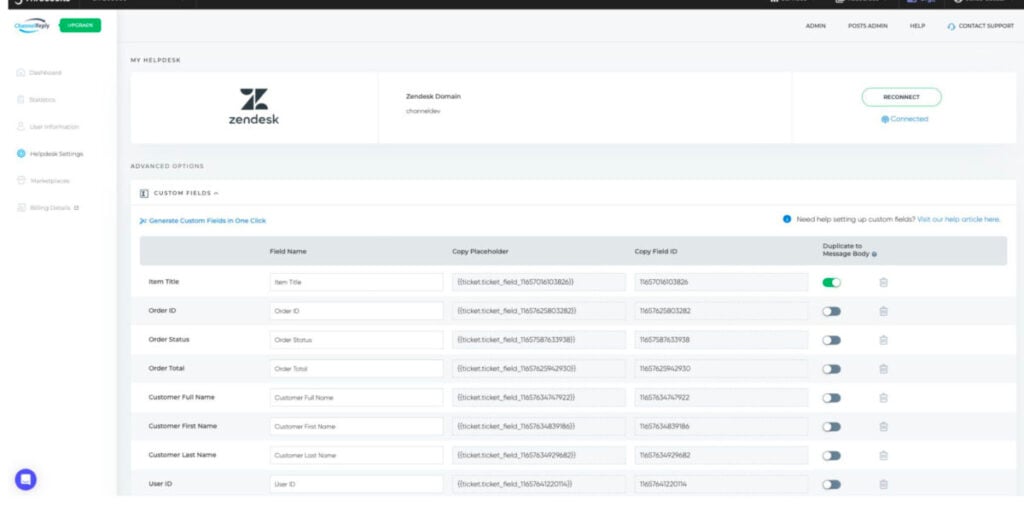 Email automation is a necessary evil—no one likes an email from a bot, but people want to know their questions have been received. The automation within ChannelReply is highly configurable, with the ability to define tons of variables like a customer's name, order number, shipping address, the shipping carrier involved—pretty much any piece of data attached to the sale that might be important. By making these automated emails so specifically personalized, they feel like they're anything but automated. Meanwhile, all these details get pulled into your helpdesk platform, so there's no bouncing back and forth between interfaces.
---
Integrations
Threecolts' various applications all have different purposes, so we can't provide a comprehensive look at integrations. However, if you're on any of the major ecommerce marketplaces, you're good to go.
ChannelReply connects to any marketplace or online store and passes info along to an integrated helpdesk platform. The currently supported platforms are Zendesk, Freshdesk, Help Scout, Gorgias, Re:amaze, Onsite, Zoho Desk, and Kustomer.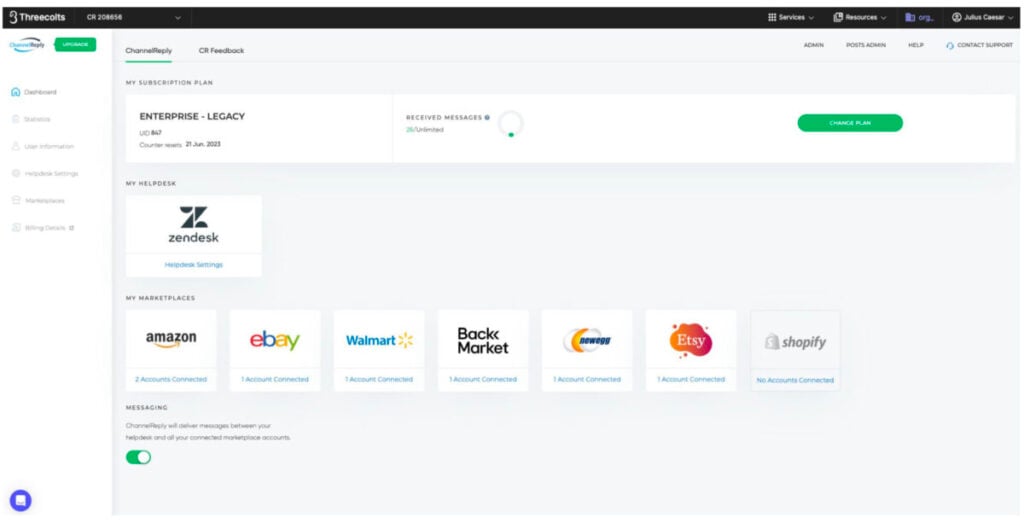 ---
Conclusion
To speak of Threecolts as a single platform is a bit counter to what it actually is. Each of the 16 tools they offer is a separate product, all with unique functions—but also with some feature overlap here and there. But still, with 16 different solutions solving disparate challenges for ecommerce entrepreneurs, it feels reductive to say something like "You should definitely give Threecolts a look." That's like saying, "Yes, I've been to Earth. I recommend it."
But also: you should definitely check out Threecolts. If you own an Amazon store, or have an established presence on other big marketplaces, they've definitely got software that can help you. Even if you didn't think you needed help: as we saw with SellerRunning, you can create an entirely new line of business out of thin air, just working the Amazon dropshipping game—for the cost of the software's subscription fee. DimeTyd finds money that's legally yours that you didn't know existed. Tactical Arbitrage makes sourcing products such a science, the product itself is almost irrelevant. None of this guarantees you success—that's still up to you—but it definitely puts you light years ahead of your competition.
Rating
Features

Ease of Use

Reporting

Integrations

Best for:
Ecommerce businesses of all sizes, and large brands whose products are sold by other stores