Amazon FBA is a great way for new and seasoned online entrepreneurs to sell their products to their customers. FBA stands for Fulfillment by Amazon. You simply send your products to the Amazon warehouse for storage. When you make a sale, Amazon takes care of shipping your products to your customers. They also handle customer service.
It sounds like a hassle-free and convenient setup. Amazon, after all, is the leading online retailer in the U.S. earning 314 billion in 2021 alone. However, there is more than meets the eye. Successfully selling in Amazon FBA involves understanding the pros and cons of the platform and how to stand out among a sea of competitors.
This article will take a deep dive into becoming a successful Amazon FBA seller.
---
Everything You Need to Know to Sell on Amazon FBA in 2024:
---
Amazon FBA: Understanding the Basics
Fulfillment by Amazon (FBA) is an Amazon service that helps Amazon sellers store, pack, and deliver their items straight to customers. Sellers can use Amazon warehouses as extension storage centers where they can keep their products until sold. Amazon also offers sellers access to tons of benefits like Prime 2-day shipping which can rapidly scale their business.
It's easy to start selling on Amazon. If you already have a product to sell, just sign up for a seller account, market your products to your audience, and then fulfill every order that comes in. Amazon takes care of the latter so you can focus on marketing and building your brand.
Amazon Business Models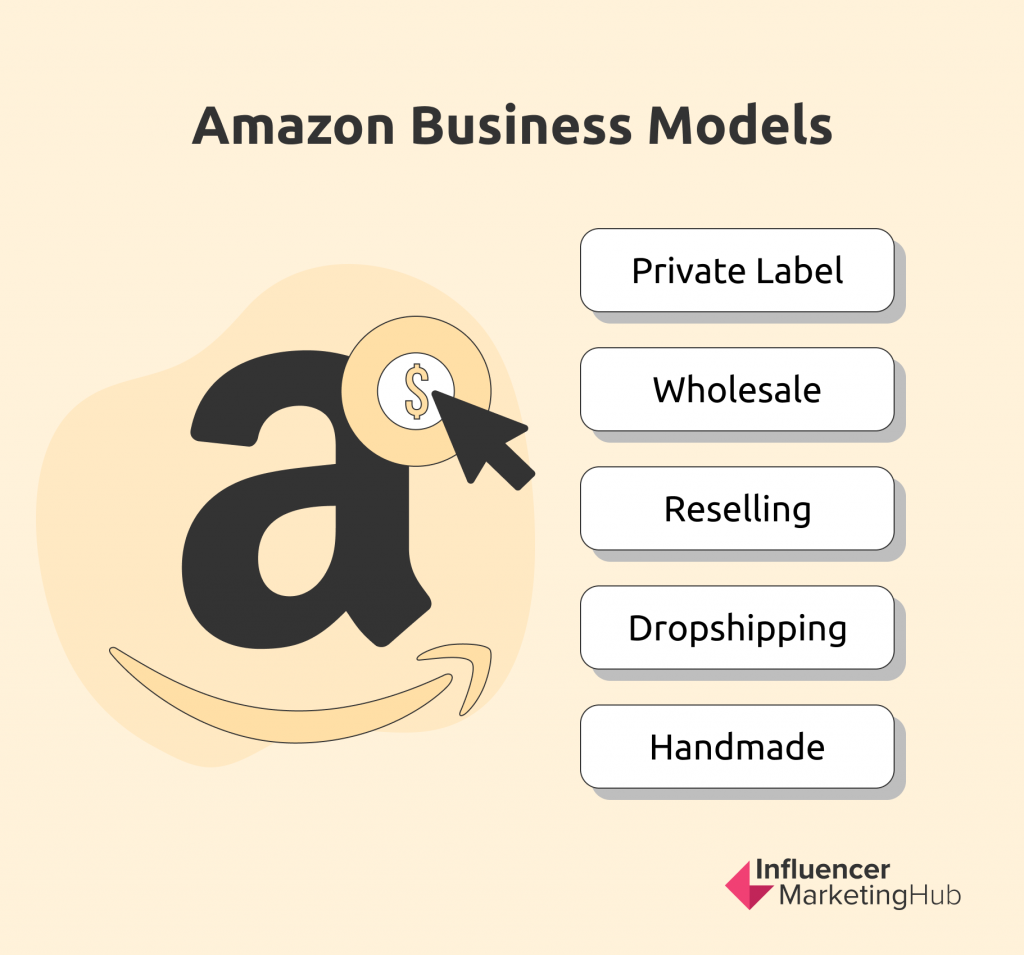 There are five ways to sell and make money on Amazon. The most profitable and scalable one is creating your brand (private label).
This involves creating your own product/brand. You'll be selling a unique product since you're the only one who has that brand. Influencer merchandise falls within this category.
If you don't want to create your brand, you can buy other brands' products in bulk and at a discount, then sell them for markup on Amazon.
If you're good at hunting bargains, you can buy these discounted items and then resell them for a profit.
Dropshipping involves buying directly from manufacturers who handle fulfillment straight to your customers.
Amazon also sells handmade items. Handmade items are anything you craft or create on your own. This means you are the manufacturer of your product.
---
Selling Private Label Products on Amazon FBA:
Private Label is the most profitable and scalable business model if you want to sell on Amazon FBA. This is also the most common method preferred by Amazon FBA sellers.
To start this route, you need to:
Conduct thorough product research. Look for high demand, low competition items.

Connect with the right manufacturer or supplier who will create your product at the right cost. They will also directly ship your items to Amazon's warehouses.

Create your Amazon listing and build the brand of your product.

Stand out from Amazon's millions of product listings by advertising your products.

Track your inventory and sales and continue building your brand.
The heavy lifting in this business model is product research and marketing. Amazon takes care of warehousing and fulfillment. Your manufacturer takes care of production. Your role is to find a winning product and market it like crazy.
---
Amazon FBA vs Amazon FBM
Amazon Sellers have two ways to fulfill orders from their Amazon store: (1) FBA and (2) FBM. FBM stands for Fulfilled by Merchant. Sellers take care of inventory, sorting, packing, and shipping of orders. Aside from product research and marketing, sellers are responsible to ensure items are received in good condition by their buyers.
In contrast, here's how Amazon FBA works.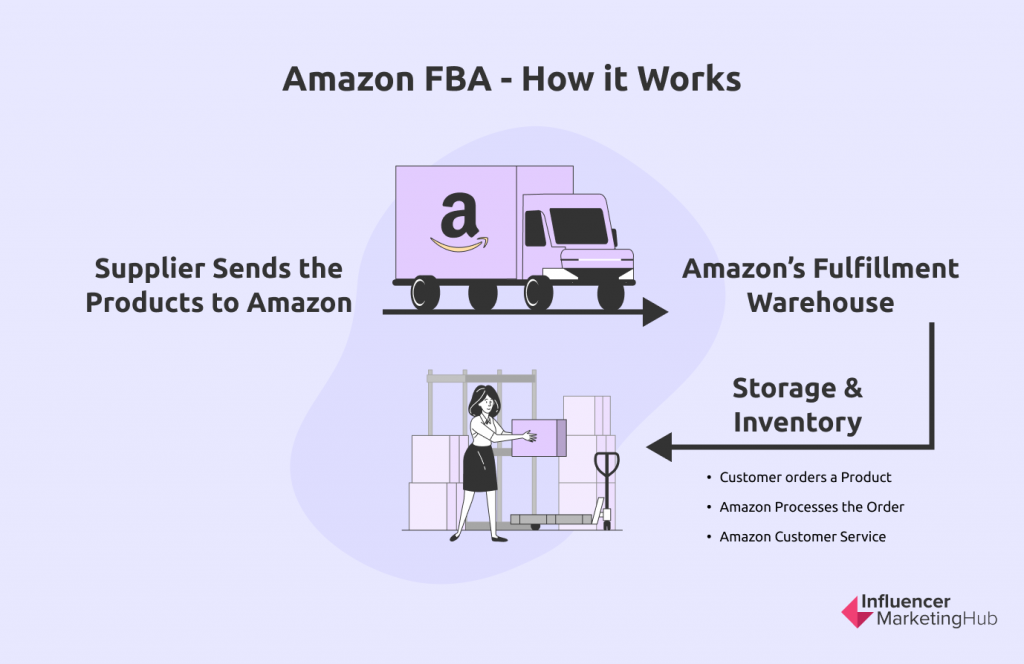 You or your supplier sends the products to Amazon's fulfillment warehouses. Amazon receives them and takes care of storage and inventory. They are committed to protecting your items. If anything gets broken, they will reimburse the full retail price.

When a customer orders from your store, Amazon processes the order. They pick the product, pack it in an Amazon box, and ship directly to the customer.

Amazon handles customer service such as shipping notifications, tracking, reviews, and product returns.
The fulfillment process can be quite a headache. Dealing with customer service involving tracking shipments or product returns is seldom pleasant. By delegating these operational tasks to a partner like Amazon, you free your time to focus on strategic business-building activities like marketing.
---
Finding the Right Products to Sell on Amazon FBA
The key to a successful Amazon FBA business is having the right product. These should be high demand, low competition items, which means many customers are looking for the item, but only a handful of sellers are selling it.
How do you find such products? You need to invest time in thorough product research. You must not sell a product solely because you like it. You should rely on data when making decisions.
Product research takes time. Rushing it might lead you to make hasty decisions you might regret later on.
There are dedicated Amazon marketing tools that can mine the Amazon database and help you find these high-demand, low competition products. You can use these tools to guide you in your product research and decision-making process.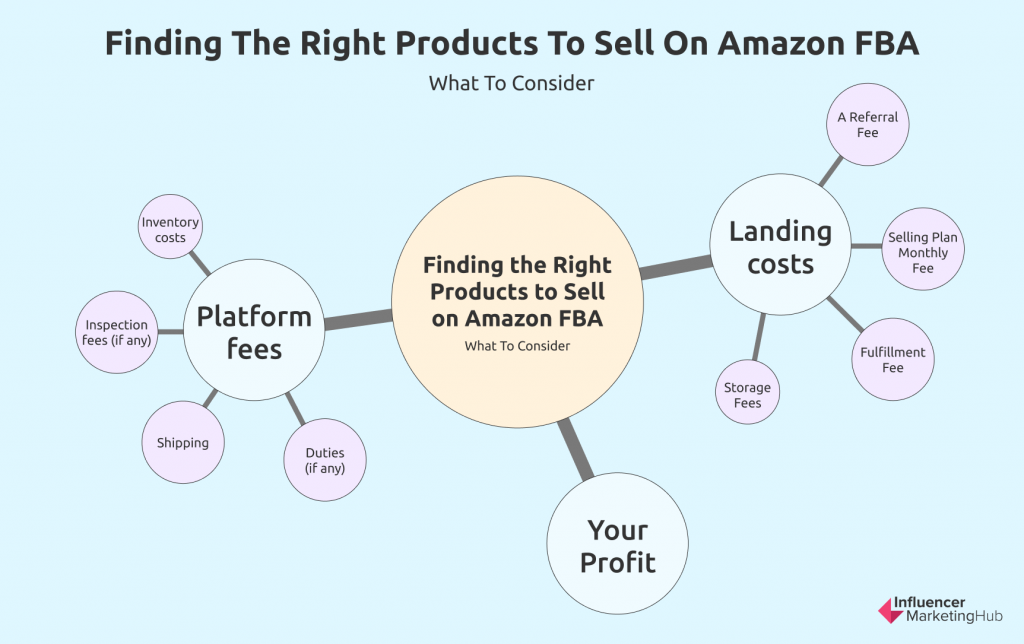 Profitable, High-Demand, Low-Competition Products
When doing product research, there are three things you need to consider: profitability, demand, and competition.
A – Profitability
Your goal as an Amazon seller is to be profitable. It sounds like common sense, but it's easy to forget when you enter a competitive market and start exhausting all means to make a sale.
Profitability is simply revenue minus costs. The costs should always be lower than the revenue to make a healthy profit. You can use Amazon Profitability Calculators to verify how much profit you're making.
To quickly determine if a product will be profitable, you can follow the "rule of 3s". This rule states that a product's selling price is divided into three equal parts:
Landing costs

Platform fees

Your profit
If your product's selling price is $27, the profit should be $9. Less than that, and it might not be profitable to pursue.
Amazon products, in general, sell for around $20 to $70. Look for products that can be sold within this price range. It's not recommended to sell products below $20 as you may not have enough profits left after covering all costs. It's also not recommended to sell above $70 since customers are less likely to purchase expensive items from unknown brands.
When looking at costs, there are three kinds you need to know.
These are the collective costs you incur to send your products to Amazon's warehouses. It includes:
Inventory costs

Inspection fees (if any)

Shipping

Duties (if any)
Amazon charges fees to use their platform. These are:
A Referral Fee or Commission Fee is charged for every item sold. Typically, it's 15%.

Selling Plan Fee charged monthly at $39.99 (professional Amazon sellers) or per-unit fee at $0.99 (Amazon individual sellers selling less than 40 units per month).

Fulfillment fee charged to cover costs for pick, sorting, packing, and shipping. This depends on the product's weight and dimensions.

Storage fees are charged either monthly or for a longer period.
Other business fees and costs
Bear in mind that even if you've listed your products on Amazon and stored them in their warehouses, you're still liable for marketing your products and driving traffic to your Amazon online listings. Depending on your budget, this will incur costs that will eat away at your profits.
When looking for the right products to sell at Amazon, always consider how much you can sell these products for and what are the costs you'll incur to sell them. Looking at a product's profitability will help you make the right decisions and save you from regret later on.
It's not enough for a product to be profitable. You must also look for those that are trending and in high demand.
B – Demand
Product sales are key indicators that there's demand for a certain product. When looking for a product, look for something that answers a customer's pain point. Does the product answer a customer's need? Can they use it to fulfill that need or solve a problem?
Again, check the data to make sure you're answering these questions objectively.
C – Competition
When doing product research, it's also important to determine how many similar products already exist and how good they are rated. This will help you determine if there's room in the market for a new player.
Competition is good as it tells you there's demand for a product. Be wary of too much competition, though. It would be hard to stand out if the market is already cluttered.
---
Fool-Proof Products to Sell on Amazon
Here are the top 10 categories for Amazon products, including the percentage of sellers listed on them:
Home & Kitchen –

32

%

Beauty & Personal Care

–

23

%

Toys & Games – 20%

Clothing, Shoes & Jewelry

– 18%

Health, Household & Baby Care

– 17%

Sports & Outdoors

– 16%

Arts, Crafts & Sewing

– 15%

Books

– 15%

Kitchen & Dining

– 14%

Baby

– 14%
Focus on the top 10 categories above and make sure that any product you decide to sell isn't in an overly-saturated category.
---
Getting Started on Product Research
Where do you start your product research? The quick and simple way is to use Amazon's robust database of millions of product listings. You don't have to go far. You can search Amazon's entire catalog and find the right products using filters.
Here are suggested filters according to Jungle Scout:
Price ($20 to $70)

Sales (at least 300 units monthly)

Number of Reviews (average 500 reviews or fewer)

Rating (maximum four stars only)

Listing Quality Score or LQS (5 to 7 LQS)
Your goal is to find profitable product opportunities with proven demand and manageable competition. These filters will help you look for those.
Your product must be at par or better than what's already on the market. Don't reinvent the wheel. Just create an opportunity to stand out.
A simple hack to find improvement potential for products is to check customer reviews. Find the common pain point and work towards improving it. You can also purchase competitor products and learn how you can improve them.
Dedicate at least 2-4 weeks to observe product trends and performance, so you know it's not a fluke or inflated figure due to a one-time sale.
A word of caution. When deciding on products to sell on Amazon, beware of "black hat" behavior such as selling counterfeit or imitation products. Respect patents and trademarks when developing your product. Be mindful also of Amazon's restrictions and certification requirements involving certain product categories.
Finally, before deciding on a product to sell, consider also ease of sourcing, shipping, and importation. When doing private label, your product must require only simple changes (such as logo or packaging printout). It must be light and easy to ship but also sturdy enough to withstand shipping conditions. If importing from a different country (a common case among FBA sellers), be aware of importation rates and rules. Freight forwarders can assist you with this.
---
Finding the right suppliers to manufacture your product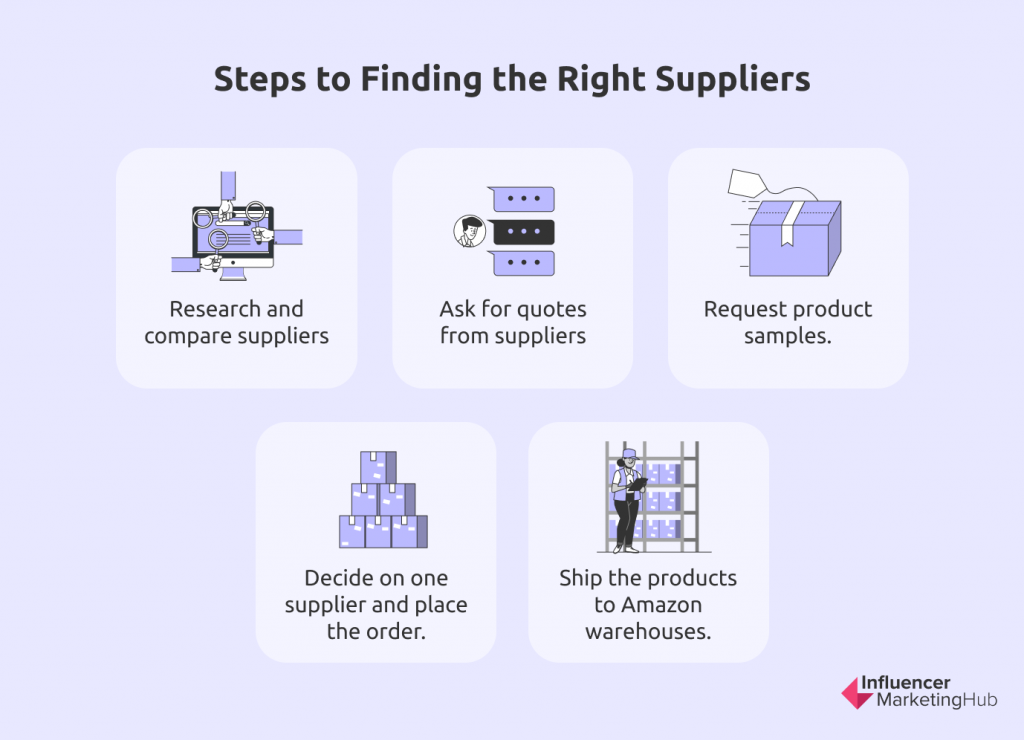 Looking for suppliers may seem daunting at first, but in recent years, it has become an easy process. Even reaching out and working with international manufacturers is a breeze with advancements in communication and modern technology.
Here's the step-by-step guide to sourcing your winning Amazon products.
Step 1: Research and compare suppliers.
There are thousands of manufacturers worldwide who create almost anything you can imagine. Look for those who create the highest quality products at the best price. Amazon customers expect product quality even as they hunt for bargains.
There are websites like Alibaba.com that can show you products you can sell and their manufacturers. You can also work with sourcing agents who can help you find the best quality products from any country.
Qualities of a Good Supplier:
When looking for a supplier, work with someone who possesses the following qualities:
Easy to talk to

Creates high-quality products

Has proven experience

Prices fairly
Work with a factory that responds within a reasonable timeframe and is easy to talk to. Observe how fast (or slow) they respond to your initial email asking for a quote.
There are mass-scale factories that create low-quality items. Avoid these factories. You can get the items for a cheaper cost but risk losing your business quickly due to bad customer reviews. Always go for high-quality suppliers. They may be a bit expensive, but you won't be embarrassed by the quality of their products.
Ideally, you'd want a factory that has been operating for at least three years making the products you selected. This alludes to their expertise and capability to deliver your orders.
Finally, choose a factory that has a reasonable and fair price. You don't want to work with overpriced factories or underpriced ones as these could indicate potential quality issues.
---
Step 2: Ask for quotes from suppliers
Create a list of 5-10 suppliers and reach out to them individually. Tell them about the products you have in mind and request a quote on how much it would take for them to create your products with their modifications. If you're using Alibaba.com, you can send a request for quotation to a lot of suppliers in one go.
Observe how quickly your suppliers respond. This is an indicator of the ease of doing business with them.
---
Step 3: Request product samples.
Once you have quotations, narrow down your list of suppliers. You can consider costs and speed of communication.
Order samples from each of these suppliers. Most samples cost between $50 and $150 and are shipped by air. Product samples are important because they allow you to personally vouch for a supplier's workmanship.
Product sampling allows you to inspect the items before they are shipped to Amazon and start getting sold. Check that all your specifications are met and the product works. In case you're not satisfied, don't be afraid to ask for revisions.
There can be a modification fee, but it's better to be fully satisfied than sorry. As the seller, you should believe in your products first before getting your first customer.
Packaging and Branding
To make your products stand out further, consider their packaging and overall brand look. Amazon provides an Amazon box as packaging before shipping. However, it helps make a product memorable and premium if it comes with its packaging.
Your packaging design should be ready when you request samples from suppliers. They can give you the dimensions of the box ahead of time, and you can let your graphic artist adjust the design layout. Send this over to your suppliers so the packaging can be part of the sample product.
---
Step 4: Decide on one supplier and place the order.
Once you've evaluated all the samples, it's time to decide which supplier you'll get. At this point, you should have considered the qualities that make a great supplier and decided on the best one based on that.
Let the supplier know you've decided to proceed with the order. Place your initial order quantities and decide on pricing terms. Settle the invoice and wait for the items to finish manufacturing. Typically, it takes 2-6 weeks to manufacture orders.
During this time, communicate frequently with your supplier and ask for periodic updates.
---
Step 5: Ship the products to Amazon warehouses.
Once manufacturing is done, it's time to get your products to Amazon. Most manufacturers also offer direct shipping to Amazon. If you're working with international manufacturers, you may need a freight forwarder to assist you and simplify international shipments.
Before your products reach Amazon, perform a quality inspection to ensure that the manufactured products conform to the agreed specifications. The finished products must be the same as the agreed product sample.
While your products are being manufactured, it's time to prepare your product's launch on Amazon.
---
Listing and Launching Products on Amazon
Creating listings is how customers find your products on Amazon. The product listing is a very crucial and critical step to ensure the success of your products. Set it up properly and customers will find you quickly. Set it up incorrectly and your products may never surface in product searches.
Creating a Highly-Converting Amazon Listing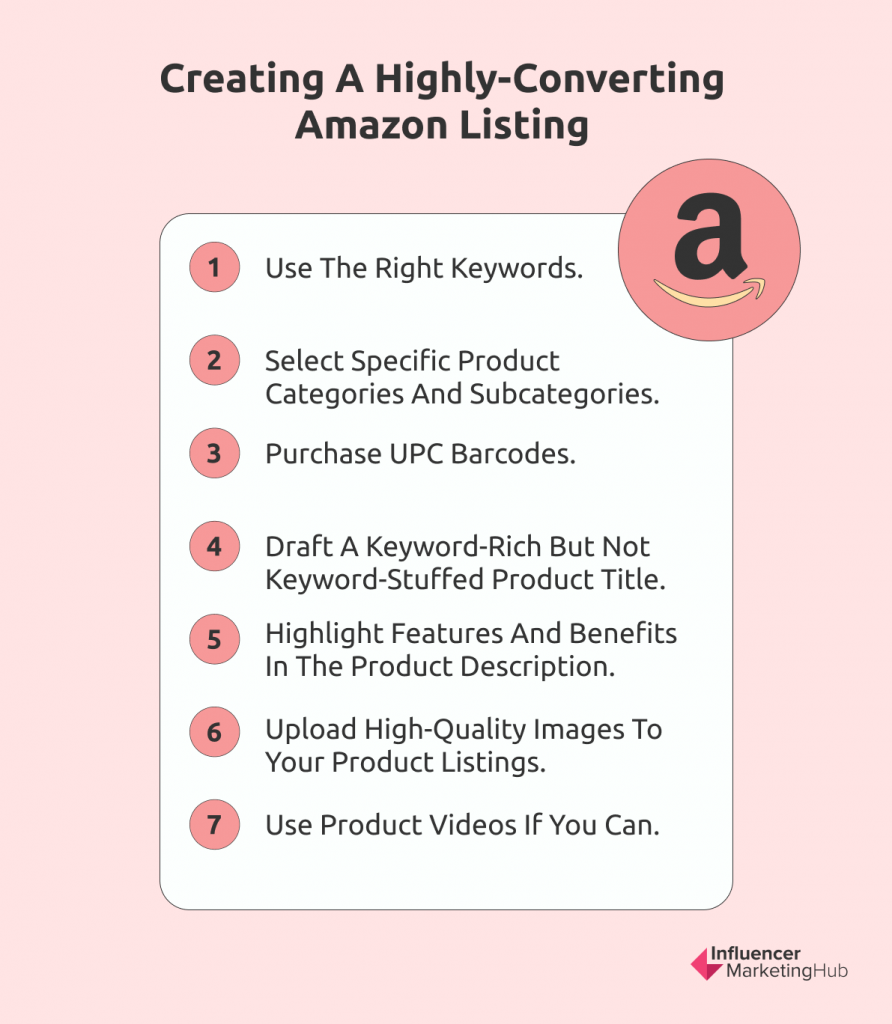 Keywords play a very important role in any listing. You can use keyword research tools specific to Amazon listings to determine the set of keywords your product could rank for. Before creating your listing, you must have these keywords ready.
Select specific product categories and subcategories.
Using the appropriate categories will increase the visibility of your products. Do your best to match it as specifically as you can to the right categories. You can also check your competitors to see what categories they're listed on.
Amazon requires all its products to have universal product codes (UPC). You can purchase these from GS1 and use them under the Product ID section when you create your listing.
Draft a keyword-rich but not keyword-stuffed product title.
When creating product titles or listing titles, make it as descriptive as possible using the right keywords. Make sure the title flows naturally and is not stuffed with random keywords. It must be easy to read and use as many characters as is allowed.
Highlight features and benefits in the product description.
Maximize the product description area to talk about the features and benefits of your product. Avoid long winding descriptions. Focus on the main features and use bullet points as needed to make it concise and easy to read. Be truthful and don't embellish. Use keywords naturally across your product description.
You can write serious or fun product descriptions depending on the products you're selling. If it's a tool, briefly explain how the product works, what problems it solves, what it's made of, and other details that will help the customer decide. If it's a toy, write a playful description that helps the reader paint a picture of the fun the toy will bring.
Always include relevant information about your products in the product description. Your goal is to help customers decide that it's the right product for them and not leave them guessing what your product is.
Upload high-quality images to your product listings.
The majority of customers purchase using their mobile devices. They look at photos before reading the product description. Your photos should be enough to grab their attention.
You can take your own photos, but it's better if you can engage a professional photographer. Aside from standard product photos that show the different product angles, take lifestyle photos. These are shots that show how to use the product. It helps customers imagine how they will use the item.
Make sure photos are clear and simple. Mobile devices are smaller than desktops, and any small elements across a photo may go unnoticed.
Always follow Amazon's photography requirements to avoid having your photos rejected. Some of these include having your main product image shot against a plain white background, without watermarks and zoomable. The resolution must be 1000px by 500px, and 85% of the frame must be composed of the product. Amazon allows nine photos to be uploaded.
Use product videos if you can.
Brand-registered accounts are allowed to upload product videos. These are a great way to capture the interest of your customers and increase their conversion rate.
You can also use Amazon Listing Optimization Tools to help you create highly optimized product listings that are proven to consistently generate sales.
---
Getting Consistent Sales Through A Strong Product Launch
As soon as your product listing is live, you need to start getting sales to eventually get your BSR or bestseller rank. This ranking will help ensure the scalability of your Amazon FBA business.
To make sure you enjoy high rankings, you should:
Always have inventory. Avoid out-of-stock scenarios because this causes your listing to disappear from search results and impacts your sales and rank.

Always use the relevant keywords. Using the right keywords will determine your relevance to a customer's search query and help with your customer metrics.

Always monitor and aim to improve your customer success metrics. These metrics will tell you how well your products are performing and if they're resonating with your customers. These are conversion rates, click-through rates, add-to-carts, reviews, and purchases.
---
Getting Your First Sale Using Amazon PPC
The first sale may be hard to get but once you get it, the rest naturally follows. There are many strategies to get your first sale, but the best and most effective one is through Amazon Pay-Per-Click or PPC.
Amazon PPC is a broad topic and we've written a comprehensive step-by-step guide to help Amazon sellers run successful PPC campaigns. In a nutshell, it's a marketing method that involves bids to secure an advertising spot. The highest bidders secure their spots and appear near the top of search results. Advertisers only pay for the spot when a customer clicks on their product.
You can always use PPC Management Software and Tools to help you run highly converting PPC ads. The same general guidelines on creating highly-converting product listings also apply to creating PPC ads. These are using the right keywords, high-quality product images, relevant descriptions, and so forth.
As soon as you can, run PPC campaigns. They take some time to optimize, and at first, you'd run automatic campaigns. But the more data you gather about your customers and what they want, the more you can optimize your campaigns to match their needs.
---
Improving Amazon Conversion Rate
You can't rely on PPC ads forever. Eventually, you'll need to invest in other forms of marketing, such as content marketing or influencer marketing, to drive traffic to your listing. Whatever marketing methods you use to get customers to view your listings, you need to make the views convert to actual purchases.
Here are some tips to help improve your conversion rates.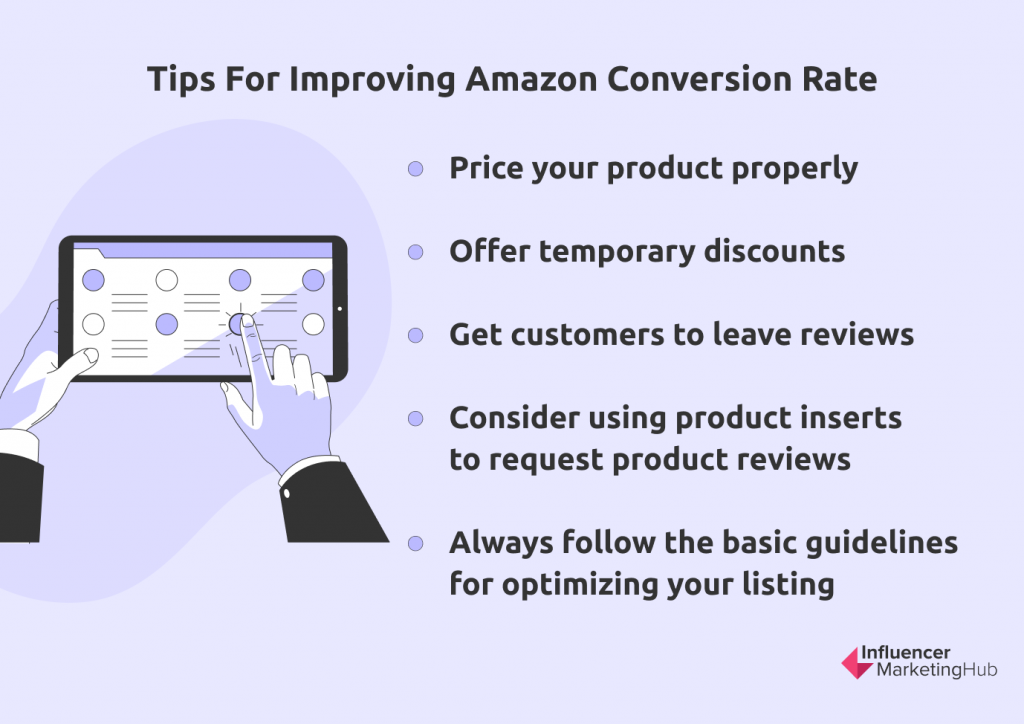 Price your product properly. At first, as you're getting your brand known, you may need to price a bit lower than your competitors. Find that balance where you're priced lower but still profitable. Remember the "Rule of 3s" discussed previously.

Offer temporary discounts. This draws attention to your products because Amazon places a bright orange coupon that attracts customers and helps your listing stand out.

Get customers to leave reviews by using the "Request a Review" functionality. This sends an official Amazon email reminder to customers who purchased in the past 30 days to leave a review for the product. Customers are more likely to trust emails from Amazon, a brand they already trust.

Consider using product inserts as a creative way to request product reviews. Some Amazon sellers use cards inserted in their product packaging to thank customers for their purchases and request reviews. These inserts are not prohibited but be mindful of what you say to avoid violating

Amazon's Terms of Service

.

Always follow the basic guidelines for optimizing your listing by using the right keywords, images, etc.
---
Scaling Your Amazon FBA Business
You have the right products stored in Amazon warehouses. Your product listings are optimized, and your marketing strategy is in full swing. Sales are coming in, and orders are being fulfilled. What's next?
It's time to scale your business and be one of the top 20% of Amazon sellers that make $25,000 to $250,000 monthly.
Here are advanced strategies to help you create a 6-figure Amazon business.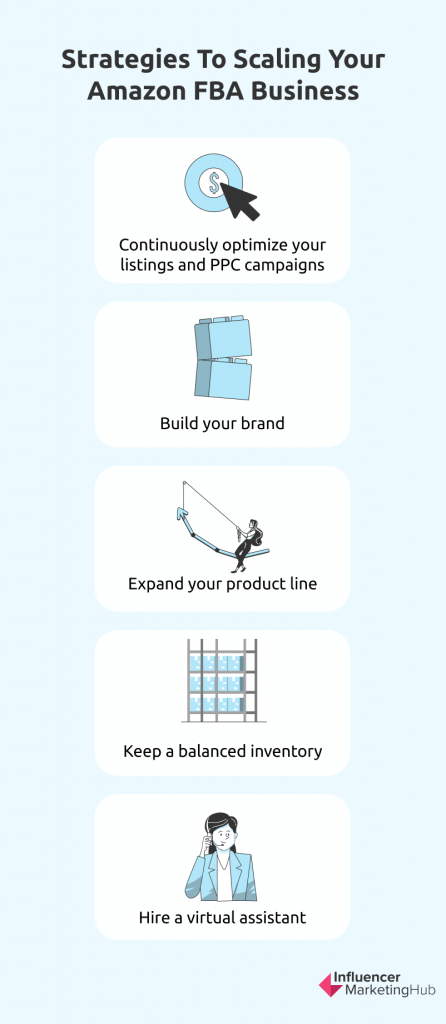 1 – Continuously optimize your listings and PPC campaigns.
Selling on Amazon is an active business. You need to regularly check your listings and PPC campaigns to make sure they remain relevant to your target customers.
If there are customer questions about your listings, answer them. Take note of customer reviews, especially those suggesting product improvements.
Always make sure your ads are hard working. They should constantly be top performers delivering on the required sales. Remove poor-performing keywords and adjust your bids as necessary.
2 – Build your brand
Invest time and resources to build the brand around your products. Create social media accounts and invest in social media marketing. Become a brand-registered account on Amazon to access enhanced marketing features. Have a well-designed product packaging.
Building your brand creates customer loyalty which becomes an organic way to drive traffic to your Amazon store. This helps your business ease up on ad spending.
3 – Expand your product line
Continue doing product research and creating new products that complement what you already have. By creating new products, you build better credibility in your chosen niche and acquire greater market share.
4 – Keep a balanced inventory
Even if your products are stored in Amazon warehouses, you're still responsible for inventory management. Find the right balance of having a healthy inventory level where you don't run out of products but also don't overstock.
Remember there's a cost to over inventory (storage fees and inventory costs) as well as lost sales opportunities for out of stocks. The recommended inventory level is 3 to 6 months' worth at any given time (except holidays).
5 – Hire a virtual assistant
Amazon FBA selling is a low-maintenance business that you'd be tempted to do everything on your own. But some tasks are better delegated to others like a trustworthy assistant. These are administrative day-to-day tasks like optimizing PPC campaigns, sourcing new products, reconciling shipments, handling listing issues, etc.
By delegating these tasks, you can focus your energy on other strategic and high-level tasks to drive your business growth further.
---
Final Thoughts
Amazon sellers earn anywhere from $1,000 to $250,000 monthly. How do top sellers do it? By taking full advantage of Amazon's FBA program.
We've covered in this article the steps to getting started as an Amazon FBA seller. With Amazon becoming an even larger e-commerce channel than before, Amazon FBA selling remains to be a profitable way to run a business on the platform.
If you've always wanted to be an Amazon FBA seller but hesitated, now is the time to get your feet wet and forge ahead.
Frequently Asked Questions
Is FBA a good way to make money?
FBA stands for Fulfillment by Amazon. Amazon FBA isn't as well-known as a money making option on Amazon. However, it is an excellent way to make money without handling shipping or customer support.
How much do most Amazon FBA sellers make?
Half of Amazon sellers will earn between $1,000 to $2,500 per month. Some sellers can earn up to $45,000 per year. Amazon will let you put your products on display on their website, which means more sales and more profit.
Is FBA the same as sold by Amazon?
An Amazon FBA seller is an ecommerce business that uses Amazon's store and outsources inventory management to sell through the Amazon FBA program. The seller sends their products to Amazon warehouses for order fulfillment. Amazon keeps their inventory until a customer places an order. Amazon will then pick, pack and ship the order.
Can FBA make you rich?
Amazon FBA is a great way to make money, but it will not automatically make you rich. No business is a sure way to make you rich, and Amazon FBA is included. With a good product and strong marketing strategy, though, you can make significant income through Amazon FBA.