Considering dipping your toes into the world of online business but feel overwhelmed about where to begin? Or maybe you're already running multiple businesses but want to try your hand at eCommerce to develop another income stream. Either way, dropshipping might be the solution you're looking for. In this article, we'll teach you how to start a dropshipping business of your very own, quickly and easily. If you've never even heard of dropshipping, don't worry. We're going to get started by covering what dropshipping is, how it works, and why you should start your own dropshipping business. From there, we'll walk you through what you need to know to build your eCommerce empire from the ground up.
Let's get started!
---
How to Start a Dropshipping Business in 2021:
---
What Is Dropshipping and How Does It Work?
Dropshipping is an eCommerce business model in which store owners (you) sell directly to consumers (the people who buy from you) without stocking any inventory. A customer purchases a product from your dropshipping store and a third-party supplier ships the item directly to the customer. The customer pays whatever price you set and you pay the supplier's wholesale price—the rest is yours to keep (your profit).
---
Why Start a Dropshipping Business?
Entrepreneurs love dropshipping because of the low risk involved. You don't have to create and produce products, store inventory, package and ship the products. You just sell them and pay the supplier their cut. There are even dropshipping suppliers who handle the customer service, too, so if something goes wrong, they even deal with the customers to resolve the issue.
It's a ridiculously easy way to start an eCommerce business.
---
How to Start a Dropshipping Business
Ready to get started with your own dropshipping business? Here are the steps you need to take to get off on the right foot.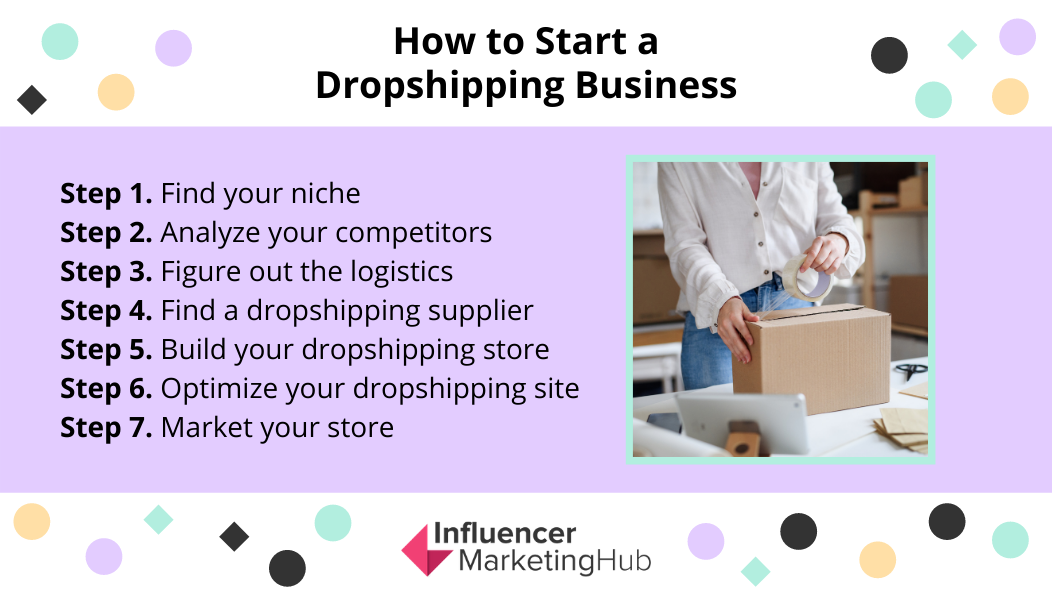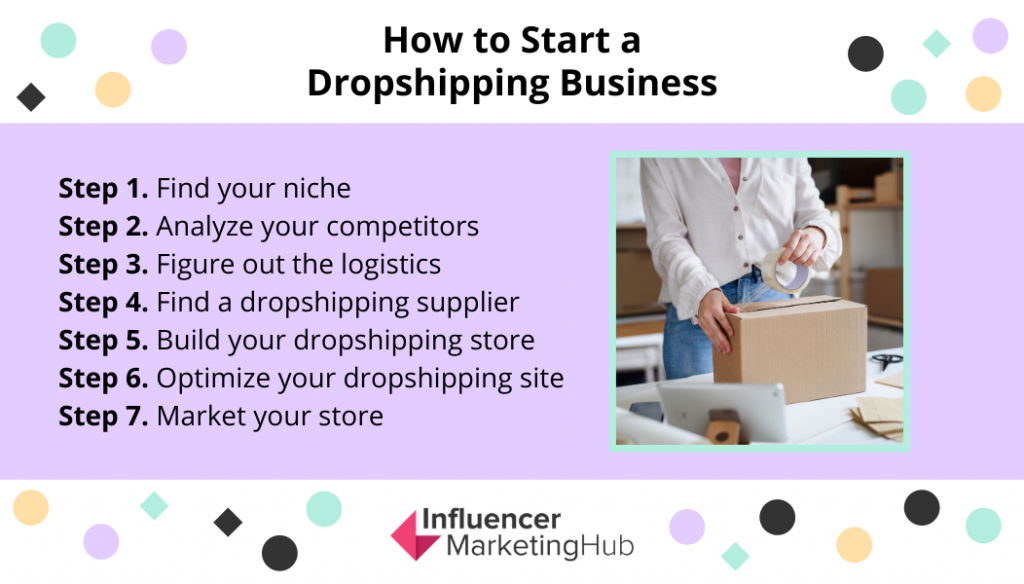 ---
Enjoy eCommerce Success With Dropshipping
A dropshipping business can be a fun and easy way to get started with eCommerce. Many dropshippers start their business as a side hustle, still maintaining a full-time job and using the income from the dropshipping business to supplement their income but others go full bore into their dropshipping business and turn them into quite lucrative businesses.