Dropshipping is a fast and easy way to set up a business in 2023. This business model allows you to sell products without having to own, package, and ship items to consumers. Instead, as a dropshipper, you pass the order to a supplier, manufacturer, or distributor who can fulfill it on your behalf.
Amazon is one of the largest online marketplaces in the world. It is also a well-favored platform for dropshipping. With over 200 million Prime subscribers, it has such a huge reach, and dropshipping is a great way to tap into potential markets.
In this guide, we're going to delve into the pros and cons of Amazon dropshipping. We're also going to show you how to dropship on Amazon and turn your business venture into a profitable one.
---
How to Dropship on Amazon: Everything You Need to Know in 2023:
---
How Does Dropshipping on Amazon Work?
Before jumping into Amazon dropshipping, you must understand the platform's policies on dropshipping to avoid suspension. For instance, Amazon's dropshipping policies prohibit you from purchasing products from another retailer on Amazon. Your seller account can get suspended if you violate it.
Here are other policies that you must adhere to as a dropshipper on Amazon:
You must identify yourself as the seller in your invoices, external packaging, and packing slips.

You must be responsible for accepting and processing returns.

You must comply with Amazon's Terms of Service.
Once a customer orders a product you listed on Amazon, you purchase the product directly from the supplier by using a portion of the proceeds. You then forward the customer's information, then the supplier ships the goods to the customer.
At the same time, the invoices, external packaging, and packaging slips must not contain information indicating the supplier's name or contact details. Simply put, customers aren't supposed to know that the items are purchased from another company.
---
The Pros of Amazon Dropshipping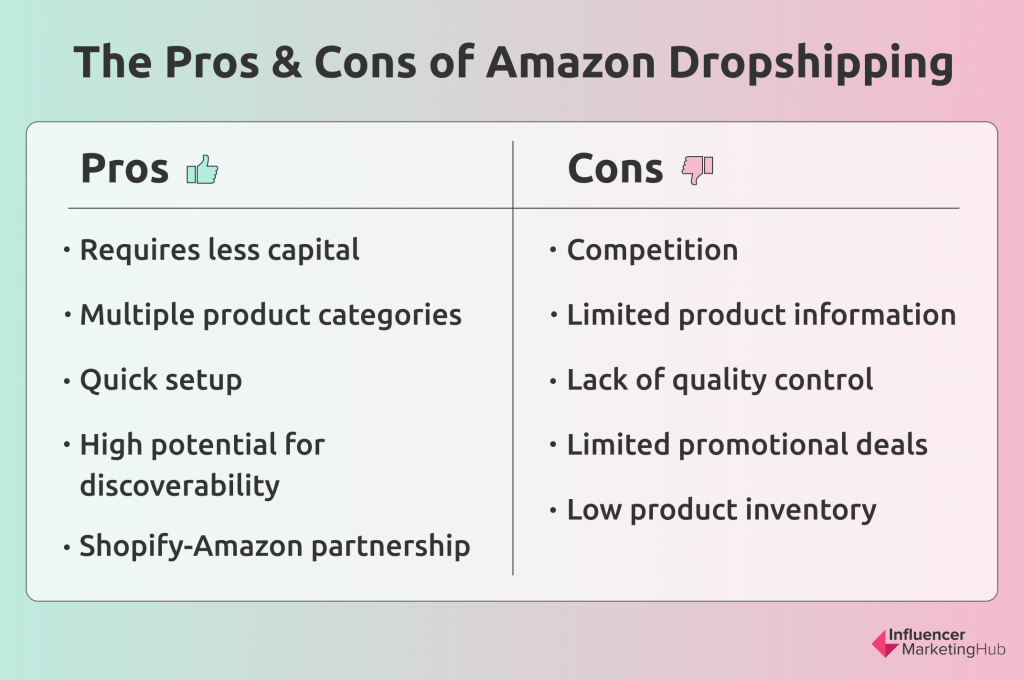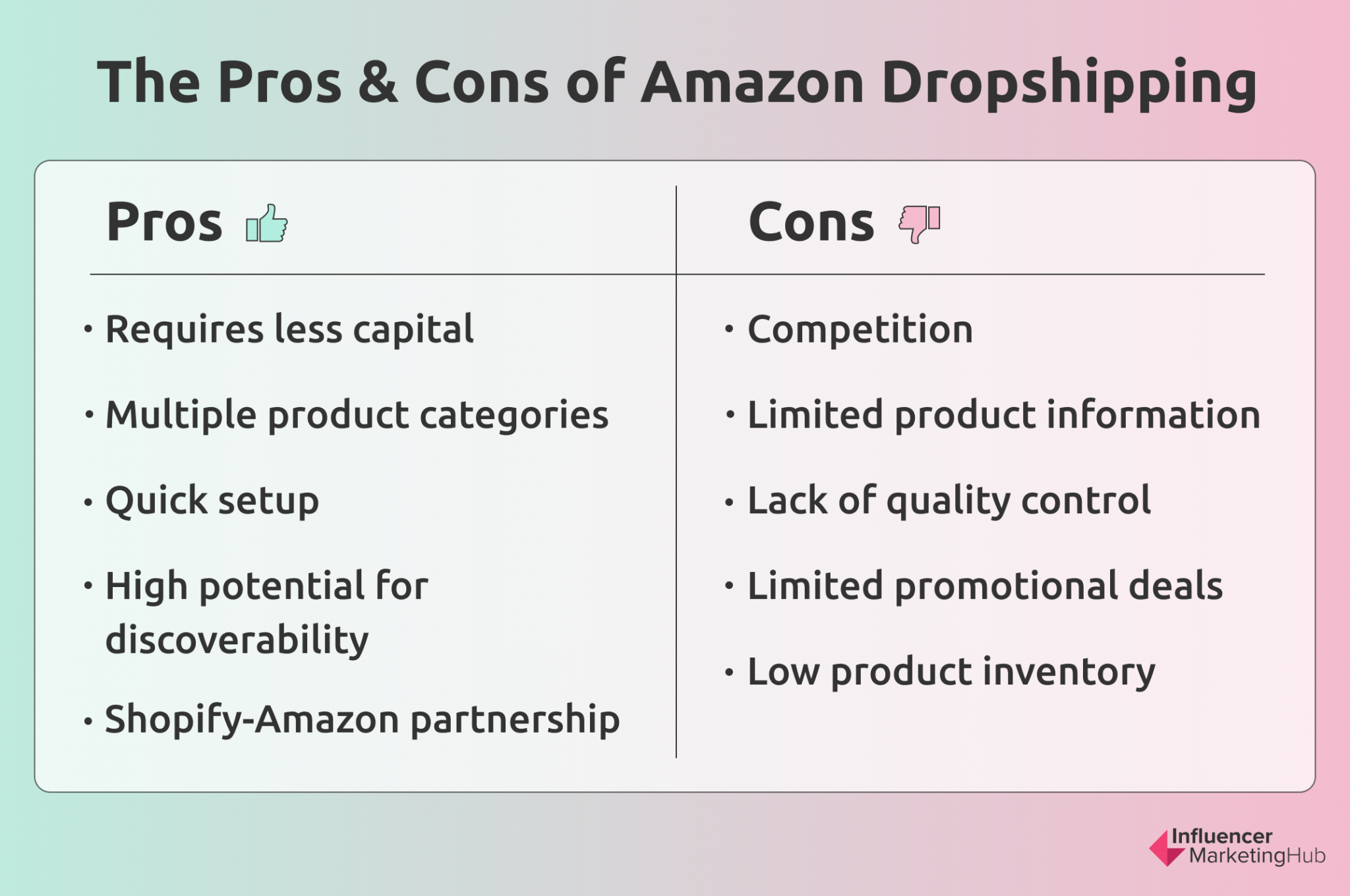 Amazon dropshipping comes with a range of benefits which makes it an attractive platform for first-time entrepreneurs. These are the advantages of launching an Amazon dropshipping business.
Dropshipping is a highly accessible and economical way to start a business. Compared to traditional retail methods and e-commerce models like wholesaling, you can earn revenue without buying merchandise upfront and handling products physically. You also don't need to pick, pack, and ship orders to consumers.
Multiple product categories
Amazon has over 30 product categories. With the help of the right suppliers, you can sell in as many niches as you want. Just avoid selling products that belong to Amazon's restricted categories, which include alcohol, powersports, and medical devices.
You don't need to purchase and store inventory to run a dropshipping business, which makes it very convenient for new entrepreneurs. You can set up an Amazon seller account in no time. Once you've found suppliers, you can start selling products.
High potential for discoverability
As one of the most popular online marketplaces in the world, Amazon has a massive customer base and a vast array of dropshipping niches. With the right products and suppliers, you have a huge potential market at your fingertips.
Shopify-Amazon partnership
If you're a Shopify merchant, you can connect it seamlessly to Amazon and tap into its large marketplace. By linking Shopify and Amazon, you can manage orders on both platforms easily. You can also keep inventory levels synced between the platforms to prevent over-selling.
---
The Cons of Amazon Dropshipping
Dropshipping on Amazon comes with a few disadvantages, too. You might want to look into them before jumping right into this new e-commerce venture.
As you can expect from an e-commerce model with low barriers to entry, Amazon dropshipping is a highly competitive business. You have to put a lot of thought into the products that you're going to sell if you want to avoid oversaturated niches.
Limited product information
Often, you'll encounter sellers on Amazon with limited product information. If your supplier doesn't communicate the right product details, you won't be able to answer customer queries about your product.
There is no way for you to manage the quality of the products that get shipped to consumers. You rely heavily on your supplier for this process. This is why you must carefully choose the companies that you partner with.
Limited promotional deals
Since you aren't purchasing merchandise in bulk, you can't offer consumers the usual promotional deals and discounts. Still, you can offer free shipping and discounted bundles. You can also sell different products from your store in bundles to generate higher sales.
One of the downsides of dropshipping is having low product inventory. If you're relying on a single supplier who may work with other merchants, you might not have enough products to sell to customers.
You can source the same products from other suppliers whenever inventory is low. However, working with multiple suppliers can add complexity to your operations. It defeats the purpose of using the hassle-free dropshipping method.
Customer service concerns
Since your suppliers handle the packing and shipping of the products, you may not always be aware of the order status. What happens when a customer asks about the delivery status? Well—you can't respond until the supplier forwards that information to you.
If a customer receives an incorrect package, you won't also be able to respond immediately. You have to check with your supplier and verify everything before you can act.
Small miscommunications can lead to potentially large problems, such as poor customer experiences and bad reviews. Effective communication is therefore crucial to dropshipping. Both the seller and the supplier must agree and adhere to communication standards to prevent all kinds of customer service concerns.
---
Amazon Dropshipping vs Fulfillment by Amazon (FBA)
Merchants on Amazon can take advantage of the Fulfillment by Amazon (FBA) program, which offers similar benefits to dropshipping. It spares you from inventory, warehousing, and fulfillment headaches.
Amazon picks, packs, and ships products on your behalf for a fee that varies depending on the product type. However, it gives you more control over customer experiences.
If you're dropshipping with FBA, you're free to choose the type and quantity of products for fulfillment. You ship them to Amazon, and they'll keep them in their fulfillment centers. When customers make orders, they will pick, package, and ship the products to customers. They will also handle customer service and returns.
FBA, however, might not be the most ideal option for new entrepreneurs because you will have to invest in merchandise. On top of that, you incur fulfillment charges and monthly storage expenses. You have to take that into consideration to make sure that you earn enough profit to continue your business.
Thus, if you don't have the capital to invest in bulk stock and want to avoid bigger risks, dropshipping is still the best option for you. It's low risk and profitable—that is, if you put in a lot of time and effort into your business.
---
How to Start Dropshipping on Amazon
Whether you're a new entrepreneur or a veteran, Amazon dropshipping can be a great opportunity to increase your business' online sales. Here's how you can start a dropshipping business on Amazon.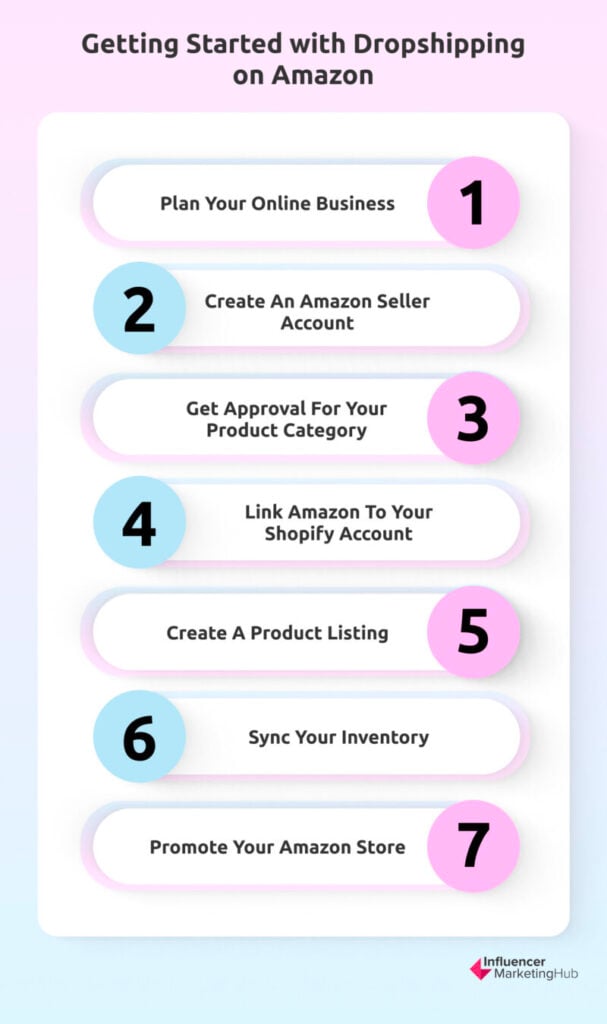 Whether you're a new entrepreneur or a veteran, Amazon dropshipping can be a great opportunity to increase your business' online sales. Here's how you can start a dropshipping business on Amazon.
Plan your online business
Although setting up a dropshipping business is relatively easy and quick, having a sound plan is still necessary. It will be crucial to your success as an entrepreneur. Aside from the basics like your business name and logo, you need to think about the products that you want to sell, your suppliers, your target market, and potential marketing initiatives.
Create an Amazon seller account
If you intend to sell several products, you might want to get a professional account. That's because the individual selling plan costs $0.99 per item sold and can take a large chunk out of your margins.
A professional seller account has a monthly fee, as well as other additional fees. To register, go to sellercentral.amazon.com. Enter the required details like your identity, email, and password. You'll also be asked to provide your business details, including address and tax information.
Get approval for your product category
Depending on the type of product you want to sell, you might have to get approval before you can launch your Amazon store. Fashion, jewelry, and groceries are a few examples of product categories that require approval. For niche products like electronics, video games, and books, you can open an online store without waiting for Amazon's approval.
Take note that Amazon has restricted products. Go over this list and make sure that you aren't selling products that belong to any of their listed categories, which include alcohol, dietary supplements, and laser products.
Link Amazon to your Shopify account
If you're already on Shopify, you might as well link it to your Amazon account. This can help you manage orders on both platforms easily. Seeing a name and a brand tied to your Amazon account can encourage repeat purchases as well.
After receiving approval, link your Amazon account to your Shopify store. First, go to your Shopify account. Look for the Sales Channel on the left panel, and click on the + button on the left sidebar. It will reveal a list of items, including Amazon. Tap on "Add channel" to link both platforms, then click "Connect to Amazon" to confirm.
Create a product listing
Dropshipping products won't be automatically listed on your Amazon account. To start dropshipping, select the Amazon sales channel link. Look for the "Create Listing" button, and hit "Select Product."
This will give you two options. The first option is for brands that produce their own products. It's to ensure that they get Universal Product Codes (UPCs).
As a dropshipper, you'll need to select the second one. It is for those who sell products that are made by other brands. After choosing this option, you can start searching for products to sell. Just click "select" if you find a product that you want to sell. Once you're all set, click on "Publish" to conclude the process.
Sync your inventory
Syncing Shopify inventory with your Amazon sales channel can help you prevent customers from ordering merchandise when they are out of stock. Shopify will automatically update your listing on Amazon to match the inventory levels. This way, you can dodge negative reviews and potential customer service issues.
Promote your Amazon store
Amazon is a competitive marketplace. To stand out from the competition, you've got to invest in marketing initiatives such as paid promotions. You can run ads on Amazon to draw in new customers. You can also advertise on social media networks to increase sales.
---
5 Tips to Improve Your E-Commerce Business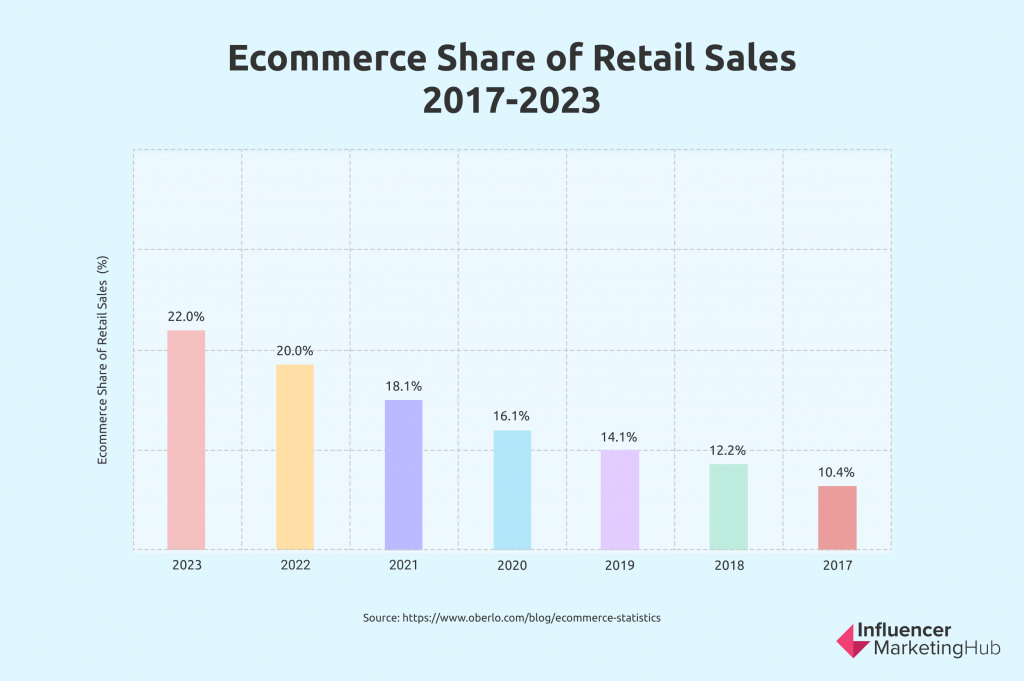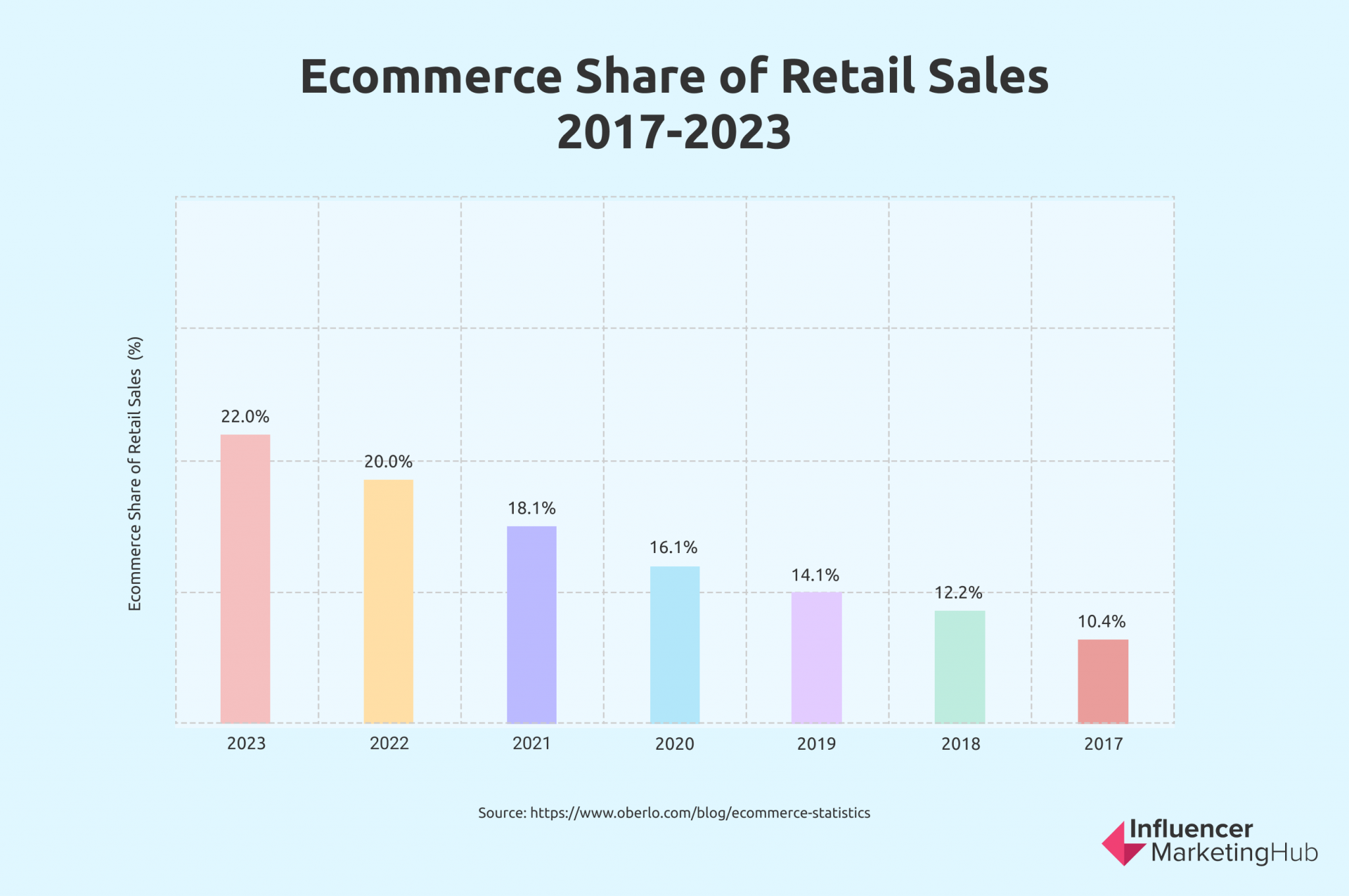 E-commerce has been growing steadily in the past few years, creating opportunities for new entrepreneurs. It's expected to take up 22% of all worldwide retail sales by 2023.
Now that you know how to dropship on Amazon, you can put your plan into action and start earning money. We've included some bonus tips that can help you improve your online venture.
1. Maintain a 95% seller rating
Aim for at least a 95% sales rating. Having a high sales rating can make you appear more trustworthy in the eyes of consumers. It also increases your likelihood of appearing in organic searches, giving you a competitive advantage over sellers with lower ratings.
2. Price your products wisely
Before setting the prices of your Amazon products, take into account all your fees, including your Amazon's monthly fee and other expenses like fulfillment. To succeed in dropshipping, your margins have to be high enough to generate profit. Ideally, your markup should be between 30% and 50%.
3. Don't rely solely on Amazon
Amazon is just one of many thriving online sales platforms. To increase your sales, you should consider using Amazon alongside other platforms like Facebook Shops and Instagram.
4. Optimize your product titles
Product titles must be relevant to your buyer's search queries. Instead of just stuffing them with keywords, focus on optimizing your product titles. The brand name must be the first word in your title. Then, you can add product attributes such as size, color, or model to make the titles more descriptive.
5. Aim for the Buy Box
On Amazon, you'll see the same product sold by different sellers. You compete with the rest of the merchants for sales and for the Buy Box.
The Buy Box is a small yet highly visible section on the right side of the Amazon product page which enables customers to make a quick purchase. A seller with a Buy Box will drive more sales than other sellers of a given product.
Amazon determines the Buy Box winner based on seller rating, history, fulfillment, and other variables. After considering all these factors, Amazon gives the Buy Box to sellers that perform well on the platform.
Frequently Asked Questions
Is dropshipping legal?
Yes. Dropshipping is a legitimate fulfillment method which many global retailers use. As with any other form of business, there are many elements of legality involved in dropshipping such as taxation, customers, and legal procedures.
Is dropshipping allowed on Amazon?
Amazon policy allows dropshipping as long as you are the seller on record and you identify as such on invoices, packing slips, and packaging. You must shoulder the responsibility for accepting and processing customer returns. Also, you should leave out details about your supplier or manufacturer.
How does a dropshipping business make money?
As a dropshipper, you make money by selling products from other suppliers at enough of a markup to generate revenue. For example, you can source a $15 product from a supplier and sell it for $30 on Amazon. You have a $15 margin on every sale, minus your fees.
Is dropshipping on Amazon profitable?
Dropshipping on Amazon can be profitable. By watching your margins, you can ensure that your business is making enough profits. You can make a 30% to 50% markup on your merchandise to earn a decent profit.
You can also increase your sales by offering products in less competitive niches. By avoiding price wars and competition, you can focus on selling more products.
What is the Amazon Buy Box?
Amazon's Buy Box is a small section located on the product description page, where customers can opt to "Buy Now." This button enables shoppers to make a quick purchase.
Not all sellers have a Buy Box. Amazon gives it to multiple sellers who they consider to be great buying options for customers. The Buy Box also rotates between sellers. Unless you're the only seller of a particular product, you won't get to keep the Buy Box 100% of the time.
Do I need to register my business to use a dropshipping supplier?
Although you can operate an e-commerce store without a business license, this can lead to potential legal issues. Ideally, you should register as a Limited Liability Company (LLC) to show potential dropshipping suppliers that you are a legitimate business entity.