The appeal of online shopping is its convenience. Though, one area where brands often lose customers is at the checkout stage. And, it's not necessarily because customers have changed their mind about the products that they want to buy.
Instead, in most instances, they don't convert into paying customers because the shipping details weren't clear, the page took too long to load, or the store didn't offer the payment method that they wanted to use. You see, while cash might be king (though, that's probably up for debate), when it comes to online shopping, cash is pretty much useless. You might still be lucky and get the odd local store that still accepts cash on delivery, but that's about that.
And, when it comes to online shopping, it's no longer just credit cards that are gold. From Amazon Pay to Zip, there are a number of alternative payment options that are proving popular. In fact, the use of different payment methods is one of the online shopping trends that are expected to become only more popular and necessary in the coming years.
In this article, we focus specifically on Amazon Pay. Whether you have your own online store and are searching for best practice examples or just want to shop and pay with Amazon Pay, here are 15 sites that currently offer Amazon Pay.
Build a list of eCommerce & D2C companies based on attributes made possible for the first time with Commercepedia
---
15 Top eCommerce Websites Using Amazon Login and Pay:
---
How Does Amazon Pay Work?
Amazon Pay is a service that's available to Amazon customers. In addition to using it on Alexa and Amazon, Amazon customers can also use it when checking out at other online stores that offer it as a payment option.
It's really convenient and easy to use. If you have an Amazon account, you don't need to complete any extra sign-ups or create a new account. Whenever you see the Amazon Pay button, you're ready to use it as a payment method. In short, it uses the info and payment methods that you've saved in your Amazon account.
Plus, you won't have to pay anything extra for using Amazon Pay. That means no fees will be added to your purchase on sites that accept it.
---
15 Leading Sites Accepting Amazon Payments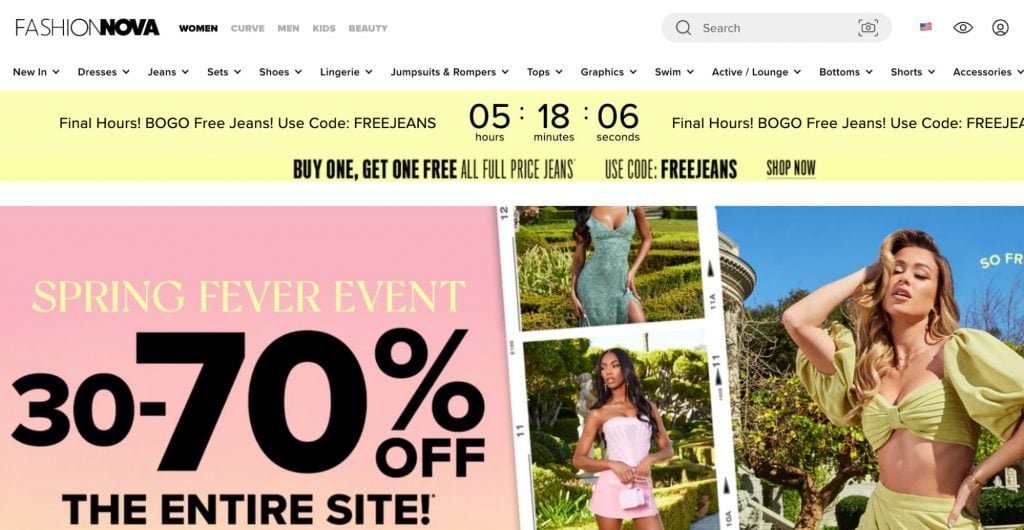 Based in Los Angeles, Fashion Nova is one of the top quick-to-market apparel and lifestyle brands. Each week they introduce over 1,000 new arrivals to their online store.
According to their website, their followings on social media exceed 25 million. What's more, their name has also been included in chart-topping songs, while their jeans have been worn by the likes of Kylie Jenner and Cardi B.
While their items feature in the wardrobe's of celebs, their mission is to make affordable fashion accessible to people from all over the globe. One way that they've done that is by accepting various payment methods. Not only can you pay using Amazon Pay, but also other "newer" methods like Zip, Afterpay, Apple Pay, and Google Pay.
---
If you're into fashion brands and searching for a place where you can shop using Amazon Pay, you can also check out LN-CC. As one of the leading luxury multi-brand retailers, their list of brand names is impressive to say the least. In fact, the list is so long that they have to break it down in alphabetical order.
To stock such a huge product range that meets the needs of their target audience calls for careful curation. Then, to ensure that these products get in front of the right eyes, they also need to be selective about which marketing channels to use. Cristian Musardo, the chief executive at LN-CC, explains that they believe that the leading high-end fashion brands need to work with only relevant platforms that are able to communicate their brands in a differentiated way. For this reason, LN-CC strives to create their own content that also involves their community. For example, in 2021 they created a three-part podcast series and playlist that featured important cultural figures to promote Burberry's Spring/Summer 2021 collection. The result – an uplift of 479% in Burberry sales.
---
Dolce & Gabbana needs no introduction. To translate their success into numbers, here are some stats shared by Statista:
It's estimated that nearly 1.8 million people in Great Britain use Dolce & Gabbana perfume and eau de toilette for women.

With over 12 million followers on Facebook, they're one of the leading luxury brands in terms of follower count.

In 2021, they were the third leading luxury fashion brand in Italy.

Their Collezione Genesi NFT sale that consisted of nine pieces generated more than $6 million.
They might be a premium fashion brand, but you don't necessarily need to swipe your credit card to shop at their online store. In addition to Amazon Pay, they also offer a long list of other payment methods that include Apple Pay, Klarna, and WeChat Pay. And, if you're shopping from Italy, you can also pay cash on delivery.
---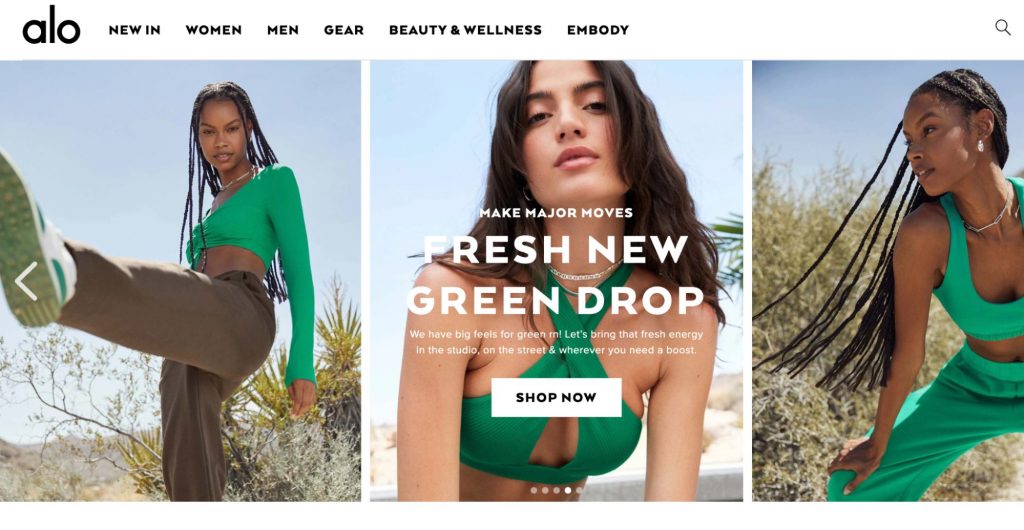 Alo Yoga is one of the top online shopping sites and considering how big the yoga industry is, it's expected that the brand will only grow from strength to strength in the coming years. Loved by names like Hailey Bieber, they also recently launched a virtual space, Alo Sanctuary, in Roblox.
Another way that they make sure that they embrace the latest technologies is by including a number of alternative payment methods. In addition to Amazon Pay, they also accept Afterpay and Zip.
---
For quality K-pop gear, be sure to check out allkpop THE SHOP. From tees to tanks to phone cases to pins, it offers a wide range of K-pop merch. Not only do they include Amazon Pay as one of their payment options, but also cryptocurrencies (a payment option that few other fashion retailers accept).
---
If you're a regular reader of Influencer Marketing Hub, you'll probably already be familiar with Allbirds. We've featured them quite a lot as their online store offers some of the best eCommerce website design and their Facebook Ad campaigns are also noteworthy.
Founded nearly a decade ago, they're known for their merino wool products. What originally started as novel footwear has grown to an impressive range of eco-friendly products that include tees, tops, sweatpants, and socks. Not only are their products kind to the environment, but they also try to be budget-friendly. So, if you prefer to split the payment amount across multiple individual payments, you can either use Afterpay or Amazon Pay.
---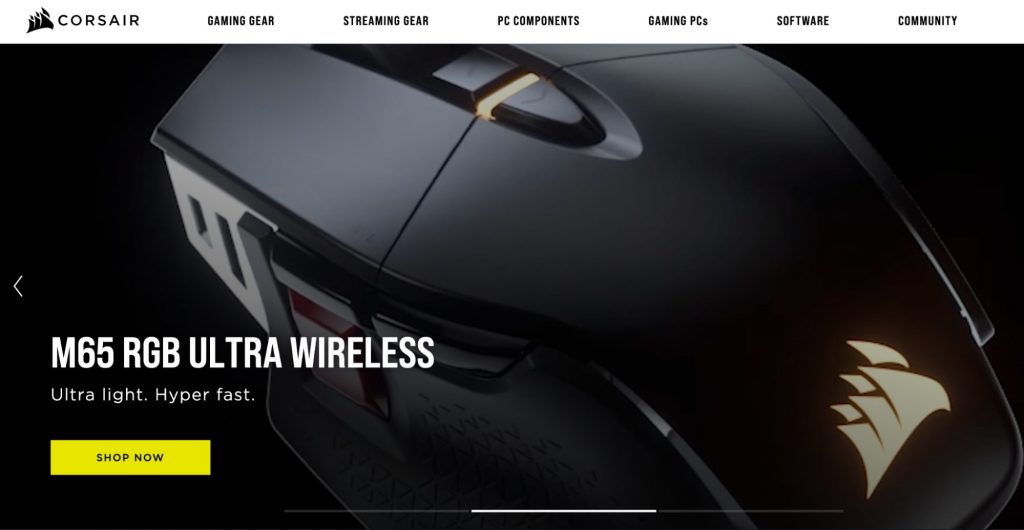 If you're in need of new gaming gear or components for your PC but can't afford to pay the whole amount in one shot, you can check out CORSAIR that offers both Amazon Pay and Klarna as payment options. As one of the leading international developers and manufacturers of high-performance solutions for PC enthusiasts and gamers, they can be a great resource for content creators. For example, they also offer a CORSAIR Streamer Program that you can apply to join for more support and hardware.
---
Princess Polly's online store was launched in 2010 in Australia. They've since then expanded their reach to the United States too where they've opened a second office.
While most of the other online fashion stores on this list also cater to men, as the name suggests, Princess Polly targets women exclusively. Their clothing and accessories are inspired by pop culture, street style, and the latest fashion trends. From dresses to tops to bottoms to bikinis to even vegan shoes, you'll find everything you need to get dressed from tip to toe in style.
---
AllSaints have enjoyed so much success with Amazon Pay that their success story using this payment method has been featured on Amazon Pay's for business blog. According to this blog post, they've managed to increase their checkout conversion by 34% with the help of Amazon Pay. What's more, they've enjoyed a significant increase in conversion and managed to reduce their checkout time by as much as 1 minute and 10 seconds.
Much of this success can be attributed to the fact that with Amazon Pay, customers don't have to remember their credit card details or shipping address. This means that customers can basically just click and checkout.
---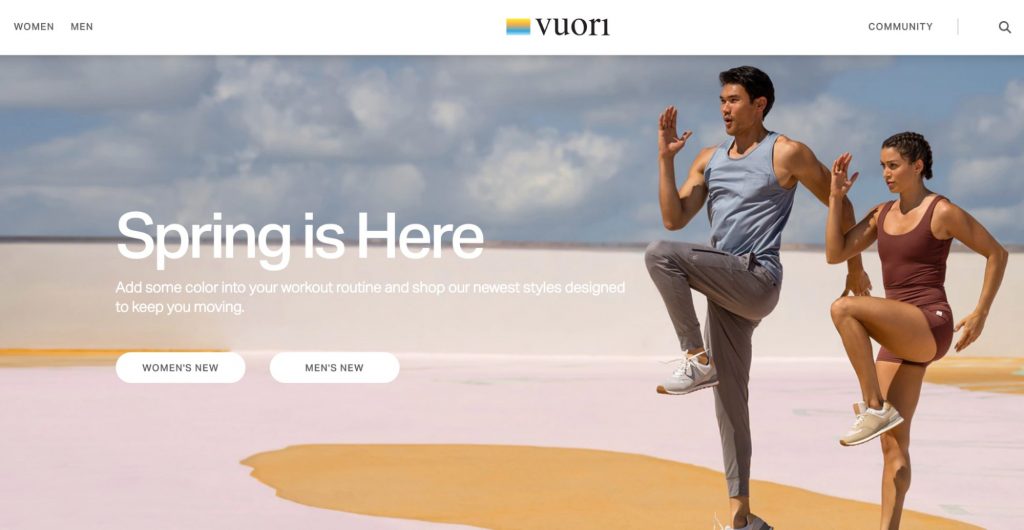 Similarly to Alo Yoga, Vuori sells premium performance apparel. According to their website, they get their inspiration from living an active coastal Californian lifestyle. Not only do they integrate fitness with sport and surf, but also art. This rather unique approach means that they can offer a fresh view on performance apparel and challenge the rules of traditional activewear. The result: fashionable, functional pieces.
As you would expect, ethical manufacturing and sustainability are key to their philosophy. Their goal is not only to manufacture great products, but also foster great relationships with the natural environment and customers (hence, one of the reasons why they make it easier for their customers to check out using alternative payment options like Amazon Pay).
---
Launched eight years ago, HODINKEE Shop is all about the smallest details. After all, if you're going to be selling watches, even a second counts, right?
Whether you're interested in a new watch from some of the world's leading brands like Montblanc or Tissot or simply need a different strap for your Apple watch, watch this space. According to PipeCandy, their estimated web sales for the last 12 months have added up to between $50 million and $100 million and their website attracts nearly 500,000 unique visitors per month.
---
Founded in 1989, Bike-Discount has been in the race even before online shopping was a thing. During their 30+ years, they've managed to grow their brand to one of the biggest online shops for bikes, clothing, accessories, and bike components in Europe. To date, their product range boasts more than 25,000 products.
Just like their bikes offer their customers freedom and happiness, so too do their payment options. While only their German customers qualify for Klarna or cash on delivery, Amazon Pay is available to customers from most European countries including Belgium, France, Denmark, Switzerland, Sweden, and the Netherlands.
---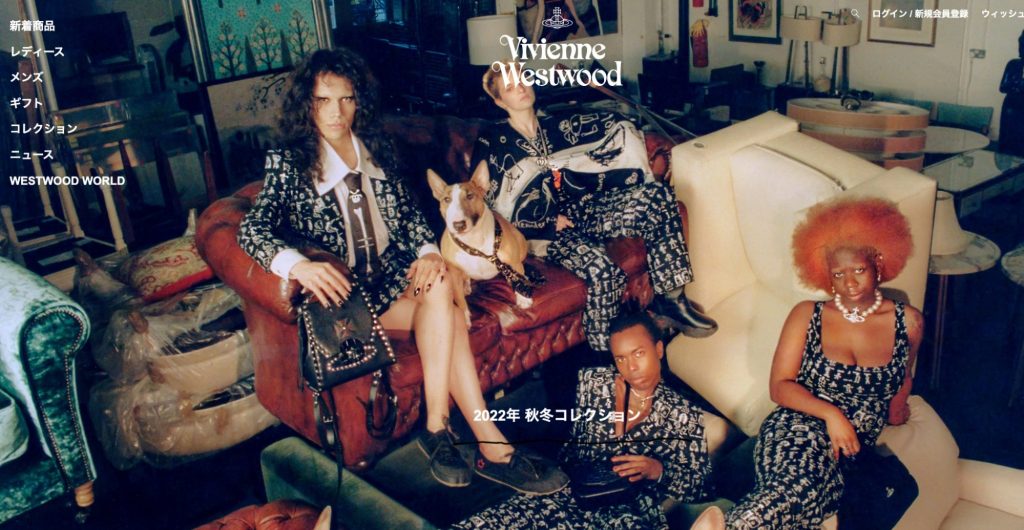 Vivienne Westwood's claim to fame is bringing modern punk into mainstream fashion. Most recently, her Fall/Winter 2022/2023 collection was worn by Gigi and Bella Hadid, two of the top models on Instagram and Snapchat, during Paris Fashion Week. Luckily, if you too want to dress like these social media stars, shopping online at Vivienne Westwood is easier than launching a modeling career as you can use buy now, pay later options.
---
More than 10 years ago when two friends embarked on their college graduation trip to Costa Rica, little did they know that it would lead to one of their biggest adventures – starting an online store that sells responsibly-made products. Their bracelets celebrate the little pleasures in life and serve as a tangible reminder to slow down and live life to the fullest.
Just like Allbirds, Pura Vida's eCommerce website is a great example of how to create a successful online store. They include all the key web design elements: vibrant colors (just like their bracelets), beautiful product photos, social proof, and clear calls to action.
When they first launched, they sold only a couple of bracelets per week. Fast-forward 12 years, and their estimated web sales for the last year amounted to between $500 million and $1 billion, according to PipeCandy.
---
La Garçonne's describes their product range as fashion items that specialize in the elegantly understated. For the past 15+ years, they've helped global customers to exude a certain modern sophistication. Their designers seamlessly switch between timeless classics and bold statements and online shoppers can seamlessly checkout using credit card, PayPal, Amazon Payments, or Discover.