Fulfillment by Amazon (FBA) can help sellers streamline operational processes and boost sales. However, many business owners are still unsure of how to leverage this service in order to achieve success.
In this article, we'll discuss how Amazon FBA works and whether or not it's still a viable option for e-commerce businesses in 2023.
---
Amazon FBA: How It Works and Ways to Maximize It in 2023:
---
What is Amazon FBA?
Amazon FBA is a service that allows sellers to deliver their products directly to Amazon's warehouses and outsource the fulfillment of their orders to Amazon. This means that Amazon will take care of packing and shipping the products to the customer, plus handle customer service inquiries.
Using Amazon FBA can be a great way to offload some of the fulfillment burdens from your company so you can focus on more important aspects of your business. You can pay more attention to marketing and growing your sales, for instance, while Amazon takes care of the rest.
---
How Does Amazon FBA Work?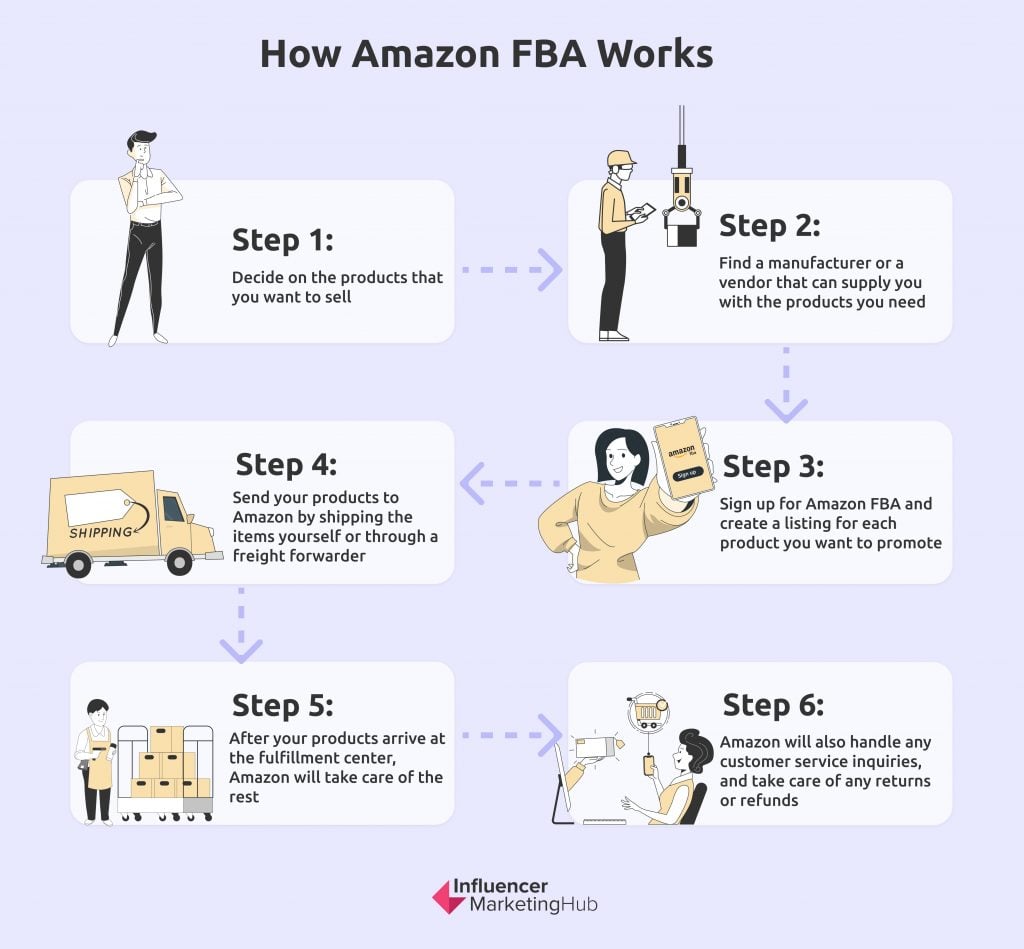 Using Amazon FBA is quite simple. Here's how you can begin:
Decide on the products that you want to sell. Research on consumer and product trends and see which items bear high profitability. You can also try looking for products that are being sold online at prices that are lower than their actual value in retail.

Find a manufacturer or a vendor that can supply you with the products you need. Consider factors like reliability, output excellence, and trustworthiness.

Sign up for Amazon FBA and create a listing for each product you want to promote. Listings should include all the

information

that customers would need to make a purchase, This includes the product's title, description, images, and price.

Send your products to Amazon by shipping the items yourself or through a freight forwarder.

After your products arrive at the fulfillment center, Amazon will take care of the rest. It will take care of end-to-end logistics services, like distributing the items to warehouses, and packing and shipping the products to the customer.

Amazon will also handle any customer service inquiries, and take care of any returns or refunds.
---
What are the Advantages of Using Amazon FBA?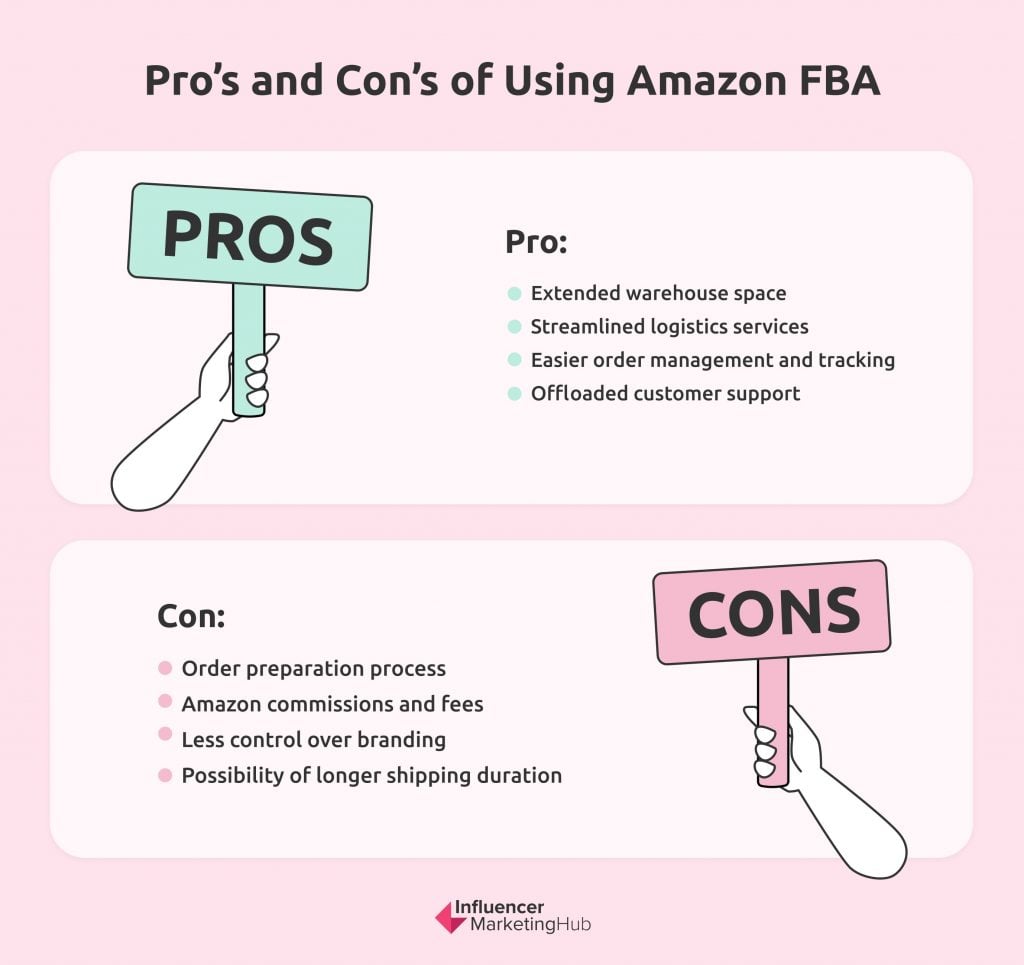 Amazon FBA is a great solution for many businesses. Here are some of the benefits the service brings:
With Amazon FBA, you can reduce the investment you'd need for warehouse spaces. Amazon has over 110 fulfillment centers across the globe, so you'd likely have one near you.
Streamlined logistics services
Since Amazon FBA handles all of the logistics and shipping for you, delivering your products to customers can be a simpler, less time-consuming process. For a small fee, you can simply outsource this part of business operations.
Easier order management and tracking
Amazon FBA also offers easy order management and tracking. You can easily see where your products are throughout the shipping process, which can give you peace of mind if you're selling products online.
Offloaded customer support
Amazon will also take care of customer service for you, which can save you time, energy, and manpower. You won't have to build a big customer support team.
---
What are the Disadvantages of Amazon FBA?
Despite its rewards, there are still certain drawbacks in using Amazon FBA:
Order preparation process
There are protocols to follow when preparing orders for fulfillment by Amazon. You would need to spend time ensuring that each item is packaged and labeled according to Amazon guidelines.
Amazon commissions and fees
As with any other sales channel on Amazon, you'd have to pay commissions and fees. For those who are just starting out, these referral fees and storage fees can be a bit daunting.
Less control over branding
When you use Amazon FBA, you lose some control over branding. Amazon puts their own labels on your packages and customers might not realize that they're buying from a third-party seller.
Possibility of longer shipping duration
One downside to using Amazon FBA is that your products can take longer to reach customers. This is due to the fact that Amazon fulfillment centers handle multiple orders from countless sellers, particularly during peak shopping seasons.
---
Get the Most Out of Amazon and Amazon FBA in 2023
In order to maximize the opportunities of being an Amazon seller and leveraging Amazon FBA, e-commerce businesses should be strategic in how they use the platform and its fulfillment service.
Here are a few tips on how you can make the most out Amazon FBA in 2023:
1) Invest time in product selection and preparation
To be successful as an Amazon FBA seller, you need to undertake rigorous product research to find a winning product. Once you find the products you want to sell, you then have to package and label them in a way that Amazon will accept. This process can be time-consuming, but selling a good product is essential to success.
2) Optimize your product listings
Make sure your listings are optimized. This means having accurate and keyword-rich titles, as well as great product descriptions. You should also use high-quality product images. Amazon gives preference to listings that have a lot of engagement, so explore using social media channels to promote your products.
3) Use Amazon's paid advertising options
Another way to be successful on Amazon is using its paid advertising options, such as pay-per-click advertising or PPC. This includes Amazon's Sponsored Products ads, which enable you to promote your products on the giant e-commerce siteAmazon.com.
You can also explore using Headline Search Ads, which enable you to have your listing come up as an ad at the top of Amazon's product search results. Search Ads can be expensive, but if used correctly, can be a good way to capture quality leads, drive traffic to your product listings, and increase your e-commerce sales.
4) Use tools to automate your business
As your business grows, you'll likely find that you need to automate some of the tasks that are taking up too much of your time. There are a number of tools available to help Amazon FBA sellers streamline and systemize their business processes.
Some popular automation tools for Amazon FBA sellers include Jungle Scout, Feedvisor, and RepricerExpress. These tools can help you with things like product research, listing optimization, and repricing. For more information, you can check out our article on the best tools for Amazon FBA sellers.
pages and be eligible for two-day shipping. That means more sales and more money in your pocket.
---
Is Amazon FBA still worth using in 2023?
The answer to that question is a resounding "yes."
With Amazon's FBA service, you can minimize the time and manpower allotted for product shipping, logistics planning, and customer support. Allowing Amazon to take care of order fulfillment lets you concentrate on other crucial aspects of your business, as well as reallocate more resources to other growth-driving initiatives.
While FBA has drawbacks, such as fees, longer shipping duration, and reduced brand control, the benefits outweigh the cons. Keep in mind that Amazon also has a stellar reputation for good customer service, making Amazon a popular and efficient fulfillment option for Amazon sellers.
Frequently Asked Questions
What does an Amazon FBA do?
Fulfillment by Amazon, or FBA, is a service that lets businesses store your products in an Amazon fulfillment center. Businesses can send products to Amazon fulfillment centers. Then, when a customer makes a purchase, Amazon FBA will pick, pack and ship the order. They also handle customer service and returns.
Can anyone Amazon FBA?
Fulfillment by Amazon, or FBA, is a business model that lets anyone, no matter their eCommerce experience, open an online store. FB lets you list products to millions of customers.
What is the difference between Amazon seller and FBA?
The key difference between FBA and Seller Fulfilled Prime is the cost. Seller Fulfilled Prime will add transportation fees for Amazon approved carriers as well as marketplace fees. With FBA, primary costs are associated with Amazon fulfillment fees and Amazon storage fees.
What is Amazon FBA selling?
Fulfillment by Amazon, or FBA, will store your products in an Amazon fulfillment center. FBA will pick, pack, ship and provide customer service for the products as well. This service can help scale your business and reach more customers.