Advertising Disclosure
Advertising disclosure:
Our partners compensate us. This may influence which products or services we review (also where and how those products appear on the site), this in no way affects our recommendations or the advice we offer. Our reviews are based on years of experience and countless hours of research. Our partners cannot pay us to guarantee favorable reviews of their products or services.
You can buy pretty much anything on Amazon. With more than 12 million products on the platform, it's easily the largest online retail store worldwide. In fact, eMarketer reports that Amazon holds nearly half of the entire eCommerce market in the United States, edging out retail giant Walmart and eCommerce marketplace eBay. But when you're looking for the best products you can sell on Amazon to make money as an eCommerce business owner, you don't just want any product. You want (need!) the top trending products on Amazon. Below, you can find the trending products by category and country courtesy of our partners at Helium10.
#
Product
Estimated Monthly Sales
Estimated Monthly Revenue
---
Top Trending Products on Amazon for 2023:
---
Top Selling Products on Amazon in 2023
When you're choosing the products you're going to sell on Amazon, it will depend on a few different things — market demand, your business niche, your competitors, and more. With all of those variables to consider, you're probably not going to pick a winner every time. And that's okay. Building a business takes some trial and error. But you'd probably like a bit less error, right?
That's why it's a good idea to pay attention to the products that are already doing well on Amazon. Research can make the "error" part of trial-and-error a bit less... trying.
There are a handful of products and product categories that consistently perform well on Amazon:
Face masks (the skincare kind, not the protect-you-from-a-deadly-virus kind)

Nail polish

Haircare products

Fitness products

Yoga mats

Water bottles

Exercise bands (resistance bands)

Games and puzzles

Board games

Laptop skins

Camera and photo equipment

Handmade products

Pet supplies

Books
As you can probably tell, the best-performing products on Amazon tend to fall into three main product categories: personal care, games and puzzles, and fitness.
---
Personal Care
Personal care and beauty products are always good sellers, but with more than a year of pandemic life under our belts, it's no surprise that online purchases of these products have increased. Instead of putting on masks and heading out to the store, people are heading to their computers to get more of their favorite products when they run out. Combine that with increased feelings of isolation and loneliness and it's no wonder we're turning to self-care. The top products in personal care are face masks (specifically those peel-off ones), nail polish, and haircare.
"Peel-off face masks" saw a big jump in Google Trends, likely because of the proliferation of people sharing videos and images of themselves using them on just about all the social media platforms. Designer nails have also seen a big increase with estimates that the global nail polish market will hit $15.6 billion by 2024. And haircare, specifically environmentally-friendly products, is having a day, too.
---
Games and Puzzles
When you're stuck in your house all the time, it's easy to get cabin fever. And if our interest in games and puzzles is any indication, we've got a really bad case of it. The global marketing for board games is around $13.75 billion and is expected to grow to $30.93 billion by 2028. Puzzles have also seen a huge increase in love, mostly from Millennials, who are keeping puzzle manufacturers on their toes trying to meet this new demand.
---
Fitness
We all know that fitness is a multi-billion dollar industry. But with gyms and studios closed due to a global pandemic, we're now trying to stay fit inside our homes. This has led to an increase in sales for things like dumbbells, yoga mats, exercise/resistance bands, and water bottles (eco-friendly ones).
---
Amazon's Best Sellers List for 2023
So, how do you find the top trending products on Amazon in order to sell them? A great place to start is with Amazon's own best sellers list. This list is updated hourly and shows Amazon's most popular products based on sales. The products on the Amazon best sellers list are the ones selling best across the site, and it's broken down by category to make it easier to find out what's trending in your niche. Here's what it looks like: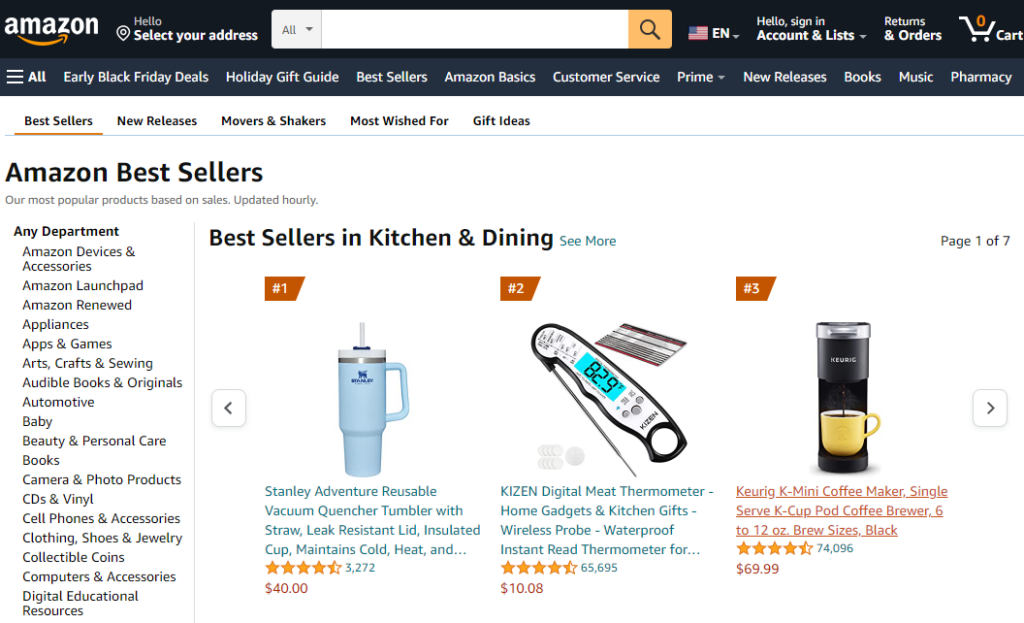 You can choose a category along the side to learn about the best sellers in a specific niche: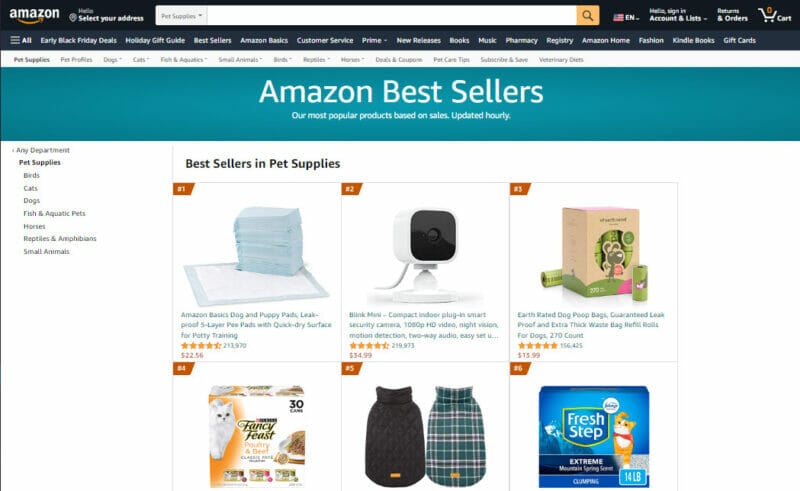 The Amazon Best Seller List is largely based on Best Sellers Rank, a measurement Amazon gives to each product on the platform that takes into consideration recent sales and sales velocity. This measure is updated hourly, so the list is a good place to start, but isn't going to help you understand product trends over time.
There are several reasons you shouldn't commit to a product just because it's showing up as an Amazon bestseller right now:
These products are really competitive

Trends might be declining

The products might not have great margins or profitability
That being said, Amazon's Best Sellers List is still a great place to go for ideas about what people are into at a given moment. Plus, you can check out the Customers also bought section on interesting products to get even more product ideas.
---
How To Find The Right Amazon Trending Products You Can Sell
So, if you can't rely solely on Amazon's Best Sellers List, how do you find the right trending products to sell? Product research.
Did you just fall asleep?
That's okay. The word "research" has a tendency to make our eyes glaze over. But if you really want to up your eCommerce game and find the right products to sell to the right customers, you need to do some product research. Fortunately, there are several third-party product research tools that can make this process a lot easier and even fun! Here are some of our picks: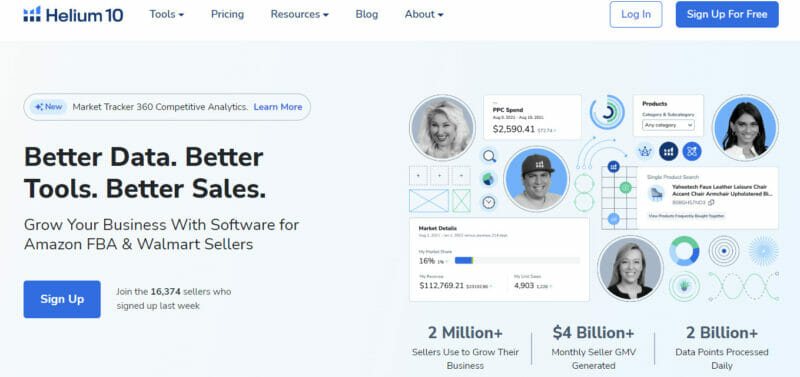 Helium10 is a suite of tools for Amazon sellers, so if you're just looking for a product research tool, this might be a bit much for you. The platform includes Amazon SEO tools to help you find high-volume keywords that will help you optimize your Amazon product listings as well as create manual or automated PPC campaigns. For product research, Helium10 scans millions of products across product categories and niches, provides demand, sales trends, and seasonal information (popular products for the summer season or holiday season), and gives you in-depth pricing and revenue estimates.
Pricing
Helium10 has a free plan for up to 20 uses and five paid plans to choose from:
Starter:

$29/month or $339/year

Platinum:

$99/month or $999/year

Diamond:

$249/month or $2500/year

Elite:

$399/month (no annual plan)

Custom plans
---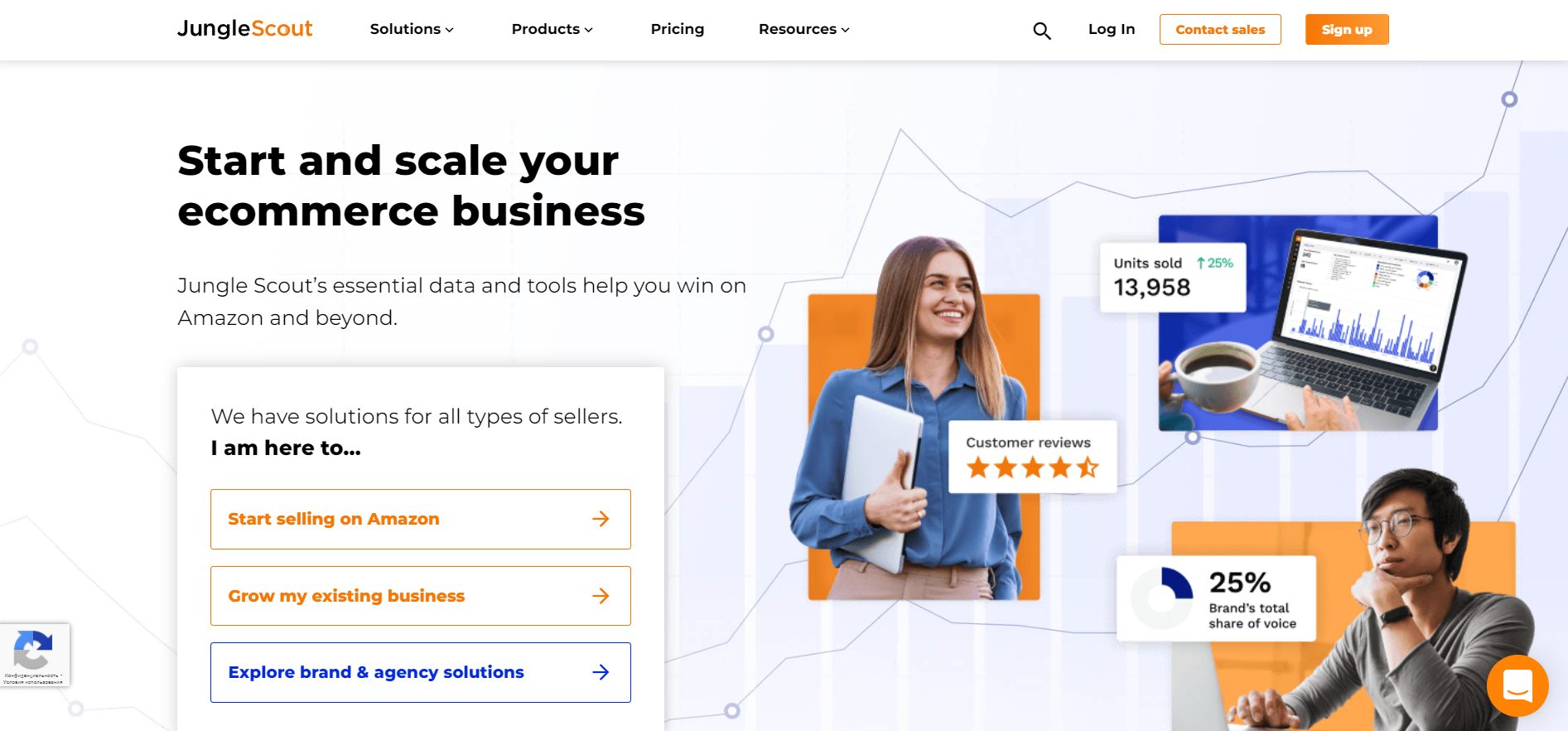 Jungle Scout is probably the most popular product research tool for Amazon sellers. They've developed product analysis algorithms specifically for Amazon that provide tons of information about consumer demand, estimated profitability, competition, and seasonality about any product or niche on the platform. If you're interested in private labeling, you can use Jungle Scout to find global suppliers and manufacturers. The platform also includes other helpful tools for finding the best keywords.
Pricing
Jungle Scout offers three paid plans:
Basic:

$49/month or $349/year

Suite:

$69/month or $589/year

Professional:

$129/month or $999/year
---
ProfitGuru has several ways to find products that will sell on Amazon and is a great tool for wholesale research. It provides data on product performance using the product's ASINs and you can use it to find products where competition is lower and the products aren't carried by the brand owners or Amazon. It's a popular platform for wholesale sellers because of the supplier information provided on popular brands, saving you time in the vetting process.
Pricing
ProfitGuru offers a free plan for up to 10 searches per month. You can get more from the platform for $39/month or $348/year.
---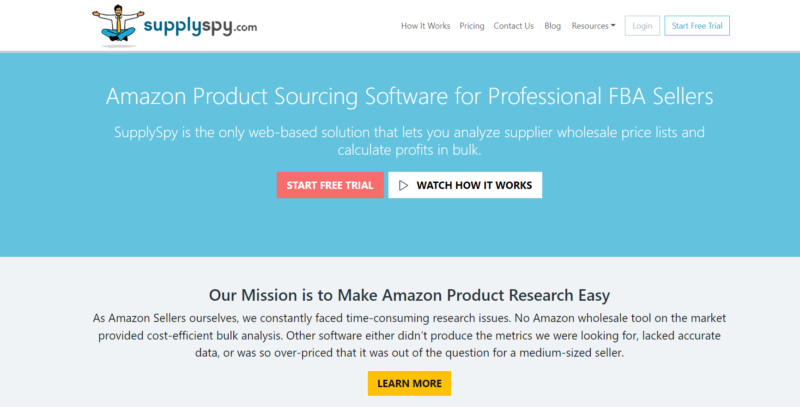 SupplySpy offers product research and profit computation with a bulk analysis and profit calculator tool. The platform boasts a simple process for product research: upload files of supplier's price lists and the tool calculates your potential Amazon profits, factoring in costs and expenses like FBA fees, referral charges, and shipping.
Pricing
SupplySpy offers four paid plans:
Starter:

$19/month or $156/year

Growth:

$29/month or $240/year

Established:

$59/month or $420/year

Enterprise:

$99/month or $708/year
---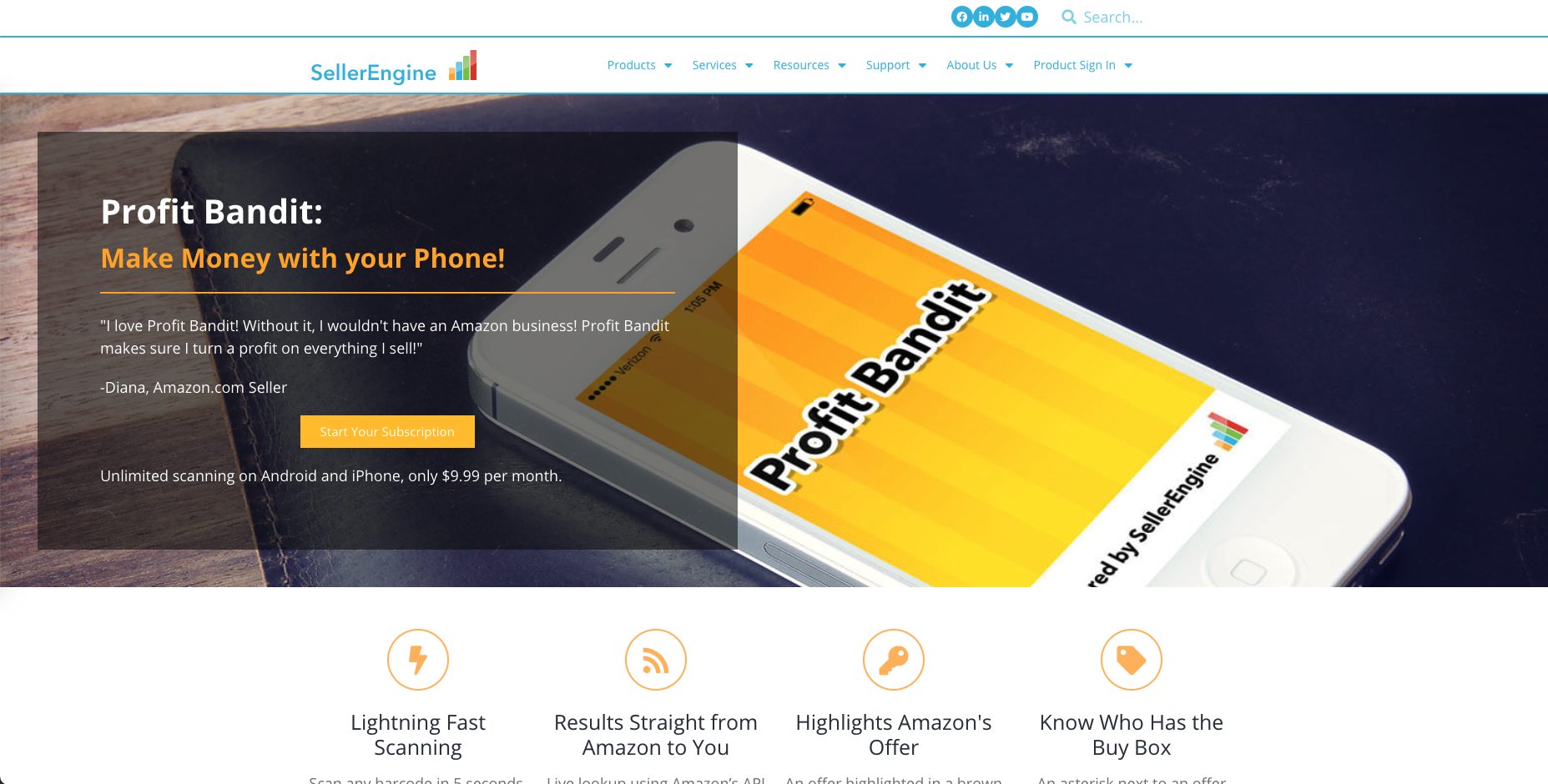 Profit Bandit provides pricing information on any product in about five seconds. It uses Amazon's API to give you real-time data, including the Buy Box price. Plus, you can see if Amazon sells the same product. Just use your iOS or Android smartphone to scan the barcode on any product and Profit Bandit calculates your potential profit on Amazon after shipping and FBA costs.
Pricing
Profit Bandit offers unlimited scanning on your iOS or Android smartphone for $9.99/month.
---
Selling on Amazon: Leverage Amazon's Trending Products
Finding the right products to sell on Amazon in 2023's a bit challenging. With lockdowns being a thing of the past (hopefully), people are going out more and have returned to buying the old-fashioned, brick and mortar way. This change in buyers behavior, plus inflation, has caused a massive drop down for Amazon in 2022, reportedly losing $3.84 billion in Q1 only.
But worry not, Amazon is still the online retail behemoth despite suffering losses, and it's a good bet that Amazon will continue to be at the center of online retail.
So, if you want to stay on top and grow your eCommerce business, there really is no time like the present to embrace becoming an Amazon seller. Just make sure to offer something of value and follow these tips to help you hit the ground running.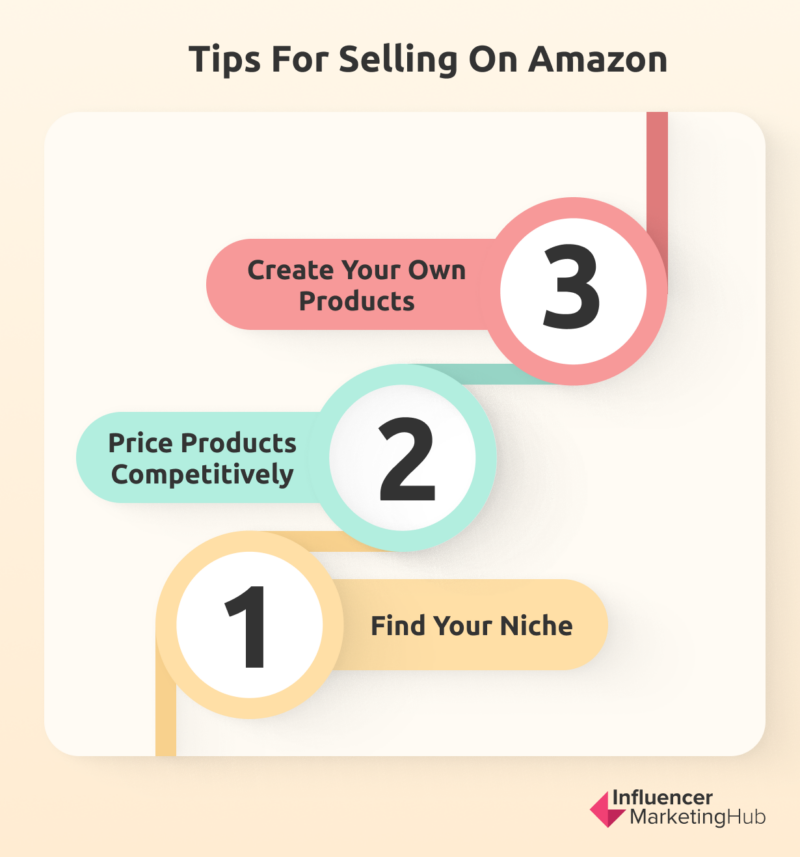 Find Your Niche
Before you drop dollars on a product research tool and start scouring Amazon for a list of products to sell, really think about what it is you want to sell in the first place. That's your niche. If you're not new to eCommerce, you probably already have a niche. Stick with that. You don't want to go outside of your niche, your brand, or your brand's personality just to sell some profitable products. What you'll end up doing if you go that route is confusing your current customers and eroding their trust in you. If you don't already have a niche, find one. Check out the bestseller lists, find products or popular categories of products that you're passionate about, and go for it.
Already have a niche but want to sell some different products? Create a new eCommerce brand! There's no rule that says you can only be part of a single niche. Just remember that this will mean creating an eCommerce business again, from the ground up. If you've done it before, though, you already have the framework in place. You just need to adjust it to fit your newest niche.
Price Products Competitively
When pricing your products, you'll want to consider what your competitors are doing. If you're going up against larger eCommerce businesses, you might find that they're able to sell the same products at a lower cost than you can and still be profitable. That puts you at a disadvantage, but be creative about how you address it. Can you offer something that the larger brand can't? Maybe you sell the same product for slightly more than your competitor but you offer personalized service to your customers about how to use the product or something else that adds value.
While Amazon is the land of impulse buys (basically the online equivalent of wandering around Target), customers are still looking to get more value for their money. And this doesn't always mean the same product for a cheaper price. Think about who you're targeting and add value based on what those people want.
Create Your Own Products
Creating your own private label products can be a rush! Private label products can also be cheaper for eCommerce business owners to buy because you're not paying for a big name. This increases your profit margins. Plus, you have complete control over how to package and market the product. If you opt to create your own products, be sure to consider the associated costs of packaging, design, and promotion (you'll have to build a customer base from nothing).
Frequently Asked Questions
What is the Amazon Trend Report?
The Trend Report shows the season's top trends and a list of curated products.
What are the best-selling Amazon product categories?
The best-selling Amazon product categories are:
Toys
Electronics
Baby products
Health and personal care
Kitchen and dining
Sports and outdoors
Arts, crafts, and sewing
Appliances
Pet supplies
Clothing and shoes
What are the best sellers on Amazon?
Amazon's Best Sellers List is a great place to find out what the best-sellers are at any given moment. This list doesn't take into consideration product trends but instead offers a snapshot of what's trending on Amazon throughout the day.
What is the best way to find top-selling Amazon products?
Check out the Amazon best sellers as well as doing some product research using one of the third-party product research tools we shared in this article:
Helium10
Jungle Scout
ProfitGuru
SupplySpy
Profit Bandit