We all know how Amazon has transformed from a small online store in the 1990s to the largest online retailer in the world it is today. Even with the pandemic wreaking havoc in the business world over the past couple of years, Amazon has managed to sustain its growth. More than that, it has become a vehicle for growth for entrepreneurs and businessmen seeking to achieve success in eCommerce.
As an Amazon seller, it is crucial to stay on top of trends and keep an eye on forecasts. Understanding its growth, user behavior, sales trends, and other metrics can help you craft a more effective strategy for business growth. Here are some amazing Amazon statistics you ought to know to optimize your performance on the platform in 2023.
---
Amazing Amazon Statistics You Need to Know to Amplify Growth in 2023:
---
1. With 37.8 percent market share, Amazon still leads the pack in retail e-commerce.
Amazon still holds the largest slice of the U.S. eCommerce pie. As of June 2022, it accounts for 37.8 percent of the market followed by Walmart, Apple, and eBay with 6.3 percent, 3.9 percent, and 3.5 percent, respectively. The huge margin is a strong indication that Amazon will remain the leading online retailer in the United States in 2023 and beyond.
Similarweb found a similar result when it ranked top eCommerce companies list by US traffic. Again, Amazon topped the list, although, in their list, eBay took the second spot, followed by Walmart, then Max, and Etsy.
eMarketer expects Amazon's growth to continue. According to eMarketer's predictions, Amazon can expect 9.9% growth in US retail sales in 2023 (fourth place, behind Carvana, Chewy, and Walmart) followed by 11.7% growth in 2024 (second, behind only Carvana).
---
2. Amazon cops 10.40 percent of the retail market share in the United States.
Walmart beats Amazon when it comes to retail market share, but Amazon's 10.40 percent retail market share is not far off from Walmart's 12.67 percent. Amazon still generates more than $460 billion in retail sales. We can expect this to go even higher as Amazon expands its physical presence by opening brick-and-mortar stores throughout the country.
---
3. Amazon is predicted to overtake Walmart to become the market leader by 2024
While Ascential figures also currently place Walmart ahead of Amazon in terms of total chain retail sales (Walmart $488 billion compared to Amazon's $398.8 billion in 2021), they predict that Amazon will overtake Walmart to become the market leader by 2024, with Costco also growing its share.
---
4. Amazon generated net sales of $127.36 billion for Q1 2023.
With total sales amounting to 127.36 billion dollars in quarter 1 2023, Amazon registered a net sales increase of 9.37 percent compared to the same quarter in the previous year. Amazon's revenue for the twelve months ending March 31, 2023, was $524.897 billion, a 9.87 percent increase year-over-year.
---
5. Amazon has a brand value of $705.65 billion.
While the increase is small compared to 2021, Amazon still broke records by gaining a brand value of 705.65 billion dollars in 2022. It retains its spot among the three most valuable brands in the entire world. It continues to expand its global impact by diversifying revenue streams. Aside from increasing products and services online, it has started opening physical stores in the United States. Moreover, it is amplifying its cloud services through Amazon Web Services (AWS), Amazon Prime, and ad spaces.
---
6. 59 percent of paid units were sold by third-party sellers.
Third-party seller share is steadily increasing. In Q2 of 2022, third-party sellers accounted for 57 percent of the total units sold. This shows only a slight increase from 56 percent in the second quarter of 2021. Nevertheless, we see a steady increase in third-party sales, with numbers climbing from 53 percent (Q2 2020) to 59 percent (Q4 2022). It remained at 59 percent in Q1 2023.
---
7. FBA is the preferred fulfillment method by 64 percent of merchants on Amazon.
More merchants are adding fulfilled-by-Amazon (FBA) to their fulfillment options. In late-2022, 64 percent of merchants relied on the logistics of Amazon to fulfill their orders. Approximately 22 percent of merchants combine FBA with their own handling and shipping services. Amazon claims that more than 600,000 sellers use Fulfillment by Amazon. Amazon also claims that FBA is 70% less expensive on average than comparable two-day shipping alternatives, and FBA fees are on average 30% less expensive for standard shipping methods than other major logistics providers. Check out our post on how to sell on Amazon FBA to increase your sales.
---
8. Amazon has potentially over 310 million customers worldwide.
The latest figures released by Amazon suggest that they cater to over 300 million active customers spread over 180 countries. However, AMZ Scout believes that this has now increased to over 310 million active users. With only over 1.9-2.0 million active sellers worldwide, this vast market provides sellers with a great opportunity for lucrative growth.
---
9. Amazon ships to more than 100 countries and regions.
Amazon has more than 175 fulfillment centers that handle storage and shipping to over 100 countries and regions worldwide. In total, they amount to a massive 150 million square feet of space. Most centers can hold tens of millions of products and have dedicated shelf space for third-party sellers.
---
10. Amazon uses over 2,300 global distribution facilities
MWPVL has mapped out Amazon's global distribution network and it is much larger than just its main fulfillment centers. Its distribution network has grown considerably since 1997 when it launched with its first two fulfillment centers in Seattle and Delaware.
Despite shutting 90 facilities when cost-cutting in 2022, Amazon still operates 2,373 facilities globally (1,285 in the USA). As well as four main types of fulfillment facilities, the complete network includes Prime Hubs, Outbound Sortation Centers, Delivery Stations, and more.
---
11. At least 30 percent of online shoppers consider price as the most important factor in product selection
FeedAdvisor's 2022 report on consumer behavior shows that 30 percent of consumers consider price as the most important factor when selecting a product, followed by 22 percent who opt for convenience, 11 percent free shipping, 8 percent product availability, and 7 percent good customer service. Although this number appears substantially smaller than the 78 percent quoted in last year's report, this simply appears to represent a difference in the question asked. The same (2022) survey shows that 54 percent of consumers (up 10 percent from 2021), stated that price stands out the most when they go over product details. 55 percent, however, have noticed that prices have risen online.
Another survey from Ecomcrew reveals that 65.5 percent of consumers (up from 52 percent last year) are most influenced by price when making their buying decision. While the numbers vary, they are still a pretty good indication that price plays a big role in purchasing decisions.
---
12. Nearly 75 percent of consumers check prices and reviews on Amazon before making a purchase.
Amazon remains the most popular search destination for consumers. According to FeedAdvisor's 2022 report, three out of four shoppers check prices and product reviews on the platform before making their purchase. 56% of consumers start their online search for a product on Amazon (compared to 21% using Google's search engine), 74% use Amazon to check prices, and 72% use the platform to check reviews. So even if you have your own eCommerce site, you can generate more leads with an Amazon seller account. Other popular platforms for product searches are Walmart, Facebook, and YouTube.
---
13. With 2.2 billion visits, Amazon is the most visited eCommerce site in the United States.
In April 2023, the Amazon website registered 2.2 billion visits from both desktop and mobile devices making it the most visited eCommerce site in the US. This is down from 2.2 billion in April 2022, but visitor numbers vary by time of year. Amazon had 2.7 billion visitors in December 2022 as consumers shopped for the holiday season.
---
14. Prime Day 2023 achieved record-breaking figures of 375 million items sold, with members saving more than $2.5 billion
Prime members worldwide purchased more than 375 million items on Prime Day this year (up from 2022's 300 million items). That's the fastest and most items purchased compared to previous Prime Day events. Statista records a total sales of 12.9 billion dollars for the Global Amazon Prime Day 2023 sales.
---
15. New features in seller tool are expected to increase sales by up to 25 percent.
Amazon is known for its automation software tools that drive conversions. It recently boosted its Manage Your Experiments tools with new features that will help sellers develop content that drives conversions. Sellers can now run A/B tests on bullet points and descriptions along with titles and main images. They also gain access to machine learning-based recommendations that make content creation more effective. Augmented by other new additional analytics and data tools, sales are estimated to increase by up to 25 percent.
---
16. 76 percent of consumers are more likely to purchase Amazon private label products.
FeedAdvisor's 2022 survey shows that 76 percent of Amazon shoppers are open to purchasing private labels instead of brand names. This is probably because consumers today focus more on price and value rather than branding. With more shoppers opting for private labels, it comes as no surprise that according to Jungle Scout's findings, 54 percent of Amazon sellers now use the private label method, although that is down from 59 percent in 2022.
---
17. 44 percent of Amazon shoppers use voice assistants.
2023 is the time to boost your voice search strategy. FeedAdvisor's 2022 survey shows that 44 percent of shoppers use voice assistants to make purchases. In addition, the survey found that 71% of consumers prefer to conduct queries by voice. If you've yet to include voice search in your sales and marketing strategy, now is the perfect time to do so. This will definitely give you an edge in the years ahead.
---
18. 24% of shoppers currently use QR codes
Another technology-related finding from FeedAdvisor's 2022 survey is that 24% of shoppers currently use QR codes, and 30% anticipate using them in the future. For example, at Amazon Style, a brick-and-mortar fashion store, consumers can use their phones to scan QR codes as they shop the floor and choose between different colors, sizes, and styles in the app.
---
19. 38 percent of consumers find sponsored ads helpful.
Sponsored ads are still worth the investment, with 38 percent of consumers finding them helpful in their buyer journeys. Moreover, they effectively drive product sales. As many as 70 percent of shoppers purchase the first product listed on the Amazon search results page.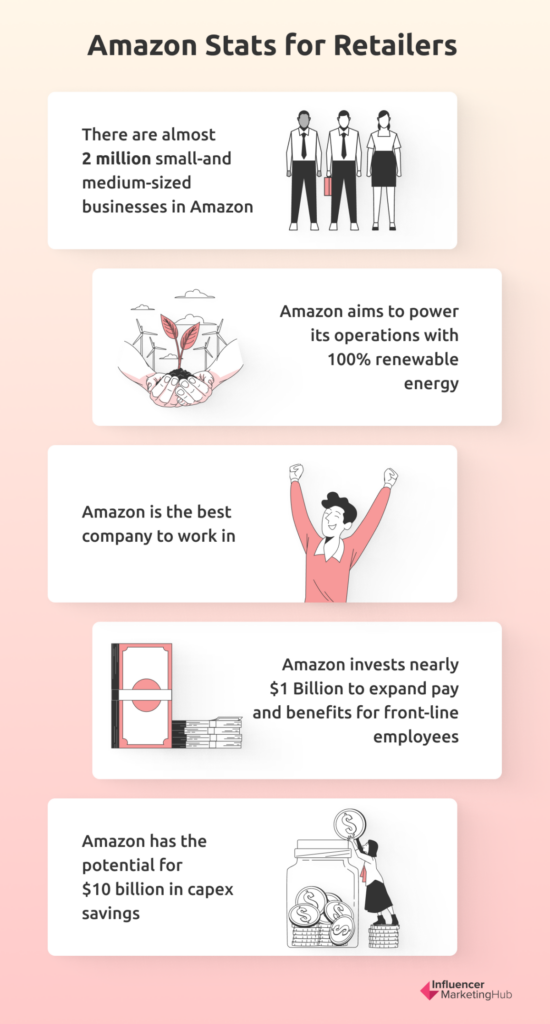 ---
20. There are almost 2 million small-and medium-sized businesses in Amazon.
Roughly 60 percent of retail sales in Amazon come from SMB accounts. To date, there are almost 2 million SMBs from over 130 countries selling in Amazon stores. In the United States alone, SMBs sell more than 4,000 items per minute on average and generate average annual sales of over $160,000 ($26,000-$810,000 annually). Amazon spent more than $100 million to help small and medium-sized businesses reach more customers during Prime Day and throughout the holiday season.
---
21. Amazon claimed device packaging would be 100 percent curbside recyclable by 2023.
As part of their environmental sustainability programs, Amazon set a goal to make their device packaging 100 percent curbside recyclable by 2023. Aside from the ethical and sustainable sourcing of the wood fiber used in Amazon device packaging, they also plan to incorporate recycled materials into new Amazon devices.
---
22. Amazon is on a path to power its operations with 100% renewable energy by 2025
As of January 2023, Amazon had 401 renewable energy projects in 22 countries. This is five years ahead of their original target. Amazon's total portfolio is more than 20 GW — enough to generate the amount of energy to power 5.3 million U.S. homes. Amazon plans to invest more than €1 billion over the next five years to further electrify and decarbonize its transportation network across Europe. Since 2015, Amazon has reduced the weight of packaging per shipment by 38 percent and eliminated the use of more than 1.5 million tons of packaging materials.
---
23. Amazon is the best company to work in.
LinkedIn names Amazon as the best place to grow a career. In its 7th annual ranking of the top workplaces in 2023, LinkedIn gives the top spot anew to Amazon for its incredible employee benefits, including pay flexibility, long fully paid leaves for new parents, apprenticeship programs, and certification opportunities.
---
24. Amazon invests nearly $1 Billion to expand pay and benefits for front-line employees.
Amazon's low employee attrition can be credited to its exceptional care for its employees. Along with additional employee benefits, the company is also investing nearly one billion dollars to increase the average starting pay for front-line employees to more than $19 per hour. Moreover, employees now have free access to their pay at any time during the month. This gives them the flexibility to adjust their pay cycles and sync them with their other finances.
---
25. Amazon is spending almost $10 billion on employee benefits this year.
Aside from the pay raise, Amazon is also investing heavily in other employee benefits. It has offered nearly $10 billion in total investment for benefits for its teams this year alone. Some of these benefits include career development programs and free college tuition for hourly employees. No wonder it landed LinkedIn's top company to work for.
---
26. Amazon Prime membership up by 20 percent since 2019.
According to Statista, there are now over 200 million Amazon Prime members worldwide with 168.5 million residing in the United States. Nearly 80 percent of millennials born between 1980 and 1989 (Bridge Millennials) are Amazon Prime members. By 2024, the number of Amazon Prime members in the United States is projected to reach more than 180 million users. This is a substantial increase in memberships and subscriptions. The strong appeal of the membership to platform users is seen in consumer behavior last year when approximately 65 percent of Amazon shoppers in the US were registered as Prime members. Still, it is worth noting that many consumers today also have memberships in Walmart, Costco, and Target Circle to grab the best deals and discounts possible.
---
27. Bullish forecasts indicated Amazon has the potential for $10 billion in capex savings.
Financial analyst Justin Post forecast a lucrative year for Amazon in 2023. His bullish forecast places a buy rating and $188 price target for Amazon this year. He sees the platform as having the potential for $10 billion in capex savings and $4 billion in headcount savings. If it can capture a mere 5 percent of the global e-commerce delivery market share, it can potentially drive a $100-billion incremental value opportunity in Amazon Logistics. These positive outlooks are good news for investors with stakes in the platform.
---
Amazon will continue to grow and be a platform for growth
Over the years, Amazon has shown adaptability and agility in meeting the changing demands of consumers. It has transformed itself and constantly improves its system to adapt to fast-evolving business landscapes. Most importantly, it has provided individual sellers and brands with a robust platform for growing their businesses online.
To amplify your business growth in the next few years, stay up to date with the latest trends, statistics, and forecasts. Be quick to adapt your business strategies to gain a competitive edge in the retail and eCommerce sectors.
Frequently Asked Questions
What is Amazon's current position?
Amazon's total sales include their own product sales, sales from their marketplace, as well as fees from the marketplace, advertising, and revenue from their Amazon Web Services. Amazon ranks 1st in the 2023 Digital Commerce 360 Top 1000 database.
What is Amazon's revenue 2022?
Amazon's revenue in 2022 for the 12-month period ending September 30, 2022, was $502.191 billion. It marked a 9.66% increase year-over-year. Their annual revenue for 2021 was $469.822 billion, a 21.7% increase.
How do I see my selling statistics on Amazon?
To access your Amazon Retail Sales reports, follow these steps:
Sign into your Seller Central account

Click on reports

Click on Fulfillment

Select Sales and All Orders

You can see your order data here

If you want, click download for a selected period
How successful is Amazon today?
Amazon is a full-fledged marketplace that sells both its own products and allows third-party vendors to sell their products. Amazon lets customers compare prices and find the best offers. Amazon makes nearly $4,722 in sales each second.