Amazon is one of the largest multinational conglomerates in the world. To date, the company has a valuation of over $1.7 trillion, and it's the most prominent e-commerce platform in history. Amazon sells nearly everything under the sun and offers worldwide shipping, so millions of customers flock to the platform to purchase anything from baby cribs to art supplies.
That's why Amazon created a premium membership service called Amazon Prime. For a fee of $12.99 per month, Amazon Prime members get to enjoy speedy shipping, access to TV shows and movies under Prime, and delivery for groceries. However, perhaps the most coveted benefit of Amazon Prime is access to deals during Amazon Prime Day.
Amazon Prime Day is Amazon's annual shopping event that rivals Cyber Monday and Black Friday, two of the biggest events on the shopping calendar. It began in July of 2015 in celebration of Amazon's 20th anniversary, and it has since evolved into a two-day extravaganza that features the best price slashes across the e-commerce platform.
While Prime Day has always been a major e-commerce event, it experienced unprecedented growth in its last two cycles. Because of the coronavirus pandemic, most shoppers turned to online platforms instead of physical stores. As such, Prime Day 2020 hit a record number of sales, reaching roughly a 60% percent increase in sales compared to Prime Day 2019. Prime Day 2021 broke the 2020 record, adding in tens of millions more products sold.
Whether you're a shopper or a seller, Amazon Prime Day is one of the biggest events on the platform and one that is much-awaited every year. Here are 25 key statistics about Amazon Prime Day that you should know about. We're also taking a look at some of the potential deals to keep an eye out on.
---
Amazon Prime Day Statistics: Revenue, Users & More [UPDATED]

---
Amazon Prime Day's Top Statistics
1. Over 200 million people have signed up for an Amazon Prime membership
To gain access to Amazon Prime deals, you first need to sign up for an Amazon Prime membership. You can opt for an annual or monthly fee, but your subscription needs to be active on Prime Day for it to work.
To date, over 200 million people have signed up for an Amazon Prime membership, with the majority citing Prime Day as one of their main reasons for doing so. This number is up 50 million individuals from the 150 million who had signed up for Amazon Prime membership in time for Prime Day 2020.
---
2. 64% of surveyed consumers say they plan to shop on Amazon during Prime Day
During the start of the second quarter of 2021, Profitero conducted a study to check consumers' pulse right before Prime Day 2021. 64% of surveyed consumers said that they were going to shop on the platform on Prime Day. 8% of these consumers were found to be very frequent online shoppers, while 56% were found to be occasional online shoppers.
---
3. Shopping categories with the most inflation will be Prime Day's bestsellers
High-inflation categories sell the best during the Prime Day sale. According to the same survey by Profitero, electronics are in the lead at 60%, home goods are next at 51%, while apparel comes in at 31%.
PCMag also conducted a poll in 2020 to determine the products shoppers were most interested in. According to the poll, 39% were interested in deals involving streaming devices and televisions, 34% were interested in smart home devices, 31% were interested in computers and computer accessories, 30% were interested in tablets, while 26% were interested in fitness trackers.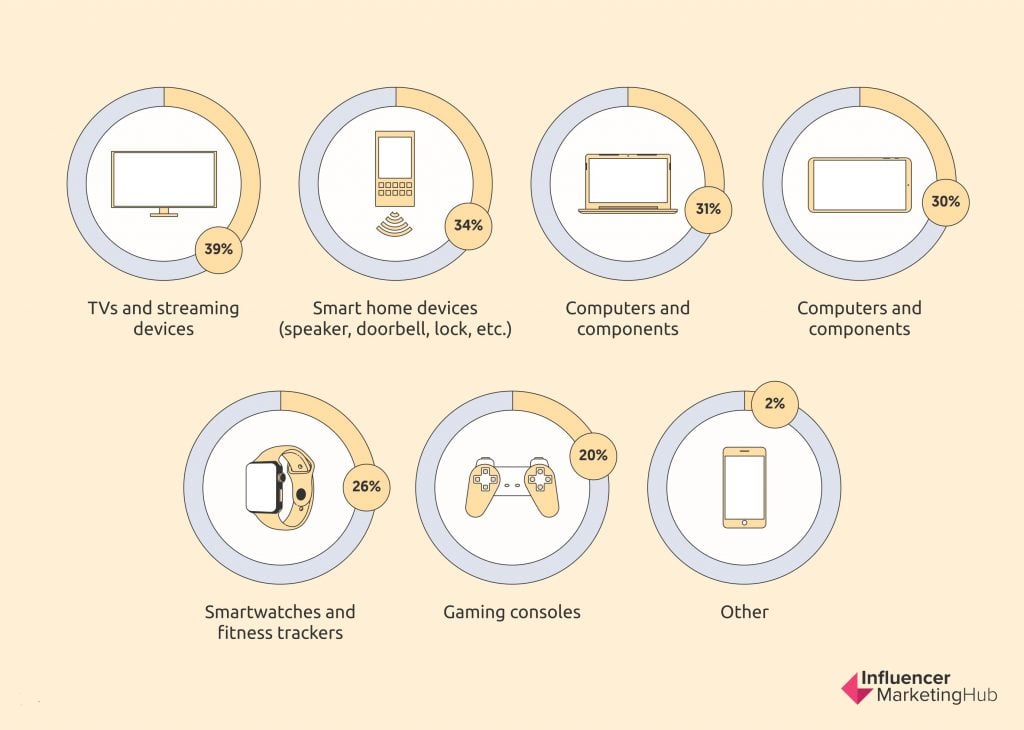 ---
4. In 2020, small and medium businesses across Amazon earned a collective total of $3.5 billion
Small and medium businesses make up the majority of the sellers on Amazon. Prime Day is an excellent way for them to gain traction among consumers because they can offer all sorts of deals on their products.
Prime Day 2020 saw small and medium businesses earn a whopping $3.5 billion from Prime Day sales. This value increased by 60% from what small and medium businesses made in 2019. Amazon's "Spend $10, Get $10" was noted to be a major catalyst for this event.
---
5. Prime Day 2021's sales jumped to a total of $11.19 billion
This year's Prime Day garnered $11.19 billion in sales across the globe. This value is up 7.6% from $10.39 billion from Prime Day 2020. In terms of Gross Merchandise Value, Amazon Prime Day raked in a total of $9.55 billion.
To give you a comparison with other major sales, Prime Day 2021's total sales were bigger than the sales of Cyber Monday. It's important to note, however, that Cyber Monday only lasted for 24 hours, while Prime Day lasted for 48 hours.
---
6. Over 250 million products were sold during Prime Day 2021
With over 250 million products sold, Prime Day 2021 shattered previous Prime Day sale records. During Prime Day 2020, only 175 million products were sold. Customers also got to enjoy their purchases within two days of their checkout date. These were the most common shipping methods chosen by consumers:
Prime Now

Same-Day Prime Free

One-Day Prime Free
We can expect that the upcoming Prime Day sales will experience even faster delivery methods. Amazon is reportedly working on Prime Air, which will allow customers to receive lightweight items via drones within 30 minutes of their checkout time.
---
7. Shoppers from 20 nations purchased products during Prime Day 2021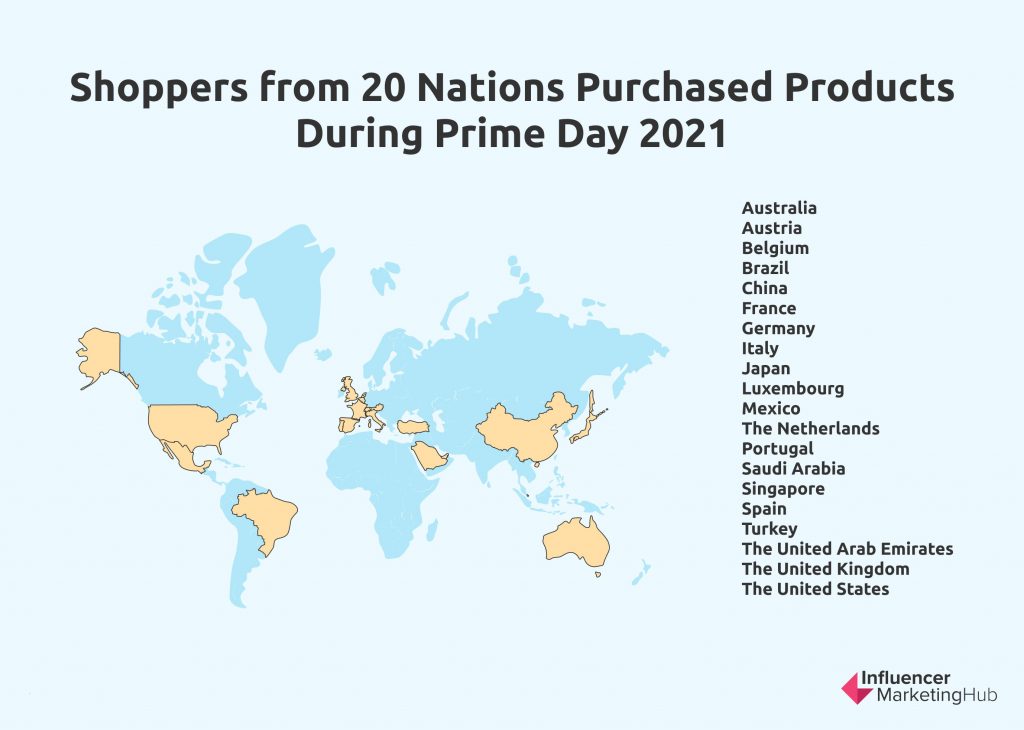 This statistic is testament to Amazon's global reach. With a Prime membership, you can enjoy free, two-day shipping to your delivery address, and Prime Day is the perfect way to enjoy this benefit. Here are the countries that participated in Prime Day 2021:
Australia

Austria

Belgium

Brazil

China

France

Germany

Italy

Japan

Luxembourg

Mexico

The Netherlands

Portugal

Saudi Arabia

Singapore

Spain

Turkey

The United Arab Emirates

The United Kingdom

The United States
---
8. Customers spent an average of $47 per order on Prime Day 2021
While sales hit an all-time high, the average spending of each customer on Prime Day 2021 actually went down. The average spend of a customer on Prime Day 2020 was $54.64, while the average spend on Prime Day 2019 was $58.91. Households were found to spend an average of $92.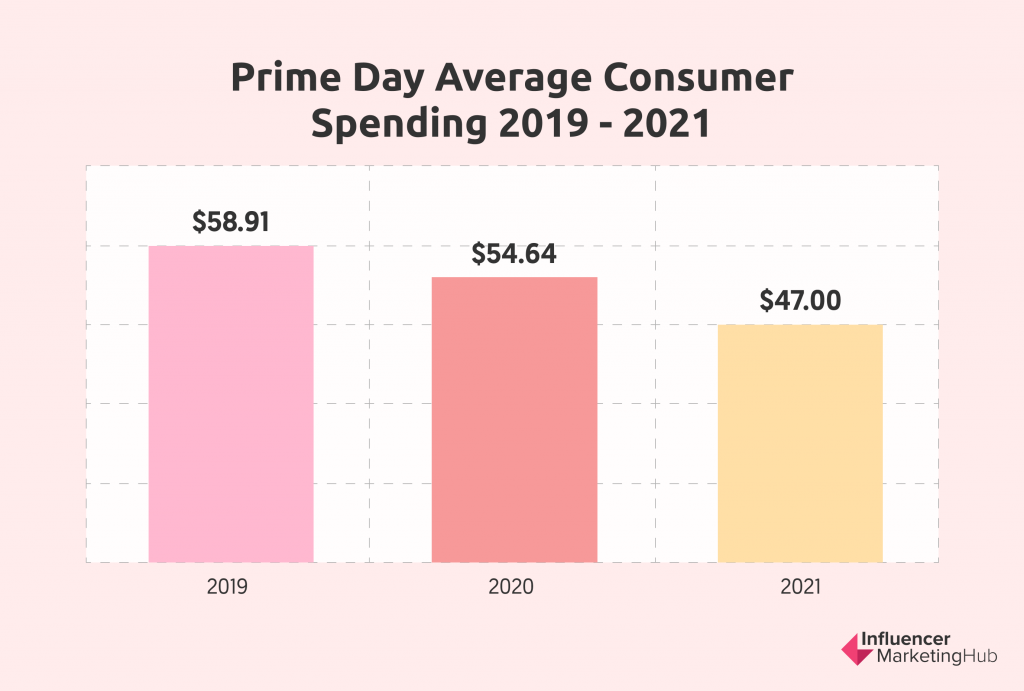 These trends indicate that while the volume of products sold increases each year, shoppers are more inclined to spend as little as possible. If you're an Amazon seller, this further highlights Prime Day as an opportunity to provide customers with a good deal to promote a product.
---
9. Amazon's biggest sellers for Prime Day 2021 were its consumer devices
Amazon's biggest sellers were its Echo and Echo Dot devices. Both were sold at extreme price cuts, with the Echo being sold at $59.99 and the Echo Dot being sold at $24.99. Consumers also noted that previous generation Amazon products like the Echo Show 5 and Echo Show 8 were also sold at major discounts, rivalling previous Prime Days.
---
10. 78% of consumers know about Amazon Prime Day
Amazon is a widely popular eCommerce platform, and Prime Day is its largest event. In a survey done by National Today, 78% of respondents have said that they know about the Amazon Prime sale and what they can expect from it. Only 22% have said that they haven't heard of the event.
Amazon Prime Day is most popular in the United States, but as mentioned, it has global reach. 61% of consumers from the United Kingdom said that they know about the event. 35% of Singaporean consumers and 25% of Australian consumers have said the same.
---
11. Women are the typical Prime Day shoppers
Although men planned to spend more money on Prime Day deals, the average shopper was female. According to Numerator, the typical Prime Day shopper is a Caucasian female aged anywhere from 35 to 44. They are usually high-income, married, and living in a suburban area.
This is in line with SpendMeNot's study earlier this year that found 60% of the women that they surveyed have said that they regularly shop on Amazon.
---
12. Those who spent $500 during the previous Prime Day are likely to spend double the following Prime Day
Profitero's study also analyzed the spending habits of consumers on Amazon Prime Day. In the weeks leading up to Prime Day 2021, 44% of consumers who had spent over $500 during Prime Day 2020 say that they plan to spend more than that amount during the grand sale. 41% of these consumers also said that they plan to spend relatively the same amount.
---
13. Men spend more than women on Prime Day
Although women are known to make up the majority of the shoppers during Amazon Prime Day, men are known to spend more. This is because they are more likely to make big-ticket purchases.
According to Profitero's study, men spent more during Prime Day 2020 than women did. 14% of men spent over $500 during the sale compared to 9% of women. It was also noted that women were more likely to have a total spending below $99 than men do. Moving forward, 30% of men say that they are planning to spend more during the Prime Day sale.
---
14. A big chunk of Prime Day shoppers prefers Prime Day to be during the Summer
While the majority of shoppers don't have a preference about when Prime Day would be held, a third of Prime Day shoppers prefer Prime Day to be any time between June and July, which are Summer months. Profitero also found that households with lower income are more likely to have a preference about the big sale's date.
---
15. Nearly half of consumers say that Prime Day leads to unplanned purchases
When it comes to online shopping, it's often difficult to stick to a spending plan—especially if you encounter major deals and discounts. This was highlighted in Profitero's study on Prime Day where 48% of consumers across all ages say that Prime Day is the perfect opportunity for unplanned purchases. For a closer look, those in the age bracket of 30 to 44 are more likely to make an unplanned purchase during Prime Day.
---
16. Bestsellers in 2022 include electronics, health and beauty items, and apparel
Some of the other best-selling categories worldwide include Amazon devices, consumer electronics, and home essentials. Top-selling items included the Apple Watch Series 7, beauty products from LANEIGE and NuFACE, Le Creuset products, Levi's apparel, pet products, diapers, wipes, athletic apparel (golf and running), and electric toothbrushes. 35% of Prime members were reported to have waited for Prime Day to purchase items at a discount, while 28% passed on various deals because they thought these were unnecessary.
---
17. Prime Day 2022 is Amazon's "biggest Prime Day ever"
During Prime Day 2022, the two-day event generated close to $12 billion, a significant increase from 2021's $11 billion. This year's event brought in over $1.7 billion in savings for Prime members and caused online sales to grow by 141%. The product categories that offered the biggest discounts include toys, apparel, and electronics, with price cuts ranging from 8% to 15%.
---
18. 2022 Prime Day Sales reached approximately $12 billion worldwide
According to Statista, 2022 Prime Day sales reached approximately $12 billion worldwide, with SMBs generating an estimated $3 billion in sales, a sharp jump from 2021's $1.9 billion.
---
19. Shelf-stable food items surged in popularity in 2022
Between perishable food items and shelf-stable ones, the latter was the clear winner during this year's Prime Day event. Purchases for herbs and spices, for example, saw a 114% YoY growth, while sales for packed produce (-26%) and fresh vegetables (-24%) went down.
---
20. Prime members purchased over 100,000 per minute
With Amazon offering more than 1.5 million deals during this year's Prime Day event, Prime members worldwide bought 60,000 to more than 100,000 products per minute from categories like consumer electronics and home.
---
21. Live shopping was a hit with more than 100 million views during the 2022 Prime Day event
With this year's Prime Day being the biggest yet in Amazon's history, over 300 million items were purchased worldwide. Another clear winner was Amazon Live, the eCommerce giant's livestreaming service, which garnered over 100 million views for Prime Day livestreams.
The platform collaborated with thousands of creators, giving them an avenue to host or share their own deals for Prime Day.
---
22. Prime Day 2022 was a big event for SMBs
Prime members purchased more than 100 million items from small businesses up to three weeks before the event. Amazon also gamified its approach to promoting small businesses on its platform through the "Support Small Businesses to Win Big" sweepstakes, where members had the chance to win trips to New York and LA. The eCommerce platform also launched the Small Business Badges to nurture the growth of SMBs.
---
23. Average order size surged to $52.26
During the 2021 Prime Day, shoppers spent an average of $44.75. This year, that average grew to $52.26, with 62% of households making two separate purchases, leading to average spending of $144.56.
---
24. Top five items were mostly from the electronics category
Some of the bestselling items during the 2022 Prime Day included the Fire TV stick, Echo Dot 4th gen smart speakers, Blink cameras and doorbells, Ring video doorbells, and reloads for Amazon gift cards.
---
25. Consumers focused spending on more affordable items
During this year's Prime Day event, consumers put a premium on shopping for more affordable items. 58% of items on Amazon cost less than $20, while only 5% were sold for more than $100.
Top categories include household essentials, health and beauty products, and consumer electronics. The average price of items sold during Prime Day was $33.58.
---
2023 Prime Day Deals to Look Out For
While we don't yet have a final date for next year's Prime Day, we have an inkling of what kind of deals you can expect based on the offers from this year's Prime Day. If the pattern holds, next year's Prime Day may take place in July. Here's an idea of what to expect in 2023. Note that offers may change.
Deals on Garmin products like watches, heart rate monitors, and cycling computers

Amazon-brand products like smart speakers, Kindles, Fire TVs, and promotions for Amazon services

Discounts at Amazon Fresh stores

Product bundles
The good news is, you don't have to wait for the 2023 Prime Day to score huge discounts. If you're an existing Prime member, you can get your hands on exclusive deals, enjoy savings and freebies with Prime Gaming, save on prescriptions, access the Prime Try Before You Buy feature, and more.
You can head on over to Amazon to see daily deals on categories like garden and outdoor products, electronics, kitchen essentials, bakeware, and apparel. Aside from Prime Day, Amazon also offers different sale events during different times of the year, such as the Amazon End of Summer Sale, Back to School Sale, Memorial Day, Black Friday, and Cyber Monday, among other events.
Now, if you're running a business, this is a good time as any to plan your strategy for next year's Prime Day event. If done correctly, being part of Prime Day 2023 can help you leverage purchase intent to drive conversions and sales, as well as nurture customer loyalty.
You can start by looking at your inventory and assessing your capacity to handle demand leading up to the event. You can also prime your brand for Prime Day by engaging your customers even before the event actually takes place to raise brand awareness. Make sure you offer exciting deals, such as discounted or free shipping offers or expedited shipping, aside from discounts.
You can also take a look at your customer list and use that as a jump-off point to build interest in your brand leading up to Prime Day. Create your customer list, implement segmentation, and offer personalized experiences to your audience. Lastly, if you're dealing with old inventory or low-velocity items, then Prime Day is a good opportunity to clear it out while boosting your sales. Using Amazon marketing software and tools, such as Helium 10 and Fulfillment by Amazon, can also help you boost your sales revenue.
---
Key Takeaways from Amazon Prime Day 2021
Amazon Prime Day 2021 witnessed a record-breaking number of sales, and retailers across the platform have jotted down their learnings from the event. Here are some of the main takeaways:
Deals are the superior way to reach customers.
Prime Day is primarily popular because of its deals. Naturally, customers would gravitate toward products that they feel provide more value for their money, so Prime Day's deals are a good way to get traffic to your Amazon store.
Brands that offer discounts and deals experience a 5.2x boost in their sales and are more likely to get new customers. Brands that don't are still able to make a sale, but they only experience a fifth of what brands with discounts do.
Having a big and versatile inventory is important.
Issues with the supply chain have become more prevalent during the pandemic, and brands with supply issues have seen the effect on their sales. Brands without supply issues experienced a 4.2x boost in sales, while those with supply issues only experienced a 3x boost.
Customers are more likely to purchase products from a brand if they are reassured that the items that they want are in stock. If they cannot find it from a particular brand, they are likely to look for another brand that sells items similar to what they want.
Moving forward, Prime Day is expected to grow even more. Customers around the globe are becoming more inclined to shop online, so e-commerce platforms like Amazon can expect more traffic to their sites.
Additionally, many consumers are said to be influenced by "revenge spending," or shopping because of the pandemic's effects on businesses and incomes. As more of the world begins to recover from the effects of COVID-19, more consumers are encouraged to spend.
Participating in Prime Day can be beneficial for brands
If you own a business, then taking part in Prime Day can benefit your brand. Aside from being able to engage new audiences, you can drive sales for other products in your inventory and not just for the products that you're offering through Prime Day deals. Additionally, Prime Day is a great channel for showcasing your brand and reaching out to your target audience. This is because consumers' purchase intent tends to be higher. Plus, you can engage members before the event and reengage them after Prime Day. Moreover, having your products featured in Amazon Prime Day deals can help make your brand more discoverable.
Frequently Asked Questions
What is Amazon Prime Day?
Prime Day is Amazon's annual shopping event that's exclusively for Prime members. To participate in future Prime Days, you need to become an Amazon Prime member first, either by opting for a free trial or a paid membership. Note that Prime Video-only members are not eligible to avail of Prime Day deals. Not a Prime member? You can still purchase items from Amazon, but you won't get to access Prime Day discounted prices.
What can I expect from Prime Day?
Expect tons of deals on an extensive array of items, from Amazon's own products to goods from global brands like Sony, Bosch, and Samsung. During the 2022 Prime Day, some of the participating brands included Asus, Bose, Fitbit, and Philips. Expect to see deep discounts on Amazon's smart home tech products like its smart speakers and Kindles, as well as offers from third-party merchants on home electronics, laptops, TVs, and more.
Furthermore, Amazon promotes small businesses through its Amazon Storefronts. In 2020, shoppers were able to get credit when they purchased from small businesses. Aside from Prime Day deals, you can also look forward to time-sensitive discounts such as Gold Box deals and Lightning Deals, as well as offers on days or weeks leading up to the event.
When is Prime Day held?
The two-day event was usually held in July. However, because of the pandemic, the dates were changed to October (2020) and June (2021). This year, Prime Day was held on July 12-13. For 2023, it can be hard to determine the exact dates, as they may change. To know more about the next Prime Day, it's best to check Amazon for the latest 2023 Prime Day updates. You can usually find deals being rolled out as early as a few weeks before the official Prime Day event date.
How do I find the best Prime Day deals?
There are several ways to stay on top of Amazon Prime Day deals. You can opt to receive alerts from the Amazon app or, if you have a smart speaker like the Echo or Echo Dot, you can ask Alexa to let you know when the 2023 Prime Day will start. You can also use price comparison apps.
What do I need to participate in Prime Day?
To participate in Prime Day, you need to sign up to become a Prime member. Current Prime membership pricing plans are as follows:
Standard:

Monthly: $14.99

Annual: $139

Prime Video membership: $8.99 per month

Prime Student:

Monthly: $7.49

Annual: $69

If you are a recipient of select government assistance programs, you can become a Prime member for only $6.99 per month.

Note that your membership may be subject to sales tax if you live in the following states:

Alabama

Arizona

Iowa

New York

Ohio

Texas

Wyoming
View the full list here.