The Amazon Sales Estimator Tool (Amazon Money Calculator) helps you check the average number of sales within a specific Amazon Product Category for a specific Amazon Marketplace. Spy on your competitors and find exciting new product niches to break into.
---
---
You can make good money from selling on Amazon. However, your success on the platform very much depends on the type of products you sell and the fierceness of the competition. Amazon gives you access to most of the world as a market, assuming you can sort out the logistics of supplying sufficient products that people demand at a competitive price. Not to mention the fine art of transporting goods around the world in these Covid affected times, with a few international flights and world shipping schedules in disarray.
You can use our Amazon Sales Estimator to help you find profitable niches to sell on the platform. It will also give you an idea of how your competitors are likely to be performing.
---
Amazon Sales Estimator Tool:
---
Amazon Sales Estimator (Amazon Money Calculator)
The Influencer Marketing Hub, in partnership with Helium 10, provides The Amazon Sales Estimator Tool (Amazon Money Calculator). This tool helps you check the average number of sales within a specific Amazon Product Category for a particular Amazon Marketplace. It also estimates the revenue potential for sellers operating in the selected product category. Spy on your competitors and find exciting new product niches to break into.
---
Selling on Amazon
It is surprisingly easy for businesses to sell on Amazon. But to be successful on the platform, you must be organized and well-prepared. Unless you produce an incredibly niche product, you're likely to find fierce competition. The sheer number of products listed on Amazon is overwhelming. As of 2022, Amazon had more than 350 million products listed. Amazon's first product focus, books, still provides most of the products listed on Amazon, with 57.2 million on Amazon.com. The next two most popular categories are Industrial & Scientific (3.0 million) and Computer & Accessories (2.7 million).
If you are not already committed to selling a particular product range, you could use this Amazon Sales Estimator to help you find profitable niches where you can compete on Amazon.
One advantage of collaborating with Amazon is that it is relatively straightforward to set up and sell through their online stores. However, things vary across the different Amazon sites, and we focus on the US Amazon.com store in this article. If you want to sell from one of the other Amazon sites, check the relevant website for any variations from what we refer to here.
To sell on Amazon, you will have to work your way through a series of steps.
Decide on the items to sell through Amazon – this Amazon Sales Estimator can help you with this process

Examine Amazon's selling plans. You can choose between the Individual plan ($0.99/item sold) and the Professional plan ($39.99/month). In both cases, you will also face added selling fees

Register to start selling

List your products and set up your product details pages

Market, to drive traffic to your listings

Generate sales

Package and ship your orders

Handle payments and any returns
---
Sellers vs. Vendors on Amazon
There is a clear difference between an Amazon seller and an Amazon vendor. The process we described above applies to Amazon sellers. Although Amazon vendors may have followed much of the process when they began on the platform, their practices will have changed once they became accepted as a vendor.
Virtually any business can sign up and sell on Amazon. The main exceptions are solely selling products on Amazon's Restricted Products list. Technically, most businesses use Amazon as a sales platform – they don't sell to Amazon as a wholesaler or retailer. Amazon calls these sellers 3P (third-party) sellers. These sellers sell THROUGH Amazon. The merchant sells the products on Amazon, managing the marketing, sales, deliveries, payments, and returns. Amazon does give sellers the opportunity to sign up to FBA (Fulfillment by Amazon), with Amazon warehousing and dispatching sellers' products. Otherwise, you operate FBM (Fulfillment by Merchant) and do all that work yourself.
Amazon invites some companies to become vendors. These brands sell ON Amazon. Amazon considers these businesses to be 1P (first-party) vendors. Here, vendors sell their products to Amazon, which, in turn, sell them to their customers. You can only become a vendor by invitation from Amazon. The moment a company accepts its invitation to become a vendor, Amazon adds the phrase "Sold by Amazon" onto that company's products. Vendors effectively wholesale their products to Amazon, which takes on the retailing activities.
While more prominent, "name" brands may come onto the platform directly as vendors, most businesses start on Amazon as 3P sellers and await their invitation to become vendors.
---
Points to Consider if You Sell on Amazon
Selling on Amazon will not suit every business. So don't rush into it simply because you have heard from others that it may be lucrative.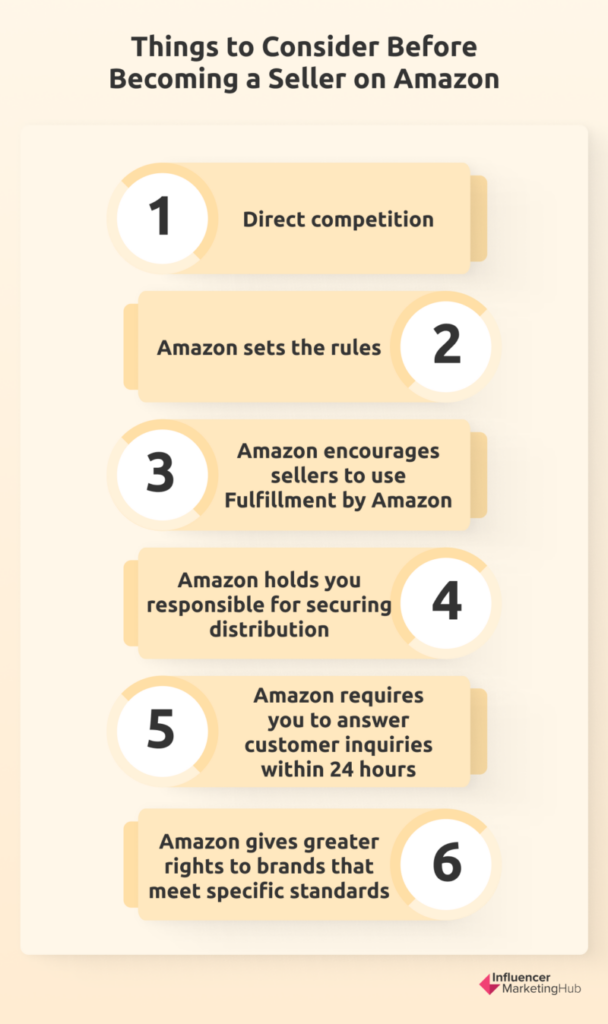 Here are a few points you should consider on whether your business is a good fit for Amazon:
You are likely to find many competitors selling essentially the same products as you do. Unless you have strict controls over your goods, you can expect others will have gotten there first, selling the same things you do

Amazon sets the rules. Your most significant competitor on Amazon is often Amazon itself, selling equivalent products to yours, sourced from 1P vendors. Amazon will nearly always give its own products the prime positions on the site, including the Buy Box, the white box on the right side of the Amazon product detail page, where customers can add products to their shopping cart with a single click. You want to avoid competing head-to-head with Amazon Retail if possible

Amazon encourages sellers to use Fulfillment by Amazon because this is one way that Amazon can guarantee a consistent service for all its customers. One problem for sellers of using FBA is that Amazon treats these as one-time sales, and you do not get an opportunity for remarketing

Amazon holds you responsible for securing distribution. If somebody else sells your product on the platform and undercuts you, Amazon generally won't help you remove the other seller's listings unless you can prove the product is counterfeit

Amazon requires you to answer customer inquiries within 24 hours, 365 days per year. It also has strict requirements in other areas, such as shipping times, confirmation emails, and more

Amazon gives greater rights to brands that meet specific standards: a registered trademark, Global Standards One-sourced Universal Product Code codes, and branding on both the packaging and physical products
---
Reselling Can be Challenging on Amazon
Many businesses try to resell products on Amazon. However, you need to be careful if you intend to go down that route. You could easily find yourself competing against others reselling the same product and often also the brand that sells you the product. As you all essentially sell the same good, you will all be competing for the coveted Buy Box position, with that usually going to whoever has the lowest price (assuming Amazon Retail doesn't also sell the product). You often find that some small business, which does not understand its whole cost structure, will underprice everybody else below the actual cost and gain the Buy Box, ultimately making a loss.
If you want to resell on Amazon successfully, you should seek an exclusive sourcing relationship with the brand from whom you are buying your inventory. You also need an agreement from the brand that it won't sell directly on Amazon or become an official Amazon vendor without giving you sufficient notice. But, of course, it can be difficult to find brands that will agree to the requests.
A recent trend is for resellers to develop private label brands, enabling them to become exclusive resellers of their own brands. Of course, there will still be others selling the same types of (essentially near-identical) products, but you can concentrate on marketing your brand.
---
Strategies for New Sellers on Amazon
Once you've decided on products to sell on Amazon, gone through the registration process, and set up your product listings, it is time to begin selling. But how should you go about it? Here are some potential Amazon sales strategies for new sellers.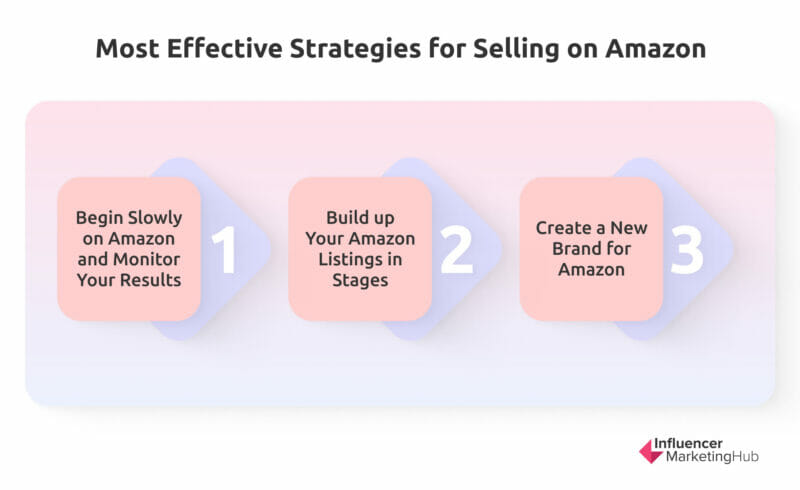 1. Begin Slowly on Amazon and Monitor Your Results
Some firms rush into Amazon selling and listing their whole product catalog on the site. You might eventually get to the point where that is advisable. But you will probably find that some products sell well on the platform, yet others are uncompetitive. Also, you will undoubtedly make mistakes in your early days on Amazon, and you may gain better results from moving slowly, learning as you go.
With this strategy, you just add a few SKUs (distinct products) to Amazon at the beginning. This gives you the chance to learn Amazon's administrative processes and ensure that you have all the necessary systems in place so sales and delivery go smoothly. If you've selected Fulfillment by Amazon, you will have the chance to see whether it works for you without committing yourself on a large scale.
Even if you don't want to focus on selling on Amazon, you can use this approach as an additional sales channel.
---
2. Build up Your Amazon Listings in Stages
One problem newcomers to Amazon often find is that they're too successful. Amazon expects you to keep reasonable quantities of the goods you sell on their platform and have systems in place for quick re-stocking.
One way to evaluate demand is to sell a seasonal product, so you only need to worry about sourcing enough of the product to get you through the first season. You can then examine your results and repeat the exercise next year or add other products. These new goods could be for a different season, or if you feel confident, they could be products with a longer sales lifespan.
---
3. Create a New Brand for Amazon
Sometimes you find that your greatest competitor when selling on Amazon is yourself. If you already sell products via other retailers or in your online store, you might have to sell at different prices for your goods to be competitive on Amazon. This can be awkward when customers compare prices in their research, looking for the cheapest.
We have spoken about the problems of competing against other resellers of identical products on Amazon, as well as your source brand if they sell there.
By creating a new brand, you are making a new product, albeit essentially the same as what everybody else is selling.
By doing this, you gain access to Amazon's customer base and experiment with various packages and products without affecting the sales of your products on other channels. For example, you might put together bundles of items that you don't sell as a group anywhere else. It also allows you to differentiate an existing product from your competitors on Amazon.
---
FBM vs. FBA
One of the most significant decisions that an Amazon seller needs to consider is how they intend to fulfill their orders. The two options are Fulfillment by Merchant (FBM) and Fulfillment by Amazon (FBA). Your decision will affect the profitability of your Amazon sales.
Fulfillment by Merchant (FBM)
FBM is the simplest way to sell on Amazon. Here, you create your listing on Amazon and then manage virtually everything related to sales by yourself. You set your prices, create promotions, take the orders, pick your stock, package it, and ship it to customers. Should they return the goods, you oversee that, as well.
Although FBM is common on Amazon, it carries the least weight with Amazon's search algorithm, and your listings may disappear from view, particularly if you have many competitors there. Your listings may disappear deeply into an Amazon product search unless you pay for Sponsored Ads.
FBM is best for your slow-selling expensive items, for which there isn't much competition.
Fulfillment by Amazon (FBA)
With FBA, you send your products to Amazon's fulfillment centers, where they sit until somebody places an order. At that point, Amazon selects the correct product, packs it, and ships the product to the customer. Amazon also manages tracking and returns. Although Amazon charges a fee for this service, it saves you from having to do it.
Although Amazon sells the products on your behalf, they are still your products, and you can control pricing and promotion.
Amazon's algorithm ranks FBA products ahead of FBM, so your FBA products are likely to be more visible in product searches than ones you manage yourself. Also, FBA products become eligible for Amazon Prime.
However, there is little value in using FBA if you compete directly with Amazon retail. If they sell the same product as yours for a lower price, yours will remain sitting in the Amazon warehouse.
---
Avoid Having Stickerless Stock in the FBA Fulfillment Centers
By default, the inventory you send to Amazon Fulfillment Centers is "stickerless." This means that Amazon adds your products together with other suppliers' stock of the same SKUs. So, for example, if you and three other suppliers all sell the same type of whisk using FBA, Amazon will mix all your whisks together in the warehouse. Then, when a customer buys one of your whisks, a warehouse worker will go to the relevant bay, pick out any whisk, package it and send it to the purchaser. These are called Co-Mingled SKUs.
In many cases, it won't matter which seller's product goes to the customer – all the products with the same SKU should be the same. The problem comes when there is a problem with another seller's stock. It might be faulty, or even worse, counterfeit. If you make a sale, and Amazon sends out the "bad" inventory as yours, you will be the one getting in trouble with Amazon for the quality issues.
Amazon charges about $0.20 per unit to sticker items. In most cases, this will be money well spent as it limits the risk of your account being suspended because of someone else's actions. However, you will have to change the default settings to enable stickering of your stock.
---
Don't Just Focus on Sales
Unless you are merely looking for brand awareness, the main reason a business sells on Amazon is to take advantage of Amazon's large customer base and make a profit from the additional sales. However, some firms focus too much on sales revenue rather than their overall profitability.
You need to consider all your costs when you decide to sell on Amazon and ensure that the money you earn more than covers all your costs. Look at your bottom line. Amazon has quite a few hidden fees that are all too easy to ignore. Focus on the items in your catalog that make you money and remove your loss-makers.
One mistake that businesses make is to average everything out. However, you are likely to have some highly profitable products and others that either don't sell or have margins too low for you to make money. So be prepared to cull your poor performers and look at trends of your high sellers. Why have they performed better than other products? Ideally, you should analyze the profitability of every item you sell on Amazon.
Top Trending Products on Amazon
#
Product
Estimated Monthly Sales
Estimated Monthly Revenue
Frequently Asked Questions
How accurate are Amazon sales estimators?
Amazon sales estimators are not 100% accurate for products, but they do estimate products with a high degree of accuracy. Knowing how much competitors make can help you focus and counter their strategy. It can also help you better sell products on Amazon within your favorite niches.
How do I find Amazon sales volume?
To find the sales volume of a product on Amazing, visit the product page for a specific ASIN on Amazon.com and scroll down to the "Product Details Section." You can then view the "Amazon Best Sellers Rank" for the product in question and its rank in related categories.
Can you see how many sales a product has on Amazon?
To find the BSR of any product on Amazon, visit the product page for a specific ASIN on Amazon.com and scroll down to the "Product Details Section."
What is a good Amazon sales rank?
#1 to #3 is a good Amazon sales rank. The Amazon sales rank, or BSR, is ranked from 1 to 1 million. A good Amazon sales rank is #1-3. That means you would be in the top three results. That ensures a potential buyer would likely buy your product.
How do Amazon sales estimators work?
Amazon sales estimators work by purely using the sales rank of a product listed in specific categories. Amazon sales estimators will use this sales rank to estimate the number of units sold each day.