It's every retailer's dream to build a successful online business. According to reports, however, 20% of small businesses fail within the first year of opening. Within the fifth year, the likelihood of small businesses failing grows to 50%. According to Fundera's Georgia McIntyre, small businesses and startups fail because of several reasons, including the lack of need for their products or services, pricing and cost issues, poor product offering, and lack of funds.
Despite this data, there's still a silver lining for entrepreneurs. Small businesses continue to thrive within the US, and they contribute to the country's job growth. Moreover, McIntyre notes that more small businesses are opening rather than closing. This is good news, especially for entrepreneurs who are looking to grow their business by setting up an Amazon account.
This year alone, 3,700 new sellers joined the eCommerce giant on a daily basis, bringing the total number of active sellers to 1.5 million worldwide. With the onset of the global pandemic, many retailers have made the shift to eCommerce, turning to popular online marketplaces, such as Amazon, to extend their reach. Amazon, as a thriving digital marketplace, continues to see an increase in the number of third-party sellers joining the platform. This resulted in a 3% growth of paid units sold by third-party sellers, bringing the total sales for the first quarter of 2021 to 55%, compared to the 52% during the same period in 2020.

---
Just How Much Do Amazon Sellers Make? :
---
What is Amazon FBA?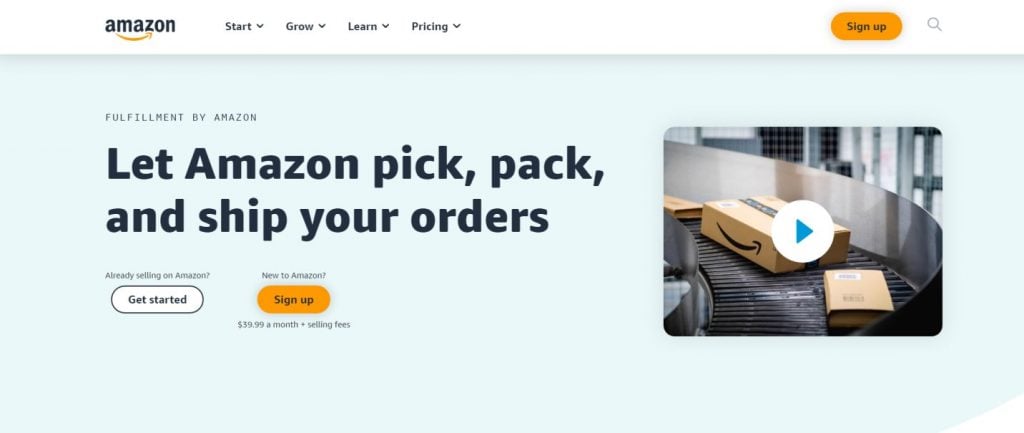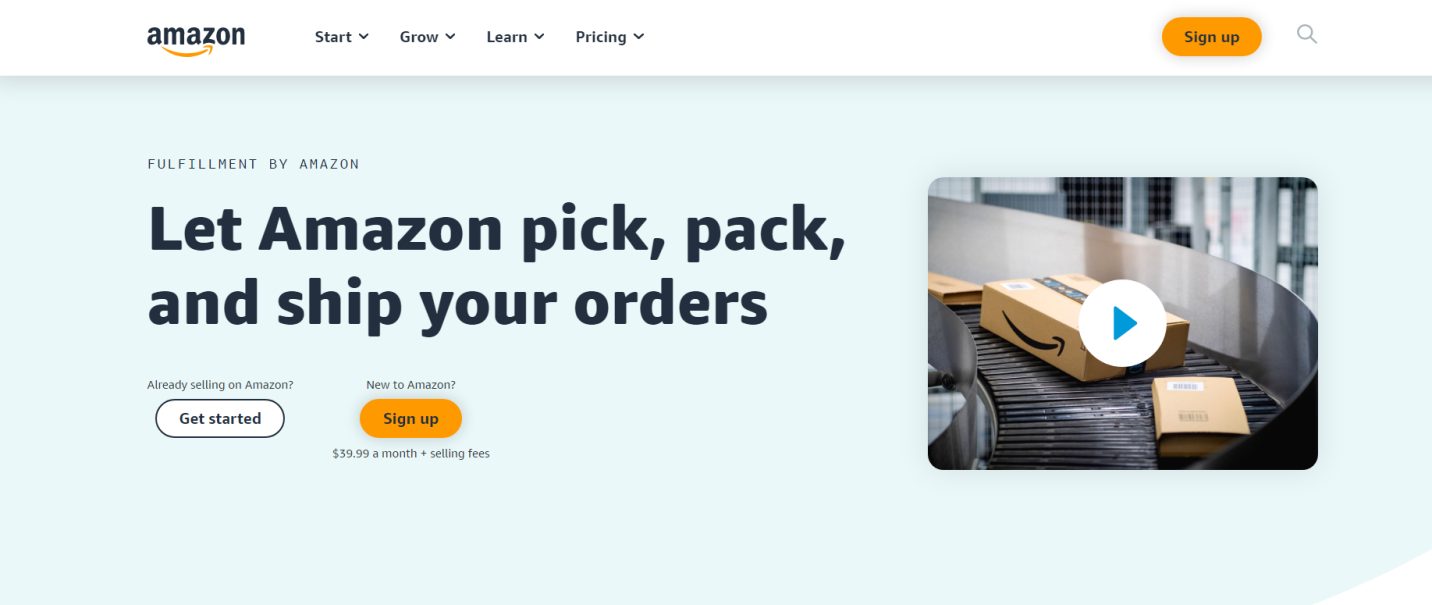 One of the reasons for Amazon's growing popularity with retailers is Amazon FBA. The platform has made it relatively easy for retailers to sign up. In a nutshell, Amazon FBA is a service by Amazon that technically takes care of logistics. Signing up for Amazon FBA means sellers hand over the responsibility of picking, packing, and shipping orders, allowing sellers to actually focus on the selling part of business.
It also eliminates the need for storage or warehouses, as Amazon FBA sellers can make use of Amazon's fulfillment centers. Currently, there are 110 active fulfillment centers in the United States and 185 centers located in other countries, such as the UK, Germany, Spain, France, and Italy.
Aside from saving you time and money, Amazon FBA also offers free shipping on eligible orders, handling of customer service and returns, tools to help you with business management, and a variety of programs that can help you extend your reach and maximize sales. Moreover, you can enjoy discounted rates on shipping, multi-channel fulfillment, and speedy delivery of products with Amazon Prime shipping.
Don't know how to get started with Amazon FBA? We've written a comprehensive article that covers the basics, including how you can increase your online sales and scale your business quickly.
---
Why Selling on Amazon Is Still Profitable
Selling on Amazon still proves to be a profitable venture in 2021, according to Szymon Zurek. He shares that this year, online shopping is on the rise, given the events that transpired in 2020 that also served to accelerate its growth.
A Jungle Scout Consumer Trends report shows that in the third quarter of 2021, 65% of consumers have shopped on Amazon within the past three months. Their Consumer Trends Report that covered the second quarter of 2021 indicates that up to 80% of consumers are expecting free shipping for a certain amount of purchases, while 66% expected free shipping for all their orders. Moreover, 91% of consumers surveyed by the same report expect their orders to arrive within a week, highlighting the need for retailers to provide speedy delivery.
This upward trend in online shopping and Amazon's growing popularity indicates that it can be a potentially profitable avenue for retailers. The eCommerce giant remains resilient despite the ongoing pandemic. As more and more consumers turn to online shopping to purchase everyday items, this further contributes to the growth of the eCommerce industry.
Amazon itself still proves to be a very profitable company, raking in an annual revenue of $386 billion in 2020, showing a 38% increase. Furthermore, its net income increased to $21.3 billion compared to its 2019 net income, which amounted to $11.6 billion.
If you want to know how much you can potentially earn on Amazon, there are several Amazon Profitability Calculators that you can use to help you estimate your earnings.
---
How Much Does It Cost to Sell on Amazon?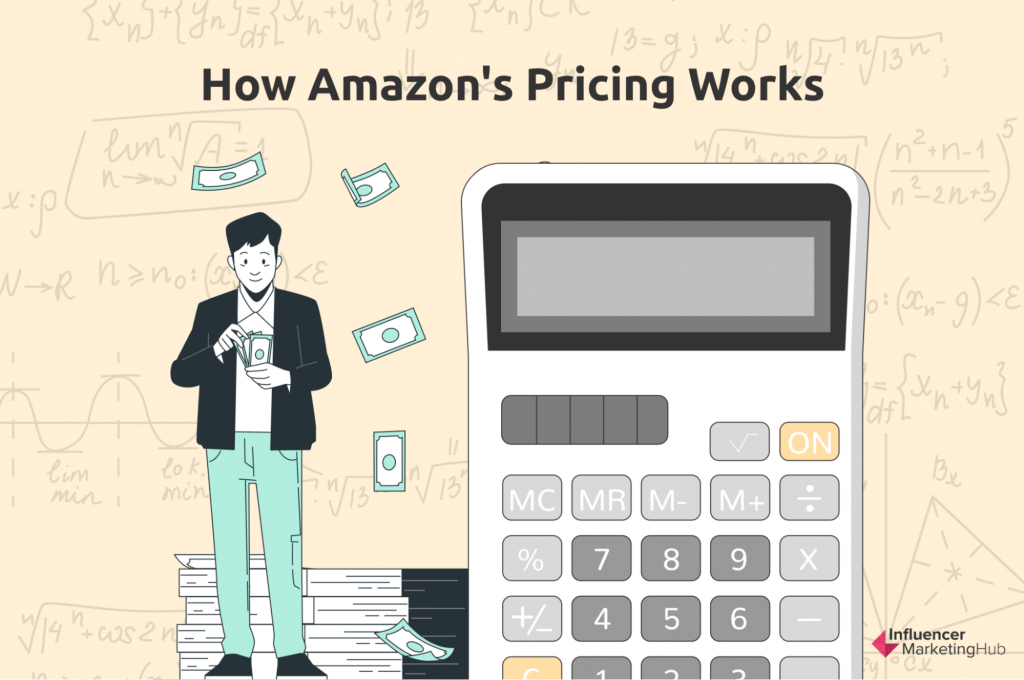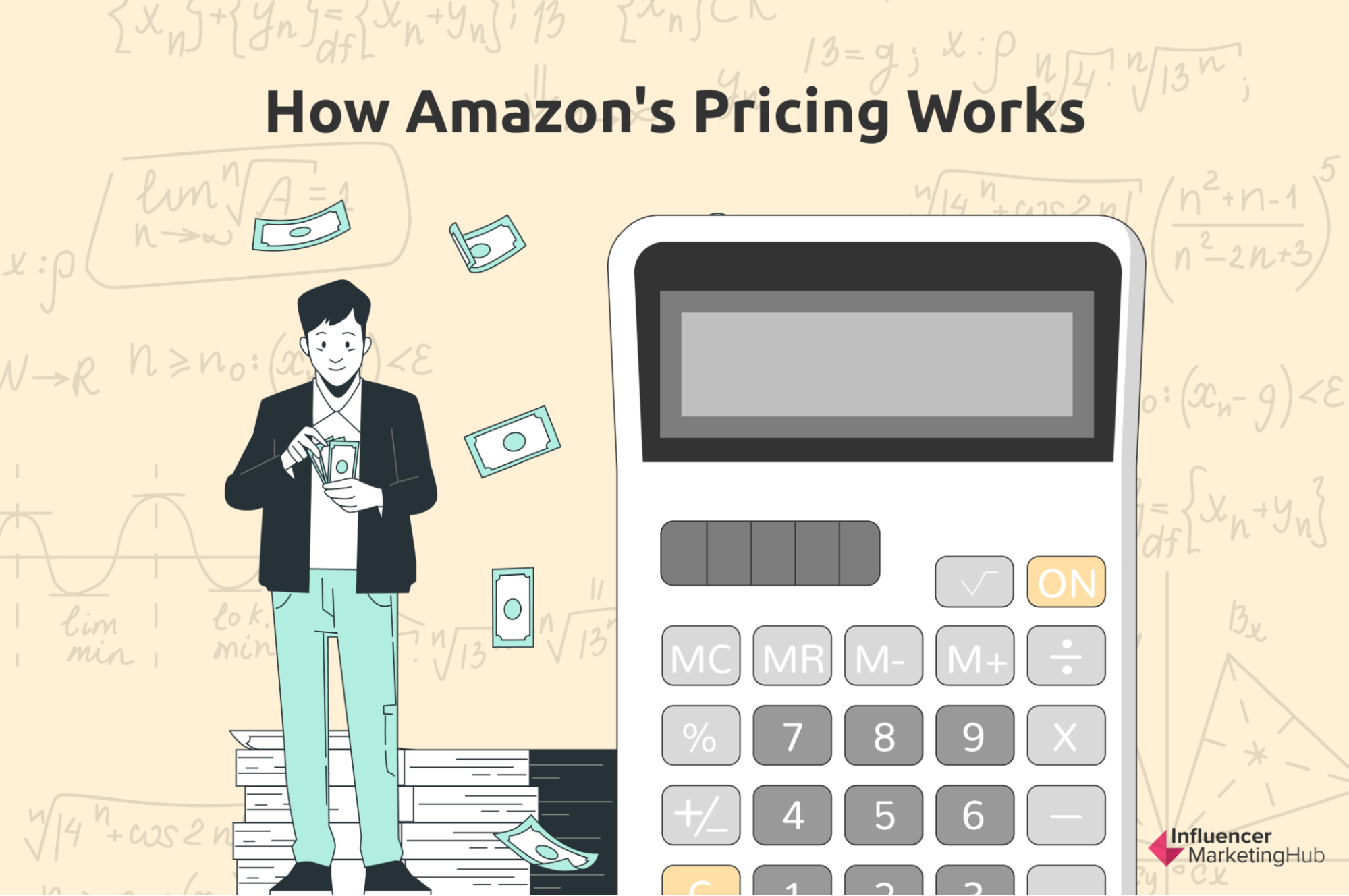 There are fees when joining Amazon or using Amazon FBA services. However, these are only minimal. These fees include:
⚡️ Inventory storage fees
Inventory fees are charged for all items that are stored in an Amazon fulfillment center. These are based on a seller's daily average volume of inventory.
⚡️ Long-term storage fees
These fees are regularly assessed for items that are stored in a fulfillment center for more than a year (365 days). Amazon stresses the importance of maintaining a good inventory health to avoid being charged with long-term storage fees.
⚡️ Fulfillment fees
Fulfillment fees are charged per unit. These cover various services, such as picking, packing, shipping, and handling your orders, among others. To get an estimate on your fees, you can use the FBA revenue calculator.


⚡️ Unplanned services fees
Sellers will be charged with this fee when inventory without proper preparation or labeling, which would then require unplanned services, arrives at an Amazon fulfillment center.
⚡️ Removal order fees
These are charged per item in the event that you want Amazon to return or dispose of your inventory.
⚡️ Returns processing fees
These fees are charged on orders that are covered by Amazon's free return shipping.
Moreover, there are subscription fees you need to be aware of. Depending on the selling plan you choose, you can expect to shell out $0.99 per unit sold (Individual plan) or $39.99 per month regardless of the number of units sold (Professional plan).
There are also referral fees for both Individual and Professional plans. Referral fees can vary. Amazon can charge fees ranging from 8% to 15%, depending on the product category, or it can charge a minimum referral fee of $0.30. Categories that will be charged referral fees include:
📌 Full-sized appliances
📌 Personal computers
📌 Veterinary diets (pet food)
It's worth noting that fees calculated using the Amazon Revenue Calculator may vary and aren't necessarily accurate.
---
How Much Do Amazon Sellers Make?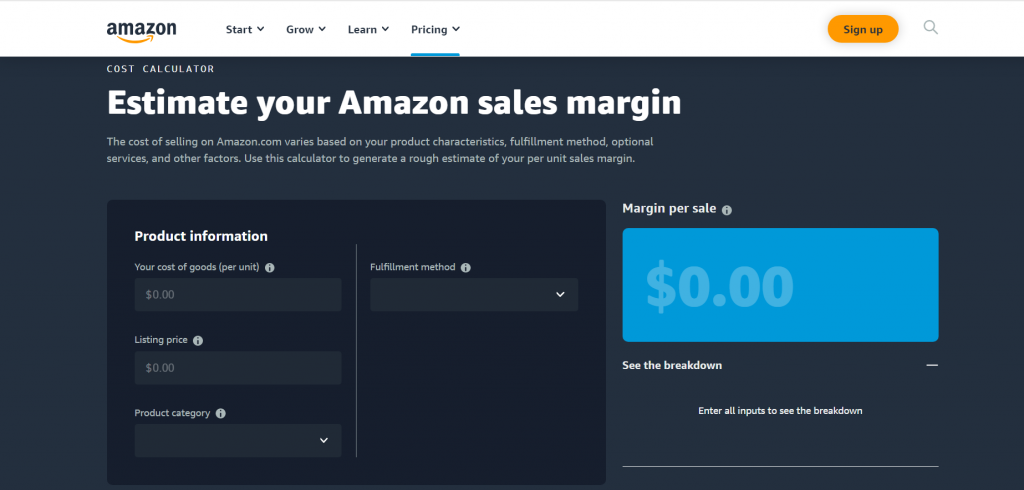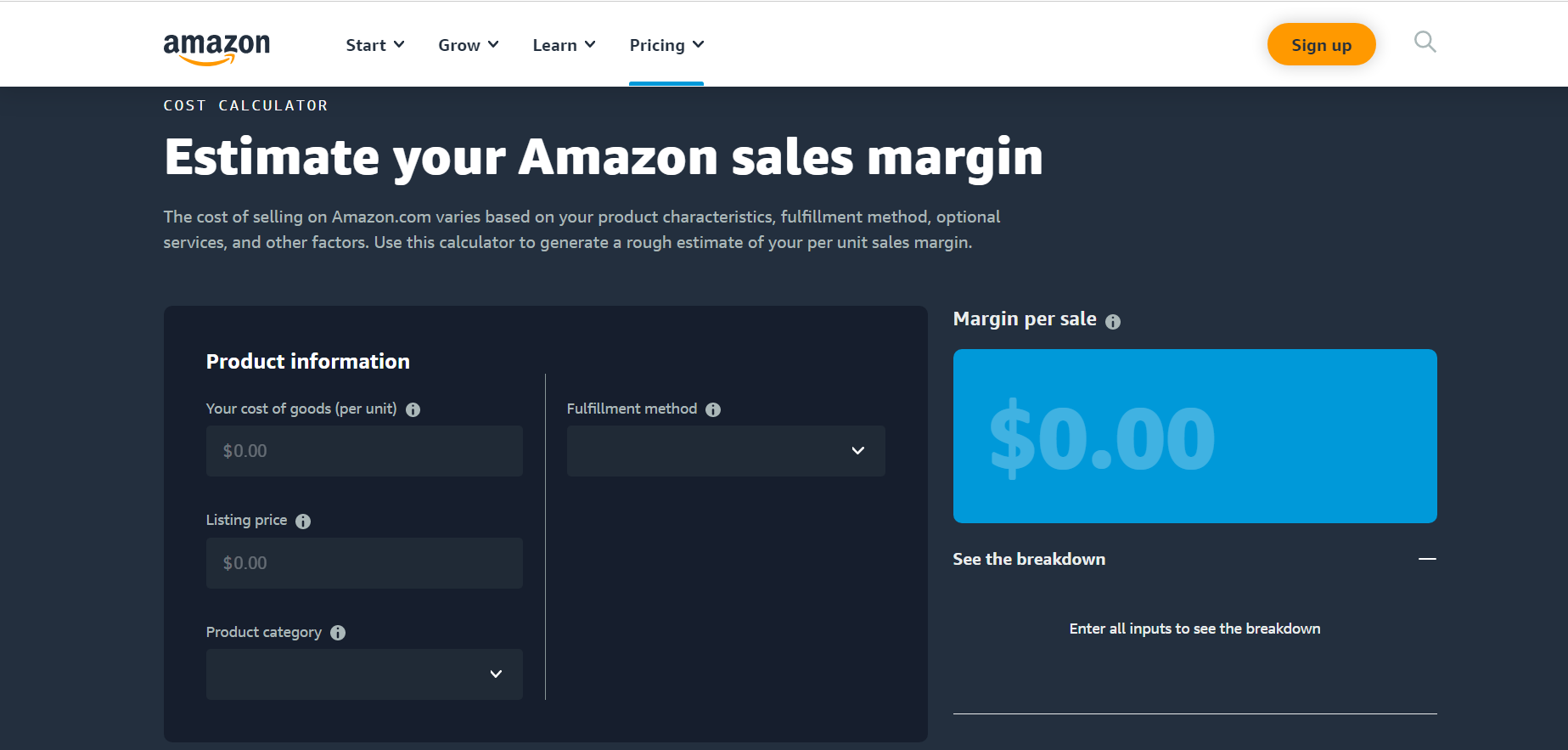 Still, the question remains: how much do Amazon sellers make?
Actual figures can vary greatly, but on average, Amazon sellers can earn anywhere from $1,000 to $25,000 a month. Annually, new sellers can earn an average of $42,000. According to The State of the Amazon Seller 2021 report, 62% of sellers shared that their profit in 2020 increased, thus encouraging them to continue selling on the platform in 2022.
When it comes to earning, the figures ran a gamut. Nearly 50% of sellers managed to earn around $1,000 to $25,000 per month, while a minority of sellers, around 20%, managed to pocket earnings ranging from $25,000 to $250,000 per month.
An even smaller group of sellers, approximately 6%, were able to make more than $250,000 in monthly sales. Note that these figures refer to total sales and not profit. The same report, however, indicates that profit margins for Amazon sellers are relatively high, ranging from 10% to more than 20%.
It's possible for sellers to make $3,600 annually, provided that you're able to maintain a profit margin of around 30% and a monthly sales minimum of $1,000. As with any business, however, it's worth noting that profits won't come instantly. Even if you've already established your online business on Amazon, it may take some time before it can be considered profitable. 8% of sellers consider their businesses as not yet profitable, while another 8% still can't say whether or not their business is profitable.
One of the great things about Amazon is it makes starting a business and earning money more accessible to entrepreneurs. To start selling, you're not required to have a lot of capital. 17% of sellers on the platform invested less than $500, while 21% put in more than $10,000. Overall, 80% of sellers invested around $500 to $10,000 to jumpstart their Amazon business.
The good news is a majority of sellers, 67% of them, reported that their business was profitable within the first year of setting up their Amazon online store.
---
8 Seller Mistakes to Avoid
To ensure that your Amazon business is profitable and you can maximize your profits, there are several seller mistakes you need to avoid. These include:
📑 Not familiarizing yourself with Amazon's rules and policies, as this can potentially get you suspended or result in a lifetime ban
📑 Not conducting market research or having the initiative to learn more about your competition
📑 Not creating and sticking to a budget, which means you should also factor in Amazon's fees, as well as any hidden costs
📑 Not studying the reports or notifications generated by Amazon
📑 Not being proactive in your marketing efforts or not having a proper marketing strategy
📑 Not managing your inventory properly
📑 Going with a niche that's already oversaturated
📑 Explicitly asking customers for product reviews
---
Final Thoughts
While starting an Amazon business is relatively easy, running it and making sure that it's profitable takes a fair amount of effort. All the hard work will eventually pay off, as Amazon sellers can potentially make a lot of money on the platform. You also have to be mindful of your goals, particularly your monthly sales goals and profit margins to ensure that you're able to pocket earnings that can amount to thousands of dollars.
With the growing popularity of online shopping, eCommerce platforms like Amazon are becoming viable earning avenues that may be suitable for long-term prospects.
Frequently Asked Questions
What do you need to start selling on Amazon?
To start selling on Amazon, as with any business endeavor, you need to have a business plan and a capital. A solid business plan helps you monitor whether or not every element of your business is in place, whether it's your goal, your products, or your marketing campaigns. You also have to determine your niche before anything else. Make sure that your niche is profitable, meaning that there's a demand for it. For this, you need to do your homework and conduct market research.
What are the best products to sell on Amazon?
Amazon is a huge marketplace that practically has everything, from common household items and appliances to more niche products, such as Dungeons & Dragons dice, levitating plants, and even electric wine openers. With more than 75 million products as of March 2021, it can be challenging to break through this online marketplace. There are several products, however, that can generate income for sellers. These items typically have the following characteristics:
✅They belong in an unsaturated niche or are relatively new products that are gaining traction (few competitors = less competition)
✅They're highly visible
✅They have good monthly sales figures
✅They can potentially generate high profit margins
Here are some products you can consider selling on Amazon:
💯Portable projectors
💯Women's swimsuits
💯Portable or handheld garment steamers
You can also check out the top Amazon product categories to get ideas. Popular categories include:
✒️Electronics
✒️Toys and games
✒️Home and kitchen
✒️Sports and outdoors
✒️Kitchen and dining
✒️Beauty and personal care
How long does it usually take for businesses to become profitable on Amazon?
The amount of time may vary greatly, but it's possible for your Amazon business to be considered profitable within a year of opening.
How can you become a profitable Amazon seller?
There are several ways for your Amazon business to become profitable. The most important components that make businesses successful include having a reliable business or selling plan, having a solid understanding of the platform and its costs, and knowing which products to market.
To become a profitable Amazon seller, you need to:
🔍Determine the right niche for your brand
🔍Conduct market research to know more about your competition
🔍Learn how you can maximize your profits