Amazon is a very popular eCommerce platform for both eCommerce business owners and consumers. Selling products online can be daunting—especially when you have to worry about everything from marketing to order fulfillment to returns and refunds. That's where Amazon FBA comes into play. Here's how you can leverage Amazon FBA for online sales and free up time and energy to focus on other aspects of your business.
---
How to Get Started With Amazon FBA and Increase Online Sales:
---
What Is Amazon FBA?
Amazon FBA means "fulfillment by Amazon." It's a service offered by Amazon for third-party sellers on the platform in which Amazon handles the inventory, picking, packaging, shipping, delivery, returns, refunds, and exchanges. With Amazon FBA, you send your products to one of Amazon's warehouses and when someone places an order, the warehouse is responsible for taking the order and shipping it out. It's a great alternative to the dropshipping model and having the Amazon name associated with your order fulfillment goes a long way towards establishing trust with your customers.
In exchange for Amazon fees, you get access to:
24/7 customer service for your customers (handled by Amazon)

All order fulfillment and shipping costs

Access to a large and dynamic fulfillment network
But how do you know if Amazon FBA is right for you? Before you decide, let's take a look at the pros and cons of Amazon FBA so you can get a much better idea of what you can expect from the service.
---
Benefits of Amazon FBA
Let's start with a look at some of the benefits of using Amazon FBA for your eCommerce business. Keep in mind that this list isn't exhaustive, but it does include what we believe to be the biggest advantages to using the service.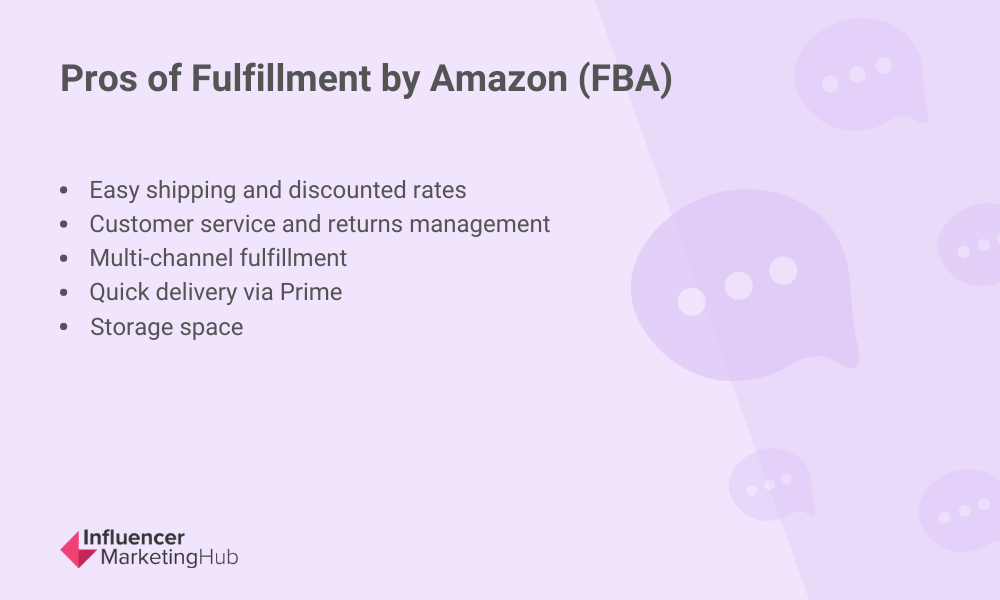 Easy Shipping With Discounted Rates
Amazon handles all the order fulfillment, shipping, and associated logistics for you. You just need to make sure that you're keeping track of each Amazon product listing and that you have enough inventory. Plus, since you're working with one of the largest fulfillment networks in the world, you can save on shipping costs.
Customer Service and Returns Management
Amazon FBA handles customer service management and product returns management for you. Imagine not having to deal with customer inquiries, processing refunds, or handling returns. What other business goals could you meet with all that time available?
Multi-Channel Fulfillment
In addition to letting you target customers through the Amazon platform, Amazon also offers multi-channel fulfillment services. That means you can sell your products on other platforms and Amazon FBA will still handle them.
Quick Delivery Via Prime
Amazon FBA products are automatically added to Prime shipping. This means that your customers get quick delivery without you needing to pay extra for the shipping—it's already included.
Storage Space
Amazon FBA includes storage space for your products so you don't have to find a place to store them. Plus, since you have storage space available to you, you can enjoy even bigger discounts when you purchase your products from the supplier. And, since Amazon has fulfillment centers everywhere, you can rest assured that you'll never run out of space for your products.
---
Disadvantages of Amazon FBA
We couldn't look at the benefits of Amazon FBA without also covering the downside. No two businesses are the same, so it's important to understand all of the details about Amazon FBA before diving right into the platform and finding out it's not right for your business. Here are a few of the cons of using Amazon FBA that stand out to us.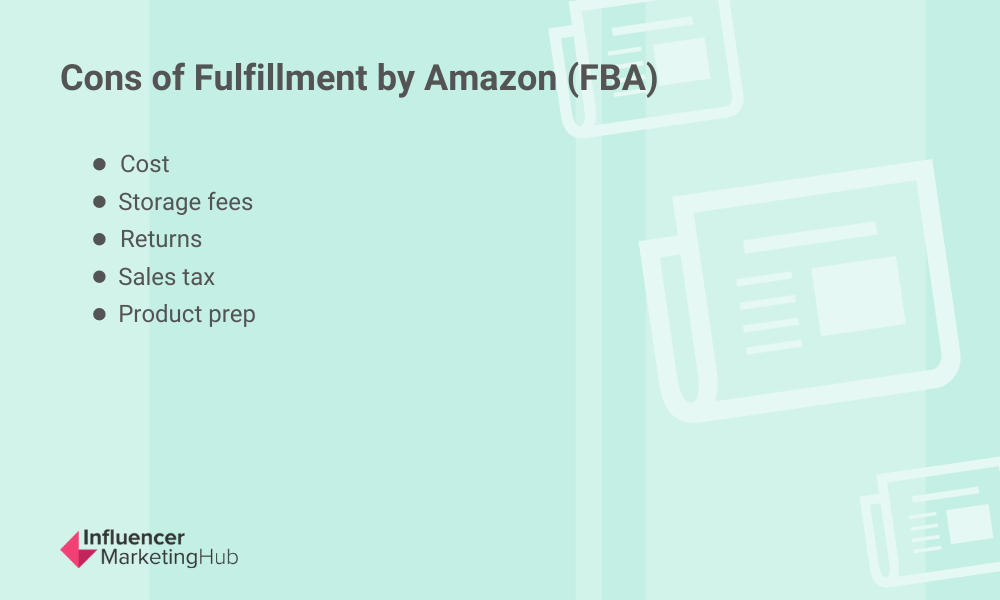 Cost
Amazon FBA comes at a price. If you're just starting an eCommerce business, you might not have the money to commit to this kind of service. And, if your products are on the lower end of the cost spectrum, Amazon FBA might not be worth it for you. We recommend using Amazon's FBA calculator to figure out if Amazon FBA is a good choice for your particular situation.
It's also important to note that Amazon deducts all fees owed to them before they make a payment to you. If you don't have enough in your account to cover the fees you'll be asked to provide a credit card to pay the balance.
Storage Fees
While having storage available for your products is great, it does come at a price. Amazon charges more the longer your products sit in their warehouses. They'll also charge you more to store products that aren't actively listed for sale. This means that it's really important for you to stay on top of your business, understand and be able to cover any dings to your budget for storage, and ensure that you have space available to store items that you're going to stop selling for a while.
Returns
Amazon has an open return policy, meaning it's really easy to return products to Amazon and get your money back. Sometimes, you don't even need to return the product—they just refund it. While Amazon does handle the processing, some third-party sellers have indicated that this open return policy has increased the number and frequency of returns. Something to keep in mind.
Sales Tax
If you're based in the United States, you already know that sales tax is a mess. It's managed at the state level, but there are also different local municipalities that add in sales tax adjustments to cover projects that voters have agreed to support. That means, you could have a 7% sales tax in your city, but your neighboring city has a sales tax of 4.5%. This can be especially confusing if you operate in one state and have items warehoused in another state. While Amazon can help manage a lot of this for you, it's important to stay on top of sales tax rates and charge the right amount.
Product Prep
Amazon has a list of requirements for products that will be stored in their fulfillment centers and handled through FBA. It's up to you to make sure that your products are prepped correctly before they get to the warehouse, including packaging, labeling, and shipping according to FBA guidelines.
---
Tips to Start and Scale an Amazon FBA Business
Now that we've covered some of the pros and cons of Amazon FBA, you probably have a good idea of whether or not this is a good solution for your business. In this section, we'll share tips to help you start and scale a business using Amazon FBA.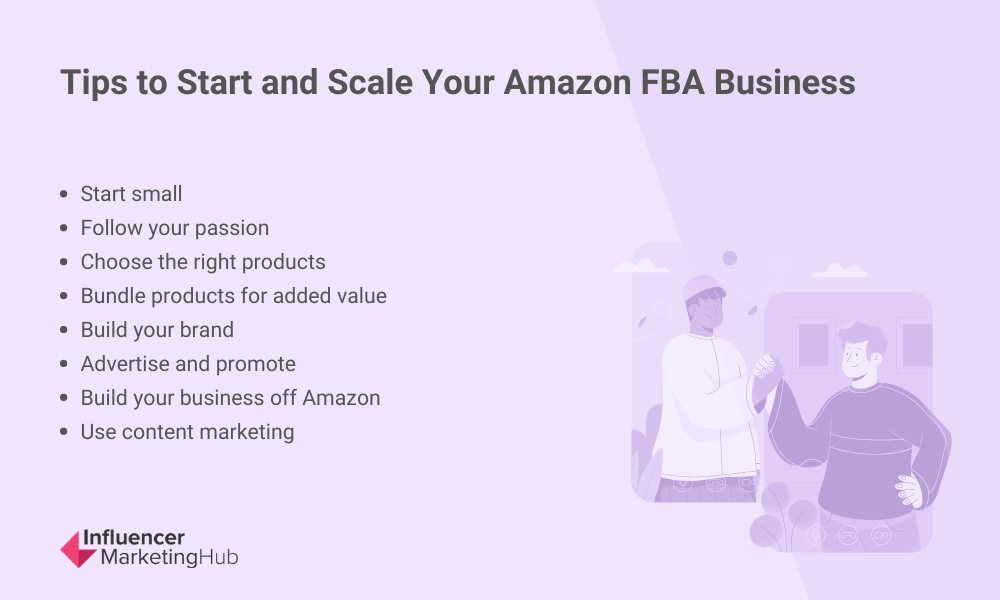 Start Small
Amazon FBA is not something to rush into. Start by choosing a few products with limited inventory to sell and grow from there. This makes it a lot easier to figure out what products are selling and which aren't and you're less likely to have tons of product left to unload if people aren't buying it.
---
Follow Your Passion
Don't choose products just because they showed up on a list of the most profitable eCommerce products to sell. Well, if you're passionate about those products, go for it. Just don't let profitability be the only reason you choose to sell something. The more excited and passionate you are about your products, the easier it will be for you to market and promote those products. Plus, there's a good chance that you've already built connections in the niche or industry you're selling in, so you can leverage those connections.
---
Choose the Right Products
The products you offer should be carefully curated. You'll need to balance between high-ranking, high-competition products and low-ranking, low-competition products. Each has benefits and drawbacks. For high-ranking products, you're going to have a lot of competitors. If you do break through as a seller, those products are going to move fast. On the other hand, low-ranking products are less in demand but give you the potential to become a leading seller of that particular product. These products are still likely to move slower, though.
---
Bundle Products for Added Value
Amazon is filled to the brim with third-party sellers. That means you'll be competing with dozens, if not hundreds, of other listings on the platform that are very similar to yours. How are you going to stand out from the crowd? One of the ways you can get noticed is by adding value to your customers through bundled products. So, instead of selling bath salts, bath oils, and soap all individually, create a bundle of all three for a discount to pull in customers who might go elsewhere.
---
Build Your Brand
Just because you're selling on Amazon doesn't mean you should forego branding. In fact, focusing on your branding and working to increase brand awareness on the platform can help you earn repeat business. For eCommerce businesses, your brand depends on high-quality products, so make sure that you're sourcing from reputable suppliers. And, you'll want to actively seek out product reviews from happy customers.
---
Advertise and Promote
Advertising is quite an effective tool that will help you increase your customer base and boost your revenue. Here are a few ways you can advertise your Amazon products:
Create social media ads and connect with

Amazon influencers

Include keywords your target buyers are Googling in your product listing to improve SEO

Find opportunities to backlink to your Amazon listings

Win the buy box through excellent seller metrics

Rank high in Amazon product search results (considerations are: text, price, availability, selection, and sales history)

Buy Sponsored Product ads

Run a

competitor analysis

Maintain high product ratings with honest product descriptions and great customer service

Monitor your seller rating

Use Lightning Deals
---
Build Your Business Off Amazon
While Amazon FBA is great for helping to automate your order and fulfillment process, it's not so great for helping you build customer relationships. Amazon handles customer service and all that for you, so you don't really get direct access to your customers or their information. This means that Amazon, not you, owns your customer list. Fortunately, there are tools out there that can help you export your customer information so you can add it to your own CRM. But we don't think that's really enough. That's why we recommend that you use Amazon as the warehouse it was intended to be and build your business and brand off Amazon's platform.
This can benefit you in several ways:
Your own site will be able to rank on search engines and grab some of your customer traffic that's currently going directly to Amazon.

You can get back a bit of the 30% Amazon FBA fees by using Amazon affiliate links on your own site and linking back to your products on Amazon.

You'll be able to

grow your email list

through email newsletter subscriptions, lead magnets, and other growth tools from your own website.
---
Use Content Marketing
Content marketing is an awesome way to generate organic traffic to your website. This might include articles, eBooks, videos, webinars, and other content. There are several SEO tools available that will help you find the right keywords to target based on your niche and the products you sell. Then, you get to create the content (or outsource it). Content marketing will help you build authority in your niche, add value for your customers, and get found by the people who are interested in the products and services you have to offer.
---
Leverage the Power of Amazon FBA for Better Business
It can be overwhelming to start an eCommerce business from scratch. With Amazon FBA, you can ease a bit of the pressure and free up time that you'd otherwise spend fulfilling orders and handling customer service. While Amazon FBA isn't for everyone, if you've gone through the pros and cons and determined that it will work for you, the tips we've included in this article will be enough to get you off and running.
Frequently Asked Questions
How much can you earn selling on Amazon?
There are several different things that will impact the success you see as an Amazon Seller:
Product popularity
Pricing
Competition
Advertising and promotion
Having said that, 44% of Amazon sellers make between $1,000—$25,000/month on the platform.
What are the top products selling on Amazon?
The top-selling products on Amazon vary depending on trends, seasons, and year. Amazon keeps an updated list of the most popular items if you're interested in knowing. Typically, categories like toys and games, electronics and gadgets, books, and clothing are on the high end.
What are the fees for selling through Amazon FBA?
Fees for Amazon FBA vary depending on:
Product weight
Product size/dimensions
Where the product was sold (Amazon or an external site)
Products sold through Amazon FBA include costs for:
Amazon Fulfillment Fees: Fees start at $2.70 and can go up to more than $100 for oversized products.
Monthly Inventory Storage Fees: Storage fees range from $0.75/cubic foot to $3.63/cubic foot with a long-term storage fee of $6.90 per cubic foot or $0.15 per unit, whichever is greater. Long-term storage is storage for products beyond 365 days.