Amazon is undeniably a competitive marketplace. With 1.5 million active sellers worldwide, it can be challenging to get your product on the front page. It can be even more difficult to generate revenue if your product isn't immediately visible to your target customers.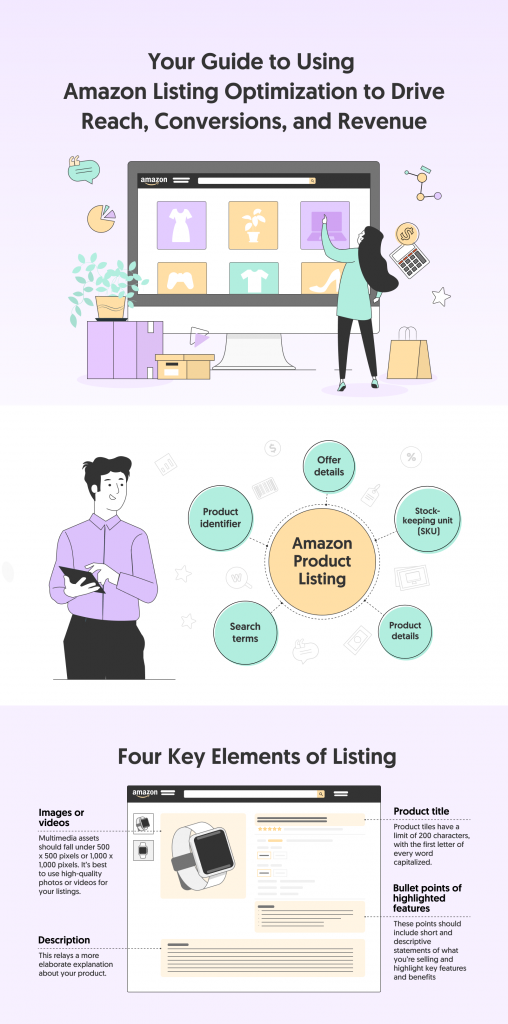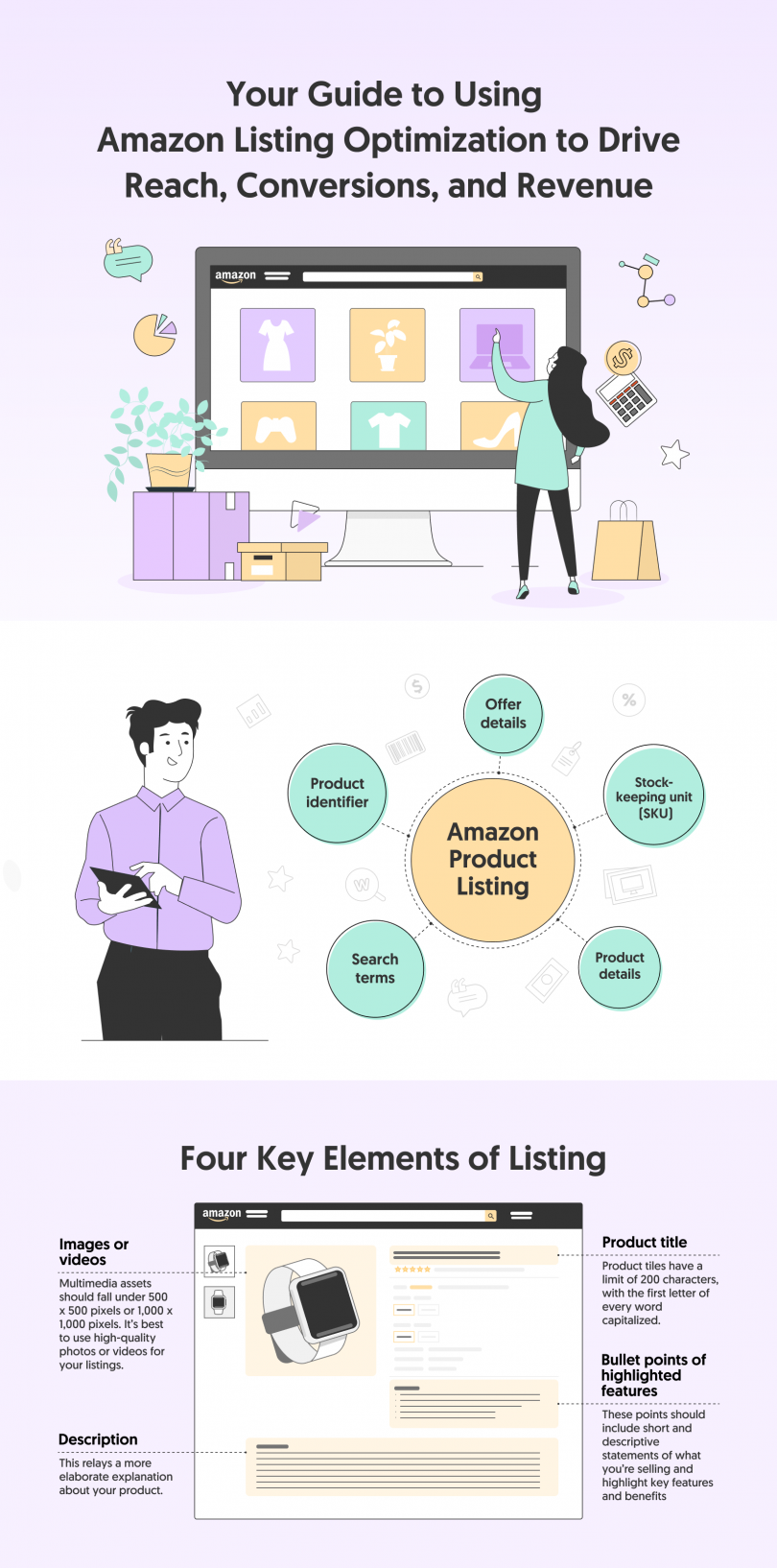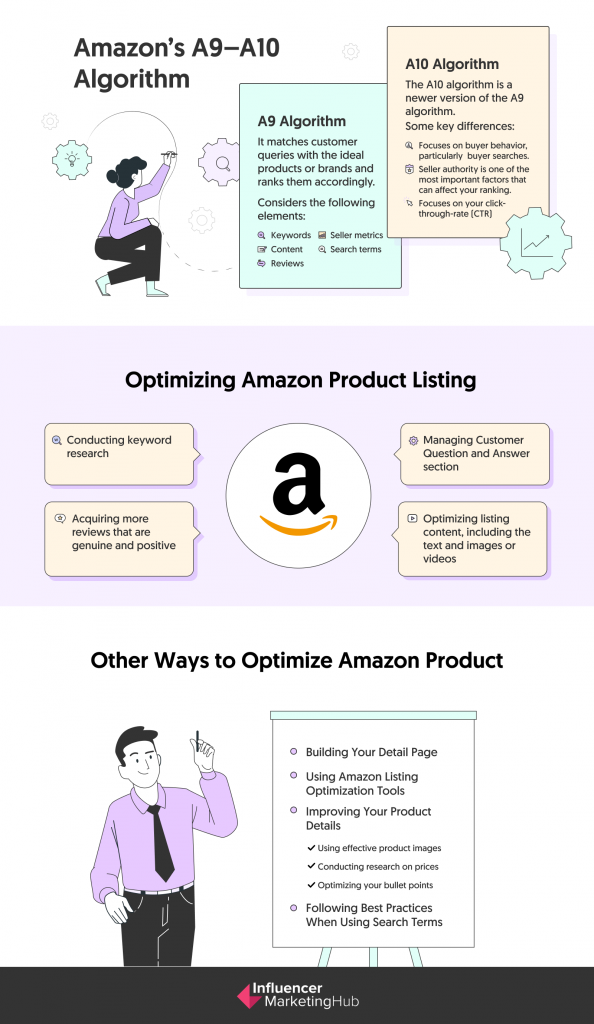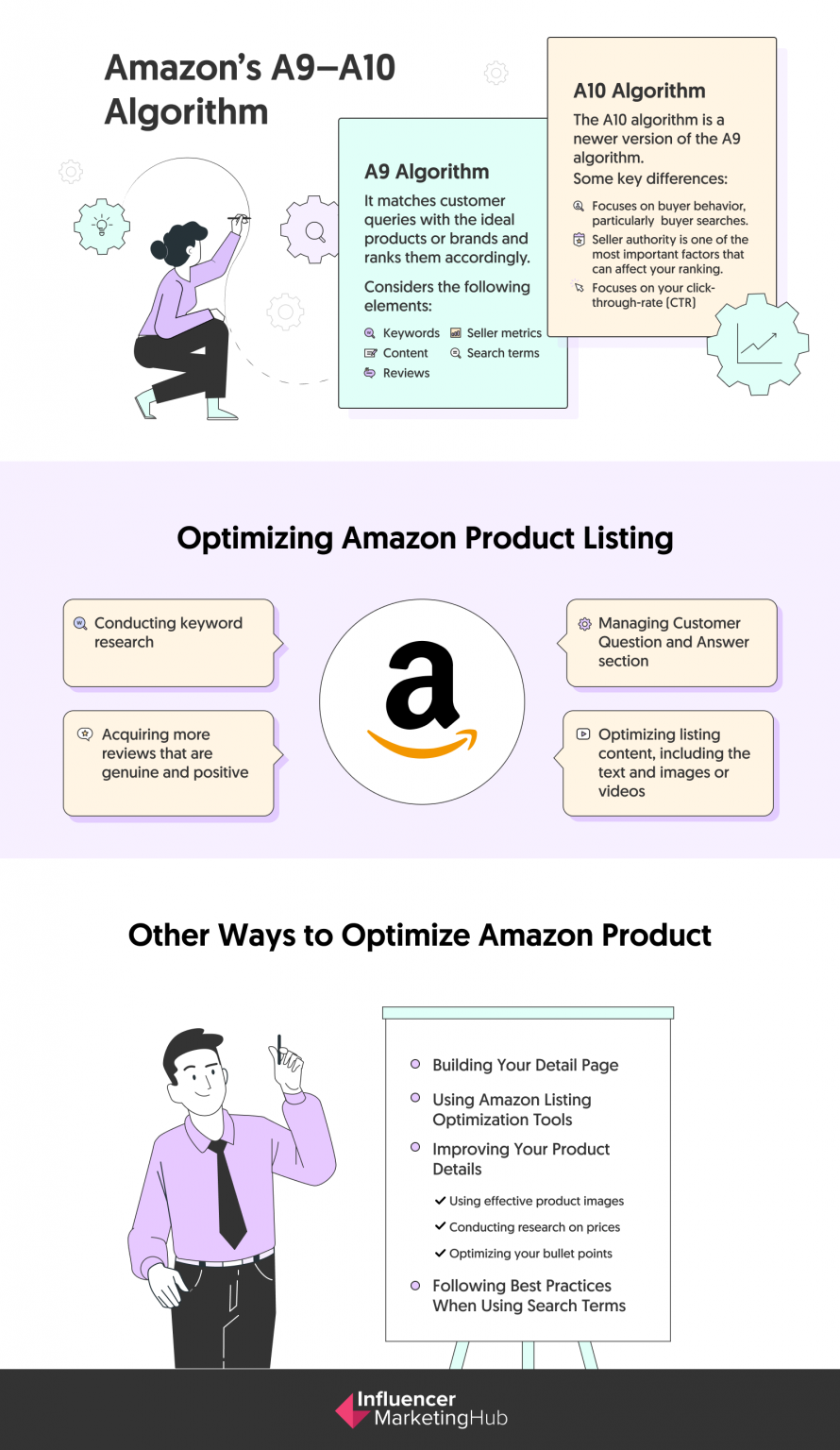 With over 350 million seller products, including items offered on Amazon Marketplace, how can you get your listing seen? More importantly, how can you get your customers to click on your product listing and purchase your item? How can you create listings that drive conversions?
Let's look at it this way: Amazon is like your typical search engine, which gives product list results based on a search query. Similar to how a search engine, such as Google or Yahoo, works, your product listing needs to rank higher for it to appear on the first page of an Amazon user's search results. Being on the first page of results increases the chances of a user clicking on your listing.
If you've ever wondered why some products keep on appearing in Amazon searches or wanted to know how you can improve Amazon engagement and sales, continue reading. This guide is designed to help you understand Amazon listing optimization and the Amazon listing optimization tools you can use for your business.
---
Your Guide to Using Amazon Listing Optimization to Drive Reach, Conversions, and Revenue:
---
What is Listing Optimization on Amazon?
What is an Amazon Product Listing?
Your product listing is technically a product page where you share information about the item you're selling. According to Amazon, a product listing should include the following elements:
✅ A product identifier (product ID) and a Global Trade Item Number (GTIN), which could be a Universal Product Code (UPC), an International Standard Book Number (ISBN), or a European Article Number (EAN)
✅ A stock-keeping unit (SKU), which is another type of product ID used for tracking inventory
✅ Offer details, such as price, condition, and shipping options
✅ Product details, including its name, brand, description, and photos
✅ Search terms and relevant keywords to help customers find your product
Note that if a seller already has a listing for a similar product, you'll match this particular listing. This means that some information will already be in place. If you're the first one to sell a certain product, then you'll have to create a new listing for it. Moreover, every product on Amazon receives an automatically generated Amazon Standard Identification Number or ASIN, which is different from product IDs, such as a GTIN or an SKU.
For example, several sellers list Marshall Bluetooth speakers on Amazon. These sellers can have the same general product details listed, such as the name and the model number. However, where they differ is in their listing information. Certain details, such as product condition, price, and shipping options, may differ. Take a look at the examples below. Notice that while they feature the same product, one is new while the other is pre-owned.
Your product listing page, where you'll find the "Add to Cart" button, is also what shoppers use to make a purchase. How you craft your product listing can influence your target customer's purchase decision.
Each Amazon product listing has two main functions: one, to enable customers to find your products when they conduct relevant Amazon searches, and two, to encourage them to purchase what you're selling.
Each listing should also have these four key elements:
✅ Product title
Product tiles have a limit of 200 characters, with the first letter of every word capitalized. When crafting a product, particularly if it's a new or a niche product, you may want to use keywords that aren't common or competitive. While this may yield a lower search volume, you would also have less competition.
✅ Images or videos
Multimedia assets should fall under 500 x 500 pixels or 1,000 x 1,000 pixels. It's best to use high-quality photos or videos for your listings.
✅ Bullet points of highlighted features
These points should include short and descriptive statements of what you're selling and highlight key features and benefits
✅ Description
This relays a more elaborate explanation about your product. The description provides an opportunity for including keywords that can help improve the chances of customers finding your listing. When writing a description, think about your target audience and what they'd really want to know about your product.
Other elements you should be mindful of include:
✔️Variations that indicate the different colors, scents, or sizes your product comes in
✔️Featured Offer or "Buy Box", which gives customers the option to add the item to their cart or to "Buy Now"; note that eligibility for a Featured Offer placement requires you to meet Amazon's performance-based criteria
✔️Other offers, which feature the same product sold by multiple sellers, all having a range of price, conditions, and shipping options
✔️ Product reviews and ratings, which provide potential customers with insights on product satisfaction and experience and on item description accuracy
---
Amazon Product Listing Optimization
Customers find products using keywords, which the Amazon search engine matches against information, such as the product name and description that's provided by a seller for an item. By providing complete, relevant, and accurate information for your product, you'd make it easier for customers to find you. This, in turn, can help boost sales.
Amazon product listing optimization is simply optimizing your listing content for improved search visibility. Optimization covers product reviews, marketing strategy, and your product listing appearance to generate traffic and conversions.
For example, an optimized product detail page will include a detailed product name or title, which would produce better results than a very general title such as "Linen Bed Sheet". This is because each word in the product title is searchable even when used on its own.
Optimizing your Amazon listings is crucial if you want to sell your products on Amazon, which is recognized as the world's biggest online retailer. What makes e-commerce tricky is, unlike brick-and-mortar retail establishments where you can physically inspect the product, customers are unable to touch the product and look it over. How would they know that a product is worth their time and money? To help guide their purchase decision, they need well-executed product listings that emulate the retail shopping experience. With Amazon having hundreds of millions of products, having an optimized listing can help give your product a competitive edge.
---
Benefits of Amazon Listing Optimization
Optimizing your Amazon listings helps you generate more conversions and revenue and enable your e-store to thrive. Through it, your business can maintain an optimal sales performance level. Aside from better visibility, you'll be building better brand recognition and foster trust and credibility.
Listings that are not optimized are hard for Amazon users to find. This also increases the risk of coming across to customers as fake or untrustworthy and generating a lower sales volume.
---
What You Need to Know about Amazon's A9 – A10 Algorithm
While Amazon uses a search engine, it's a far cry from your conventional search engines such as Google or Bing. Keep in mind that Amazon is an e-commerce platform. As such, its search engine and SEO work a bit differently.
A9 Algorithm
The A9 algorithm is an AI algorithm that crawls and analyzes all the data on Amazon. It matches customer queries with the ideal products or brands and ranks them accordingly. It checks a listing's relevance, which makes it paramount for sellers to optimize their listings not only for SEO but also for relevance within the context of customer searches.
A9 also considers the following elements:
✔️ Keywords
✔️ Content
✔️ Seller metrics
✔️ Reviews
✔️ Search terms
Rankings are determined based on the following:
✔️A seller's sales performance history or your sales velocity
✔️ Text match relevancy, which is done to check how good your content is (creative titles, compelling descriptions, and content that incorporates the right keywords)
✔️ Stock availability—listings that say "out of stock" can adversely impact its ranking and the health of your Amazon account
✔️ Fulfillment by Amazon (FBA), which gives you a better opportunity to become a "featured" merchant or win the Buy Box
✔️ Other indirect factors, including price, images, advertising, and even your selected fulfillment methods
In a nutshell, the A9 algorithm is one of the key factors that determine which sellers or products make it on Amazon's product page.
---
A10 Algorithm
The A10 algorithm is a newer version of the A9 algorithm. While it works in the same way, these versions have their key differences:
📌 The A10 focuses on buyer behavior, particularly buyer searches. It also puts more emphasis on relevance compared to the previous version, thus giving visitors more accurate findings.
📌 It makes pay-per-click campaigns tougher to execute successfully.
📌 Your seller authority is one of the most important factors that can affect your ranking.
📌 The A10 also focuses on your click-through-rate (CTR). This means that having high-quality or enticing photos and compelling copy can give you a higher CTR, which can help you rank better in searches.
---
Optimizing Your Amazon Product Listing
The process of listing optimization includes:
💯 Conducting keyword research
One of the most important things you can do to optimize your Amazon product listing is conducting keyword research. Find and use short-term or direct keywords. You can use Amazon listing optimization tools, such as Helium 10 or Keyword Inspector, to help you find short-tail or seed keywords. These tools can generate relevant keywords that you can use to optimize your product title, key features, or product description.
Back-end keywords are as important as front-end keywords, or the keywords that you can find on a product listing.
Back-end keywords aren't visible to users because they're indexed by Amazon, which means your page can be related by Amazon to a listing or a keyword. You can think of back-end keywords as hidden search terms that, while "invisible to buyers", still require strategic placement within a product listing. Back-end keywords also play a significant role in helping you acquire target customers, as well as improving the effectiveness of your advertising campaigns.
---
💯 Optimizing listing content, including the text and images or videos
Optimizing your content boosts your listing's relevancy, which is a key factor that Amazon's A9 and A10 algorithms consider.
When we talk about optimizing, this entails carefully tailoring all the elements of your listing so it comes across as relevant to both the buyer and the algorithm.
Product titles should have the following elements: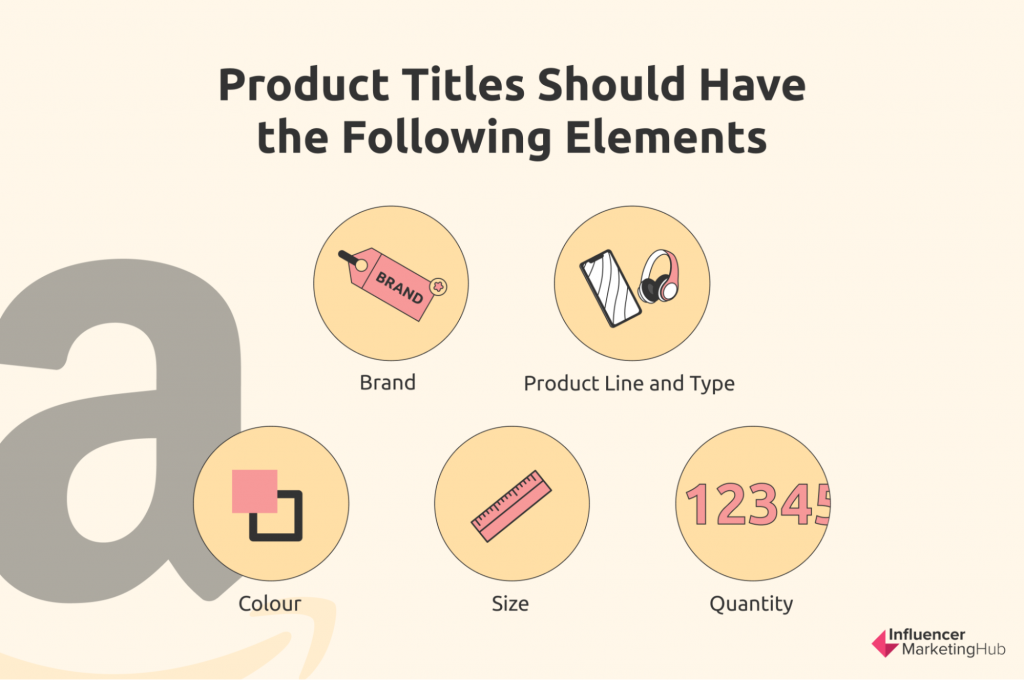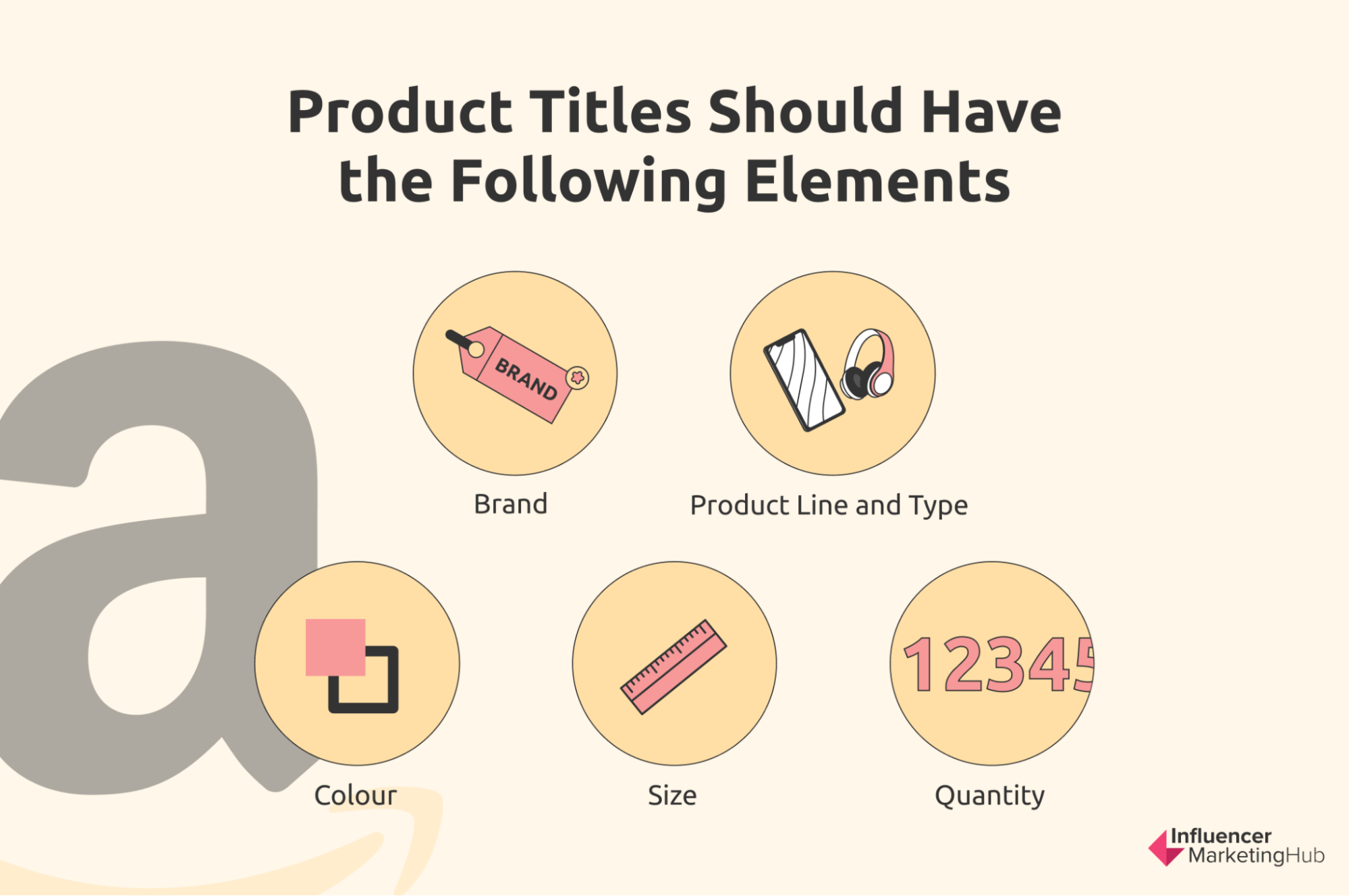 Brand

Product line and type

Color

Size

Quantity
Make sure that you put these elements together in a logical order, and don't forget to incorporate relevant keywords into your title.
Optimized content also means taking bullet points into consideration, as these can influence conversion rates and product relevance.
You also have to come up with a well-written product description that tells a story, while incorporating relevant keywords at the same time. Try writing a compelling product description that shares sufficient information about your brand or your product. Make it concise and easy to read. Don't forget to add a strong call to action. You can also use this opportunity to address your customers' pain points—how will your product solve their problems?
When it comes to adding images to your Amazon listing, you need to follow Amazon's technical requirements:
Images should be in the following formats: TIFF, JPEG, GIF, and PNG

You must use a pure white background

Images shouldn't contain any additional text, graphics, or inset images

Color mode must either be sRGB or CMYK

File names must follow the format specified by Amazon
---
💯 Acquiring more reviews that are genuine and positive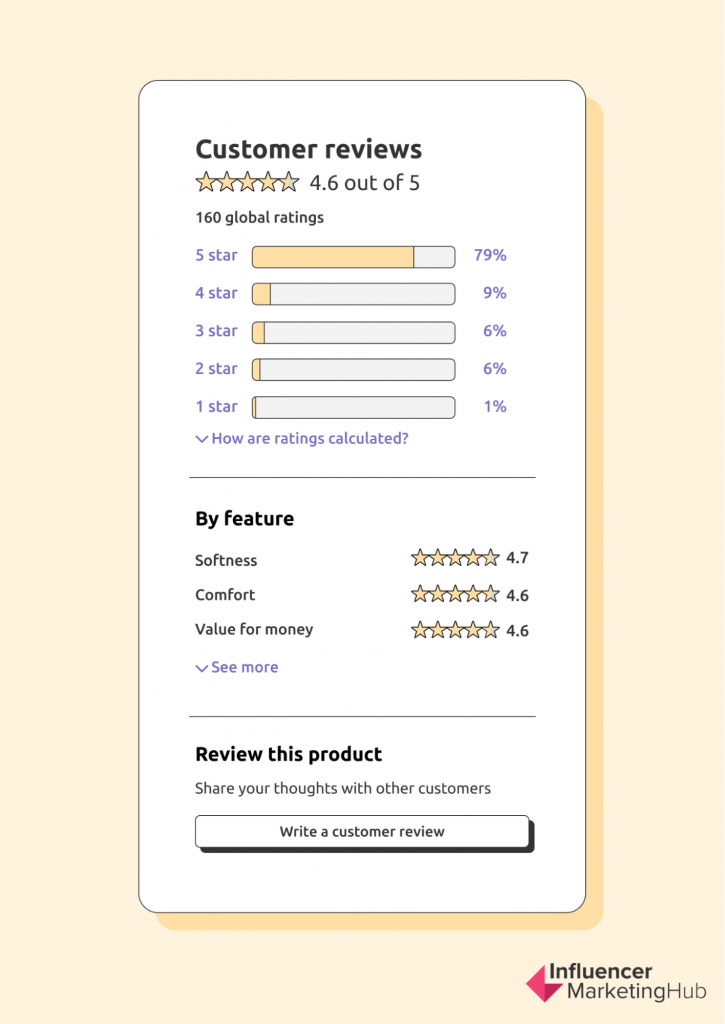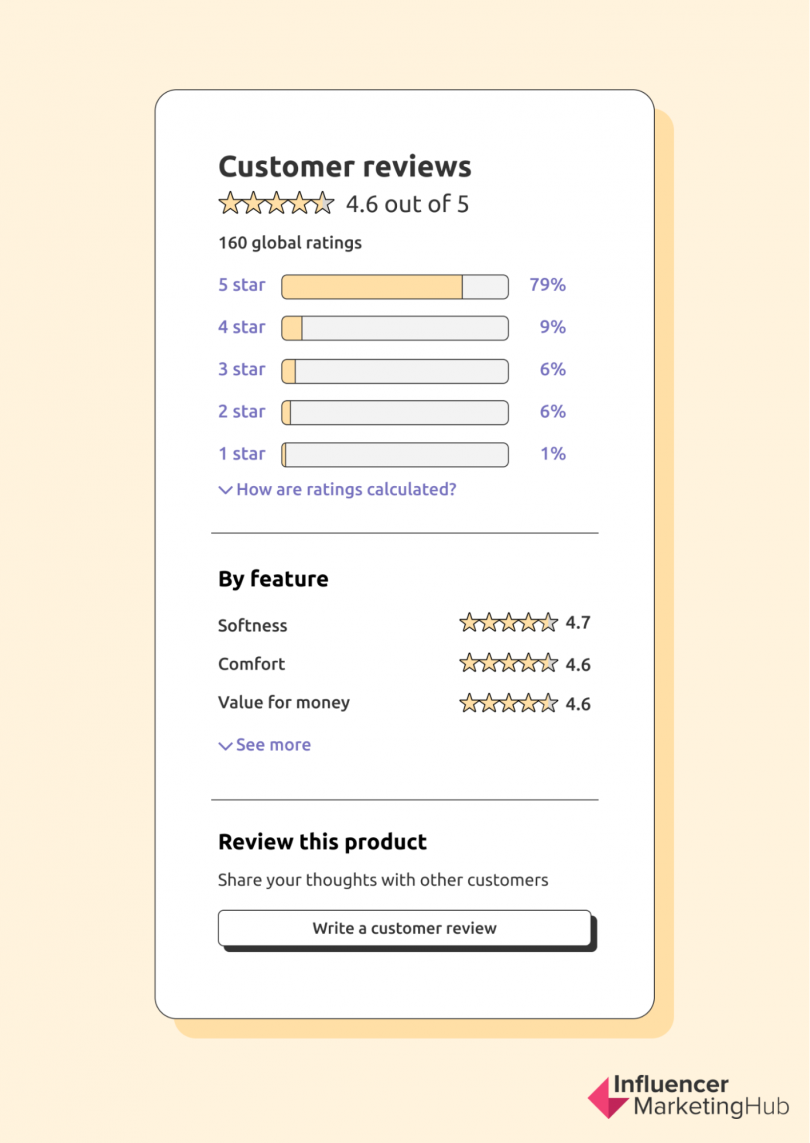 Your Amazon listing isn't just about improving your discoverability and lead conversions. It goes all the way through to the post-purchase stage, which involves customer reviews. Customer reviews are a crucial aspect in improving your click-through rates (CTR) and conversion rates (CR).
One of the most important factors to keep your listings optimized is customer satisfaction. Having authentic and positive reviews tells potential customers that you're trustworthy and, thus, preferable over your competitors.
To encourage your customers to give you good reviews, give them the best service and excellent products. Regularly evaluate your reviews and respond to them quickly and professionally. This goes for both positive and negative reviews. If you encounter any complaints or negative reviews, respond to them promptly and offer a solution.
---
💯 Managing your Customer Question and Answer section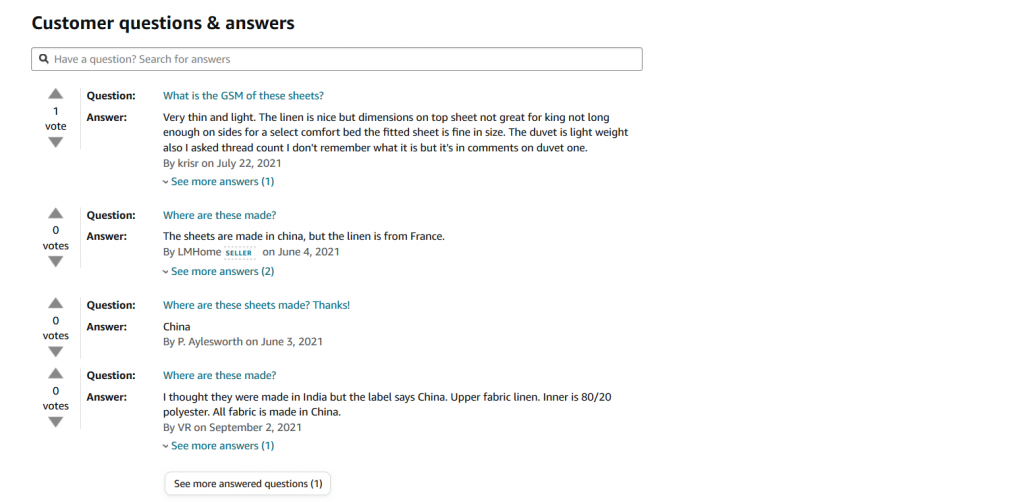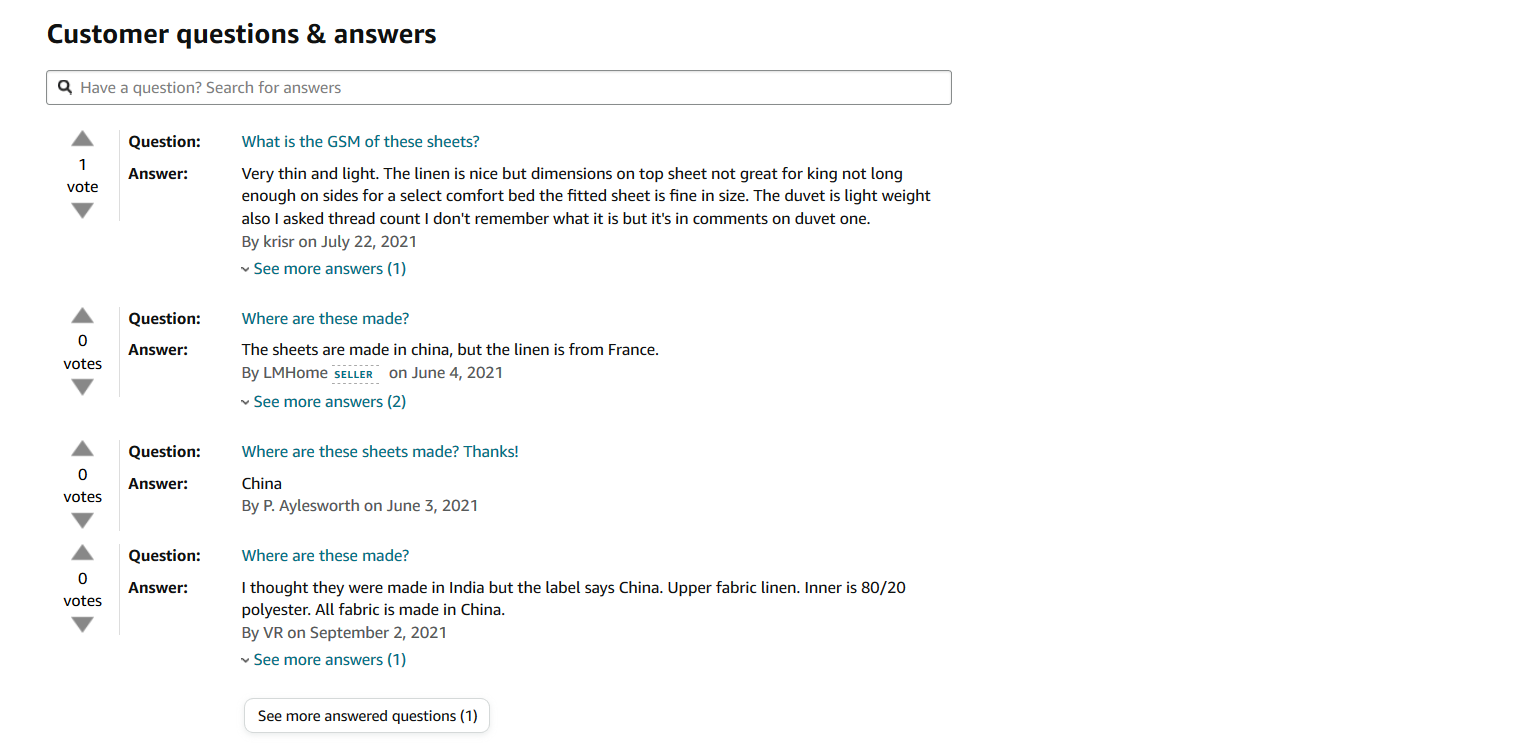 This section presents another opportunity for you to optimize your Amazon product listing, as it can potentially boost your CTR and CR.
By responding promptly to your customer's questions in a direct, friendly, and professional manner, you're enhancing your reputation as an Amazon seller. Plus, if you have a good reputation, this can increase the likelihood of conversions and improve your product visibility.
How your product performs depends on how you build your product listings, including both the front- and back-end processes. Other factors, such as page views and conversions, also contribute to your product ranking in Amazon search results.
---
Other Ways to Optimize Your Amazon Product Listing
Here are other things you can do to optimize your Amazon listing:
🧐 Building Your Detail Page
When building your detail page, you need to take stock of elements, such as your product title, images, bullet points, and descriptions. You also need to be mindful of Amazon's product detail page rules, which require you to accurately categorize and describe what you're selling and exclude inappropriate content, among other guidelines. You can also check restrictions for the detail page here.
---
🧐 Using Amazon Listing Optimization Tools
Amazon listing optimization tools make it easier for sellers to work with Amazon's complex algorithm. We've written an article that covers the 10 best Amazon listing optimization tools that can help you sell more and scale your business faster.
---
🧐 Improving Your Product Details
A compelling product detail page can entice your target buyers to make a purchase. But how can you improve your product details? Amazon shares some helpful tips for sellers, which include:
👍 Using effective product images
This means that your product should be recognizable and it should match your product description. You should also make sure that your photo is well-lit, with the product in focus. Use simple or clean backgrounds to ensure that the focus is on the product itself. You can also use multiple images or videos to give buyers a better glimpse of your product or its variations.
👍 Conducting research on prices
Do your research on your competition and see how much they're selling the same product for. Knowing your competitors' prices can help you come up with more enticing pricing for your items. You may also opt to offer free shipping to make your listing more attractive to buyers.
👍 Optimizing your bullet points
Make sure that you're writing clear, concise, and consistent entries. It helps if you reiterate some of the important information from the title and description. As previously discussed, bullet points should highlight your product's key features and benefits. This could include product dimensions or its country of origin. You can optimize your bullet points by using these questions as a guide:
How will your product benefit your customers?

What makes you different from other sellers who offer the same products?

Does your product make for a good gift?
---
🧐 Following Best Practices When Using Search Terms
As an Amazon seller, you're given the opportunity to add search terms for your merchandise. According to Amazon, your search terms should only include generic words that can improve your product's discoverability. So, if you're selling Bluetooth speakers, you can include related search terms, such as "portable speakers" or "wireless portable speaker". Some of the best practices for providing search terms include:
📋 Not including any product identifiers, such as product names, ASINs, and UPC codes
📋 Excluding any redundant information that's already on your listing's other fields
📋 Using abbreviations, topics, or key characters as search terms (this applies to books, movies, and similar media)
📋 Employing a logical order when putting together a longer search term
📋 Avoiding the use of subjective claims or statements
📋 Observing the limit for each field and refraining from adding long content
---
Final Thoughts
While Amazon listing optimization can be time-consuming, as it requires careful planning and several considerations, it's beneficial for sellers who want their e-commerce business to have a competitive edge. Given the millions of sellers and products on Amazon, optimizing your listings can make your offering more visible to customers. This, in turn, translates to increased page views or traffic, conversions, and revenue.