Advertising Disclosure
Advertising disclosure:
Our partners compensate us. This may influence which products or services we review (also where and how those products appear on the site), this in no way affects our recommendations or the advice we offer. Our reviews are based on years of experience and countless hours of research. Our partners cannot pay us to guarantee favorable reviews of their products or services.
Ever wondered why merchants on Amazon use long keyword product titles that no one actually reads? They may not make sense to most people, but they make sense to Amazon's algorithm.
Using keyword research tools like Helium10, you can keep track of your organic and paid search queries in real time. You can even monitor the competition's SEO strategy and use the insights to gain a competitive edge.
If you're tired of seeing the competition rank above your products on Amazon and losing sales to your rivals, it's time to use a reliable keyword tool to inform your Amazon SEO efforts. The right tool can help you uncover keyword ideas, identify trends, and determine the competition.
There are all kinds of Amazon keyword tools that can help you optimize your listings and gain better exposure. We've listed 12 keyword research tools that are worth trying out.
---
Best Amazon Keyword Tools in 2023:
---
What Is Keyword Research?
The Amazon A9 algorithm ranks products based on two factors: keywords and performance. It will look at keywords in your product titles, descriptions, bullet points, and backend keywords, which is why you need to place relevant keywords in these fields to rank better.
Another factor that determines product ranking is the performance of your product. The algorithm will look at your product's performance history, conversion rate, click-through rate, and sales. If your products perform well, then they'll rank better on Amazon.
As Amazon becomes increasingly competitive each year, it's more important than ever to invest time and effort into keyword research. This practice can help you find the relevant keywords to target, allowing you to optimize your Amazon listings and rank higher for valuable search queries.
One of the simplest ways to conduct a keyword search is on Amazon itself. Just enter a keyword into the search bar and its auto-complete feature will suggest related search terms. It's a quick and easy way to find long-tail keywords that are related to your product.
The problem is that it gives you no insights into the recommended keyword. Unfortunately, Amazon doesn't offer keyword search volume data. It also won't tell you what the competition is like for each keyword. That's why you need third-party Amazon keyword tools.
Keyword research tools enable you to conduct more comprehensive keyword searches. You can look up high-volume keywords with low competition for organic and paid campaigns.
---
Tips for Optimizing Amazon Listings
Knowing how to optimize your Amazon listings can make a difference in your marketing and advertising efforts. Contrary to popular belief, Amazon listing optimization is not all about stuffing keywords into product titles and descriptions.
Using the right practices, you can make your products more visible to potential buyers out there. Here are a few tips that you need to keep in mind.
Add high-volume keywords in your product title, description, and bullet points

Add your brand name to your product title

The keywords must be no more than 250 bytes (including spaces and punctuation)

Keyword stuffing isn't necessary

Use separators like commas, dashes, and vertical bars to make titles more readable
---
What to Look for in a Keyword Research Tool
There's a wide range of keyword research tools online with varying features and functionalities. Some offer extensive keyword generating capabilities for search engines like Google. Others, on the other hand, offer targeted data for e-commerce marketplaces like Amazon.
Keyword difficulty score
High-volume search queries come with a lot of competition. If you have the right keyword tool, you can easily determine which keywords are worth ranking for. Some tools use keyword difficulty scores to tell you how hard it'll be to rank for specific search terms.
Organic traffic research
Find an Amazon keyword tool that can generate both short and long-tail keywords. Depending on the tool you use, you can even uncover the keywords that the competition is using to boost your organic traffic.
Paid traffic research
Aside from organic traffic research, Amazon keyword tools can help you monitor the keywords you're using for paid campaigns.
Competitor analysis
Another feature that you might want is competitor analysis. There are tools that can determine the keywords that the competitors are targeting. They can also inform you about the search queries that you aren't ranking for.
If you want more powerful competitor analysis, you can look for tools that help you monitor their paid ad campaigns. These tools can identify the keywords that they are bidding on.
Ease of use
Keyword research tools can be quite intimidating for new users, especially those with limited SEO expertise. Thus, if you aren't familiar with keyword research, you should look for a tool with an intuitive interface and fuss-free dashboard.
Affordability
There are free keyword tools for Amazon. However, many of them come with limited features and functionalities. You'll have to subscribe to the paid plans to get the extensive keyword research capabilities.
Thus, if you want to optimize your Amazon listings without spending hundreds of dollars, you need to carefully select a tool that can give you the best bang for your buck. The list we've prepared comes with a variety of options for entrepreneurs with different budgets.
---
Best Keyword Tools for Amazon
Now that you know what to look for in an Amazon Keyword tool, it's time to find out your best options on the market. We've listed 12 Amazon keyword tools that can help you discover new and popular search terms related to your products or business.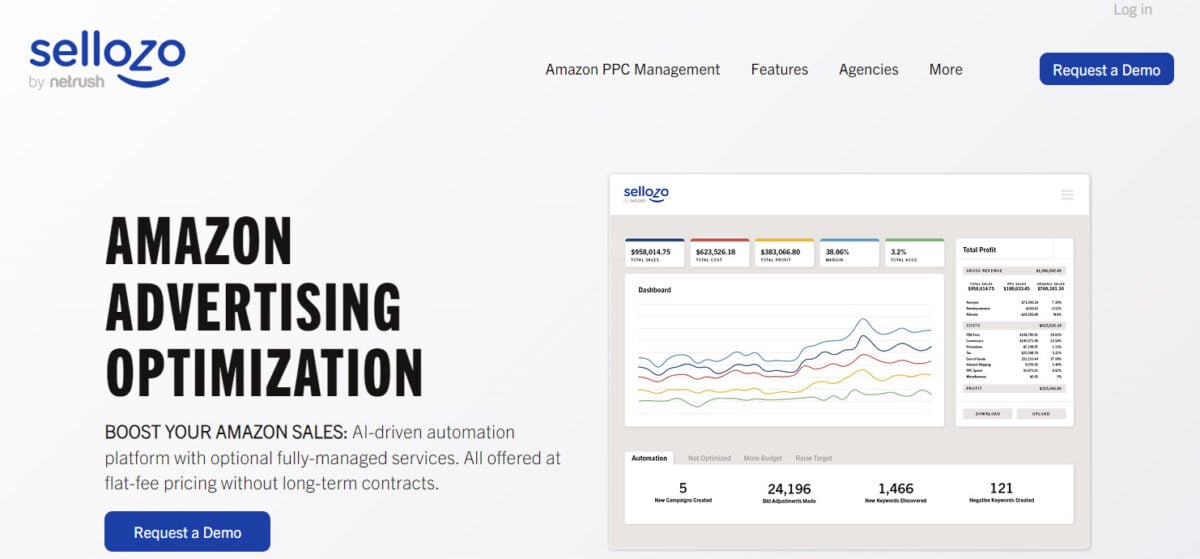 Sellozo Amazon Keyword Tool is a specialized solution for Amazon sellers aiming to optimize their product listings. It offers a comprehensive approach to keyword monitoring, ensuring that sellers can identify and leverage high-converting keywords effectively.
Unlike generic keyword tools, Sellozo is tailored for the Amazon marketplace. It allows users to adjust bids on specific keywords, ensuring a more controlled budget allocation. The tool's emphasis on refining SEO strategy based on performance metrics ensures that sellers can stand out amidst Amazon's competitive landscape.
One of its standout features is keyword harvesting. Amazon's "Automatic" campaigns can be a goldmine for discovering potent keywords based on category searches, related products, and more. However, extracting the best keywords and integrating them into "Manual" campaigns can be time-consuming. Sellozo simplifies this process with its Campaign Studio, an all-in-one PPC tool. With its user-friendly drag-and-drop interface and automated keyword harvesting, sellers can streamline their strategy in mere minutes.
Pros:
Tailored for Amazon marketplace

Allows bid adjustments on individual keywords

Automated keyword harvesting via Campaign Studio

Simplifies the transition from "Automatic" to "Manual" campaigns
Cons:
Might require some time to familiarize with all its features
---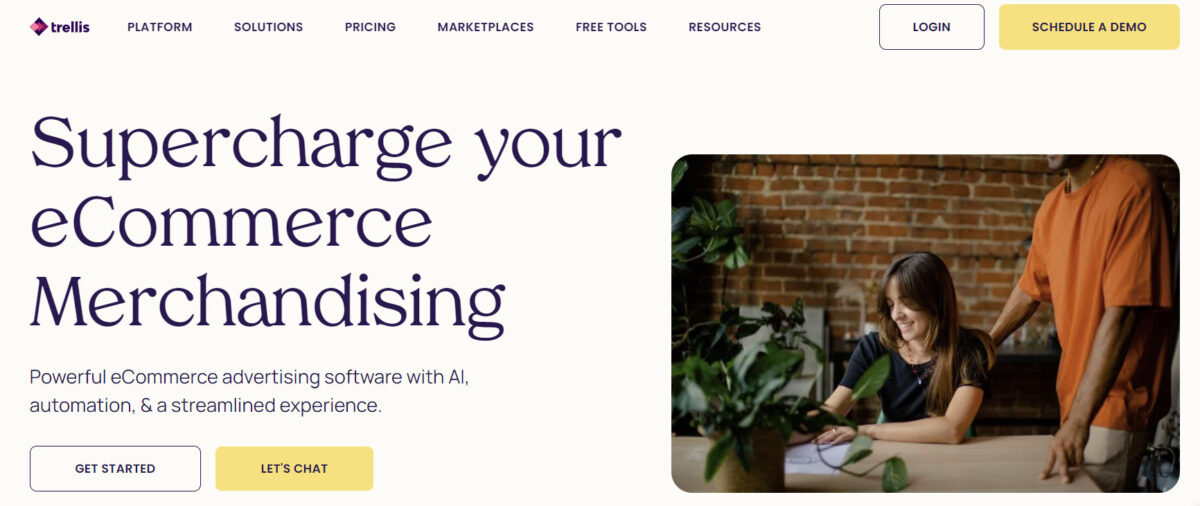 Trellis offers an exceptional Amazon Keyword Tool, providing a multifaceted approach to empower sellers in optimizing their Amazon presence. This tool excels in assisting sellers with strategic decision-making by extracting valuable insights from the multifaceted world of keyword research.
One of the standout features of Trellis' Amazon Keyword Tool is its ability to gauge keyword difficulty. By tapping into Amazon's extensive database, it evaluates search data to unveil the landscape for specific keywords. This critical information empowers sellers to formulate data-driven Pay-Per-Click (PPC) strategies.
Additionally, Trellis is a treasure trove for discovering new search terms. It equips sellers with keyword cost estimates and invaluable insights into search volume trends. Moreover, the tool integrates smoothly with your Amazon SEO by using advertising search term reports to reveal the specific keywords customers use to find products.
Beyond this, Trellis enables sellers to stay competitive by offering insights into competitors' keyword performance. This feature allows sellers to continuously refine their SEO strategies to remain ahead in the marketplace.
Pros:
An abundance of Amazon-specific free tools

Fully-fledged Amazon marketplace integration

Efficient PPC management
Cons:
---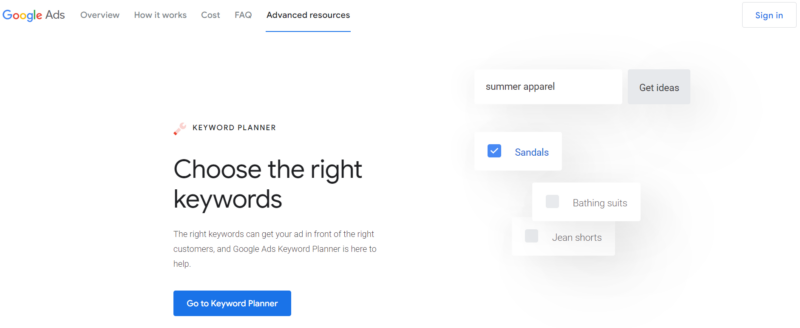 Google Keyword Planner is a go-to option for search engine optimization. Whether you're an SEO professional or not, you can use the tool to monitor keywords and compare trends.
Since it isn't designed for Amazon, its keyword suggestions might not be the most effective for Amazon. Still, it is a powerful tool that can help inform your pay-per-click campaigns. It has a hyper-local search feature, which allows you to access keyword volumes in specific geographical areas.
Keyword Planner is available for free. You won't have to pay a hefty monthly fee to use its services. Even though you have to sign up for a Google Ads account to use it, you aren't required to maintain an active PPC campaign.
This tool isn't the easiest to use and has a bit of a learning curve. But it is worth the trouble because it can provide very important data to advertisers.
Pros:
Free to use

Has advanced search features

Has historical metrics and forecasts
Cons:
Has a steep learning curve
---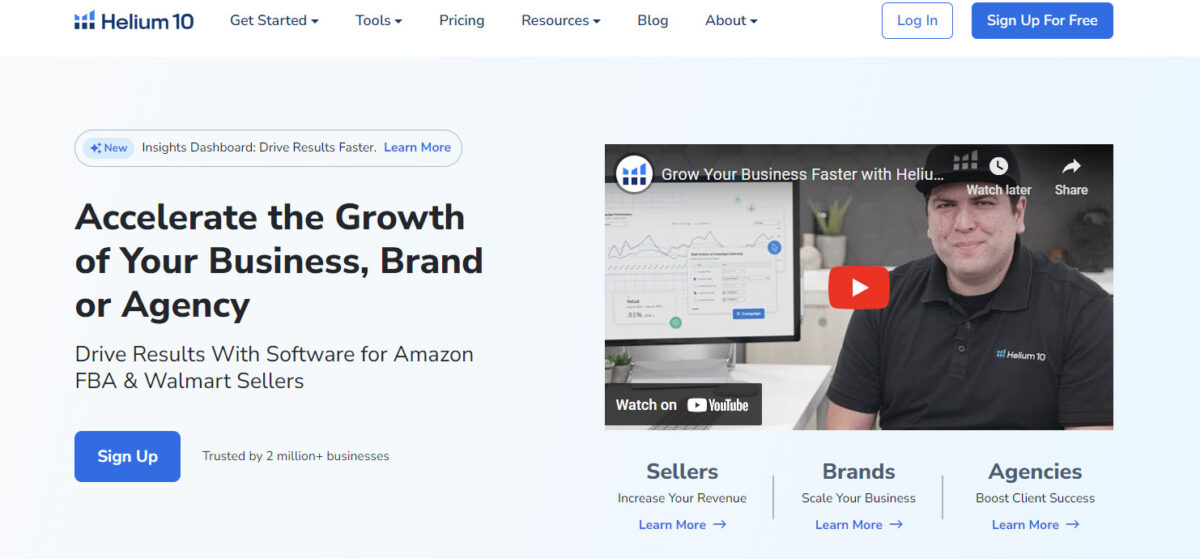 Helium10 simplifies keyword research and monitoring for Amazon merchants. From a single dashboard, you can monitor your organic and paid keywords in real time. Using a feature called Rocket Boost, you can see product ranking data for boosted keywords by the hour for a period of 10 days.
The tool helps you gather critical data on your targeted keywords. For instance, you can keep track of keyword rankings on Amazon and percentage changes. You can anticipate trends and monthly searches. You can also see how well your SEO strategy stacks up against the competition.
Built with a simple intuitive design, Helium10 eliminates the learning curve. You can make the most out of the tool and maximize your results in no time. Unlike many Amazon keyword tools, this free version doesn't expire. However, it does have its limitations.
Pros:
Easy to use

Has a keyword rank tracking dashboard

Lifetime free plan
Cons:
The free plan only allows two uses per day
---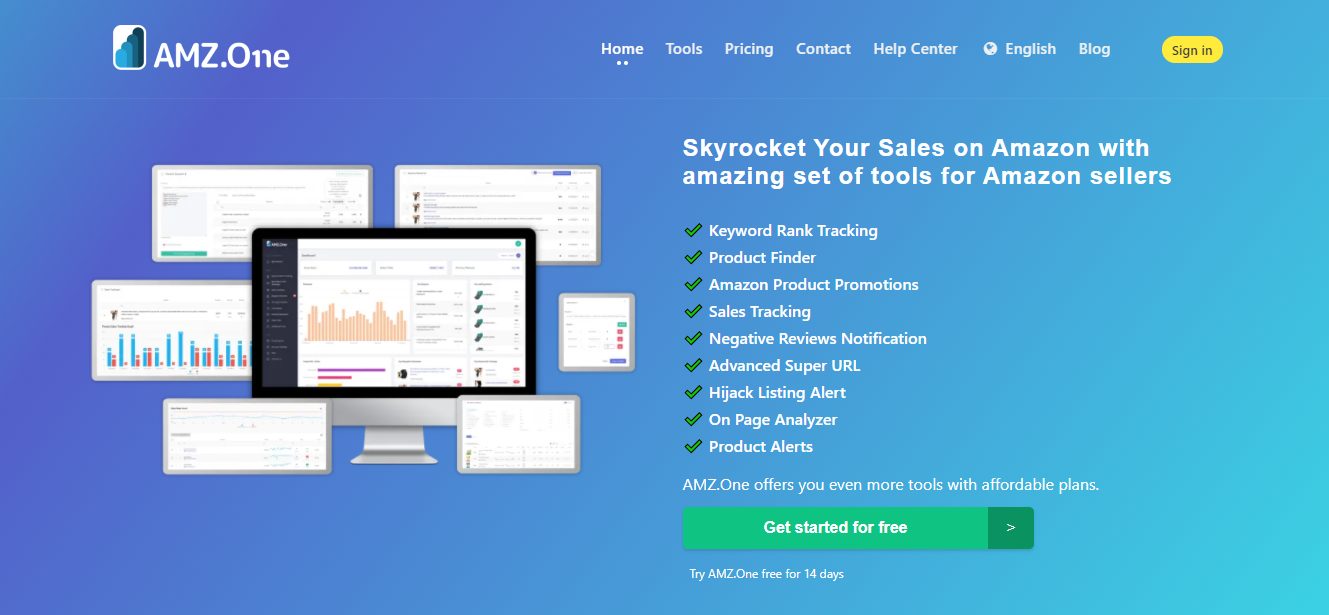 AMZ.One offers a suite of tools for Amazon sellers like you who are hoping to increase traffic and sales. It has a keyword rank tracker, which lets you monitor the daily rankings for your products. You can select any keyword that you're ranking for.
Before committing to a paid subscription, you can take AMZ for a spin by subscribing to its 14-day free trial. It comes with four paid plans: Basic ($15 per month), Standard ($30 per month), Advanced ($67 per month), and Professional ($135 per month).
All of the paid plans offer unlimited keyword research capabilities. Using any plan, you can even perform a reverse Amazon Standard Identifying Number (ASIN) search to find the search terms that the competition is ranking for.
Pros:
Has a free trial

Includes negative review notifications

Supports keyword rank tracking
Cons:
---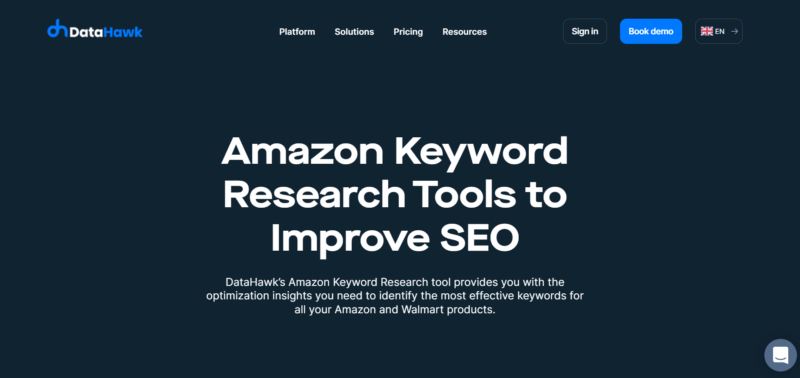 Data Hawk can help you find keyword opportunities using artificial intelligence semantic analysis and boost your organic ranking. It can also show you the Competition Score of keywords so that you can determine which ones are worth ranking for.
Using Data Hawk, you can find keywords before bidding on them for pay-per-click campaigns. It can store historical data, enabling you to access and analyze weeks and months of data.
You can connect multiple Amazon Ads accounts to Data Hawk. From an intuitive dashboard, you can see detailed insights into your ads, such as impressions, clicks, conversion rate, total sales, and more. Having quick and easy access to important data can help you improve sales and reduce ad spend.
Pros:
Has intuitive data charts and tables

Lifetime free plan

14-day trial for paid plans
Cons:
---

One of the best things about Keyword Tool is that you can use it for free. It is a web-based tool, so you won't have to download and install it to use it.
The tool uses an autocomplete feature to generate relevant keywords for your Amazon listings. As you enter keywords on its search box, it will provide alternative search terms. Using its free version, you can get 750+ long-tail terms in your keyword research. You can get twice the amount of keywords by purchasing the paid plans.
With the paid subscription, you can also get more features and data. For example, Keyword Tool Pro will let you see the number of searches for the Amazon keywords.
Pros:
Free version generates 750+ keyword suggestions

Supports all countries and markets where Amazon operates

Supports all Amazon categories
Cons:
Limited data for the free version
---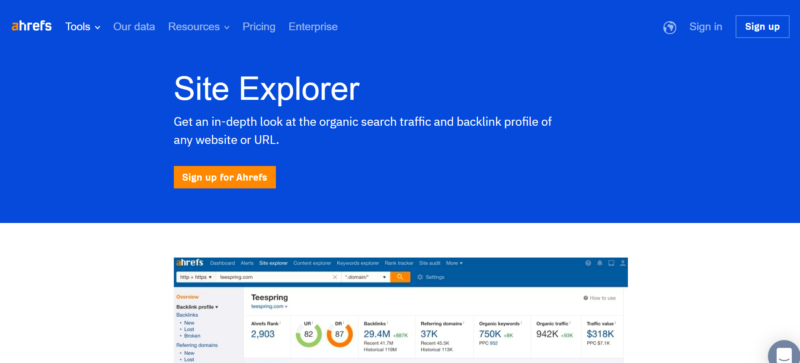 Ahrefs can give you comprehensive and accurate data for your keyword research. It can show you the competition's organic keywords, backlinks, and pay-per-click campaigns.
The keyword tool has a comprehensive database, which keeps more than seven billion keywords. If you want extensive and accurate data for your keyword research, Ahrefs Site Explorer makes a great choice.
It only has paid plans, which you can pay monthly or annually. It isn't the cheapest option out there, but it's one of the most extensive. Before committing to a paid plan, you might want to use their trial for $7. You'll have full access to all of the features for a maximum of seven days.
Ahrefs has four paid plans: Lite ($99), Standard ($179), Advanced ($399), and Agency ($999). The more expensive the plan, the more advanced the keyword research capabilities. Lite, for instance, can only pull 175 keyword reports per week, while Agency can do 7,000.
Pros:
Shows the estimated number of clicks for keywords

Has a keyword difficulty score

Supported in 171 countries
Cons:
---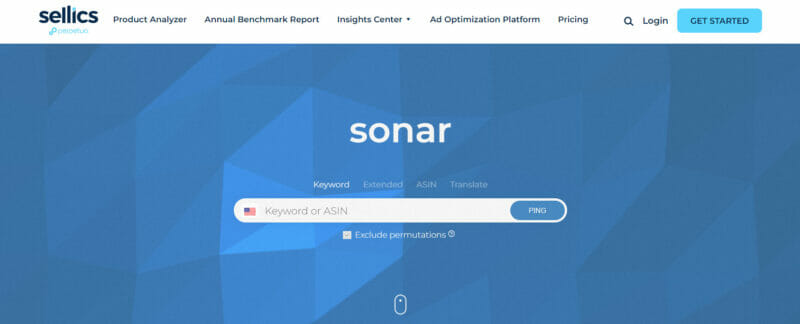 Sellics has a free Amazon keyword tool called Sonar. It has a database of 180+ million keywords and contains search queries from all product categories on Amazon. It can also give you an estimate of the search volume for each keyword.
Using this Amazon keyword tool, you can determine which product listings need improvement. The tool will even provide you with recommendations for product titles, descriptions, and bullet points.
The tool can track the ranking of your targeted keywords so you can measure the success of your efforts. You can compare your product listings with top-ranking competitors using a reverse ASIN search, so you can figure out how you can further improve your conversion rates.
Although its free version can give you leading insights, monthly trends, and performance analysis, its paid plan can offer so much more. For $259 per month, the Advertising Advisor plan can give you dedicated PPC coaching, performance reviews, and personalized software onboarding. The Managed Services plan, which costs $999 per month, can do all that and campaign set up, ongoing PPC optimization, and budget optimization.
Pros:
Has a free version

Supports reverse ASIN search

Has a mobile app
Cons:
Doesn't support all Amazon marketplaces
---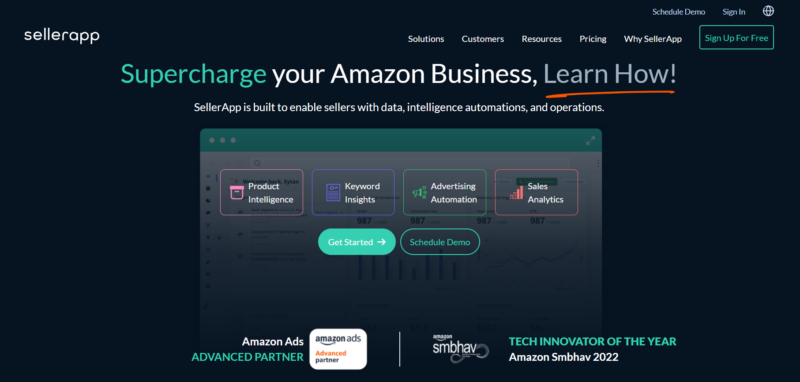 SellerApp is an all-in-one tool that can help optimize Amazon listings, PPC campaigns, product prices, and more. Packed with 135+ million keywords, its database contains many high-volume yet low-competition search terms that are worth targeting. They have filters and match type selection features to help you find the right keywords for your products.
Each keyword on their database comes with supporting data, including monthly search volume, relevance score, impression rates, and CPC costs. Using these critical insights, you can take the guesswork out of your PPC campaigns and choose the most profitable keywords.
The tool is also capable of performing Amazon reverse ASIN searches. It shows you the keywords that a competitors' products are currently ranking for.
According to SellerApp's data, its users have shown an average increase in sales by 89% after using this tool. More than 15,000 businesses now use the app to drive their growth.
Pros:
Supports reverse ASIN searches

Delivers machine learning-powered insights

Stores up to two years of historical data
Cons:
Only has a seven-day free trial period
---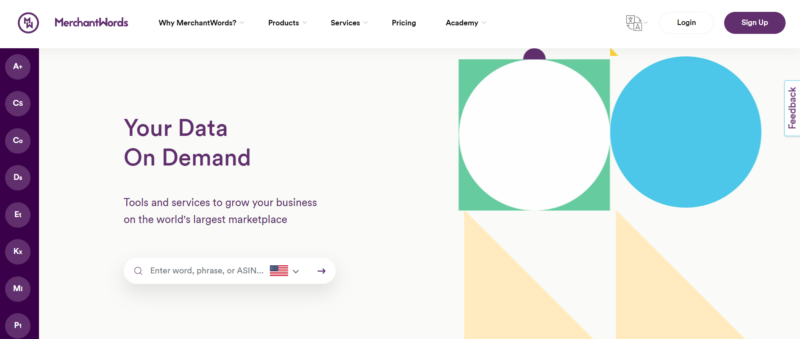 Merchant Words offers deeper insights into consumer demands and trends. Using its keyword tools and services, you can have a better grasp of the competitive landscape and build successful online campaigns to make your business thrive.
The platform scours 11 Amazon marketplaces and gives you all the data you need in a clear, easy-to-understand format. You can choose specific marketplaces that are available on Merchant Words.
One feature that makes Merchant Words unique is its bulk ASIN Plus search. It enables you to search up to 50 ASINS and 1,000 keywords at a time. This, however, is only available to plan subscribers.
Merchant Words offers multiple paid subscription programs, starting at $35 per month. If you are targeting a single Amazon marketplace, its Silver Plan is a great option. Its Gold Plan starts at $79 per month. It's ideal for merchants who sell across regional Amazon marketplaces. Its Platinum plan, which costs $149 per month, is designed for global brands.
Pros:
Free Amazon reports

Has advanced search functions

Finds trending keywords around the world
Cons:
---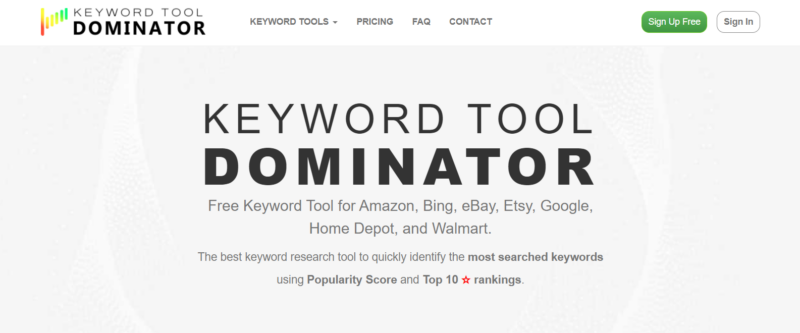 Keyword Tool Dominator has a free Amazon keyword research tool. You can use it to identify popular search terms for your product listings. You can find up-to-date search queries across different Amazon departments and marketplaces.
You can choose between three keyword research modes: normal, precise, and broad. If you want a more targeted search, you can use the filters. For instance, you can enter the minimum or maximum word count of the search queries you're looking for. You can also enter the terms that you don't want to rank for.
The keyword suggestions are constantly being updated based on topic popularity and search trends. Using this tool, you can find trending keywords before the competition does.
Best of all, Keyword Dominator offers lifetime access to its advanced Amazon Keyword Tool. You just have to pay $74.99 to perform an unlimited number of keyword searches on the platform. Whenever the tool gets upgraded, you won't have to pay any fee to enjoy the updates.
Pros:
Has a free version

16 Amazon marketplaces (e.g., USA, UK, and Australia)

One-time payment for advanced plan
Cons:
Free version is limited to two searches
---
Frequently Asked Questions
Are keywords important on Amazon?
Yes. Like other digital platforms, keywords are very important to Amazon. They are the search terms that shoppers enter into the Amazon search bar to look for products.
Keyword-rich product listings have a higher chance of showing up on the search results. Adding relevant keywords to various fields, such as titles, descriptions, and bullet points can help sellers increase visibility, drive traffic, and boost sales.
How many keywords does Amazon allow?
Amazon has a limit for the total number of characters a seller can use in a generic keyword. You can only add 250 bytes, which includes spaces and characters. This is usually equivalent to 250 characters, except for foreign language characters and letters with accents.
What are backend keywords in Amazon?
Backend keywords refer to the search terms that you add to your listing but remain invisible to everyone else. Only you can see them when you log into Seller Central. They are also crucial to product indexing.
What is the best free keyword tool for Amazon?
There are several Amazon keyword tools that you can use for free. Google Keyword Planner, Helium10, Sonar, and Keyword Tool are all great options that are worth considering.
If you're looking for a basic tool that can give you a list of relevant keywords, Keyword Tool is a fuss-free option that you should look into. Google Keyword Planner might be a more suitable option if you're looking for something more robust.
Sonar uses complex algorithms to deliver relevant keywords. However, its features aren't as advanced as Helium10. Built with extensive keyword research capabilities, it is an excellent choice for SEO professionals.
What does ASIN mean in Amazon?
Short for Amazon Standard Identifying Number, ASIN is a 10-character alphanumeric code that Amazon assigns to products on their marketplace. Across different Amazon markets, you might have different ASINs for the same product.
The ASINs make product identification easier. Shoppers, for instance, can look up specific products by searching their ASIN.
What is a reverse ASIN on Amazon?
A reverse ASIN search on Amazon can show you valuable data about your competitors' products, such as their ad and organic ranking. By entering the competition's ASIN on a keyword tool, you can find out the keywords that they are ranking for.