In 2023, pay-per-click (PPC) marketing remains one of the best ways to grow your business. Though, what worked for your PPC campaigns previously will probably not generate the same results in the years to come. Not only do consumers change, but so does the tech available to marketers. Search engines and social media platforms also introduce their own changes from time to time that you'll need to keep in mind.
With regards to technology specifically, voice search, virtual reality, visual search, and artificial intelligence are expected to have the biggest impact on how you should approach your PPC campaigns moving forward. On a less exciting note, changes to privacy regulation will also impact brands' advertising strategies and businesses will have to think of ways to collect first-party data.
To help keep you up to speed with the recent changes, here are 17 of the most important PPC trends to consider. As you'll see, many of these trends, like video ads, you're probably already implementing. Though, they're only expected to become even more important moving forward.
---
Powerful PPC Trends to Adopt in 2023:
---
Powerful PPC Trends to Adopt in 2023
1. Voice search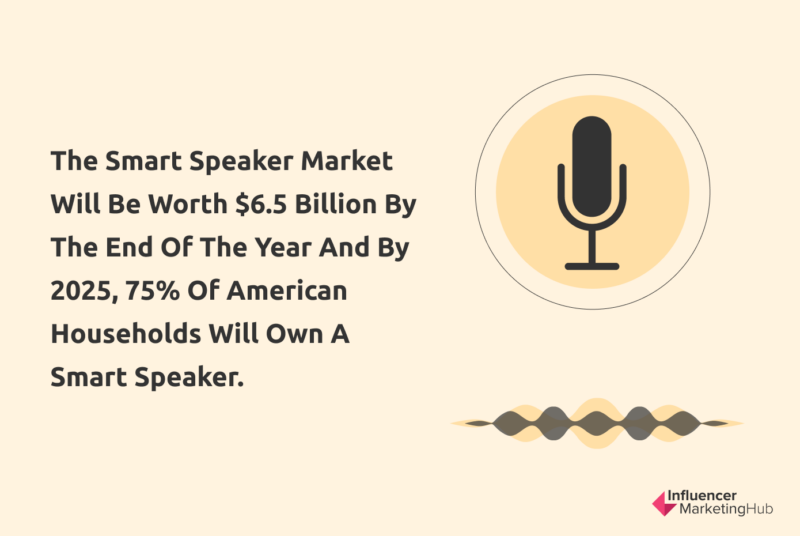 One of the retail trends that will continue to shape 2023 significantly is the increased use of voice search. As a matter of fact, online data suggests that the smart speaker market will be worth $6.5 billion by the end of the year. Plus, according to SerpWatch, it's expected that by 2025 three out of every four American households will own a smart speaker.
Looking at these figures, it's safe to say that voice-driven shopping will become a thing in the coming years. According to research, voice searches will specifically target local businesses.
So, to take advantage of this trend, it's key that you create a few PPC ads that use conversational language and keywords like "open now". As you'll need to use more natural language, you'll find that long-tail keywords will play a more important role in your copy. Questions-oriented keywords are also used frequently when optimizing a text for voice search.
You should also regularly check that your Google My Business page is up to date. To help you manage and optimize your Google My Business profile, you can, for example, check out scheduling tools and platforms such as Loomly and Social Pilot. With the help of such a tool, you can schedule posts like new events or offers in advance.
---
2. Virtual reality (VR) and Augmented Reality (AR)
Increasingly more people are warming up to the idea of virtual reality and augmented reality. As a result, eCommerce brands are starting to include it in innovative ways to improve the overall shopping experience. Whether it's something new for the home or something for the wardrobe, by incorporating VR and AR, brands can give customers the chance to try out the product before having to buy it.
In 2023, be sure not only to invite your audience to visit your online store but also to try on your specials from the comfort of their own home. This unique selling point can be a great call to action that you can include in your PPC ads.
---
3. Visual search
If you're still trying to wrap your mind around virtual reality, perhaps it's better to start with visual search first. Platforms like Google and Bing allow users to search for a query by adding a picture instead of using text. For example, by clicking on Google Lens, a user can either upload an existing image or take a photo. The search engine will then search for websites that have that image or a similar image.
This is a convenient way that consumers can use to find links to products faster. Plus, it's anticipated that big improvements to this feature will be announced in the coming years.
To make the most of this feature, it's key that you create an image library of all your products (possibly even services). Then, to ensure that search engines can correctly label your pics, be sure to add metadata.
---
4. Video ads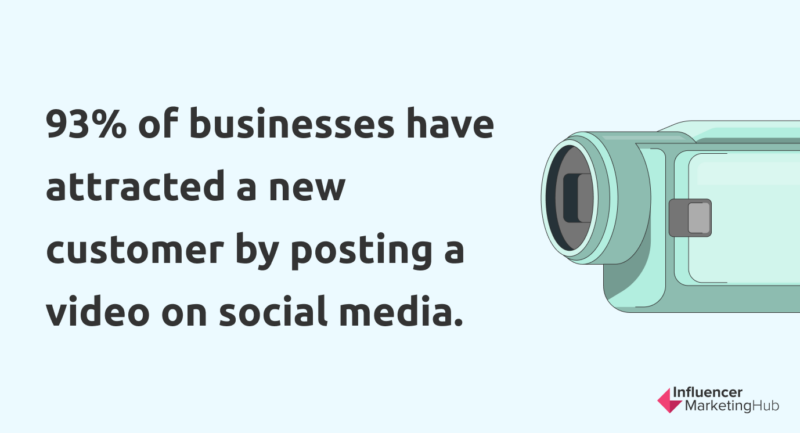 If you're a regular reader of the Influencer Marketing Blog, you'll know only too well the power of video. That being said, consumers' attention spans are getting shorter which means that content (even visual content like videos) should be focused and engaging.
Short-form video content is also on the increase thanks to the growth of TikTok. While YouTube bumper ads aren't new, it's expected that in 2023 they will play a more important role.
In short, a bumper ad is an ad that's no more than six seconds long and can play before, after, or during a video. It can be used in YouTube videos and apps and sites that are Google video partners. As this format uses target CPM bidding, you'll be charged based on impressions. All in all, it's useful for boosting brand awareness.
---
5. Diversification
In 2022, Google is still the most popular search engine by far. According to Statista, it attracts around 89 billion visits per month, while platforms like Facebook and Amazon get "only" 2.9 billion and 5.6 billion, respectively.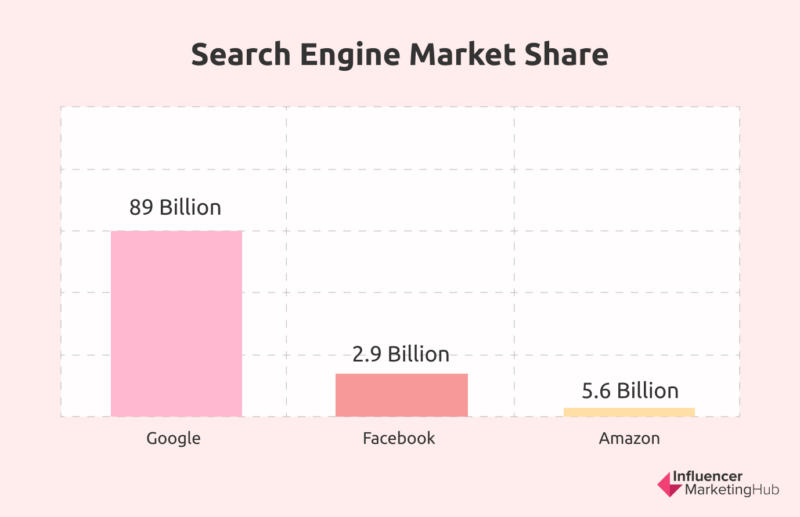 That being said, smaller search engines are winning favor among marketers and users. For example, global visitor traffic to Bing—the second go-to platform after Google—was at least 1.2 billion monthly in the last three months before December 2022. Also, for the past six years, Bing's search advertising revenue increased and in 2022, it managed to post $11.59 billion worth of ad revenues.
So, in 2023 and beyond, start to consider diversifying the search engines that you use for your PPC campaigns. You can, for example, use the Google Import feature to import existing campaigns directly to Microsoft Advertising. In fact, according to info shared by Microsoft, you can reach out to more than 40 million desktop searches that you would otherwise not be able to reach if you only listed on Google.
In addition to Microsoft, you can also consider Amazon. Amazon offers a wide range of ad types and, compared to Google, offers better buyer intent. Basically, while Google attracts billions of monthly visits, users aren't necessarily ready to buy just yet. This isn't the case with Amazon.
On a side note, diversification also refers to looking at other forms of marketing than paid ads. Sure, you'll see that there are many exciting trends to look forward to, but no marketing channel should be used in isolation.
---
6. AI and automation
While automation is nothing new, it's expected that it will become a whole lot more popular in 2023. Increasingly more marketers will turn to automation to help them reach informed conclusions and gain a competitive edge over their competition. With regards to artificial intelligence specifically, experts predict that AI will be used more often to improve PPC campaigns by helping to optimize keywords, analyze and set bids, and predict the CTR rate.
---
7. Audience targeting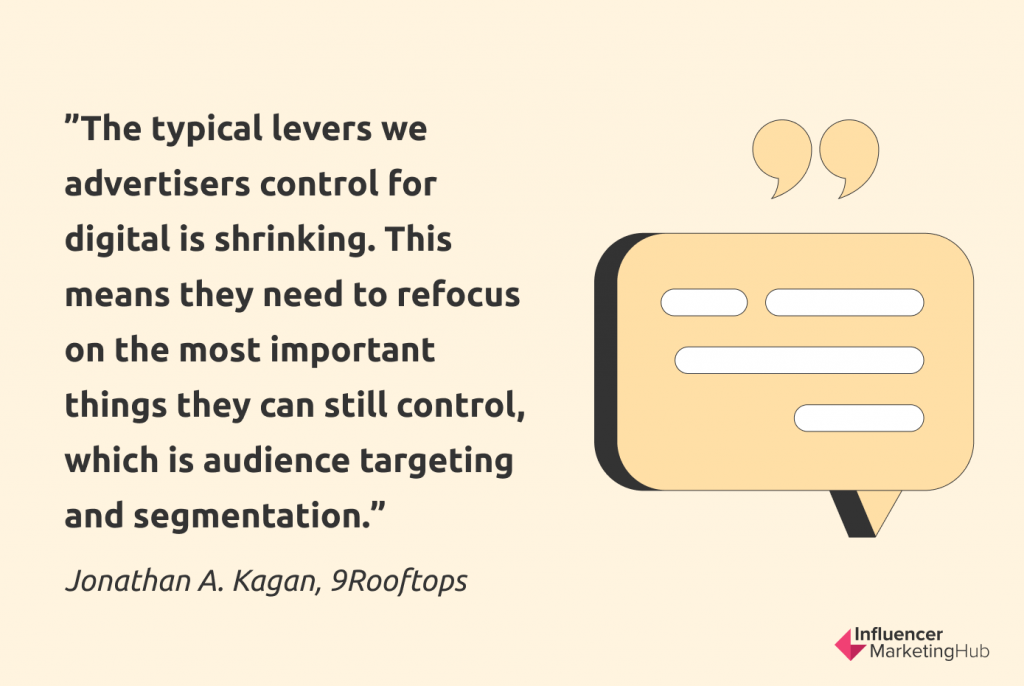 For PPC campaigns to be successful, a brand needs to be visible to its audience when they're online. In the coming year, it's expected that marketing teams will focus less on keywords and more on the traits that describe their target audience. After all, audience targeting and segmentation are two of the things that marketers can control. Whether it's household income or age group, be sure to take the time to specify which traits are more important for the type of product that you're selling.
---
8. TikTok
At the beginning of 2022, TikTok boasted 1 billion monthly active users across the world. What's even more impressive is that according to TikTok stats shared by Statista, users on TikTok watch over 160 million hours of videos on the app in an internet minute.
By the looks of these numbers, TikTok's popularity isn't going to wane soon and offers a great platform that brands and their marketing teams can use to connect with their potential customers. One of the perks of advertising on TikTok is that its algorithm doesn't just use the highest bidder. Instead, it also considers the quality of the ad. Also, considering how effective video advertising is, particularly short-form content, it can really be worthwhile to expand your PPC campaigns to this platform. It gives you access to basic tools that you can use for video creation so it's a great choice if you can't afford a production team.
Though, biddable ads have a minimum campaign spend requirement of $500. So, that's something that you'll need to keep in mind beforehand.
---
9. Mobile-friendly options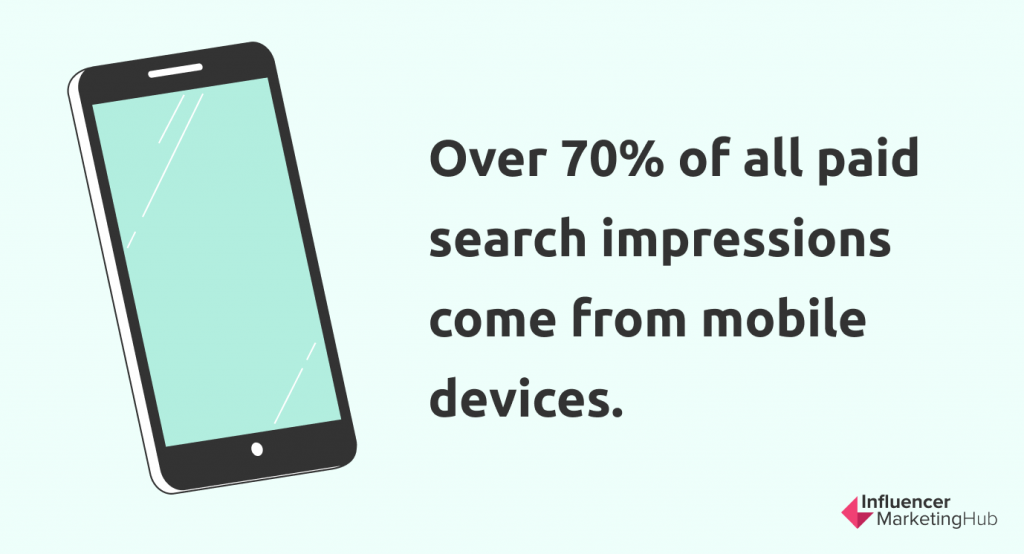 Over 70% of all paid search impressions come from mobile devices. This shouldn't really come as a surprise when you keep in mind that mobile device usage has increased over the years. Considering that most consumers use a mobile device to search the internet, it's key to remember to customize your PPC ads for mobile platforms too.
---
10. Smart bidding
In addition to keywords, budget allocation and bidding strategy are also key aspects of running an SEM campaign. In short, keyword bidding has to do with how much you're willing to spend each time someone clicks on your ad. Smart bidding can remove the guesswork when it comes to deciding on a bid. It's basically a set of automated bid strategies that makes use of machine learning to improve conversions.
In 2023, it's expected that increasingly more marketers will embrace smart bidding and that the technology will become more powerful. Using the actionable insight that it gets from user behavior, it can be a useful tool to help you identify the best budget almost the first time around. Plus, considering that manual bidding will probably soon disappear, it's a good idea to familiarize yourself with how smart bidding works sooner than later.
Marketing experts recommend smart bidding to maximize conversions for campaigns if you have at least 15 conversions per month or in the past month.
This technology runs Google's Performance Max campaign, which replaced Google Smart Shopping in Q3 2022. This tool allows advertisers to upload images or videos to an appropriate channel such as YouTube, Gmail, or Google Maps. Then, Google's machine learning technology will test the combinations that will work best for your campaigns. The platform will create the ad mix based on real-time shopper preferences and intent per channel.
---
11. Social media
While search engines are used daily for various tasks, a common worry is that it will display biased info. So, while most users are checking social media to keep up with what their friends are doing, it's also being used as a source to find information. And, by social media, we don't just mean Facebook. Sure, paid advertising on Facebook is effective, but in 2023 more marketing teams will adopt a multi-platform approach, if not already following one.
---
12. SEO
PPC and SEO are closely connected (and by that we don't just refer to the fact that they're both three-letter abbreviations that marketers like to throw around). In 2023, your PPC campaigns will continue to perform better if it's built around your content that gets the best ranking. As mentioned, short-tail keywords, though, might play a smaller role considering that voice search prefers natural, conversational language.
---
13. Remarketing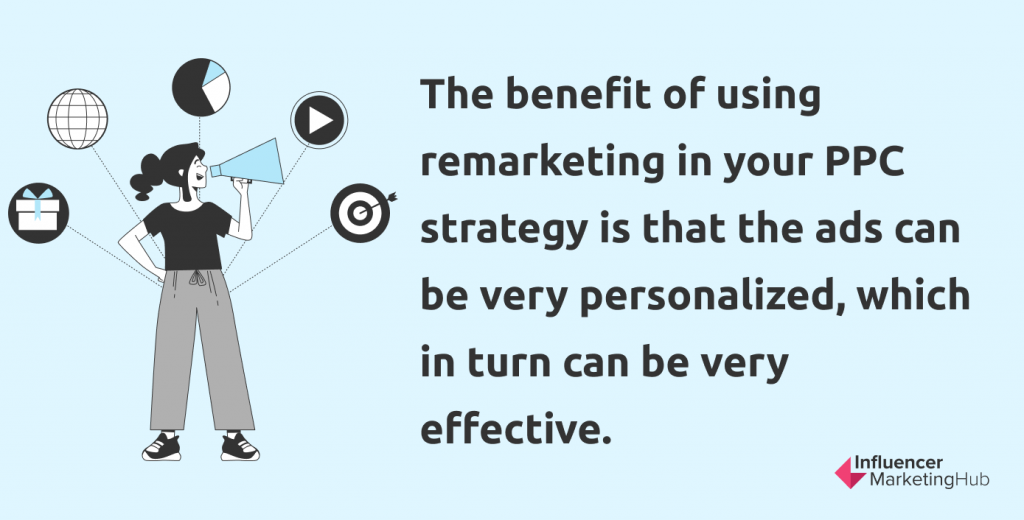 Just like audience targeting, remarketing is also nothing new and it's expected that it will continue to play a key role in digital marketing strategies in 2023 and beyond. To explain it in basic terms, it involves displaying ads to visitors after they've left your website. The benefit of using remarketing in your PPC strategy is that as the ads can be very personalized (for instance, using products that they've browsed previously), it can be very effective. The secret, though, is to identify where users are in the funnel. If they're far from ready to buy, it can simply be used as a good way to ensure your brand remains top of mind.
---
14. Responsive search ads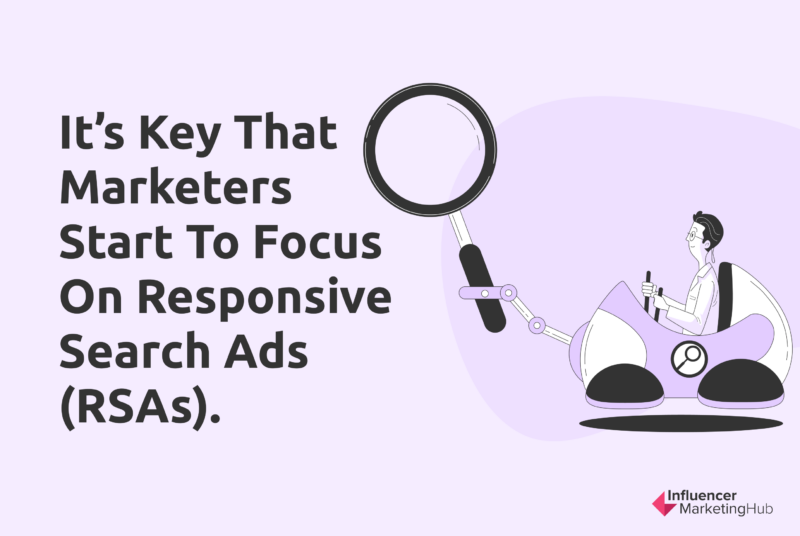 2023 will see continuous support for the use of responsive search ads. As of July 2022, marketers won't be able to create new expanded text ads (ETAs). Existing ETAs will still continue to exist after this date, but you won't be able to edit them (you'll only be able to see performance reports and pause, remove, or resume existing ETAs).
Marketers will turn to responsive search ads in place of ETAs. This feature enables you to create ads that change to show more text. You can add various headlines and descriptions. Google will then automatically test different combinations over time to determine which combos get the best results. In other words, if you take the time to add more headlines and descriptions, Google will have more chances to identify the ad that will perform the best. You can add as many as 15 headlines and four descriptions per responsive search ad.
So, be sure to put in place systems that will help you to create, manage, and monitor the performance of these ads. The sooner you can start, the better. That being said, till that day comes that ETAs will be no more, make sure that you continue testing your current ETAs continuously.
---
15. First-party data
With the increased focus on privacy and data protection, collecting first-party data will become crucial. So, in 2023, it's expected that increasingly more brands will focus on and invest in getting data directly from their customers. If it's not on your agenda for the new year yet, change it.
---
16. Benchmarks
Make no mistake, the goal of advertising is to help you to make (more) money. Though, in today's day and age, the success of marketing campaigns can't just be quantified by looking at the return. In some instances, the goal is simply to create more brand awareness. As a result, even if a campaign doesn't necessarily bring in money immediately, it doesn't mean that all was in vain. Moving forward, more marketers and business owners will start to realize that something like brand awareness can be just as worthwhile in the long run as it can help to boost repeat purchases.
---
17. Click fraud detection
Marketers and brands will stay wary of click fraud or the clicking of PPC ads with malicious intent. PowerTraffick reported that in 2022, 33% of advert clicks were fraudulent. The problem has become so rampant that some companies have developed an ad fraud calculator to help brands estimate the amount they lose to such clicks. Some may do it to artificially inflate traffic statistics, while others might do it to exhaust competitor advertisers' budgets.
To find out if you're a victim of click fraud, check for repeated clicks from the same internet service provider. Also, an unprecedented surge in ad costs, especially amid low conversions, indicates click fraud.
You can protect your ads from fraudulent clicks by regularly monitoring logs and budgets, blocking dubious IP addresses, advertising on well-known quality sites, and using click-tracking software. You could also reduce financial risks by setting different prices for your ads on each website.
---
Wrapping Things Up
The advice of the director of Paid Media at SearchLab Digital, Mark Irvine, is to return to the basics. Considering the trends that are forecasted for 2023, it proves to be wise words. Sure, there are a few trends, like the use of visual search, virtual reality, and responsive search ads, that business owners might not be that familiar with, but other than that creating a solid PPC campaign still relies a lot on fundamentals such as keywords and getting to know your target audience.
Also, at the end of the day, your campaign will only continue to improve if you make a point of monitoring its results. When measuring the results of your PPC campaigns, remember to focus not only on ROI. In some instances, improving brand awareness is a big win too (if not bigger than clinching a sale). Then, be sure that you remain flexible to make changes if the results show that your current campaign strategy isn't hitting the mark or a platform introduces radical changes to its ad types.
Frequently Asked Questions
What's SEM?
SEM is short for search engine marketing. In short, it refers to the process of attracting website traffic by buying advertisements on search engine advertising platforms like Google and Bing. Pay-per-click (PPC) ads are the most common type of search engine marketing. When an ad from a business shows up in the search engine results and a user clicks on it, the business will be charged by the search engine platform. With the help of PPC, a business can create various adverts that search engine users would use to find products or services.
Can I still use expanded text ads (ETAs)?
The creation of expanded text ads (ETAs) was only available until the end of June 2022. Starting July 2022, you'll only be able to check the performance of existing ETAs and pause, remove, or resume them if needed. To make up for this change, marketers are advised to start using responsive search ads (RSAs) instead. In short, it enables you to create ads that change to show more text.
What types of TikTok ads are available?
TikTok offers four ad products. These are in-feed ads, brand takeover, branded hashtag challenges, and branded AR/effects content. In-feed ads are the most affordable option for smaller businesses. Also, as you can use the self-service platform, this process is a lot simpler. In-feed ads appear in the native feed of the "For You" pages of TikTok users. If you want to include a shoppable component, a branded hashtag challenge can be effective.
How can you improve your Facebook ads?
To improve your Facebook ads, it's key that you ensure that it's optimized for mobile. We suggest that you tailor your ads on Facebooks for mobile by using vertical images and videos. Also, don't use too much text. It's also a good idea to include video or GIFs. The ideal length for Facebook video ads is 5 to 15 seconds. In addition to including video, it's also important that you play around with different ads formats that include dynamic ads, sponsored ads, and carousel ads.
What are the best agencies for Google Ads?
To help you make the most of Google Ads, it's a good idea to hire the services of an ad agency that focuses specifically on Google Ads. You can for example check out:
Disruptive Advertising
Thrive Internet Marketing Agency
LYFE Marketing
JumpFly
Ernst Media
Volume Nine
Titan Growth
Ignite Visibility