Retail trends can give you a glimpse of what the landscape will look like in 2023. Knowing which trends would impact the market and which ones you'd be able to apply to your company can help you prepare a better business strategy. Moreover, trends would give you an idea of what your customers will be expecting from businesses like yours.
For instance, learning that consumers will be more likely to demand greater measures for data privacy and protection will allow you to come up with appropriate solutions that address this need. Lastly, by staying on top of retail trends, you'd be able to identify more opportunities for growth, which, in turn, can help you edge out the competition.
What can retailers and consumers expect to see in the foreseeable future? We've curated a list of some of the emerging and ongoing trends that will impact the retail industry in the coming years.
---
10 Retail Trends That Will Shape 2023:
---
1. The Rise of Retail Media
Retail media will become a new channel for digital advertising in the 2023. Major retail companies, such as Amazon and Walmart, as well as advertisers are looking into leveraging retail media networks to grow their revenue, reach new audiences, and diversify their revenue streams. Moreover, retail media can give insight into the performance of physical stores (in-store visits and impressions) and their future potential.
In the future, it's highly likely that retailers will embrace off-site retail media, tapping different formats like streaming TV. Furthermore, it's projected that by 2024, retail media spending will reach $60 billion.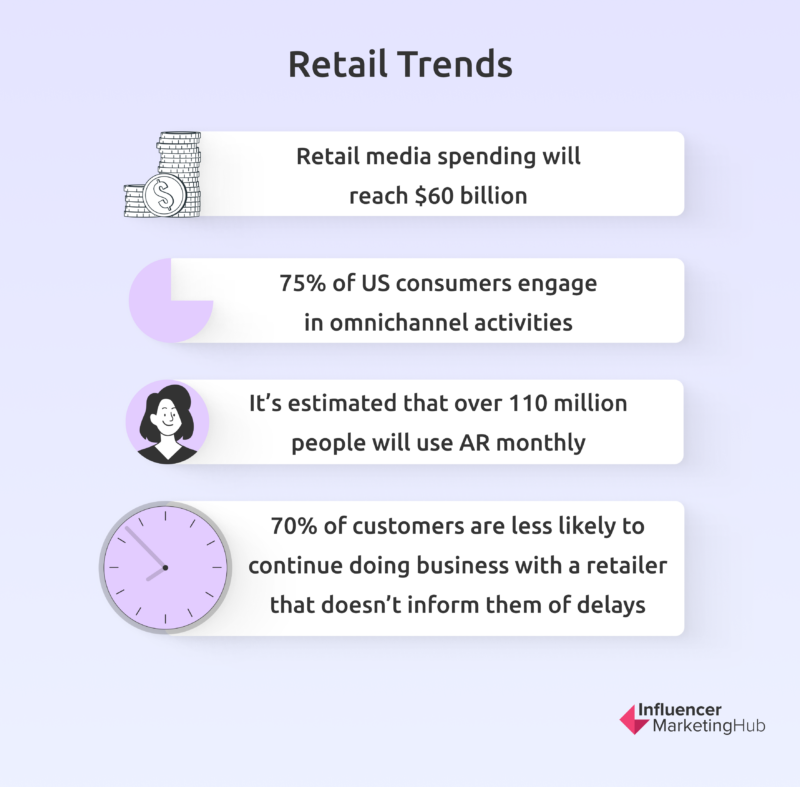 ---
2. Emphasis on Consumer Privacy and Data Protection
Finding measures to provide greater data and privacy protection for consumers will become a priority in 2023. This move is mainly attributed to the threat of cyberattacks, with the retail sector being a top target, and concerns over how consumer data is collected and used by social media platforms and websites. Other factors, such as consumer awareness on how their data is collected and used, as well as the need for companies to offer better options to consumers, which will give them a competitive edge, come into play.
In response to this demand, governments are stepping up and creating laws, such as the General Data Protection Regulation (EU-GDPR) and the Consumer Privacy Act, to protect consumer privacy. Furthermore, merchants are adopting new technology, such as new chip technology for EMV cards, to protect customers against fraudulent transactions.
You can expect more companies to start stepping up their privacy and data protection initiatives. However, this will come with challenges, such as how to acquire consumer data and build customer trust.
---
3. Hybrid Shopping
Offering a blend of physical and digital experiences, hybrid shopping channels will most likely become bigger in 2023. 75% of US consumers engage in omnichannel activities, doing their research and making purchases both on online and in offline channels. Furthermore, consumers are still doing their research online prior to purchasing a product, which is why it has become important for retailers to offer seamless hybrid experiences to their customers.
---
4. Payment Flexibility
Today's consumers are expecting retailers to offer more payment options. Thus, retailers need to step up and incorporate new payment channels, aside from credit cards. These can include layaway plans or buy now, pay later plans.
---
5. TikTok and Gen Z Will Significantly Impact Social Commerce
TikTok has contributed significantly to the rise of social commerce, with Gen Z users being a major driver behind this growth. In 2023, it's estimated that there will be 10 million more social buyers on the platform.
---
6. Personalization Is Still King
Personalization enables brands to offer unique experiences to their customers. By leveraging personalization, businesses can influence their audience's purchasing decisions, increase engagement, nurture customer loyalty, increase sales, and drive more revenue.
In 2023, you can expect hyper-personalization to become a big trend, as consumers continue to seek it from businesses. To prepare for this trend, you need to have a good personalization strategy in place. You may also want to look at technologies that can help you gather data for smarter personalization.
---
7. Round-the-clock customer support
Providing 24/7 support will enable businesses to offer better experiences to their customers. Nowadays, delivering exceptional customer service just won't cut it. Customers should be able to get in touch with your business anytime, anywhere. This way, you'll be able to immediately address customer issues, thus preventing them from escalating. This is where new technology, such as AI and chatbots, can help you offer superior customer service that's always available.
---
8. The Growing Popularity of the Metaverse
Expect the metaverse to play a role in shaping the future of the retail industry. It's estimated that over 110 million people will use AR monthly. Moreover, many global brands and major retailers, such as Nike and Gucci, are already staking their claim in the metaverse and identifying opportunities to reshape the future of the retail industry. It's also likely that brands looking to scale their operations and penetrate this new channel will have to build a new business model, one that's tailored for this new virtual world.
Gartner predicts that by 2026, 25% of people will spend at least one hour each day in the metaverse. Moreover, by the same year, 30% of organizations will already have metaverse-ready goods and services.
---
9. Empowering the Workforce
2022 saw a mass exodus of workers. In July 2022, 4.18 million Americans quit their jobs because of factors like low pay and poor working conditions. This has prompted retailers to come up with new approaches to employee empowerment, in an effort to offer better solutions to their workforce. It's highly likely that in the future, we'll see more retailers leveraging new technology to streamline or automate tasks and provide better workplace environments.
---
10. Shipping Transparency
Free shipping and speedy delivery are already great incentives for consumers. However, transparency in shipping, which can help nurture customer loyalty, as well as attract new ones, is also a crucial aspect in logistics.
Consumers want to know about shipping timelines and delays. In fact, 70% of customers are less likely to continue doing business with a retailer that doesn't inform them of delays. Thus, retailers should work toward providing customers with clear and realistic delivery times. Moreover, retailers should leverage new technology or tools to provide customers with accurate shipping or delivery information.
---
2022 Retail Trends That Will Persist in 2023 and Beyond:
---
1. Consumer Sales Have Generally Been Strong, Despite the Pandemic
2021 has seen a gradual re-opening of the world economy. As Deloitte phrases it, "The high street re-opens." With more non-essential stores now operating, many consumers have gone on a shopping binge. They are spending money they would typically spend on travel on other things, like home improvement and consumer goods. Many places are also loosening restrictions on the hospitality sector. This consumer-led recovery is likely to continue into 2022 and beyond.
---
2. Still a Threat of Ongoing Store Closures
The last few years have seen an avalanche of store closures. This trend began long before COVID and was inevitable once online shopping began to take hold. However, the pandemic has accelerated the movement, particularly with shops closing for extended periods during lockdowns.
However, a return to "normal" post-COVID life is unlikely to reverse this trend. Thus, while the closure rate may decrease, there will still be many more closures yet to come.
Analysts predict that we may see more store closures in 2023, due in part to inflation and a looming recession. As sales growth rates start showing signs of slowing down, some mid-tier retailers may be forced to shut down their operations.
---
3. Move Towards Online Shopping
The obvious counterpoint to the closure of brick-and-mortar stores has been an increase in sales made by their online counterparts.
In the US, eCommerce spending experienced a 10.8% YoY growth during the 3rd quarter of 2022, reaching a total of $251.71 billion. In 2021, the numbers were at $227.23 billion for the same period. One of the contributing factors to this growth is Amazon Prime Day, which fell in the 3rd quarter, instead of the usual 2nd quarter.
Many retailers now take a digital-first approach, where they place their primary focus on their online store ahead of their physical shops. They have invested heavily in digital technology and have built online-only warehouses.
---
4. Free Shipping and Speedy Delivery are Expectations for Many Consumers
At the moment, there is a conflict between consumer expectations and the realities of COVID. Consumers may be doing much more of their shopping online, yet they still want access to their purchases as soon as possible. They expect quicker deliveries than ever, and many online players, such as Amazon, have put much effort into expediting this.
Unfortunately, COVID has led to a colossal shipping crisis, with delivery delays around the globe. As we move away from COVID lockdowns, there should be some improvement in world logistics, and average delivery times should come down again.
Free shipping can be a deal-breaker for online shoppers. 90% of consumers say they would shop online more often if given the option of free shipping. In addition, 24% of consumers admit they would spend more to qualify for free shipping. Companies with free shipping have a 20% higher conversion rate than those without this option.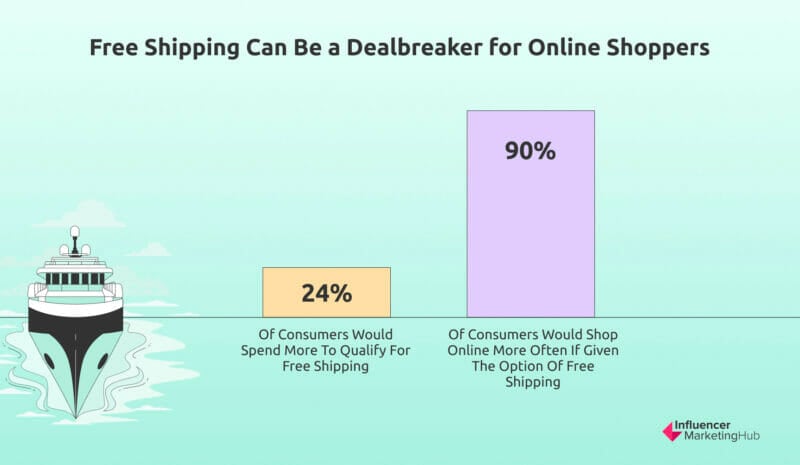 ---
5. Expansion of the "At Home" Economy
During the pandemic, the "at home" economy emerged, and it appears to be remaining, despite a widespread loosening of restrictions. Consumers have shifted their spending priorities into areas such as home cooking, online shopping, and consuming digital products.
Fewer people may be now working from home than a year ago, but there are still many people who have discovered they enjoy the absence of a commute and have continued to work from a home office at least a couple of days a week.
---
6. Physical Stores Redesign Spaces to Make Customers Feel Safe
Brick-and-mortar stores have realized that they have had to redesign their spaces to keep customers separated and feeling safe. While they will undoubtedly reverse some of these once COVID disappears, many will remain in place for some time yet.
Many customers still want to go to brick-and-mortar stores; they love the in-store experience and prefer to physically interact with products before buying them. However, they need to feel safe before they enter a store.
These changes can be as simple as adding Perspex screens at the checkouts or as complex as making complete changes to the in-store layout, with separate entrances and exits to divide traffic.
---
7. Greater Use of In-Store Self Checkouts
One example of store redesign has been increased use of self-checkouts (often allied with contactless payments).
Self-checkout offers greater convenience to customers and gives them a better shopping experience. Some stores have even moved away from static POS counters to using mobile payment systems. Moreover, 45% of retail decision-makers are looking into adopting self-checkouts in lieu of cash register spaces.
Also, it's not just retailers and consumers who can benefit from self-checkout kiosks. Retail associates will also be able to focus on more complex and high-value tasks, and 81% of them believe that self-checkout spaces offer better customer experiences.
---
8. Increase in Contactless Payments
Contactless payments will continue to grow in popularity in the future. The market for contactless payment terminals is project to be worth more than $40 billion in 2026, indicating a CAGR of 21.8%.
The market for contactless payment transactions is also projected to see significant growth. A Douglas Insights report estimates that the industry will have a CAGR of nearly 44% between 2018 and 2027. What is fueling this growth? The report cites several main market drivers, which include the growing use of smartphones and the advent of new technology (5G and blockchain).
In some countries, such as New Zealand, contactless payments were slow to take off because of high bank fees for retailers using the technology. Consumers have now experienced the advantages of contactless payment and still demand access, which has caused conflict.
---
9. Retailers Discover the Advantages of AI
Retailers are increasingly using AI in their operations. It took some time for the internet of things to move from concept to reality, but it is now commonplace. Typical uses of AI in retail include inventory management, adaptive homepage, dynamic outreach, interactive chat, visual curation, guided discovery, conversational support, customer engagement, and more.
Firms use AI for a personalized shopping experience. One obvious application is chatbots. Estimates say that 91% of internet users interact with a chatbot daily.
---
10. Increased Use of Voice Search and Personal Assistants
Another specialist application for AI is an increase in the use of voice search and personal assistants.
Google reports that 27% of people on the internet now conduct voice searches on their mobile devices. It is particularly popular with Millennials and Generation Z, who prefer to talk into their phones rather than type.
---
11. Livestreaming Has Grown in Popularity
Home-bound consumers found livestreaming to be a way they can engage when shopping online. Consumers spent hours watching celebrities and influencers hosting entertaining shows on various topics designed to sell.
In 2023, livestreaming will continue to thrive. It's estimated that its global market will grow to $247 billion by 2027. Additionally, more users will engage with livestreaming. By 2024, it's projected that over 90 million subscribers will use this channel.
---
12. Seniors Finally Uptake New Technology
Traditionally seniors are the last group to take on any new technology. They have spent most of their life without the technology and strongly resist change over their final years. However, seniors have also been the demographic most at risk from COVID and have had to adapt to the new post-pandemic environment.
The pandemic has forced the elderly to accept retail technologies such as online shopping and telehealth consultations. Some have also taken to using smart home devices and assistant tech to avoid nursing homes. This trend is unlikely to reverse, even as economies open again.
---
13. Increased Popularity of Private Labels
Many budget-conscious shoppers now primarily purchase private label products. This is because they would rather pay less for a functioning no-name product than paying a premium for a product with a known brand name.
However, it isn't just the poor who buy private label products nowadays. Sales of private label products now outpace the sales of branded products by 3x.
Private label drives 17.4% of grocery sales in the US. For instance, Walmart brands, such as Great Value and Equate, are purchased by nearly 73% and 51% of consumers, respectively.
Retailers have helped accelerate this move because they can make margins of 25-30% higher from private label products than they can from selling branded products.
---
14. Increase in Social Commerce on Instagram
The most advanced (Western) social network for social commerce is Instagram. Their announcement of Instagram Shopping and the ability to make purchases directly within the app is a groundbreaker. Retailers can now make their products easily discoverable on Instagram. You can tell your story and highlight your products. People can shop at the moment of discovery, propelling them through the purchasing journey.
Retailers can use social commerce to customize and personalize the shopping experience. For example, a checkout on Instagram (or another social network) allows retailers to give their customers an all-in-one experience. As a result, brands can interact with customers, set personalized discounts, receive important feedback, and then ultimately sell, all without people ever leaving Instagram.
---
15. Retailers Regularly Engage in Omnichannel Marketing
We have previously written about the trend towards omnichannel marketing. Businesses that adopt omnichannel strategies achieve 91% greater year-over-year customer retention rates than businesses that don't. Consumers now use an average of almost six touchpoints when buying an item, with nearly 50% regularly using more than four.
Many retailers and other firms are now spreading their marketing campaigns across multiple channels rather than focusing on just one or two. Often, a brand reaches a customer with different channels at different stages of their purchasing cycle. However, omnichannel marketing isn't simply using multiple channels for a campaign. It's ensuring your channels interact in such a way that a customer receives a seamless marketing experience.
One way retailers engage in omnichannel marketing is when they use AR and VR to augment the shopping experience both in-store and online. For example, you can use AR to preview a product before you commit to purchasing it.
---
16. Experience-Related Shopping Expands in Importance
There is a trend towards retailers making shopping more than just buying a good; they provide an experience. With the increase in popularity of eCommerce, particularly big players like Amazon, smaller traditional stores need to develop a point of difference to survive. To provide the best customer experience, you need to fully understand your products, your store, and your shoppers.
One technique used by Lidl is the treasure hunt experience. With this, people come in-store knowing they'll come across amazing offers and products, but those items won't be around for long. They devote about 20% of a store to 'Lidl Surprises,' a selection of unexpected goods in limited quantities, rotated weekly.
Other stores focus on building communities. Some bookstores even encourage people to remain in-store and read the books they have bought.
Some big retailers are now setting up smaller cut-down specialist stores, e.g., Ikea has opened a range of Ikea Home Planning Studios. Others create mini-stores that are stores-within-stores. Best Buy, Macy's, JCPenney, and Apple have all tried this in recent years.
For retailers to equip their business for success in the coming years, they need to cater to growing demands for experiential retail. This also means that they need to offer unique experiences that consumers, particularly Millennial and Gen Z shoppers, won't be able to find in other retailers. 40% of brands are looking to prioritize being able to provide retail experiences to their customers, as demand for in-store shopping continues to grow.
---
17. Consumers Push for Sustainability and Retailers Feel the Need to Follow
The push for sustainability has significantly impacted retail in 2021 and will continue throughout this decade and beyond. Ideally, sustainable shopping means that consumers need to know what a product is made out of, where it is made and what they can do with it when they have finished with it.
Two-thirds of UK and German consumers believe it has now become even more important to them to limit the impact of climate change. Retailers have recognized this and started implementing initiatives like social-responsibility audits at factories and suppliers' factories and increased attention to social inclusion.
Moreover, consumers are now looking at the impact of packaging, which will prompt brands and retailers to look into more sustainable alternatives. While packaging might seem like a trivial thing, it can influence consumers' decisions. In fact, 86% of consumers are more likely to support a product that comes in a sustainable packaging.
Additionally, 57% say that they've put more effort into choosing sustainable products or products with sustainable packaging. According to the same report, 64% of survey respondents shared that packaging, particularly sustainable packaging, plays a role in how they select products.
According to a McKinsey report, businesses will play a major role in the fight for climate sustainability. Thus, in the coming years, they will need to develop a climate strategy that will enable them to contribute to decarbonization initiatives. Many major brands are jumping on the bandwagon. Nike, for example, aims to complete 29 target initiatives by 2025.
The report further outlines how businesses can prepare for a greener future in the retail industry. Stakeholders are encouraged look for greener product alternatives, promote emissions transparency, and make sustainability a major part of their consumer research. The same report highlights that today's consumers are willing to pay more for sustainable or eco-friendly products. 60% of Gen Z and high-income consumers are more than likely to pay a premium for greener alternatives.
As part of the drive for sustainability in retail and combating climate change, it's expected that the concept of circular economy will soar in popularity. Conventional retail is considered as a linear economy, where raw materials are used to manufacture products, which will then be disposed after use.
The circular economy follows a more sustainable model, which helps reduce waste and carbon emissions. Following this model, products are designed to last longer, waste is redesigned or repurposed, and processes are using fewer resources.
More and more consumers (65%) are turning to resale and recommerce services, while 30% of major retail brands are already offering a resale service.
---
18. Increased Focus on Health and Wellbeing
Perhaps inevitably, because of the issues with COVID, health and wellbeing have become a significant focus in retail. Consumers devote more time and money to looking after themselves. There have been sizable increases in sales of vegan and plant-based foods, along with sales of "athleisure" clothing - the new everyday attire in the "at home" economy.
Frequently Asked Questions
What are the major trends in retailing?
These are some of the major trends in retailing:
1. Social commerce
2. Influencer marketing
3. Online stores in offline spaces
4. AR-powered shopping experiences
5. New brand identities
6. Free shipping and speedy deliveries
What are the retail trends for 2023?
Here are some of the notable retail trends for 2023 and beyond:
The Rise of Retail Media Networks

eCommerce Will Still Play a Major Role in Retail

Offline Shopping Will Continue to Rise

Payment Flexibility

TikTok and Gen Z Will Significantly Impact Social Commerce

Personalization Is Still King

Empowering the Workforce

Shipping Transparency
What are the emerging trends in retailing?
Modern retail giants are using new technology for marketing, retail operations, and business transactions. Social media also plays a big role in communicating with consumers and potential clients.
How has retail changed in the past couple of years?
The pandemic, changing consumer behavior, and the advent of new technology have made a significant impact on the retail industry during the past couple of years. Nowadays, we're seeing increased effort from both consumers and businesses in adopting more sustainable processes and products.
Hyper-personalization has also come to the forefront. Businesses have also become more resilient, adopting new ways, such as offering omnichannel experiences and using AI, to cater to today's ever-changing retail landscape and consumer demands.
What are three examples of retail markets?
Examples of retail markets include:
Peddler and street hawkers
Bazaars
Discount stores
Duty free stores
Convenience stores
Retail stores