No matter what your age, you've probably live streamed an event at one point. Most likely, you've live streamed content multiple times (possibly even multiple times per day).
If TV killed the radio star, then live streaming is probably killing the traditional TV star. From sporting events to music concerts to video gaming to even shopping, various types of content and activities are "going live" on social media nowadays. It has become one of the most popular ways we consume content.
Much of its rapid growth and mass adoption can be attributed to the COVID-19 pandemic. During the past few years it was the safer option. Now, for many, it's the most convenient option.
If you want to know more about live streaming and how you can use it to grow your business, here are over 65 statistics. Continue reading to discover how its future is shaping up and how you can turn it into a revenue stream.
---
68 Live Streaming Stats to Help You Create New Revenue Streams:
---
General Live Video Streaming Statistics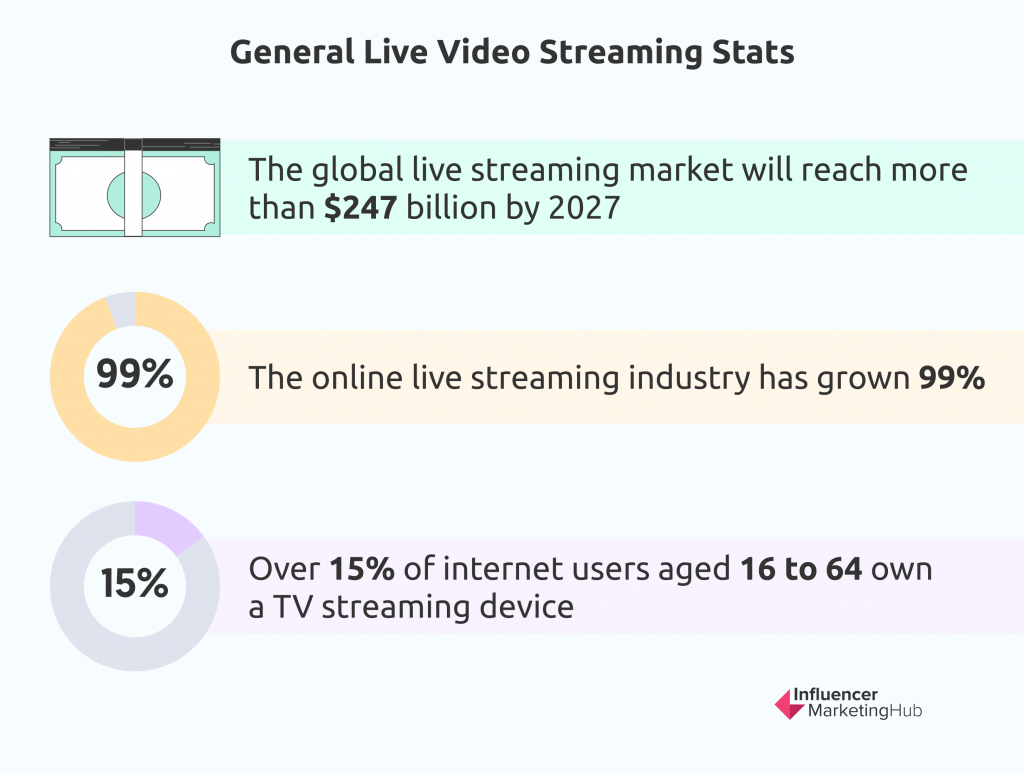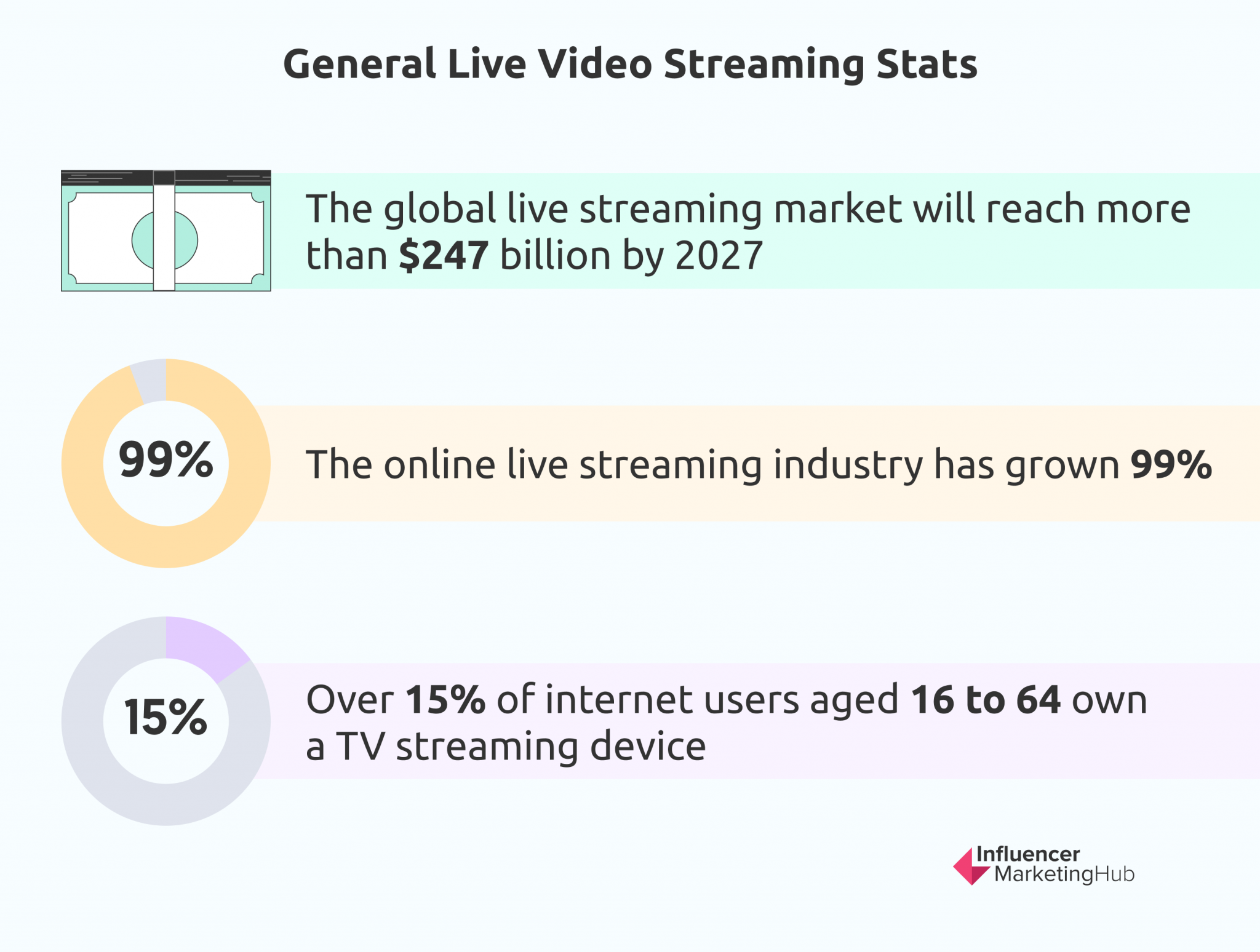 1. It's estimated that the global live streaming market will reach more than $247 billion by 2027 (Vimeo).
2. The online live streaming industry has grown 99% between April 2019 and April 2020 (Daily eSports).
3. More than 90 million subscribers will use live streaming by 2024 (Vimeo).
4. In China, smartphones are by far the most popular devices used for live streaming. A survey completed in April 2021 found that 75% used their smartphones (Statista).
5. Cheaper Android devices are the preferred streaming devices for markets outside of North America. That said, iPhones still lead the global race (Conviva's State of Streaming Q2 2022).
6. Just over 15% of internet users aged 16 to 64 own a TV streaming device (Digital 2022 Global Overview Report).
7. Over 16% of consumers using a streaming service will likely start using an alternative service if it offers a better live option (TechRadar).
8. When it comes to streaming quality, most viewers can't tolerate more than 90 seconds of bad quality. More than 50% will give up on a poor-quality stream in 90 seconds (or even sooner) (TechRadar).
9. The average speed of mobile internet connections is: 69 Mbps for download and 14 Mbps for upload. The average download speed improved by over 50% in a year (Digital 2022 Global Overview Report).
10. The average speed of fixed internet connections is: 120 Mbps for download and 67 Mbps for upload (Digital 2022 Global Overview Report).
11. Live videos manage to capture attention between 10 and 20 times longer than prerecorded, on-demand content (Vimeo).
12. Compared to social media posts, product pages, and blog posts, people are twice as likely to share video content with their network (Wyzowl).
13. According to a survey completed in July 2021, only 11% of baby boomers in the US used live streaming TV services like YouTube TV and Hulu Live. The same study found that nearly a quarter of Gen X used those services (Statista).
14. More than 20% of US adults aged 18 to 34 admitted that they watched live stream videos several times a day, according to a survey completed in December 2021 (Statista).
15. A global survey revealed that 55% of Gen Z video streaming users attributed their use of such services to the fact that they had to stay at home more because of the COVID-19 pandemic. About 25% of them used video streaming platforms because of the live events and exclusive content (Statista).
16. About a third of internet users have identified live video streams as the type of video content that they watch the most each week. Music videos was the most popular category with over half of internet users revealing that they watch it online each week (Digital 2022 Global Overview Report).
17. Half of internet users aged 16 to 64 have stated that watching videos, TV shows, and movies is the main reason why they use the internet (Digital 2022 Global Overview Report).
18. More than 93% of internet users aged 16 to 64 watch TV content via streaming services each month. It's more common practice among younger audiences, but surprisingly more than 80% of those aged in their late 50s and early 60s also use this technology (Digital 2022 Global Overview Report).
19. In 2016, only about a third of time spent watching TV was spent watching streaming TV services. Fast-forward five years to 2021 and it increased by more than 10% to 44% (Digital 2022 Global Overview Report).
20. Nearly 40% of internet users aged 16 to 64 listen to music streaming services (Digital 2022 Global Overview Report).
---
Live Streaming Stats About Gaming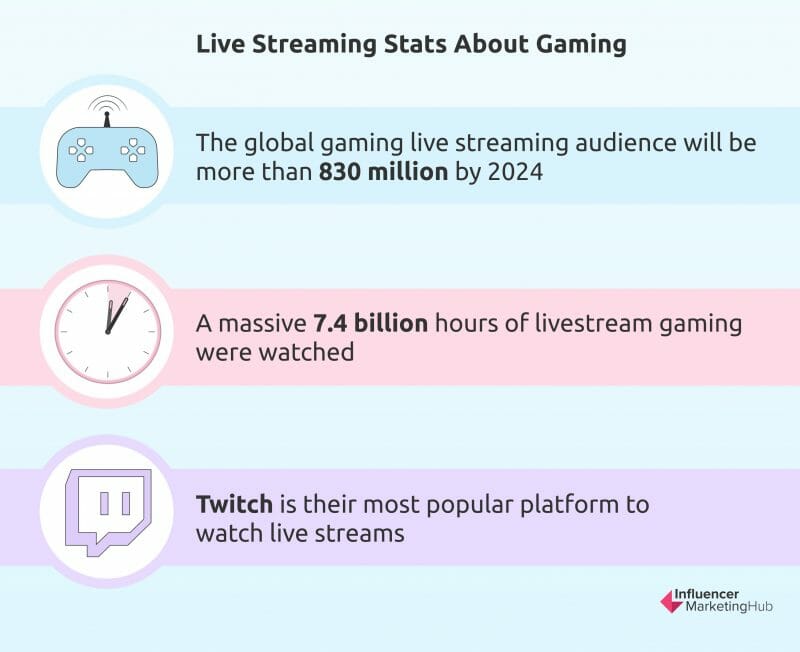 21. According to eSports statistics, it's predicted that the global gaming live streaming audience will be more than 830 million by 2024 (Newzoo).
22. In Q3 2021, a massive 7.4 billion hours of livestream gaming were watched (Statista).
23. Based on user engagement, xQcOw was the top streamer across all the main live streaming platforms. He generated more than 19 million hours of content watched just in August 2021 (Statista).
24. NICKMERCS, one of the leading Twitch streamers, generated 256,000 watched hours during a live segment sponsored by SeatGeek, an event ticket search provider. This segment was the most watched sponsored live stream game segment in 2021 (Statista).
25. According to gamers in the United States, Twitch is their most popular platform to watch live streams. Nearly half of US gamers turned to the platform for video game streams. In second spot was YouTube Gaming (40%), while Facebook Gaming was in third (16%) (Statista).
26. At the beginning of 2021, only 14% of US gamers watched live streams on Discord (Statista).
27. The annual Electronic Entertainment Expo was the live-streamed gaming conference that attracted the most viewers — more than 3 million peak concurrent viewers were registered on Twitch and YouTube (Statista).
28. Massively multiplayer online role-playing games (MMORPG) were watched 100+ million hours on average per month in 2021. In July 2021, it nearly reached 200 million hours (a big percentage was fueled by the release of Amazon's New World in beta (Statista).
---
Live Video Streaming Stats for Marketing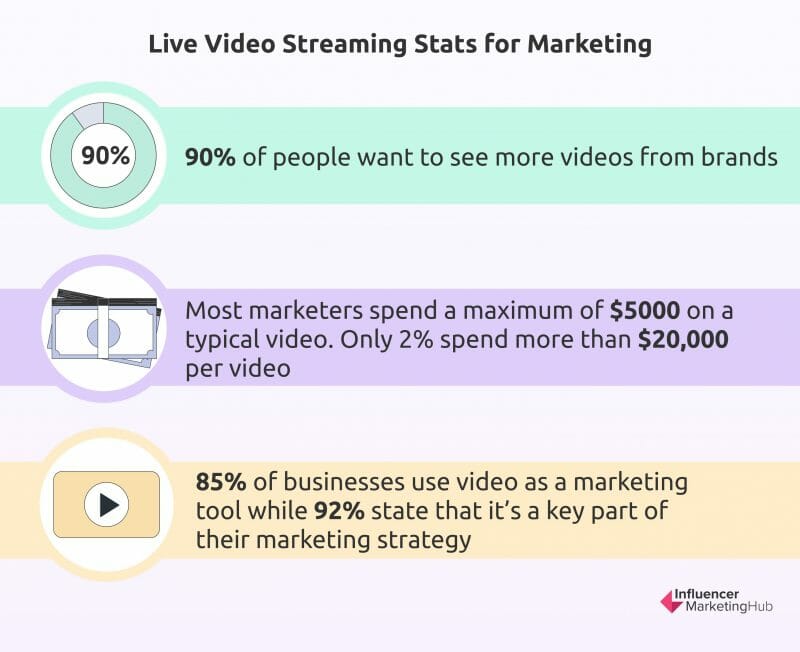 29. Over recent years, increasingly more businesses started to use video for marketing purposes. More than 85% of businesses use video as a marketing tool while 92% state that it's a key part of their marketing strategy (Wyzowl).
30. Live action video is the type of video that's used most by businesses for video marketing. More than 40% mostly use this form, while a third mainly use animated videos (Wyzowl).
31. Nearly 90% of people want to see more videos from brands in 2022 (Wyzowl).
32. Mid-tier influencers (influencers that attract 500 to 5,000 viewers per live stream on average) generated the most live streaming viewing hours. Across Twitch, Facebook Gaming, and YouTube Gaming, they attracted about 40% of the viewership in Q3 2021. This was four times more than what mega influencers managed to generate (Statista).
33. Most marketers spend a maximum of $5000 on a typical video on average. Only 2% spend more than $20,000 per video. That said, 66% of marketers indicated that they either plan to spend the same amount or increase their spending in 2022 (Wyzowl).
34. The most popular use of video in marketing campaigns is to create explainer videos. Other popular purposes include for presentations and testimonials (Wyzowl).
35. The main goal marketers are hoping to achieve by investing in video is to drive engagement (62%), closely followed by views (61%) (Wyzowl).
36. The vast majority of brand video posts on Facebook are still prerecorded. Between May 2020 and May 2021, only about 19% of brand videos shared on the platform were live (Statista).
37. While brands prefer to use prerecorded brand videos on Facebook, live videos can boast twice the engagement rate. Facebook brand accounts with between 5,000 and 10,000 followers enjoyed an engagement rate of 1.12% on average for live videos, compared to only 0.59% for prerecorded videos. For brand accounts with more than 100,000 followers, there was no real difference, though (Statista).
38. Just over a quarter of video marketers plan to use Facebook Live in 2022 (Wyzowl).
39. Webinar is the most effective video channel statistically speaking. Nine out of 10 marketers who hosted a webinar said that it was effective, making it the video marketing channel that received the biggest praises (Wyzowl).
40. Only 14% of marketers feel that live video is their most important video format. Native video is by far the most popular (Social Media Examiner).
41. Most marketers plan on using Instagram video more in the future, followed by YouTube video and Facebook Video. Instagram and YouTube were also the video platforms that marketers want to learn more about (Social Media Examiner).
42. Unlike B2C marketers, the majority of B2B marketers want to find out more about LinkedIn video (Social Media Examiner).
43. The main reason why some marketers don't use video content is because of a lack of time. Linked to this is the feeling that they don't know where to start (Wyzowl).
---
Live Streaming Platforms Stats
44. The Twitch app had the biggest share of daily active users across the world by far as of Q1 2022 (Statista).
45. Twitch increased its market share (in terms of global daily active users) by 10% in a year. It increased from 63% at the beginning of 2020 to 74% at the beginning of 2021 which it managed to maintain in 2022 (Statista).
46. Twitch has the most unique streaming channels. As of Q2 2022, it had nearly 10 million unique channels. To put this massive accomplishment into perspective, YouTube Gaming has 431,000, while Facebook Gaming has only 238,000 (Statista).
47. While Twitch is basically synonymous with gaming, it's not the only type of content that's popular. In 2021, the most popular non-gaming category on Twitch was Just Chatting. It was watched about 3.1 billion hours in 2021 (Statista).
48. More than 40% of US live stream viewers aged 18 to 34 used Instagram for live stream video (Statista).
49. From 2020 to 2021, the video watch time on Twitter increased by 30% (Twitter).
50. YouTube Gaming recorded just over 1.1 billion hours of content watched in Q2 2022. While this sounds like a lot, it was more than 13% lower than what it managed to generate for the same period in 2021 and the lowest number of hours watched since the beginning of 2020 (Statista).
51. Not only are people watching less live streaming via YouTube, but gamers are also streaming less. Since the end of 2021, the number of hours streamed on YouTube Gaming Live have declined steadily to reach just over 8 million hours in Q2 2022. For the same period in 2020, it was a whopping 17.9 million hours (Statista).
52. In addition to gaming, YouTube is also used for live news. In 2021, "live news" was one of the Top 20 YouTube searches (Digital 2022 Global Overview Report).
53. In Q3 2022, nearly 8 million hours of online games were streamed via Facebook Gaming (Statista).
54. Netflix is the most downloaded video streaming mobile app. In July 2022, it had about 18 million downloads (Statista). Disney+ was in second spot with just over 15 million downloads.
---
Live Streaming Monetization Stats
55. In 2021, users from across the world spent about $3.76 billion on live streaming apps. What makes this number even more impressive is that it was up by more than 50% in just a year (Statista).
56. While Twitch might have the market share, Bigo Live leads the way in consumer spending. As of the beginning of 2022, Bigo Live generated almost $82 million in consumer spending, making it the highest-grossing mobile live streaming app. Twitch managed to generate "only" $72.6 million, placing it in second spot (Statista).
57. Global users spent about $3.8 billion on mobile live streaming apps in 2021. It increased by more or less 57% in just a single year (Statista).
58. A survey that was completed among US users at the end of 2021 revealed that about 57% of those who streamed video content managed to generate some form of revenue via their live content. Only 43% of live streamers didn't receive any ad money or tips (Statista).
59. Younger streamers are having an easier time making money from live streaming. About 60% of live streamers aged between 18 and 34 have revealed that they generated money via live streams, compared to less than 20% of streamers older than 54 experiencing the same success (Statista).
60. Nearly a third of internet users aged 16 to 64 pay for movie or TV streaming services each month, making it the most common digital content purchase. Music streaming services were in second spot with about a quarter listing it as a monthly expense (Digital 2022 Global Overview Report).
61. China boasted the biggest eSports streaming market in the Asia-Pacific (APAC) region in 2021. It generated a revenue of approximately $20 million (Statista).
62. The Southeast Asian eSport industry's revenue is expected to exceed $64 million by 2027 (Statista).
63. Douyu, a Chinese game-centric live streaming platform, made more or less 8.6 billion yuan via its live streaming business in 2021. Its live streaming revenue, which included ad services and virtual gift sales, accounted for more than 90% of its annual revenue (Statista).
64. In recent years, live stream concerts have become a popular alternative to in-show concerts. While it might have been driven by necessity, nearly 60% of European festival-goers indicated that they would be happy to pay for this service (Statista).
---
Live Shopping Stats
65. Live shopping is picking up. According to a survey completed in 2021, 90% found livestream shopping events to be convenient and 70% preferred livestream to other forms of social media purchases (Statista).
66. Another survey completed in 2021 found that the main reason US participants used livestream for shopping was because of great deals. Other reasons included discovering new products and because it was an exciting experience (Statista).
67. The add-to-cart conversion rate for live shopping events is 34% (StageMe).
68. Consumer interest for live stream commerce is the highest in the APAC region, but also only slightly. According to a 2021 survey, 17% of participants from the APAC region showed interest in shopping via influencer streams and video calls compared to 14% of US shoppers (Statista).
---
Wrapping Things Up
While these statistics clearly show that you can reach a wide audience with live streaming, there's still a lot of critical work that needs to happen behind the scene and screen. You can't just sit back and stream.
One of the main reasons why live streaming is so popular is because of the interaction. Your viewers will want to feel connected to you. So, you'll need to be willing to interact with your viewers. Just like with any type of content, your live stream also needs to be engaging. Speaking of connection, you'll also need to make sure that your ethernet connection is fast and reliable. Get these two main challenges right and you'll be able to generate a steady stream of income with live streaming.