Chances are you've live-streamed something in your life. Probably multiple somethings. Live streaming is all the rage these days, from sporting events to concerts to video gaming to "going live" on social media, live streaming is one of the most popular ways people consume content. If you want to know more about live streaming and how you can use it to grow your business, keep reading! We've got 75 hot live video streaming stats that every marketer can use to create better content and advertise more effectively.
---
75 Live Video Streaming Stats Every Marketer Should Know:
---
What Is Live Video Streaming?
Live video streaming is when a video is sent over the internet in real-time. This typically takes the form of broadcasts where one creator is streaming video content out to many users at once. This differs from video content in that video content is recorded beforehand and then accessed by users asynchronously.
---
75 Live Video Streaming Stats to Watch
Here's a roundup of 75 awesome live video streaming statistics you can use to improve your marketing and advertising campaigns.
General Live Video Streaming Statistics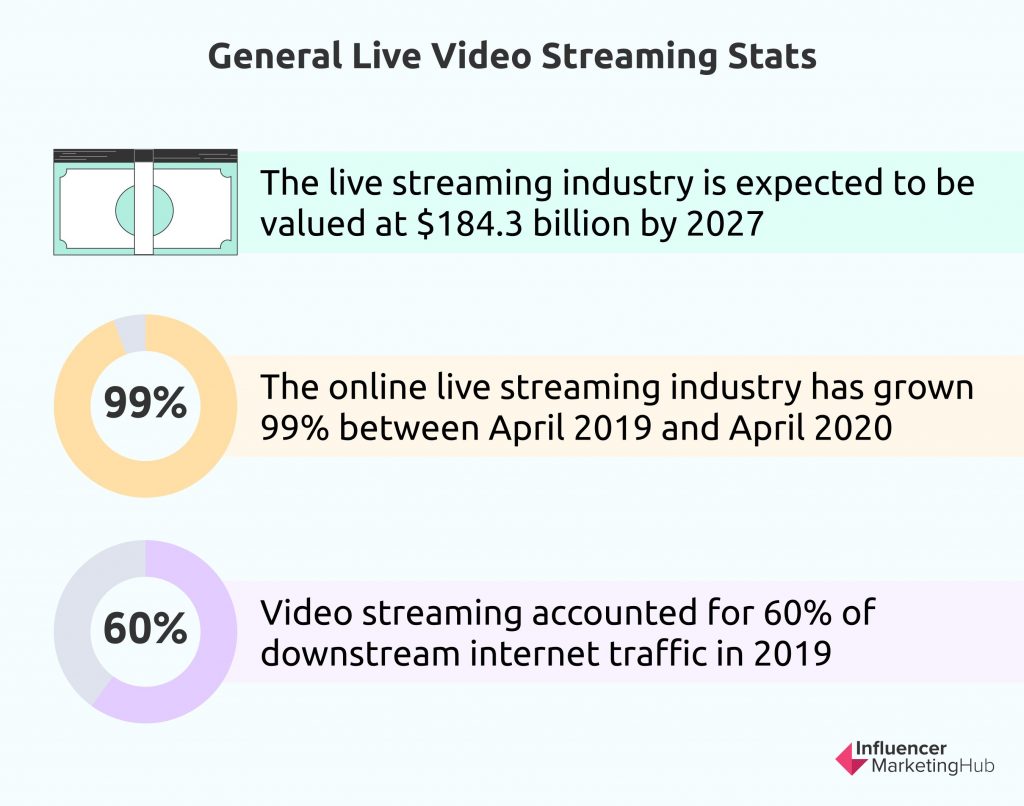 1. The live streaming industry is expected to be valued at $184.3 billion by 2027 (Grand View Research).
2. Live content earns 27% more minutes of watch time per viewing, nearly 6 more minutes, at 24.41 minutes on average, for live video versus video on demand (slightly fewer than 18 minutes)(Conviva).
3. By 2026, the live video streaming market is expected to grow to $149.34 billion (Valuates Reports)
4. Live video is expected to grow 15-fold by 2022 and reach a 17% share of all internet traffic (Cisco).
5. 2019 Coachella was the live music event with the highest live viewership at 82.9 million live views (Variety).
6. Video streaming rose 72.4% between Q1 2018 and Q1 2019 (Streaming Media).
7. The online live streaming industry has grown 99% between April 2019 and April 2020 (Daily eSports).
8. Video streaming accounted for 60% of downstream internet traffic in 2019 (Sandvine).
9. China's live-streaming industry has more than 425 million users (CX Tech News).
10. 80% of consumers prefer watching a live video to reading a blog (Livestream).
11. Just 12% of consumers are able to find content easily on streaming platforms. (PwC)
---
Who Watches Live Video?
12. More than half of 18–49-year-olds either don't watch TV very much or don't watch it at all (eMarketer).
13. 63% of Millennials watch live streaming content regularly, making them the largest group of consumers of live content (Statista). They're also the biggest creators of live video, FYI (Twitter Marketing).
14. Around 40% of computer and mobile video viewers fall in the 13–34 age bracket (Nielsen).
15. About 60% of young adults in the US primarily use online streaming to watch TV (Pew).
16. 55% of Twitch users are aged 18-34 (Influencer Marketing Hub).
---
What Viewers Expect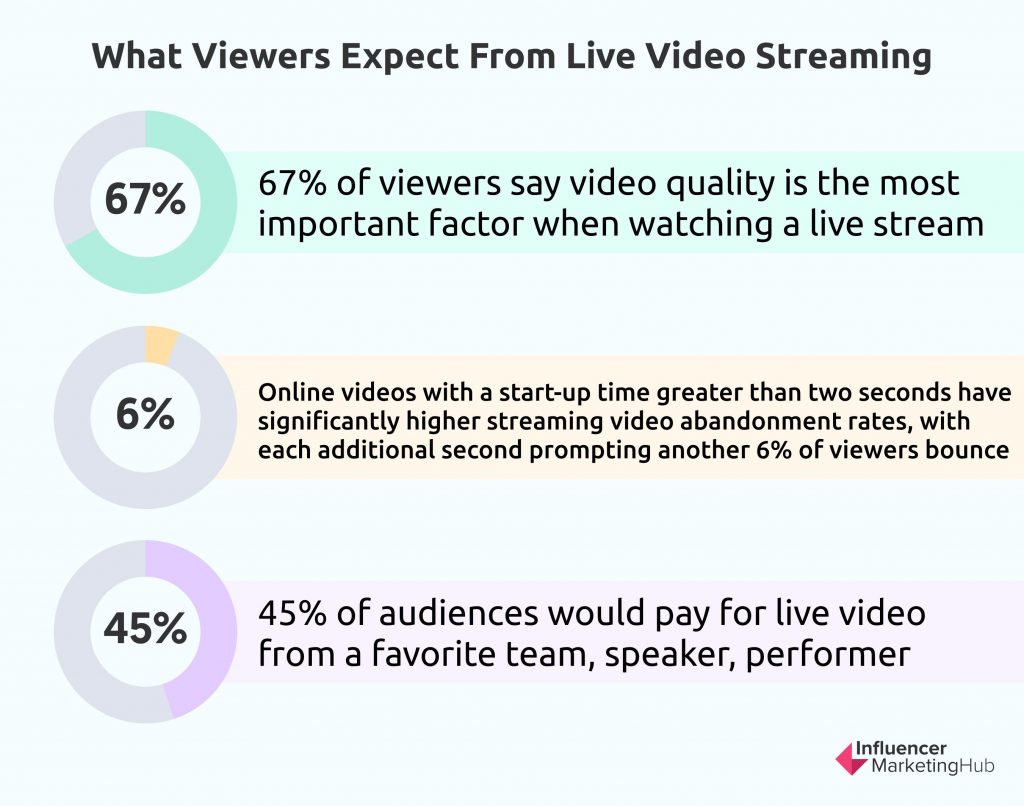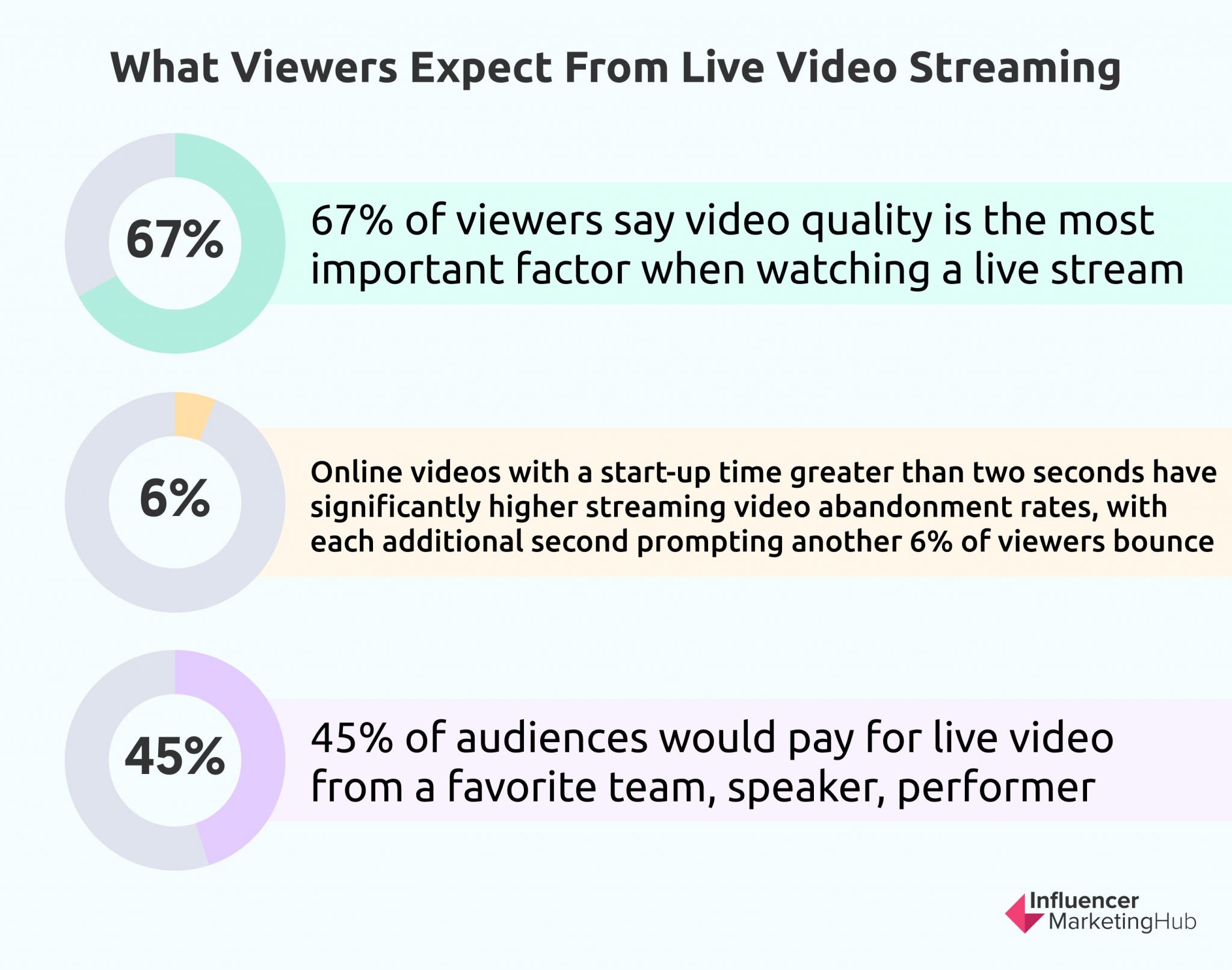 17. 67% of viewers say video quality is the most important factor when watching a live stream (Livestream).
18. OTT platforms with lower quality videos run the risk of losing about 25% of their revenue (Verizon via Livestream).
19. Live streams fail to start 2.6% of the time (Conviva) but...
20. Video start failures are down 33% year-over-year, buffering is down 41%, and picture quality is up 25% (Conviva).
21. Online videos with a start-up time greater than two seconds have significantly higher streaming video abandonment rates, with each additional second prompting another 6% of viewers bounce (Akamai).
22. 85% of consumers want to see more videos from brands (Wyzowl).
23. More than 50% of live streaming viewers leave a low-quality stream in 90 seconds or less (TechRadar).
24. 82% prefer live video from a brand to social posts (Livestream).
25. 45% of audiences would pay for live video from a favorite team, speaker, performer, or influencer (Livestream).
26. For 56%, breaking news is the type of live video content they watch most often. Conferences and concerts are tied in second place with 43% (Livestream).
27. 67% of audiences who watched a live stream purchased a ticket to a similar event the next time it occurred (Livestream).
---
How Viewers Watch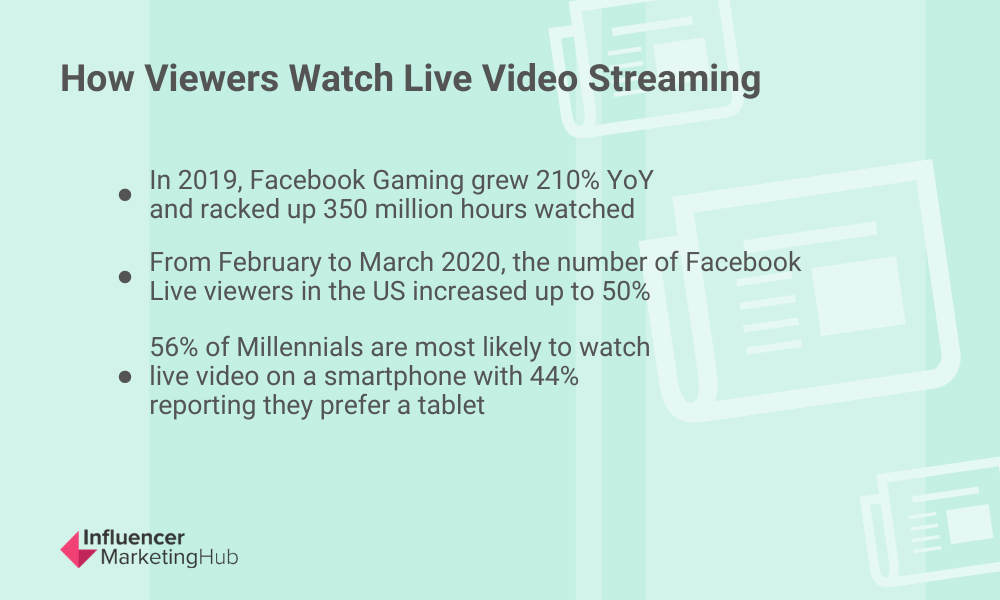 28. In 2020, 232 million people watched streaming or downloaded video across all devices in the US. (Statista).
29. People watch videos on mobile for an average of 16 minutes a day (Statista).
30. On a desktop, people watch videos for an average of 7 minutes a day (Statista).
31. Twitch is the biggest live streaming platform in the world if hours watched—9.3 billion hours in 2019—were the main criteria (StreamElements).
32. Twitch has more than 15 million unique daily visitors and 3 million content creators/broadcasters as well as 500,000+ active daily streamers (VentureBeat).
33. Microsoft's streaming platform, Mixer, grew by 149% in 2019 (StreamElements).
34. Twitch grew by 20% between 2018 and 2019 (StreamElements).
35. Daily watch time for Facebook Live broadcasts grew four times over the course of a year (Facebook).
36. In 2019, Facebook Gaming grew 210% YoY and racked up 350 million hours watched (StreamElements).
37. YouTube Gaming was the only platform to experience growth in hours watched, hours streamed, and concurrent viewership in Q4 2019 (TechCrunch).
38. From February to March 2020, the number of Facebook Live viewers in the US increased up to 50% (Facebook).
39. 56% of Millennials are most likely to watch live video on a smartphone with 44% reporting they prefer a tablet (Pipe Wolf Media).
---
What Viewers Watch
40. Games are the most-watched streaming categories on Twitch (StreamElements).
41. League of Legends was the most-watched category on Twitch in 2019, hitting more than 990 million hours watched (StreamElements).
42. Sporting events make up 86% of live streams in the US (Nielsen).
43. Tfue was the most-watched live streamer of the year 2019 with more than 87 million hours, beating out popular streamers Ninja and Shroud (StreamElements).
44. Felix Baumgartner's space jump holds the record for most concurrent views on YouTube with a viewership of 8 million (The Wrap).
45. Esports make up fewer than a quarter of the time watched on Twitch's top 200 channels (StreamElements).
46. User-generated content accounts for 51% of live video content streamed on mobile (State of Digital Publishing).
---
Live Video Streaming Stats for Business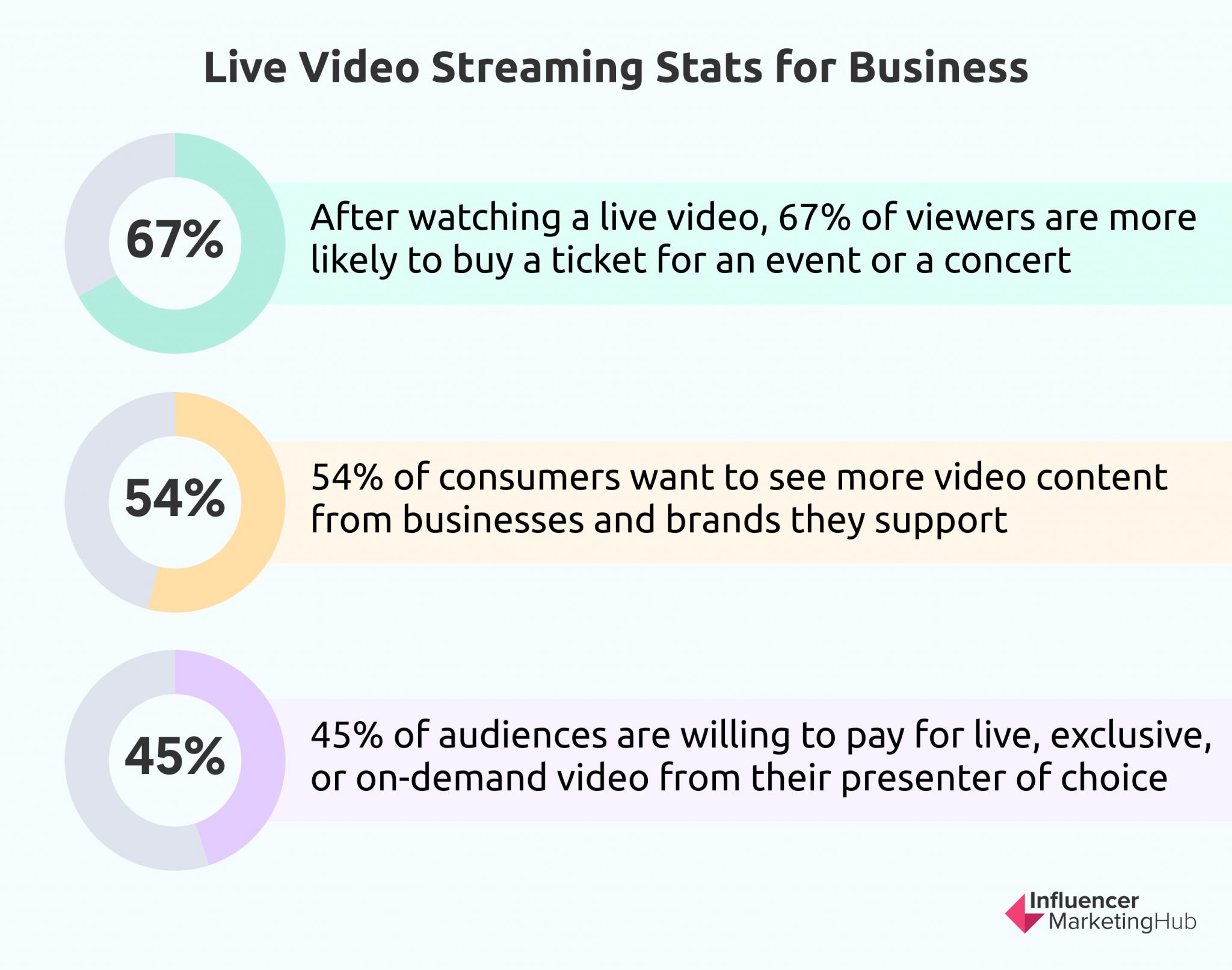 47. As of 2019, 55% of businesses were using live video for their company broadcasts (Haivision).
48. 45% of live video audiences would pay for live video from a favorite sports team, speaker, or performer (Livestream).
49. 65% of businesses say they've live-streamed to multiple locations (Haivision).
50. After watching a live video, 67% of viewers are more likely to buy a ticket for an event or a concert (Eventbrite).
51. 45% of audiences are willing to pay for live, exclusive, or on-demand video from their presenter of choice (Livestream).
52. 54% of consumers want to see more video content from businesses and brands they support (HubSpot).
53. 53% of businesses stream or broadcast live video at least once a week, with 29% live streaming daily (Haivision).
54. Businesses say their top 3 live streaming challenges are live streaming to remote employees (41%), live streaming from remote locations or conference centers (39%), and managing bandwidth (36%) (Haivision).
---
Live Video Streaming Stats for Social Media
55. Facebook Live is the most commonly listed platform for live video consumption (MediaKix).
56. Facebook has paid out over $50 million to publishers and celebrities to use Facebook Live (The Wall Street Journal).
57. Around 50% of Twitter's live video viewers are younger than 25 (Adweek).
58. Twitch is currently the largest live streaming platform worldwide, with over 9.3 billion hours of live social video streams consumed in 2019 and a market share of 73% (StreamElements).
59. 1 in 5 Facebook videos is a live stream (Facebook IQ, Social Media Today).
60. The number of global unique users for YouTube has increased by 5% (Variety).
61. 78% of those who use the internet watch Facebook Live videos (Livestream).
62. 60% of the 100 most popular YouTube live streams happened in the past 2 years (Think With Google).
63. Nearly 40% of consumers are likely to share video content (Clicktale).
---
Live Video Streaming Stats for Marketing
64. Nearly 75% of Millennials say that videos are helpful when they're comparing products while online shopping (TechJury).
65. 35% percent of marketers use live video, an increase of 20% YoY (MediaKix).
66. 32% of marketers are planning to use Facebook Live as part of their video marketing strategy in 2020 and beyond (Wyzowl).
67. Consumers watch live video 10–20 times longer than on-demand content (IBM).
68. 80% of people would rather watch a live video from a brand than read their blog (TechJury).
69. 82% of viewers say they prefer seeing a live stream rather than a brand's social posts (TechJury).
70. Consumers are 39% more likely to share video content (Clicktale).
71. Ad view for live stream advertisements has grown by 27% for long-form videos and 20% for short-form videos (MediaKix).
---
Live Video Streaming Monetization Stats
72. SVOD subscriptions are expected to hit 383 million worldwide by 2021 (TechJury).
73. With the exception of online video, every area of home entertainment spending has declined over the past 5 years (Park Associates).
74. The video streaming market is predicted to be worth $124.6 billion by 2025 (TechJury).
75. Companies that use video features grow revenue 49% faster than non-video users (Wordstream).
---
Live Video Streaming Best Practices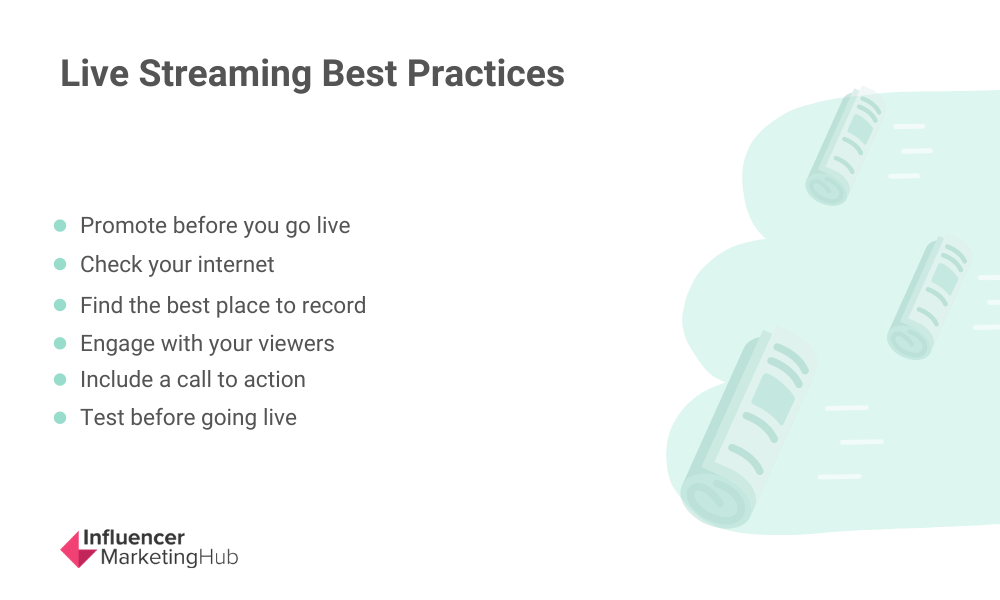 Now that you've seen the live video streaming stats, you're probably ready to dive headfirst into live streaming, right? Before you push "go live" on Facebook, let's take a look at a few live streaming best practices that will help you create engaging and effective live streams, no matter the platform.
Promote Before You Go Live
Going live in an empty room is a waste of your time. To get a good turnout, you need to let people know that you're going live before you hit the button. Make an announcement on your social networks and be sure to include the platform and time so your followers can catch you. To get your followers really excited about your live videos, you can tease your topic or special guests—and definitely let your followers know what's in it for them!
Check Your Internet Strength
Before you go live, make sure that your internet and wifi are ready for it. If you share bandwidth with others, let them know when you're going live and tell them to stay off the network. Remember those stats above: if your start-up time takes more than 2 seconds, you're going to start losing viewers, with another 6% bouncing with each second that goes by. Make sure your viewers stay put with a strong internet connection.
Find the Right Spot to Film
You don't have to have a set spot for your camera (unless that's what your audience expects of your brand) but you do need to make sure you have good lighting and that your sound is good. Some live streamers on Facebook, TikTok, and Instagram use an "on the go" format where they're out and about and go live mostly to share experiences with their followers rather than to teach them something or sell to them. There are also those who have a set spot for everything and always live stream from the same location. It's just a matter of what fits with your brand's personality.
Engage With Your Viewers
Many people watch live video streams because they want to feel connected to the person broadcasting. Say hello to the people who are commenting, answer questions, ask questions, and generally treat your live stream as a conversation. To reach the most people, be sure to broadcast for at least three minutes.
Give Viewers Next Steps
What do you want your viewers to do after they've watched your video? Your live streams should always end with a call to action to let viewers know what their next steps are. You can tell them to sign up for your email newsletter, like or follow you on social media, head to your website, buy your latest online course, and just about anything else.
Test Everything Before Going Live
Last but not least, be sure to test everything before you go live for real. You don't have to do this every time you go live but you should test your stream and sound if you change locations, equipment, or anything else.
Frequently Asked Questions
How do you stream live videos?
Streaming live video is simple. In 2020, 232 million people watched streaming or downloaded video across all devices in the US. You can live stream in a few easy steps:
Connect audio and video sources to an encoder
Configure your encoder
Make sure your streaming destinations are set-up properly
Copy and paste your URL and stream key from your CDN into your encoder
Start streaming on your encoder
What is the most popular live video streaming service?
The most popular live video streaming services include Twitch, YouTube Live, Facebook Live, Periscope, Younow, and USTREAM. Live content earns 27% more minutes of watch time per viewing, nearly 6 more minutes, at 24.41 minutes on average, for live video versus video on demand (slightly fewer than 18 minutes).
Is there a way to stream live video for free?
There are a number of ways to live stream your content for free. Live video is expected to grow 15-fold by 2022 and reach a 17% share of all internet traffic. You can use tools like Facebook Live, Instagram Live, Periscope, YouNow and YouTube Live for free.
How much does the program Livestream cost?
Livestream is one of the programs that offers live video streaming. Livestrream offers monthly plans for customers who need frequent video streaming options. Plans will range from $42 to $800 a month depending on exactly how you want to livestream and what features you need.
Is there an additional charge to live stream on YouTube?
Live streaming to YouTube is free. So long as you have an internet connection, you can stream your content live to YouTube for free. However, in order to stream to YouTube, your account needs to be verified. In addition, you cannot have any restrictions placed on your account in the past 90 days.