The eSports industry has seen tremendous growth over the years, both in terms of viewership and revenue. The increasing viewership is what mainly contributed to the revenue growth – and it's not just because those viewers are generating revenue. Seeing the potential of reaching a large and engaged audience, brands are investing in eSports marketing, both directly and indirectly. This has contributed to rapid revenue growth in the industry, only slowed down by COVID limiting significant public eSports events over 2020 and 2021. Luckily things seem to be returning to normal by 2023.
eSports has also experienced growth in several other aspects, with many of them interrelated in one way or another. In this post, you will learn more about just how much the eSports industry is growing so you can understand how to leverage it.
Each year, Newzoo produces a Global Games Market Report, which analyzes the latest gaming, market trends, and market developments. In addition, every couple of years they release a Global eSports & Live Streaming Market Report (2022 is the most recent edition of this report), looking more specifically at the world of eSports. Newzoo recognizes the significant role that livestreaming plays in the eSports and gaming worlds. We summarize many of their key findings from recent editions of these reports in this article.
Newzoo defines eSports as being "professional or semi-professional competitive gaming in an organized format (tournament or league) with a specific goal/prize, such as winning a championship title or prize money)." The eSports stats we include here relate to professional competitive gaming content only and don't include amateur competitions or livestreaming around non-organized competitive gaming. Newzoo separates the eSports market from the live-streaming market (aka gaming market).
For the purposes of these stats, Newzoo separates eSports enthusiasts from occasional viewers. They define eSports enthusiasts as people who watch professional eSports content more than once a month and occasional viewers as those who watch professional content less regularly than that. Note that some of the statistics we report here differ from what we wrote in an earlier version of this article due to a change in Newzoo's definitions and recognition of what they consider professional eSports.
We also collate a selection of interesting recent eSports statistics near the bottom of this post.
---
The Incredible Growth of eSports [+ eSports Statistics]:
---
eSports Viewership is Growing
Thanks to the arrival of COVID-19, the nature of eSports changed. The lines between eSports, livestreaming, and even influencer marketing became blurred. The pandemic led to viewing spikes across all livestreaming platforms. People were required to spend time at home during the lockdown and so turned to livestreaming to while away their time. While the eSports market faced challenges during this time, it also saw considerable growth and expanded into markets where there had previously been little activity. However, the industry suffered from the cancellation of many in-person events, and some international events had to be replaced by regional competitions.
There had already been a significant increase in eSports viewers since 2016 – both occasional viewers and enthusiasts, i.e., viewers who watch it regularly. Between 2018 and 2019, there was a 12.3% increase year over year (using Newzoo's old definitions). In Newzoo's 2019 adjusted figures, there were 200.8 million occasional viewers and 197 million eSports enthusiasts, making the total audience 397.8 million. The year-over-year growth continued through 2020 and 2021. In 2022 there were 249.5 million occasional viewers and 240.0 million eSports enthusiasts, a combined eSports audience of 532.0 million.
By 2025, Newzoo predicts that the Compound Annual Growth Rate (CAGR) for eSports enthusiasts from 2020 to 2025 will be approximately 8.0%. They expect that the number of occasional viewers will grow to 322.7 million. And that there will be 318.1 million eSports enthusiasts, making the total audience 640.8 million.
eSports is growing across the globe. Mature markets like North America and Western Europe are continuing to grow. However, over the last year, audience numbers were most affected by growth markets in the Middle East, Africa, Asia-Pacific, and Latin America.
Other main drivers for the eSports audience growth include the arrival of popular new eSports franchises such as Valorant, and mobile eSports' expansion with regional leagues like Mobile Legends: Bang Bang and League of Legends: Wild Rift. Newzoo also observes that as performing hardware becomes more available and the internet infrastructure evolves, eSports will be more accessible than ever.
---
eSports Revenue Growth and How Brands Are Contributing to It
Realizing the potential of tapping into the eSports market, some brands have already made significant eSports marketing investments. So, the industry has seen an impressive increase in revenue in recent years.
According to the earlier Newzoo analysis, there was an average revenue increase of more than 30% annually until 2018. The rate of increase decreased at this point; however, eSports revenue in 2019 was $957.5 million, still a 23.3% YOY growth (and slightly higher than what Newzoo had predicted).
Yet, COVID-19 had a noticeable impact on eSports revenue, and Newzoo revised its 2020 eSports revenue estimates downward from $1100.1 million (as predicted in February 2020) to $950.3 million globally. However, this prediction was ultimately too pessimistic, with actual global eSports revenue being $996.0 million in 2020. Newzoo originally predicted a fall of 1.1% in YOY revenues, predominantly because of limited in-person attendance at eSports events, with restrictions on large gatherings. Ultimately, however, eSports revenue still rose slightly in that Covid-affected year.
However, the post-Covid years have been more favorable in terms of eSports revenue growth. Newzoo found yearly eSports revenues reached $1,136.5 million in 2021 and then $1,384 million in 2022. The 2022 figure represents year-on-year growth of 16.4%. In addition, Newzoo believes that China will generate more than a third of worldwide eSports revenues.
Looking further forward to 2025, Newzoo predicts eSports revenues to reach $1,866.2 million, showing a Compound Annual Growth Rate (CAGR) of 13.4% from 2020 to 2025.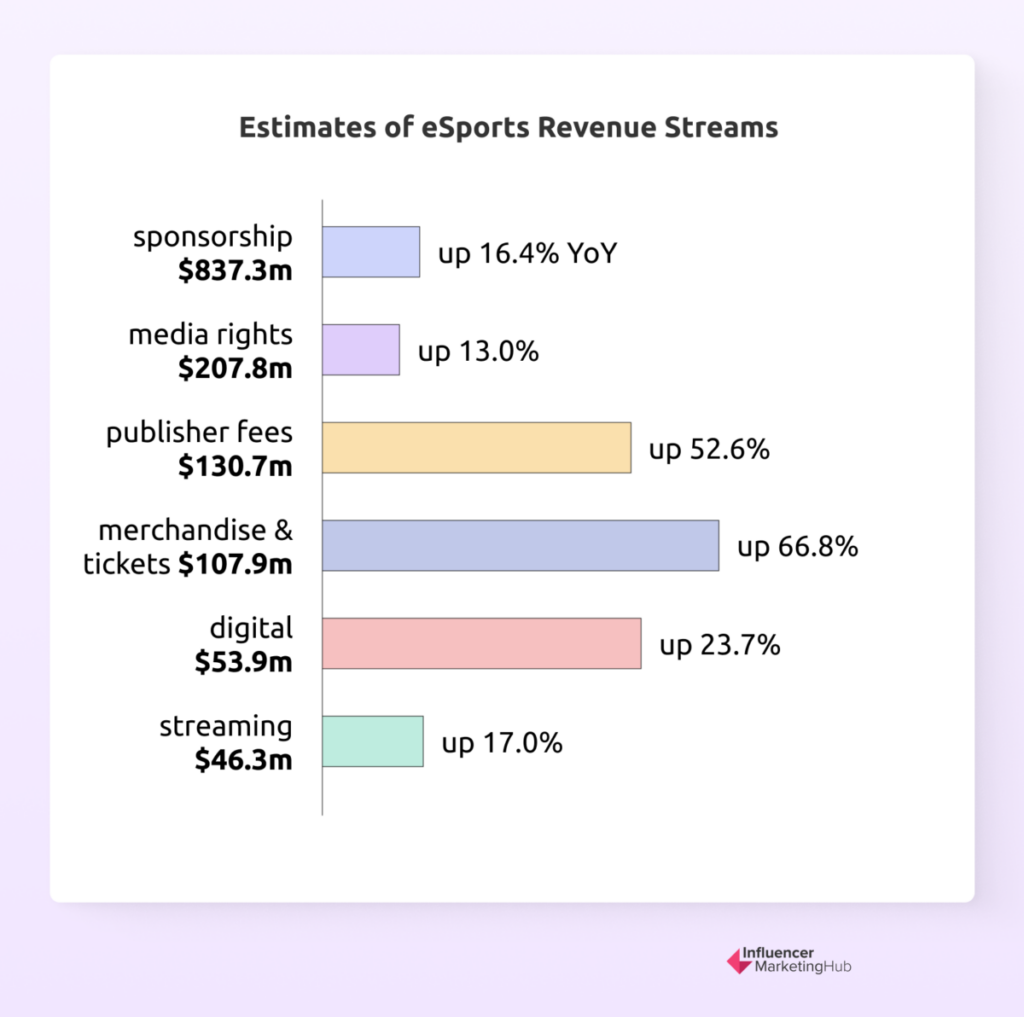 Newzoo's latest estimates of eSports revenue streams suggested that the 2022 total of $1,384 million was likely to be made up as follows: sponsorship $837.3 million (up 16.4% YoY), media rights $207.8 million (up 13.0%), publisher fees $130.7 million (up 52.6%), merchandise & tickets $107.9 million (up 66.8%), digital $53.9 million (up 23.7%), and streaming $46.3 million (up 17.0%). Although sponsorship revenues are clearly the foundation of eSports revenue, it is expected that ticket revenues will recover further from COVID-19 restrictions, and eSports organizers and teams will continue to diversify.
---
Games Live Streaming Audience
Popular live streaming platforms differ across the world, but the main ones in the West are Twitch (more than 31 million people visit Twitch every day) and YouTube Live. Facebook had a reasonably popular streaming platform but that has declined rapidly in popularity recently. Gaming livestreaming is now highly popular in China on streaming platforms such as Douyin, Huya, Zhangi, Huomao, and PandaTV.
The gaming livestreaming audiences for 2019 and 2020 were 593.2 million and 662.7 million, respectively. The 11.7% growth over 2020 was caused by the increased time spent at home and social distancing requirements during the pandemic.
Newzoo's 2022 report tells us that the gaming live-streaming audience reached almost 810 million in 2021. This compares favorably with Newzoo's predicted growth of 10.0% to 728.8 million viewers in 2021. By 2025, they believe that the global gaming livestreaming audience will be 1.41 billion, a CAGR of 16.3% over 2020-2025.
China is now a mature market. However, Newzoo still predicts that China's gaming livestreaming audience will grow from 185.5 million in 2020 to 267.5 million in 2025 (a CAGR of 7.6%).
They also expect double-digit growth rates in many developing countries, with the predicted CAGR for the following regions between 2020 and 2025 expected to be: Latin America (+19.0%), Central Southern Asia (+23.4%), and Southeast Asia (+27.6%).
Spanish and Portuguese-language live broadcasts experienced the most significant growth in 2020. After English, they are now the second and third most used languages in livestreaming. Spanish streams grew by 369% to 1.4 billion hours watched, and Portuguese by 189% to 1.1 billion hours watched. Unfortunately, Newzoo hasn't made more recent data available in its free 2022 report.
---
eSports Awareness is Increasing
One of the main reasons there has been growth in eSports viewership is that more people are still learning about it. There has been a tremendous rise in awareness of the eSports industry since 2015. There were slightly more than 800,000 people who had heard about it back then. These numbers soon changed, and by the following year, more than a billion people had learned about eSports.
These numbers continued to increase by a few hundred thousand annually in the following years. By 2017, eSports awareness had risen to 1.28 billion before reaching 1.43 billion in 2018 and 1.8 billion in 2019. According to Newzoo predictions, global awareness of eSports was expected to rise to 2.0 billion in 2020, including 530.4 million Chinese. Unfortunately, Newzoo doesn't appear to have publicly released more recent data regarding this.
So, what does this increase in viewership and awareness mean for brands? For the most part, it says that they have a new channel to target in their marketing mix. But it also says that they have more people to reach within the eSports industry. So, eSports marketing will help them expand their reach and deliver their marketing messages through engaging channels.
---
The Rise of Platforms Offering Live eSports Coverage
It's no surprise that more people watch eSports videos and events, considering how online platforms now make watching eSports content more accessible. eSports streamers use these platforms to broadcast live coverage of events and their own gameplay. This makes it easier for fans to participate in their favorite events and engage with their preferred eSports athletes.
So, you can see an increase in the number of viewers and broadcasters on these platforms as well. Although not all the viewers and broadcasters on these platforms relate to the eSports industry, this increase still likely affects the industry.
Streamlabs made some interesting observations in their Q3 2022 report. These stats merge both the eSports market and the gaming market when compared with Newzoo stats. The quarter shown had an overall decrease in viewing content (7.27 billion hours of content across all platforms, down from 7.36 billion hours in the previous quarter), however, we know from Newzoo data that the market has rebounded since. The majority of livestream viewers still prefer Twitch (which saw a small increase from the previous quarter). With 5.7 billion hours of viewing over the quarter, it represents 78.6% of the market share for hours watched, up 1.9% from the previous quarter.
10 million unique channels streamed on Twitch in Q3 2022, up from 9.6 million in the previous quarter. Unique channels streaming on Twitch in Q3 increased by 4.1% from the previous quarter. However, year-over-year, unique channels on the platform declined by 3.8% from 10.4 million in Q3 2021.
Viewership for YouTube Gaming fell heavily after a burst at the start of the Covid pandemic, by about 540 million hours from Q3 2020 to Q3 2021 to reach 1.13 billion hours, 13.8% of all game streaming hours watched. Since then, it has fluctuated between 1.1 and 1.2 billion hours each quarter, reaching 1.176 billion hours watched in Q3 2022. This is now 16.2% of the market share for hours watched, up 0.8% from the previous quarter.
Total hours streamed on YouTube Gaming Live in Q3 2021 also notably fell from 12.5 million (5.5%) to 8.4 million (3.4%). Like viewership hours on YouTube Live, streaming hours have flattened since then, with there being 8.2 million hours of live streams on YouTube Gaming in Q3, up from 8 million hours in the previous quarter.
Facebook Gaming viewership has shown an even worse pattern. It initially grew by about 250 million hours to 1.29 billion hours in Q3 2021 compared to the same quarter in 2020, 15.7% of the total hours watched. However, viewership has been all downhill since then, with falls each quarter. The biggest drop occurred between Q4 2021 (1.139 billion hours watched) and Q1 2022 (803 million hours watched). By Q2 2022, viewership was down to 580 million and then fell a further 34% to 382 million hours in Q4 2022. At this point, Facebook Gaming represented just 5.3% of the market share for hours watched.
Total hours streamed on Facebook Gaming Live peaked at 20.8 million hours in Q2 2021 and have fallen every quarter since. By Q3 2022 hours streamed had fallen to 7.5 million hours.
Twitchtracker provides some interesting statistics about Twitch's progression over the years. For example, COVID lockdowns led to many people increasing their time on Twitch. As a result, a colossal 1,460 billion minutes were watched in 2021, up from 660 billion minutes in 2019. Although viewing time has fallen since (with most people back at work and school), there was still a total of 1,346 billion minutes of live content watched during 2022. Similarly, 8.5 million unique creators streamed each month on Twitch in 2021, compared to 6.9 million monthly streamers in 2020 and 3.64 million in 2019. In 2022, however, only 7.6 million channels were streaming each month on Twitch (down 11%). Numbers have continued to fall slightly in 2023, with an average of 7.3 million channels streaming on the platform each month (down 5%). The peak number of streamers was 9.9 million in the heart of Covid in January 2021.
The platform also saw a steady increase in channels simultaneously broadcasting live during the pandemic, with a corresponding reduction over 2022-23. This number increased by 20% in 2019, with 49,500 average concurrent live channels. In 2020, the increase was 77%, with 87,500 average concurrent live channels. In 2021, this increased a further 20% to 105,000 average concurrent streamers. Numbers fell 12% to 92,600 in 2022, with 92,200 streaming concurrently on average in 2023 to date. Despite the post-pandemic correction, there has still been a ton of activity on Twitch (and to a lesser extent, YouTube Gaming Live), signifying that eSports and gaming fans are highly active and engaged with relevant content.
---
Earnings in eSports Tournaments
There's little doubt that with so much growth in many of these statistics, there would also be growth in eSports tournament prize money and player earnings – at least until COVID arrived.
Before the arrival of Covid (2019), the total prize money for 5591 tournaments was $236,221,114. So, the mean tournament prize pool was $42,250. With 28,336 active players at these tournaments, each player's mean earnings were $8,336, and their median earnings were $666.67 per player.
With the arrival of COVID-19 in 2020, the overall total prize money fell to $119,457,468 from just 4478 tournaments. The mean tournament prize pool was $26,677. With 24,231 active players at these tournaments, each player's mean earnings were $4,930, and their median earnings were $582.08 per player.
By 2022, prize earnings had almost rebounded to pre-Covid levels. The total prize money in 2022 for 5287 tournaments was $237,760,587. The mean tournament prize pool was $44,971. With a notably higher 30,785 active players at these tournaments, each player's mean earnings were $7,724, and their median earnings were $949.23 per player.
---
Notable eSports Statistics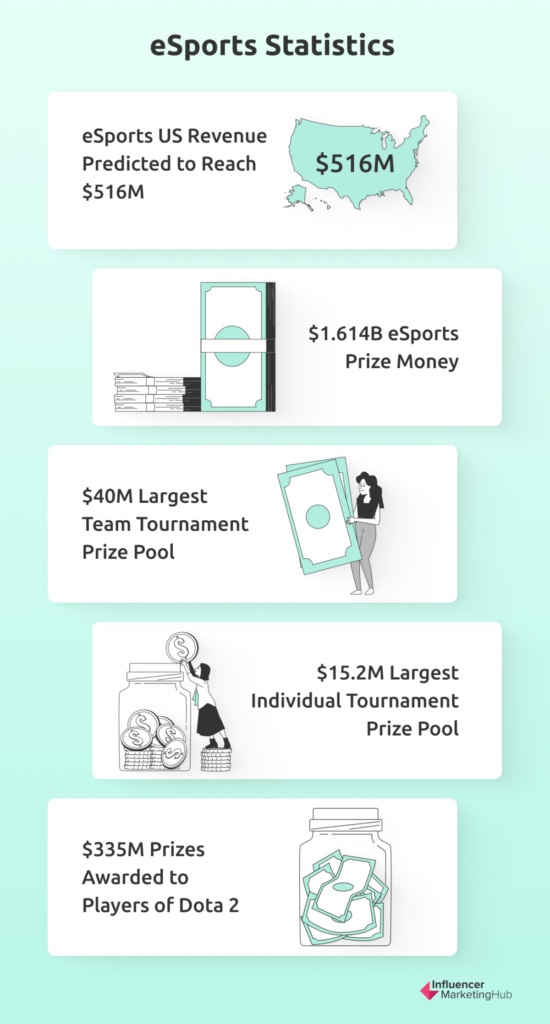 1. Video Games and eSports Growth Declining from the Peaks of Covid but Still Positive
Global accounting firm PWC released their Global Entertainment & Media Outlook 2023–2027, five-year projections of consumer and advertiser spending data across 13 segments and 53 countries and territories. They saw that amid continued change and disruption in 2022, the global entertainment and media (E&M) industry reassessed its strategies, refocused on core operations, and revised some key assumptions. PWC predicted that entertainment and media activities in total would show a declining CAGR (compound annual growth rate) from 10.6% in 2021 to 2.8% in 2027.
However, PWC noted that gaming is one of the powerhouses of the global E&M industry. They expect total gaming revenue to rise from US$227 billion in 2023 to US$312 billion in 2027, representing a 7.9% CAGR. Alongside this, advertising revenue is projected to nearly double between 2022 and 2027 and will reach US$100 billion in 2025.
2. eSports Total US Revenue Predicted to be $516M by 2023
Global eSports ticket sales revenue returned to pre-pandemic levels in 2022 after doubling in 2021 and growing by 147.8% in 2022. eSports consumer ticket sales revenue is among the ten fastest-growing sub-sectors in the E&M industry, with a projected five-year CAGR of 13.8%.
Total video games and eSports revenue in the U.S. was $54.1 billion in 2022 and is forecast to reach $72.0 billion by 2027, representing a 5.9% compound annual growth rate (CAGR) from 2022 to 2027. The year-on-year growth in 2022 of 2.4% represented the lowest growth rate the video games and eSports market in the U.S. has experienced in five years. However, traditional games only make up 26.7% of total U.S. game and eSports revenues now.
PWC predicts continued growth in eSports revenue from 2022's $455 million, reaching $662 million in the US by 2027. This will cover all facets, including consumer ticket sales, sponsorship, streaming advertising, consumer contribution, and media rights.
PWC observes that media rights and sponsorship revenue in eConsumer Sports are the main drivers in the segment and are predicted to increase at a 19.3% and 11.3% CAGR respectively to 2027.
"In the eSports breakdown, you have streaming rights, you have sponsorships, you have live experience and ticket sales. That looks a lot more like traditional sports, right? If you look at the video game advertising revenue forecasts that we have, this is absolutely starting to skew towards advertising representing more from a monetization perspective for the sector than it ever has before."
3. $1.614B eSports Prize Money
According to eSports Earnings, a total of $1,614,354,476.54 has now been paid out as prize money in eSports tournaments. The last pre-Covid year, 2019, still holds the record for the most prize money, $255,456,297.83. The onset of Covid saw a significant drop in prize money competed for in 2020 - $145,170,539.04, although things rebounded nicely in 2021, $255,365,484.39, before decreasing slightly in 2022 to $237,809,186.76.
4. $40M Largest Team Tournament Prize Pool
The International 2021 in Bucharest, Romania, still holds the record for the highest prize pool (also the highest team prize pool), worth $US40,018,400. Eighteen teams competed between October 7 and 17, 2021, playing Dota 2. The winning team, Team Spirit, earned $18,208,300.
5. $15.2M Largest Individual Tournament Prize Pool
eSports isn't just for teams, however. You will also find tournaments where you can play solo. The best paying was the Fortnite World Cup Finals 2019, which had a solo prize pool of $US15,287,500, with $3 million going to the top player (Kyle Giersdorf - Bugha).
6. $335M Prizes Awarded to Players of Dota 2
If you're an eGamer, the most lucrative game for you to play is Dota 2. 4721 players have won $335,417,096.42 by playing the game in 1817 tournaments.
Notably, Dota 2 players have won more than double the prizes of the next most popular game, Fortnite ($163,822,096.42). Fortnite has now pulled ahead of long-time favorite, Counter-Strike: Global Offensive ($157,323,854.99). CS:GO has had far more players (16,006) and tournaments (6,772) involved in eSports over time than either Dota 2 or Fortnite, however.
7. Solar has 689 Tournament Results
Korean player, Min Soo Kang (aka Solar) holds the record for most tournament results. He's made $558,440.03 from 689 tournaments. Despite playing in so many tournaments, Solar is only ranked #364 in highest overall earnings, and #35 in highest earnings for players from the Republic of Korea. Solar had won $9,060.29 in cash prizes from 22 tournaments before he turned 18 years old.
In an earlier version of this post, we reported that American Jason Kimmerman (aka Mew2King) held the record for most tournament results. He has only played three additional tournaments since then however and is now in second place overall (with another Korean gamer, Hyun Woo Byun catching up rapidly). Mew2King has now made $284,655.81 from 618 tournaments. Perhaps surprisingly, his most frequent tournament game is Super Smash Bros. Melee, which he has competed in 357 times, 73.24% of his tournament results.
8. 20–23-Year-Olds Perform Best in eSport Tournaments
eSports Earnings has calculated total earnings by age (for those gamers who have listed their ages when entering tournaments). Intriguingly, the best players were generally in their early 20s. The top five ages are:
21 Years Old $102,059,992.00 - 4855 Players

22 Years Old $91,958,202.95 - 4331 Players

20 Years Old $91,115,826.44 - 5105 Players

23 Years Old $88,530,755.04 - 3660 Players

19 Years Old $86,595,649.32 - 2944 Players
The fact that France's Anatoly Vaisser won $35.19 playing a playchess.com chess tournament at age 71 gives hope to all other eSports players and gamers that they can continue to find success as they age.
9. T1 (League of Legends) was the Most Watched eSports Team in 2021
eSports Charts has calculated the top eSports teams of 2022 in terms of hours watched. The top position goes to T1 playing League of Legends, who had people watching them for a staggering 112.93 million hours. Other teams with more than 60 million hours of watch time include RRG Hoshi (88.28 million hours), NAVI (74.43 million hours), DRX (69.2 million hours), and FaZe Clan (60.1 million hours).
10. 141.94M Hours watching the 2022 World Championship [Worlds 2022]
League of Legends Worlds 2022 was the most-watched eSports event of 2022, although not as popular as the 2021 tournament. People spent nearly 142 million hours watching the tournament. Second place in 2022 went to MPL Indonesia Season 9, with viewers watching 82.77 million hours.
At peak, 5,147,701 people watched the Grand Finals of Worlds 2022 between T1 and DRX, meaning that while overall viewing hours for the tournament were down compared to 2021, there were nearly 20% more people tuned into the final moments.
---
Conclusion
These stats showcase eSports' rapid growth, despite a temporary blip in activity due to the effects of COVID on large-scale events. Gamers are spending more time than ever on streaming platforms at the moment; however, until recently, they had less competitive content to view.
As predicted the effects of Covid on eSports viewing were only temporary. The reduction in eSports events was considerably less than for many traditional sporting occasions. Many competitive eSports continued throughout the pandemic. You could still sponsor teams at tournaments (and sponsorship continued to rise, despite the effects of COVID). It wasn't long before things were back to normal in the industry.
Perhaps you could also partner with influencers in the industry and have them promote your brand or review your products. There are tons of opportunities you can seize to ride the wave of eSports' popularity.
Frequently Asked Questions
How big of an industry is eSports?
In 2022, the global eSports industry was valued at nearly 1.4 billion US Dollars. That's a sizable increase from 2020. The eSports industry across the globe is forecasted to grow to more than 1.866 billion dollars by 2025.
How big is eSports now?
Global awareness of eSports is growing, and fast. In 2019, global awareness of eSports was 1.8 billion, and that number is only rising. In 2022, the global eSports industry was valued at more than 1.4 billion US Dollars. That's a nearly 50% increase from 2020.
What is the most played eSport?
These are the biggest and most played eSports games:
League of Legends.

Counterstrike: Global Offensive.

Mobile Legends: Bang Bang

Dota 2.

Valorant
Fortnite is also very popular among eSports players.

Is eSports a growing industry?
The eSports industry is a hugely growing industry, and it's only forecasted to grow more in the coming years, both in terms of viewership and revenue. Growing viewership of eSports is largely the contributing factor to billions of dollars in revenue.
Who is the richest gamer?
The richest gamer is Felix "PewDiePie" Kjellberg, and he is estimated to be worth $60 million. He is famous among YouTube viewers in particular; in addition to gaming, he creates many amusing movies and compilations on various topics. However, most of his money comes from streaming rather than winning tournaments. The highest-earning eSports player is Johan "N0tail" Sundstein, who earned $7,184,163.05 from 130 tournaments. Most of this came from playing Dota. His eSports days appear to be behind him nowadays, however.