If there's one thing we learned from QVC and HSN, it's that people love live-stream shopping. Not even a pandemic could tear consumers away from spending money on these shopping networks.
In fact, revenue climbed for QVC in 2020 and 2021:
But the customer's dollar doesn't end there—we're seeing a similar trend with live shopping events on Instagram, Facebook, and other social media channels. It's a new channel that brands large and small should use to capture their audience's attention (and money).
If you're not already using it to showcase your products, now's a great time to start—especially with live shopping events raking in billions annually. During the pandemic, we saw $5/6 billion in sales. And according to Coresight Research, it'll reach $25 billion by 2023.
Time to jump aboard the gravy train—let's explore what live shopping is and how to use it to grow your brand.
---
How to Launch a Live Shopping Event (and 6 Examples for Inspo):
---
What is live shopping?
Live shopping is when a consumer purchases an item in real-time while watching or listening to a host talk about it. For example, on a webinar, live video, or podcast. This type of commerce is becoming more popular as shoppers seek ways to shop without leaving home.
Most use it to showcase product launches and offer product demos to shopping viewers.
Chinese retail giant Alibaba saw the rising live shopping industry back in 2016. So it released Taobao Live, a live-streaming service for Chinese retailers to sell products virtually.
The result: the platform grew 150% for three years straight.
Taobao saw exceptional growth in 2020 when it committed to hosting live streams for 300K merchants per day. A welcomed gesture for physical retailers needing to boost sales amid lockdowns.
---
What are the benefits of live shopping events?
Live shopping events continue to grow in popularity among consumers because it does two things:
Offers convenience to customers

Provides a social shopping experience from the comfort of your home
It's a trend that's touching most countries and households around the world. As of December 2020, 782 million people in China used live commerce. And worldwide, the average number of people that made purchases through live stream commerce rose by 76% (compared to pre-pandemic levels).
Livestream shopping is becoming the preferred social shopping experience—70% of respondents say they enjoy this over other forms of social commerce.
The future of live shopping events is promising, with live commerce sales expected to rise from $17 billion to $35 billion by 2024.
But aside from being a revenue-generating machine for brands, it offers the following benefits:
Higher engagement

: Customers come to you to view your products, which increases their odds of engaging with the hosts (e.g., asking questions, making comments, sharing links).

Increased conversions

: With increased engagement comes conversions, especially if the host answers questions and provides an excellent demonstration.

Reduced return rates

: Since customers get to see the product in action and can ask questions in advance, it decreases the chance of product returns.

More cross-promotional sales

: Use a livestream shopping event to showcase product recommendations to increase average basket size.

Better connection with your audience

: Interacting with customers in real-time builds trust and a sense of community for your brand.

Improved brand awareness

: Regularly hosting a live stream shopping event builds visibility and creates positive sentiment for your business.
Live video also plays on FOMO (fear of missing out), which invites larger crowds looking to purchase exclusive products before supplies run out. So use this to your advantage by adding a timer or number of products available to create a sense of urgency.
---
Which social media platforms are best for live shopping?
The best social platforms to use for live shopping events depend on a couple of factors, such as your location and audience preferences. Who your customers are will determine the best platforms to use.
For instance, Gen Zers are active users of TikTok and Instagram, so it makes sense to use these to host livestream events. Then if you're targeting Asian buyers, platforms like Taobao may be more ideal.
When you look at the data in the U.S., it shows the top platforms for live shopping are roughly:
YouTube (30%)

Facebook Live (29%)

Instagram (29%)

Amazon Live (21%)

TikTok (20%)
Other live shopping tools worth considering include Pinterest TV, TalkShopLive, and NTWRK.
Finding the right social media platform to host live shopping events is easier when you know your customers. Use analytics platforms to see where customers engage with your brand the most. And if all else fails, survey your audience to learn their preference for live shopping platforms.
---
6 Examples of live shopping campaigns
You don't need to be a large company like Walmart or Nordstrom to benefit from live shopping campaigns. Smaller brands and influencers see impressive results as well. And this holds true wherever you are in the world.
Take, for instance, our first example—a German beauty, health, and lifestyle retailer called Douglas. In 2020, it tested a live commerce platform for its customer base.
The results: conversion rates up to 40%.
Here's an example of its livestreams (which use a mix of celebrities from around the world):
Major fashion brands like Tommy Hilfiger also use livestreaming, but not just in America—the clothing line broadcasted in China during the summer of 2020.
The results: 14 million viewers tuned in, and it sold out 1,300 hoodies in under three minutes.
But it's not just corporate brands winning with live shopping. Personal brands are creating real-time interactive experiences, too. For example, Porsha Williams, an American TV personality, hosts Amazon Live shopping events, providing tips for beauty and fashion. She creates engaging experiences by conversing with her live audience in the chat.
Influencers are also getting in on the action—but not your typical megastars. This time, it's a micro-influencer with 8.8k followers selling specialized wigs. A recent live stream captured over 1k viewers and 8.5k likes: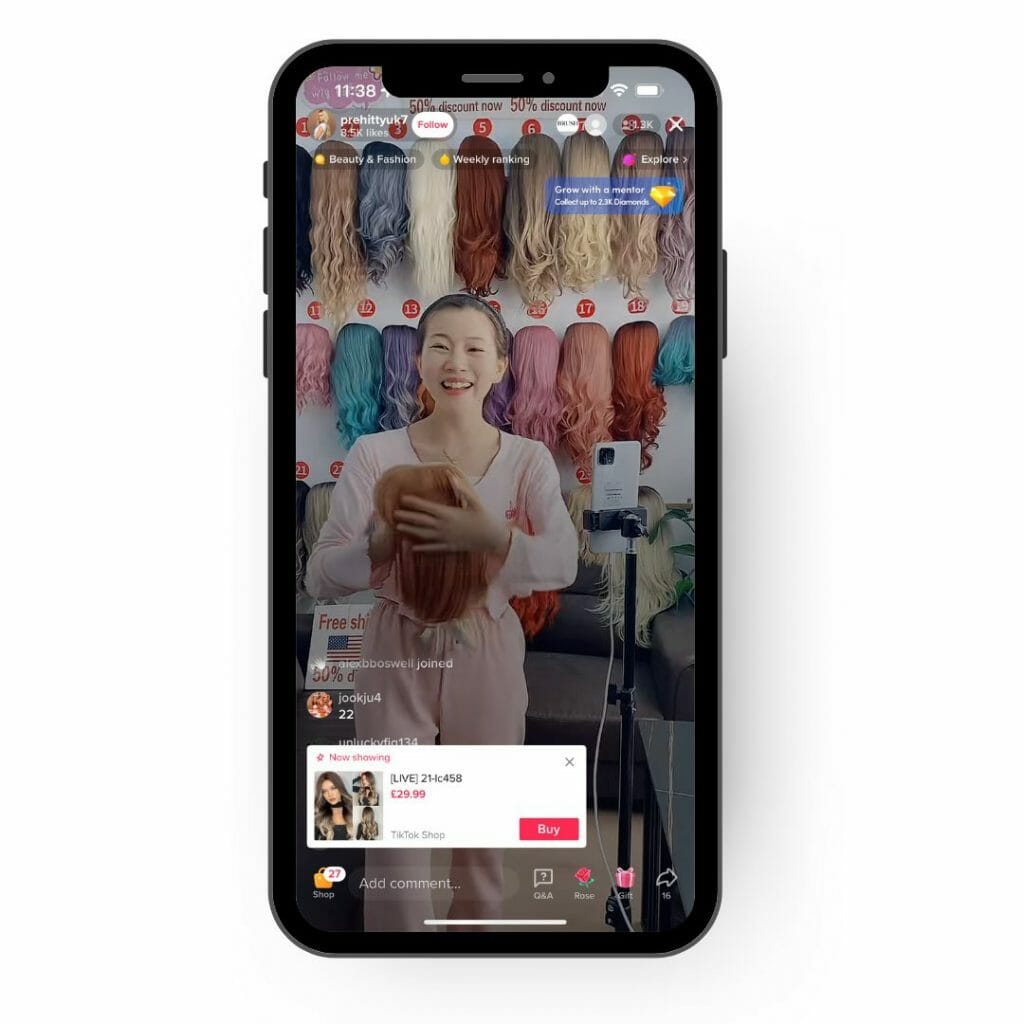 This proves live streams work whether you're a company, personal brand, or influencer (big or small). Live shopping is a lucrative market anyone can use to sell more products or services.
---
How to build a successful live shopping campaign
It takes more than lights, camera, action to make live shopping videos work. Sure, you need the proper equipment (e.g, smartphone, tripod, and excellent lighting) and shopping channel. But it also requires taking proper steps to make the event a success.
Keep these in mind when planning your first (or next) live stream shopping event.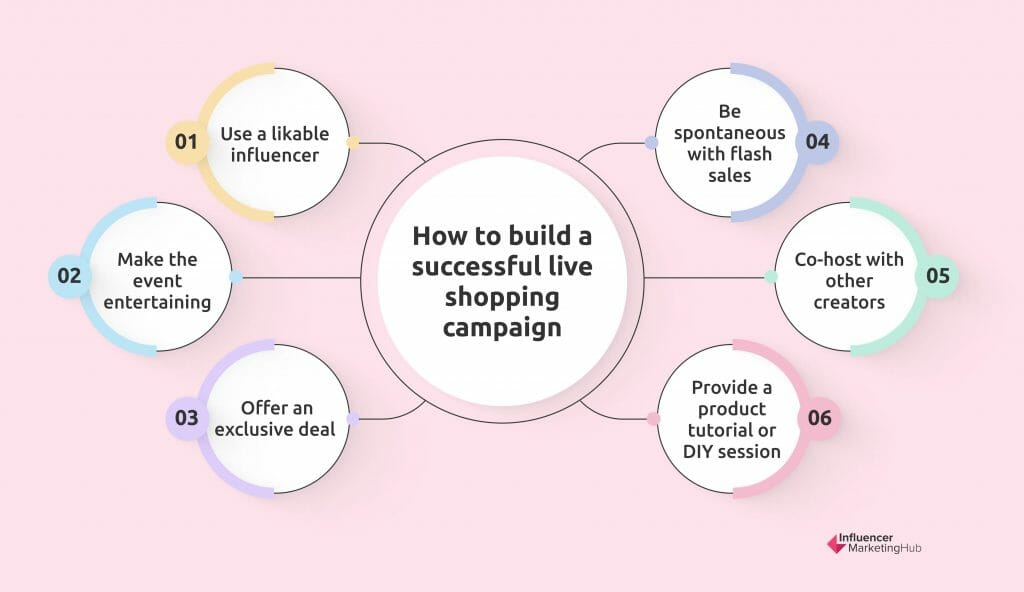 1. Use a likable influencer
If you're a brand, then it's a good idea to collaborate with an influencer who's well-liked, personable, and authentic. Consumers prefer to engage with people vs. "brands" because they're trustworthy. If you decide to use someone from your company, then build rapport with your audience first.
2. Make the event entertaining
No one signed in to view a long-winding advertisement. Come off overly promotional and folks will drop off the stream faster than you can blink. Plan ahead with conversation starters, informative tips, and fun concepts. For example, host a baby fashion show if you're selling baby clothes.
3. Offer an exclusive deal
Turn your live stream into a VIP buying experience and folks will fill your broadcast fast. FOMO is real, especially if there's an opportunity to see a new product or collection revealed for the first time. Put the "event" into live shopping and people will appreciate tuning in every time you hit record. Add a sense of urgency with an exclusive discount, and it's a winner.
4. Be spontaneous with flash sales
Nothing screams "watch me closely" like hosting occasional flash sales on live streams. It keeps followers on their toes and eyeing your feed closely to ensure they don't miss out. They'll even hit the notification button to ensure they're notified whenever you go live, maximizing viewership and sales. Create discount codes to share exclusively in the live stream.
5. Co-host with other creators
This works in two ways: 1) you're not famous, so you piggyback off another influencers' audience or 2) you team up with an equally known influencer or brand to maximize viewership. Either way, make sure there's something in it for the other creator, so they'll agree to a collabo. The guest host can select favorites from your product line to showcase or present a new product they tried and tested (like a testimonial).
6. Provide a product tutorial or DIY session
Now, this works best if you have a product customers either don't know how to use or can use in various ways. Fashion and beauty are typical examples of this, with brands sharing tips and ideas for wearing accessories and makeup. Not only does this demonstrate the quality of the product, it gives customers confidence they can use it too.
---
A case study: WriteCream live shopping events
So far, we covered ways e-commerce brands can use live shopping events. But it's also useful for companies in other industries, including technology. WriteCream, for example, is an AI writing assistant.
It hosts live shopping events on Google Hangouts, but finds YouTube offers better results. One live stream it hosted on the platform did well.
It was a 90-minute webinar with 78 registrants and a nearly 70% show-up rate. And most stayed through most of the live stream (75 minutes on average). Plus, some viewers turned into leads and paying customers.
To get viewers to attend and stay to the end, WriteCream promoted a giveaway.
"At the end of the webinar, we asked five questions based on what we showed in the webinar. The viewers had to answer the questions using the live chat option. We selected one winner for each question, who then got access to our product for free." — Krittin Kalra, Founder of WriteCream
The giveaway was a smart move because it helped retain its audience, while also educating them about their product, boosting the odds of conversions.
---
Make every live shopping event a special occasion
It doesn't matter if this is your first or 30th live streaming shopping event. Each one should feel like a must-attend affair. Otherwise, you'll see wishy-washy views and engagement.
Build a strategy just like you would a blog. Fill your calendar with content ideas for each live stream, focusing on themes, products, and conversations you'll have with your audience. The more entertaining and engaging your shopping experience, the more likely people will watch.
Remember, creating shoppable content is all about your audience—so study their interests and tie them in to make your streams more appealing.
Frequently Asked Questions
What is a live sale?
A live sale is when you sell items directly to viewers during a live stream. This is possible using platforms with features that enable viewers to click and buy products in real-time. Some examples include Facebook Live, Instagram Live, Pinterest Live, and YouTube Live.
How does live shopping work?
Live shopping is when you offer items for sale via social media channels such as Facebook, Instagram, and YouTube, while simultaneously broadcasting the event to an online community. During the event, links will appear on the screen, allowing viewers to click and purchase the items being presented right through the platform (without leaving the event).
What should you do after your live stream?
After your live stream ends, take some time to answer questions from your audience, respond to comments, and provide additional information about your products. You might also consider sharing images from the event on your social media accounts to get others to join your next session.