Live stream shopping, also known as live commerce, has become an emerging trend in eCommerce in recent years. It is an innovative way of shopping that allows customers to shop online in real time.
If you're an eCommerce business owner, then you know that the competition in 2023 is fierce. It can be tough to stay ahead of the curve, but one way to do so is by using live shopping apps.
In this article, we will list the top six live shopping apps for 2023 and explain the benefits of using them. We'll also discuss the pros and cons of each app so that you can decide which one is right for your business.
---
The Top Live Shopping Apps to Use in 2023:
---
What Is a Live Shopping App?
A live shopping app is a mobile app that allows consumers to shop for items in real time. It is typically used by eCommerce retailers to allow customers to view and purchase items from their mobile devices.
The app can be used in a variety of ways—it can be a shopping portal to order items and a way to socialize with friends and family while shopping. Some live shopping apps also allow customers to share pictures and reviews of their shopping experiences.
---
The Top 6 Live Shopping Apps in 2023
If you're considering using live shopping for your eCommerce business, here are the top six live shopping apps that you could use in 2023.
CommentSold is a live selling software solution that also supports social selling. It's been around since 2017 during which it has helped more than 4,000 retailers to generate billions in sales.
With CommentSold, you can create a branded mobile app for your online business and start selling live with video. As potential buyers don't need to leave the video to make a purchase, it offers a great user experience. Plus, push notifications will keep them updated about promos, new arrivals, and any important news.
As for businesses, standout features, like its centralized real-time inventory and waitlist, also help to streamline the user experience. With these features, you can enjoy peace of mind that you won't sell items that are out of stock, yet still benefit from this potential sale by letting shoppers waitlist these items instead.
Similarly to a tool like Bambuser, there's a jump in prices between its entry-level plan and the next tier (though, not as significant). Pricing starts at $49 per month, but if you want to get access to your own branded app, you'll need to sign up for its Business plan ($149 per month). While it doesn't offer a free plan, it does offer a generous 30-day trial.
---
2. Instagram (IG) Live Shopping
With more than two billion users, Instagram has become one of the most popular social media platforms. The company took its Instagram Shop further by launching its Live Shopping feature in 2020. This feature lets businesses sell products directly on Instagram Live.
When you use Instagram Live Shopping, you get to customize your content, schedule your live broadcast, and even upload up to thirty product pictures. If you're interested in tapping influencers to help you sell your products, you can invite them to your live shopping broadcasts as co-hosts to get more engagement with your viewers.
While IG Live Shopping is a great way to get your products out, live video streams stay up on your page for only twenty-four hours. Depending on your preference, this may not be enough time for you to reach the followers who missed your live stream. But if you're okay with this, then Instagram Live Shopping could be a great option for you.
Moreover, this feature is live only for brands and IG business account users that are based in the United States. This, unfortunately, limits the number of people who can use this feature to sell their products.
---
3. Facebook (FB) Live Video Shopping Platform
Facebook is the second largest social media platform with over two billion monthly users. The company introduced the Facebook Live Video Shopping Platform in 2020 to let businesses sell their products on FB live videos.
Once you have created your brand's FB Page and FB Shop, you can create a playlist of products that you want to feature on your live stream. You can also choose a start and end time for your live broadcast, as well as customize the thumbnail image for your video.
However, similar to Instagram, the live shopping platform of Facebook is only available for businesses located in the United States. This also limits the number of potential customers that you can reach with your live broadcasts.
---
It's no secret that Amazon is the top eCommerce platform in the world. That's why with Amazon Live, sellers can be content creators of shoppable videos to increase their product discoverability. They can connect their shoppers in the mid-funnel stage of their sales strategy with product videos and then take them to the purchase page through their Amazon stores.
Using Amazon Live is great for real-time product promotion, and you can create your own live stream event by downloading the Amazon Live Creator App on your mobile phone. The downside of this is that the app is only available for iPhone users. In addition, creating a live shopping event is only open to vendors located in the United States. So, if you're not in the US, you'll have to wait until Amazon Live expands its operations into your country.
---
Channelize is a top live shopping app that focuses on direct-to-consumer sales and white labels its solution for businesses. What this means is that businesses can use Channelize to create their own branded live shopping experience for their customers.
The app is easy to use and has a lot of features that allow you to interact with your customers in real time, such as live chat, product demonstrations, and simulcasting, which allows business owners to multi stream their live shopping events across Facebook, YouTube, and other platforms. Aside from seamless integrations with popular eCommerce platforms, such as Shopify, Magento, WooCommerce, and PrestaShop, the company launched the Embed Code Feature last December 2021. This allows brands to promote their live shopping shows on their own websites or eCommerce stores by pasting an embed code snippet at the backend of their online stores.
While there is a free plan that offers a limit of four 20-minute live streams per month, Channelize offers paid plans that start at $49 per month, which increases your limits on the number of events, live stream time, and an allowable number of audience members per month.
---
Bambuser is another top live video streaming app that has been around since 2007. The company launched its live shopping app in 2019 to help businesses increase their sales and conversion rates.
With Bambuser, you can go live on a global scale with its white-labeled video player. Alternatively, you have the option to do a private live stream that is only viewable to your VIP customers.
What's different about this live commerce app is that you have the option of streaming live either in portrait or landscape mode. Also, there are more integration options with the following apps: Shopify, Salesforce, Centra, Magento, Storm Commerce, WooCommerce, and Episerver Commerce.
While the starting price of Bambuser is at $39 per month, the next tier jumps to a hefty $399 per month. It may be a little expensive for small businesses, but if you're looking for an enterprise-level live shopping solution, this is the app for you.
---
What Are the Benefits of Live Shopping Apps?
2022 has proven to be the year of live shopping with the COVID-19 pandemic still raging on in many parts of the world.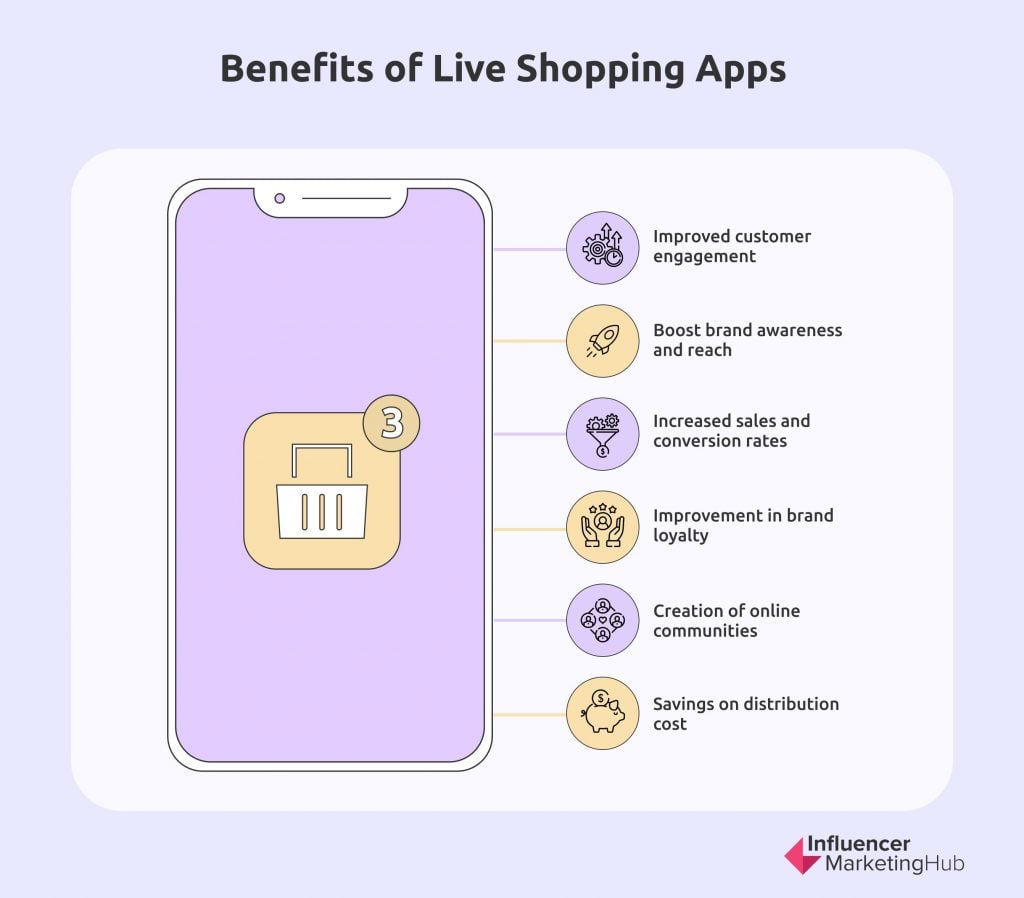 Here are some of the benefits of using live shopping apps:
Improved customer engagement:

With live shopping, you can interact with your customers and answer their questions in real time. This helps build trust and loyalty between you and your customers.

Boost brand awareness and reach:

by streaming live on platforms such as Facebook, YouTube, and your own website or eCommerce store, you can reach a wider audience and promote your brand to potential customers.

Increased sales and conversion rates:

with the help of live shopping apps, you can increase your sales and conversion rates by promoting your products in real time.

Improvement in brand loyalty:

by providing a great live shopping experience, you can improve brand loyalty and customer retention.

Creation of online communities:

With live shopping, businesses can create online communities of customers who are interested in their products. This helps to build a stronger connection between the business and its customers.

Savings on distribution cost:

with live shopping, businesses can save on the cost of distributing their products as they can ship directly to customers' homes.
---
Tips for Using Live Shopping Apps
Live stream online shopping to drive more sales is the future of eCommerce in 2023 for the consumer who wants an interactive, convenient, and personal experience.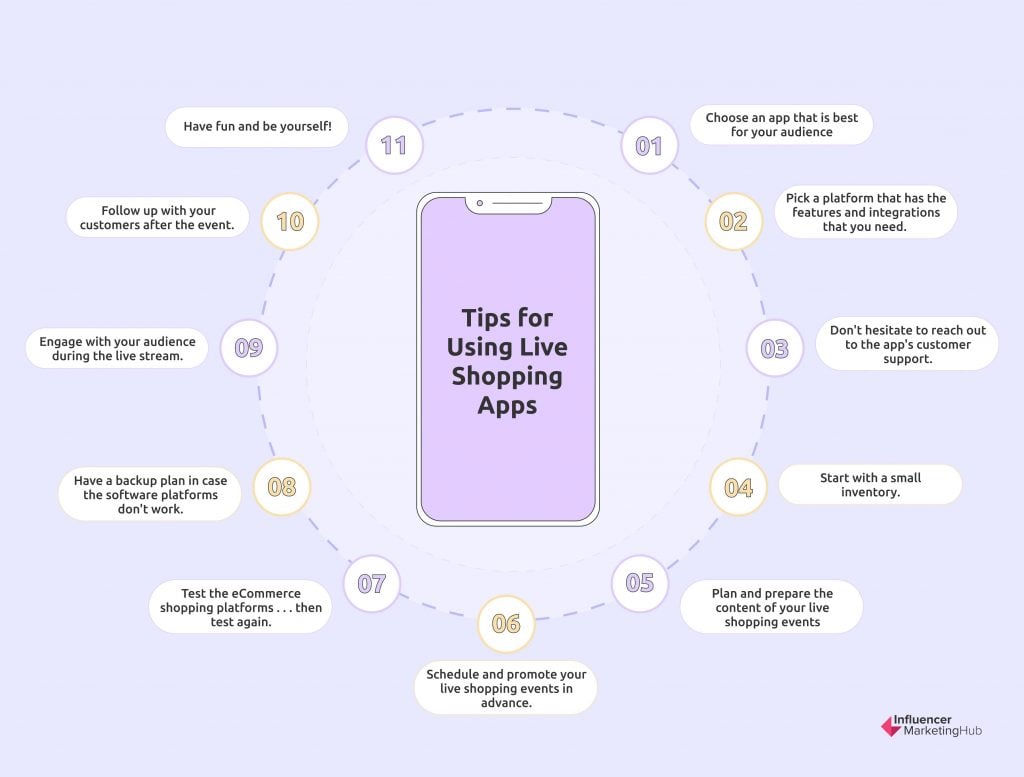 Here are some tips on how to make the most out of the live shopping apps:
Choose an app that is best for your audience.
The shopping experience of your target audience is of utmost importance. If they're not comfortable with the app you're using, they won't shop with you.
Pick a platform that has the features and integrations that you need.
As you have seen, not all live shopping apps are created equal. Each one has different features and integrations that may or may not be suitable for your eCommerce business. Choose one that has the user interface and features that you need such as real-time analytics—they will be the most beneficial to you and your customers.
Don't hesitate to reach out to the app's customer support.
If you're having trouble using the app or if you have any questions, don't hesitate to reach out to the app's customer support. They are the experts who will be more than happy to help you be successful as you go on live selling.
Start with a small inventory.
While it is good to promote all your products, you don't want to overwhelm your audience with too many choices. Start with a small inventory and gradually increase it as you get more comfortable with live streaming.
Plan and prepare the content of your live shopping events.
Live events to make sales are crucial because you need to keep your audience engaged throughout the stream. Make sure you have the correct product information, such as pricing, product descriptions, and stock details. Also, since your live event is on limited time, you need to ensure that you have at least an outline of talking points to use as reference, so no time is wasted while you are online.
Schedule and promote your live shopping events in advance.
Planning how your live stream will go is not enough. You need to inform your loyal followers and potential customers ahead of time, so they can schedule it in their calendars. You can do this by promoting your live shopping event on social media, your website, or even through email marketing.
Test the eCommerce shopping platforms . . . then test again.
Before you go live, it's important that you test your app and live stream setup to avoid any technical issues. This includes testing your internet connection, audio, lighting, and camera angles. The last thing you want to happen is to have a live stream with bad audio or video quality that will leave you without viewers and sales.
Have a backup plan in case the software platforms don't work.
Even if you've tested your live stream setup, there's always a chance that something can go wrong. That's why it's important to have a backup plan, such as recording your live stream so you can post it later or having a co-host in case you experience technical difficulties.
Engage with your audience during the live stream.
Your top priority during a live stream should be to engage with and entertain your viewers. This means answering their questions, addressing their concerns, and providing them with valuable information about your products. This will create a more personal connection with them and encourage them to purchase your products.
Follow up with your customers after the event.
After a successful live shopping event, follow up with your customers. This will show them that you care about their experience and want to build a relationship with them. You can even consider giving them discounts or coupons for their next purchase or even just staying in touch with them through social media or email.
Have fun and be yourself!
The most important thing to remember when doing a live stream is to relax and be yourself. If you're not comfortable on camera, your audience will be able to pick up on that. Just have fun and enjoy the experience!
---
Final Thoughts
Live streaming has attracted a large following among the binge-watching generation who enjoy watching variety shows and interacting with sellers in an informal setting. This year, live shopping is expected to grow even more in popularity as people continue to stay home and shop online.
If you're thinking of starting a live shopping event for your eCommerce business, be sure to use one of the top apps from this list. The benefits stated above can help take your business to a broader market to help generate more revenue.
If you are not sure which app is right for you, test out a few and see which one works best for you and your business. The important thing is to get started, get organized, and have fun while making sales. After all, that's what live shopping is all about.
Frequently Asked Questions
Which is best app for online shopping?
The best online shopping apps to check out include:
CommentSold

Amazon

Myntra

Meesho

Instagram Live Shopping
What apps can you go live?
These are the best live streaming platforms and apps:
YouTube Live

LinkedIn Live

Instagram Live

Facebook Live

Ustream

Twitch

Wowza

Brightcove
What is Live Now app?
Live Now is an application that works as a game recorder and screen capture tool. Live Now helps you screen, record and watch gameplay video without a recording time limit.
Is live app free?
The Live app can be downloaded for free from app stores. You can open an account for free, and your account will allow you to go live for live shopping shows with up to 50 concurrent viewers for free.