One of the main advantages that Instagram has over the older social networks is that it's inherently visual. Sure, you can post pictures and videos on Facebook and include them in your tweets on Twitter, but these were added as an afterthought. Instagram, on the other hand, was built around sharing images.
The visual nature of Instagram makes it a natural fit for influencer marketing. So, it comes as no surprise when you look at some of the following statistics to see how well influencer marketing and Instagram go together.
---
15 Mind Blowing Instagram Statistics You Don't Know:
---
1. More Than 1 Billion Active Instagram Users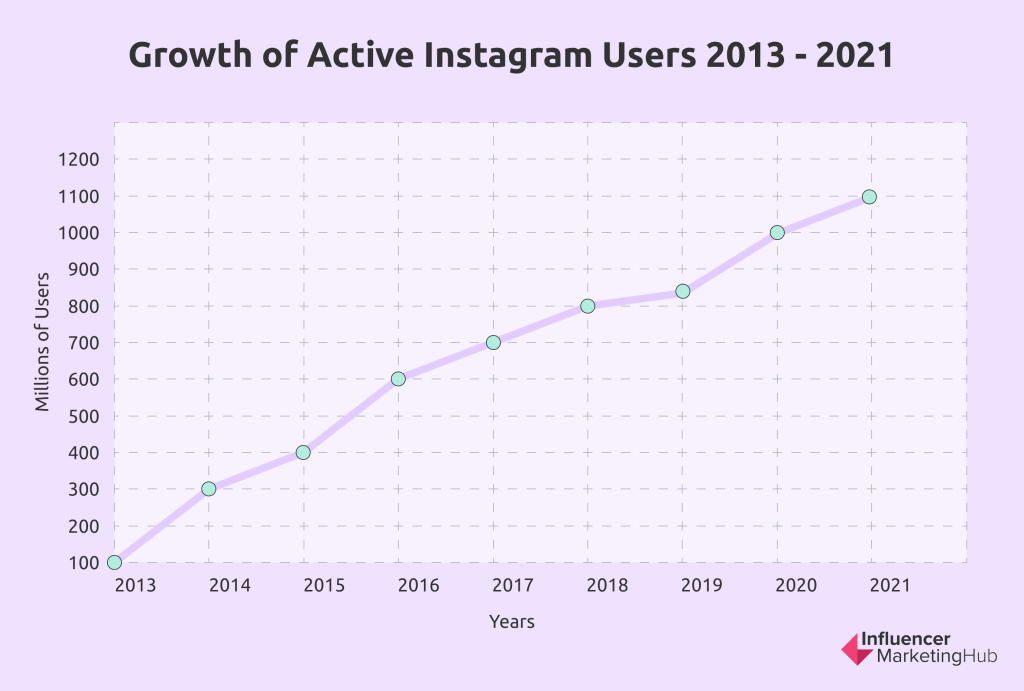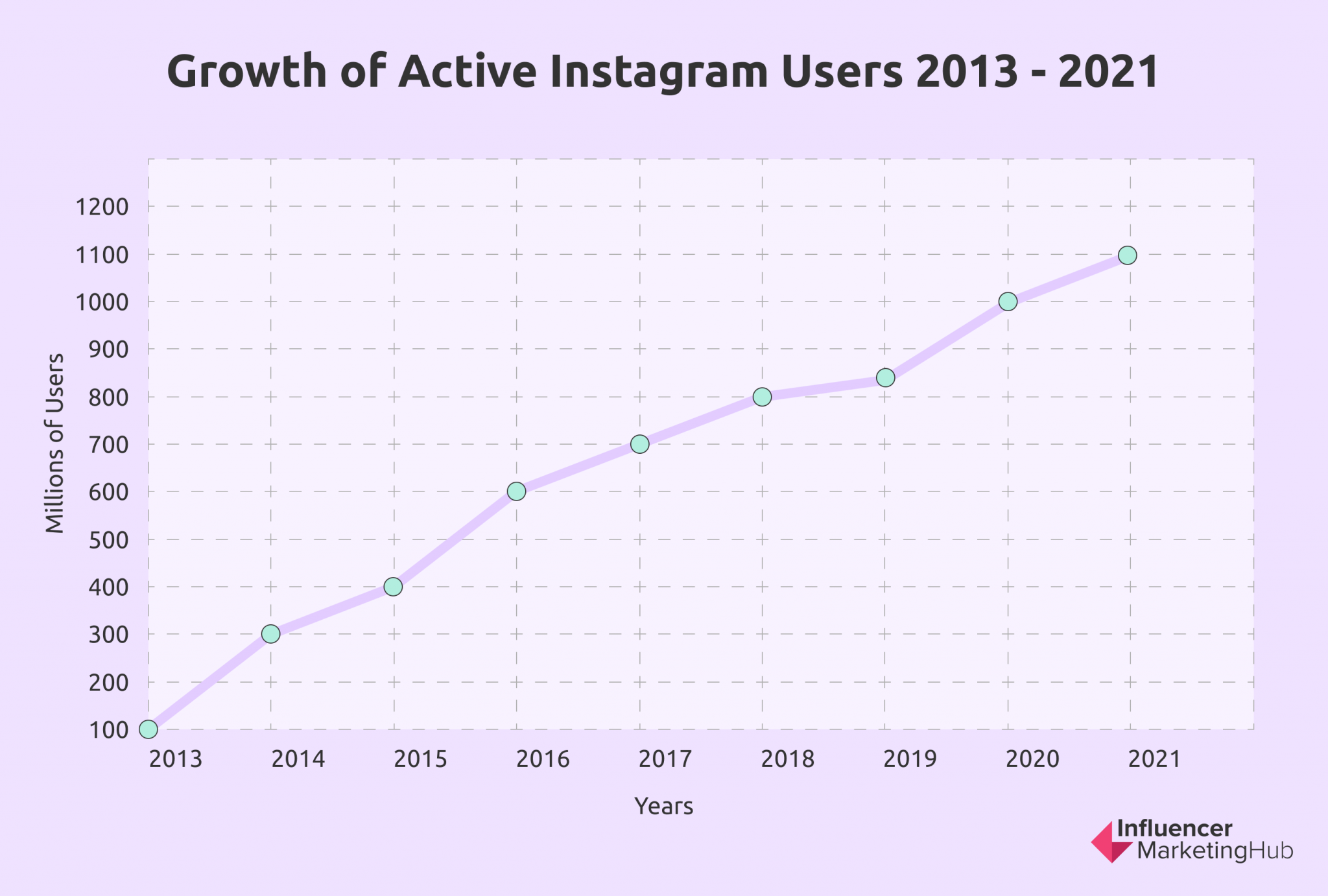 Instagram began in 2010. It reached 100 million active users in February 2013 - a number that people considered excellent at the time.
In March 2014, Instagram usage reached 200 million users. It reached 300 million users in December 2014, 400 million in September 2015, 500 million in June 2016, 600 million in December 2016, 700 million in April 2017, and, in January 2021, it surpassed the 1 billion user mark.
---
2. India Has the Biggest Audience
As of July 2021, India is the country with the biggest Instagram audience size (180 million users). This number, however, is just slightly higher than the audience size in the United States where 170 million users access the photo-sharing and editing app. Brazil is in the third spot with 110 million users.
---
3. Instagram Is One of the Top 10 Most Visited Websites
According to SEMrush, Instagram.com attracts close to 4 billion visits. The average time spent per visit is 17 minutes and 23 seconds. This landed them the 8th spot on SEMrush's list of the world's most visited websites.
On the other hand, Similarweb's data ranked Instagram even higher and placed its website in the 5th position. According to its data, Instagram.com attracts more than 6.1 billion visits, but the time spent per visit is much lower at only 7 minutes and 45 seconds.
One thing that both SEMrush and Similarweb do agree on is that YouTube and Facebook get more website traffic than Instagram. Though, unlike Instagram, both these websites had a year-on-year decline in Google search queries. According to Google Trends, Instagram was the 11th most common query that users entered into Google search in 2020, a year-on-year increase of 2.1%.
---
4. 10+ Hours Spent Per User Per Month
According to App Annie's State of Mobile 2021 report, in 2020, Android users across the globe spent on average 10.3 hours on Instagram per month. If you convert it to daily usage, Instagram users spend an average of 30 minutes per day on the platform. According to eMarketer, this works out to an increase of nearly 4 minutes per day compared to 2019.
In the past year, Instagram also enjoyed the biggest increase in time spent on the platform. Debra Aho Williamson, the principal analyst at eMarketer, contributes a lot of this growth to features like Instagram Stories and Instagram Live.
---
5. The Celebrity with the Biggest Following on Instagram is Cristiano Ronaldo with 315+ Million Followers
With more than 315 million followers on Instagram as of July 2021, Cristiano Ronaldo boasts the Instagram account with the most followers across the world. What's more, he probably has the most unbalanced follower-to-following ratio on Instagram – 328 million to only 474.
He might have the most followers on Instagram, but fellow soccer star, Lionel Messi, overtook him with the most liked sports photo on the photo-sharing social networking service. At the end of November 2020, Cristiano shared a black-and-white photo of himself with Diego Maradona. This tribute to the soccer legend received close to 20 million likes. In July 2021, Messi shared a photo of himself hugging the Copa America trophy. In just over a month, this photo has already received nearly 22 million likes.

---
6. #Love Is the All-time Most Frequently Used Hashtag
Not only does love make the world go round, but clearly also Instagram. According to a Kepios analysis in January 2021 that was published in Hootsuite's Digital 2021 Global Overview Report, #love has been used in 2 billion posts. That's almost double the amount of times the second most frequently used hashtag, #instagood, has appeared in posts. In third spot, it's #fashion that has been used in almost 1 billion posts.
As Instagram hashtags can help you to expand your reach and following, it's key that you use the right hashtags for your posts. In fact, when Simply Measured completed our research on Instagram usage, they found that posts with at least one hashtag received on average 12.6% more engagement.
Unlike Twitter, Instagram encourages users to include as many as 30 hashtags. So, that's one more reason to #love the platform.
---
7. The Most Popular Post Has 55+ Million Likes
As of June 2021, the most popular post on Instagram is that of an egg. The picture was posted by @world_record_egg and has received over 55 million likes.
In fact, the post was created to beat the former world record held by Kylie Jenner (well, sort of, at least). During the Super Bowl, the creator and the real reason behind this strange photo hatched. It was actually a partnership between Hulu and @world_record_egg to promote mental health awareness.
While Kylie Jenner's first photo of her daughter is still among the most popular posts on Instagram, other celebrities and their reveals have also cracked her former record. At the time of writing this article, Ariana Grande's wedding with Dalton Gomez and Billie Eilish's reveal of her hair have received more than 20 million likes respectively.
---
8. Instagram Is a Popular Platform for Businesses
While posts like celebrity weddings and hairdos prove to be the most popular, Instagram also proves to be an effective marketing tool for businesses. According to Instagram's own statistics, 90% of users on the platform follow at least one business.
What's more, in a survey that it completed, 2 in 3 people indicated that Instagram helps them to interact with brands, while 50% of participants are more interested in a brand after they've seen ads for it on Instagram.
---
9. Business Accounts with Fewer Than 10,000 Followers Have the Highest Engagement
At Influencer Marketing Hub, we frequently recommend that brands work with micro-influencers. The majority of brands that work with micro-influencers see better results than marketing campaigns that rely on celebrities and mega-influencers.
Data gathered by Locowise at the end of 2020 reiterate our findings. According to their stats, the average Instagram engagement rate lowers as the business account's number of followers increases.
Business accounts with more than 100,000 followers had the lowest engagement rate of 0.73%. On the other hand, business accounts with fewer than 10,000 followers boasted an engagement rate of 1.29% – almost double that.
---
10. Instagram Shopping Attracts 130 Million Users
Instagram Shoppable photos are one of Instagram's latest features to help make the platform more business-friendly. With more than 1 billion active users, it was only a matter of time before Instagram users could start buying items straight via the app.
With 130 million Instagram users tapping on shopping posts each month, this feature proves to be very promising for businesses. Not only are users relying on Instagram for information about brands, but they're actually using the platform to make purchases too.
---
11. The Best Time to Post on Instagram is 5 - 6 a.m.
In 2019, CoSchedule suggested that the best time to post on Instagram was 8 - 9 a.m. Fast-forward two years and new data suggest that users are getting up a lot earlier nowadays. Later analyzed more than 35 million feed posts and found that on Monday and Thursday the best time to post is at 5 a.m. For the other days of the week, it is 6 a.m.
Luckily, more recently, many social media management apps have added Instagram to their integrations. While Instagram's API doesn't always make it as straightforward to schedule posts, Instagram scheduling apps like ContentCal, Loomly, and Sprout Social have made the process much easier. So, you can still post at the optimal time without having to get up at the crack of dawn.
---
12. The Worst Time to Post on Instagram Is Generally After 1 p.m.
The same study completed by Later revealed that unlike the best time, the worst time to post on Instagram is a lot more erratic. On Monday it's 2 p.m. while on Thursday it's as late as 11 p.m. So, it's usually best to get your content out before 9 a.m., irrespective of the day.
---
13. The Most-Followed Instagram Food Influencer Has 12+ Million Followers
The British chef, restaurateur, and TV personality Gordon Ramsay is the most-followed food influencer worldwide with more than 12 million followers. Other celebrity chefs that boast big followings are Jamie Oliver, Martha Stewart, and Nigella.
---
14. Carousel Posts Have the Best Engagement Rate
If you ever had difficulty choosing the best photo for your Instagram post, the good news is that you don't really have to narrow it down to just one. The results are in and carousel posts have the highest average engagement rate (1.05%). Perhaps surprisingly, figures shared by Locowise suggest that these types of posts attract almost twice as much engagement as video posts.
With the Carousel feature, you can post up to 10 photos and videos in a single post. It's almost like a slideshow with a single caption.
That being said, photo posts remain the most common type of content on Instagram. More than 64% of all main feed posts are photo posts, while only about 17% are carousel posts.
---
15. Instagram Remains the Top Choice for Influencer Marketing
In 2021, influencers are still playing a pivotal role to help establish Instagram as a shopping hub. More than 85% of people have shared that an influencer has motivated them to make a purchase. According to Mediakix, almost 90% of marketers feel that Instagram is the most important social media platform for influencer marketing specifically. In fact, more than 70% indicated that Instagram Posts and Instagram Stories are the preferred types of content for influencer marketing.