You should never underestimate the importance of the simple Instagram hashtag. It plays a vital role in spreading your Instagram reach, and it helps develop your following.
When Simply Measured carried out research on Instagram usage, they found that 88% 0f brand posts include at least one hashtag and posts with at least one hashtag average 12.6% more engagement than those without. People began using hashtags online as far back as 1988 on a platform called IRC – Internet Relay Chat. Even back in that prehistoric internet age people used hashtags for the same reason they do today – to group messages and other content into categories.
The first known social media usage of hashtags was in October 2007 when Nate Ridder of San Diego, California, tagged his social messages with #SanDiegoOnFire – informing people about the wildfires his local area was suffering at the time.
Twitter was the first platform to officially adopt the hashtag in 2009, meaning that any tag starting with # became automatically hyperlinked.
It was not long before most of the other networks added support for hashtags on their platforms. This includes Instagram, which has probably seen the most significant uptake of hashtag usage. Unlike Twitter, where most people recommend that you should not use more than two or three hashtags in a single tweet, Instagram encourages large-scale hashtag usage. It is common for people to include up to 20 hashtags in a single post, and many use the maximum they are permitted – 30 hashtags.
Check the popularity of any hashtag on Instagram
---
Most Popular Instagram Hashtags Summary:
---
The Purpose of Using Instagram Hashtags
Hashtags are used to help you group content. These can either be general hashtags that everybody uses – in which case you are grouping your posts and images with others who upload similar content. Alternatively, many businesses create niche hashtags to develop interest, and to consolidate posts relating to a particular product or campaign together.
Most Instagram users love to boost their following. But there is little point in being followed by somebody with entirely different interests to you. By using appropriate hashtags with your content, you are making your posts available to people who have an interest in the same subjects. And if they like your posts, they are likely to follow you in the hope of seeing more content on the same topic.
Even if people don't go as far as following you, they may like the content of yours that they come across when searching for a particular hashtag. When you use hashtags, you are effectively helping Instagram sort and organize your posts – helping them reach people who will value them.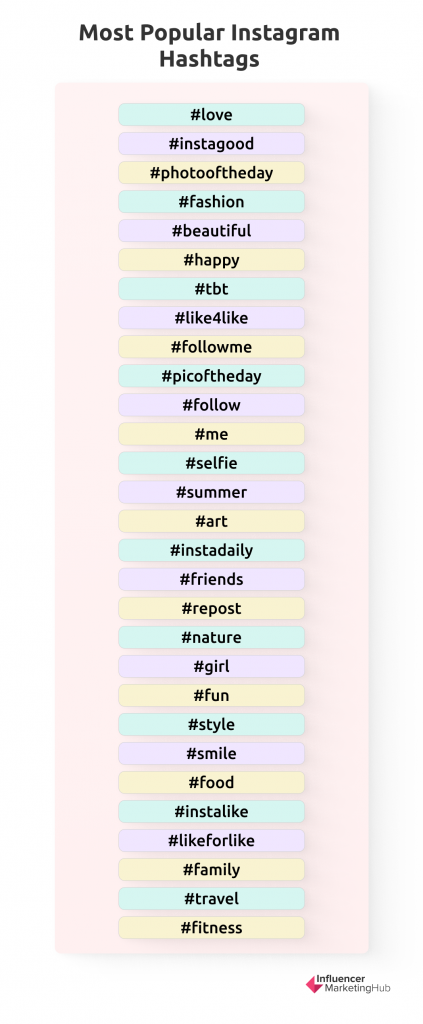 ---
The 100 Most Popular Instagram Hashtags
Currently, the 100 most popular Instagram hashtags are as follows:
#love

#instagood

#photooftheday

#fashion

#trending

#explorepage

#viral

#tbt

#like4like

#followme

#picoftheday

#follow

#me

#selfie

#summer

#art

#instadaily

#friends

#repost

#nature

#trendingnow

#fun

#style

#smile

#food

#instalike

#likeforlike

#family

#travel

#fitness

#worldcup

#tagsforlikes

#viralpost

#nofilter

#life

#beauty

#amazing

#instamood

#igers

#instagram

#photo

#music

#photography

#makeup

#dog

#beach

#sunset

#model

#foodporn

#motivation

#followforfollow

#sky

#lifestyle

#design

#gym

#f4f

#toofunny

#cat

#handmade

#hair

#vscocam

#bestoftheday

#vsco

#funny

#dogsofinstagram

#drawing

#artist

#f4fl

#flowers

#baby

#wedding

#memes

#instapic

#pretty

#photographer

#instafood

#party

#inspiration

#lol

#cool

#workout

#motivation

#swag

#fit

#healthy

#yummy

#blackandwhite

#foodie

#insta

#home

#christmas

#black

#memes

#winter

#pink

#sea

#landscape

#blue

#london

#holiday
---
Best Instagram Hashtags for Likes and Follows
While these hashtags might not bring in the best likes and follows, they're still commonly used by Instagram creators to encourage other Instagram users to engage with their content and accounts.
#instagram

#instadaily

#LikeForFollow

#LikesForLikes

#LikeForLikes

#FollowForFollow

#LikeForLike

#FollowForFollowBack

#FollowBack

#FollowMe

#instalike

#comment

#follow

#PhotoOfTheDay

#fashion

#me

#love

#photography

#like

#followers

#follow4follow

#likes

#myself

#f

#l

#beautiful

#instagood

#smile

#bhfyp

#PicOfTheDay
---
Best Instagram Hashtags for Pet Lovers
If you've got a furry friend in your life, there are hashtags for that! While the majority of the more popular hashtags for pets on Instagram have to do with dogs and cats, you can pretty much put the type of pet you have followed by "OfInstagram" (as in "#GoldfishOfInstagram") and you'll find your people.
#DogsOfInstagram

#CatsOfInstagram

#PetsOfInstagram

#CatLover

#DogOfTheDay

#DogLovers

#cute

#cats

#dogstagram

#puppy

#catstagram

#dogs

#animal

#animals

#DogLife

#dogelife

#instagram

#love

#pets

#petstagram

#PetLovers

#of

#dog

#doglover

#instagood

#instapet

#pet

#cat

#instadog
---
Best Instagram Hashtags for Travel Lovers
If you're a travel influencer (or just love travel), you'll find quite a few popular Instagram hashtags to help you get your content found. Got the travel bug? A scroll through these hashtags will only make it worse.
#TravelPhotography

#PicOfTheDay

#ExploreNature

#NaturePhotography

#TravelBlogger

#beautiful

#landscape

#adventure

#explore

#instatravel

#photo

#trip

#summer

#travelgram

#photography

#art

#travel

#wanderlust

#nature

#instagood
---
Best Instagram Hashtags for the Fashion Industry
Head's up, fashion influencers! Here are the most popular Instagram hashtags to join in the conversations that will get you noticed on the platform.
#ootd

#FashionBlogger

#WhatIWore

#CurrentlyWearing

#FashionBlog

#ShoppingAddict

#LookGoodFeelGood

#FashionAddict

#FashionStyle

#style

#fashion

#igstyle

#bhfyp

#smile

#OutfitOfTheDay

#FashionPhotography

#FollowBack

#follow

#fashionista

#PhotoOfTheDay

#StyleInspo

#instastyle

#love

#BeautyDoesntHaveToBePain

#PassionForFashion

#FollowForFollowBack

#fashionable

#l

#PicOfTheDay

#fashiongram
---
Best Instagram Hashtags for Fitness Influencers
Are you a fitness influencer? Use these most popular fitness-related hashtags to reach the right people.
#exercise

#bodybuilding

#life

#gymlife

#gymrat

#motivation

#healthy

#lifestyle

#health

#gym

#DreamBody
#GetFit
#WomanWhoLift

#sport

#training

#workout

#HealthyLifestyle

#muscle

#fit

#CrossFit

#HIIT
#StrenghtTraining

#fitness

#FitFam

#goals

#PersonalTrainer

#FitnessMotivation
---
Best Instagram Hashtags for Running a Contest or Giveaway
#giveaway

#sweepstakes

#InItToWinIt

#WinItWednesday

#freebie

#freebies

#ContestAlert

#ContestEntry

#instacontest

#instagiveaway

#WinIt

#contest

#GiveawayAlert

#giveawayworldwide
---
Best Instagram Hashtags for Your Reels
If you create Reels on Instagram (and you should), you'll want to take note of these most popular Instagram hashtags for Reels.
#ReelsInstagram

#VideoOfTheDay

#TrendingReel
#trending

#ReelsIndia

#ReelSteady

#disney

#ForYouPage

#InstagramReels

#bhfyp

#instareels

#reelsinsta

#fyp

#ReelsOfInstagram

#TikTokIndia

#HolaReels

#reels

#ReelsBrasil

#k

#ReelsVideo

#instareel

#music
---
Best Instagram Hashtags for Foodies
Food influencers and food lovers will want to check out these Instagram hashtags!
#instafood

#FoodPhotography

#PhotoOfTheDay

#food

#FoodPorn

#FoodBlogger

#foodstagram

#homemade

#cooking

#lunch

#PicOfTheDay

#instadaily

#healthy

#foodie

#FoodLover

#bhfyp

#instagood

#tasty

#delicious

#love

#foodgasm

#foodies

#HealthyFood

#dinner

#yummy

#restaurant
---
How to Find the Best Instagram Hashtags
Instagram likes it when creators use different hashtags on different posts rather than using the same block of hashtags on every post. This means you need to build up a library of hashtags or hashtag groups with slight variations and then choose the right combination of hashtags for each post.
To find the right hashtags to use on your Instagram content, here's what you can do:
Use Instagram's search function. Just type in a keyword relevant to your post and select the

Tags

tab. Instagram will then give you a list of hashtags. Look for relevant tags with a reasonable usage (around 50K) that are not so popular that your posts will get lost.

Use the hashtags that others in your niche or industry use.

Check out what your competitors are doing. Check their posts to make sure that the hashtags aren't part of a specific campaign they're running. Then, grab the non-branded ones and use them.
Once you have a good list of hashtags to choose from, here's a really easy hack you can use to have them ready to go. First, break them into related groups of 8–15 hashtags. Once you have them organized, use your smartphone's text replacement feature to add shortcuts for each of the groups. It's easiest to just use something like "ht1," "ht2," etc. However, you can use whatever shortcut you want. From there, you just need to add the hashtags as the text to fill in when you type out the shortcut.
---
Types of Instagram Hashtags
Most Instagram hashtags are broad and subject-level. This makes them useful for any Instagram user adding content related to that hashtag. Sometimes, though, you need hashtags that are a bit more targeted. More targeted hashtags also tend to have less competition.
1. Brand Hashtags
Many brands create hashtags related to their brand or products. An excellent example of this is the global beverage company Coca-Cola. They encourage people to post pictures of themselves sharing a bottle of Coke using the #ShareACoke hashtag. This is also a great way to get user-generated content that you can then use (with permission) in your marketing.
A quick tip about branded hashtags: focus on your tagline or a hashtag related to your value proposition instead of your brand name. More people are likely to use the #ShareACoke hashtag than they would be to use #CocaCola.
2. Category Hashtags
Category hashtags can be broad, but you'll want to keep them closely related to the subject of your content. So, if you're sharing a picture of yourself running a road race like the Chicago Marathon, you'll want to stick to categories like #running and #marathon instead of #TrailRunning. These hashtags generally don't connect to any brand and are less focused. We recommend using category hashtags that are as narrowly focused as possible.
3. Event Hashtags
Event hashtags, as you can probably guess, relate to a particular event. So, using the Chicago Marathon as an example again, you might use #ChicagoMarathon or even #ChicagoMarathon2021. Event hashtags aren't limited to traditional events, either. They can be used to tag your content for television shows (#QueerEye), major sporting events (#Olympics), conferences (#MozCon), and more.
4. Campaign Hashtags
Many brands use campaign hashtags to organize the content they create around a specific campaign. These are typically used short-term and will last only as long as the campaign. You'll see lots of campaign hashtags for product launches.
---
Don't Always Use the Most Popular Instagram Hashtags
By definition, the most popular hashtags are the most used hashtags. #love, for instance, has been used in 1.2 billion posts. This presents a problem if you are hoping to use hashtags that will make your posts stand out.
You need to balance your wish to use popular hashtags against the danger of being crowded out of high-demand topics. In many ways, this is similar to SEO when you try to chase keyword terms in Google's search engine. Most people will do better if they attempt to rank for long-tail terms, such as "men's fashion in New York" than they will for a broad term like "fashion."
If you are making an Instagram post that is about love, you might include #love as one of your 30 permitted hashtags. But you should probably focus on using related hashtags with smaller, yet still sizeable followings, such as #wonderful, #adorable, #hug, #lover, or even #loveisintheair.
Some of the top hashtags do symbolize a particular type of post, and you may specifically be aiming that your snaps be considered #photooftheday, #instadaily, or #picoftheday. And, of course, it makes sense to use #repost if you are indeed reposting an image.
By the way, if you are wondering what the hashtag #tbt means, it stands for Throwback Thursday. It has now become common for people to share photos of "back in the day" as #TBT posts.
You should reserve the hashtag #instagood for your very best photos. It indicates to fellow Instagrammers that you are particularly pleased with the photo to which you have attached that hashtag.
---
Trending Hashtags
While the exact list of most popular Instagram hashtags is continually changing, there are clear popularity trends.
There are a few distinct niches that always perform well on Instagram. The above list indicates how many popular posts feature fashion, beauty, and food. Although not currently in the Top 25 at the time of writing, #travel often performs very well, too. The success of the #nature tag suggests that people still love to see beautiful scenes of nature and the environment.
This makes sense. Instagram is highly visual. People are going to want to share eye-catching imagery – which you are far more likely to be able to do with an image of the latest fashion or a delectable dessert than you are with a picture of yet another phone or computer. Some hashtags are seasonal by nature. #summer may be top ranking at the moment, but it will fall out of favor when it's time to share the snowboarding and skiing pics next winter. #valentinesday jumps up the rankings each February and #christmas in December. As we approach the end of each year, #sale skyrockets in popularity.
---
You Can Now Follow Hashtags
Earlier in 2018 Instagram made a range of changes to their platform. This includes the ability to follow hashtags on Instagram.
This makes hashtag usage even more critical. Your posts have the chance to appear in the feeds of people who follow the hashtags you use.
This is probably another reason why you want to include some "long tail" hashtags on your posts, as it may make it easier for your posts to compete with the thousands, often millions, of others using popular hashtags.
It is vital that you only use hashtags relating to the specific images you share, however. Users can mark your content as something they don't want to see if your images fail to deliver. Indeed, Instagram has made it very clear that it will penalize people who consistently use the same group of hashtags in every post.
I will look at hashtag usage in more detail in The Ultimate Guide to Using Hashtags to Grow your Followers on Instagram.
Frequently Asked Questions
What are the most popular Instagram hashtags?
The popularity of different Instagram hashtags changes over time. It also varies by location. However, at the time of writing this post the most popular Instagram hashtags were #love, #instagood, #photooftheday, #explorepage, #trending, #happy, #viral, #tbt, #memes, and #likeforlikes. You can check on the popularity of any Instagram hashtag by entering it into our free Instagram hashtag tool near the top of this post.
What hashtags are trending on Instagram?
This post includes all of the trending hashtags that were trending on Instagram at the time we wrote the post. Several sites keep up-to-date records of trending Instagram hashtags. One of these is All Hashtag, which updates its Top 100 Hashtags list daily. It also shows the top hashtags for the Last 7 Days and the Last Month. They define their top hashtags as being "the most popular hashtags other users are looking for."
How do I find the most popular hashtags?
There are quite a few hashtag finder tools you can use to find the most popular hashtags. This includes our own free hashtag tool at the top of this post, where you can check on the popularity of any Instagram hashtag. Some of the products that can help you find popular hashtags include Hashtagify, All Hashtag, Brand 24, YouScan.io, BrandMentions - Hashtag Tracking Tool, BuzzSumo - Brand Monitoring Tool, Talkwalker - Hashtag Tracker, Social Searcher, and RiteTag.
What is the most popular content on Instagram?
Instagram is, of course, very much an image-focused social network. One of the easiest ways to find popular content is to search for images and videos using popular hashtags. We have included many of these in this article. AdEspresso analyzed the most popular types of pictures on Instagram. They found that the following types of content perform well:
User-generated-content images
Behind the scenes images
DIY images
Images with ideal visual composition
Influencer images
Motivational images
Contests and giveaways
Seasonal / trendy images
Inspirational quotes
What is the hashtag sign?
The hashtag symbol, #, is also known as the number symbol. In some countries, it is called the pound symbol, not to be confused with £. Chris Messina first suggested the use of hashtags on social media in a 2007 tweet: "How do you feel about using # (pound) for groups. As in #barcamp [msg]?" Twitter initially downplayed his idea, saying, "these things are for nerds," but the idea took off, and its usage is widespread today.
What hashtags will get me followers?
We have looked at many of the most popular hashtags on Instagram in this post. The advantage of using popular hashtags is that many people follow those tags, giving more opportunities for people to see your posts. If they like the content you share using these popular hashtags, they are likely to follow you to see more of this type of content. Of course, you have to balance the large audiences following popular hashtags with the relevance to the topics about which you post.