For the last decade, there has been a gradual explosion of influencers on social media, people who inspire millions of people each day. These influencers have made posts covering a wide variety of genres, but fitness is one niche that has remained popular from the beginning. We react well to seeing fit, healthy influencers showing us how they look due to their exercise and fitness routines. Indeed, good fitness influencers can inspire even the most lethargic couch potatoes to exercise and try and emulate their healthiness, at least for a short time.
Of course, many of the fitness influencers we spend time admiring on Instagram have busy lives outside the gym. The most popular fitness influencer, The Rock, is probably better known nowadays for his film career than the activities he initially engaged in that gave him his name. Yet, when you look at the Instagram images he shares, it's evident that fitness is still vital to him today.
It didn't take brands long to recognize the potential for working with fitness influencers (albeit the fitness superstars are out of the league financially for all except the most prominent brands.) Many now leverage fitness influencers to help with their marketing campaigns. In this post, we look at some of the most influential people on Instagram who regularly make posts relating to fitness.
---
Top 21 Fitness Influencers to Inspire You:
---


Dwayne Johnson created his The Rock nickname when he was a professional wrestler. He wrestled for the World Wrestling Federation (WWF) for eight years before changing to an acting career. He headlined the most-bought professional wrestling pay-per-view (WrestleMania XXVIII). The Rock has also been an American football and Canadian football player.
Covering the dual worlds of films/entertainment and wrestling/fitness, Dwayne Johnson's Instagram account is now the fourth most followed in the world. He has recently been marketing his ZOA energy drink to his massive Instagram audience.
---


Conor McGregor is an Irish professional mixed martial artist and professional boxer. He is a former Ultimate Fighting Championship (UFC) featherweight and lightweight double-champion and is currently #6 in the UFC lightweight rankings and #15 in the UFC men's pound-for-pound rankings. He is the first fighter in UFC history to hold titles in two weight divisions simultaneously. Before joining UFC, McGregor was the Cage Warriors featherweight and lightweight champion.
McGregor has headlined five out of the six highest-selling UFC pay-per-view events. His bout with Khabib Nurmagomedov at UFC 229 drew 2.4 million PPV buys, a record for MMA, and his boxing match with Floyd Mayweather drew 4.3 million PPV buys in North America, the second-most ever.
---


Logan Paul is an American YouTuber, internet personality, actor, podcaster, and boxer. While probably best known for his social media activity and several controversies related to the content he's shared, many of his social posts and videos relate to his boxing and time working out in preparation for his bouts.
Paul made his debut as a professional boxer in late 2019 in a match against British YouTuber KSI. He is scheduled to fight Floyd Mayweather Jr. in an exhibition bout on June 6, 2021.
---


Khabib Nurmagomedov is a Russian mixed martial arts promoter. He was most prominent in the lightweight division of the Ultimate Fighting Championship, where he held the championship from April 2018 to March 2021. This made him the longest-reigning UFC Lightweight Champion with 29 wins and no losses, retiring with an undefeated record. He was ranked #1 in the UFC men's pound-for-pound rankings at the time of his retirement.
He has a background in the disciplines of sambo, judo, and wrestling.
---


Floyd Mayweather Jr. is an American professional boxing promoter and former professional boxer. Between 1996 and 2015, he won fifteen major world titles, including The Ring in five weight classes, the lineal championship in four weight classes, and retired undefeated. Before turning professional, he won a bronze medal in the featherweight division at the 1996 Olympics, three U.S. Golden Gloves championships, and the U.S. national championship at featherweight.
The Boxing Writers Association of America (BWAA) named Mayweather "Fighter of the Decade" for the 2010s. ESPN ranked him the greatest boxer, pound for pound, of the last 25 years in 2016.
---


Ryan García is an American professional boxer. He has held the WBC interim lightweight title since January 2021. The Ring magazine and the Transnational Boxing Rankings Board rank him as the world's third-best active lightweight.
Garcia turned professional on June 9, 2016. Before that, he had amassed an amateur record of 215-15 and was a 15-time national amateur champion. His first professional bout was against Edgar Meza in Tijuana, which he won with a TKO.
---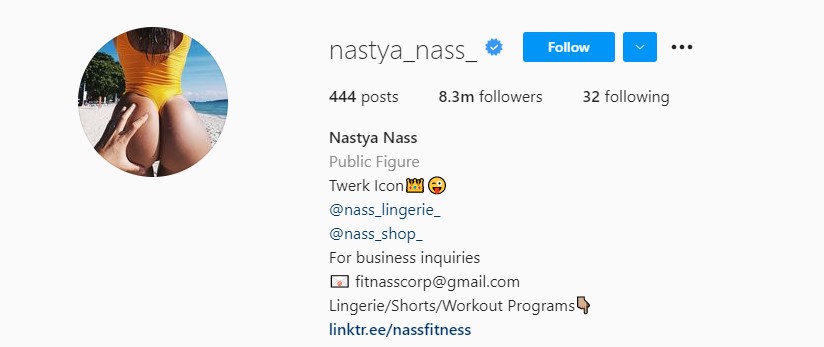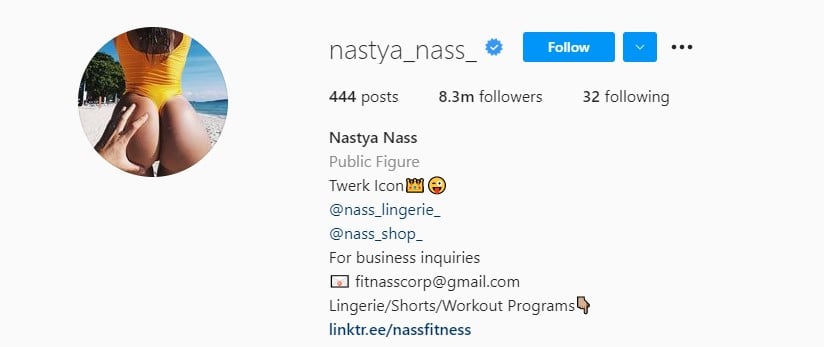 Self-proclaimed Ukrainian-born "Twerk Icon" Nastya Nass hosts workshops and classes centered around the provocative dance movement, twerking. She even went on a "Twerk Tour" in early 2020, before COVID19 arrived.
Her twerking abilities have made her a social media superstar, with 8.3 million Instagram followers and 1.22 million subscribers to her YouTube channel.
---


Anthony Joshua is a British professional boxer. He has twice been a unified world heavyweight champion, having held the WBA (Super), IBF, WBO, and IBO titles since December 2019, after previously holding them between 2016 and June 2019. He also had the British and Commonwealth heavyweight titles from 2015 to 2016.
Joshua won a gold medal at the 2012 Olympics before turning professional in 2013. He is only the second British boxer (and the first British heavyweight) to win both a gold medal at the Olympics and a world title by a major professional sanctioning body.
---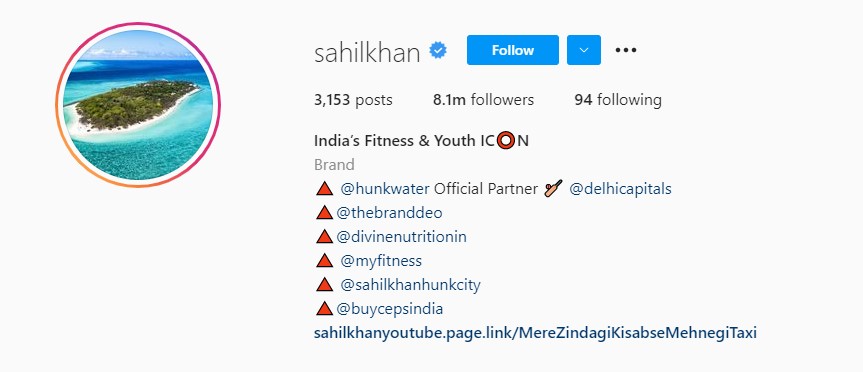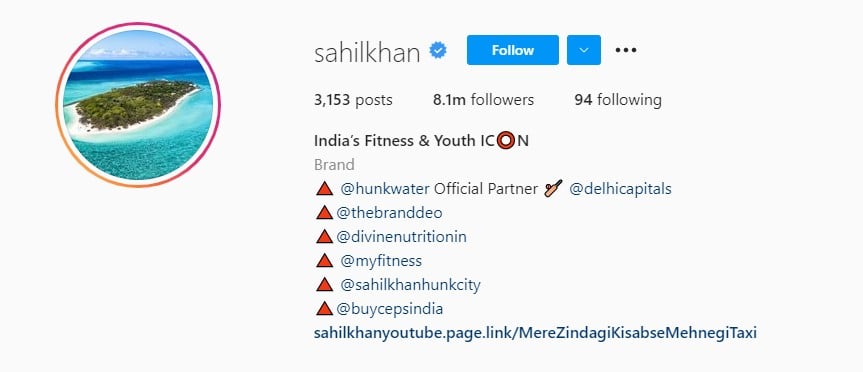 Sahil Khan is an Indian film actor, fitness entrepreneur, and YouTuber. Most of his social posts emphasize fitness, and his Instagram biography describes him as India's fitness and youth icon. He has increased fitness awareness and has won awards from several prestigious bodies in Mumbai. He has 8.1 million followers on Instagram and 2.82 million subscribers to his YouTube channel.
Twenty years ago, he arrived in Mumbai with a dream to represent India as a professional bodybuilder and started training. His life took a surprise turn when N. Chandra, a highly respected Bollywood director, signed him on to play the lead role in his cult film "Style."
---

Saúl "Canelo" Álvarez is a Mexican professional boxer who has won world championships in four weight classes from light-middleweight to light-heavyweight. He has held the WBA (Super), WBC, and Ring magazine super middleweight world titles since 2020.
Álvarez turned professional at 15 because his then trainers were unable to find suitable junior opponents for him. His professional boxing record shows he has had 55 wins (37 by knockout and 18 by decision) and just one loss (by decision against Floyd Mayweather in 2013.)
---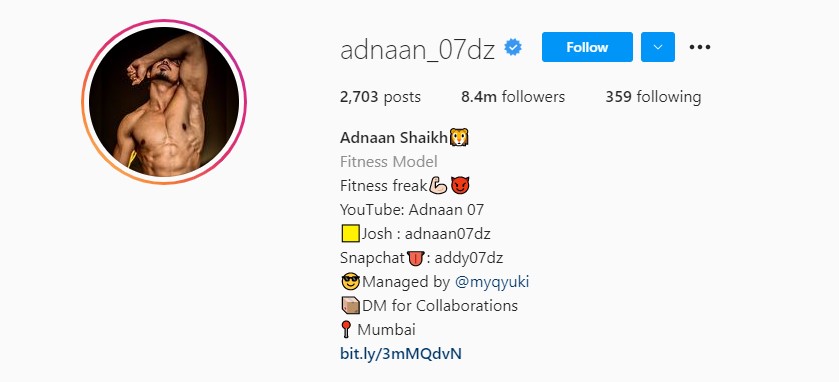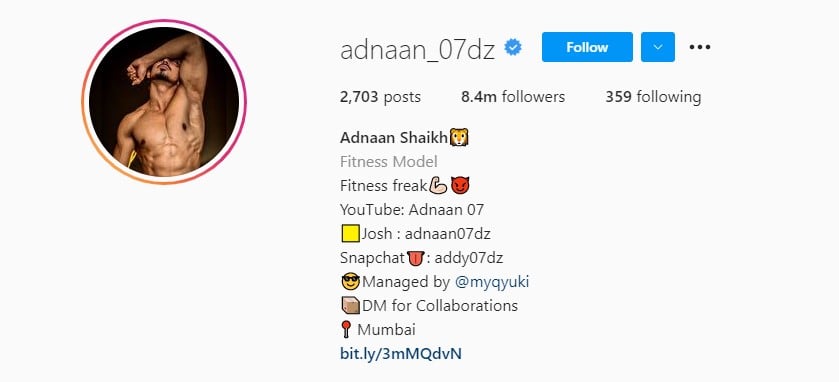 Adnaan Shaikh describes himself as being a fitness model and fitness freak on his Instagram page. Mumbai-based Shaikh has 8.4 million followers on Instagram. Although he has fewer subscribers on YouTube, 300K, it does allow him to share videos such as How I Stay Fit During Ramadan and Full Body Workout Tricks in Lockdown.
---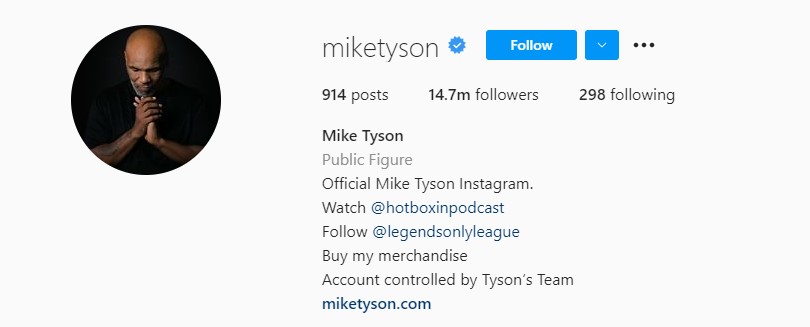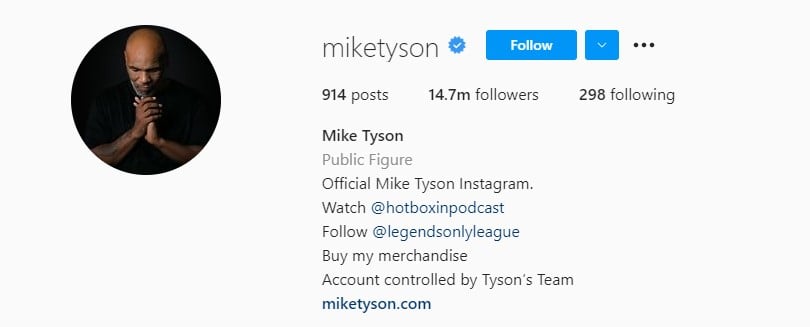 Mike Tyson is probably one of the best-known and arguably most controversial personalities of boxing. Known as Iron Mike, he was an American professional boxer from 1985 to 2005. He was also known as The Baddest Man on the Planet during the latter part of his career.
Tyson holds the record as the youngest boxer to win a heavyweight title. He was the first heavyweight boxer to hold the WBA, WBC, and IBF titles simultaneously. Despite spending time in jail between 1992 and 1995, Tyson managed to regain his WBA and WBC titles in 1996. Sky Sports described him as "perhaps the most ferocious fighter to step into a professional ring."
---


Tammy Hembrow teaches women how to train for their goals and use food as fuel to work towards being stronger, healthier, and happier. She launched her personal brand on Instagram before the birth of her first son Wolf in 2015.
Tammy has spent the last few years perfecting her workout techniques and nutrition programs, working through two pregnancies along the way. Her fans inspire her to keep pushing further. She hopes to give back by sharing knowledge, experiences, and expertise to motivate and inspire them to take that next step into the gym.
---


Katya Henry is a fitness model who took up personal training after realizing her posts motivated people to go to the gym. She founded the website Workouts by Katya and has commanded 8.1 million Instagram followers inspired by her content.
Workouts By Katya is an international health and fitness brand brought to life in May 2016 to help women. It is a go-to place for workout plans, recipe books, activewear, and everything else in between.
---

Randy Orton is an American professional wrestler and actor, currently signed to WWE, where he performs on the Raw brand. Many consider him to be one of the greatest professional wrestlers of all time. He has held the WWE Championship 10 times and WWE's World Heavyweight Championship four times.
WWE recognizes Orton as having the third-most world championship victories in history, at 14.
---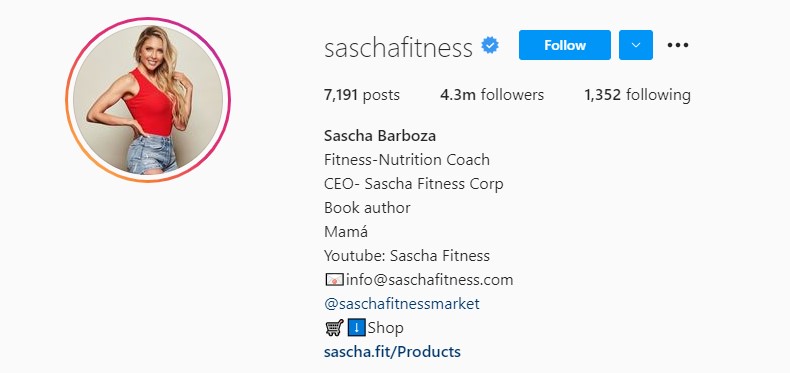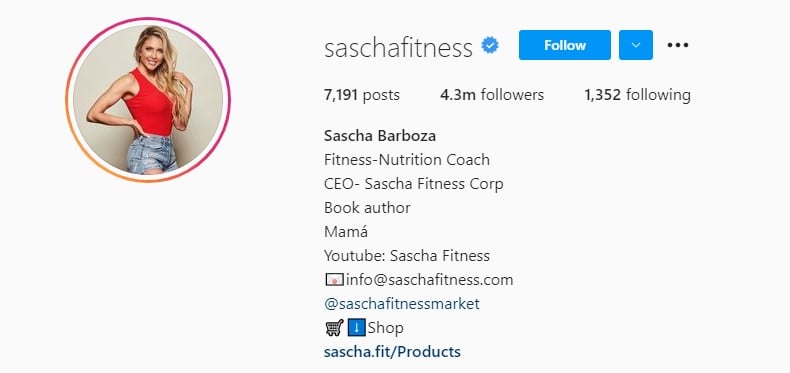 Sascha Barboza is better known as Sascha Fitness. She is a personal fitness trainer certified by the ISSA (International Sports Sciences Association) with studies in sports nutrition from the Spanish Federation of Bodybuilding and a Masters in Nutrition Fitness.
People consider her to be the guru of Venezuelan fitness. She took on a challenge to lose weight on her social sites after giving birth to her first child. She documented each recipe and the exercises she did to motivate her followers to adopt a fitness lifestyle.
---


Amanda is a personal trainer and Instagram star, originally from Canada but now living in Los Angeles. She inherited her love of fitness from her mother, who worked as a gym instructor and personal trainer. She began training while in high school, where she started working out with weights.
Lee puts her exercise videos on YouTube to help people work out, wanting to get their bodies into shape. She also posts footage of herself exercising on Instagram, giving advice and tips on suggested routines. She is best known for her lower body workouts – she does squats, step-ups, leg raises, and lunges most days to maintain the current shape of her muscles.
---


Issa Vegas is an Argentinian model who uses her Instagram popularity to encourage people to adopt a healthy lifestyle. Ever since she was a child, she has always been passionate about modeling and cross-fit workout. She now lives in Mexico.
She uploads images and videos of her working out to her popular Instagram account, where she has 7.8 million followers.
---


Andrei Deiu is a Romanian London-based fitness model who has been competing since he was 17 years old in competitions such as the Miami Pro, which he won in 2011. He hasn't always been into fitness, and when young, he ate junk food and played video games all day long. But with his weight increasing and suffering bullying in high school, his confidence dropped. He realized he had to do something about this and so entered the world of fitness.
He became a successful fitness model and can be seen on numerous advertisements for clothing brands and fitness apparel.
---


Bradley Martin is an American social media star, physique competitor, and fitness guru. He began training in the gym at 15 years old. Martin created his own training programs in January 2006, although it took until 2014 before he gained recognition in the fitness world.
He opened a fitness video channel on YouTube, showing the public his workouts and "full day of eating" videos.
---


Jo Linder is a German fitness athlete known for his ripped and aesthetic physique. He has set up various online profiles where he shares training, nutrition, and supplementation advice. Lindner trains at high volume and his workouts usually consist of many sets. Sometimes, however, he changes his routine to train with extremely heavy weights, doing a low number of reps and sets.