The Instagram Money Calculator allows you to calculate your estimated earnings from your Instagram account if you believe you are an influencer, based on your engagement and number of followers. Below are some stats relating to engagement on Instagram, followed by the Instagram Post Estimator.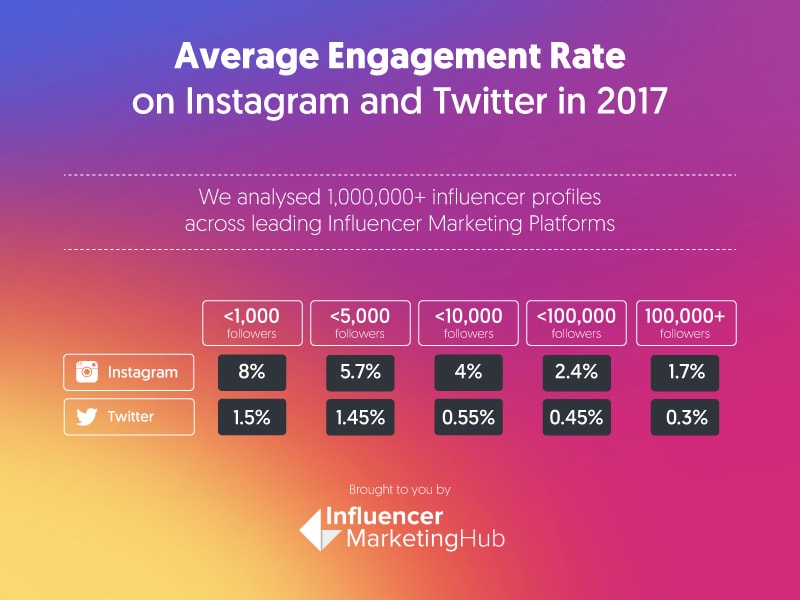 Note: Unlike with YouTube, where you sell space on your videos and channel page for advertising at a rate decided by Google, Instagram does not compensate its users for running ads on their posted photos. Instagram is owned by Facebook, so it seeds Facebook ads on people's' posts As such, Instagram influencers and brands don't have an intermediary, or any set rates if they choose to work together . Brands make deals with influencers, and rates can vary markedly depending on the circumstances. However, one thing is consistent in nearly all cases - Influencers get paid more if they have both a high engagement rate, as well as a high number of followers. Brands have learned that you can easily buy followers who are of no practical value to anybody. Hence they are far more interested in you having genuine followers, those who interact with your posts.
Compared to other social media channels, Instagram accounts have relatively high interaction levels. For instance, the average Facebook or Twitter user has an engagement rate of only 0.5 - 1.0%. The average Instagram account, though, has an engagement rate of 3%. Any engagement rate above that, combined with a high number of followers, suggests that you are an influencer amongst your peers. Our Instagram Earnings Estimator takes these factors into account. We look at the average engagement rates of your last 12 Instagram posts (engagement being likes and comments on your posts). Example: If your engagement rate is less than 8% and you have less than 1000 followers, you can expect to receive less payment from brands than those influencers who exceed the average engagement rates on their posts. Also see the average engagement rates by amount of followers in the above graph.
From a brand's point of view, the niche makes a difference too. Fashion firms are far more likely to work with high-profile name influencers than firms selling bathroom fittings, for instance, and businesses set their budgets accordingly.
Enter your Instagram Username
Followers

0
Likes

0
Posts

0
Comments

0
Estimated Earnings Per Post
$0
---
Summary: Quick Jump Menu
---
How Can You Make Money on Instagram
Instagram does not have a standard way of making money, unlike YouTube and its Google Ads. Therefore it is up to you, as an influencer, to find brands willing to pay you directly.
One caveat to this is if you are large enough to be accepted into one of the influencer marketing platforms. In this situation, you can register your interest, and if they accept you as being influential enough, they will include you in their databases, and suitable brands may well come to you if you meet the profile of the type of influencer they are looking for. We highlight the main Influencer Marketing Platforms here.
Any Instagramer wishing to earn money needs to make building up a strong and loyal following their priority task. You can help improve your standing here by:
Perfecting your bio, so it is very clear who you are and whom you want to follow you

Posting regularly. Like most social media, Instagram likes to see evidence of regular posting - not sudden splurges when you feel you have some spare time

Post high-quality original photos. Try and take pictures using a decent camera, rather than simply using the one in your cellphone. You need to be known for producing seriously good content (which in the case of Instagram, is high-quality pictures)

Use relevant hashtags, so people in your niche will find you by your tagged images

Engage with your followers - comment on and like their images, and they are more likely to do the same in return to yours.
---
Sponsored Posts
The most common form of cooperation between brands and Instagram influencers is through sponsored posts. Our calculator above is designed to show estimated earnings from sponsored posts. In this situation, a brand will normally reach out to somebody it considers an influencer and offer to pay them to push out a sponsored image to their followers.
Of course, to be effective a sponsored post has to sit well with the influencer's audience and appear like a genuine recommendation from the influencer. The FTC has got involved in recent years, and it is now a requirement that sponsored posts are clearly marked as such. If the product fits well with the Instagrammers audience, it should not matter if a post is marked #sponsored or #ad.
The ideal sponsored post shows how the brand's product fits perfectly into the Instagrammer's life, and how it can just as easily fit into the lives of his or her followers. The top Instagram influencers, with thousands of engaged followers in a popular niche, can command very healthy fees for making sponsored posts. A Grouphigh Influencer Marketing Report survey suggests that a mid-level influencer can charge $200-$500 per post.
It is not unheard of for those with more than 100,000 followers to earn $700-$900 per photo. Those with 500,000 followers can command $2,000 to $3,000 per sponsored photo posted.
Then, of course, there are the superstars. Kim Kardashian West has been able to command $300,000 for a post across all of her social media platforms. Of course, her 87.1 million Instagram followers do put her in a class of her own! A typical post by any of the Kardashian / Jenners clan usually earns at least $200,000. Often Instagramers create the content, and the brand then has the rights to reuse that content in their marketing and on their website.
---
Affiliate Marketing
Just as a blogger can promote an affiliate product on his or her blog, an Instagrammer can promote an affiliate product in his or posts. You could work with a site like Shareasale to find suitable products to promote.
Of course, like all influencer marketing, this will only be effective if the product you are promoting fits nicely with your followers. If it looks simply like an ad for an unconnected product, your followers will be unimpressed and won't follow the link. They may even unfollow you in protest.
One technical hurdle with affiliate marketing on Instagram is that you share photos - not links. One way around this is to include the affiliate link (which you should put through a link shortener first) in your photo captions.
---
Use Your Instagram Account to Market Your Own Business
Of course, if you are a successful Instagrammer, large enough to be considered an influencer, you can promote your own products. Even the big names, such as Justin Bieber use their Instagram accounts for this purpose. These are similar to sponsored posts, except this time the images are of your own products.
These may be images of merchandise you have created especially because of your fame, for instance, a t-shirt promoting your Instagram feed, or they may refer to some business or product you are involved with. For instance, pop star Delta Goodrem has just used her Instagram account to launch a new fragrance line.
Your aim, as an Instagrammer, is to build up both your following and your engagement. If you are successful in building both to high levels you definitely have the opportunity to make money through your Instagram account.
Also see the YouTube Money Estimator
---
Terms and Conditions:
Please note that the following Terms and Conditions apply to the competition referenced above on https://influencermarketinghub.com/instagram-money-calculator/. Influencer Marketing Hub reserves the right to edit, amend or change to competition terms if required.
There will be ONE winner of the ticket to Under The Influence, an Influencer Marketing Hub Conference. The conference will be hosted on the 8th of November, in London. The prize ticket is a 'General Access Ticket'.
The ticket cannot be sold, or returned for a cash refund.
The winner must be able to attend the conference in London, on the 8th of November 2018. Any transport to and from the conference, or other related expenses, is at the winners own cost.
Lunch, drinks and snacks will be provided as part of the 'General Access' ticket offering.
Prizes may only be claimed by winners who live in the EU region. We welcome social shares from all over, but the winner will be required to show proof of address - in an EU country.
The winner will be selected by a Random Generator on the Wednesday the 18th of October, and they will be notified by Facebook or Twitter Private Message. If the winner cannot be reached via these channels within 48 hours, the process will happen again - until an eligible winner is found.
Please ensure you Follow

@influencerMH

on Twitter, and like the

@influencermarketinghub

page on Facebook so we can notify you if you're selected as the winner.
The winner will be announced via the Influencer Marketing Social channels once the winner has been contacted and approved.
Influencers Marketing Hub's decision is final, and no correspondence will be entered into.
Influencer Marketing Hub reserves the right to change the date of the conference, if unforeseen circumstances occur.
Staff members of Influencer Marketing Hub, and members of their immediate families, are not eligible to win.
By entering the competition, you agree to receive updates from Influencer Marketing Hub about the conference.