It can be incredibly challenging to stand out from the crowd on Instagram. The platform is inherently visual, and there can be stiff competition, particularly for businesses attempting to position their posts in people's Instagram Explore pages. Millions of marketers try to break onto the Explore page, without success.
But you can improve your chances of Instagram success by merely improving the way you run your account. By following good posting habits, you have the opportunity to optimize your Instagram posts for maximum impact. And we have a new Influencer Marketing Hub tool to help you achieve this without having to spend half your life trying aimlessly to create the perfect Instagram post to wow your followers.
---
Instagram Post Optimizer Tool
​
---
Optimize Your Instagram Posts for Maximum Impact:
---
Understand Instagram's Algorithm
There was a time when Instagram displayed posts in the order that people made them. This meant that you could create posts in the knowledge that all your followers would see them, as long as they were prepared to scroll through their posts for sufficiently long to get through the queue. However, as the number of posts grew, Instagram changed its algorithm to try and ensure that people got to see the posts they most wanted to see, leaving those posts deemed less critical further down the queue.
In theory, at least, this means that posts by friends and family will always take precedence over posts made by brands. Therefore brands must optimize their posts to try and "beat" the algorithm.
As Hootsuite reports, Instagram's primary goal is to maximize the time users spend on the platform. The more time users spend on Instagram, the more ads they can view. Instagram uses "ranking signals" to help decide the order of posts on each person's feed. These ranking signals are:
Relationship – Instagram prioritizes posts from people it believes are close to the user. Factors it uses to decide on closeness include whether somebody leaves comments on your posts, whether they have your notifications enabled, whether you DM each other, or if you tag each other in your posts.

Interest – whether a post is likely to interest a user based on past behavior. This uses AI to determine the types of posts that appear to most interest a user

Timeliness – the algorithm favors newer posts over old posts. This is one of the reasons why it is crucial to post when your audience is online – if you post at other times, your posts may be deemed to be stale by the time your audience awakes
Several smaller factors also impact on the order of posts as defined by the Instagram algorithm. These include how often a user opens their Instagram app, following count, and each user's average session time.
---
The Influencer Marketing Hub's Tool to Help Optimize Your Instagram Posts for Maximum Impact
The Influencer Marketing Hub now offers a free tool to help you optimize your posts. You begin by stating your post type (image, video, or text only) and then enter your post caption.
You can then enter details about your intended posting day and time and then click on a Score My Message button to see how successful your post is likely to be.
Our tool provides you with an overall score, as well as sliders showing the comparative strength of your message type, sentiment, characters, emoji, hashtags, and time of day.
It also provides suggestions on how you can further optimize your Instagram post to improve your social visibility further.
---
Change to an Instagram Business Profile
While having an Instagram business profile doesn't have a direct bearing on the Instagram algorithm, it does make life much easier for any serious Instagram account. In particular, you need an Instagram business profile to have access to Instagram Insights – the free analytics tool that Instagram provides its users. Some of the more extensive Instagram tools provide you with even more data – although you will again need to have a business profile in most cases.
---
Share High-Quality Images
Let's face it. Instagram is all about the visuals. If text were still king, there would have been no reason for people to change over from Facebook.
One of the reasons for this is the increase in bandwidth and the speed of downloading over recent years. You only have to go back a few years, and people would give warnings about limiting your file sizes to manage your internet connection.
Now, most people enjoy fast connections, both to their desktop and on their mobile devices. There is no reason why you can't upload high-quality, sumptuous images to whet the appetite of your fellow Instagrammers.
Instagram now encourages people to upload high-quality images. We recently posted our guide to Instagram image sizes. We recommend the following sizes for your traditional Instagram posts:
Square images: 1080px by 1080px

Landscape images: 1080px by 608px

Portrait images: 1080px by 1350px
These are the ideal sizes. If you upload larger sizes, you will slow things down for no additional benefit. Smaller file sizes, however, detract from the overall appeal of the image, taking away much of the fine detail.
Don't be afraid to modify your images to improve their quality or fitness for your intended post. There are many tools you can use to help you, ranging from industry heavyweights like Adobe Photoshop through to free or low-cost tools like Canva and Gimp. The social media marketing platform, PromoRepublic, includes a high-quality inbuilt graphics editor, along with numerous images you can use as a starting point for your visual creations.
---
Add Videos into Your Posting Mix
Although Instagram's algorithm doesn't favor videos over still images, the typical user does appear to prefer video. Video consumption has increased by 80 percent over the last year.
A bonus with videos is that anybody who stops to watch your video increases their average time interacting with your account, improving your engagement stats, which does send Instagram's algorithm signals in your favor.
---
Schedule Your Posts at the Best Times
You might upload some truly amazing photographs and write compelling text to accompany them. However, that will not be enough if the bulk of your followers are sleeping at the time you make your posts.
This could be particularly problematic for businesses that contract freelancers to operate their social accounts for them. You don't want your social media managers making posts in their local time if that doesn't match the behavior of your target audience.
There is an easy, relatively cheap solution to this problem. Simply use one of the social media marketing platforms to schedule your posts in advance. We have carried out extensive reviews on many of them – just make sure that you select one that caters to Instagram. Be aware, though, that Instagram made life difficult for the platforms for some time, meaning that they initially didn't carer for scheduling within the platform. The best they could offer was to set an alarm to remind you to make the post physically. Things have improved since then for many of these platforms, although some are still awaiting Instagram's approval before they can offer a full scheduling service.
One of the most important reasons for using scheduling software is that you can spread your posts across the day. While you hope that your followers will gain value from your posts, they won't thank you for swamping their feeds with a cluster of posts made at the same time.
You should be able to discover when your audience is online from your Instagram insights. They will tell you the most popular days of the week and the most popular hours of each day for your combination of followers.
The secret to Instagram success for brands is to post relatively consistently. Many successful brands post once every three to four hours.
---
Use Relevant Hashtags
One of the best ways to expand the reach of your Instagram posts is to include relevant hashtags with each post. However, make sure that they connect to the content of the post. Instagram dislikes people repeatedly using the same combination of hashtags across their posts, and in extreme cases, allegedly shadowbans accounts that continue with this practice (although Instagram denies this practice).
The primary purpose of a hashtag is to help classify your posts to assist with searches. People search for a specific hashtag, and Instagram lists posts that use that hashtag.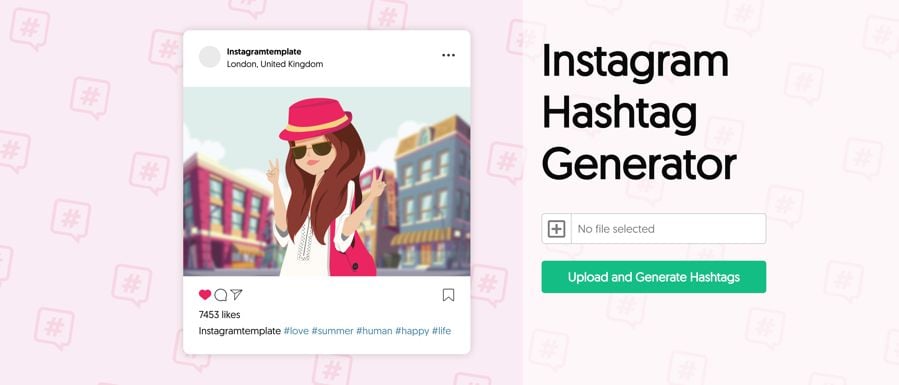 Of course, there is little point using a hashtag that nobody uses. You need to find the balance where the relevant hashtags you use are also popular. We have written an ultimate guide to using Instagram hashtags to grow your followers. Of course, marketers use hashtags for more than just easy searching. They also create custom hashtags for campaigns, to help group similar types of posts together.
---
Tag People in Your Images
One simple way that your posts can gain some notice is to tag people in your images. You can add the names and Instagram usernames of anybody in your pictures. Instagram will notify these people that they have been tagged, and your post will become part of their profile. This means that both your followers and their followers will see your post.
---
Remember the Social in Social Media – Engage with Your Followers
Social media marketing is very different from traditional advertising. It's not like a television, radio, or newspaper ad, which you create, pay the medium for exposure, and then wait for new customers. You can't just make a social media post (on Instagram or any of the other social networks) and sit back. You have to engage with your followers and other interested people.
Your fans need some reason to follow you. They aren't going to take an interest in your pots if you simply use Instagram as an advertising medium. You need to come across as caring and taking an interest in them as people.
This means that you need to spend time looking at and liking their posts. Make thoughtful comments when relevant. Also, make sure to reply to any comments people leave on your posts. Remember, you are engaging with humans, and they expect you to treat them with sufficient respect.
Also, make a point of adding compelling captions to your posts. These make useful starters to drive engagement.