Instagram introduced Business Profiles in 2016. Since then, many businesses have switched their Instagram accounts from a personal profile to a business profile.
The change seemed inevitable, with Instagram being owned by Facebook. In many ways, Instagram acts as an extension of Facebook, emphasizing the visual element, and this is particularly the case for business accounts and advertising.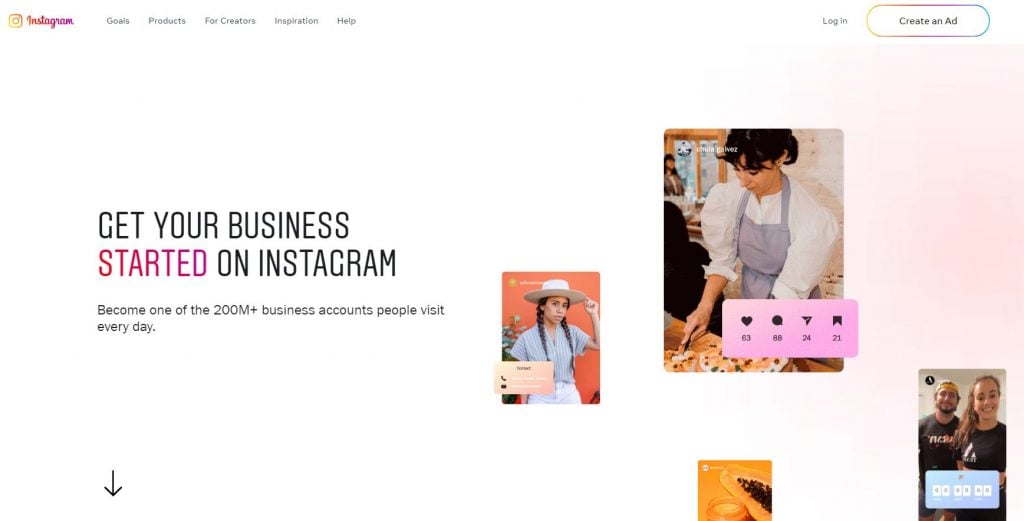 There was some resistance to making the change, though. Many businesses noticed the lower organic reach of their Facebook pages compared to personal Facebook profiles. They were worried that the same would happen with Instagram. However, there does not appear to be as much stigma attached to an Instagram Business Profile as there is to a Facebook Business Page in practice. If you continue to share quality material through your Instagram Account, you are unlikely to see much if any reduction in organic reach.
This doesn't mean that you should avoid having a Facebook Page for your business, however, as operating a Facebook page is a requirement for converting to an Instagram Business Profile.
You will lose two features when you convert to a business profile, however:
The ability to make your posts private

The ability to link to multiple Facebook profiles – instead, you connect your Instagram account to your business's Facebook page
Although these features may have some value to a personal account, they would have little if any use for a business account, which is probably why Instagram removed them.
The reasons for operating an Instagram account are usually very different for a business than they are for an individual – even a solopreneur. You use your personal Instagram account to show aspects of your life to your friends and family. A business runs its Instagram account to help build an audience and hopefully gain customers. If you are in business, you might still want to operate a personal account for your non-business activities.
---
6 Benefits of an Instagram Business Profile [And How to Switch Over]:
---
Benefits of Operating an Instagram Business Profile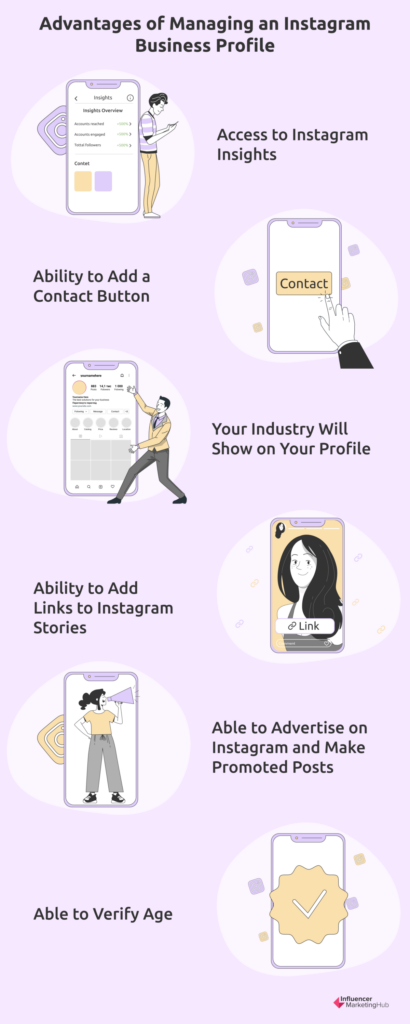 1. Access to Instagram Insights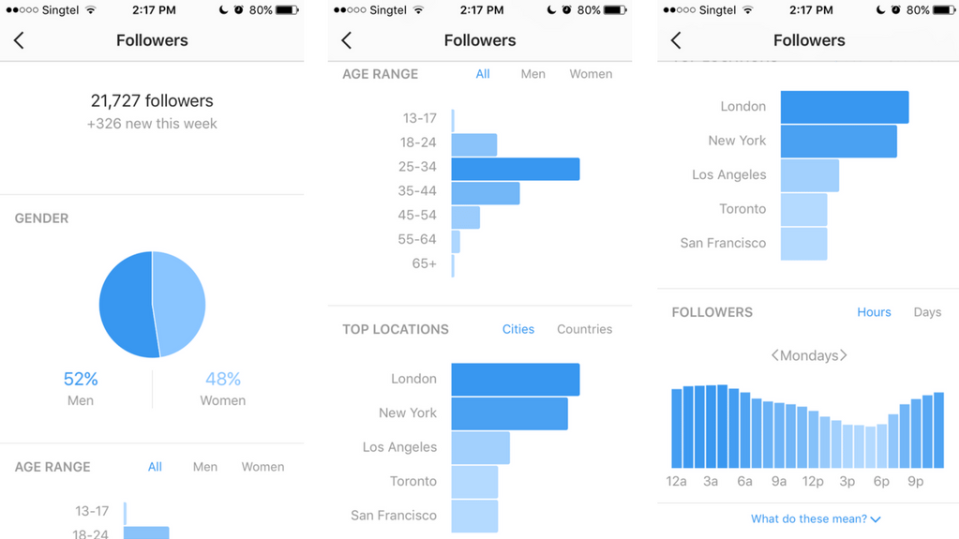 Instagram provides little in the way of analytics and performance statistics for the average Instagram user. This used to be a problem for businesses, so Facebook created Instagram Insights for businesses and power users.
Instagram Insights provides businesses with all the essential data they need to know about their account and how their posts perform. It offers insight into what content works and what doesn't. It gives you information about your followers to help you build a picture of those who take an interest in you.
It shows you your performance on Instagram over the last week - change in followers, the number of posts, impressions, reach, profile views, website clicks, and email clicks. Indeed, you can view this data for any period up to 90 days.
It then gives you detailed demographics of your followers once you have reached at least 100 followers – their gender, ages, locations by cities and countries, and when they are most active.
Instagram Insight also lets you view your historical posts by engagement and impressions over a period you set, up to two years. In addition, it gives you data relating to traditional posts, Stories, reels, IGTV videos, live videos, and promotions.
Of course, there are times when you may want even more detailed analytics about your Instagram performance. We have suggestions for this our Top Instagram Analytics Tools guide.
---
2. Ability to Add a Contact Button
A helpful feature permitted for accounts with a Business Profile is adding a Contact button to your profile. When somebody clicks on the button, you can set it so that they can email you, dial a telephone call to you, or provide them with a map showing your location.
You can also set an option to sync your public contact information with your Facebook page. This means that people who have privileges to edit your Facebook page can update information that syncs to both that page and your Instagram account.
You can also opt to add an Action Button. Action buttons connect your Instagram profile with other online services so that customers can interact with your business directly from your profile. Currently, Instagram offers three types of Action Buttons: Order Food, Book Now, and Reserve.
---
3. Your Industry Will Show on Your Profile
When you created your Facebook page, they asked you to select the industry in which your business operates. So, when you then connect your Instagram Business Profile to your Facebook page, this information crosses to your Instagram profile. You can modify this information directly within Instagram if you need to in the future.
---
4. Ability to Add Links to Instagram Stories
From a marketing point of view, one of the most annoying things about Instagram is that you generally can't use clickable links. If you operate a personal profile, the only link you can show is the one in your profile.
Instagram Stories provides another option, however. We have described How to Use Instagram Stories Like an Expert. One practical option for some Instagram accounts is the ability to add a URL to an Instagram story.
Including a link in your Instagram Story is particularly valuable for elevating conversion rates, enhancing organic engagement, and facilitating convenient access for your followers to the content you intend to share.
The ability to add links to Instagram Stories isn't available to all businesses, however. You need to have a business profile with 10,000 followers before Instagram gives you access to this feature. Alternatively, you can qualify for this swipe-up feature if you have a verified badge.
If you meet the criteria, you can add a link while you upload your Instagram Story. First, tap on the chain-like icon at the top of your Story (the fourth icon from the right). Then tap on + Web link and add the URL. Once you've clicked Done, you're all set.
---
5. Able to Advertise on Instagram and Make Promoted Posts
If you have the budget to promote your Instagram posts and advertise on the platform, you will need to operate a Business Profile.
This is another area where the connection between Facebook and Instagram is obvious. You build your ads on Facebook and choose where you want your ad placed. Instagram is one of the options Facebook gives you – the others are various positions on Facebook and Messenger.
A more recent innovation has been the introduction of Instagram Shoppable posts. These allow companies to tag their posts with products, much like individuals tag their friends. When people tap on the tags, they are sent to a full product description with a "Buy Now" button. They can then tap on that button to purchase your product.
---
6. Able to Verify Age
Another useful option for some businesses with an Instagram business profile is to set a minimum age. For example, if you are a liquor store, you can set a minimum age that matches the legal drinking age in your location. That way, you can ensure that you aren't showing your content to potential underage purchasers.
---
Some Influencers Operate Business Accounts, But More Operate Creator Accounts
Quite a few influencers choose to operate business accounts, even though they don't really run a business. They take their Instagramming seriously and manage it on a business basis.
Influencers want to build their following and increase their engagement. The additional tools and insights offered by an Instagram Business Profile help their quest. They also provide more information for influencers to share with the brands with whom they work.
Good influencers can also perform magic with Instagram Stories, and it is an added benefit if they can add URLs when working on behalf of a brand.
However, Instagram has recently set up a third type of account that appears to better target influencers – Creator Accounts.
Confusingly, when you look at Instagram, there now appear to be just two types of accounts: Personal accounts and Professional accounts. However, there are actually two types of Professional accounts: Business accounts and Creator accounts. So, whenever Instagram uses the term Professional accounts in its documentation, it means both Business and Creator accounts.
Instagram now states that its Business accounts are "best for retailers, local businesses, brands, organizations and service providers." It describes Creator accounts as being "best for public figures, content producers, artists, and influencers."
Creator accounts give many of the benefits of Business accounts, with increased flexibility. For example, Creator accounts can hide their Instagram business categories along with their contact information. Creators can also show different categories on their Instagram profiles and Facebook pages. In addition, the users of Creator accounts can limit who can message them. Creators also have access to Creator Studio, which gives additional capabilities, including enhanced insights.
---
How to Switch Your Personal Profile to a Business Profile
Instagram sets a limit to you having five Instagram accounts. However, this is unlikely to affect you unless you have a range of target audiences and decide to set up a different account for each one.
In your personal Instagram account, go to your profile page and tap on the "hamburger" icon (the three horizontal bars) in the top right corner. Next, tap on Settings and Privacy on the resulting screen. In most cases, go down through the settings, and tap on Account type and tools. Scroll down your list of options and tap on Switch to Professional Account. In rare cases, you might have that option showing directly on your Settings page, in which case you won't need to go to first tap into your Account page. Make sure that you haven't set your account as a Private Account. If you already have an Instagram business profile but want another (up to the maximum permitted five), you can tap on Add New Professional Account on your Account page.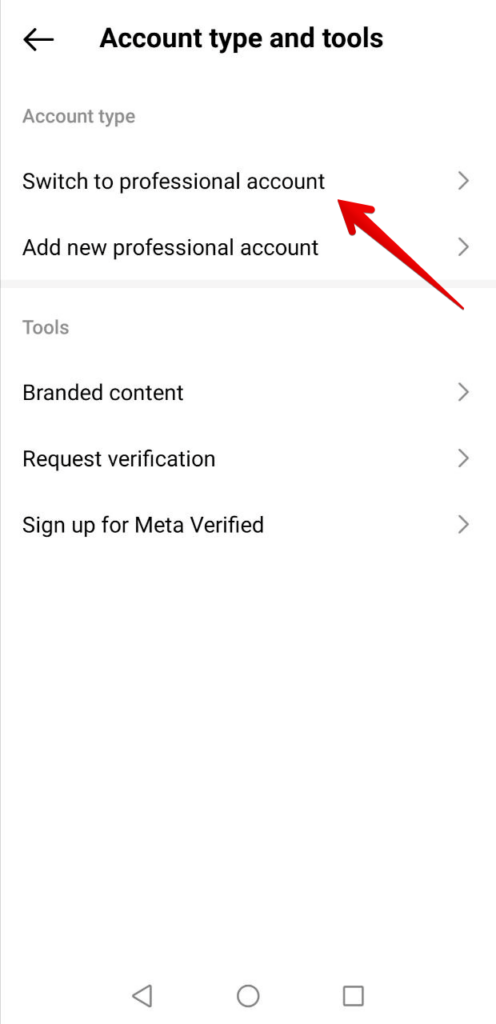 Whichever method you use to get here, you should tap on Continue on the next screen.
Instagram will then ask you for a category for your business, and once you've selected it, tap Done, and then OK to confirm, Business, and then Next. Instagram will ask you for your business contact details. Tap Next. Remember to write these as you would want your customers to see them. This includes your business email address, phone number, and address.
Once you've done this, follow the on-screen prompts to connect your business Instagram account to your business Facebook Page.
Once you have done the above steps, you will officially have an Instagram Business Profile. Tap X in the top-right corner to return to your profile.
Ultimately, Business Profiles offer a better marketing experience on Instagram, whether you are a business wanting to deliver your message yourself or whether you are a serious user building your following and engagement. However, if you're an influencer, you will probably be better served by converting to a Creator account.