One of the early challenges that marketers, advertisers, and content creators had in using Instagram was that it lacked any robust analytic tool to give you feedback on the success or otherwise of your posts. As a result of this, many private developers created their own Instagram analytics tools for influencers, brands, and anybody else who cared how their posts performed.
Instagram eventually introduced their Instagram Insights, limiting access to it to those operating a business account. We have previously explained how this is one of the main benefits of an Instagram Business Profile. This has not altered the development of alternative apps and online services providing analytical tools for influencers and other serious Instagram users, however.
As we have said many times previously, any successful influencer campaign begins with setting your campaign goals. For this to be of use, however, you need to be able to measure your progress towards meeting your goals. This is where Instagram analytics tools come to the fore. They provide the evidence you need and allow you to fine-tune your campaigns so you can better meet your goals.
---
Top Instagram Analytics Tools for 2022: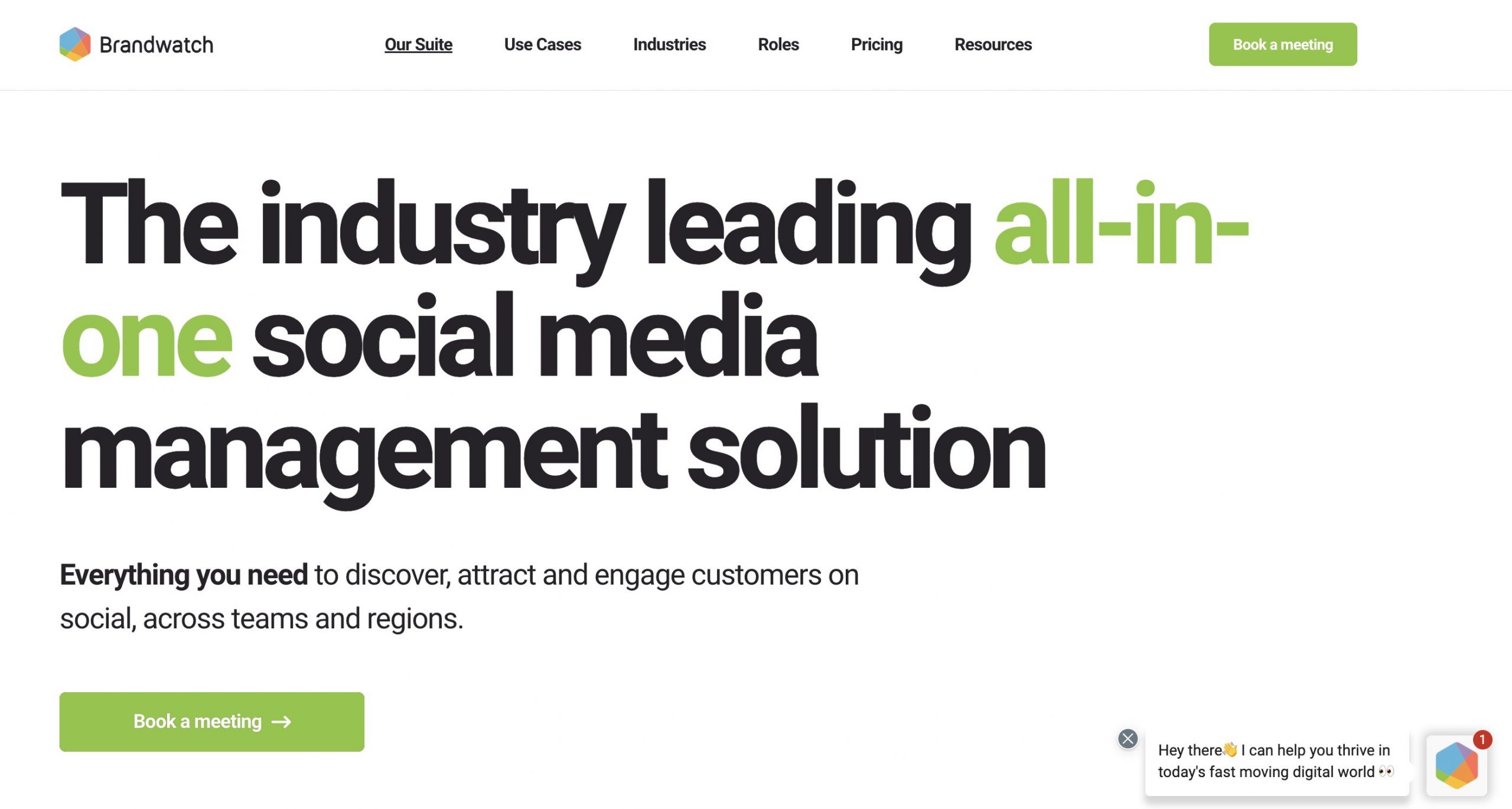 Brandwatch aims to give brands a stronger competitive advantage by offering the best and most accurate data to make informed decisions. It provides data for firms posting on Facebook, Messenger, Instagram, Twitter, LinkedIn, WhatsApp, and YouTube.
Although Brandwatch isn't free, you gain access to Brandwatch's advanced analytics dashboards in their $129/mo Essentials plan. 
Brandwatch provides data for all the social networks on which you post, although in-depth analytics are limited to Facebook, Instagram, and Twitter. You will find 100+ post metrics for Facebook and Instagram and 600+ additional metrics downloadable via CSV and API. Data includes reach, post level, and page-level reactions, organic, paid, and viral impressions, follower demographics, and much more. It incorporates team performance tracking to measure customer response time and whether engagement is speedy and effective.
Brandwatch lets you create custom dashboards to track those metrics most important to you. You can drag-and-drop and reorder and resize individual widgets.
Brandwatch offers much more than just analytics, however. You can use it for all your social media management, and with their Full Suite, you have access to social media advertising, competitor benchmarking, and social monitoring. 
All your scheduled content shows in one unified calendar, with every upcoming post identifiable by social platforms.
Brandwatch offers a tool called Publish to enable you to set and monitor social media advertising. You can use it to schedule and post ads on Facebook and Instagram and use Click-to-WhatsApp ads. They have extended their Instagram analytics to advertising, offering more than 100 metrics related to core measurables like placements, audiences, and objectives for smarter campaign optimization.
---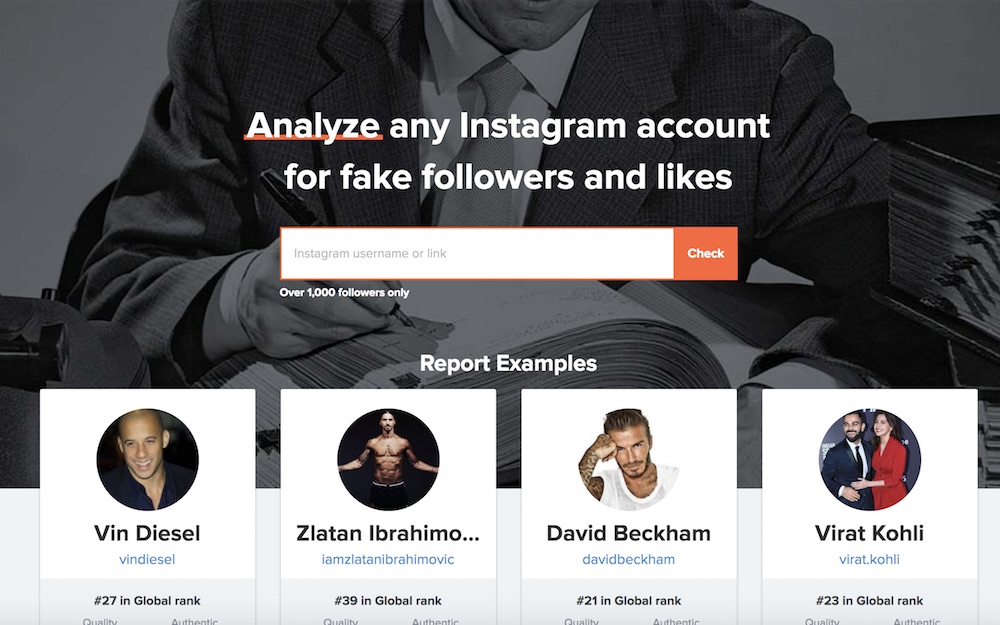 HypeAuditor provides third-party analytics for Instagram. It grew out of the platform HypeFactory in 2017, when the company decided to focus on its strengths – data and analytics.
HypeAuditor is a vast database powered by artificial intelligence that's indexed nearly 3 million Instagram profiles so far.
It works on a Pay-As-You-Go model, with no subscription required. You buy tokens and spend them influencer reports, with each report costing you a token. Although you pay $30 per report if you buy less than 10, the rate decreases the more you purchase.
The key analytic that HypeAuditor provides about every influencer is their Audience Quality Score for Instagram. This is a 1 to 100 metric which consists of three components:
Engagement Rate

Authentic Engagement

Followers Reachability
The Audience Quality Score uses AI to detect cheating and sporadic followers. Any influencer with a score over 70 should be someone that you can feel comfortable about working with.
---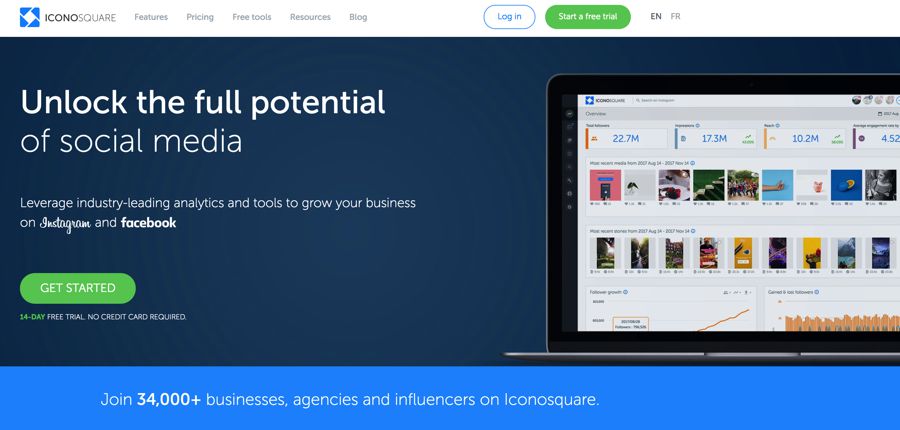 Iconosquare is a paid app providing industry-leading analytics and tools to grow your business on Instagram and Facebook. It offers more than just analytics, including post scheduling and content planning tools.
You gain access to the Analytics module from the lowest Pro tier at $29 per month.
The Instagram analytics cover a wide range of your accounts operation. Iconsquare provides you with analytics relating to your community, content, engagement, reach, profile activity, page performance, Instagram Stories performance, and hashtags. You can also see analytics about at least three of your competitors, with more available on the higher plans.
Iconosquare also offers a free Instagram Audit tool, which shows you more than 20 metrics relating to your account settings, account activity, audience engagement, and post optimization.
---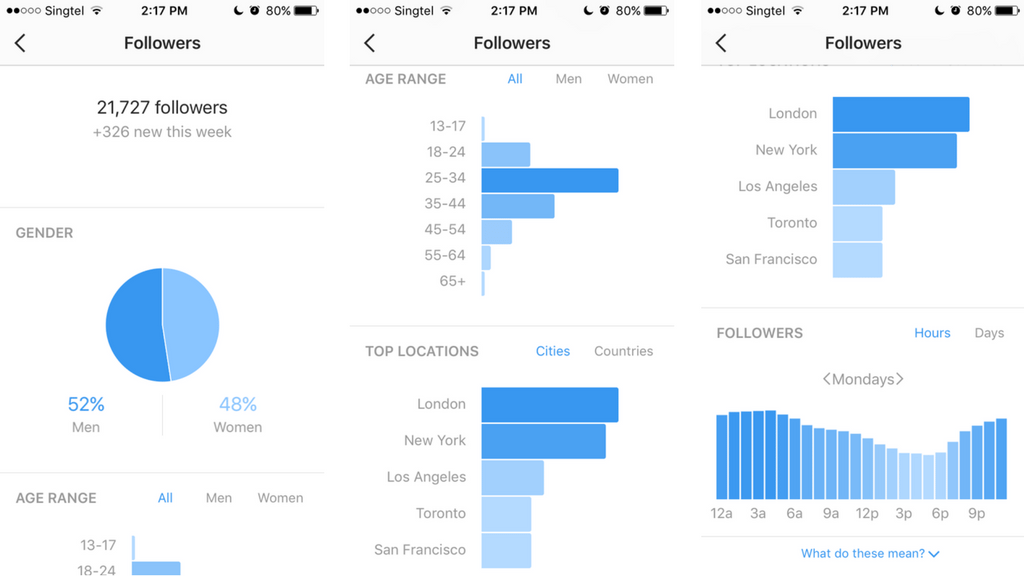 Instagram Insights is the free analytics tool Instagram provides to any user who converts to a business profile.
You will notice a graph icon in the upper-right section of your profile. Click on this to access your Instagram insights. This will show you essential insights into how your Instagram account performs.
At the top of the page, you will see total impressions and the change from the previous week. You can swipe through this summary section to find other key metrics:
Reach for the account

Profile views

Website clicks

Call clicks/email clicks
Further down the page is the Top Posts section. This shows you your top six posts from the last week, based on impressions. You can tap on "See More" to view additional detail and to adjust your filters to cover a more extended time period and a different range of metrics (impressions, reach, engagement, likes, comments, views).
If you are interested in discovering detailed statistics about a particular post you can find that by tapping View Insights on the post in question.
The next section of your Instagram Insights Screen is labeled Stories and gives insights on your Instagram Stories. You can alter filters for the time period you wish to analyze (up to 14 days), along with the metrics that interest you (impressions, reach, exits or replies).
The following section analyzes your Followers. It shows the average duration that your followers are on Instagram at the current time of the week, and you can also discover:
Follower count

Gender distribution

Age range distribution

Your followers' top locations

Follower activity
Instagram Insights will also give you details on the performance of any Instagram ads you may run.
---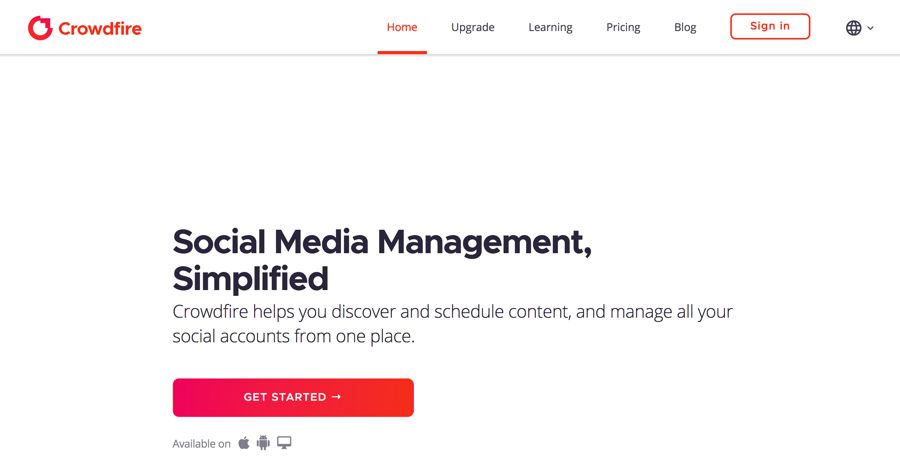 Crowdfire's primary purpose is to help you discover and schedule content and manage all your social accounts from one place. It is principally a post scheduler across your various social network accounts. It has a free plan, as well as a range of paid plans. You can schedule and work with your Instagram account at all pricing levels, including the free one.
It provides social analytics, although you are restricted to just one days' data on the free plan. This expands to 30 days of data for all of the paid tiers. You can also access post analytics but on the paid plans only. Crowdfire currently announces that they will add advanced analytics for their VIP ($33.32 / month) plan shortly.
---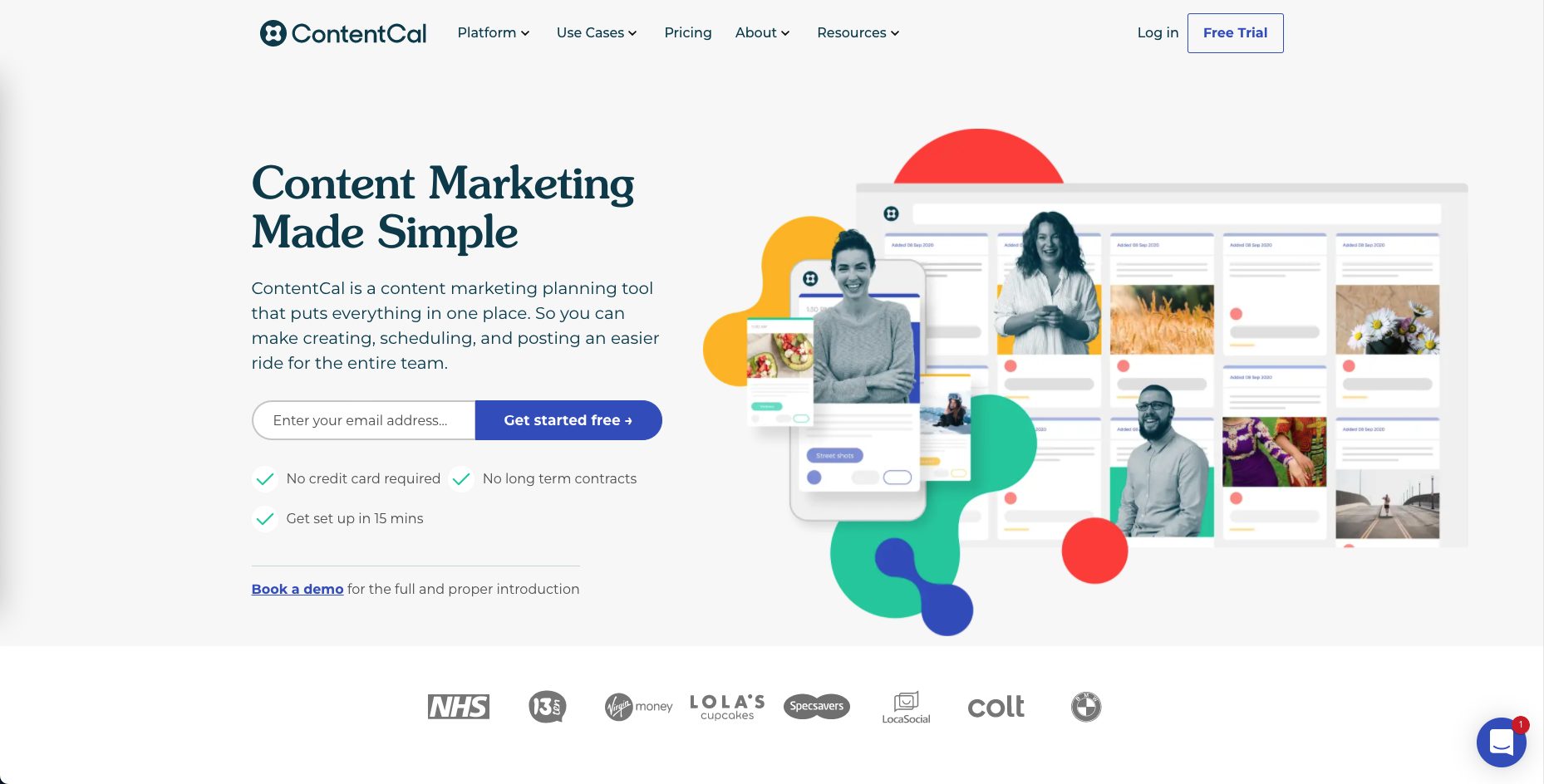 ContentCal is primarily a content marketing planning tool that puts everything in one place. Their three lower-level plans, Hobbyist (free), Pro ($17/mo), and Company ($47/mo), provide analytics for the posts you schedule. However, if you purchase the Premium, Enterprise, or Agency plans (all custom pricing), you can access an Advanced Analytics bolt-on. At its heart, ContentCal is a multipurpose content marketing platform that allows you to plan, create, collaborate, publish and analyze your content from one central location.
Since February 2022, you have been able to use ContentCal to auto-publish content to your Instagram feed, significantly simplifying your content publishing workflow. You can create, plan, and publish all of your single-image and single-video Instagram content through ContentCal without setting up a Zapier integration. This brings the ease of using ContentCal with Instagram into line with Facebook, Twitter, and LinkedIn. You can also publish Story posts and multi-image posts using their mobile app.
ContentCal Analytics can give insight into how your social media content performs and where you could improve in the future. It provides top-level analytical information for each of your social networks so that you can keep on top of your content performance with a few quick clicks.
The Advanced Analytics bolt-on gives you a comprehensive view of your social posting. It gives you an extra level of detail to assess your audience, competitors, and overall content performance. You can view analytics for your website, Facebook page, Twitter account, Instagram business account, LinkedIn pages, YouTube channel, Twitch account, TikTok ads, Facebook ads, and Google ads. Visual charts and graphics provide you with detail around engagement levels, audience demographics, competitors, individual posts, Story performance, and Hashtag usage. You can assess data within a chosen date range, with the option of going back as far as 12 months and compare data with that of your top competitors. You can also review content performance on a post-level basis. 
Compared to ContentCal's standard Analytics, Advanced Analytics allows you to see much more detail regarding your marketing channels' performance and collect data from additional channels such as TikTok Ads, Google Ads.
---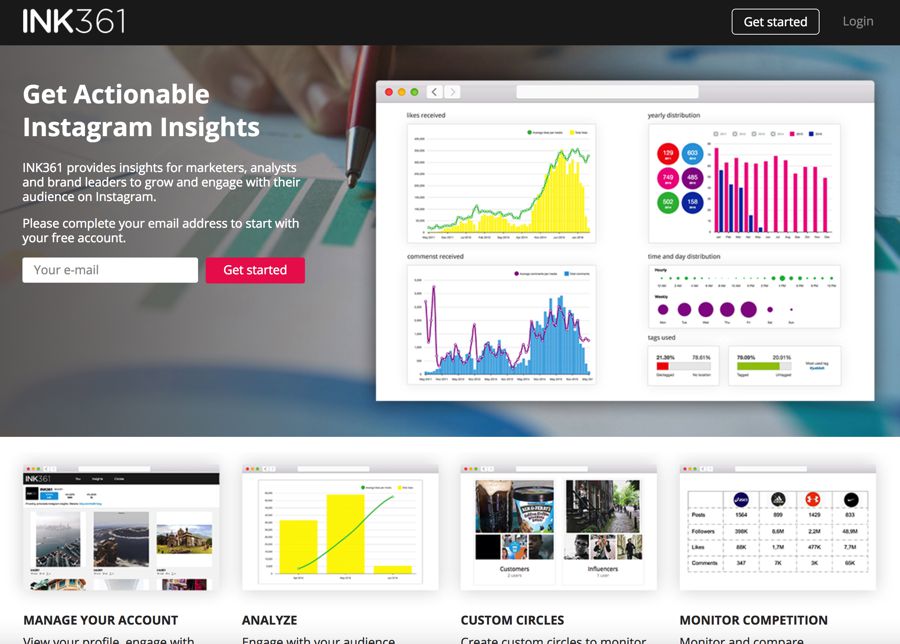 INK361 is primarily an Instagram management tool that provides audience insights as part of its package. At the moment there is just the free version, but there are plans to make available a Pro plan in the future with more powerful features.
The analytics dashboards are colorful and bright, giving insights to help you grow and engage with your audience on Instagram. They allow you to track followers and followings growth over time. They provide insights into your followers' geographical origin. You can view statistics for your posts, use of hashtags and filters, likes and comments. As a result, you should be able to optimize your tactics, for example, it can help you determine which filter, timing and hashtags you should use.
---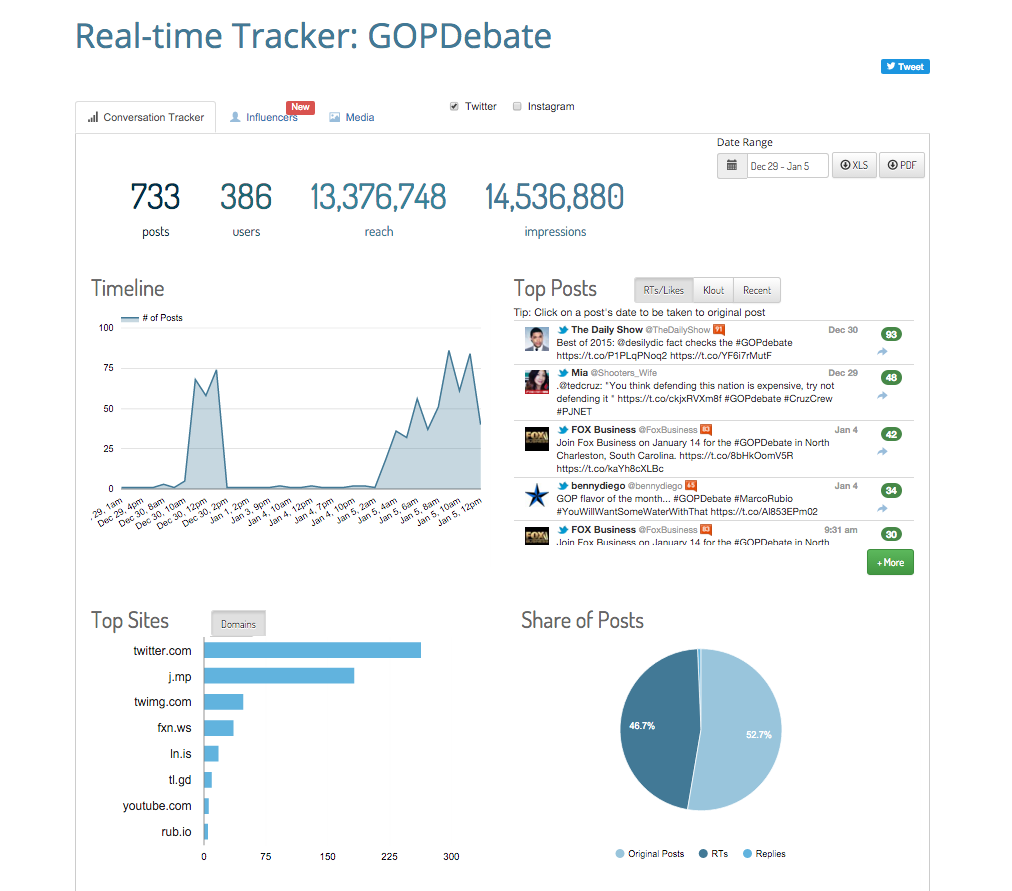 Keyhole is a comprehensive paid service. One of its capabilities is account tracking and reporting. It allows you to monitor all of your brand's Instagram posts, as well as those of your competitors, showing you how they perform. With this knowledge, you can optimize future content strategy for growth and engagement. Keyhole also includes comprehensive hashtag and keyword tagging.
The cheapest plan (Professional) is probably beyond the reach of most influencers, but it gives a free preview of what it offers. With the preview, you can check data going back a year (but with a maximum of 99 posts).
---

Although Pixlee is best known for its UGC Marketing Platform, it does offer a free Instagram analytics tool.  Once you sign up, they send you a shareable weekly report, detailing the most relevant facts about your last week's Instagram usage. It helps identify (other) Instagram influencers in your niche and allows you to monitor the performance of a brand. This includes hashtag statistics and tracking, monitoring growth in your Instagram followers, and identifying your most engaging posts.
While this tool is perhaps more designed for brands, rather than influencers, it still provides ample free analytics about the last week's operation of your account.
---
Simply Measured provides a range of tools to help influencers, brands, and agencies with their content marketing. They split their products into Listening, Social Analytics, and Social Media Management.
One of their offerings is Analytics for Social Marketers, which they describe as "social intelligence to help you reach the right people."  This allows you to explore and report on your own, and your competitors' profile performance. They have recently updated this service to include analysis of Instagram Stories.
Simply Measured provides you with a detailed range of Instagram insights, which allow you to measure the impact of your content on brand awareness with Instagram reach and impressions. You can also measure your brand performance. It will enable you to identify the reach of your Instagram hashtag campaigns and monitor the growth of your brand with new and total followers.
You can access more data than most of these products, including being able to gather competitive intelligence. You can measure your performance against your direct competitors. You can even identify the campaigns and content that have worked best for your competitors.
From all of this information, you can understand which post and story types drive the most engagement. You can even identify the top keywords used in comments and then discover related conversations so you can join in.
---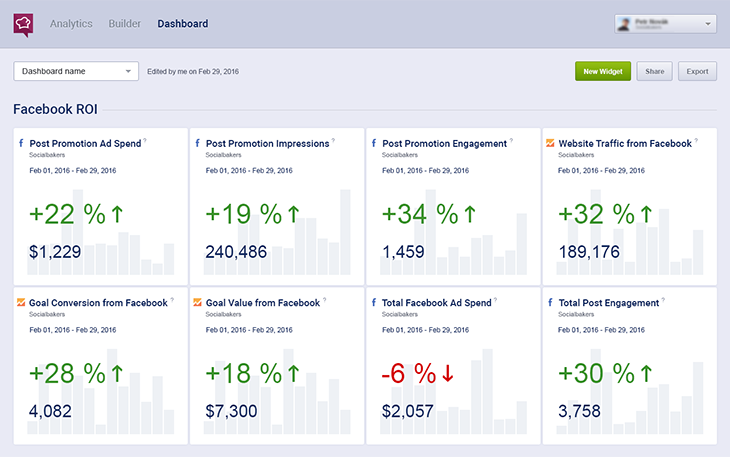 Socialbakers is primarily a platform to assist enterprises with their social media marketing. "We help brands engage & grow their customer base through content personalization based on actionable AI-powered audience insights."
However, they do include a range of social tools. One of these is the Socialbakers Instagram Analytics Tool. This allows anyone with either a personal or business Instagram profile to discover statistics about their most popular Instagram posts, track their success, and learn what gets your audience interested.
For those with greater analytical needs, you can gain more Instagram analytics by purchasing a Socialbakers Suite subscription.
---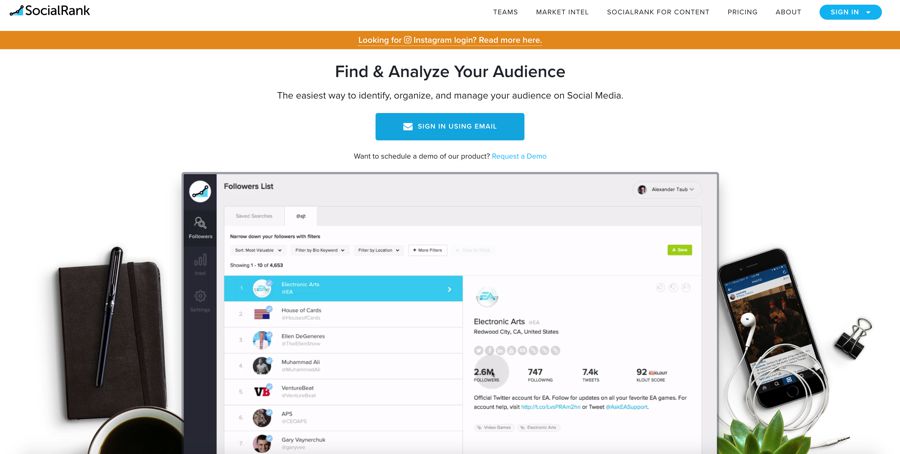 SocialRank is a tool for both Instagram and Twitter that allows you to manage your followers better. It is an audience segmentation tool helping you to identify, organize, and manage your audience on social media.
Once you log into SocialRank, you can segment your audience by using various sorting and filtering options. You can sort your audience by Most Valuable, Most Engaged —likes, comments, and tags, best followers, most followed, alphabetized and chronological. You can filter and pinpoint your audience by filters ranging from bio keyword, word/hashtag search and geographic location to verified, number of followers, activity, and other ways
SocialRank for Content allows you to analyze granular audience data around content performance. It provides you with a comprehensive timeline of each post to gain insights about its performance and most influential interactions.
Pricing isn't particularly clear on their site, although they do have Basic and Premium + tiers. They do offer various discounts, including one for celebrities which may be relevant for better-known influencers.
---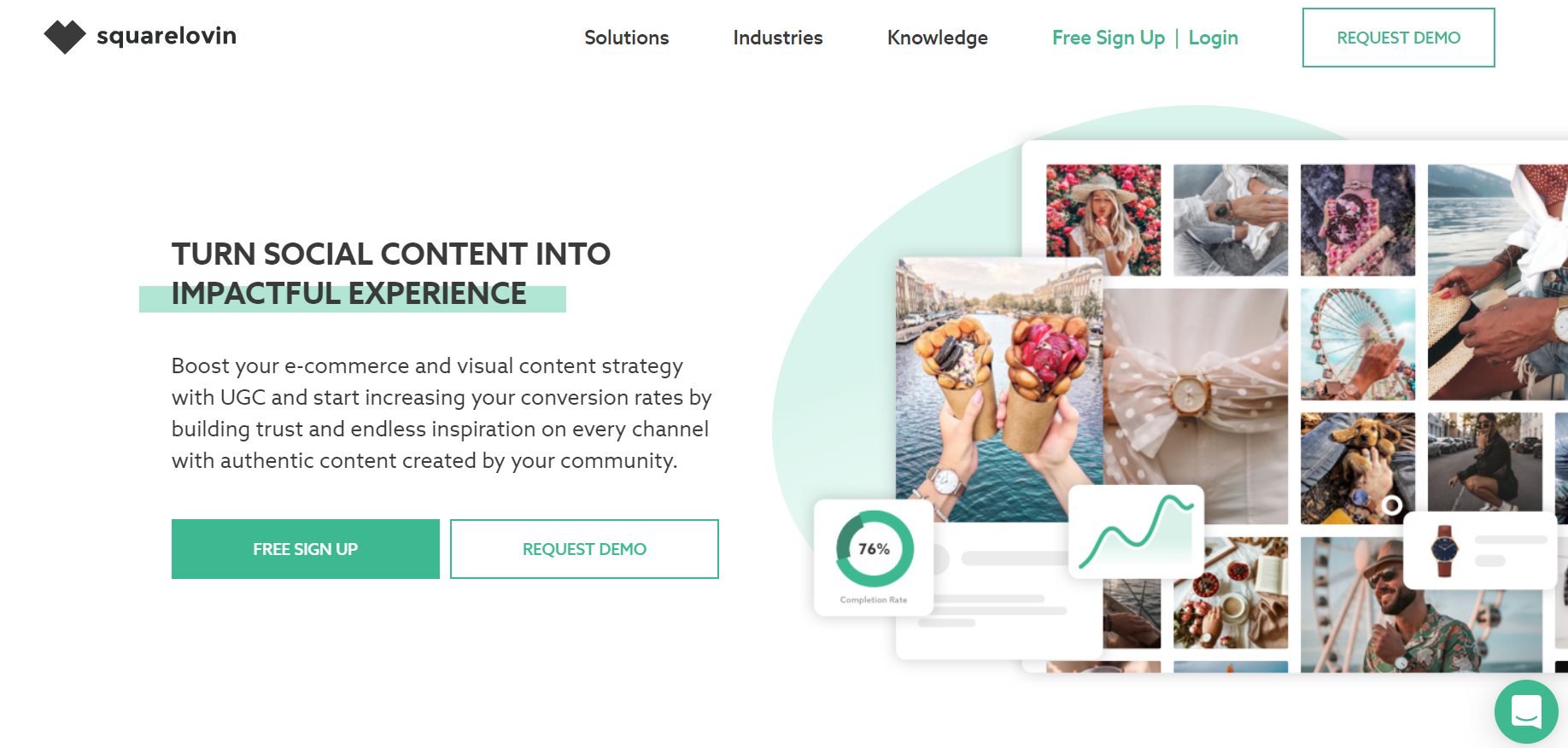 Although Squarelovin is primarily a user-generated content platform, it includes an in-depth analytics tool, also called Instagram insights. You can gain access to this tool for free.
Squarelovin Instagram Insights begins with an overview of your Instagram account. It gives you the essential information about your audience. It also tells you about your account's growth, your likes, your followers, and your post-performance.
It then tells you about your engagement, with detailed metrics about which types of posts attracted the most likes and comments. You can easily compare engagement rates, to help you better understand your followers.
Finally, Squarelovin Instagram Insights gives you all of the information you need to know to be able to optimize your posting. It even tells you which filters and hashtags have been most successful with your followers. Squarelovin analyzes your entire post history to come up with these insights.
---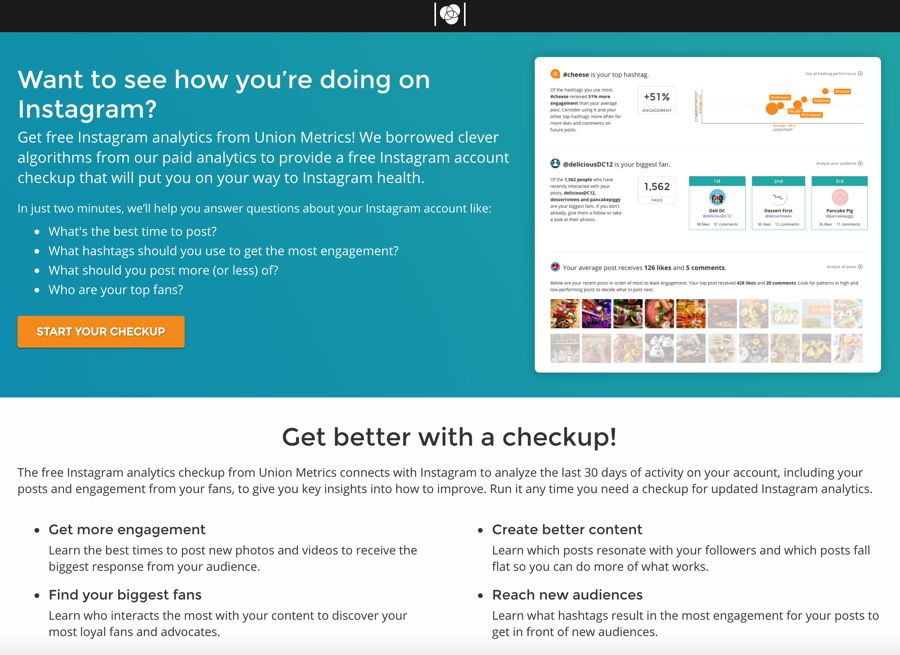 Union Metric has recently joined its social marketing intelligence capabilities with TrendKite's AI-driven earned media measurement platform and Insightpool's social influencer data to create one company Its primary product is a social platform that provides the analytics every marketing team needs to build an effective social strategy and inform day-to-day execution on social media. The various level of paid account all include analytics for Instagram, Twitter, and Facebook.
Regarding Instagram, their paid plans report on reach and impressions, profile engagement, influencer identification, topic and mention monitoring, audience geography, and sentiment analysis.
Union Metric also offers a free Instagram Account Checkup tool. They use a subset of the algorithms from their paid plans to provide you with a free Instagram account checkup, giving you an indication of your best time to post to your followers on Instagram, the hashtags that give you most engagement, and the types of content you should post more (and less) of.
---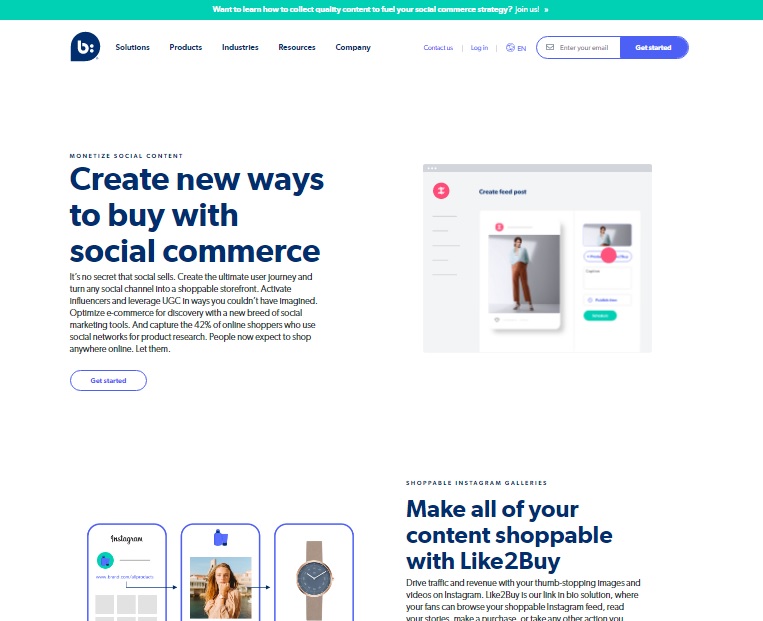 Curalate provides tools that enable you to encourage your followers to buy your products, plus track their behavior through custom links, which can be included in your bio. Its Visual Insights feature uses image recognition technology to generate analytics about which of the brand's products have the highest shares on particular platforms. It also tracks mentions and tags.
The following features gather the data for Visual Insights:
Like2Buy creates a link (such as like2b.uy/fossil) that leads to a page featuring the products you featured in your feed. This way, your visitors and followers can view the photos on your account without opening a separate browser to search for a product. Two more clicks will take them to the landing page of a specific item, where they can buy it without leaving the page. Retail chains Nordstrom and Target use Like2Buy for their online storefronts.
Besides the "Featured" product tab, the Like2Buy page also has a "My Likes" tab, which contains the product photos that your followers previously liked and can revisit later. As Instagram users keep on clicking photos, they don't feel like they're leaving the platform. This makes it easier for them to make a purchase.
Like2Buy has other benefits including capturing your fans' email addresses and identifying their IP address.
Fanreel lets you pull in photos and other user-generated content from followers and influencers to your website. Showing how your products are used in real-world situations becomes instant testimonials that can boost your brand engagement.
Reveal turns images on blogs and influencer pages into shoppable content as readers get directed to your website's landing or product pages when they click on them.
During its 2012 launch, Curalate first worked with Pinterest, but it has grown to easily integrate with other visual social channels, emails, blogs, and paid media. In 2020, Bazaar Voice acquired the platform.
Curalate doesn't have any free plan or free trial. You can contact it to request a customized price.
---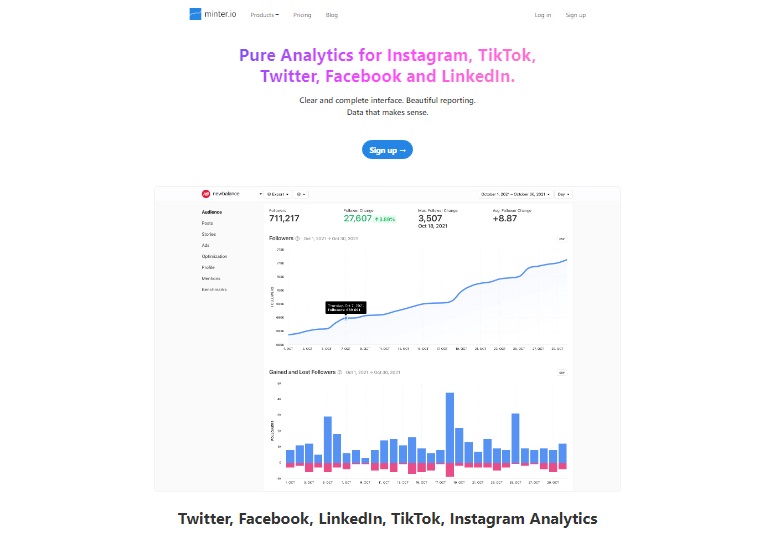 Minter is what you need if you have several IG accounts or rely heavily on this social channel for your marketing. It's an advanced tool that allows you to monitor these multiple accounts (and your competitors) from a single dashboard. You can transfer Instagram metric data to Excel or save reports in PDF format.
The solution generates demographic information such as the gender of your visitors and followers and their geographical location. You can even discover what photo or video filter is most effective for your brand by comparing the metrics of your individual posts. 
Minter also allows you to discover your followers' activity on Instagram—giving you insights as to when is the best time to post. It classifies your followers into: mass subscribers, possibly, regular, popular, and influencers. 
The analytics tool also provides data on the number of likes and comments your post gets over time. At the same time, it allows you to track your competitors' most popular hashtags. You can use the platform to create benchmarks so you can improve engagement. 
Minter offers a 14-day free trial. It has three plans: Silver ($9 per profile monthly or $99 per profile for a year), Gold (with hourly updates and tracks mentions; $19/mo or $199/year), and Platinum (with benchmarking feature; $39/mo or $399/year).
---
Frequently Asked Questions
How do I pull Instagram Analytics?
You can pull Instagram analytics by having an Instagram business or Instagram creator profile. If you have one of those profiles, you can easily access your analytics through the Insights tab in the Instagram app. To do this, tap the menu icon in the top right corner of your profile and then click on the insights tab. That will open analytics for your business or creator profile.
How do you see someones Instagram analytics?
It is not possible to see someone's full Instagram analytics without access to their account. You can ask someone for their analytical data, which can be found in their Insights tab if they have a business or creator profile. The only analytics you can see are their followers, their likes, and their comments on each post.
What are the tools of monitoring Instagram?
There are many powerful tools to better monitor Instagram. Try these:
Sprout Social.
Iconosquare.
Phlanx.
TapInfluencer.
Curalate.
Union Metrics.
Bitly.
Keyhole.
How do you track Instagram Insights?
To access live Instagram Insights, go to your analytics screen, scroll down to Live, and click the right arrow next to your number of streams. You can then view your metrics related to live streams, including accounts reached, peak concurrent viewers, comments, and shares. You can track additional Instagram Insights through the Insights tab in the Instagram app.
Who stalked my Insta?
There is no way to find out who viewed your Instagram profile or Instagram account - or find out who stalked your Instagram. Instagram as an application does not let you track your profile visits. It is therefore not possible to track Instagram stalkers.