How do you know that your Instagram marketing efforts are paying off or which types of content resonate with your audience? You can't just keep pushing out content hoping for the best; you also have to keep track of what's working and what isn't. That's where Instagram analytics comes in, providing you with the data you need to understand the impact of your current marketing and content efforts.
Not sure what metrics to track or how to use Instagram analytics? Read on to learn how to access your analytics insights on Instagram and how you can leverage them to grow your Instagram account.
---
Ultimate Guide to Instagram Analytics:
---
Why You Need Instagram Analytics
Now you may be wondering, "Why do I need Instagram analytics in the first place?" Why should you go through the extra trouble of tracking performance metrics on Instagram? There are a number of reasons why you should leverage Instagram analytics.
Optimizing Performance
Instagram analytics gives you valuable insights into your top-performing posts and when your audience is most active. This can reveal some excellent opportunities to improve your performance. For example, you may want to publish posts at times when your followers are most likely to engage.
Understanding Your Audience
The native Instagram analytics tool can also give you a breakdown of follower demographics so you can better understand your audience. This includes details like location, age range, and gender distribution. Leveraging this information will allow you to develop content and campaigns that will resonate with your audience.
Streamlining Your Content Strategy
Instagram analytics is particularly effective for understanding what types of content work best for your audience. So you can optimize your content strategy accordingly. This may include creating more Reels and Stories, for example. Or it may involve developing more content similar to the ones that saw the most reach and engagement.
---
How to Access Your Instagram Insights
The native analytics tool on Instagram is called Instagram Insights. This is only accessible for users with a Business or Creator profile, so it's recommended that you switch to the option that's most relevant for you.
Once you have your Business or Creator profile set up, go to your profile page and tap on the "Insights" button to open the analytics tool. Alternatively, you can also access this dashboard by tapping on the menu button at the top right corner of your profile page and then selecting "Insights." This will open up your Insights Overview, where you can automatically view your performance metrics.
---
What Can You Track Using Instagram Insights?
The Instagram Insights dashboard gives you access to a wide range of metrics to track how your account and content have performed over time. The default time frame is for the last seven days but you can also change this to display metrics for the last 4 days, last 30 days, previous month, and last 90 days. Here's a look at the different performance metrics you can track using Instagram Insights:
Insights Overview
From the Overview section, you can look at metrics related to accounts reached, accounts engaged, and total followers. You can expand each option to view more detailed metrics.
---
Accounts Reached
The accounts reached option will show you the total number of users you were able to reach within the given timeframe. It also gives you a breakdown of how many followers and non-followers you were able to reach. If you managed to reach more than 100 accounts, this section will also display the demographic breakdown of the users you reached.
Additionally, it shows you a breakdown of how many people you reached using each type of content and displays your top posts, Stories, Reels, IGTV videos, and live videos based on reach. Finally, you can get a summary of the total impressions, profile visits, and button taps during the given timeframe.
---
Accounts Engaged
Under the accounts engaged section, you can get a look at the total number of accounts you managed to engage during the selected time period. It gives you a breakdown of how many followers and non-followers engaged with your content.
You can also view the total content interactions along with a breakdown of each type of content. This includes likes, comments, saves, and shares for your posts and Reels and replies and shares for your Stories. Moreover, it shows you your top-performing content for each type of content based on interaction metrics such as likes or replies.
---
Total Followers
This section shows you a detailed breakdown of your follower metrics such as overall growth, follows, and unfollows during the given timeframe. From here, you can access information related to the top locations of your followers, their age range, their gender distribution, and their most active times.
---
Post Metrics
After the Overview section, your Insights dashboard gives you access to more in-depth performance metrics for each type of content you've shared. The first set of metrics is related to your Instagram posts. Expand the section and you'll get the option to filter your insights based on post type (photos, videos, or carousel posts).
From here, you can view a wide range of metrics–business address taps, call button taps, comments, email button taps, follows, impressions, likes, post interactions, profile visits, reach, saves, shares, text button taps, video views, and website taps. Additionally, you can also view the performance metrics for a more expansive time period including the last six months, last year, and last two years.
---
Stories Metrics
Next, you can view the performance metrics for your Instagram Stories. This gives you a highly comprehensive look at how people are engaging with your Stories. You can see how many people tapped back to view the previous Story, tapped to call or email, exited the Stories window after viewing your Story, and how many people followed you after viewing each Story.
You can also see how many people tapped to see the next Story, tapped on your business address, clicked on your link, visited your profile, or replied to each Story. Additionally, this section also shows you how many impressions and reach you garnered for each Story. By viewing the specific performance metrics for each Story, you can see which types of Stories seem to work best with your audience and which ones generated the best results.
---
Reel Metrics
If you've created Instagram Reels, your Insights tab will also give you the option to view metrics specific to Reels. So you can see the total Reels interactions, reach, and other engagement metrics such as comments, likes, shares, saves, and plays. This is an excellent way to see which of your Reels saw the most engagements so you can understand what works with your audience.
---
Video Metrics
The next section shows you the performance metrics for the videos you've shared. From here, you can see the average percentage of each video that people watched, which is a great way to find out how engaged people are with each video. Which videos are they most likely to finish watching or at least watch a significant portion of?
Additionally, you can also view reach, impressions, and profile visits. Other engagement metrics like follows, website taps, comments, likes, call button taps, email button taps, business address taps, and saves can give you additional insights into which videos had the most significant impact on your audience.
---
Shopping Metrics
If you've created shoppable posts on Instagram, your Insights section will also provide you with performance metrics for your Instagram Shopping content. Besides the usual reach and engagement metrics, you'll be able to see how many people viewed your product page and how many clicked on your product button.
This can give you an idea of whether your Instagram Shopping product pages are enticing enough to drive clicks and purchases. If you see a high level of page views but lower button clicks, you may want to review your photos and descriptions to make them more impactful.
---
Live Metrics
If Instagram Live is a part of your strategy, you'd want to look at the metrics specific to Live videos. Your Insights tab will show you your Live video performance in terms of how many accounts you reached and how many comments and shares the video received.
Most importantly, the peak concurrent viewers metric is crucial to track as it shows you the highest number of simultaneous viewers. It gives you an idea of how many viewers you could potentially engage at one time. The goal would be to maintain this level of viewership for the longest duration possible by improving things like your timing, content, and delivery.
---
Boosted Post Metrics
One of the most important performance insights to track is related to your boosted posts. Since you're paying for people to see the post, you'd want to make sure that your investment is paying off. Your Insights tab will show you the total number of promotion clicks generated along with the percentage of profile visits and website visits.
It also shows you the total number of people reached along with the percentage of people you reached who weren't following you and the percentage of reach that came from your promotion. Profile visits, spend, and audience demographics are other helpful metrics you can view regarding your boosted Instagram posts.
---
Practical Ways to Leverage Instagram Analytics
Now that you know how you can access your Instagram analytics insights, it's time to figure out what to do with the information. Take a look at some practical ways to act on your Instagram insights.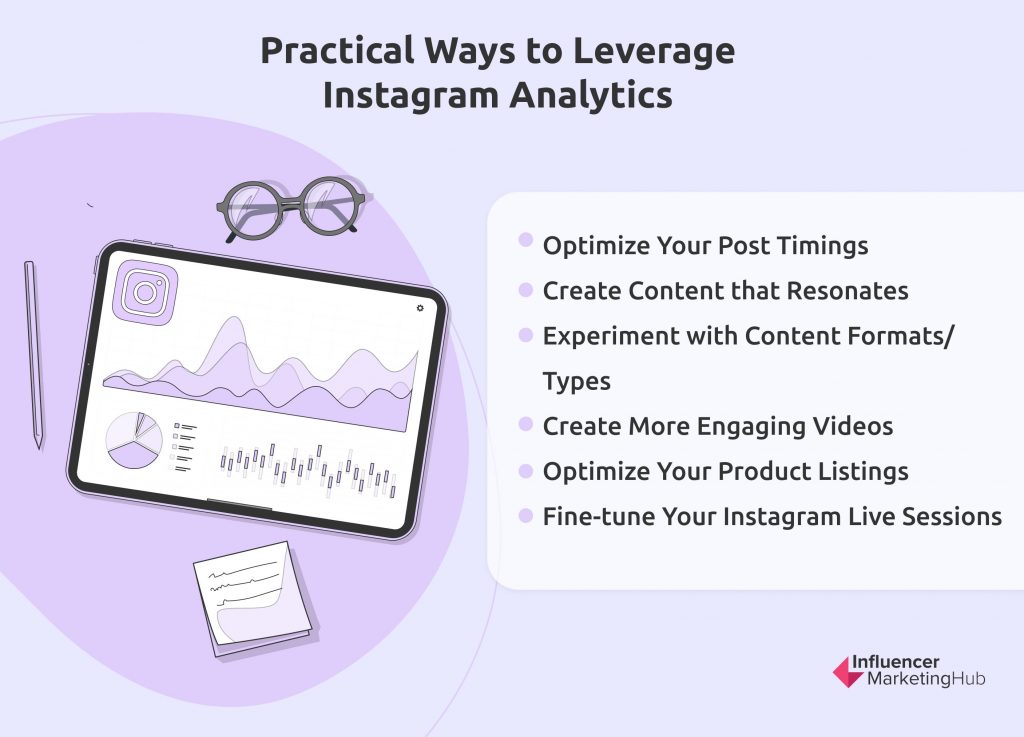 Optimize Your Post Timings
Looking at your followers' most active times will show you when your audience is most likely to interact with your posts. Try to adjust your publishing schedule so that your posts go out at optimal post times that are likely to deliver the best visibility and engagement.
Create Content that Resonates
By looking at the interaction metrics for each post, you can get a fair idea of what seems to work best on your audience. For example, if your how-to guides got a lot of shares, it could be a sign that people found them useful. So you may want to create those types of guides more frequently to garner even more shares.
Experiment with Content Formats/Types
Comparing the reach and interaction metrics of different content types and formats will help you understand which ones seem to work best. You could experiment with different formats like carousels, photos, and videos to see which ones drive the most reach and engagements. Additionally, you could also test different content types like Reels, feed posts, and Stories to see which ones work best for driving new followers to your account.
Create More Engaging Videos
If video marketing is an important part of your Instagram strategy, one crucial metric to look at is the average percentage watched. Compare the percentage for each video to see which ones had viewers most hooked. Then try to figure out what is it about those videos that viewers might have found engaging.
For example, videos with fun and upbeat background music may see the highest average percentage watched. This could suggest that having those types of background music is effective for engaging viewers.
Optimize Your Product Listings
For brands that want to drive more conversions through Instagram Shopping, it's important to look at the performance metrics related to each of their product tags. See how many product page views vs. product button clicks you generated through each post.
Look at shoppable posts that received a good amount of page views and button clicks and compare them against ones with low button click rates. Then try to identify the key differences in terms of images, descriptions, and other key details so you can optimize the overall product listing for better conversions.
Fine-tune Your Instagram Live Sessions
Finally, the performance metrics of your Instagram Live videos can also be used to fine-tune your sessions and generate better results. Look at your Live videos with the most reach, engagement, and peak concurrent viewers to see what is it about them that worked so well with your audience. Then try to apply those tactics to your future Live sessions and see how they make a difference.
For example, you may notice that going Live during a certain time slot helped you reach the most viewers. This may be a sign that the timing is ideal for your target audience and you'd want to schedule your Live sessions during the said time slot. Or you may find that 30-minute Live sessions generated the highest number of peak concurrent viewers, suggesting that this timeframe works best for you.
---
Get to Tracking
As you can see, your Instagram Insights tab gives you access to a wide variety of content-specific and follower-related metrics to measure your performance. Plus, there are tons of ways you can act on the insights from your Instagram analytics. Make the most of the tips and ideas above to start tracking your Instagram performance and grow your account.
Frequently Asked Questions
What are good analytics for Instagram?
The native Instagram Insights dashboard provides you with comprehensive analytics for the platform. Additionally, you can also use third-party analytics tools like Later, Hootsuite, and Sprout Social.
What do Instagram Insights tell you?
Instagram Insights gives you a glimpse into your performance in terms of followers and content. You can view post-specific performance metrics to understand how many people you reached and how much engagement they drove.
Can you tell if someone saves your Instagram pictures?
Instagram Insights shows you the number of people who saved your posts to their collections, but you can't see who has saved them.
Does Instagram Insights show who views your profile?
Instagram Insights shows you the number of profile visits you received after viewing a certain post. However, you can't see who views your profile specifically.
How do I see my Instagram impressions?
You can see your Instagram impressions from the Insights tab.