Advertising Disclosure
Advertising disclosure:
Our partners compensate us. This may influence which products or services we review (also where and how those products appear on the site), this in no way affects our recommendations or the advice we offer. Our reviews are based on years of experience and countless hours of research. Our partners cannot pay us to guarantee favorable reviews of their products or services.
If you are at all serious about operating your Instagram account, you need to keep a close eye on your analytics. Unfortunately, Instagram doesn't make things easy if you have a personal profile – they obviously don't believe you're serious! However, once you change to a Business Profile, you can begin to access much more useful information.
We have previously written about the benefits of having an Instagram Business Profile and how to switch over. One of the best benefits is that you gain access to Instagram Insights, providing you with a range of analytics and performance statistics for the average Instagram user. There are also quite a few Instagram analytics tools available (for those with Business Profiles), and some of these are even free.
---
Free Instagram Analytics Tools for 2023: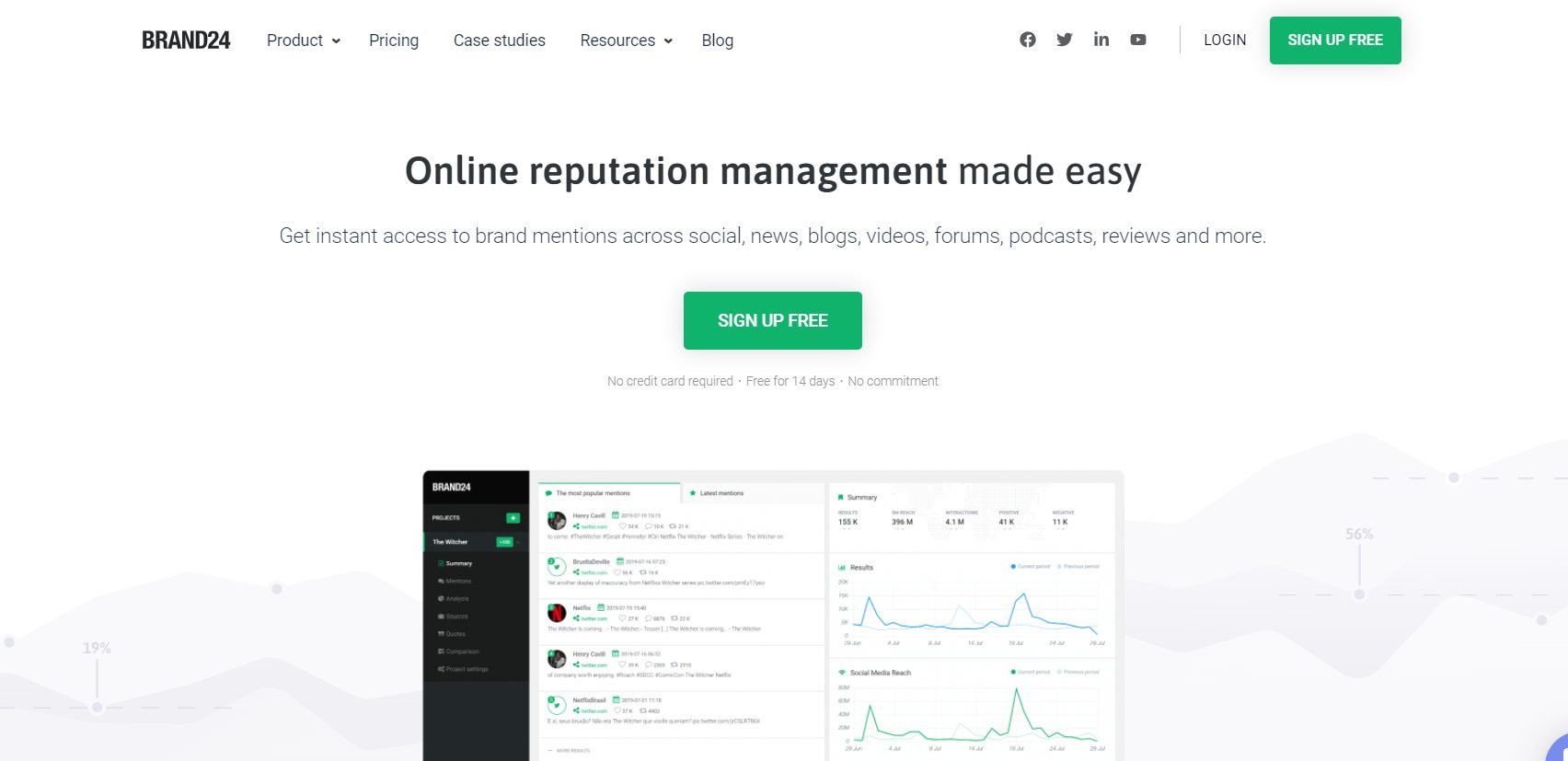 Brand24 makes social media monitoring reachable and valuable for everyone. As part of this, you can use it to expand on Instagram's native insights.
Brand24 collects insights on what Instagram users say about your brand. For example, it can analyze the tone of conversations, monitor multiple hashtags, and provide a list of trending hashtags to help you increase your Instagram reach. Most importantly, it offers qualitative data to go with Instagram Insights' quantitative data.
You begin by setting up a project for each branded hashtag you want to monitor. You can then use Brand24 to provide information on how your followers feel about your product or service. Its sentiment analysis for Instagram includes reputation management, customer feedback, and crisis prevention. You can use sentiment analysis to discover how your content resonates with your audience and adjust it if necessary if they indicate that your content is not exactly what they've been looking for.
Brand24 generates a list of 100 trending hashtags based on your predefined keywords. You can use the hashtags to boost your brand awareness and increase reach. You can also measure your hashtag efficiency to determine whether your campaign was successful and how the hashtag spread across social media. 
You can also use Brand24's hashtag analytics to compare your performance across different social media channels and choose the most suitable for your brand. As well as Instagram, you can use Brand24 to analyze hashtag performance on Twitter, Twitch, and TikTok.
While Brand24 is not a free Instagram analytics tool, you can carry out a 14-day free trial before having to decide on a paid plan. Paid plans start at $79/month.
---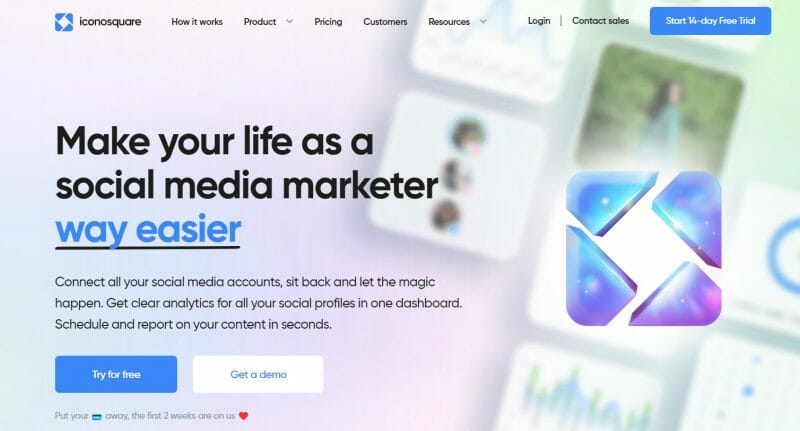 Iconsquare allows you to schedule new posts, monitor what people say about your industry or brand), and track your Instagram analytics. It provides analytics that show trends related to engagement, impressions, posts' reach, and how your Instagram Stories perform.
It includes hashtag and competitor tracking.
Iconsquare offers a two-week free trial, and a selection of free tools, such as a full Instagram Audit.
---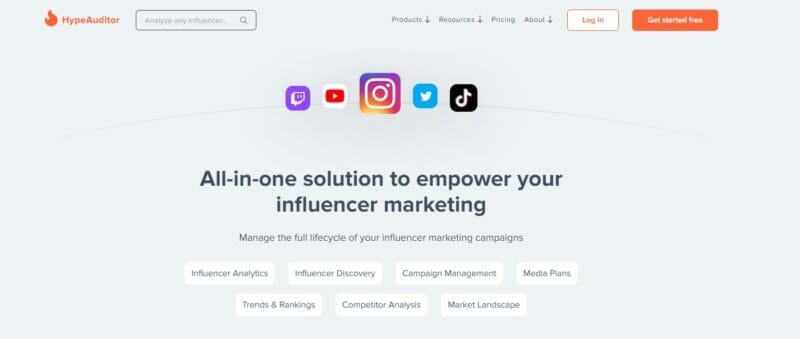 HypeAuditor is a vast database powered by artificial intelligence that's indexed nearly 3 million Instagram profiles. It contains a wealth of information, and can clearly distinguish real influencers from those who pretend to have the status, but really only have fake followers.
HypeAuditor doesn't have a free plan, but being pay-as-you-go, it doesn't cost much if you have minimal usage needs. 
HypeAuditor was purpose-built for fraud detection. It analyzes influencer profiles, digs deep into each audience, and is generally on the lookout for the kinds of data that can expose fraud. It includes 28 different metrics and scores, giving users a thorough understanding of who they're dealing with. 
It all starts with the Audience Quality Score (AQS) that judges an influencer's actual value from 1 to 100. You can feel comfortable with influencers who score >70. It gives you a good indication of how many of an influencer's followers are quality, too. 
HypeAuditor doesn't just provide the stats; it indicates the quality of many metrics, e.g., engagement rate, authentic engagement, followers reachability, and much more.

Key Features: Search/Discovery, Campaign Reporting, Influencer Analysis, Audience Analysis, White Label Reporting, Fake Follower/Fraud Detection,
Channels: Instagram, YouTube, TikTok, Twitch, Twitter
---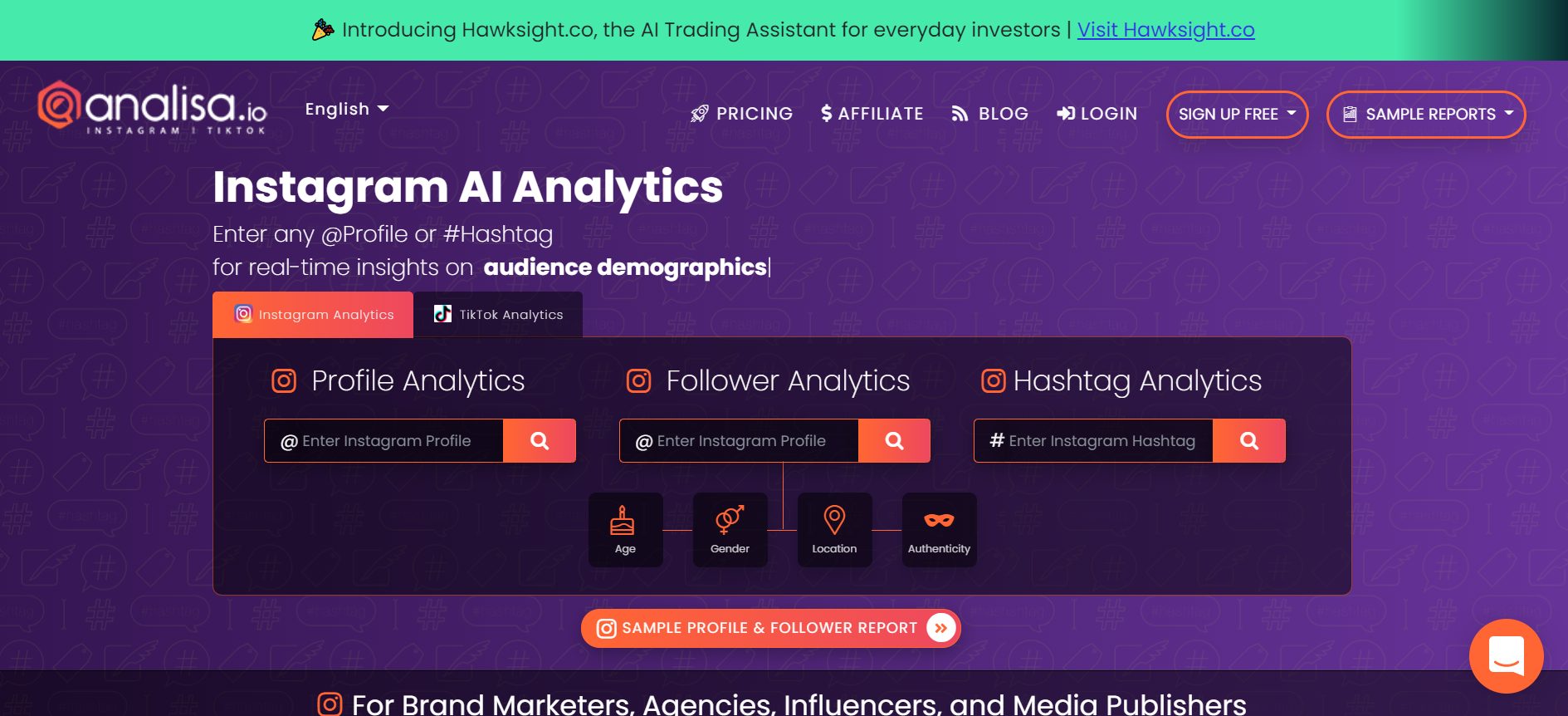 Analisa is an influencer marketing platform that focuses on Instagram analytics. Not only does Analisa provide you with all the data related to your Instagram activity, but it analyses it to help you better understand what the numbers mean.
Analisa does offer a free service, that provides you with much of the raw data. However, you need to buy their Premium Plan if you want in-depth analysis. 
You can run two kinds of reports with Analisa. An @Account Report can give you in-depth analysis on an influencer's profile and activity, while #Hashtag reports can be used to monitor campaigns.
An @Account Report includes a wide range of stats, including:
Engagement Rate, Like Rate, Comment Rate

Average Engagement Rate

Total Posts (which actually doesn't do what it says, instead it shows average posts per day, per week, and per month, with an interactive graph to drill down to specific dates.

Tags and Mentions

Posting Map

Posting Activity and Audience Engagement

Average Likes and Comments Per Post and Average Engagement Rates

Total Posts (Weekday Breakdown)

Caption Words and Hashtags Most Used
#Hashtag Reports for your campaigns include:
Audience and Engagement

Total Posts

Total Follower Reach

Total Engagement

Geolocation

Average Engagement Per Day

Total Engagement Per Day and Total Follower Reach per day

Posting Activity and Audience Engagement

Caption Words and Hashtags Most Used

Participation
#Hashtag reports also go into depth about your influencers' performance, so you can see which influencers did the best, and which ones you'll probably want to pass on next time around.

Key Features: Campaign Reporting, Influencer Analysis, Audience Analysis, Fake Follower/Fraud Detection,
Channels: Instagram, TikTok
---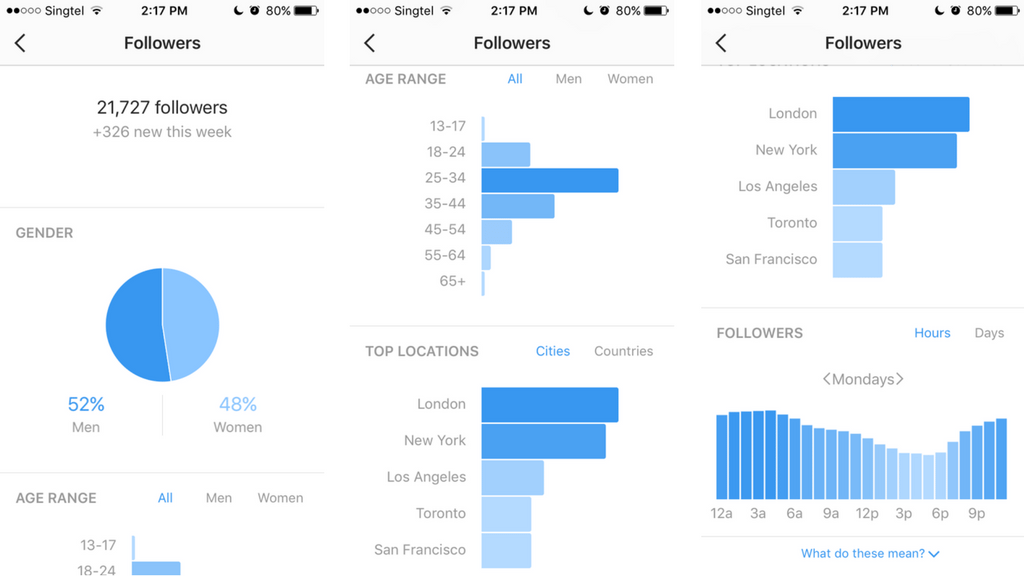 All business profiles automatically gain access to Instagram Insights – Instagram's free "in-house" analytics tool. It gives data on your follower demographics and actions, along with analytics about your content.
Once you convert a personal account to a business account, you will see Insights relating to content you post after you make the switch. You can access your Instagram Insights in multiple ways – from your profile, individual posts, and your stories.
You will find a summary of data for the content you've posted in the last seven days. It also shows you how many followers you have and how many you've gained in the past seven days.  Likewise, it shows you the total posts you've made, and how many you've added in the last week.
Further down, you will find data such as total impressions, reach, and profile views for the past seven days. You can swipe to view website clicks and call-to-action button clicks – Call, Email, Directions.
Instagram Insights includes considerably more statistics, including:
a summary of your follower demographics

data for individual posts

insights fro your Instagram Stories

paid promotions data (if you have it)
---
Sylo is an influencer platform that offers third party analytics for YouTube, Facebook, and Twitter, as well as Instagram. It doesn't make its pricing public, and the clients it shares are all large, so like a number of these platforms, it is better to look at some of the products below (or your Instagram Insights) if you're after free Instagram analytics tools.
The foundation of SYLO is its data. It does require your influencers to sign on to the SYLO platform and give it access to their social accounts. Because the influencers are authorizing the access, SYLO can go much deeper into their profiles, and their audiences, than other platforms who pull data through more restrictive public APIs.
Once influencers sign in and connect their social accounts, SYLO crunches all the data and scores all their past posts. The score applies to each piece of content an influencer creates, and its performance is judged relative to other material by the same influencer. You can dissect a content score in a lot of different ways by filtering down through different criteria: audience demographics, industry verticals, and more.
Brands can see what demographics show the most engagement, which can provide a more accurate view of post-performance. SYLO can help shine a light on whether you're reaching the wrong audience.
Reporting on a campaign goes beyond simple SYLO scores, though. It will show you many of the standard performance metrics – it just places them into context.
Key Features: Campaign Reporting, Influencer Analysis, Audience Analysis,
Channels: YouTube, Facebook, Instagram, Twitter
---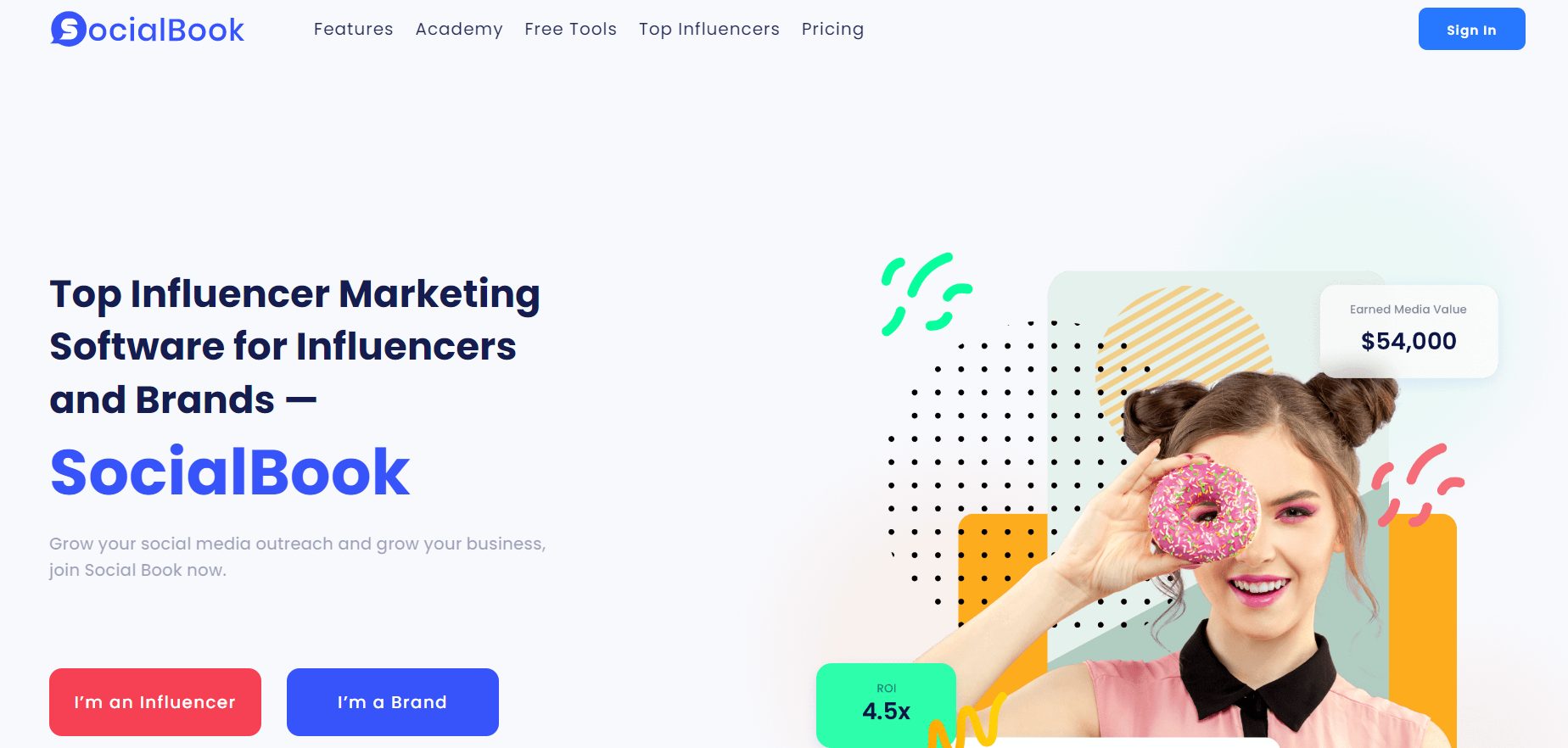 SocialBook provides AI-powered data analytics for any Instagram, YouTube, or Twitch influencer. It provides you with detailed data analytics for any influencer. Although you will need a membership for serious analysis,  you can view some data for a limited range of influencers on the free Startup Plan. You do need a paid plan to do an advanced search, however.
You will find a wide variety of stats for your influencers. Obviously, the data for Instagrammers varies from what SocialBook provides for influencers on Youtube or Twitch. 
Each Instagram influencer profile begins with basic stats, like total followers, likes, and posts. This is followed by a cost in "BoostCoins" to see more details about the influencer, and the channel's primary language. BoostCoins are a virtual currency on SocialBook. Importantly, SocialBook also givers each influencer a Boost Score, a score from 0 to 100 based on how powerful they believe an influencer to be.
They follow this with the Top Ten Tags the influencer uses in his or her posts. The next section includes a range of recent posts made by the influencer, showing the number of likes and comments for each post.
SocialBook then provides an estimated price range based on an influencer's historical performance and subscriber behavior, as well as an estimated Cost per 1000 Likes. 
The rest of each influencer's page includes much more detailed analytics. These include multiple impression and engagement stats, split up in almost every way imaginable. It also analyzes audience demographics and interests. 

Key Features: Search/Discovery, Campaign Management, Campaign Reporting, Influencer Analysis, Audience Analysis, Payment Processing,
Channels: Instagram, YouTube, Twitch
---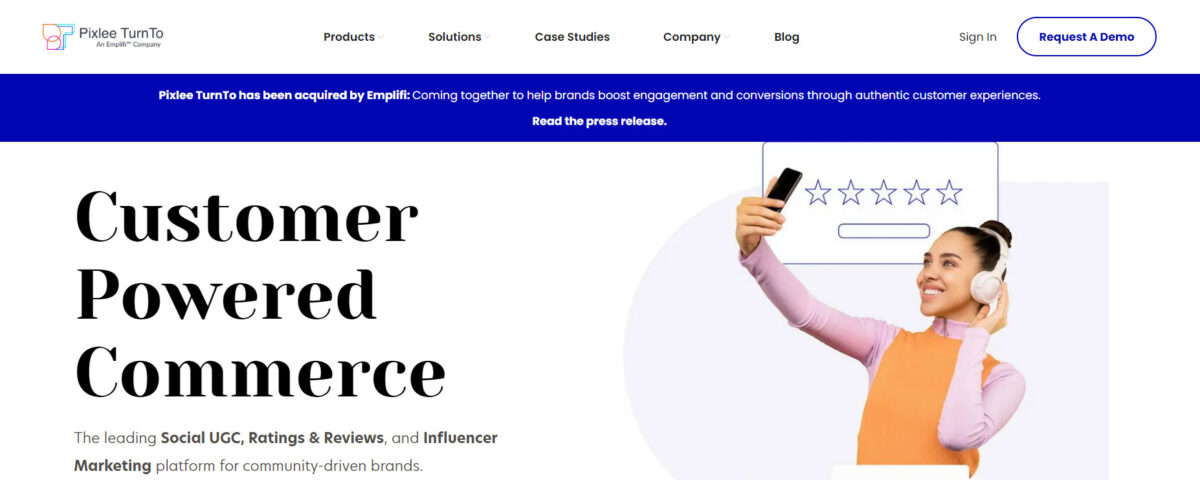 Pixlee TurnTo offers a free tool where you can create shareable weekly reports with analysis and metrics that help you drive more engagement and attract new followers.
You can use Pixlee's data to identify social media influencers, find brand advocates posting about your brand, and connect with social influencers and brand advocates. You can also monitor conversations and identify top-performing content
It includes hashtag statistics and tracking, growth in Instagram followers, and the data needed to identify your most engaging posts.
Key Features: Content Amplification, Search/Discovery, Influencer Relationship Management, Influencer Marketplace, Team Collaboration Tools, Content Review, Content Library, Campaign Management, Campaign Reporting,
Channels: Instagram, TikTok, Facebook, Youtube, Twitter
---
Emplifi.io provides a free Instagram analytics tool for both Personal and Business Profiles. It gives you statistics on your most popular Instagram posts, so you can track your success, and learn what gets your audience double-tapping. 
If you have more advanced Instagram needs, then you will find more advanced capabilities in Emplifi.io unified marketing platform – an AI-powered social media marketing suite. You can manage your social media accounts smarter by using AI to discover what posts to promote, when to publish them, and which audience segments to target.  Emplifi.io allows you to take their suite for a test run in a quick-to-learn personalized trial.
---

Brandwatch's tool Listen provides a range of analytics to build an effective social strategy and inform day-to-day execution on social media. This includes:
Profile analysis

Keyword listening

Campaign reporting

Competitive analysis

Research
You can analyze engagement with your posts, discover fans, and identify your top content. It monitors engagement with your Instagram accounts continuously, giving you the latest insights as they happen.
Although plans range from  $49 to $199 per month, you can take a free Instagram account checkup. The free Instagram analytics checkup connects with Instagram to analyze the last 30 days of activity on your account, including your posts and engagement from your fans, to give you critical insights into how to improve. These include:
the best times to post new photos and videos to receive the most significant response from your audience

which posts resonate with your followers and which posts fall flat, so you can do more of what works.

the kind of posts you share and what else you can add to your feed for more engagement

what hashtags result in the most engagement for your posts to get in front of new audiences
---
Frequently Asked Questions
What are the best free Instagram analytics tools?
Once you change to an Instagram Business Profile, you can begin to access much more useful information than on a Personal profile. You can access your Instagram Insights in multiple ways – from your profile, individual posts, and your stories. Pixlee offers a free tool where you can create shareable weekly reports with analysis and metrics. The other tools in this post have some cost, but all give in-depth Instagram analytics. These tools are:
HypeAuditor
Iconosquare
Analisa
Popular Chips
Sylo
SocialBook
Socialbakers
Listen
Squarelovin
How do I get free Instagram analytics?
One of the biggest problems finding a free Instagram analytics tool is that apart from the official Instagram Insights, none offering more capability is entirely free. However, they generally provide either some free capabilities or offer a free trial. It is important to remember that all business profiles automatically gain access to Instagram Insights. If you haven't yet done so, it is worthwhile changing your account to a business profile, even if you're just an individual.
What is the best app for Instagram analytics?
All the apps we've covered in this post provide you with quality Instagram analytics, much better than those available for people who use personal Instagram profiles. Most businesses (or individuals serious about their Instagram progress) will find the free Instagram Insights feature to be of immense use to them. It gives data on your follower demographics and actions, along with analytics about your content. If you want more, any of the paid apps we have covered should provide you with the detailed information you need.
How do I get analytics on Instagram?
Depending on the detail you require, you could subscribe to any of the products covered in this post for Instagram analytics. To gain access to Instagram's own analytics, Instagram Insights, you first need to switch to a Business Profile. To access these analytics, tap the menu in the top-right corner of your Instagram profile, and then click on the Insights tab. Note that this will only show analytics relating to posts you have made after switching to a Business Profile.
How do I change my Instagram account to a business account?
To access Instagram Insights, you first need to change your personal account to a business one. To do that, follow these steps:
1. Go to your profile and tap the menu icon in the upper right corner
2. Tap Settings
3. Tap Account
4. Tap Switch to Professional Account.
5. Tap Business
6. Optionally, follow the steps to attach your account to a Facebook page
7. Add details about your business, e.g., business category and contact information8
8. Tap Done
Is Pixlee free?
Although Pixlee's main product (a UGC and influencer marketing platform) isn't free, the company offers a free Instagram analytics tool. They believe their Instagram Analytics Tool is an effective way to capture the data that matters most and deliver it right to your inbox. Their Instagram Analytics Tool is free and does not require a Pixlee account. They believe in making it easy to collect social analytics to inform your business decisions.