Advertising Disclosure
Advertising disclosure:
Our partners compensate us. This may influence which products or services we review (also where and how those products appear on the site), this in no way affects our recommendations or the advice we offer. Our reviews are based on years of experience and countless hours of research. Our partners cannot pay us to guarantee favorable reviews of their products or services.
A crisis can happen at any time. Is your business equipped to handle the challenges that come with it? Start the year right by including incident and crisis management software in your arsenal. We've scoured the Web to find some of the best incident and crisis management software for 2024.
---
The Role of Incident and Crisis Management Software in Business
Incident and crisis management (ICM) software enables organizations and agencies to plan ahead, mitigate risks and the impact of an incident or crisis, and minimize disruptions to their operation. Additionally, ICM software is used to enhance situational awareness, allowing you to better understand what is going on and the incident's potential impact. This, in turn, helps you increase safety by minimizing or avoiding risks and promoting a better working environment.
Furthermore, ICM software can streamline communications, enhance coordination among different teams, and lets you stay on top of crises as they unfold.
These platforms also equip organizations to become more agile and resilient, allowing them to quickly get back on their feet through more efficient and effective management of incidents or crises.
Furthermore, using ICM software isn't just a passing trend. In fact, the rise in disaster and crisis management situations around the world has prompted governments and stakeholders to look into adopting crisis and incident management platforms. It's projected that the market will balloon to more than USD 207 billion by 2030, indicating a CAGR of 6.71%.
And it's not just natural and man-made disasters that are responsible for the growing interest in ICM solutions. Cybersecurity issues are also pushing organizations to pay more attention to ICM solutions. Such attacks can have detrimental effects not just on your business, but also on your customers. According to the latest IBM Cost of a Data Breach report, it takes an average of 277 days (approximately nine months) to identify and contain such issues. The longer it takes for you to solve an attack like a data breach, the more it's going to cost your business.
And while 79% of companies have cyber insurance policies, only 45% actually have an incident response plan.
---
Top 10 Incident and Crisis Management Software for 2024
---
Top
crisis management software
2024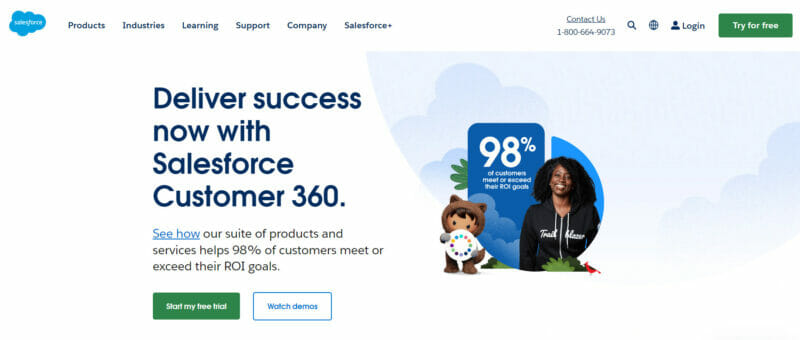 Salesforce is a platform as a service (PaaS) company that offers innovative cloud-based solutions for sales, marketing, commerce, and more. Its solutions are designed to eliminate silos, improve teamwork and collaboration, streamline workflows, and help businesses offer better customer service experiences to their clients. It has worked with some of the world's biggest companies, such as IBM, Sonos, and PayPal. To date, over 150,000 companies are using Salesforce to scale up their business.
Aside from these solutions, Salesforce also has Customer Service Incident Management (CSIM) software that allows companies to quickly address incidents and prevent service interruptions before they turn into major disruptions. Salesforce's CSIM software allows teams to have full visibility into incidents, cases, and customer data, thus giving them access to the tools needed to resolve customer service-related issues. The software leverages the capabilities of artificial intelligence to identify incidents and address them quickly. Using AI, it learns from previous incidents and solves newer ones through automatically surfaced learnings.
Key features
Integrates with Slack to connect the appropriate internal and external teams

Salesforce also offers resources to help you set up your CSIM software

Access to a single workspace within the Salesforce system
Benefits
Lets you update your customers on the status of their cases to ensure transparency

Allows you to address incidents proactively through integrations with external systems

Integrates with external apps

The single workspace feature gives teams the context needed to resolve issues

Offers a free trial
---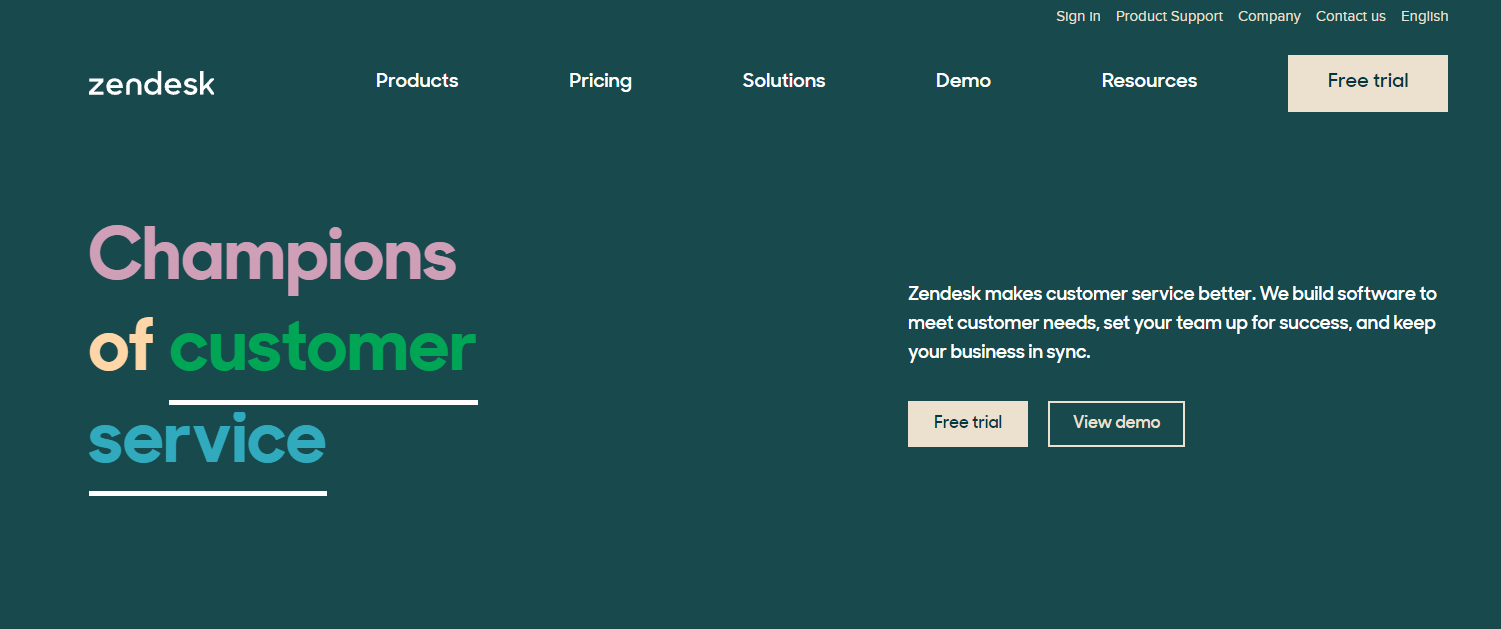 Zendesk is a customer service software and sales CRM that builds custom solutions for businesses. Some of the top features of its products include a ticketing system, live chat software, and help desk software solutions. Major enterprises like Tesco, Uber, and Mailchimp have used Zendesk to create better customer experiences for their users.
Its Help Desk Software is designed to give your customers a range of platform-agnostic support options while also allowing you to fully utilize your support personnel resources for maximum impact. Some of the notable features of the Zendesk Help Desk Software include multi-channel support and a unified view of the customer, automation, and tracking and analytics.
Aside from its Help Desk Software, the entire Zendesk system is designed to help you enhance your incident and crisis management processes. It's designed to enable businesses to quickly track, respond, and address incidents. It enhances collaboration among teams and is capable of escalating issues based on your predefined conditions. Furthermore, when the system detects an issue, it alerts the Zendesk Network Operating Center to jumpstart incident management. Once identified, the issue is ranked from 0-4, helping teams determine which incidents to prioritize.
While it comes with out-of-the-box features, you can customize the Zendesk system through integrations and workflow configurations.
Key features
Omnichannel support

Multi-language support

Various support channels: online, email, social, SMS, and phone

Automatic ticket creation

Contextual self-service

Knowledge base editor

Automated monitoring capabilities
Benefits
Seamless integration with your tech stack

Lets you communicate with affected customers

Allows you to perform a comprehensive root cause analysis

Offers a 14-day free trial
---

The Exonaut Incident and Crisis Manager (ICM) is designed to help businesses become more agile, particularly when it comes to incident tracking and crisis response. It's a web-based end-to-end solution that's capable of reporting and tracking incidents, as well as escalating incidents for crisis response. The ICM is an incredibly versatile tool that can be used across different industries and sectors, including emergency services, financial services, and transportation.
Key features
Command and Control Software that provides comprehensive incident overviews, GIS mapping capabilities, and custom dashboards, among other features

Alerting tools that include the Emergency Roll Call feature

Incident reporting capabilities with incident log and custom reporting templates and geotagging functionality
Benefits
4C Strategies' ICM suite is scalable and can be integrated with other Exonaut solutions

Seamlessly integrates with external apps and services, such as map servers and emergency dispatch services

Enables users to visualize threats and resources for improved incident and crisis management planning

Offers mobile access to your personnel via a mobile app
---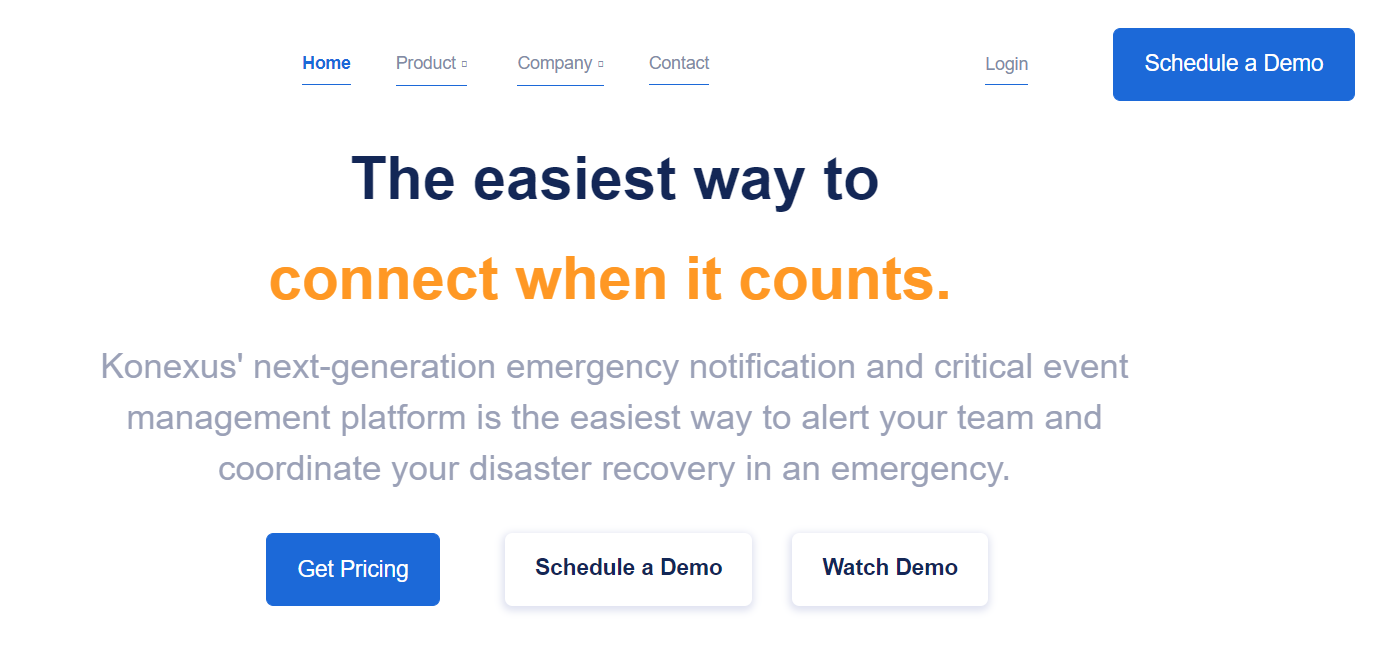 Konexus is designed to help companies keep their employees and business safe. It's equipped with features such as alert and poll templates that enable the streamlining of critical event communication, geo-location alerting for targeted alerting and visualization of incident event data, and advanced searching capabilities that let you use filters to quickly find the right people when a crisis arises.
Key features
Integrates with relevant tools such as RSA Archer, Ping Identity, and Azure Active Directory

Task Lists feature lets you create an actionable and comprehensive response plan to facilitate emergency response planning and expedite your crisis response processes
Benefits
Konexus has an Incident Guide where you can store relevant documents for incident and crisis management that your personnel can easily access

It also has a mobile app (available on App Store and Google Play) that lets users report incidents anytime, anywhere
---
D4H gives users a common operating picture, thus enabling real-time incident management for more effective incident and crisis response in any situation. This solution is designed to allow teams to easily and clearly communicate objectives and collaborate on finding a solution. Features such as customizable status boards allow you to visually keep track of an incident's status, while the software's control room functionality lets you efficiently manage and escalate high-level incidents.
D4H's other notable features include a document library, event log, tasks and checklists, data retrieval (audit trail and real-time filters), data sharing (share by email or link and printable PDFs), and alerting capabilities (mentions and email, mobile, mass, and browser notifications). Moreover, it's equipped with features designed for administrators, including granular permission, scenario designer, and even custom branding.
It also integrates with other solutions for mass notifications and GIS mapping, such as Everbridge and Singlewire.
Key features
Real-time data

Built-in interactive GIS mapping capabilities

Intuitive user interface

Has managed backup services for faster disaster recovery
Benefits
Cloud-based solution with SSL and database encryption for security

Has a multi-user functionality

Can be used in offline mode

Comes with a free smartphone app

Lets you import existing data into the software's document library
---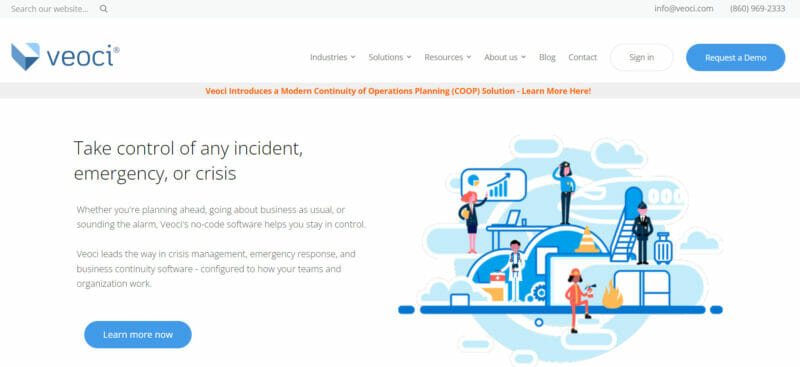 Veoci is a no-code software that enables organizations to have better control over any incident or crisis. What sets this ICM solution apart from the others on this list is it lets users build their own custom solutions to address their organization's unique needs. Best of all, building an ICM app via Veoci doesn't require you to have coding know-how.
Aside from being used for incident and crisis management, you can use Veoci for emergency management and business continuity through the deployment of alternates or stopgap solutions for critical applications.
Key features
Real-time messaging and file uploads

Single platform for approval and tracking

Industrial-grade encryption for secure messaging

Fully-integrated GIS mapping capabilities for enhanced situational awareness and asset tracking
Benefits
Easy to use

Eliminates silos that prevent effective communication and enhances information visibility

Unified system that's ready to use—no need to install different modules

Can be used in various industries and sectors, including aviation, finance and enterprise, government, and healthcare
---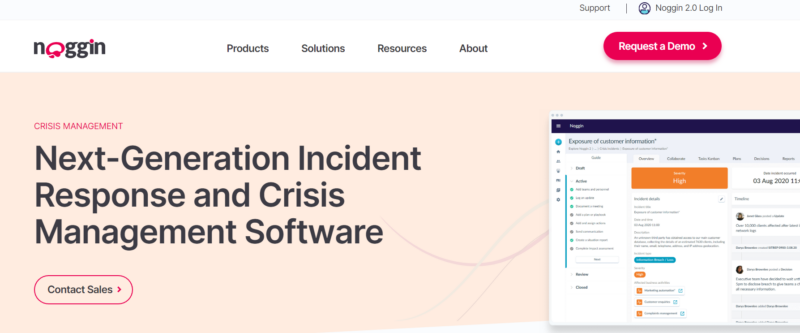 Respond to crises faster and streamline how you manage critical events with Noggin for Crisis Management. It comes with automated workflows and checklists to automate notifications and give you more time to focus on incident and crisis management. It's a versatile solution that can be used for different types of crises thanks to its library of best-practice resources and its customizability—it's user-friendly software that has a no-code functionality.
One of its best features is its capability to capture exercises, post-incident reviews, and lessons. Through this, you can conduct exercises to ensure that your team knows how to respond to future incidents. Plus, this doubles as a benchmark that lets you assess how you can improve your ICM processes.
Key features
Offers a Single Source of Truth

Has built-in crisis communication and collaboration tools

Incident notifications

Built-in maps and situational dashboards

Welfare checks

Seamless escalation of incidents to the crisis based on your pre-defined rules
Benefits
Follows the ISO 22398 best practice framework

Uses a cloud-based platform that allows you to manage incident response measures using any device anytime, anywhere

Comes as one comprehensive platform so you won't need to switch between systems
---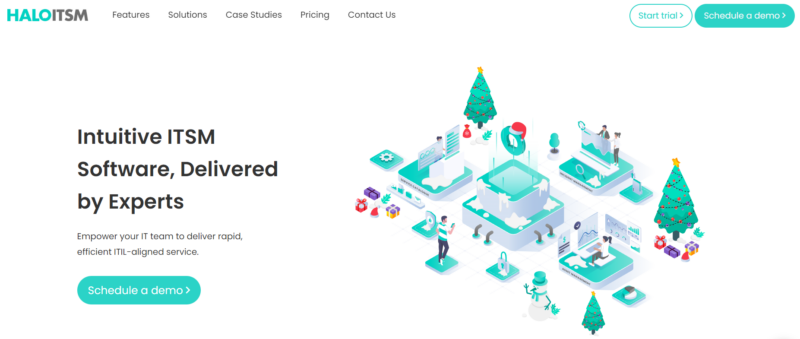 As an IT service management (ITSM) solution, HaloITSM is designed as a single, all-inclusive software that enables faster incident and crisis resolution to meet SLAs. To date, it has over 100,000 users in more than 75 countries, including Siemens, Microsoft, and Suzuki.
With HaloITSM, you can build a service desk that's ITIL-compliant, create a centralized hub for asset management, and streamline incident management. Furthermore, it lets you create a self-service portal for your customers, which can help improve their customer service experiences.
Key features
Integrates with other platforms and apps like Office365, Azure DevOps, and SCCM

Lets you automate workflows for incident management

Enables centralized communications
Benefits
Offers a relatively longer free trial period of 30 days

Lets you build a comprehensive knowledge base through rich formatting and detailed keyword indexing

Gives you access to powerful problem management tools for escalating incidents and automating their management

Incorporates AI for process automation
---

This cloud-based risk management platform is a robust solution that offers tools not only for risk management and resilience but also for business continuity management and crisis and incident management.
Focusing on its Crisis and Incident Management software, users can get actionable insights, enable coordinated responses, and monitor the progress of each incident. It has issue identification capabilities that enable users to identify critical issues in real-time. Furthermore, you can synchronize your data through its ENS integrations so you can quickly get in touch with the right personnel.
Key features
Integrates with platforms and apps like Onsolve and Everbridge to enhance features like situational intelligence and risk and compliance measures

Task management and response planning
Benefits
Helps you identify gaps in your processes, as well as other areas of improvement

Lets you create data-driven plans for better adaptability to incidents and crises
---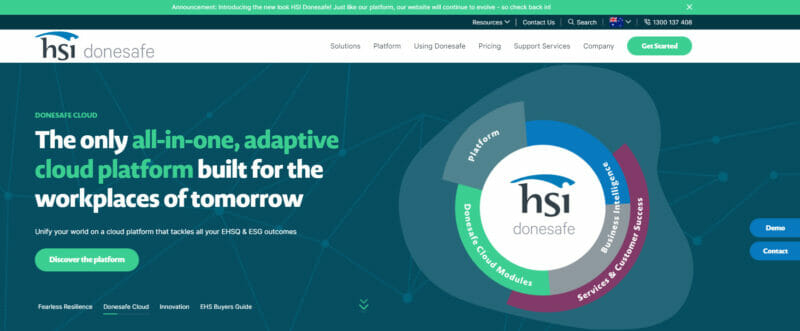 HSI Donesafe is an Incident Management software that offers end-to-end functionality. It's used by organizations that want to promote adaptability and sustainability in the workplace, including Qantas, Deloitte, Allianz, and Lowe's. Companies that have used Donesafe saw an increase in incident reporting and a significant reduction in safety reporting tasks. It also helped enhance employee engagement by as much as 500%.
It's a no-code cloud platform that lets users instantly access the information and personnel they need to resolve issues. Because it's a unified platform, it simplifies your workplace management ecosystem. Moreover, it's modular and configurable, allowing you to choose from over 50 modules that you can use to build your own custom solutions.
Key features
Built-in future-proofing capabilities

Offers a single platform experience
Benefits
Highly customizable and adaptable so you can design a solution according to your specific need

Delivers seamless experiences for interactions and processes
---
---
Wrapping Up
Incident and crisis management solutions enable organizations to become more agile and more capable of addressing issues as they crop up. Being able to quickly adapt and identify opportunities for improvement in incident and crisis management will allow organizations to continue growing even in the face of uncertainty. The software that we've shared on this list can help you prepare for the unexpected in 2024. Using technology, you can craft better incident and crisis management response plans, optimize your processes, and promote enhanced safety and better experiences not just for your team but also for your customers.
Frequently Asked Questions
What is an incident and crisis management software?
ICM software is a solution that allows organizations to identify, monitor, and resolve incidents, from customer service-related issues to IT system failures. Aside from giving you insights and reports, these solutions also allow your team to report such incidents, allowing you to be more proactive in your ICM response.
Why should businesses invest in ICM software?
ICM software can help you follow a more streamlined process for incident and crisis response. It also reduces downtime, allowing you to normalize your operations quickly. Furthermore, ICM software is an invaluable tool for future-proofing your business as it gives you data that can help you make more informed decisions moving forward.
What are the best ICM solutions for 2024?
Some of the best ICM solutions to help you prepare for 2024 include:
Salesforce

Zendesk

Veoci

D4H

Noggin for Crisis Management