Best for:
Medium to Large brands and agencies, ecommerce
Long before Klear was a prominent influencer platform, it was something called Twtrland, a social intelligence platform designed to help Twitter connect with new people and expand their own network. Founded by three brothers—Eytan, Guy, and Noam Avigdor—the company launched in 2011, before the idea of influencer marketing had really taken hold.
As time went on, influencer marketing gained momentum, transforming into a full-fledged industry. And it turned out that Twtrland, which had been analyzing Twitter accounts—and their reach, engagement, and the overall strength of a user's social network—would actually be a pretty great tool for finding influencers. If only it didn't focus completely on Twitter. Recognizing the potential, the Avigdor brothers spent three years honing their algorithms, expanding their scope to include Instagram and Facebook. In 2015, they rebranded as Klear, the name reflecting their promise to provide clear answers to all influencer-related inquiries.
Leveraging sophisticated algorithms and AI, Klear categorized influencers into more than 60,000 topic areas and offered comprehensive analytics on their audiences' demographics and psychographics. While they later added campaign management, tracking, and basic listening tools to monitor competitors, their standout features remained the data and analytics—an inheritance from their early days as a Twitter analytics tool.
It's maybe a bit ironic, then, that Klear was acquired, and now wholly owned by, Meltwater—a media and social intelligence company that does a lot of what Twtrland used to do before its pivot to influencers. In 2017, Meltwater was looking to partner with an influencer platform provider; there's a natural synergy between what Meltwater was doing and the practice of influencer marketing. That partner ended up being Klear. Over the course of the next four years, the partnership yielded great results—including new customers like Nestle, Walmart, H&M, and BMW. The success was so convincing that Meltwater made the relationship official, acquiring Klear and adding the product to their family of data-driven marketing tools.
Nowadays, Klear can be used on its own, or as part of the overall Meltwater offering. Either way, it empowers brands and agencies to build, scale, and measure successful influencer marketing programs. With an extensive influencer database that combines 1st and 3rd party data, Klear equips clients with rich insights to support every stage of their influencer campaigns. From discovery and vetting to collaboration, payment, and measuring campaign impact, Klear provides an end-to-end experience.
---
Summary:
---
Pricing
Though Klear is Software as a Service, with access offered on a subscription basis, Meltwater doesn't offer pre-defined tiers of service. Pricing is customized based on customer size and need. That said, Meltwater's target customer is a medium- to large-sized brand or agency. Smaller businesses will find Klear to be more than they need.
---
The Details
Klear's bread and butter has always been its analytics—with an gargantuan amount of influencer profiles indexed, and the billions of data points associated with them, brands are able to find the most relevant content creators with ideal audiences. They're able to understand them to the point they can craft campaigns that will deliberately push all the right buttons to inspire and engagements and conversions. This has long been what draws brands and agencies to Klear. So it's worth mentioning, then, that Meltwater's own penchant for data has crept into Klear, giving its users an unparalleled level of specificity in choosing influencers for campaigns. It's actually more than choosing influencers: they're choosing audiences.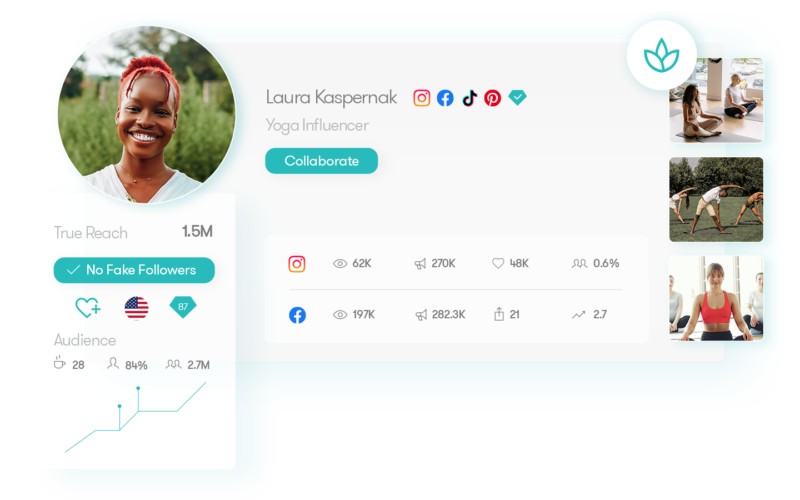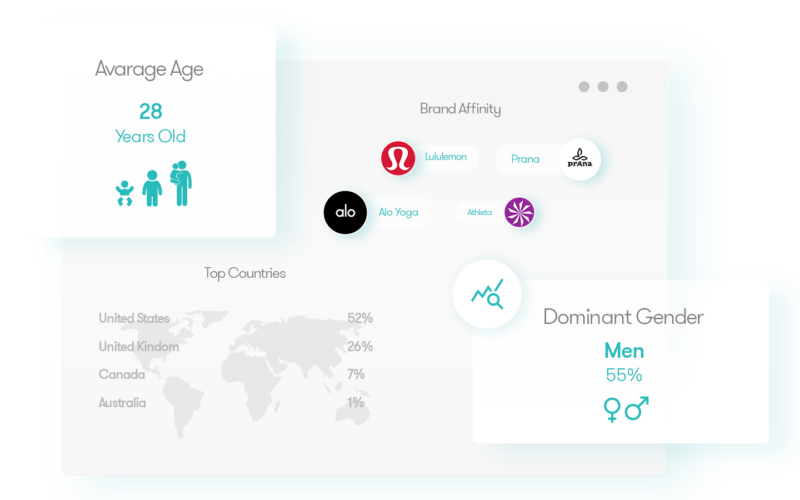 Klear's listening feature provides the kind of social intelligence that Meltwater is known for, adding more context to the data you get about influencers and their audiences. "Monitors" as they're called, can be set up against just about anything you want to listen for—like your competitors, for example. You can add their social accounts to see how you compare in terms of mentions, engagement, and follower growth. You'll get the totals of each in a summary across all channels, and the easy-to-read graphs that visualize the data while breaking it down even further, showing the specific type of engagement for each platform. You'll see what kind of content is being posted in their name (meaning both owned and earned posts). You can find out who's mentioning them and learn more about those people. You can dig into the followers of these accounts to find out which people and keywords they're mentioning, too, a great way to learn more about your target audience's interests. Any of these monitors can be pointed at your own account, as well, for the same kind of holistic brand analysis.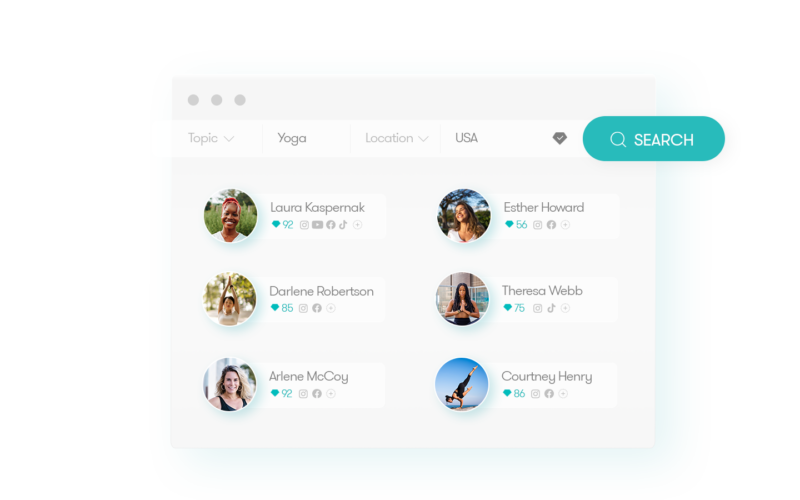 But that's not the context we were talking about earlier. What we meant by "adding more context to the data you get about influencers" is the ability to not only understand their audiences but to know what kind of content will resonate with them. You can do this by creating monitors for hashtags and keywords, gaining an understanding of what's trending and with whom and tailoring your campaigns accordingly.
There's an added bonus to these monitors, as well, which is that they also function to teach the AI-powered algorithm behind Discovery. As you create more monitors, Klear learns what's relevant and important to your brand, which informs the results you'll get using the Discovery module. From here, you'll be able to find creators across all the major social channels: Instagram, TikTok, YouTube, Facebook, and Twitter are all here. So are Pinterest, blogs, and the Chinese social platform Red. As with most Discovery tools, this one works by searching for keywords and then refining your results through various filters. Filters become even more important here, though: the AI judges relevant influencers by their content as much as their stats. What it learns about your brand's aesthetics and preferences through your monitors informs the results as much as anything else, so the filters act to help you narrow down your possibilities.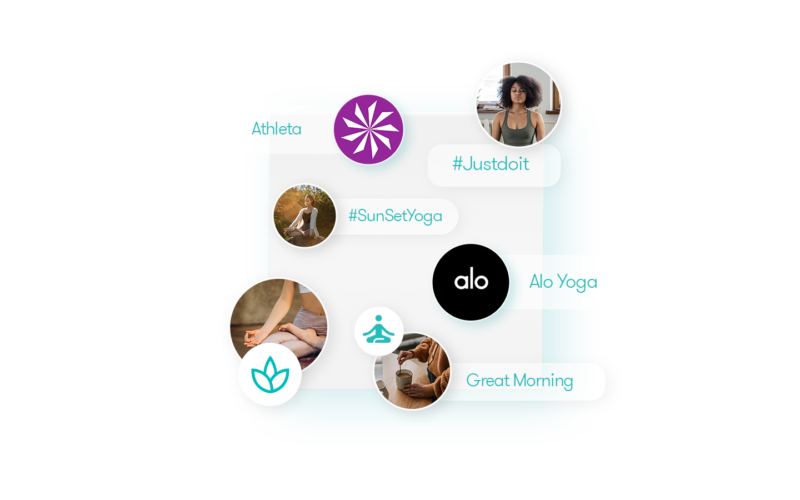 Unless you specify otherwise, your results will be a mix of vetted and unvetted creators. The former are creators who've registered with Klear and connected their social accounts in order to provide first party data. The rest are creators who've been found by Klear's web-scraping algorithms. In both cases, you're getting some great high-level metrics that give you a quick understanding of a particular person's influence: there's the Klear score, which is meant as a relative measure. In other words, the score tells you how valuable (or not) a creator is compared to others, it's not a definitive proclamation of influence. There's also Klear's True Reach metric, a much more accurate measure of how many people are actually seeing a creator's content. Another notable feature of Klear's Discovery is the way it presents results. There's no sorting by any metrics; instead the list is automatically sorted according to audience interest in whatever topic you were searching for, So, search for "keto cooking," for example, and the first influencer you see will have an audience that is the most interested in that topic.
Or: you don't have to use the Discovery module at all. One of Klear's newer features is the Recruit module, which provides a WYSIWYG interface for creating landing pages for potential influencers to apply. More popular brands and agencies will appreciate this kind of passive recruiting. It's more than just a form for contact information; you can use it to ask all the questions that are specific to your brand or campaign. Staying with the keto cooking example, you might want to find influencers who are diabetic (or have diabetics in their life that they cook for). Those questions—Do you have Diabetes? Type 1 or 2?—are never going to be offered as default landing page options. Kudos to Klear for making these recruiting pages fully customizable. An unsung advantage to this is actually the extra friction these questionnaires can provide. Sure, it's nice to make things as easy as possible for people to sign up, but make them too easy and you'll be drawing in a sea of applications from interested parties. Adding just this tiny amount of resistance for creators looking to get noticed ensures that the ones who are worth working with will stick around and answer the questions. Someone looking for "easy money" won't want to be bothered.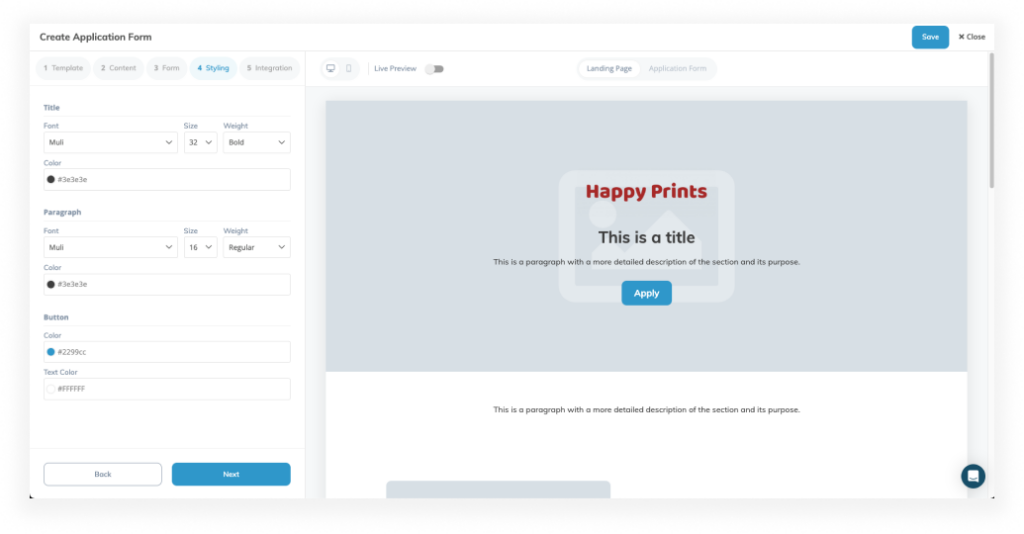 Finally, we come to the module of Klear that we didn't really love the last time we looked at it: the Campaign Management. It's not that it was insufficient before; but, really, it was only just sufficient. It wasn't a feature that would bring customers in, but it wasn't so bad it would turn them away. This, we're happy to see, has all changed. Creating a campaign is more detailed—getting into usage rights, tracking links, content approval, customizable email template, a mood board, product gifting—and the interface keeps pace with the improvements by being easily navigable despite the increased complexity.
The addition of product gifting also brings with it tighter ecommerce integration. Klear currently integrates with Shopify and WooCommerce, which enables creators who are receiving products to pick their style and size (or whatever options for whatever product) from the campaign interface. The info is passed along to the ecommerce platform, which then handles it like any other order; whatever processes you have in place for shipping will take place here. No extra effort on your part is needed to make it happen. These kinds of features are all over Klear—small, thoughtful additions to the platform that make it easier to scale to as large a campaign as you need.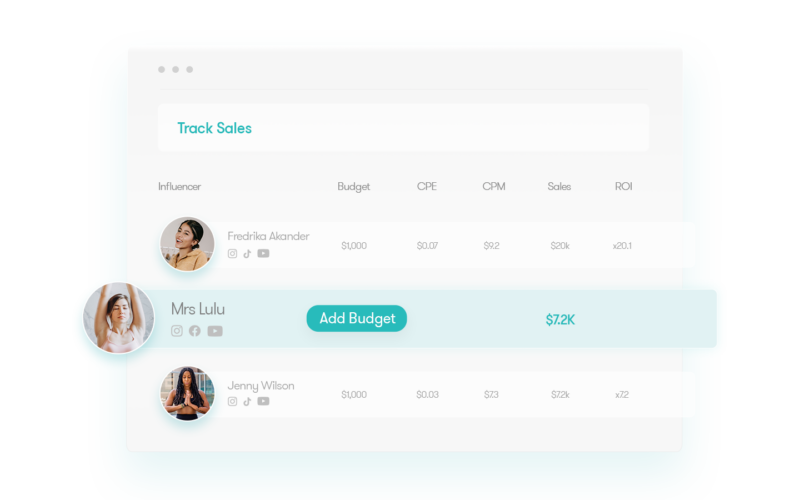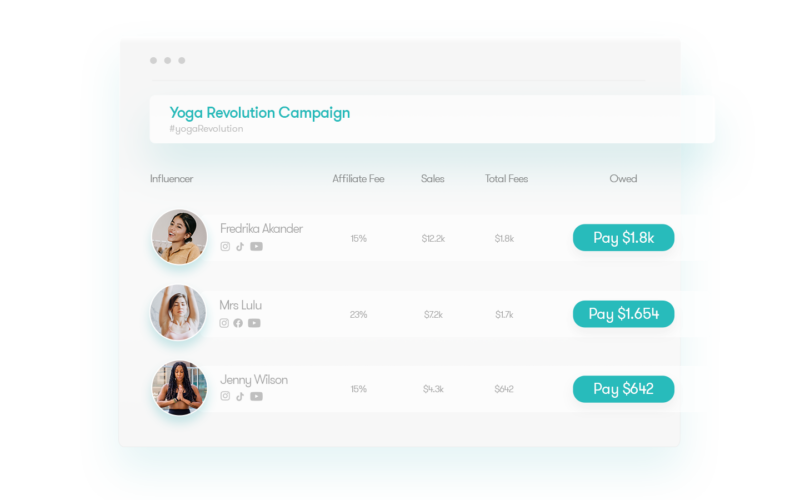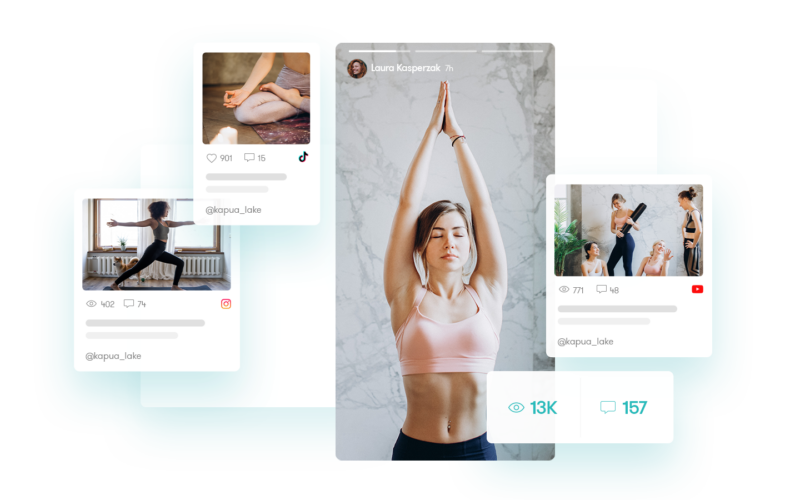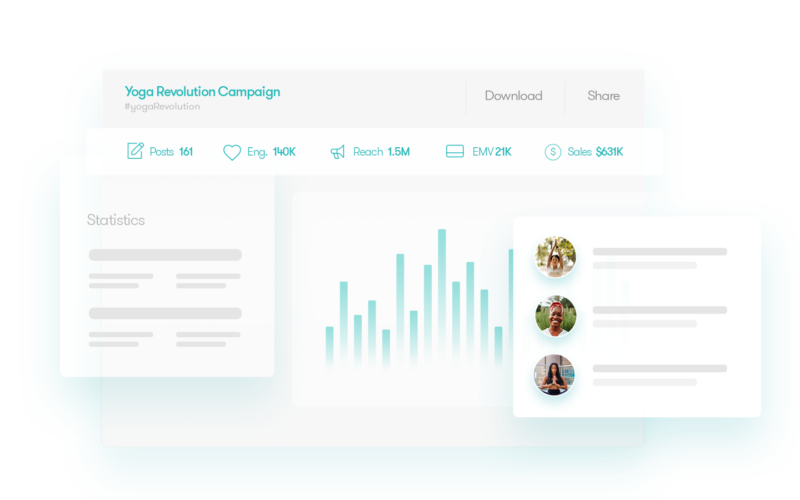 ---
Conclusion
Klear's integration with Meltwater has been a boon to both products, but more so to the customers who use either product. Klear has always had a handle on analytics, providing brands and agencies with unparalleled analytics and audience insights. With millions of influencer profiles and billions of associated data points, Klear empowers users to find the most relevant content creators who resonate with their target audiences. Through the platform's listening feature, called "monitors," brands can track competitors, analyze mentions, engagement, and follower growth, gaining valuable social intelligence for crafting highly targeted campaigns.
The Discovery module within Klear's platform further enhances influencer identification by leveraging AI algorithms, while the new improved Campaign Management module streamlines the campaign creation process. With these powerful tools and integration with ecommerce platforms, Klear empowers brands to execute data-driven influencer marketing strategies that drive meaningful engagement and maximize campaign success.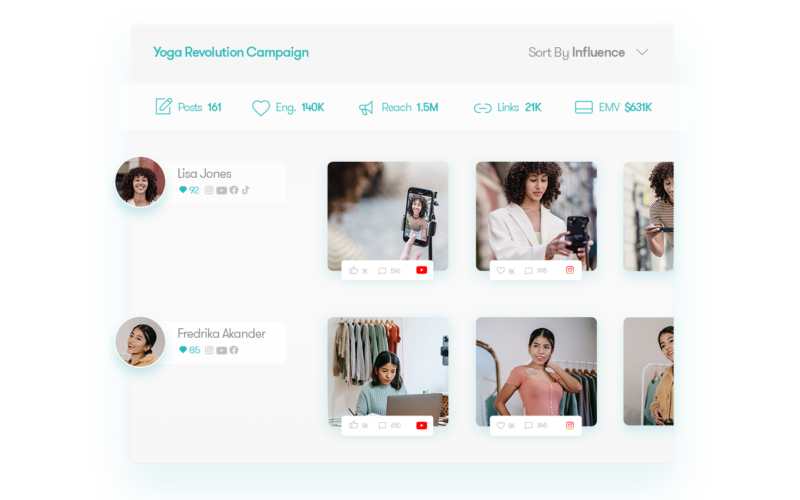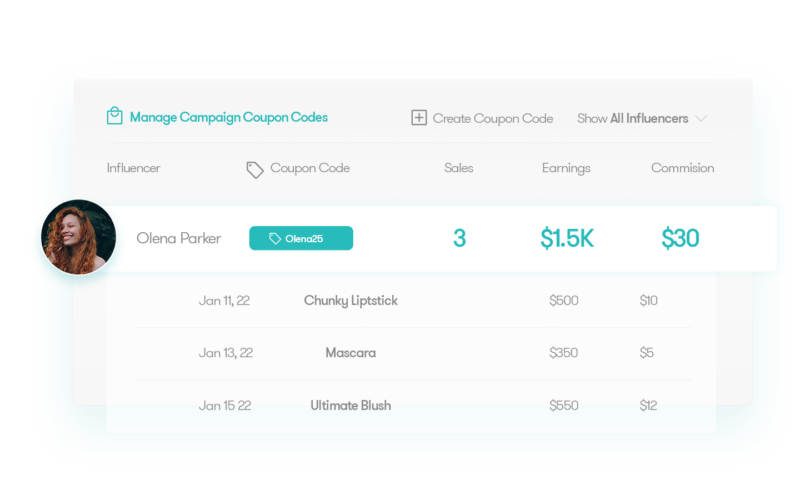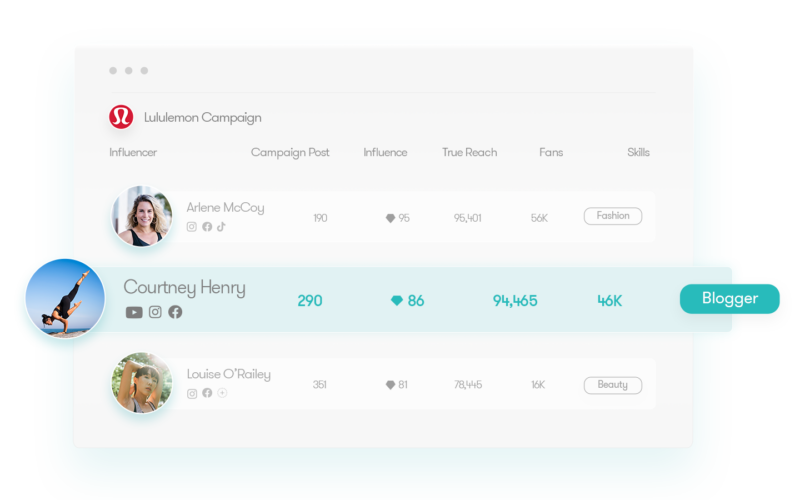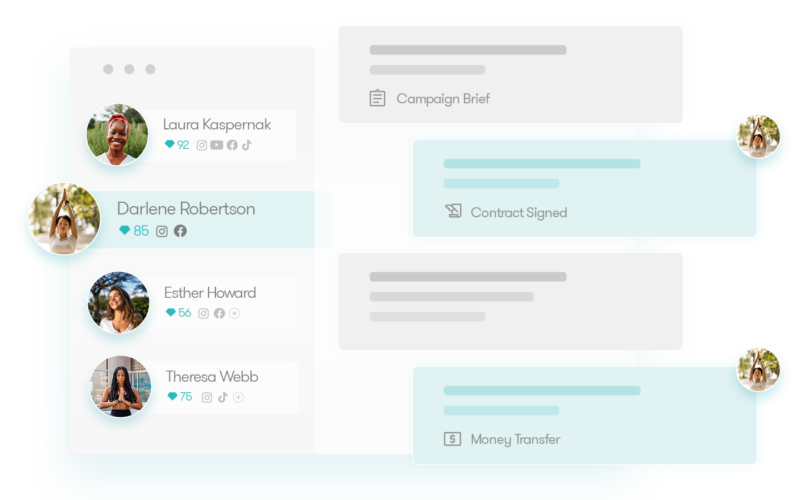 Klear
Features

Ease of Use

Reporting

Best for:
Medium to Large brands and agencies, ecommerce