There is much evidence that influencer marketing can be a highly successful method of spreading a brand's message. When the Influencer Marketing Hub undertook a survey on the state of influencer marketing last year, we found that the average earned media value per $1 spent on influencer marketing was a highly respectable $7.65.
We have also seen a rapid rise in the use of Instagram over the last few years, to the point where it can now claim over 800 million monthly active users. Instagram Stories has also seen rapid growth and is now has more users than Snapchat.
It makes sense for most brands to work with influencers on Instagram. However, if you are going to do that you need first to find influencers who are willing to work with you. If you rely on building relationships organically, suitable influencers can be challenging to find, and it will be a time-consuming process to develop and nurture relationships.
That is where the influencer platforms can provide a useful service. Influencer platforms can be the ultimate tool to simplify your influencer marketing. Different platforms specialize in the services they offer, but the most common ones are:
Influencer discovery

Relationship management

Campaign management

Influencer marketplace

Third party analytics

Influencer content amplification
Each of the platforms focuses on providing influencer services for particular social networks. With Instagram rapidly becoming the network of choice for influencers, it is no surprise that the vast majority of influencer platforms include Instagram in their offerings.
Here are the leading influencer platforms for Instagram that can help you with your influencer search and make your influencer marketing a smoother, more streamlined process.
---
Top Influencer Marketing Tools for Instagram:
---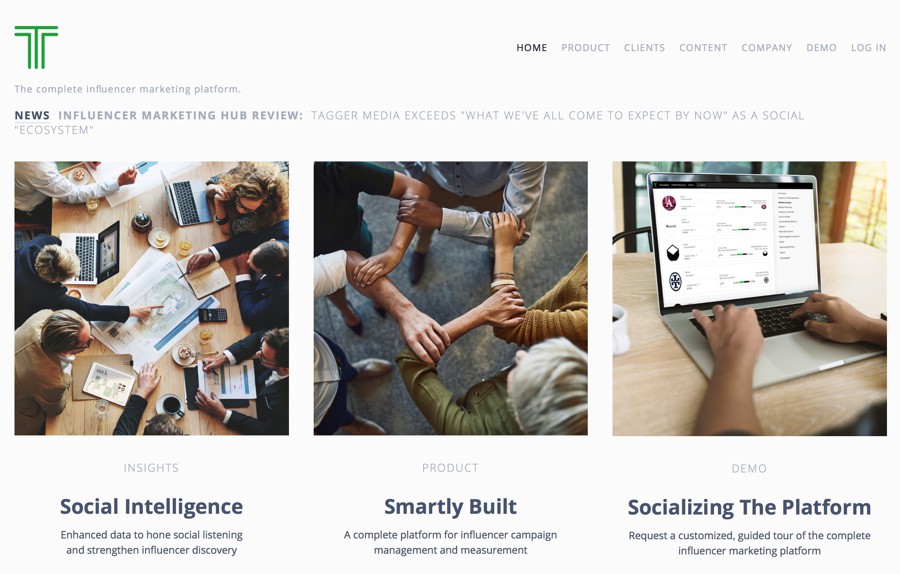 Tagger Media is an opt-in influencer marketplace with over 1 million influencers in its database. It tracks 8 billion social conversations that create over 28 million data points. You can search for influencers using 50 filters to help you refine the results.
Tagger Media offers much more than just an influencer search engine, however. It is a full influencer marketplace, designed to help large businesses find and work with its massive database of influencers.
It is an all-in-one platform that allows brands to:
Perform detailed searches on the database of users

Discover influencers to work with

Create campaigns, making them only available to invited influencers or alternatively to anybody

Manage selected influencers and their content submissions

Analyze post and influencer performance

Determine relevant ROI
Tagger Media places a significant emphasis on psychographics. It analyses what people are talking about, their interests and their affinities. This helps clients understand what content will drive engagement.
It also features a highly robust management dashboard, making it easy for firms to organize their influencer marketing efforts.
Services Offered: Influencer Discovery, Campaign Management, Influencer Marketplace, Third Party Analytics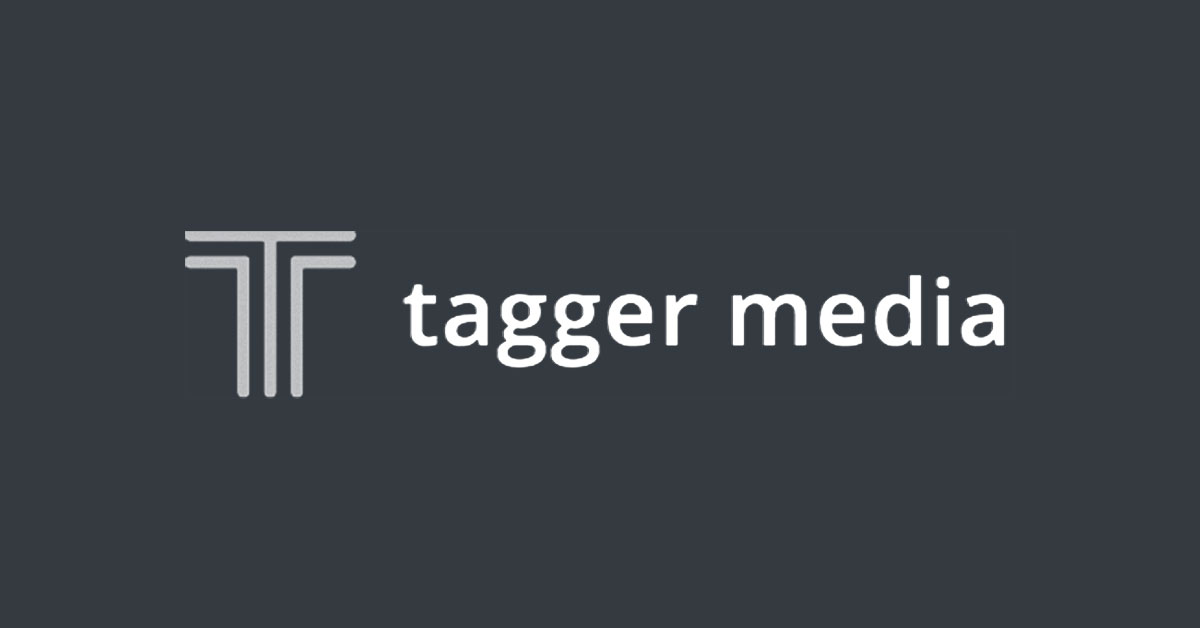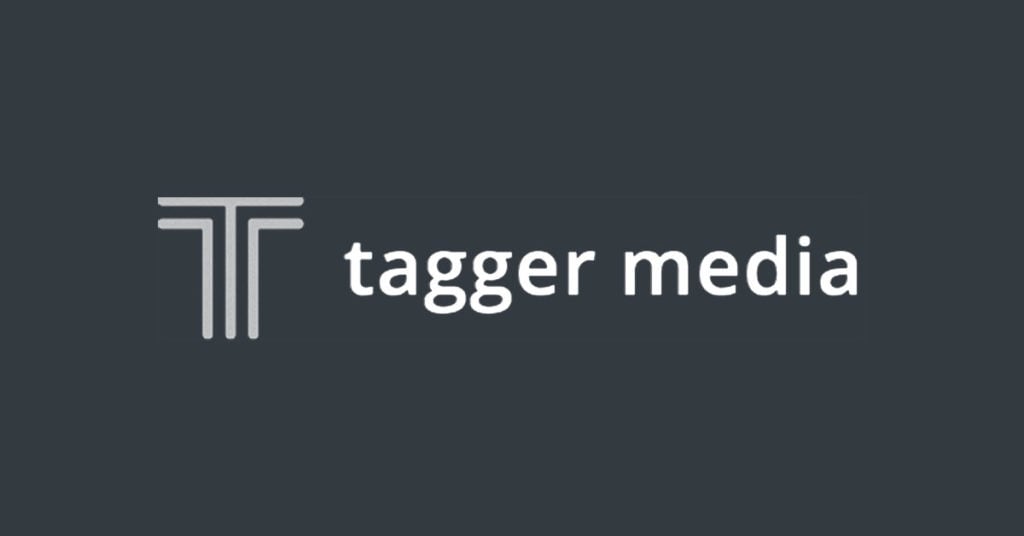 Services Offered: Influencer Search & Discovery, Campaign Management, Influencer Marketplace, Third Party Analytics,
Channels: Facebook, Instagram, Twitter, YouTube
---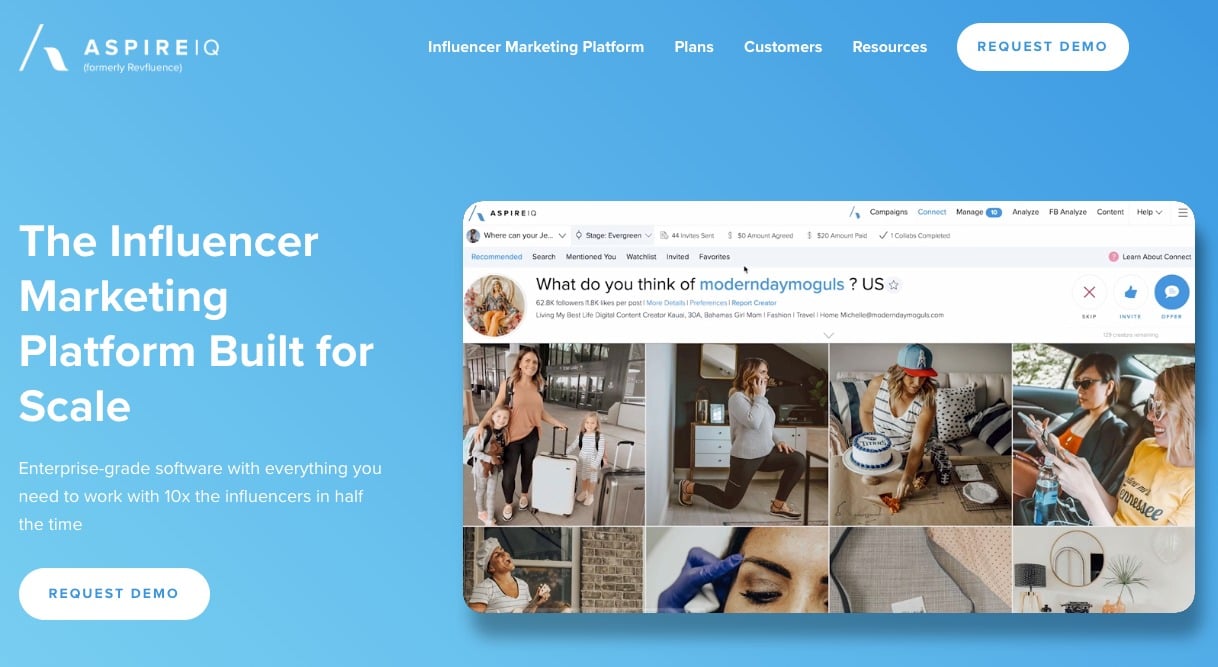 AspireIQ (formerly Revfluence) has the profiles of over 500,000 influencers in its discovery engine. Its algorithm crawls the web searching through social accounts to find people who meet its influencer criteria.
However, if an influencer wants to actively participate in campaigns through the AspireIQ platform, they first need to opt into the system.
AspireIQ provides multiple ways for brands to find influencers. You can search using relevant keywords, topics, or hashtags, and then filter accounts by whatever method you want. You can use the "Quickmatch" feature, which suggests influencers based on your preferences. Another way you can find influencers is to use AspireIQ's Watchlist feature, which will tell you which influencers have mentioned you or your competitors. You can even search by image – looking for influencers who have shared content similar to a particular picture.
AspireIQ covers much more than just influencer discovery, however. It has robust tools that can assist brands with:
Campaign creation

Campaign lifecycle management

Digital term sheets

Product tracking

Content collaboration

Trackable sales links

Creator performance spreadsheet

Campaign analytics

Payments
They have recently added a new feature that allows you to track Instagram Stories.
Services Offered: Influencer Discovery, Relationship Management, Campaign Management, Influencer Marketplace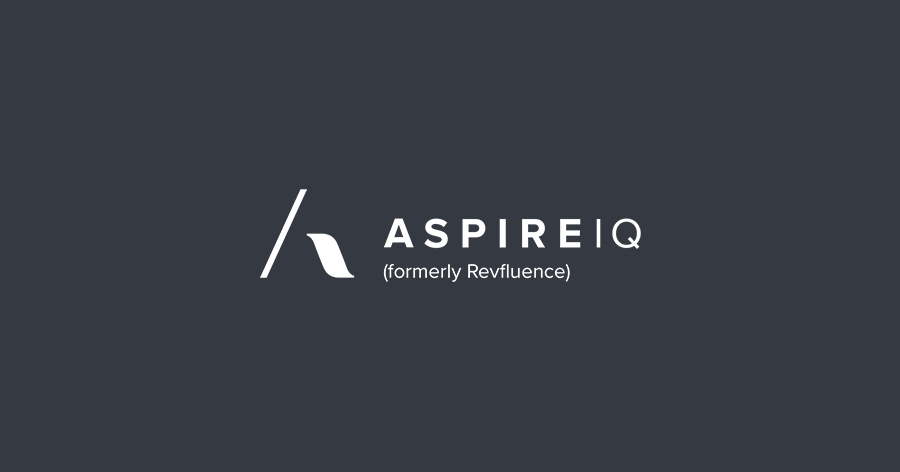 Services Offered: Influencer Search & Discovery, Relationship Management, Campaign Management, Influencer Marketplace,
Channels: Instagram, YouTube, Facebook, Twitter, Pinterest, Blogs
---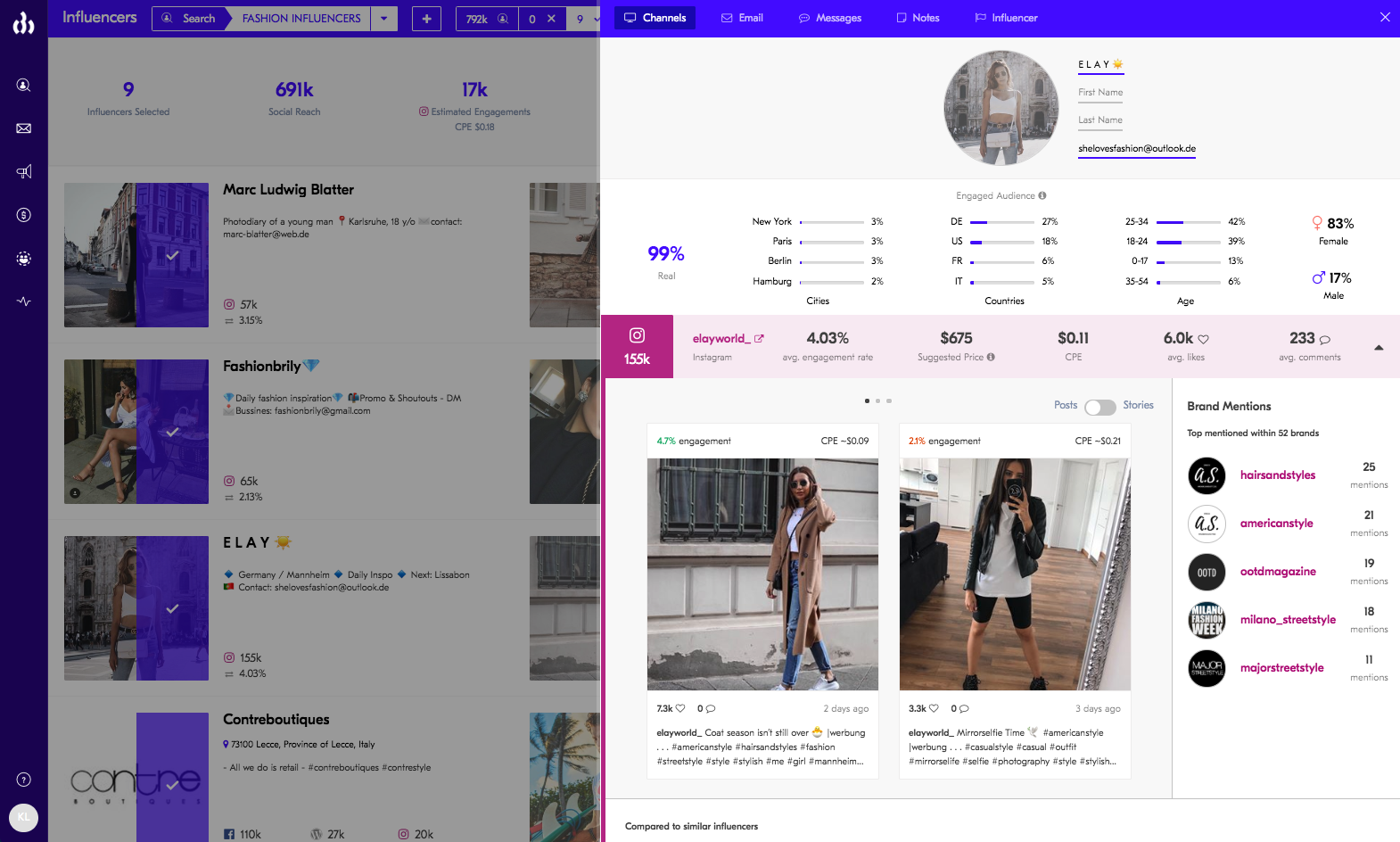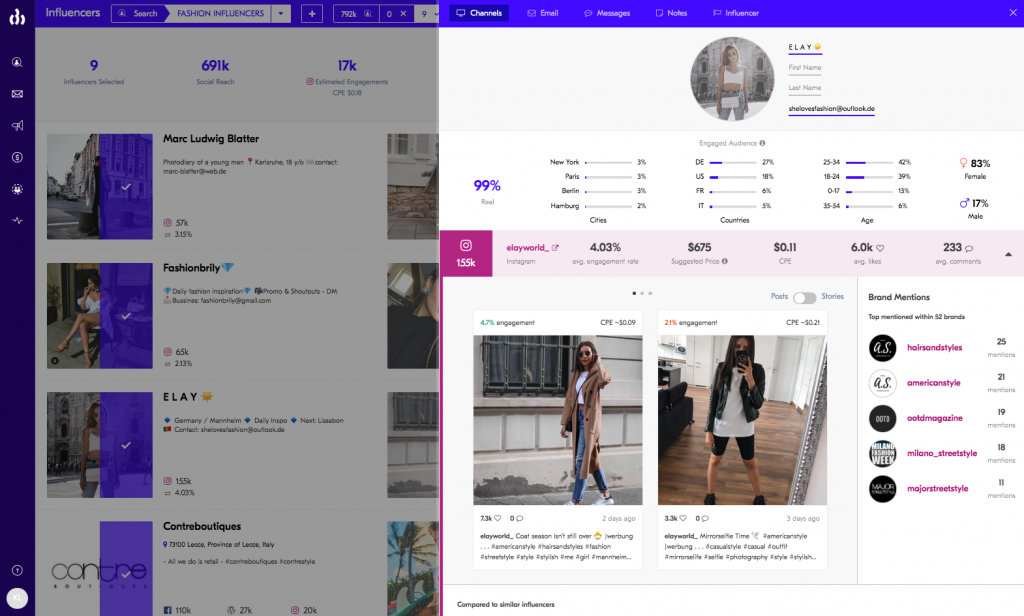 Upfluence has made significant changes to its offerings over the last year. It has narrowed the range of services it offers, concentrating on what it believes are its strengths.
The heart of Upfluence is its massive database containing nearly 1 million influencers. It indexes and updates social profiles in real time, analyzing every item of content for reach and engagement.
Brands can search Upfluence to find influencers using any combination of relevant keywords. They can then drill down and refine their selection of influencers. You can even weight your keywords, placing more emphasis on some than others. You can filter by audience data, including psychographic attributes like cultural interests and brand affinities.
Upfluence allows you to make lists of potential influencers meeting various criteria, which you can export into CSV files.
You can manage your influencer within Upfluence, including keeping a central repository for all email correspondence. The lifecycle management function keeps track of your progress with each influencer.
Services Offered: Influencer Discovery, Campaign Management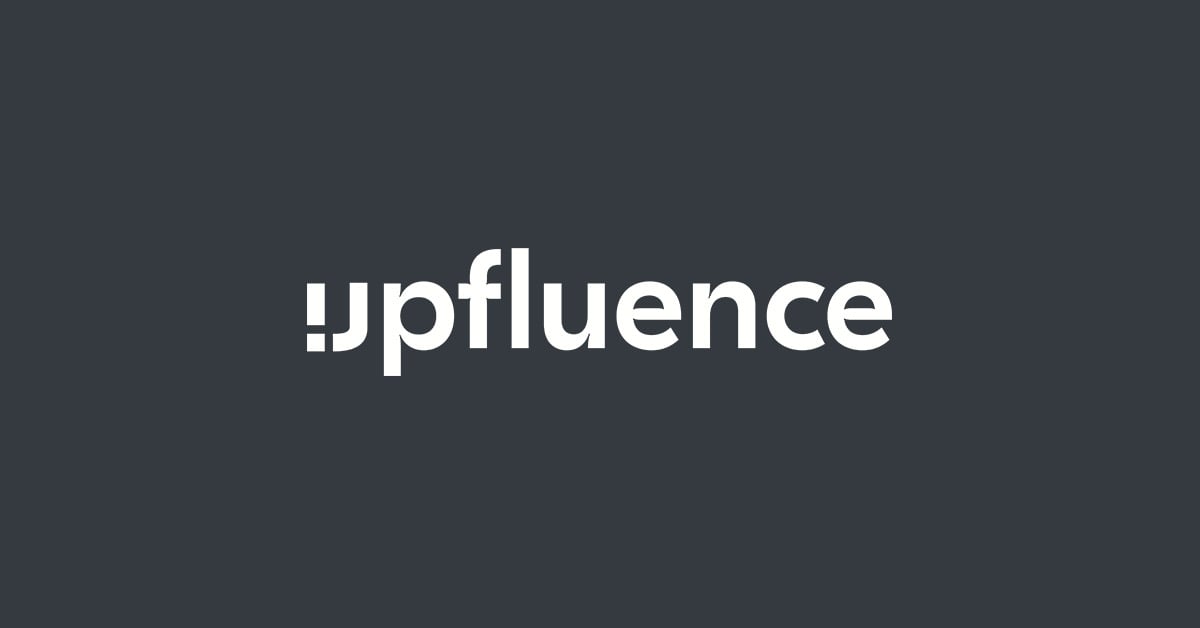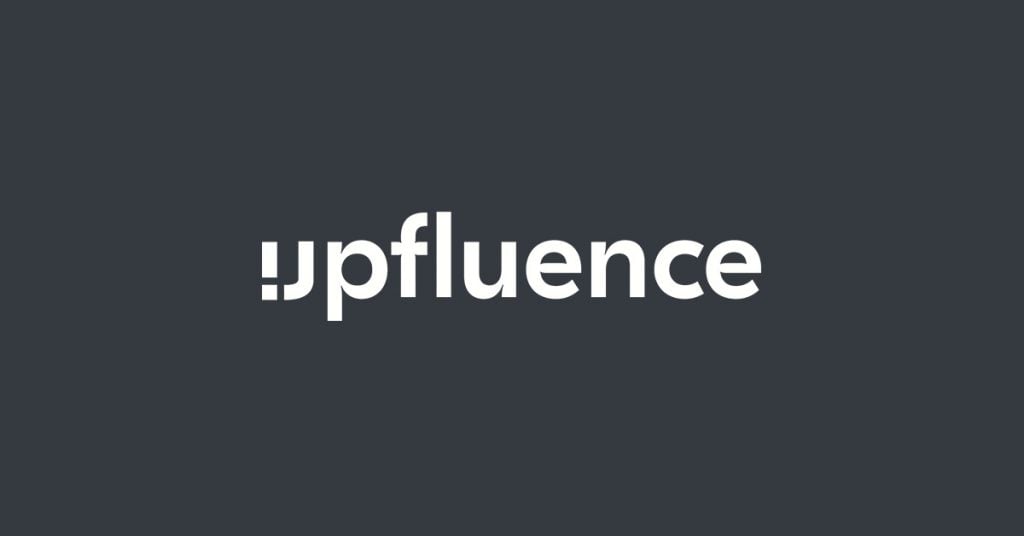 Services Offered: Influencer Search & Discovery, Relationship Management, Campaign Management, Third Party Analytics,
Channels: Instagram, Youtube, Facebook, Twitch, Tiktok, Twitter, Pinterest, Blogs
---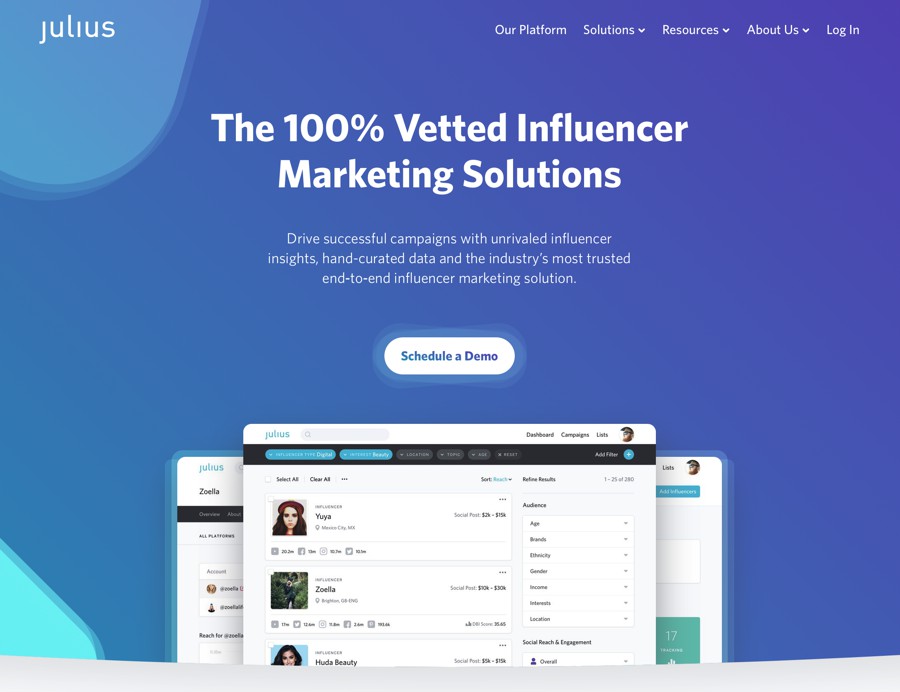 Julius has grown from being solely an influencer discovery engine into a fully-fledged self-service marketing suite.
It still features a powerful influencer search engine, however, with an array of data relating to its 120,000 fully vetted influencers. You can search for influencers using 50 different criteria to narrow your search. These cover both demographic and psychographic factors. Julius allows you to add any influencers you currently work with who aren't already in their system. The Julius staff vet these people and add their relevant data to the database.
Julius provides you with numerous ways to search for suitable influencers. It features a particularly easy-to-use interface. You can search by criteria relating to potential influencers, your target audience, or social reach and engagement. You can quickly create lists based on the criteria you are using.
Julius also features a robust set of campaign management tools, again designed In a clear, easy-to-use style. You can easily find out anything you want to know about your campaign with just a few button clicks.
The robust clean approach carries over to reporting as well. It provides clear easy-to-read visualizations of your influencers' performance on each campaign.
Services Offered: Influencer Discovery, Campaign Management, Third Party Analytics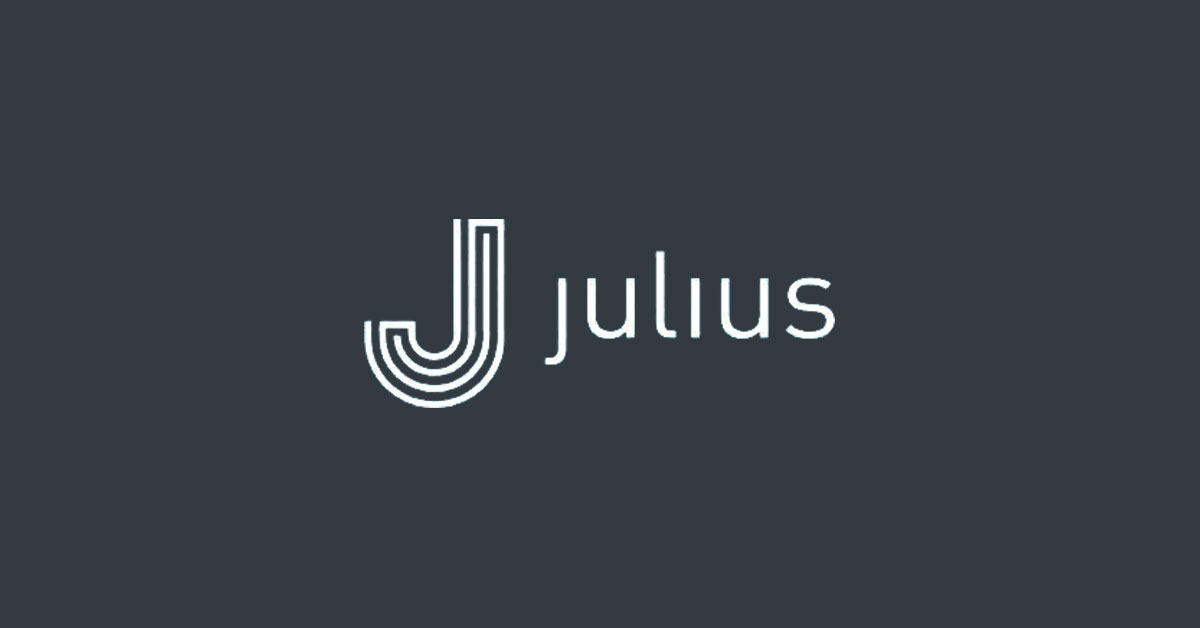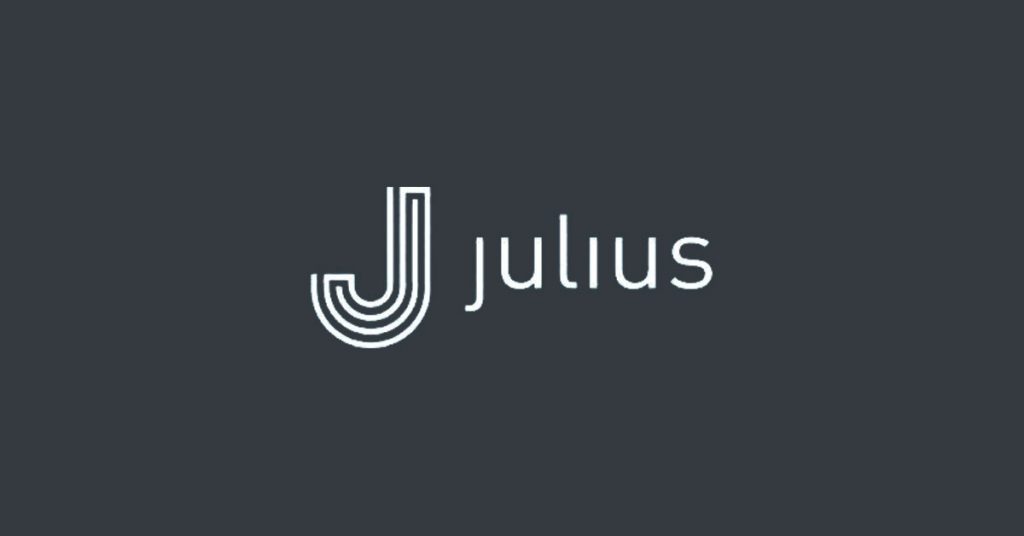 Services Offered: Influencer Search & Discovery, Campaign Management, Third Party Analytics,
Channels: Instagram, Facebook, Twitter, YouTube, Pinterest, Twitch
---

Neoreach has built an algorithm that mines the social web for data. Their database contains the social details of over 3 million influencers. The company targets large companies and enterprises.
You begin your influencer search with keywords, and then refine the results using a range of factors, including:
Conversation topic

Social channel

Social metrics

Audience demographics and psychographics
It provides you with a wealth of information, and you can sort influencers into groups or campaigns.
Neoreach also uses AI to recommend suitable influencers for your needs. The more you use Neoreach, the more accurate their recommendations will be.
Once you have found influencers, you can use Neoreach's campaign management tools to help your influencer marketing run more smoothly. It includes a centralized communications hub, to keep the entire influencer relationship process together.
Campaign reports are highly detailed, telling you virtually anything there is to know about campaign performance. Neoreach has developed their own measure of ROI – Influencer Media Value (IMV). You only need to plug your advertising spend into the model, and Neoreach will give you an accurate estimate of IMV for your future influencer campaigns.
Services Offered: Influencer Discovery, Campaign Management
---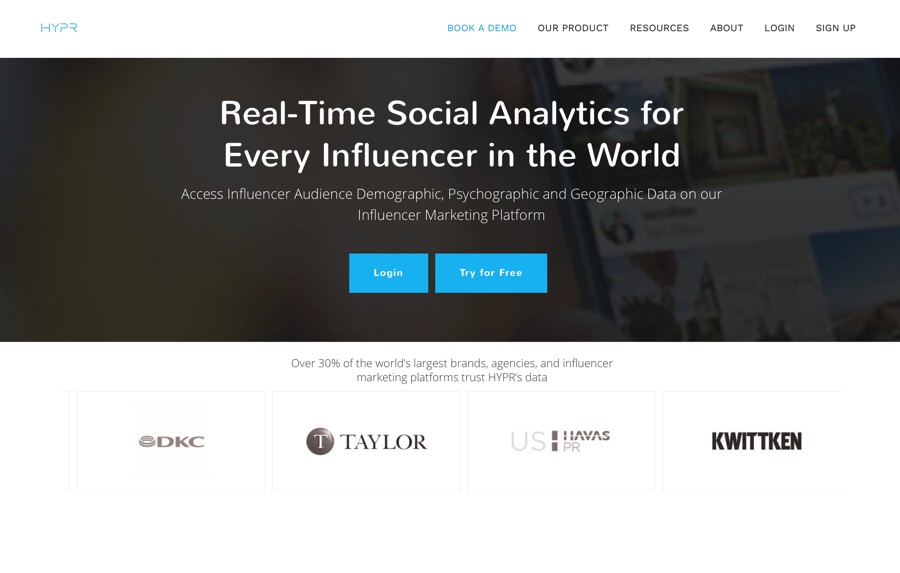 HYPR has built a massive database of more than 10 million influencers and makes a point of collecting as much demographic data about their followers as possible. They consider their search engine to be "talent agnostic," i.e., they don't limit their results to showing just a list of influencers who have agreed to work with them.
The search engine is the heart of HYPR. It is very much the Google of influencers. It uses a simple, but highly responsive interface, leading to a quick return of search results.
Although you could search for an influencer you know by name, the bulk of your searches will be by audience. HYPR believes the key to successful influencer marketing is matching up influencer with target audiences. You can search by audience interest and by a range of demographic factors, such as gender, ethnicity, and age group. You can then refine your searches further, by looking at factors such as influencer location and follower counts.
Once you have made your list, HYPR will present you with influencers who meet your criteria. Each influencer shows up on a little card, showing their photo and a summary of relevant details. If you believe somebody looks suitable, you can click on their card to see more information about their audience and social reach.
Services Offered: Influencer Discovery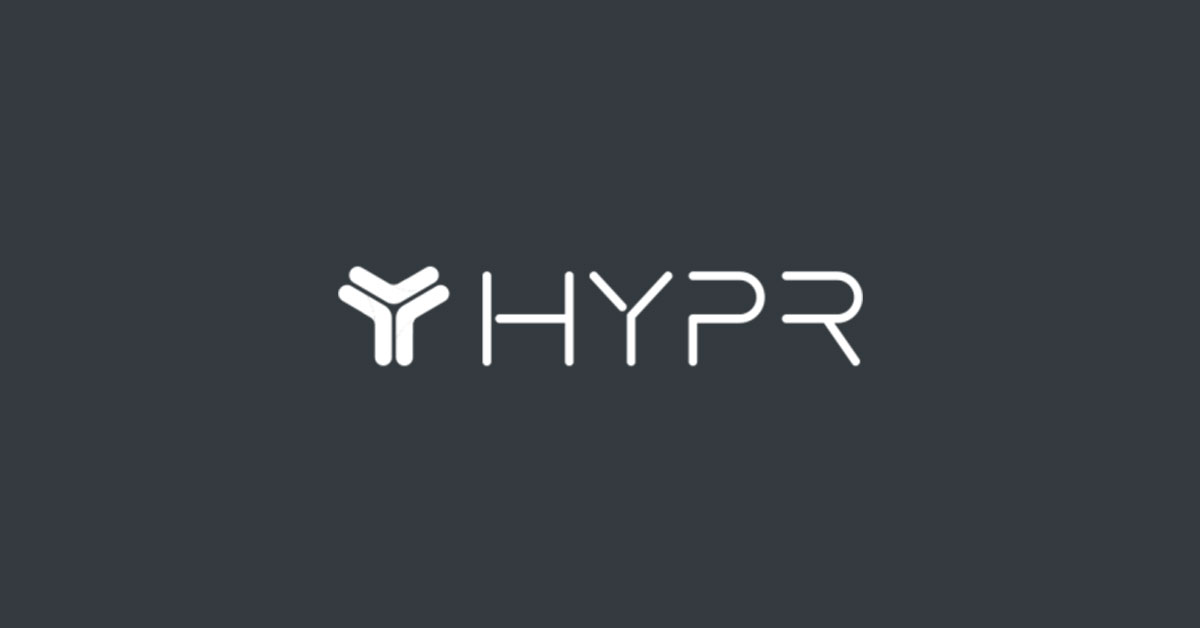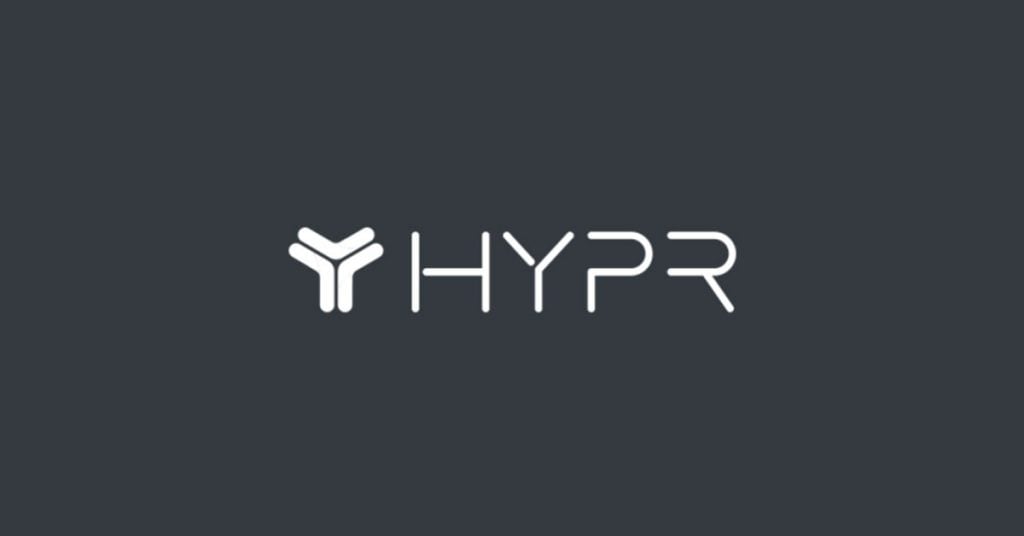 Services Offered: Influencer Search & Discovery, Influencer Outreach and Engagement, Performance Tracking with Audience Demographics and Conversion Attribution, Global Influencer Payment, Fraud Detection and Audience Health,
Channels: Instagram, Facebook, Twitter, YouTube, Pinterest
---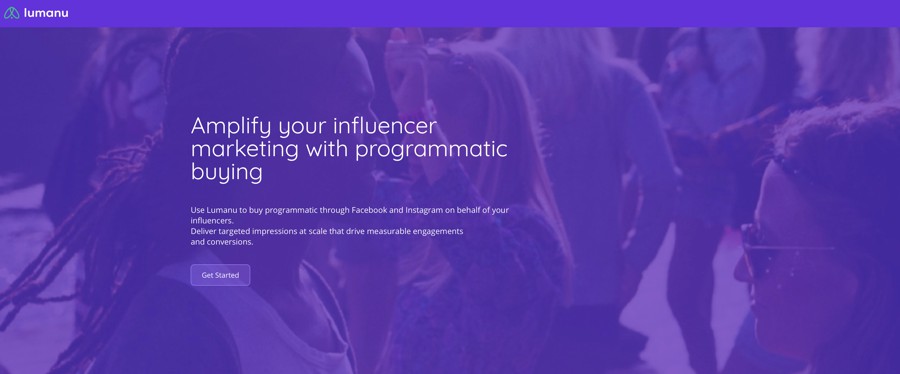 Lumanu takes a different approach from most of these platforms. They make no attempt to provide you with an influencer search engine for influencer discovery. Nor do they provide you with tools to manage your influencer campaign. Instead, Lumanu's focus is on delivering a dashboard where you can repurpose the content created by your influencers as Instagram and Facebook ads. It also acts as a front-end to help you deploy the ads you create.
You add your influencers to the Influencer Manager, either with a CSV file or one at a time. Usefully, Lumanu can cope with any errors in your data – it just skips any faulty record, rather than stopping. Lumanu then emails you, telling you about any entry that didn't work, so you can correct any incorrect data details.
Lumanu asks your influencers for permission to access their data, then they suck in all details related to posts influencers make on your behalf. This includes Instagram posts, Instagram Stories, and Facebook posts.
The second section of Lumanu is their Content Manager. Here you search through the influencer content you have just imported, using keywords, hashtags, mentions or other criteria.
When you find particular pieces of content you want to boost, you can set them up to be amplified as ads. You can carry out this whole process from within Lumanu, with no need to interact directly with Instagram or Facebook Ads. Lumanu adds a pixel to track the success of these boosted posts.
Services Offered: Influencer Content Amplification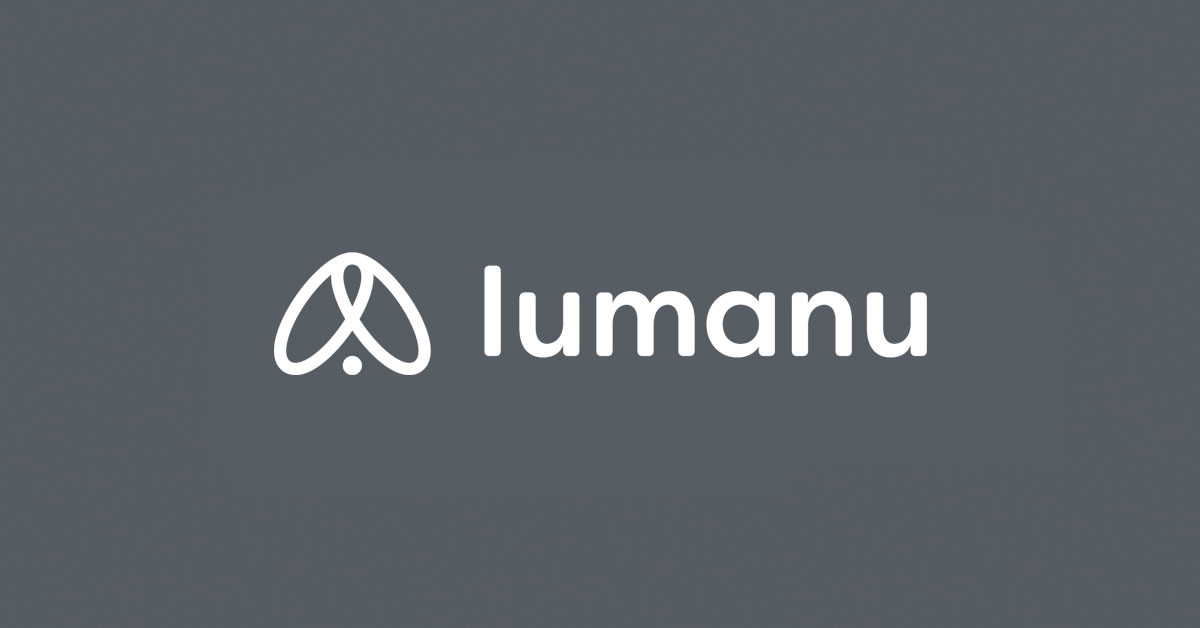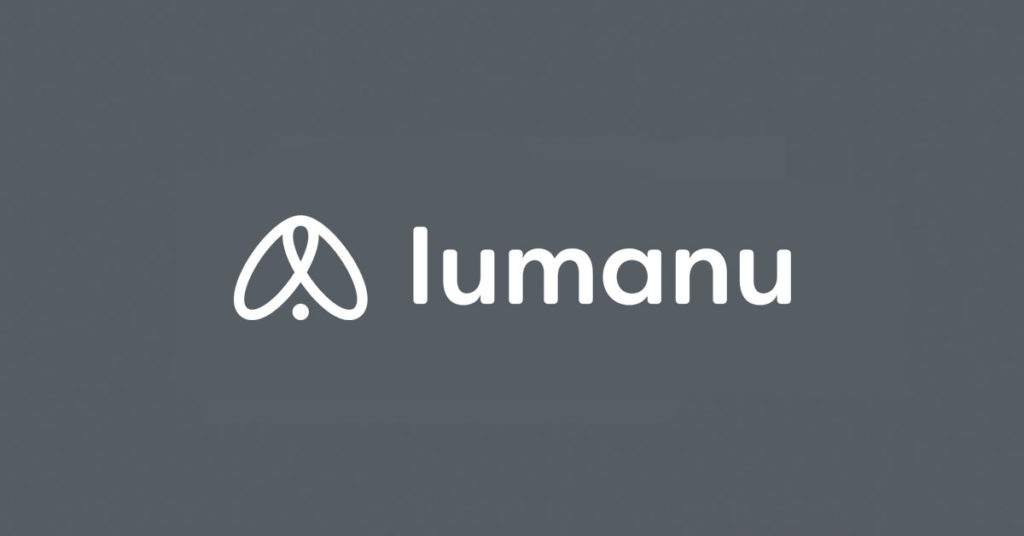 Services Offered: Influencer Content Amplification, Influencer whitelisting,
Channels: Facebook, Instagram
---

As its name indicates, Mavrck aims to take a different approach to influencer marketing. Most platforms will provide you with a list of people who are already popular on social media but don't necessarily know your product. Mavrck's approach is to take your existing customers and encourage them to promote your product online.
Mavrck takes your existing customer list and determines who has the most influence online.
You begin by setting up a white-labeled standalone website, or you add a plugin to your existing website. Customers log into your site using their Facebook profile. Mavrck finds all the public social data connected to each customer. It can then use its algorithm to determine each customer's social influence.
If Mavrck finds a customer to be sufficiently influential it automatically activates a suitable campaign for him or her.
Mavrck has a list of 20 'digital activities' different customer influencers can do, depending on their level of influence. Your customers receive rewards for completing each 'digital activity' you offer them.
You can use all of the content created by your micro-influencer customers to attract new customers – who may, in turn, become micro-influencers on behalf of your brand.
Mavrck provides you with a detailed dashboard showing a considerable amount of information about your campaigns.
Services Offered: Influencer Discovery, Relationship Management, Campaign Management, Influencer Marketplace, Third Party Analytics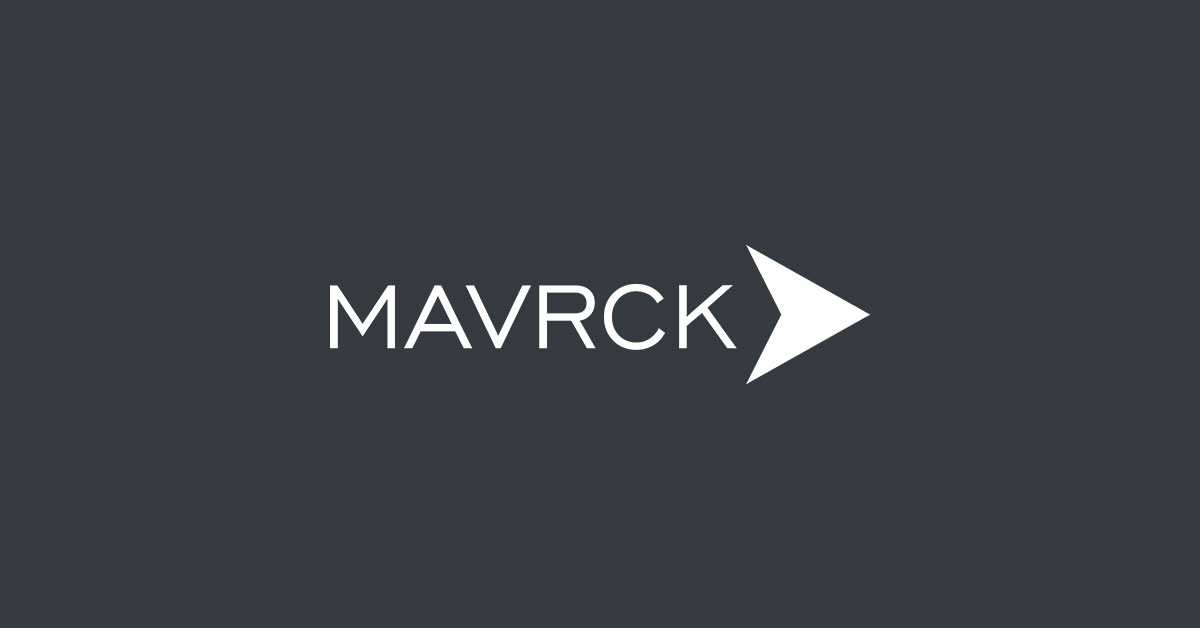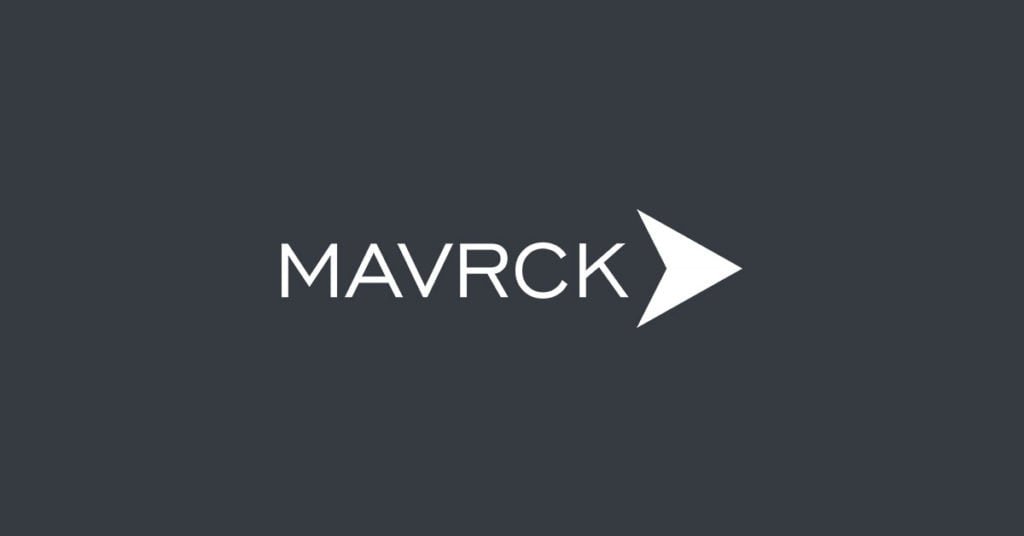 Services Offered: Influencer Search & Discovery, Relationship Management, Campaign Management, Influencer Marketplace, Third Party Analytics,
Channels: Facebook, Instagram, YouTube, Pinterest,TikTok, Twitter, Twitch, Blogs
---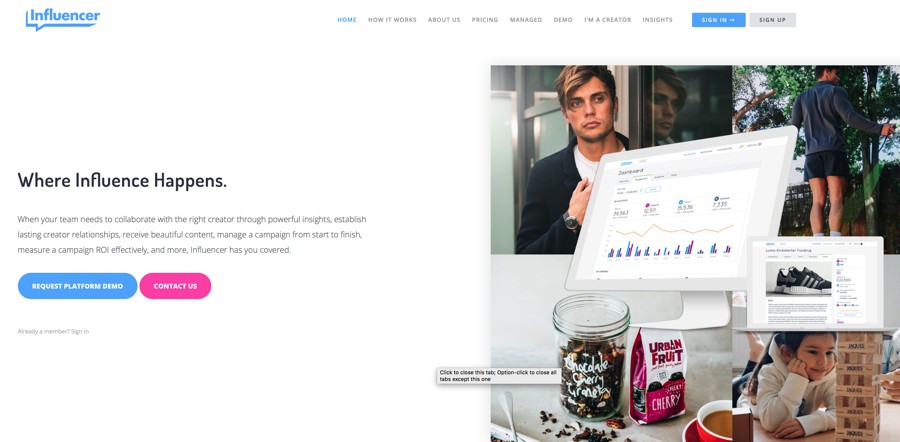 Influencer tags itself as being "run by creators, for creators." Indeed its Chief Marketing Officer (CMO) is Caspar Lee, who is renowned as a YouTube star. It's founder, Ben Jeffries, was only 18 when he started the business. It is very much a product of Generation Z.
With Influencer being run by influencers, it should be easy to distinguish genuine influencers. It is fussier about who it accepts onto their books. They are only interested in people with many real followers and a high level of engagement.
This means that Influencer has established a reputation as only working with talent who can easily communicate with their followers. This means that customers will only find about 1,000 influencers on their database – but they are all highly influential onliners.
Because Influencer has a more hands-on process than their more automated competitors, it does limit itself geographically. It is headquartered in the UK and currently focuses on influencers who have audiences based in Europe. Although Influencer is a platform, it offers many of the features of a boutique agency.
It includes all the expected management tools to assist with your campaigns.
Services Offered: Influencer Marketplace
---
In many ways, Lefty is an expanded version of an influencer marketplace. Its influencer discovery engine relies on an algorithm to find accounts with more than 3,500 followers – currently 5 million influencers. This data updates in real-time, constantly being categorized and indexed. The search function is clear, quick and responsive. It allows you to refine your search criteria with ease. Unlike most platforms, Lefty keeps track of Instagram Stories, as well as photo and video posts.
Lefty does an excellent job at telling you which influencers it believes are relevant to your campaign.
You can add preferred influencers to either new or existing campaigns. Lefty makes it easy to set up a campaign.
It provides a robust set of management tools to help you operate your campaigns. This includes a messaging system, an internal notes feature, and integrated payments.
Lefty also offers a seeding service with its higher plans. This helps get your products in front of influencers, who can then review your product or feature it in a post. With this seeding service, you can rely on Lefty staff to discover and contact influencers on your behalf.
Services Offered: Influencer Discovery, Relationship Management
---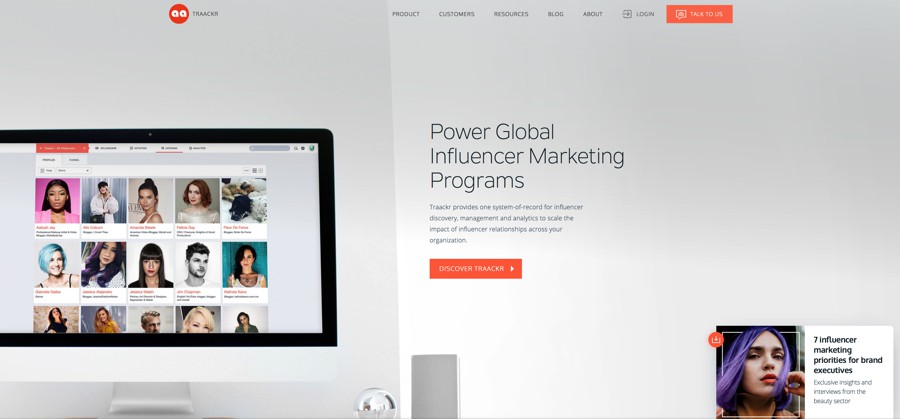 Traackr is one of the earliest influencer marketing tools – the first Traackr product was released in 2008. The company has changed its offerings as the industry developed and now specializes in influencer relationship management, built on top of an impressive online platform with an array of influencer management tools.
Although the platform focuses more on influencer relationship than influencer discovery, it does include a robust search engine. It provides numerous search and filter options to help brands find the ideal influencers for their campaigns. Traackr takes a hybrid approach to its influencer database – a combination of human involved in curation mixed with algorithms collecting data.
Traackr offers you many ways you can organize your selected influencers. One of these is to sort your influencers by relationship stage. This makes it easy to segment your influencers by how close you are.
Traackr allows you to customize the data you store about your influencers. It also records all communications you or members of your team have with them.
Traackr incorporates a social listening tool which allows you to track your influencer content in real time. You can filter this however you want, so you are not swamped by irrelevant details.
Another useful tool is Traackr's network visualization map. This shows you how influencers are connected with other people, both within and outside your network. This gives you a clear idea of who influences your influencers, and may give you further suggestions for building relationships.
Traackr provides a powerful set of campaign management tools, that makes running campaigns appear simple. You can even track how much your campaigns influence conversation.
Services Offered: Relationship Management, Campaign Management